Date: 29 October 2022 / League: Polish 4th tier
Final Score: 5-1 / Attendance: 50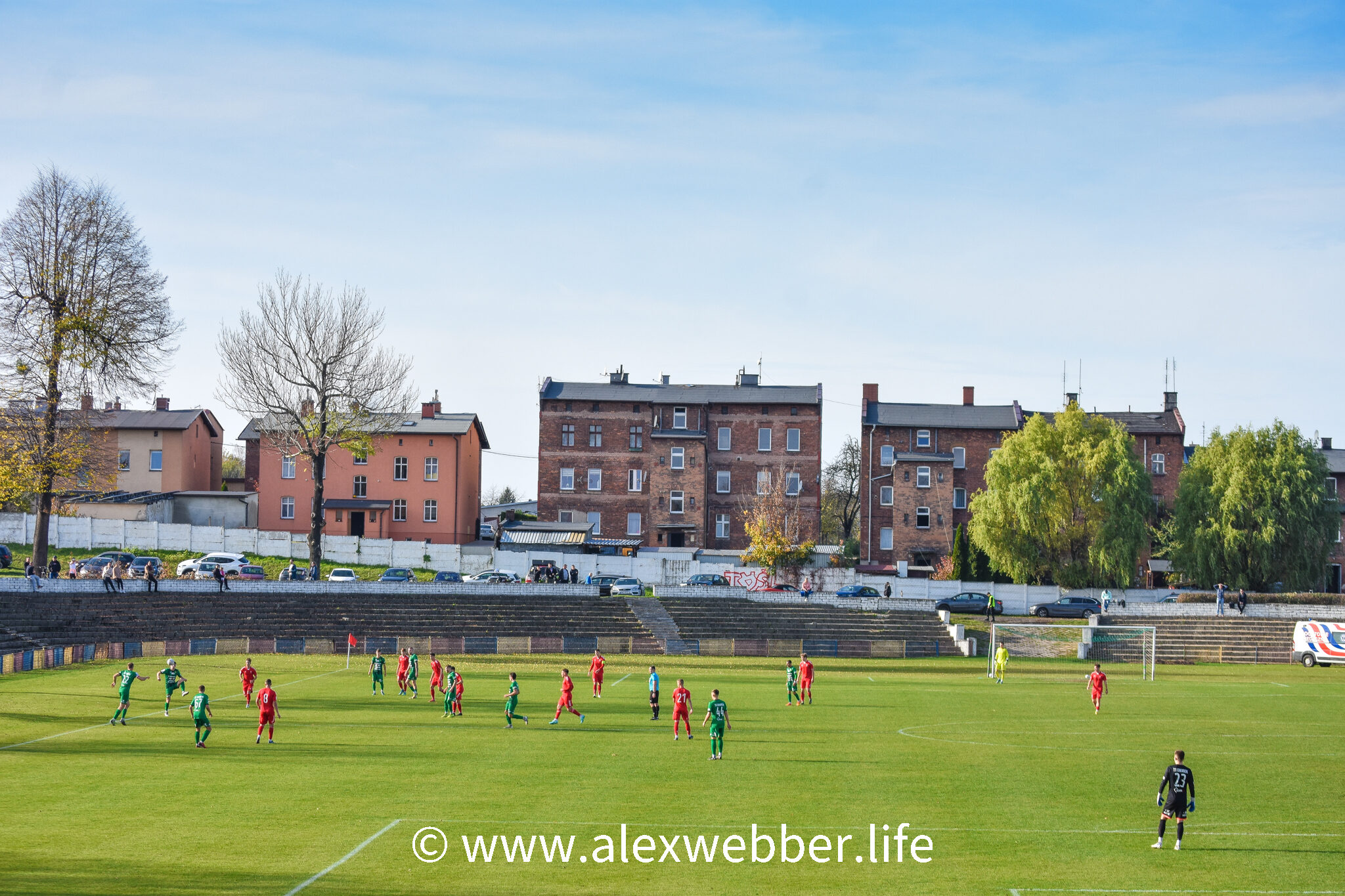 In A Nutshell
Silesia does it again – with the area richly sprinkled with clubs both great and small, the traditional home of Sparta Zabrze stands out as one of the lesser-known jewels in this region's footballing crown…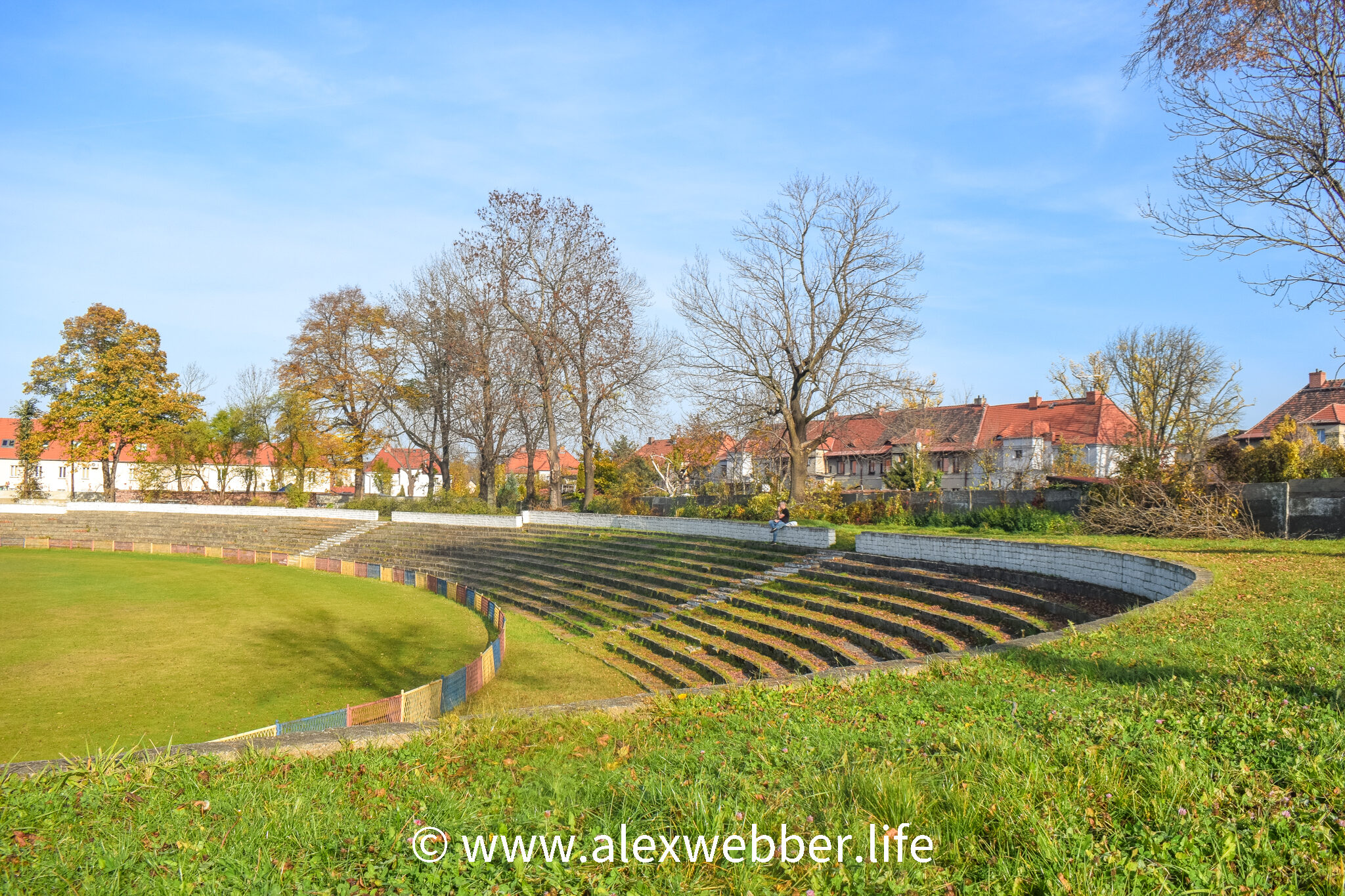 Background
You heard right the first time – although I was here to watch Gornik Zabrze's second team, the ground is primarily associated with Sparta Zabrze, a club initially formed in 1920 under the name of Sportfreunde 1920 Mikultschutz. Thereafter, they changed titles repeatedly before settling for Sparta in 1973. Disbanded in 2013, the club were revived in 2019 and have since earned two promotions from the district leagues.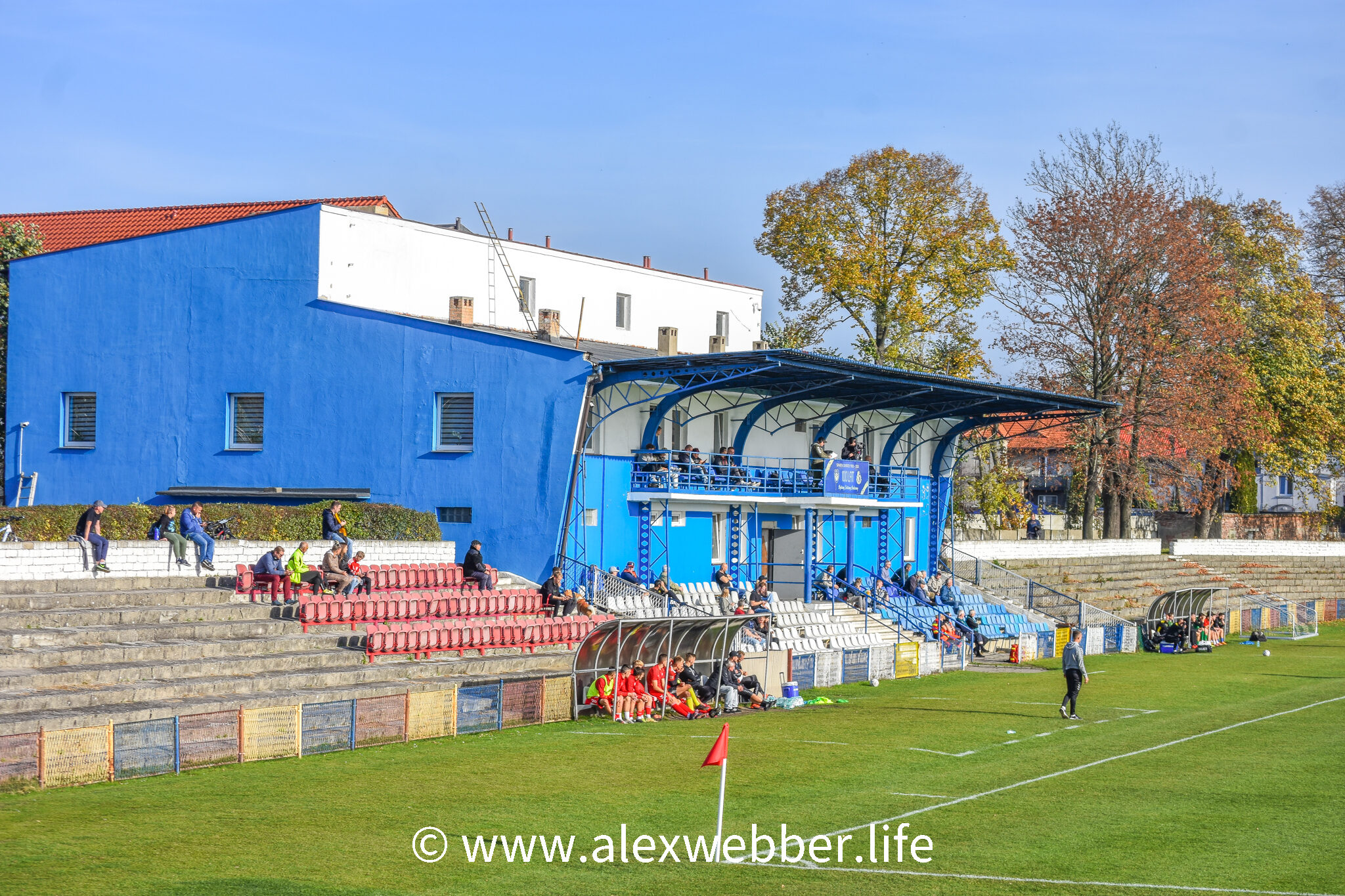 Stadium
In case you haven't already worked it out for yourself, inter-war Zabrze (briefly known in those times as the town of Hindenburg) fell inside Germany's geographical borders, which goes some way to explaining why this ground was initially christened Stadion der Gemeinde Klausberg. Built in 1928 on the site of a former limestone quarry, it was modernised in the early 1970s and took on its present-day form.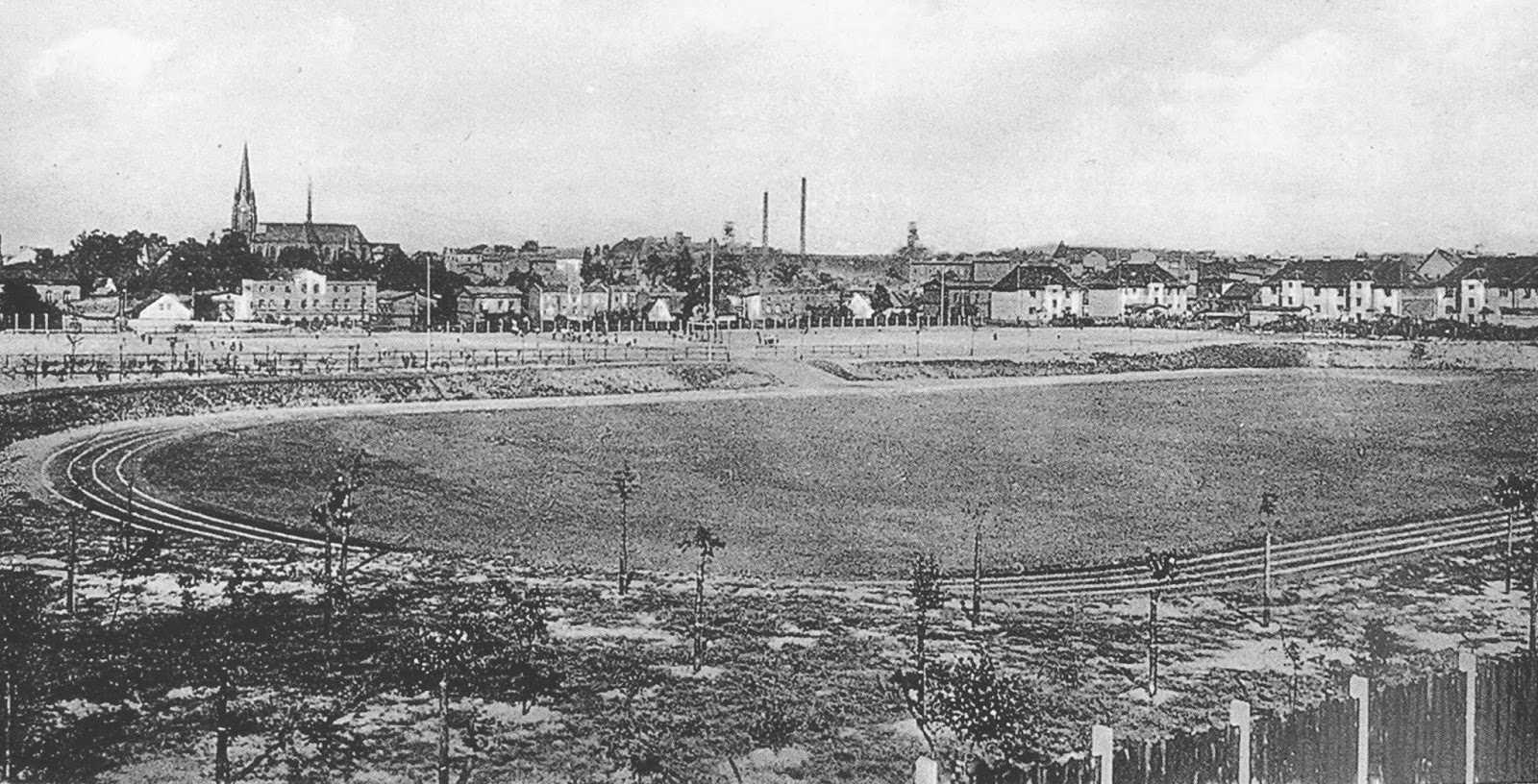 It was this era that matched the club's greatest period of success, and 1972 brought with it a record attendance that stands to this day: 13,000 for a match against Slask Wroclaw. In the time that has since passed, not all that much has changed and the ground has almost faultlessly retained its integrity.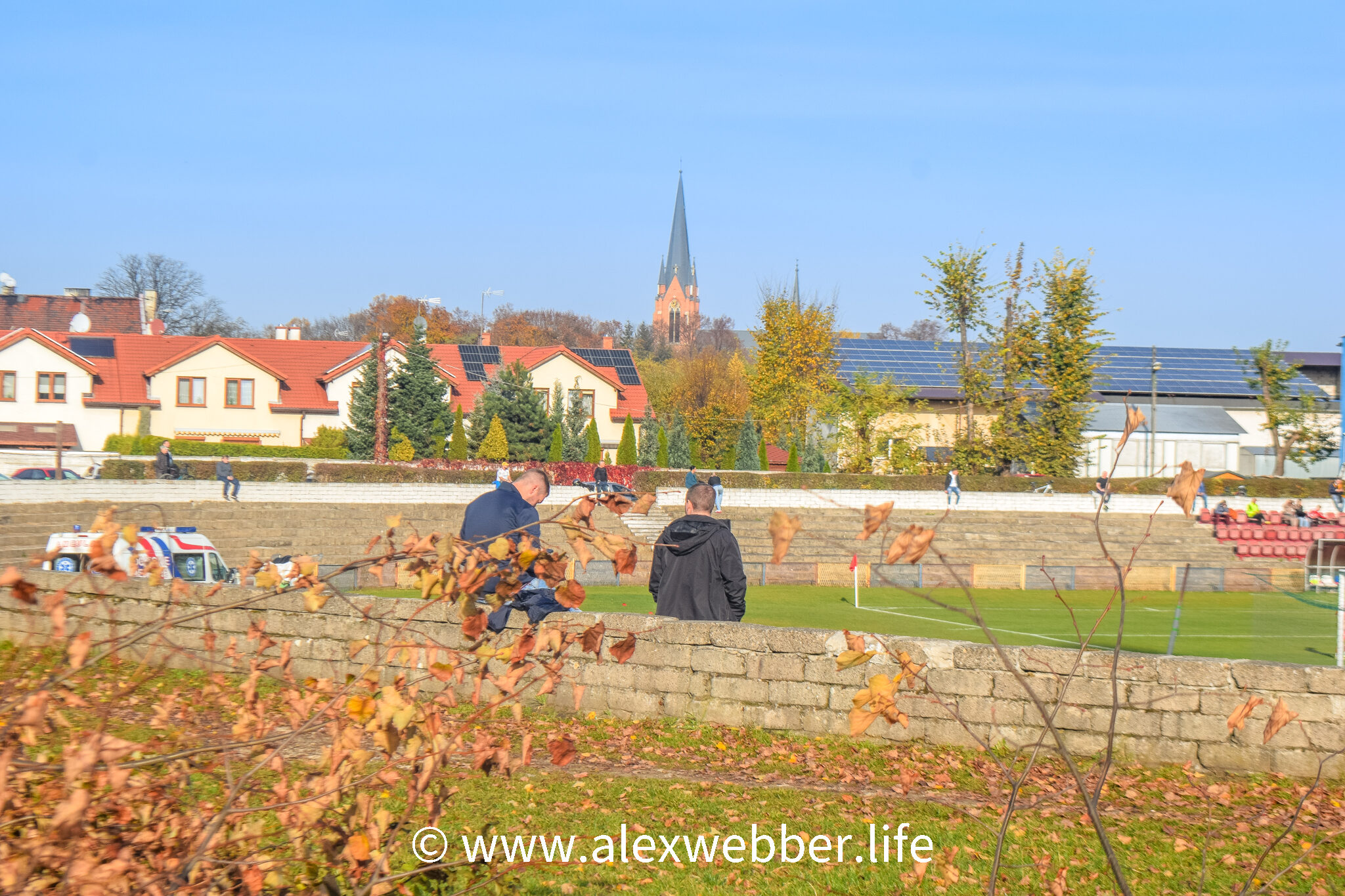 Noteworthy for its sweeping oval-shaped terrace, this almost perfect form is disrupted only by a delightful two-tiered stand with a smart gallery perched above the main bank of seating. To my knowledge, the away pen is the one improvement that's been 'recently' made.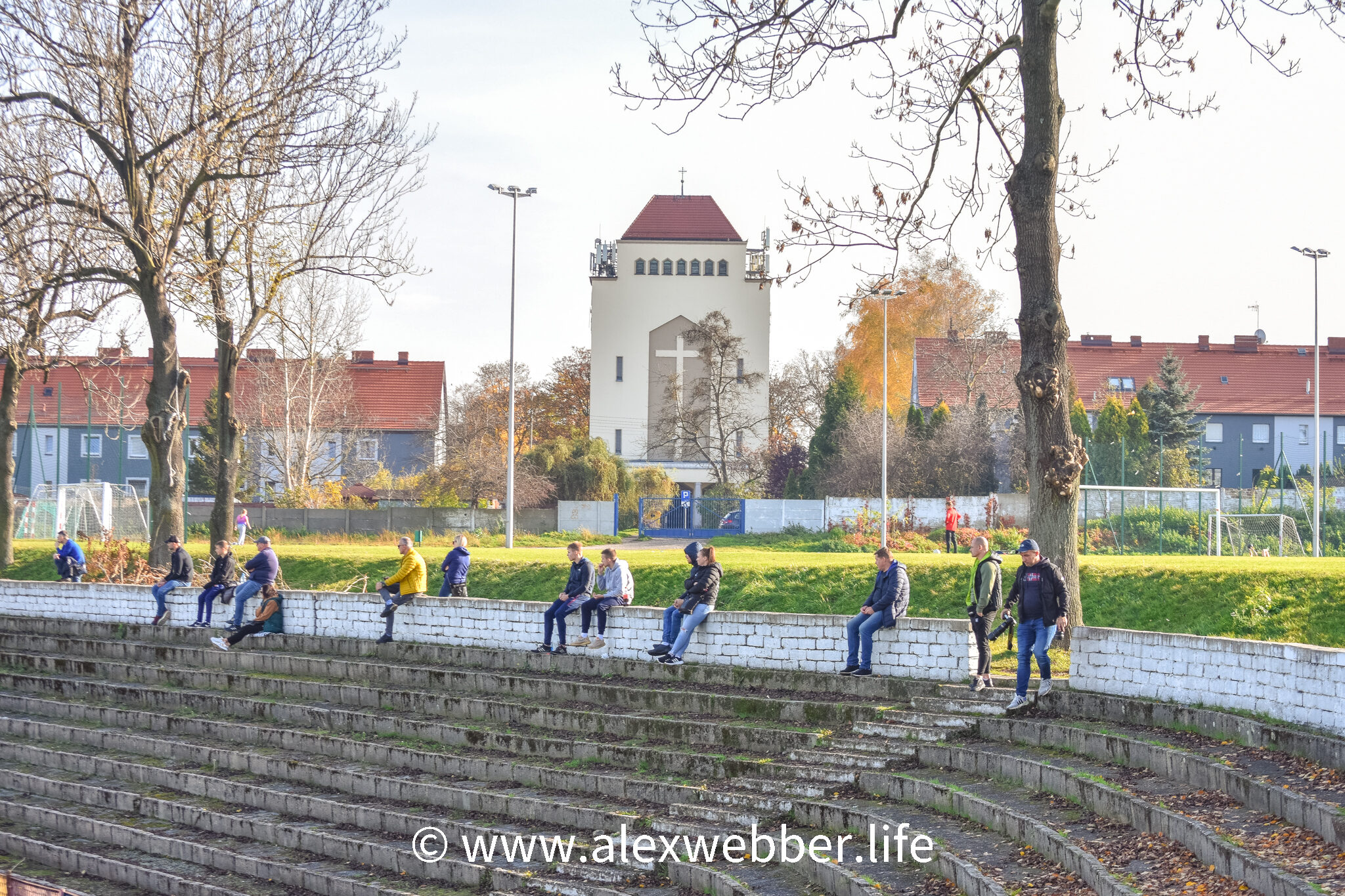 Experience
The crowd didn't even hit triple figures, but with the autumnal sun shining and the shadows long and deep, this was one of those matches where you find yourself smiling inside at the wonder of football.
Taken here by some other photographers I'd met at a match earlier in the day, the first half was spent sat on a wall in an almost stoned state of bliss, whilst the second half entailed a snoop around the ground to explore its odds-and-ends.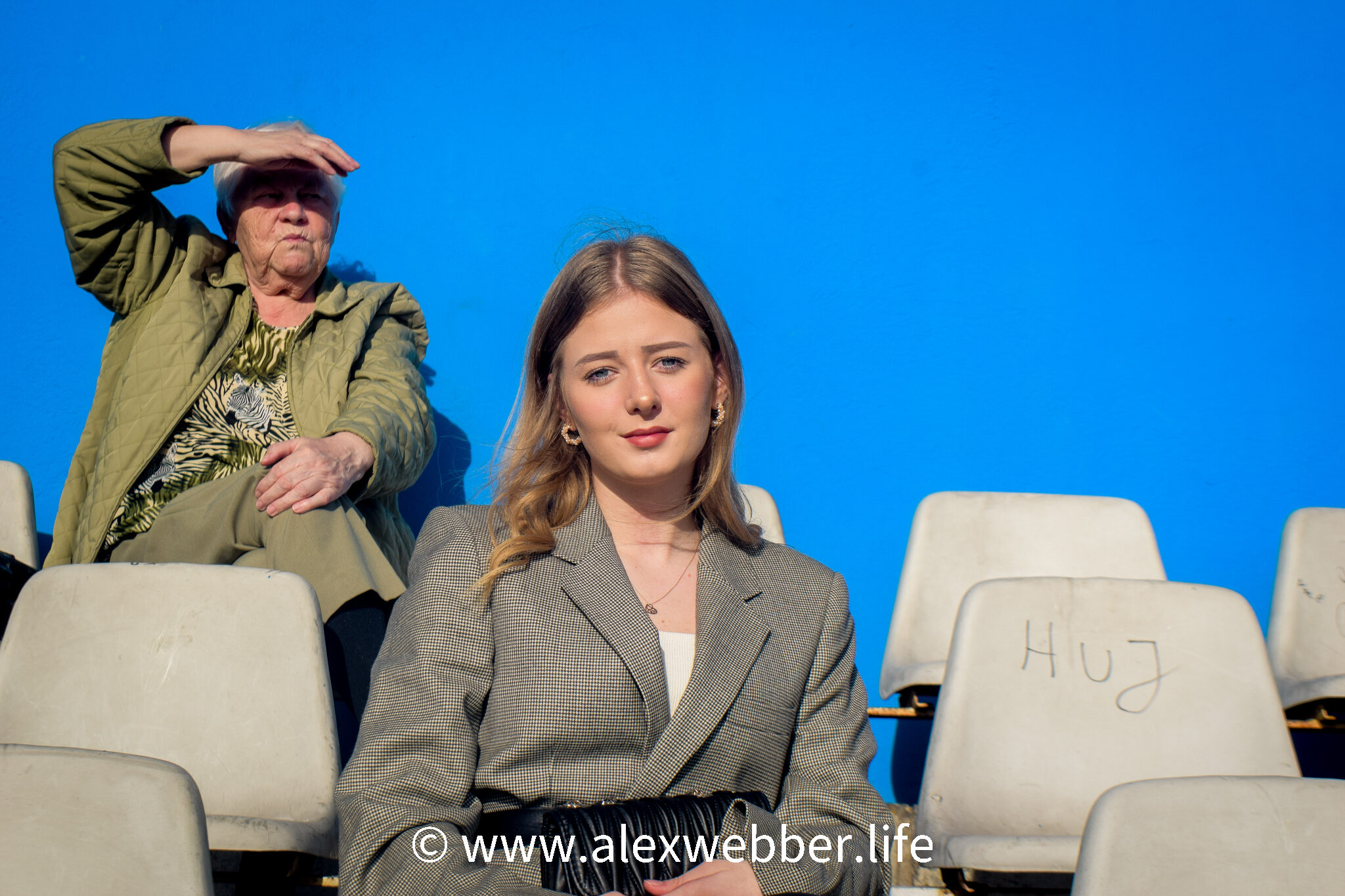 To be clear, I always knew I'd one day be jumped at Polish football, but never did I imagine it would be at the paws of a Golden Retriever by the name of Tessa.
To the unbridled joy of all those around, she knocked me on my arse before subjecting me to a round of long, greedy slurps – yep, that blurry smudge mark you see on the picture is the work of one demonic dog.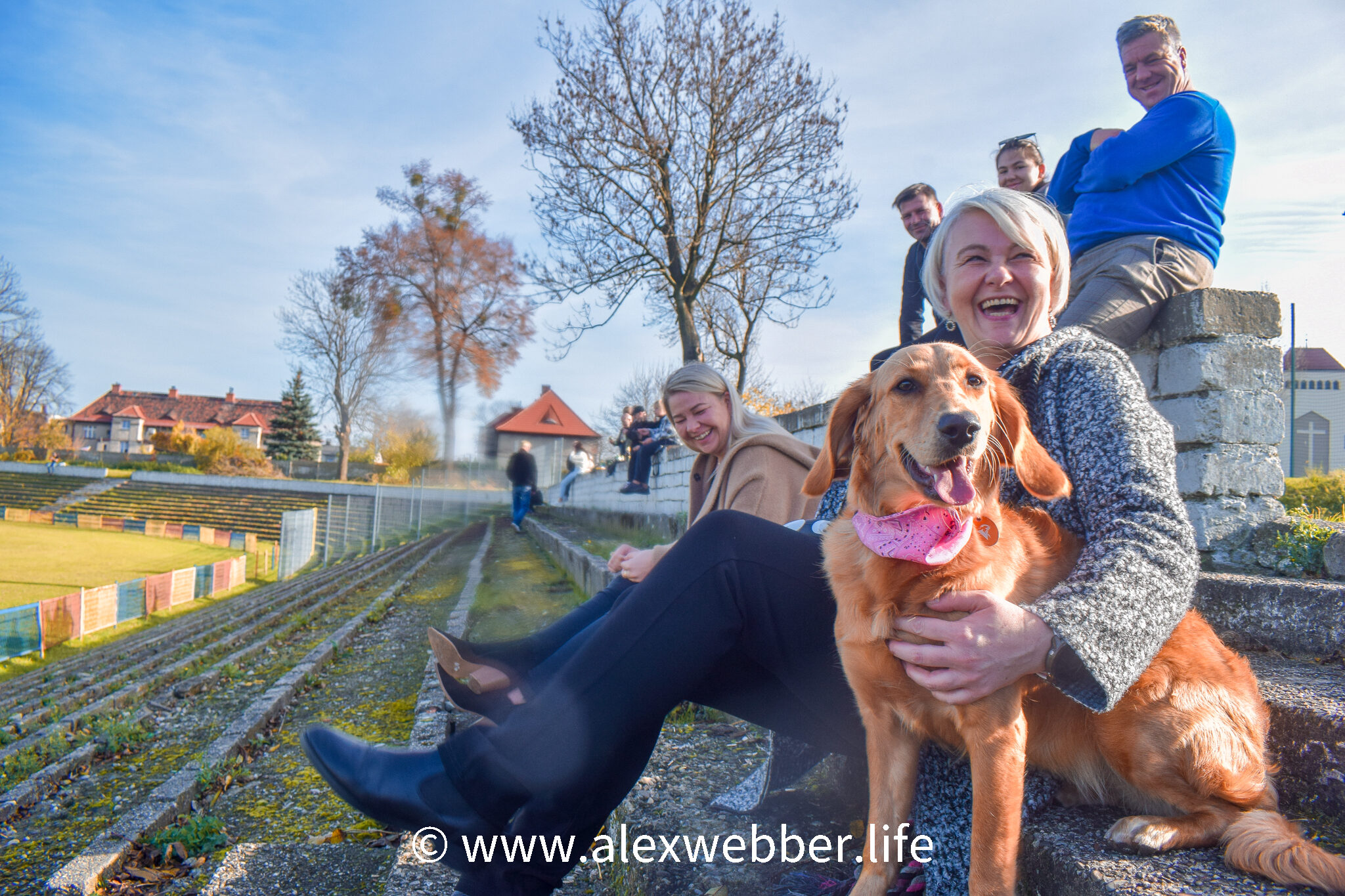 Anyway, onwards: a near perfect definition of lower league chill, this place had everything from lads drinking lager whilst discussing league tables, to an away pen that had been happily left open.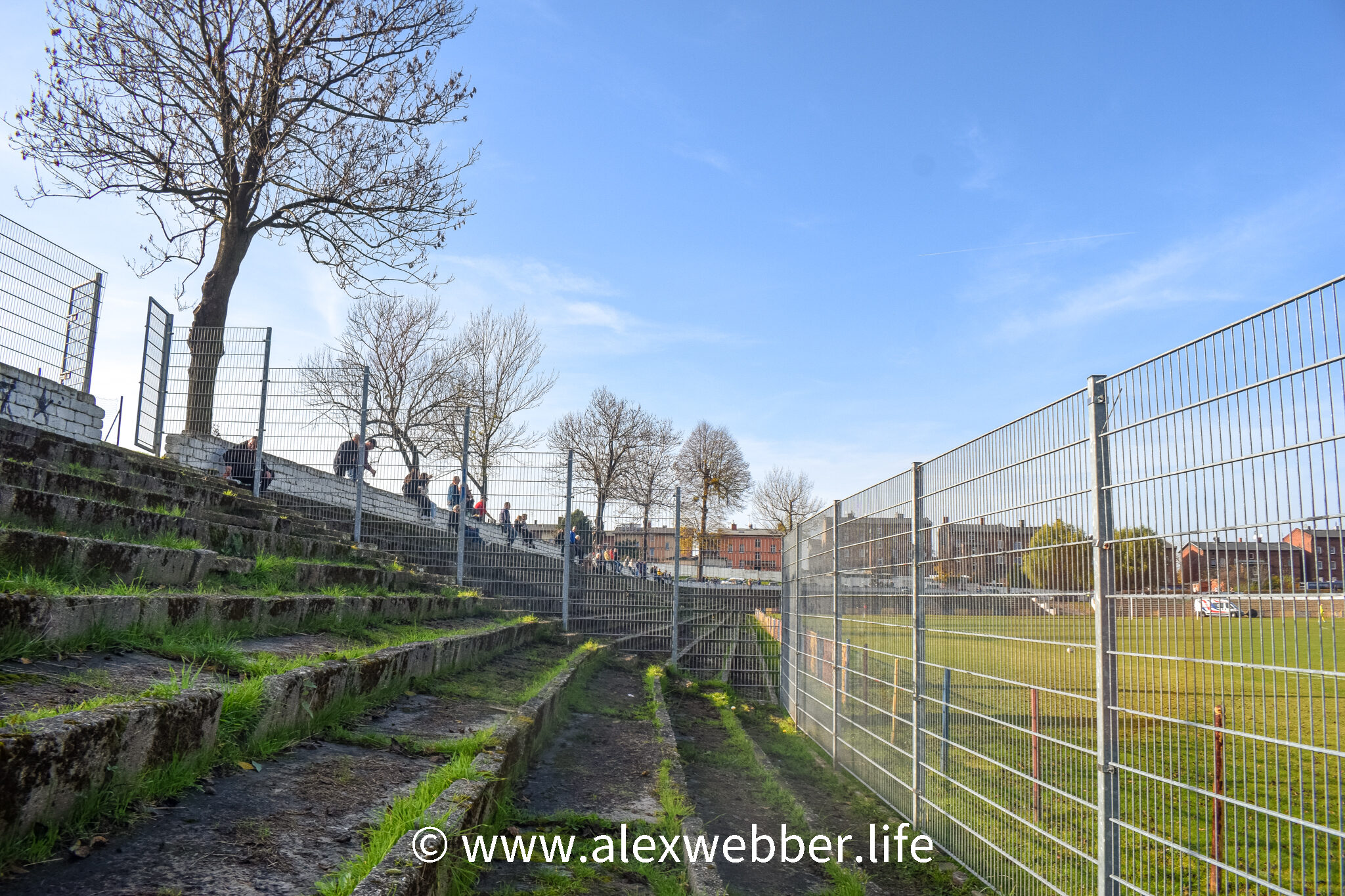 Impossible as it was to even think of crowd trouble occurring here, one of the lads I was with later related a story: "I remember being in there with my club when 50 Gornik Zabrze came over that far wall to attack us." Oh, I replied with a hint of surprise, how long ago was that. "Five years ago I think," came the nonchalant response.
Before & After
I'm fond of saying that it's the people I meet that serve to really make my trips, and this was no exception. At an earlier match that morning I'd met a couple of other photographers that I'd previously been on small-talk terms with and swiftly got chatting. All of us were heading to a big game later that evening but found ourselves at a loose end in the hours in between. Telling them I'd planned to hit up this afternoon game as a stopgap, they decided to join and offered me a lift.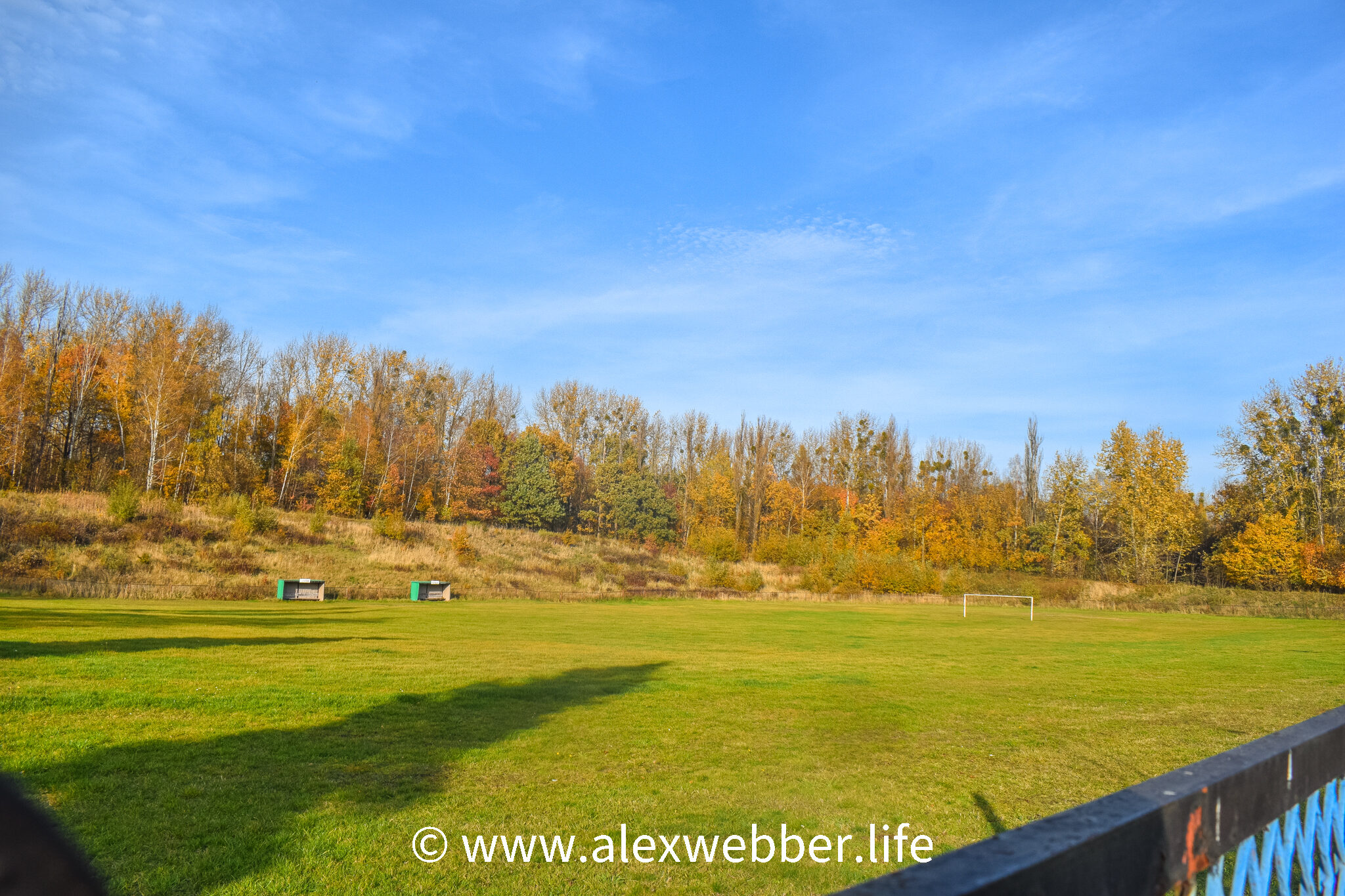 That should have been that, but instead it turned into something far more – sandwiched either side of this match I was taken on a remarkable hooli safari of the immediate region. Stopping at a couple of grounds as well (KS Miechowice – its pitch level rendered wonky due to the coal mines around; and Slavia Ruda Slaska – for some previous observations, CLICK ME!), our tour took us into the heart of the impoverished housing estates that have become such a fertile breeding ground for Silesia's hooligan scene.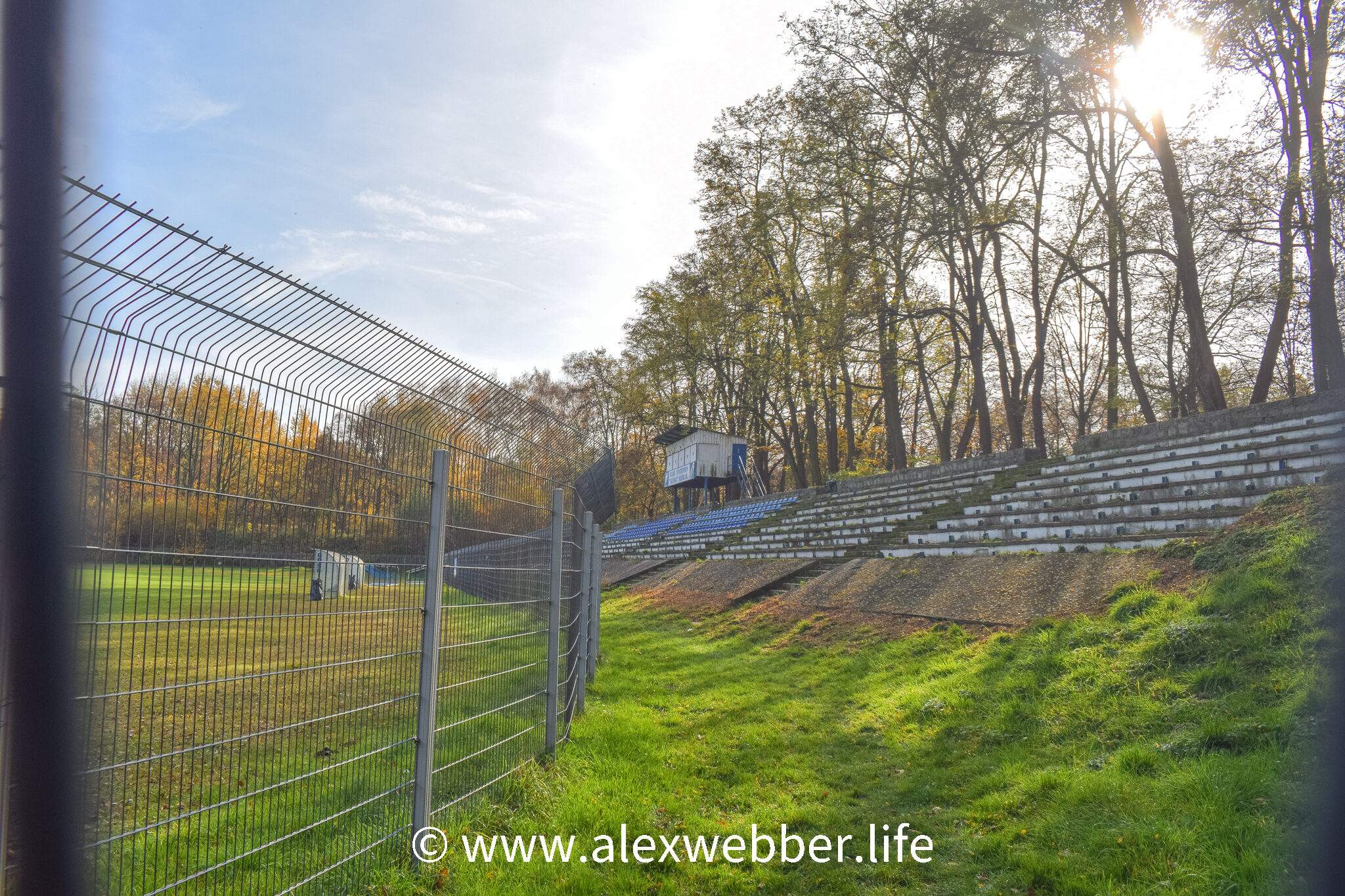 Desperately sad and deeply troubling, that broken areas like Bobrek in Bytom exist in the modern world is somewhat alarming – that said, not nearly alarming as the stories that spilled forth courtesy of my guides. "For sure we've been spotted already in the car," I was told, "so we'll only stop in places that are safe."
A group of four strangers driving about in a car, I was assured, would have been immediately interpreted by the locals as some kind of recon visit from a rival mob.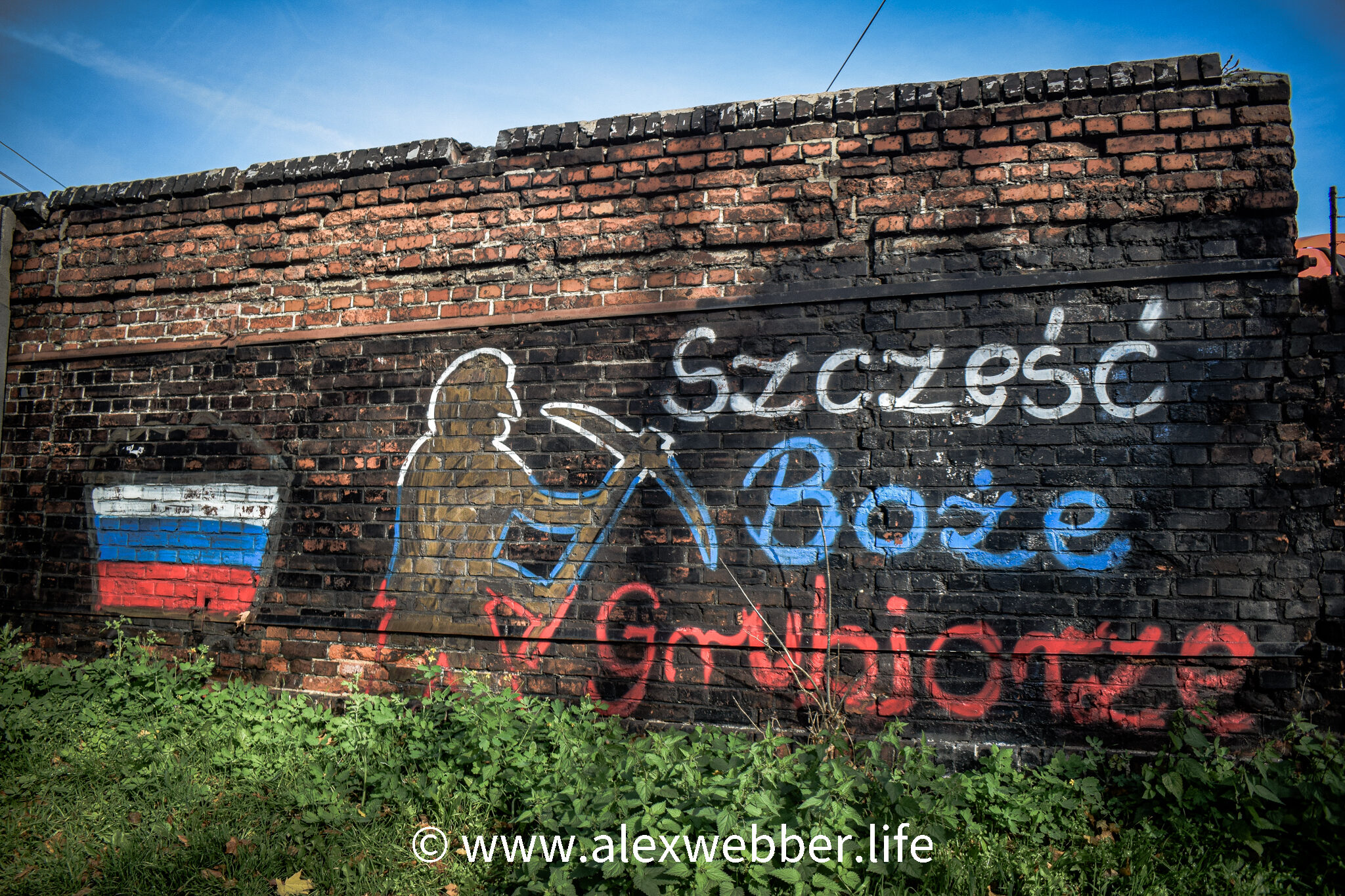 With the divisions between estates, areas and towns territorially marked by football gang graffiti, Silesia's complex system of rivalries and alliances came colourfully illustrated by my guide. "And see that memorial there on the pavement," he said, "that's where one of Zabrze's lads was murdered by Ruch Chorzow in 2017."
And so it continued much in this vein. Described as "hardcore-land" by the driver, this was an eye-opening plunge into an underworld defined by its brutality and ruthlessness. Contrasted against the gloriously glimmering October sunlight, these were tales that underscored the vicious nature of the nation's football scene – fascinating and utterly compelling, yet also startling in the heaviest of ways, this was an afternoon to remember in more ways than one.