Date: 12 September 2021 / League: Polish 8th tier (I think!)
Final Score: 5-1 / Attendance: 100 (approx.)
In A Nutshell
Sunny Sunday afternoon football played in the shadow of a historic monastery a stone's throw from Krakow's Wawel Castle…
Background
Billing themselves as the first foreign-founded, multinational football club competing in the Polish league system, the Dragoons feature players from over twenty countries and describe themselves as "a social platform that helps expats living in Krakow to integrate and embrace the local culture." Looking at their team sheet, you'd say they're not kidding: with a line-up featuring the likes of Biddlecombe, Finnegan, Forabosco, Rodrigues, Smits, Szczesnowicz, Colakoglu, Silva and Samyonov, you'd struggle to find a more international side in the whole of Poland.
And, incidentally, they're not at all bad. Established in 2019, the Dragoons finished fourth in their first two seasons, and as of writing sit perched at the top of the table with a game in hand. A historic promotion beckons!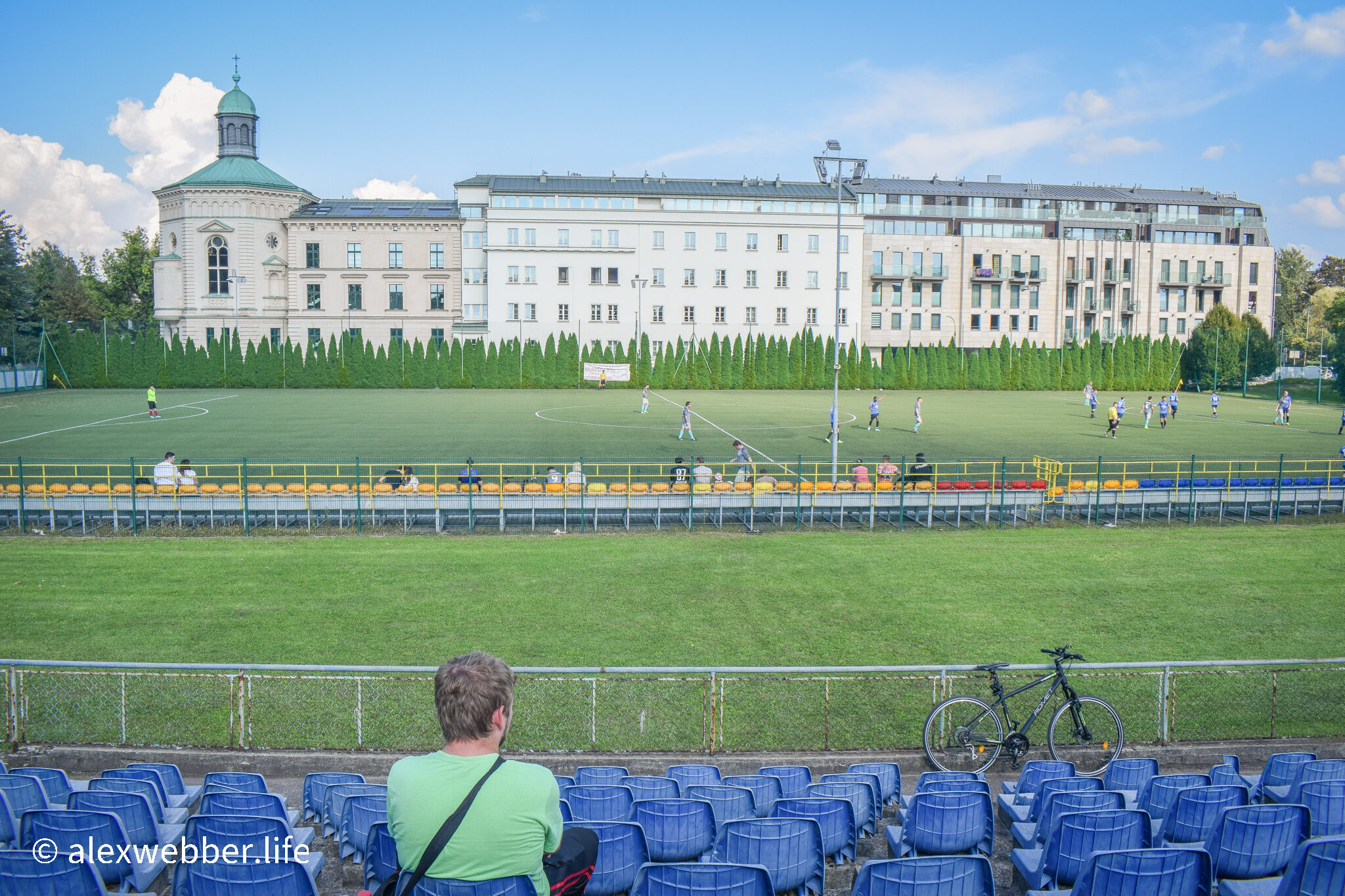 Stadium & Experience
This was the last game of an epic weekend that had started in Lodz on Friday (Widzew v GKS Katowice), spun down to Debica on Saturday (Igloopol v Polonia Przemysl) and had then gone totally tits up on the Sunday. The plan had involved making the trek up to Torun for Elana v Zawisza for one of the most talked-about derbies of the season, but a cock-up with the total moron working in Elana's press department meant I remained down south scratching around for a Plan D.
Things turned out ok in the end – the Elana match was a damp squib (thank God, I would have hit the roof otherwise), and to compensate missing out on that I got to stay in Poland's south and discover a couple of lower league beauts. Zabierzow was one and Dragoons was the other.
Playing their games at Klub Sportowy Nadwiślan Kraków, it's a pretty bizarre ground that you'll find – and by that, I do mean it is both pretty and bizarre. Found within whistling distance of the town's castle, a dragon monument and a memorial to a dog called Dzok (that basically waited on the same spot for his master years after his owner had keeled over dead), the ground is accessed via a seedy looking restaurant and is planted between a tennis club and a historic monastery that looms ahead.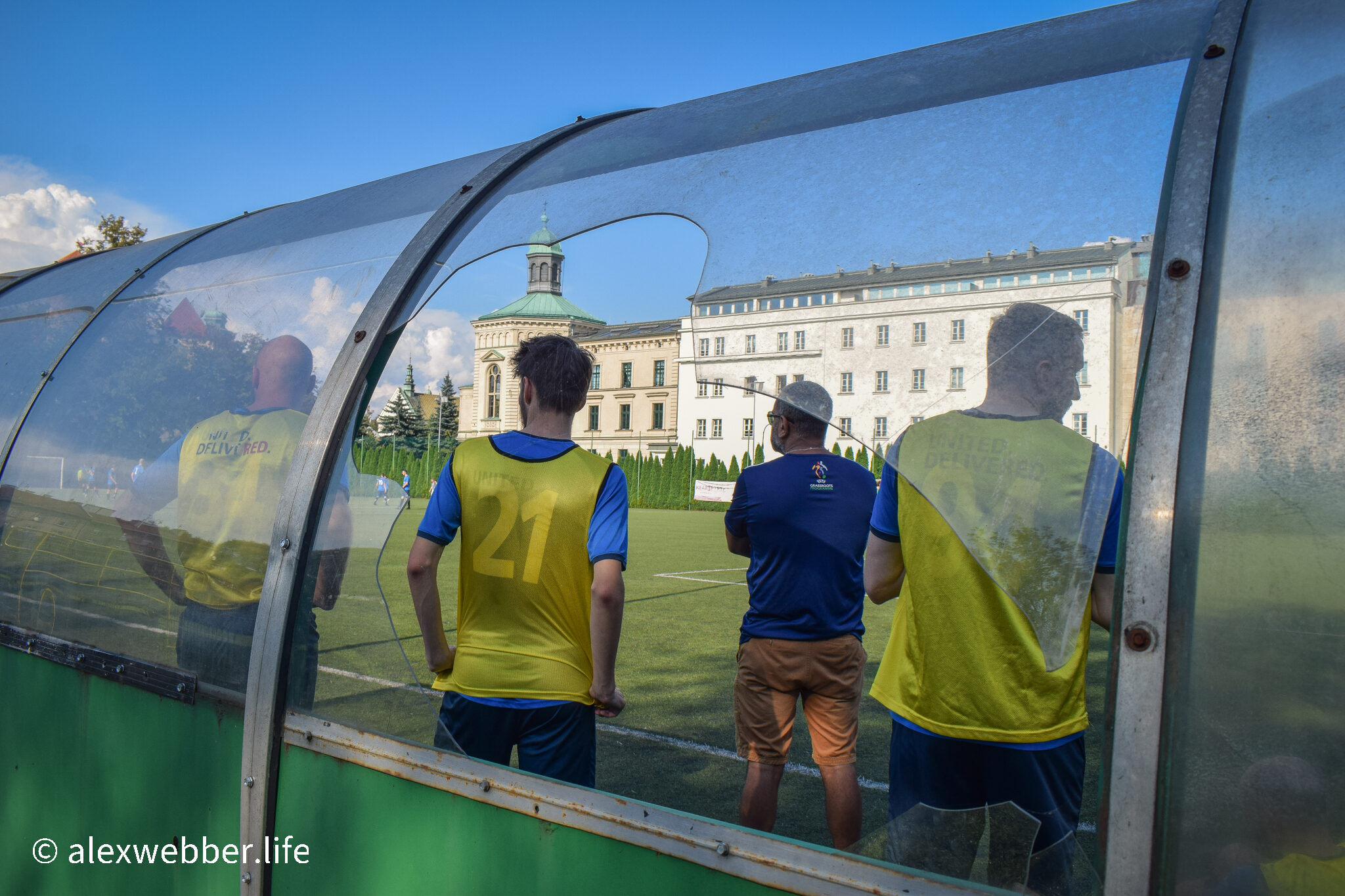 Recently renovated, the monastery's tower has since been transformed into one of the most Poland's expensive apartments. It offers a magical backdrop, and gazing up at it you can't help but let the imagination run: you can picture, almost, royal alchemists inside surrounded by bubbling beakers and disgraced jesters groping buxom country wenches.
Enough of that, and the only stand is also pretty interesting – find two uncovered tiers separated by a stretch of glass lawn running in between them. It doesn't afford much of a view, but it's certainly a pioneering concept that I'm sure served as inspiration for West Ham's Olympic Stadium.
Crowd-wise, on my visit the audience consisted of stray tourists, curious locals and a spread of young to middle-aged expats: teacher types, IT consultants and those sorts. Nothing vocal, and nothing to suggest that this ever changes.
Postscript: the Dragoons did indeed win promotion, and that prompted a rethink as to where they played their games. Upping sticks, find them nowadays turning out at the revamped ground owned by Pradniczanka Krakow.
The Best Bit!
The Dragoons are sponsored by a British pub round the corner that doubles as the first and only British-style ale brewery in the country. Reputedly run by a Cambridge-educated physicist, I'm guessing he's also a bit of a Burnley fan, for evidence of this abounds in the form of pennants, scarves and other bits and pieces. It's called the Tea Time, but you should think of that as a diversion tactic to deter the usual Easy Jet lot that you catch pissing in fountains further up in Old Town. The place is great – visit!