Date: 3 November 2019 / League: Polish regional leagues
Final Score: no idea / Attendance: approx. 50 people and 6 dogs
In A Nutshell
Up past a cosmic, rocket-shaped church, and beyond Roman Polanski's childhood home, sits a broken antique ground nestled amid woodland. Fantastically likened by one football blogger as being redolent of "a Mayan ruin lost in the jungle wilds", for football romantics it's an absolute must.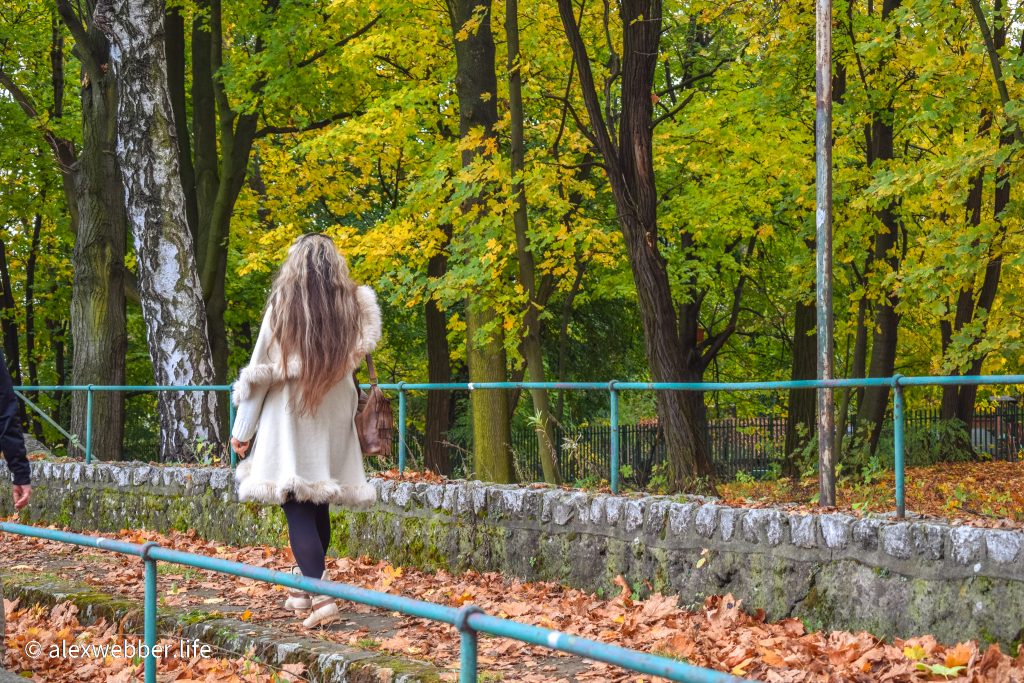 Background Notes
My information is sourced from internet sleuthing, so if it's incorrect then it's not me at fault. With that disclaimer out of the way, what I've deduced is that the ground was built in 1929 to act as home for Korona Krakow, a function it would serve until the outbreak of war.
For the duration of the Nazi occupation, club buildings were turned into German military warehouses, stands demolished, and the pitch transformed into an orchard. Of these wartime additions, look out for the villa at Parkowa 12 – right at the mouth of the stadium's entrance, this was the home of the local Gestapo chief, Gustav Beckmann.
Returned to Korona after the war, the stadium was reopened in 1952 and featured the addition of funky Socialist mosaics, a wrestling club, shooting range, a clock tower and stands capable of holding 10,000 spectators.
Getting There
Slapped inside the western district of Podgorze, the temptation is to get there by an Uber – doing so, however, misses out on seeing a quite brilliant part of Krakow. An easy walk from the more popular tourist hotspots, cross into Podgorze via a sweeping, swaying footbridge that deposits you a stone's throw from the Cricoteka, a cultural centre whose hyper-modern glass shell encases a former power plant below.
Amid outbreaks of outsized wall art, find yourself exploring streets that once housed the city's notorious Jewish Ghetto or settling inside one of the area's numerous eateries or bars. When you're done, pass the Church of St. Joseph, a freaky structure more redolent of a Neo-Gothic space project to head up Parkowa to reach the stadium – doing so, at Parkowa 1, you'll pass the building in which Roman Polanski was raised before fleeing the Ghetto as a child.
The Stadium
A ruin wrapped inside woodland would be the best way to describe this horseshoe-shaped stadium, and it's particularly striking when carpeted in the auburn colours of autumn. Stepping over jagged piles of stone, it's a magical trip back in time: listen carefully, and you can almost hear the whispered voices of the fans that once flocked here.
Not many do now. Though used by a few clubs, attendances are sparse though entry is free – the turnstiles stopped clicking many years ago.
In my case, I visited to watch a side called Strzelcy Krakow, an ambitious name that translates to something akin to Sharpshooters Krakow. God knows what division they play in, but your local pub side would pose them quite a challenge – sharpshooters they ain't.
But if the football is a little desperate, the place itself is a magical tribute to bygone times. Attracting a docile crowd of local football enthusiasts and dog-walkers, you're here to soak in the underlying feeling of nostalgia.
Helping that journey, find a small rotunda from which local craft beers are served via a hatchway and enjoy these spoils on a spread of DIY sofas and oil drums – if there's a better way to watch football, then I've yet to find it.
Afters
I stayed in a castle. Of all the things I love about football weekends, it's the chance to poke around the country and stay in places less travelled. So having enjoyed a post-match pint in my favourite Podgorze bar (no longer around – thanks Covid), I took a taxi to Zamek Korzkiew, a 14th century castle built as part of the Eagles' Nest trail: a string of ancient fortifications constructed to defend the region and its trade routes.
Now revised as a small hotel, I spent the next few days living in my own private fairy tale – one that involved not much beyond crisp, sunset walks and evening tipples by a flickering fire.