Date: 15th October 2022 / League: Polish 5th tier
Final Score: 1-1 / Attendance: 1,000 approx.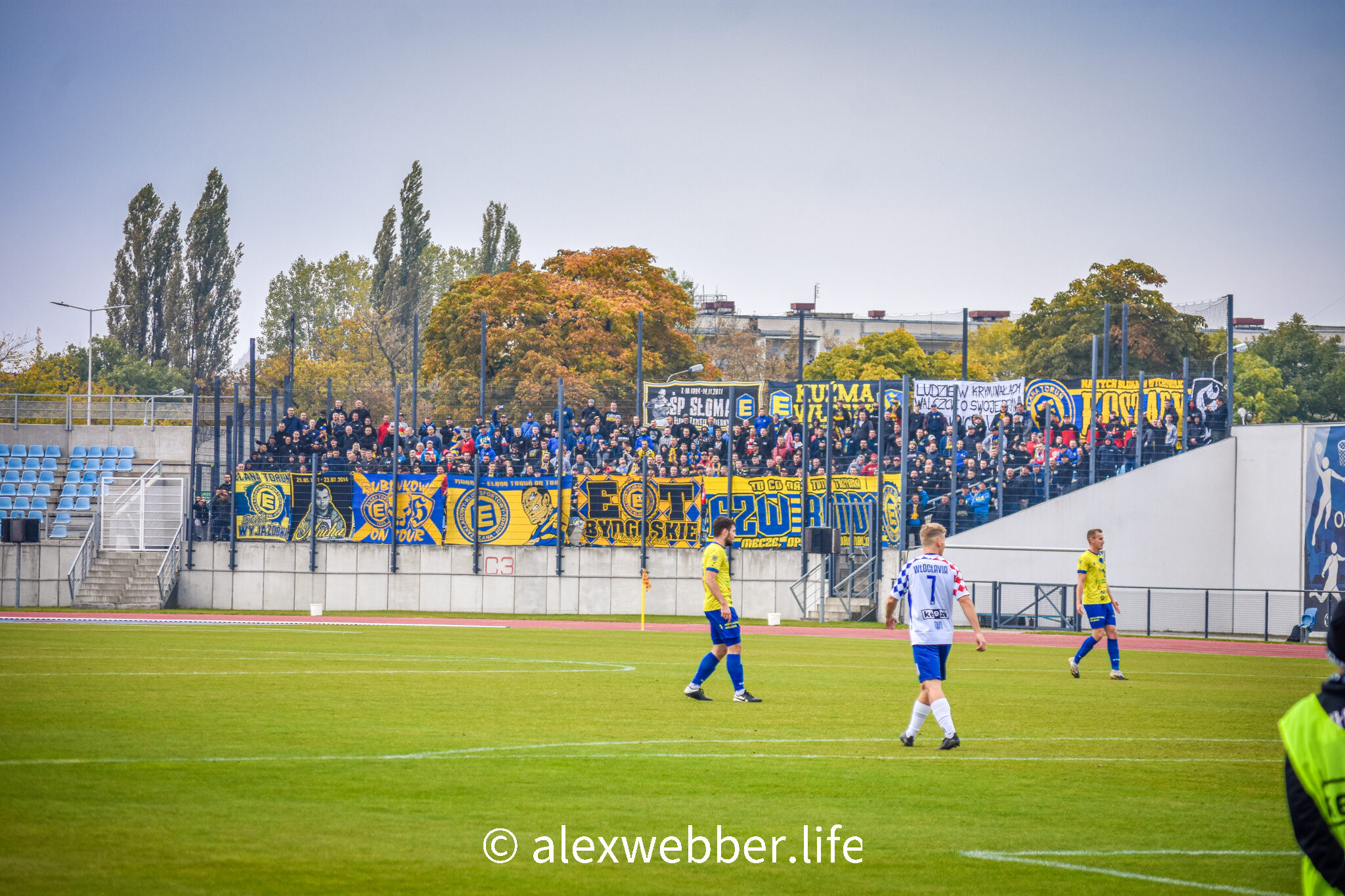 In A Nutshell
A sterile athletics ground fails to detract from an otherwise enjoyable local derby contested between two side vying for promotion…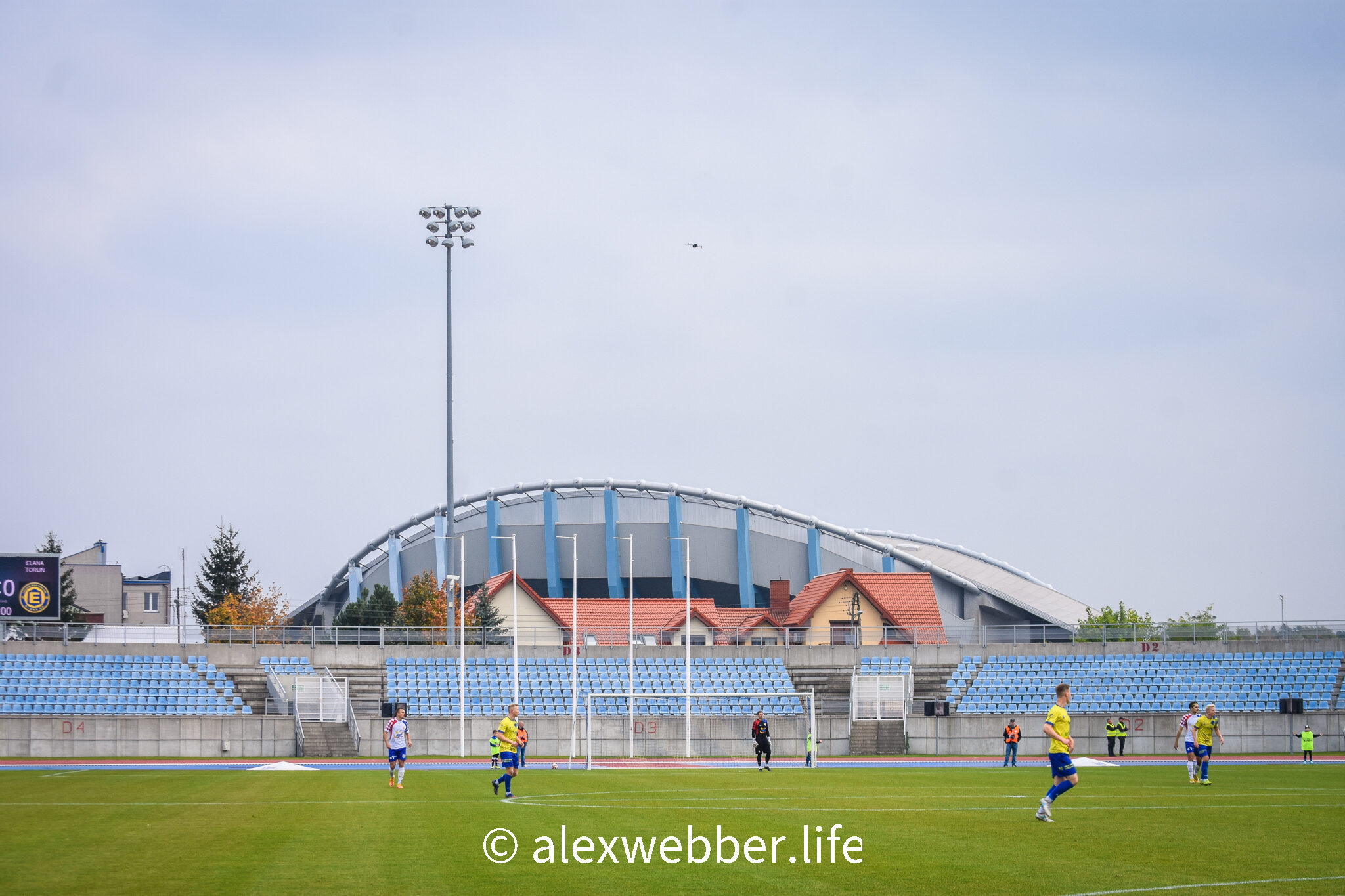 Background
Dissolved last year after being sunk by a financial iceberg, Elana have rebooted as a phoenix club and find themselves in the process of rebuilding from scratch. Already gunning for promotion, this fixture saw them visit Wloclavia Wloclawek, a team also in the title race.
This, though, was about more than league tables. Separated by less than sixty kilometres, this was a regional derby lent extra flavour by Wloclavia's alliances with Zawisza Bydgoszcz (Elana's biggest rival) and LKS Lodz, and Elana's tie-in with Widzew Lodz. Although Zawisza didn't show (they had their own big game taking place that day), contingents from both Lodz sides gave a pinch of spice to this hyped-up clash.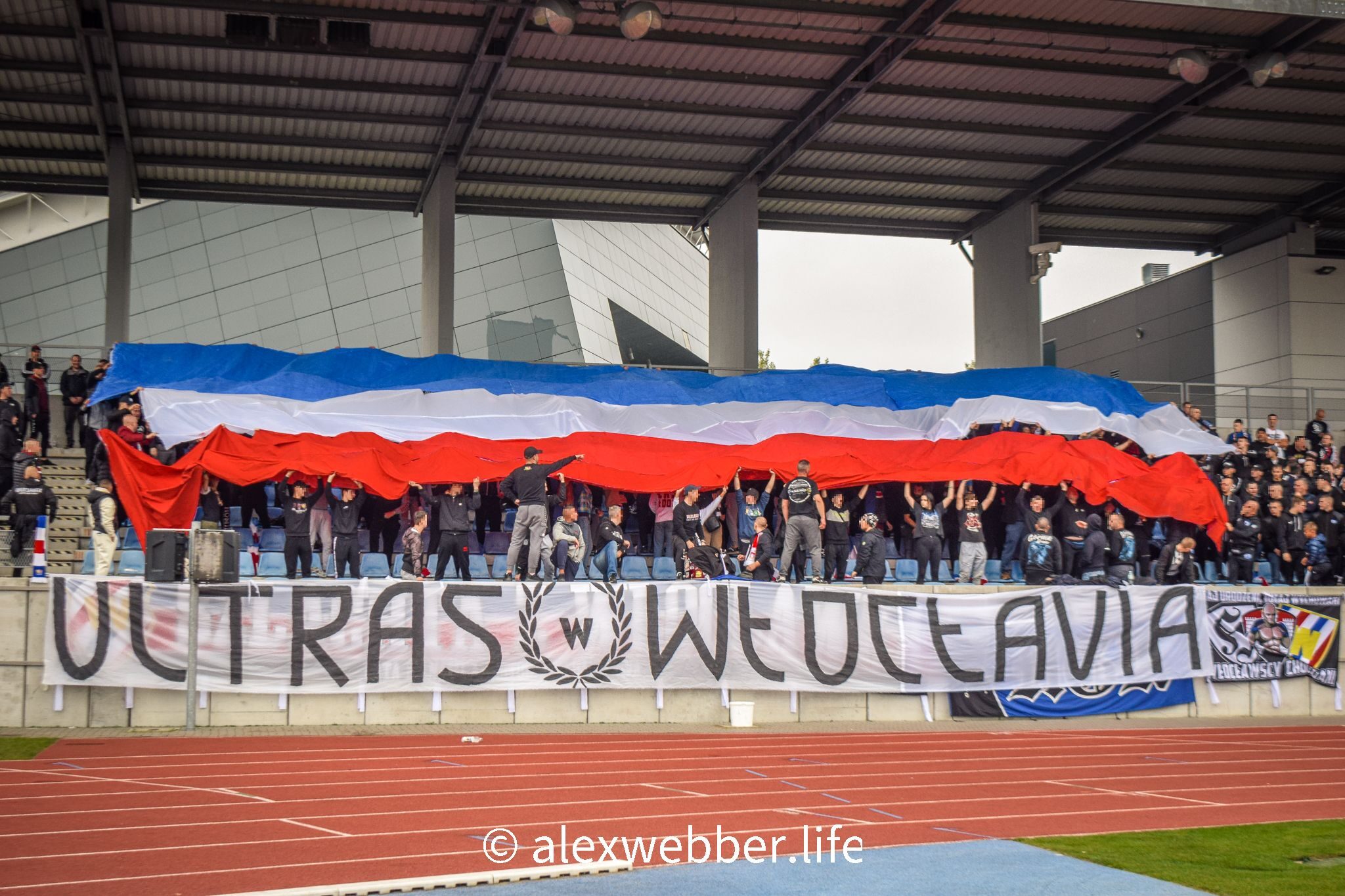 Stadium & Experience
Having first poked around Wloclavia's extinct ex-home, the new ground risks plunging stadium nerds into a state of depression – and more so when viewed under leaden, overcast skies. Holding just under 5,000, it sure makes for a smart athletics venue, but as a football arena its vast, echoing spaces and cold colour schemes feel anything but like home.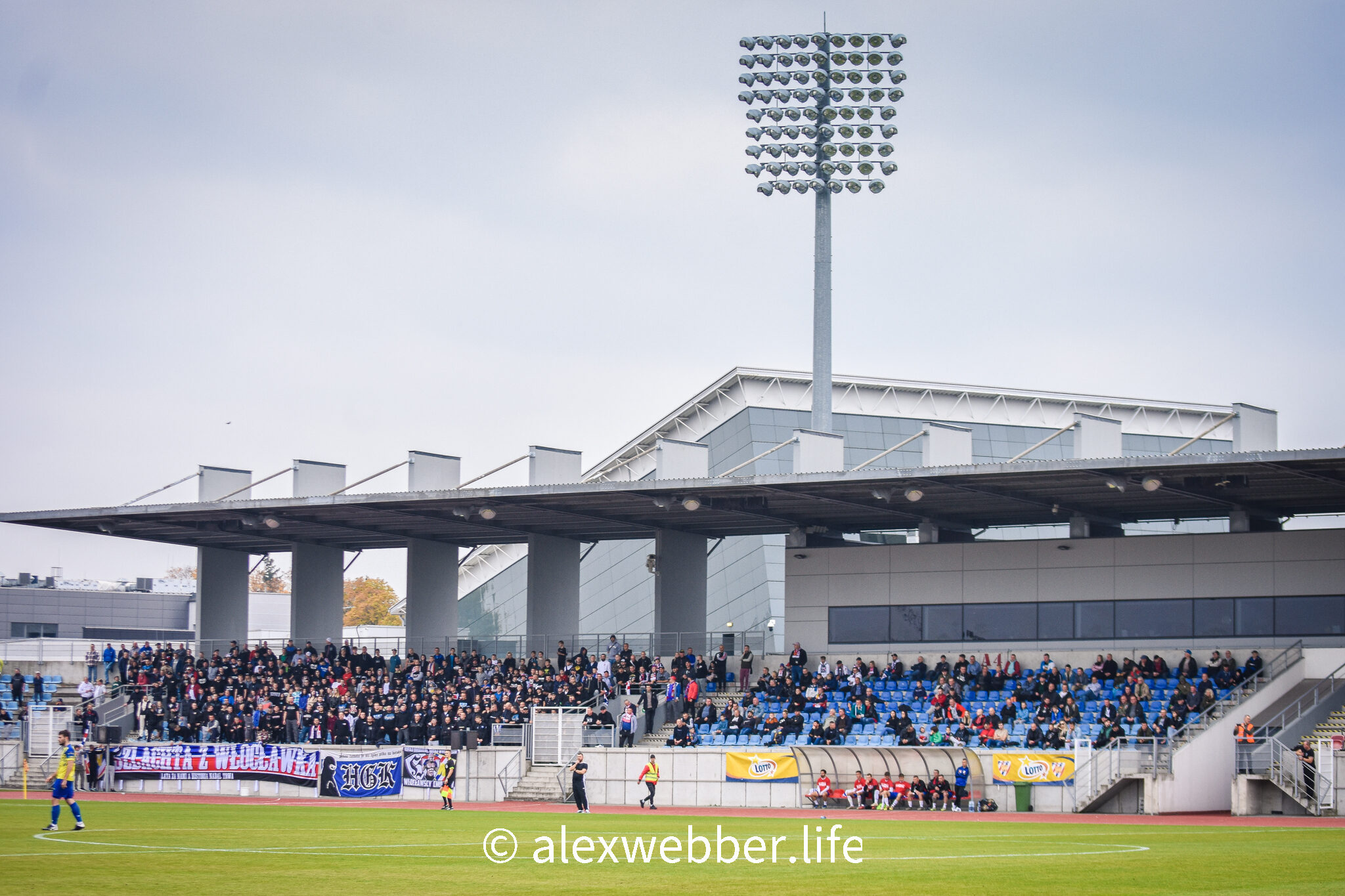 That said, it would be incorrect to call this stadium entirely featureless, and for groundhopping perverts there's plenty of finer details – not least, some cosmic buildings rising from behind the stadium to add some visual titillation.
But with nothing really to identify it as part of Wloclavia's permanent heritage, you get the idea that the club have yet to properly unpack their bags and are instead using this as little more than a fleeting shelter to rest their heads. Unfortunately for their fans, I've yet to see anything to suggest that a proper football stadium will arrive anytime soon (if ever).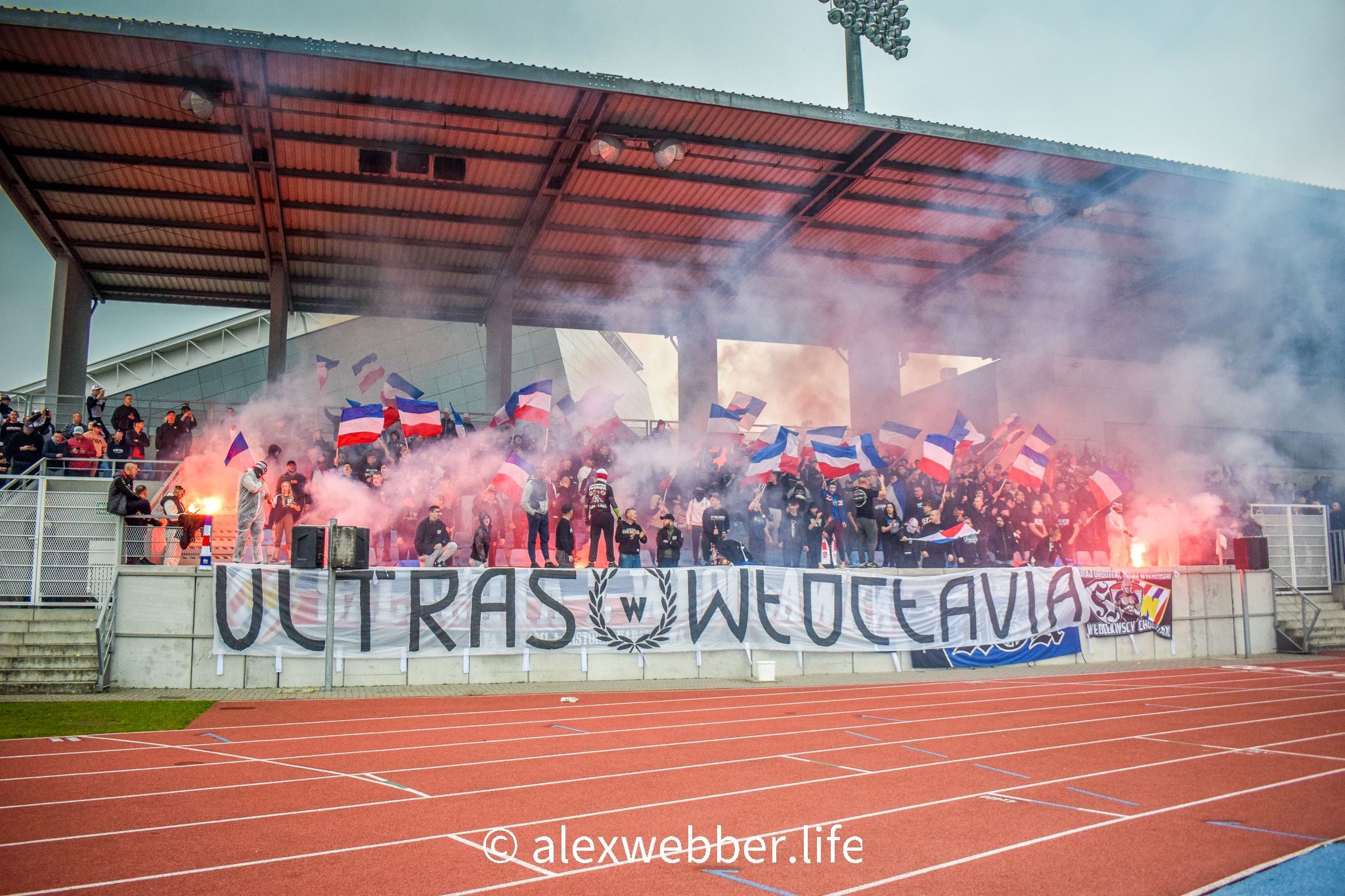 Still, it takes more than a characterless stadium to impact the atmosphere of a Polish derby, and this one was no exception. Packing out the away enclosure with 250 or so fans, the visitors fulfilled their part by offering boisterous support throughout, and the home side too played their role with 350 ultras backing their side to the hilt – as the game edged towards the final whistle, they signed their day off with a banner drop, pyro show and flag display.
With no shortage of insults flying between the two rivals, this was definitely a game with some evil vibes in the air, but looking at the bigger picture you'd call it a resounding win for the local police, as well as a validation of the club's tactics – ever since an off-field punch-up against Chelmza three years back (for some hooli-porn, CLICK ME!), home fans have been shunted so far away from the away pen that they need the Hubble telescope to see it. But despite these significant challenges, as a fan experience this definitely was decent with both sets of supporters earning my respect.
Afters
It doesn't count as a football trip for me unless hours are spent immersing oneself in the local pub culture – although this was planned as a fleeting daytrip, I was allowed to do just that thanks to the presence of a pub a dart's throw from the train station. Granted, it did carry the lingering odour of stale piss, old socks and damp, but then you should take a sniff of me when I traditionally roll home during Sunday's daybreak hours. Equipped with ten taps, Cegielnia does a fine job of introducing some of the better names involved in Poland's craft scene inside a charismatically dark inteior.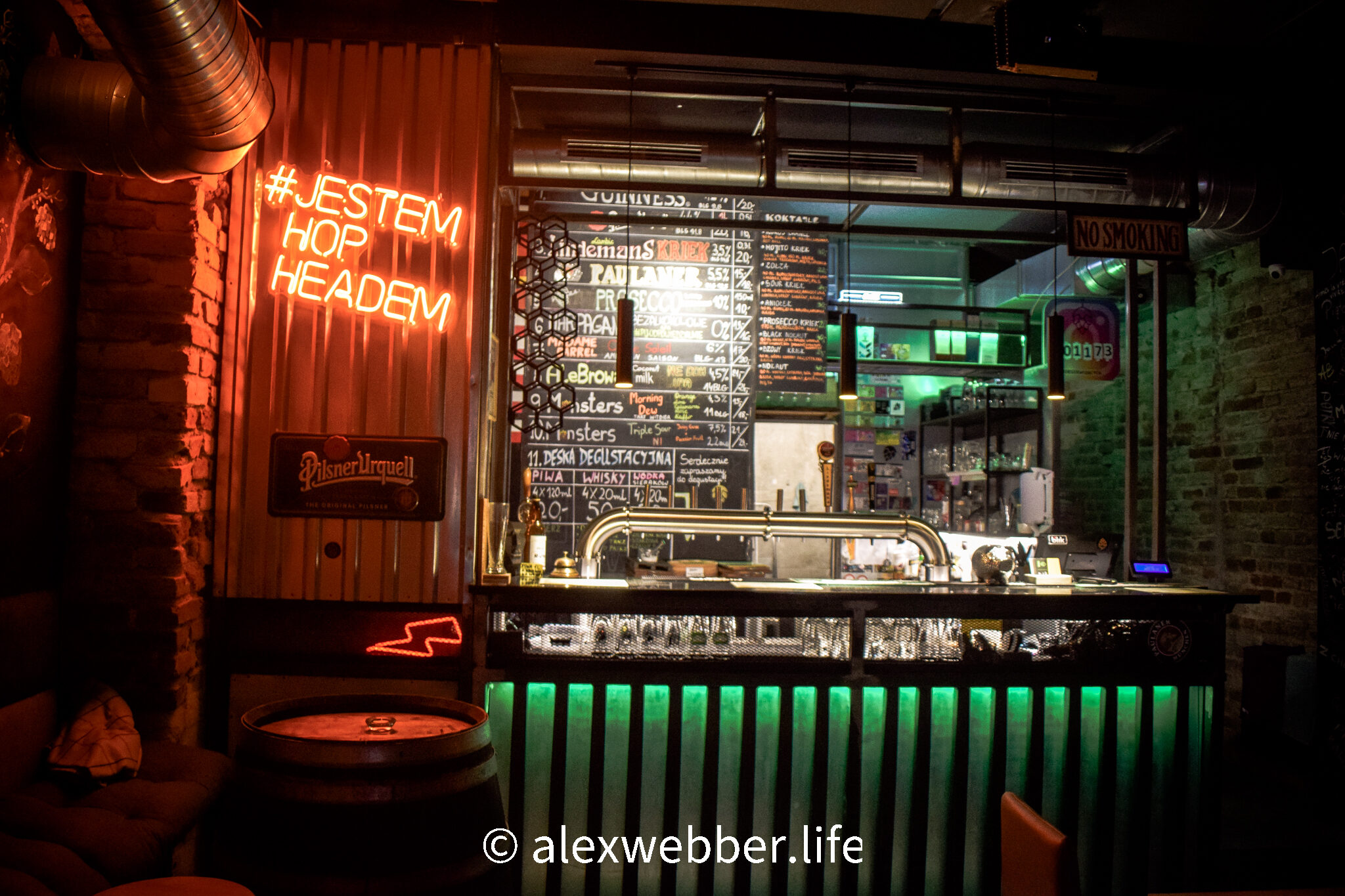 Geography
Wloclawek lies in the centre of Poland and can be easily accessed by train from major urban hubs such as Poznan, Lodz and Bydgoszcz. Coming from Warsaw, it took me just over two-hours by train making this an easy daytrip.
From the station, you could get a taxi, but personally I'd recommend the walk – do so yourself and you'll be passing the wreckage of Wloclavia's former home. For more on that, CLICK ME!