Date: 1 September 2019 / League: Polish top flight
Final Score: 1-2 / Attendance: 25,768
In A Nutshell
A fiery affair inside one of Poland's finest modern grounds…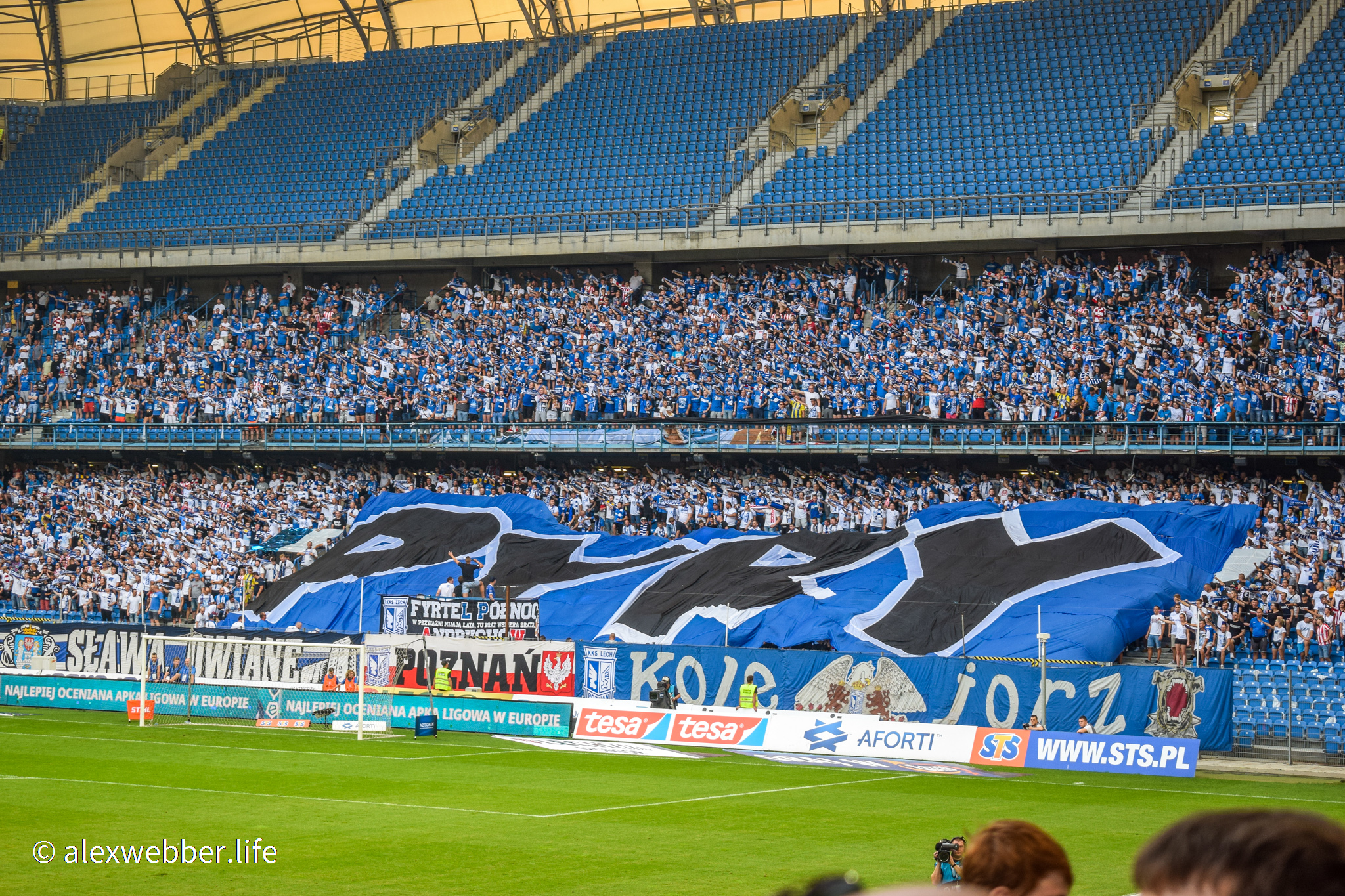 Stadium
I'm happy to bash Poland's contemporary stadiums, and by in large I think my criticism is warranted – Lech, on the other hand, have done wonders by revising their old ground. First completed in 1968, it was completely rebuilt for Euro 2012, a process that saw it lose its iconic 56-metre floodlights that stood in each corner.
In return, however, the followers of Lech received a bona fide cathedral of football. Tight to the pitch, and touting steeply-tiered stands, there's something about it that reminds me – rightly or wrongly – of the San Siro in Milan. Entering this ground, you know you're somewhere special.
Accommodating just over 43,000 fans, it's hosted a string of international friendlies since its renewal, but more famously a trio of Euro matches – two of which featuring the Republic of Ireland.
Outside, reference to the team's nickname, 'The Railwaymen', physically manifests itself in the form of a decommissioned steam engine standing outside, and it's well worth hanging around in the hour before kick-off – it's one of the few grounds in Poland where fans like to lurk outside soaking up the pre-match atmosphere over beers scored from the modern-looking Kolejorz bar.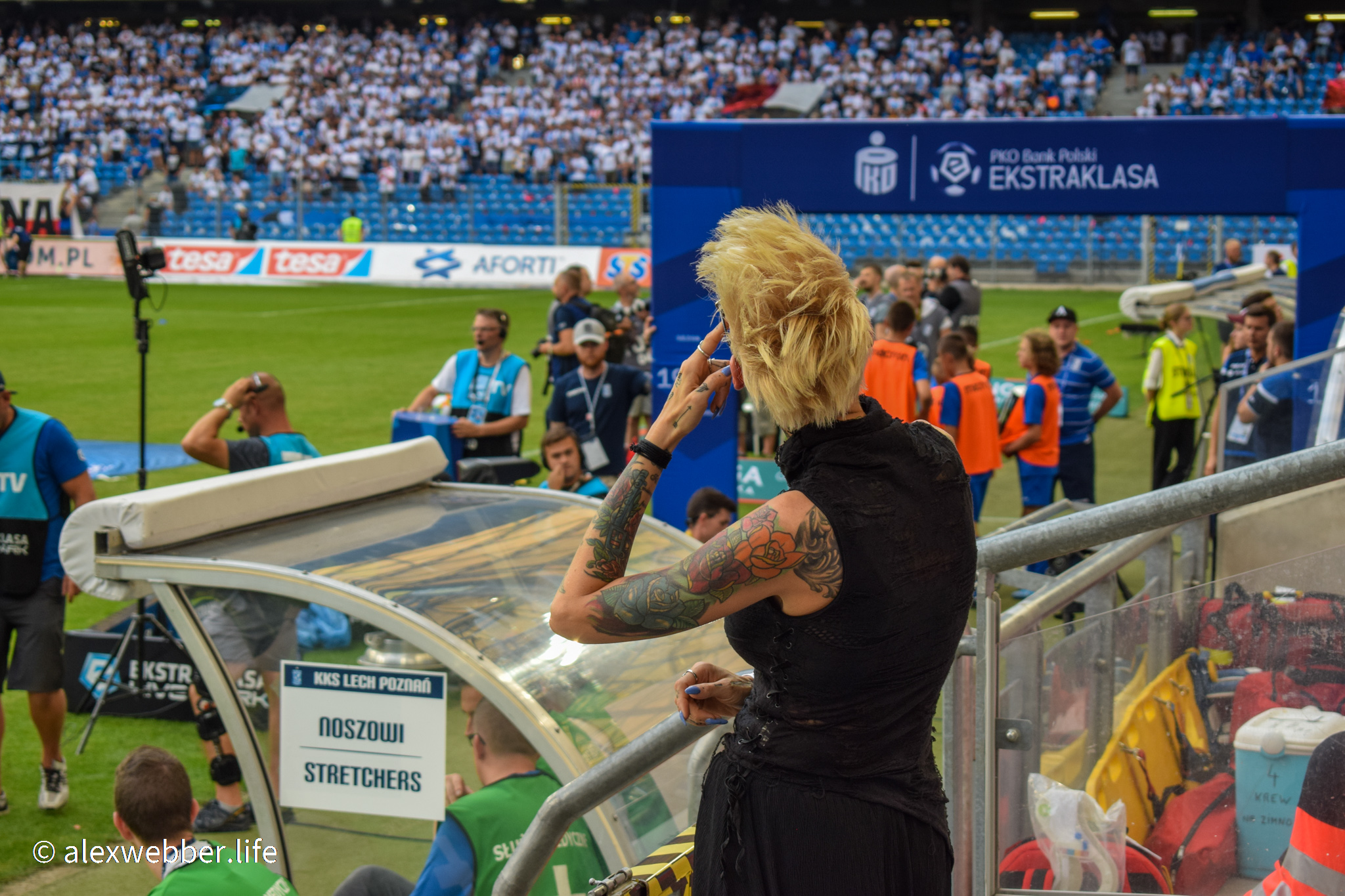 Getting There
Though out in the suburbs, reaching Lech is never an issue – buses run from convenient, idiot-proof locations such as the Sheraton Hotel (which itself is bang by the Trade Fair and train station), while taxis shouldn't really breach the PLN 40 mark. If I remember rightly, I opted for a cab this match, and was surprised to find myself offered melted chocolate goodies by an opera-singing driver.
What a friendly guy, I remember thinking – until he touched my leg. "Mate, f**k off and drive will ya'!" Groomed on my way to a football match, you couldn't make it up. Next time, I'm taking the bus.
Matchday Experience
The fans of Lech and Cracovia enjoy a close friendship, so in spite of this being a competitive fixture followers of the two sides happily sat side-by-side to celebrate their enduring alliance. And what celebrations! Following a stirring moment when the ground rose as one to belt out the national anthem in memory of the 80th anniversary of the German invasion of Poland, what came next was a full-frontal explosion of noise, pyro, flags and din.
I love my trips to Lech, and this was among the best, not least because I'd chosen a hospitality package that allowed me to enjoy the racket from the comfortable environs of the VIP seating. Priced at around thirty quid, the VIP section was definitely among the least impressive I've visited, but nonetheless it fulfilled its obligations – i.e. getting me mullered. A superb night, and much accidental conversation with randoms in the lounge after. Highly recommended!