Date: 29 July 2023 / League: Polish 2nd tier
Final Score: 3-0 / Attendance: 1,696 approx.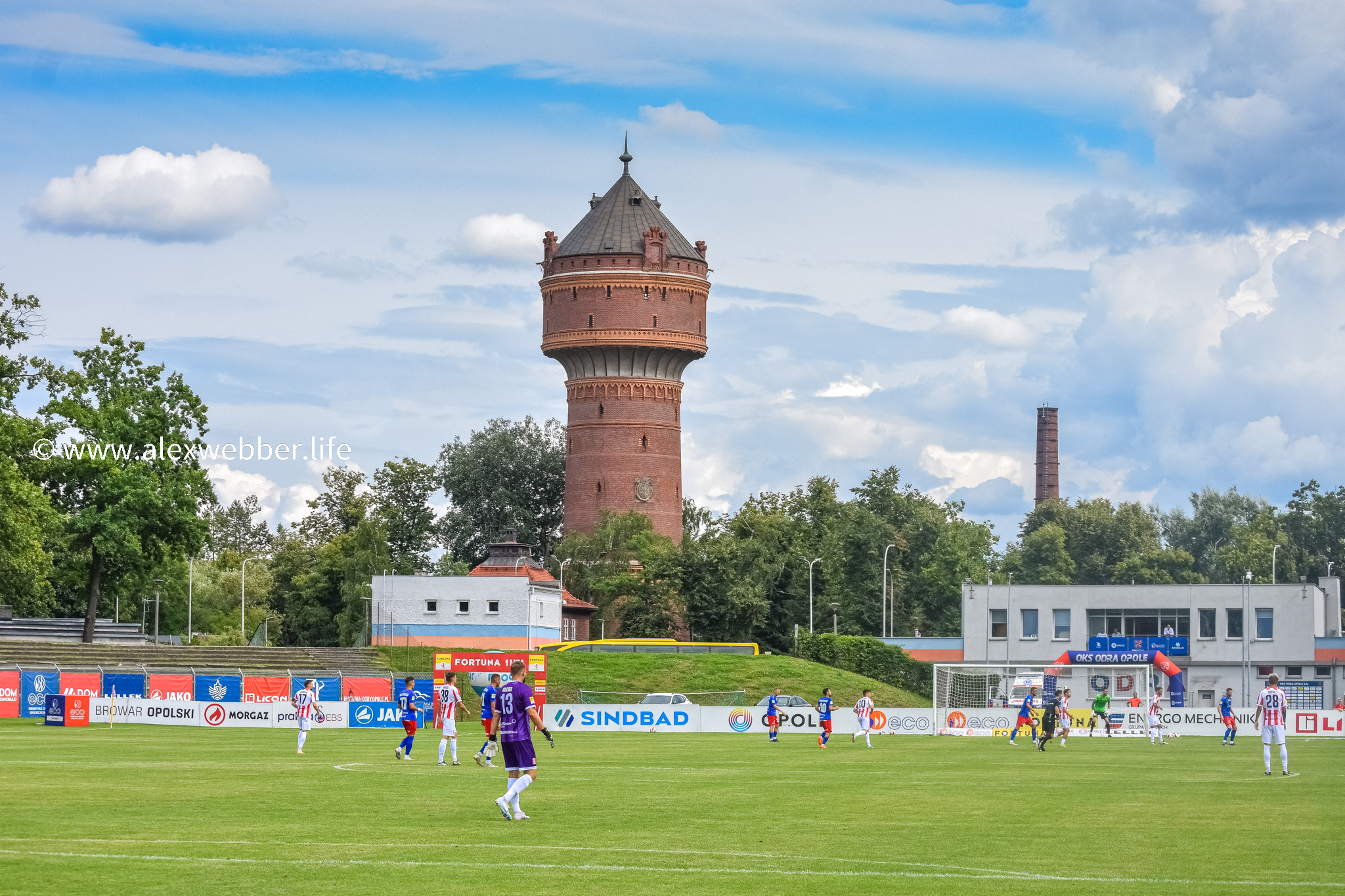 Experience
Polish football – at least the higher divisions – returned to action a couple of weeks back and, more importantly, so did I. As has become distressingly standard though, work commitments have meant I've been less than diligent when it comes to updating this page; but in the case of my recent trip to Opole, I simply couldn't be kept silent for long. So, in spite of having a backlog of matches that I should post ahead of this one, Opole jumps the queue – and with some style to spare.
For years now it's been on my bucket list, but for some reason I never thought it worthy of my undivided attention – always, I reasoned, any visit would need to be combined with another match close by to make it worth the four-hour train ride from Warsaw.
Finally, last weekend saw fixtures perfectly align with this strategy. With Slask Wroclaw playing a local derby against Zaglebie Lubin the night before, I figured I could anchor my trip around that game and then save Opole for dessert the following day.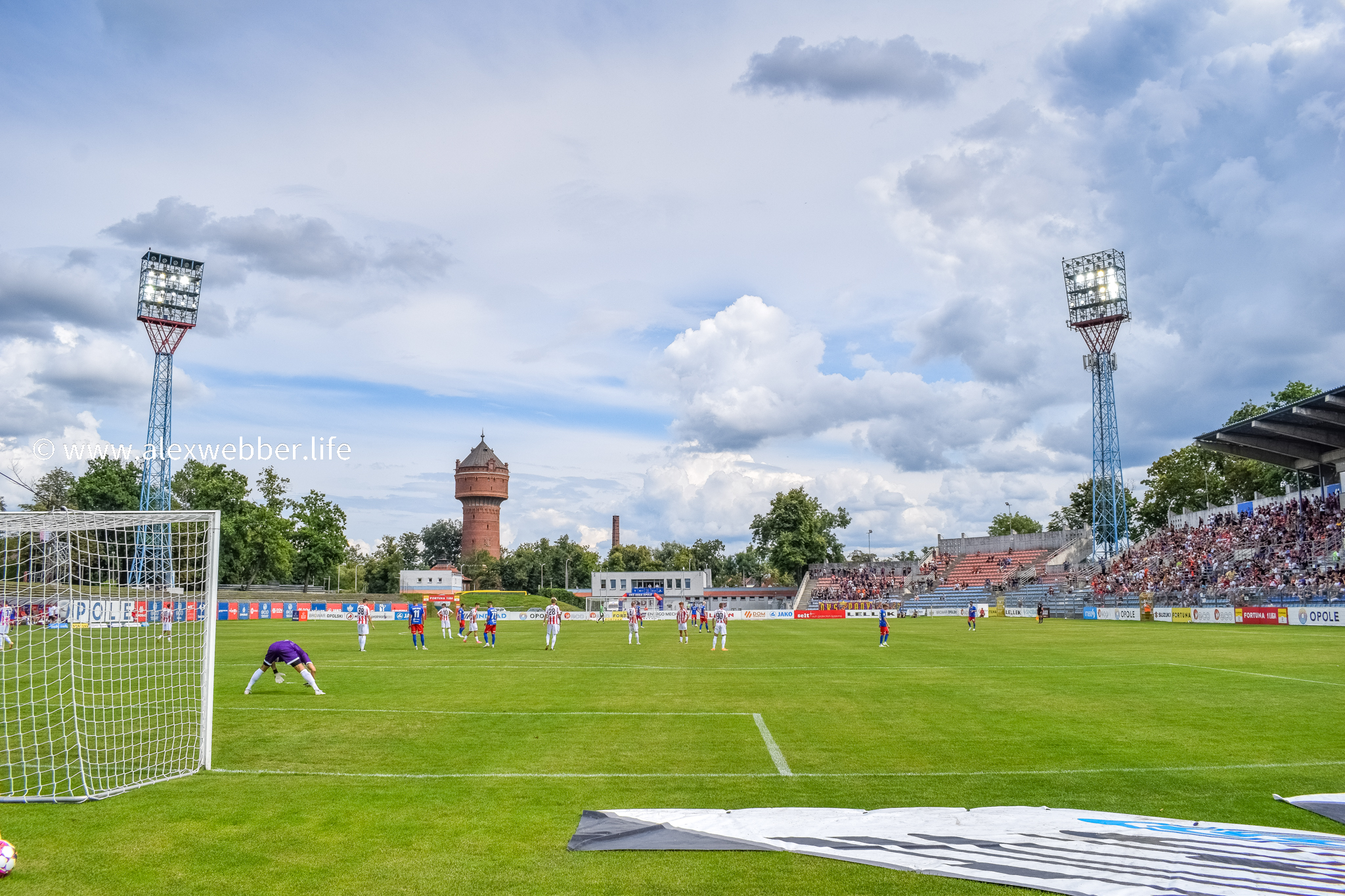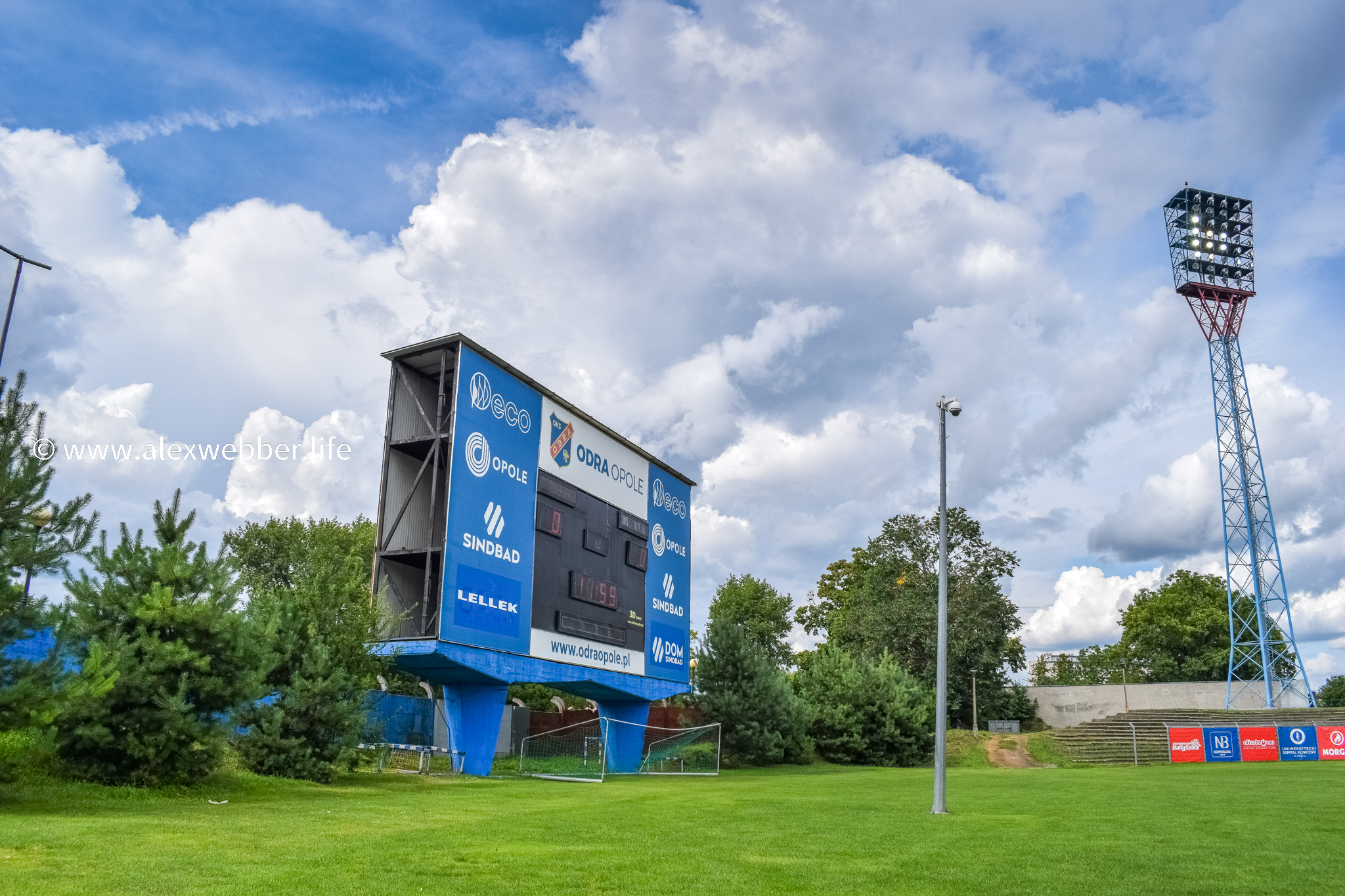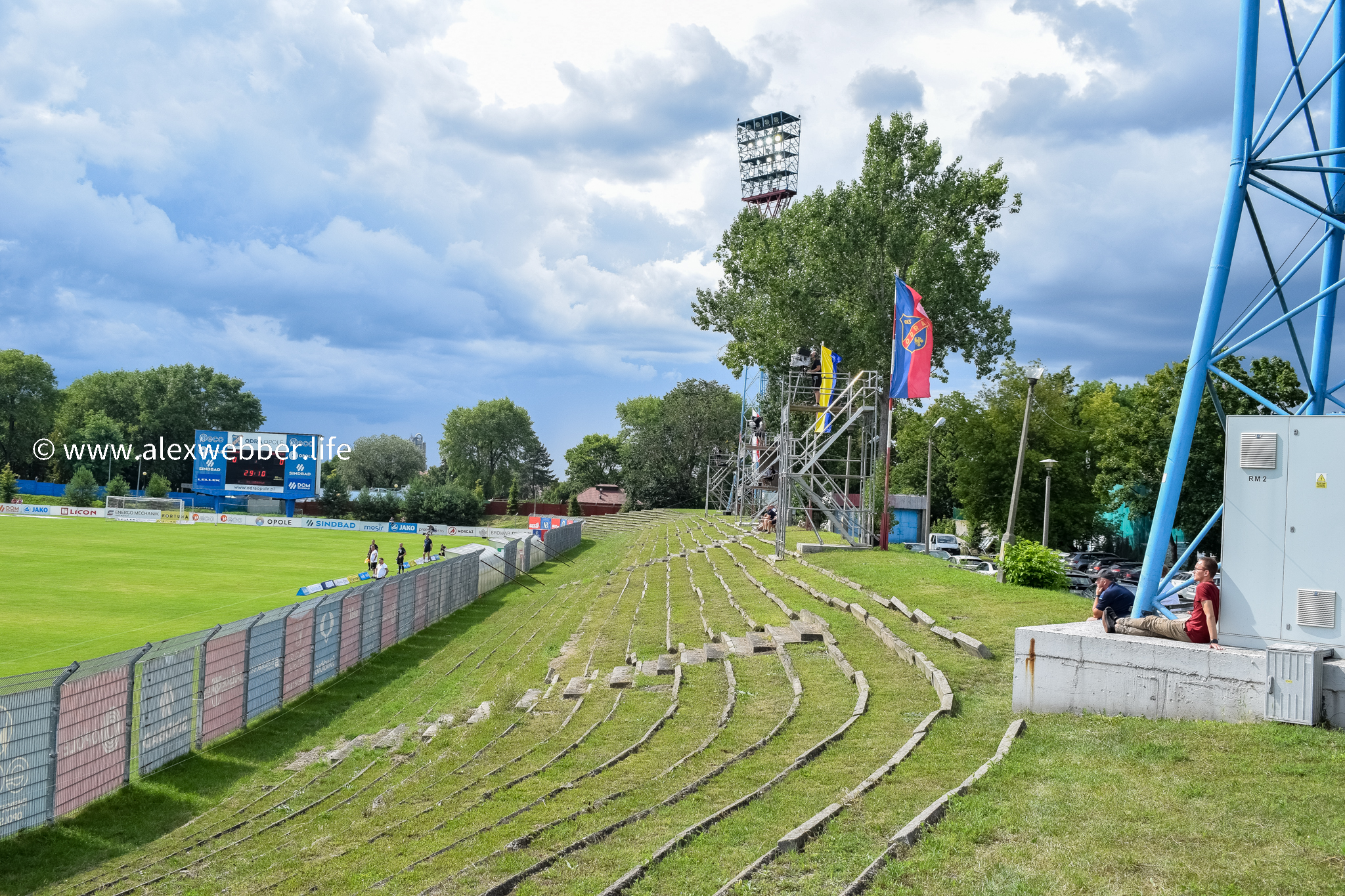 As it happened, the Slask game was a bit of a dud – a decent enough experience but lacking anything spectacular. Worse, one of my core reasons for visiting failed to bear fruit: my favourite brewery in the world, Stu Mostow, had announced they would launch a sports bar that evening inside Slask's stadium, and whilst they kept that end of the bargain, the game's high-risk classification meant a crushing lack of anything remotely passing as booze. FFS.
Of course, I still had a blast in Wroclaw – it's impossible not to – but from a football perspective it fell to Opole to rescue my weekend. And bloody hell, it did just that.
Sat just 45-minutes from Wroclaw by train, the town itself could almost be described as a miniaturised version of the aforementioned city – a tidy Old Town brimming with atmospheric side streets and bars. But though it's worth a visit in its own right, Opole's even better if you're a stadium fanatic.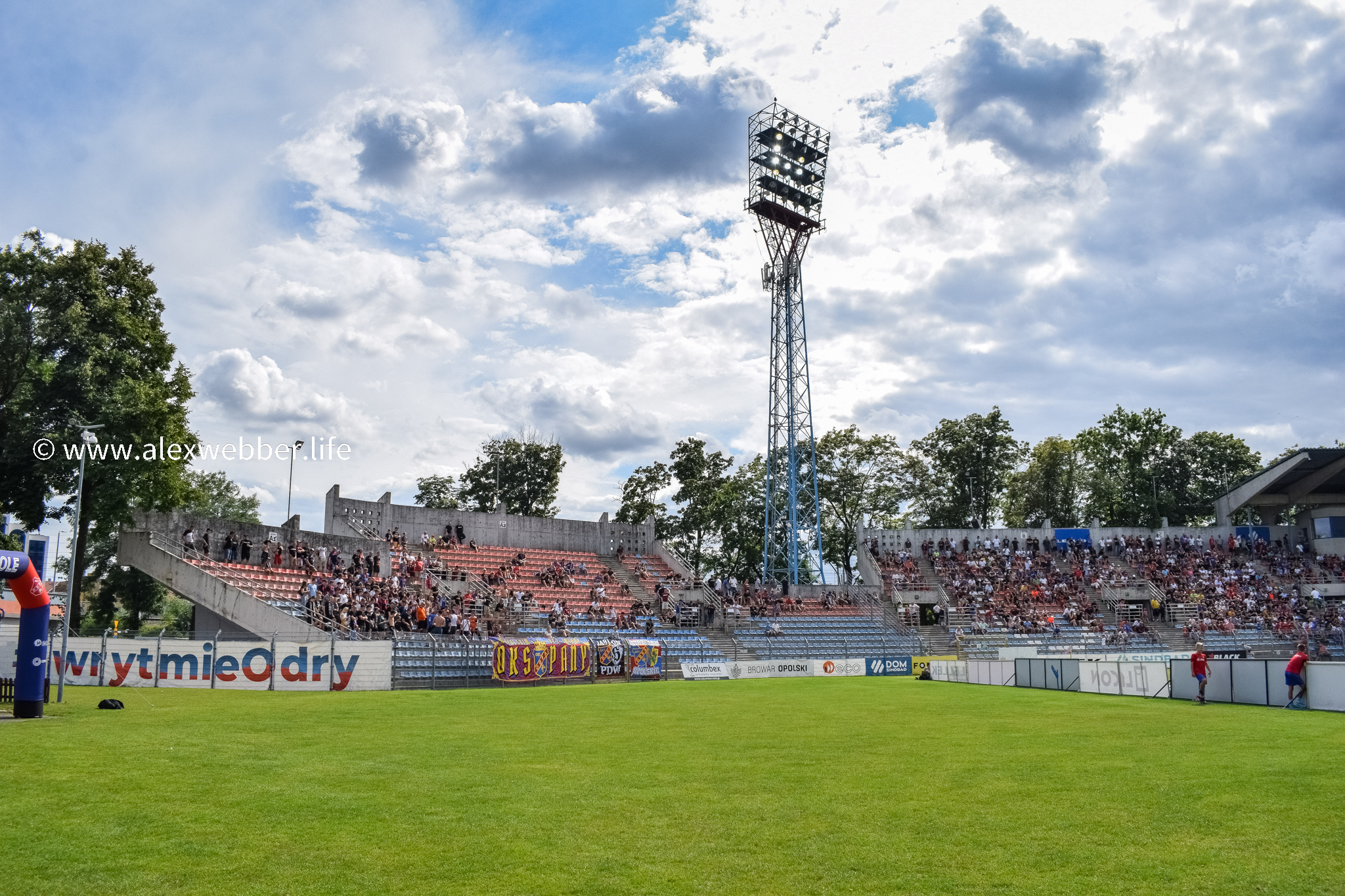 Constructed in the 1920s, and specifically built to provide jobs during the height of the depression, the stadium was constructed at a time when Opole fell inside Germany's pre-war borders. Known then as Oppeln, the stadium was a quick fix solution for the town's spiralling unemployment – shortly after it opened in 1930, and just outside by what is now Opole Wschdonia train station, its grateful German population planted an oak in gratitude to Hitler.
Though nothing remains of this ceremonial tree itself, the stadium around the corner carries an unmistakable air of history, not least due to the looming presence of the water tower that dominates the horizon.
Built in 1896 to a design authored by Walter Pfeffer, it's 50-metres of pure Neo-Gothic extravagance – festooned with ornamental turrets and touches, it could easily play a role in a 70s Hammer Horror.
As backdrops go, it's beautiful, and it's hard not to find yourself continually distracted from the football in front. But the rest of the stadium isn't bad either.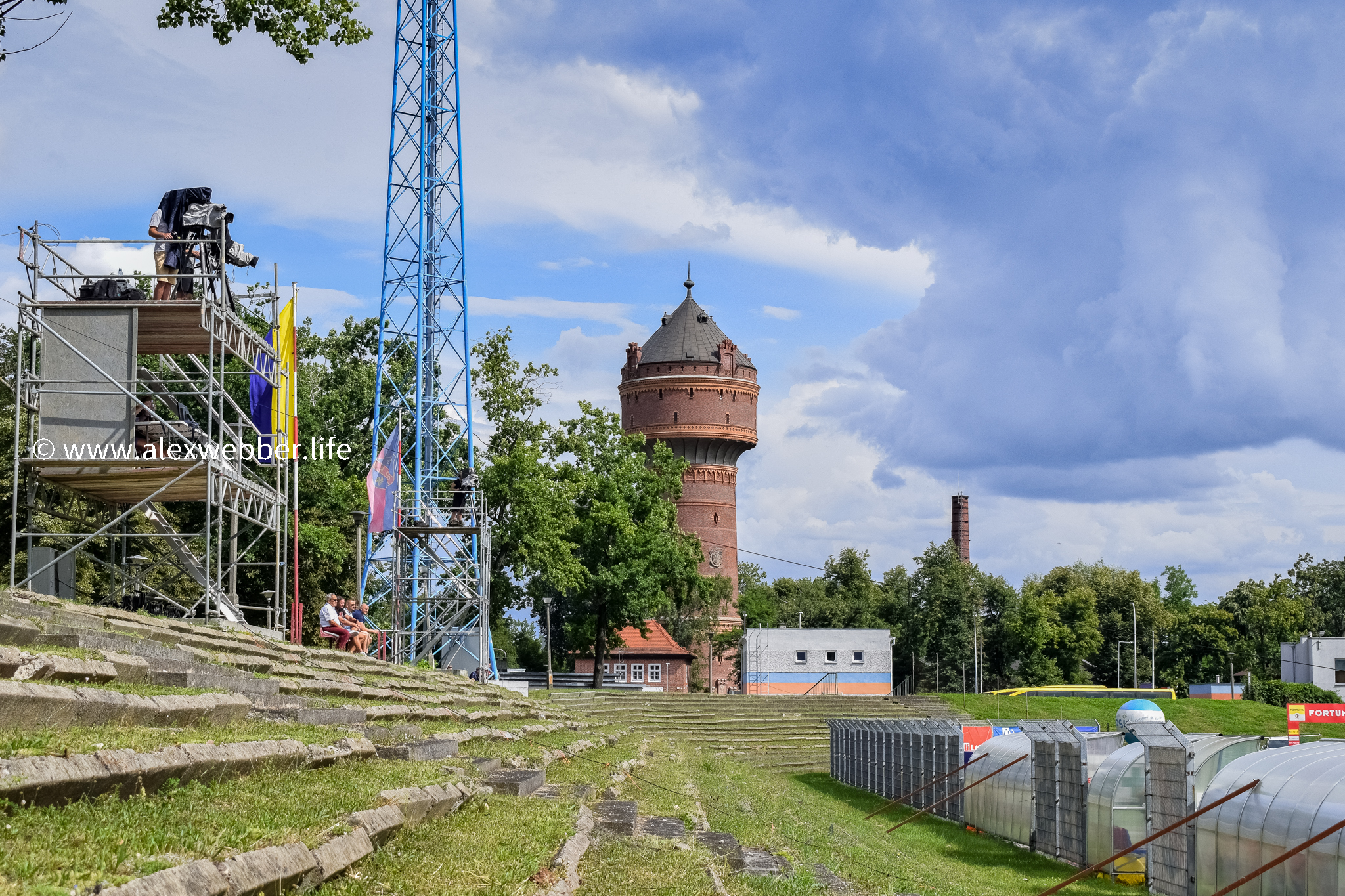 Though consisting of just one 5,000-seater stand, it feels deliciously old school with its stained and shabby concrete and a grubby away pen plonked in the furthest corner. Then there's a monster scoreboard positioned at the end – looking at this beast, it looks more like something that fell to earth from outer space.
With so much skin surface decay and rotting retro elements, it's hard to believe that the home side, Odra Opole – formed in 1945 when the city became part of Poland – were once a force to be reckoned with. Currently playing in the second tier, over 20 seasons have been spent in the top flight, with the club enjoying a particularly successful period in the 1960s – it was then that they finished third in the league and reached the semi-final of the Intertoto Cup.
Later, in 1978, the club recorded its highest ever attendance, some 25,000 spectators squeezing in for a league match against Ruch Chorzow.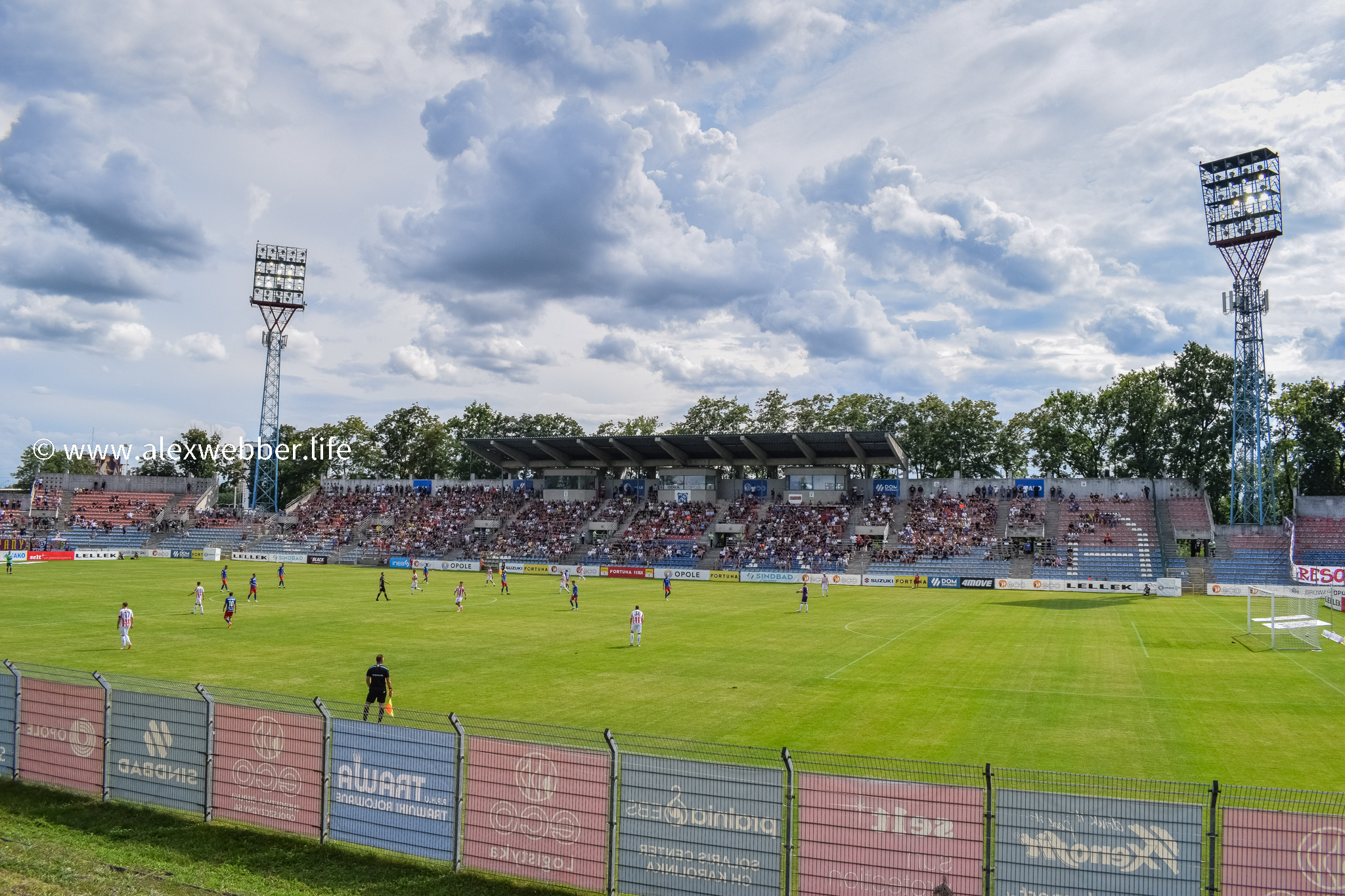 Capacity was drastically reduced at the start of the millennium when the stand was seated, though at the time the club intended to offset this by building an identical stand right opposite. This never went ahead, and today you instead have an empty and overgrown terrace that serves as a stark reminder of this long-aborted plan.
For me, however, its lingering existence just adds to this ground's ample charms, as does the presence of a rumbling train line behind, a commentary box lopped onto some risky-looking scaffolds and a lonely, lurking mascot dressed as a glum-looking Viking.
But there is more. After the disappointment of Slask the night before, the presence of a tent dispensing sausages and beers was welcomed like a gift from God.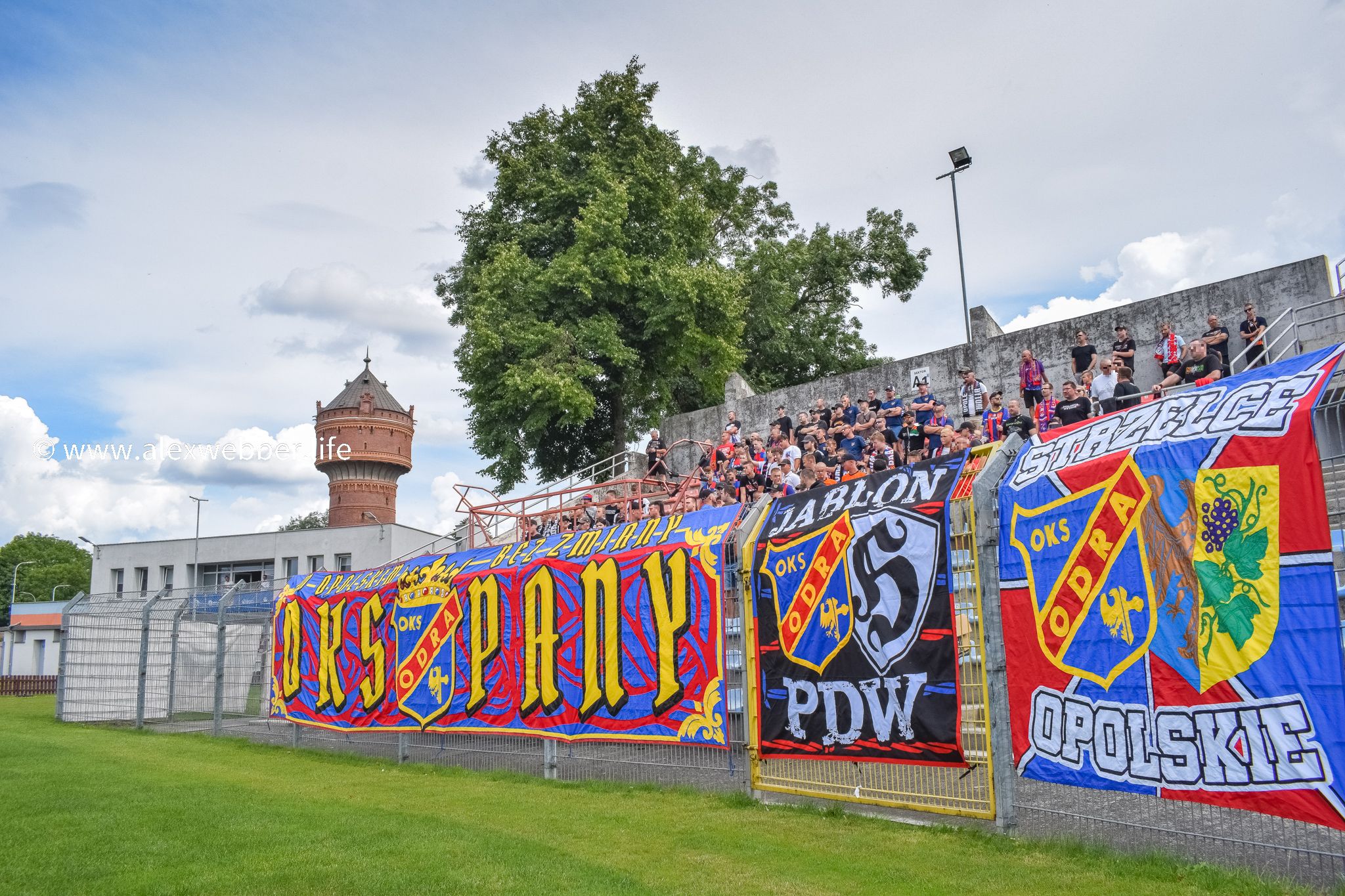 Feeling reassuringly old fashioned, I couldn't help but fall hopelessly in love. Far removed from the modern football experience, when a brief but brutal summer storm broke in the second half, I found myself revelling in the drenching.
Sheltering in a bush, with a plastic pint in hand, there was something about it all that felt gloriously perfect – it felt like football the way it's meant to be.
The home ultras seemed equally buoyed by the weather's drastic turn, and they used the downpour to underline their devotion to their club by enthusiastically bouncing about as the rain hammered down.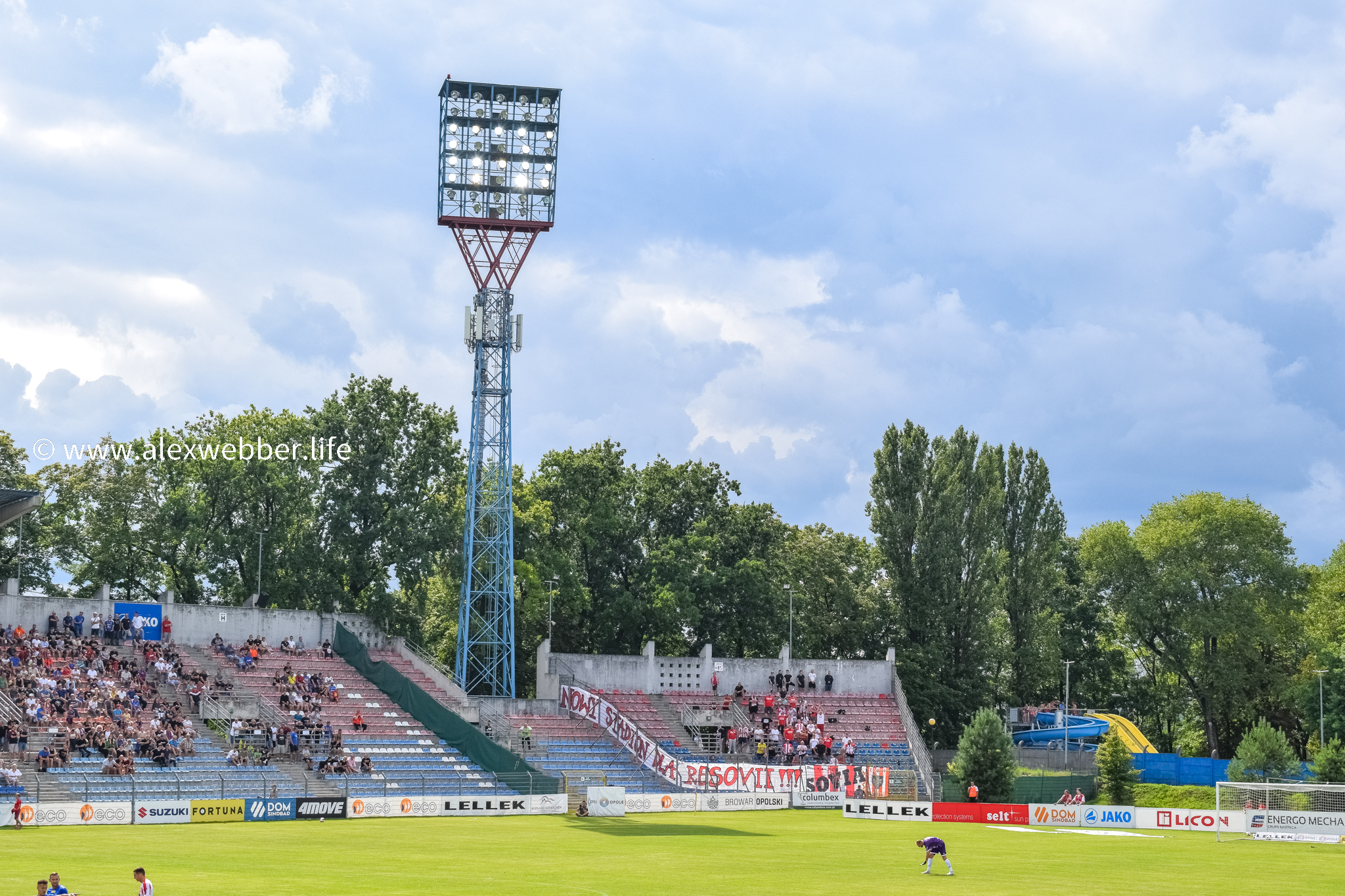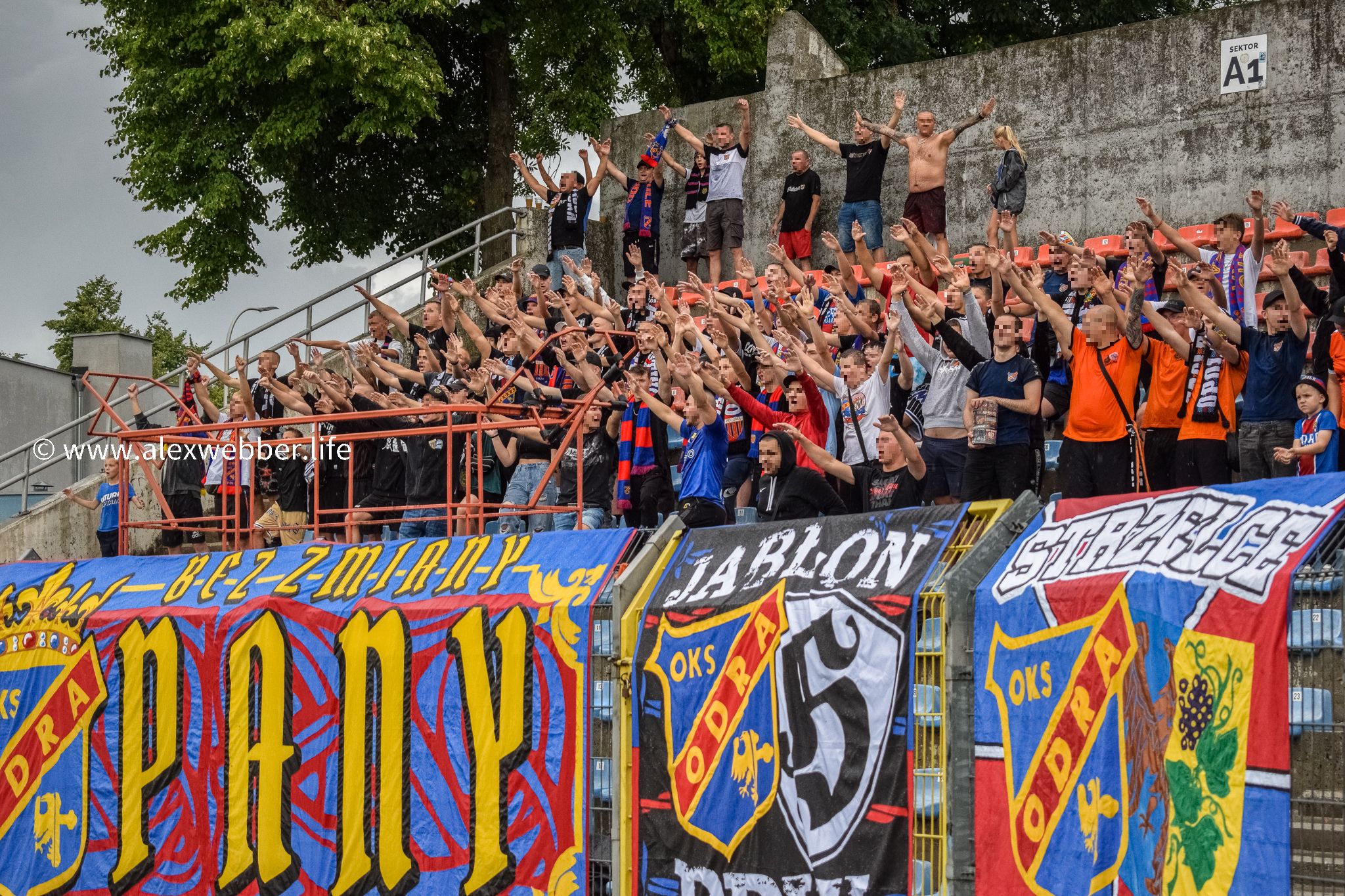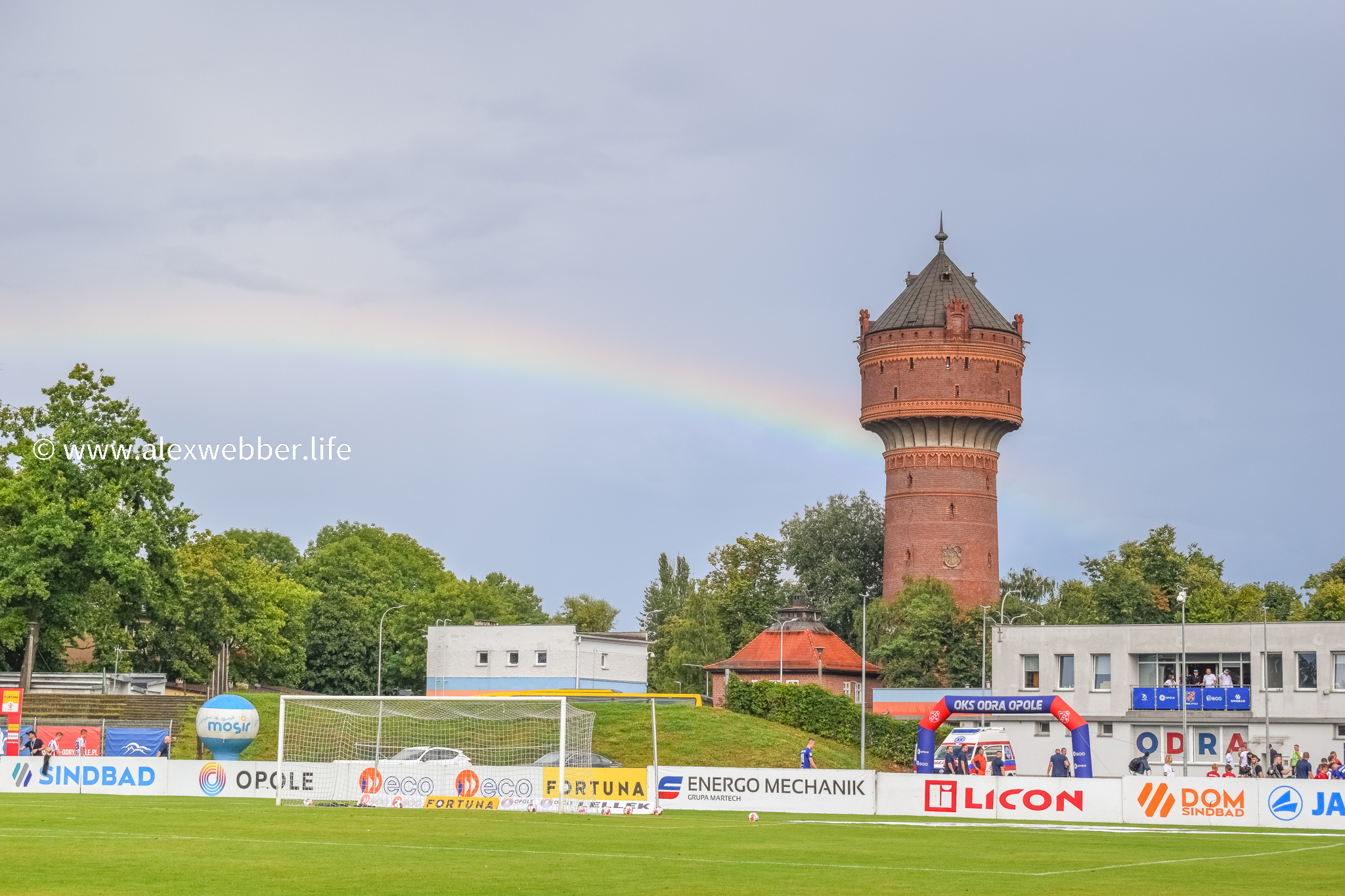 Similarly, for the huddle of 50 or so travelling fans the soaking also acted as a cue to give their lungs an enthusiastic workout – their support, however, was tested to the limit. Shipping two late goals to hand the home side a comfortable 3-0 win, the full-time whistle saw the guests turn angrily on their own side.
For the home fans though, celebration was in the air, with the victory sending their team top of the table after two games. Happy days for me as well; with the game over, the skies cleared in time to deliver a faint rainbow arcing between the water tower and one of the floodlights – a fitting end to a brilliant afternoon.
But…. But, but, but… as hugely enjoyable a trip to Odra is, it's a place that should be marked as "enjoy while you can". In their wisdom, the club have settled on a move to an anonymous new-build, something that should take place at some stage next year – possibly even in the second half of this season. I for one don't look forward to that day.