Date: 4 September 2021/ League: Polish sixth tier.
Final Score: 3-0 / Attendance: approx. 150.
In A Nutshell
My idea of fun? A lazy morning match inside a half-deserted concrete bowl…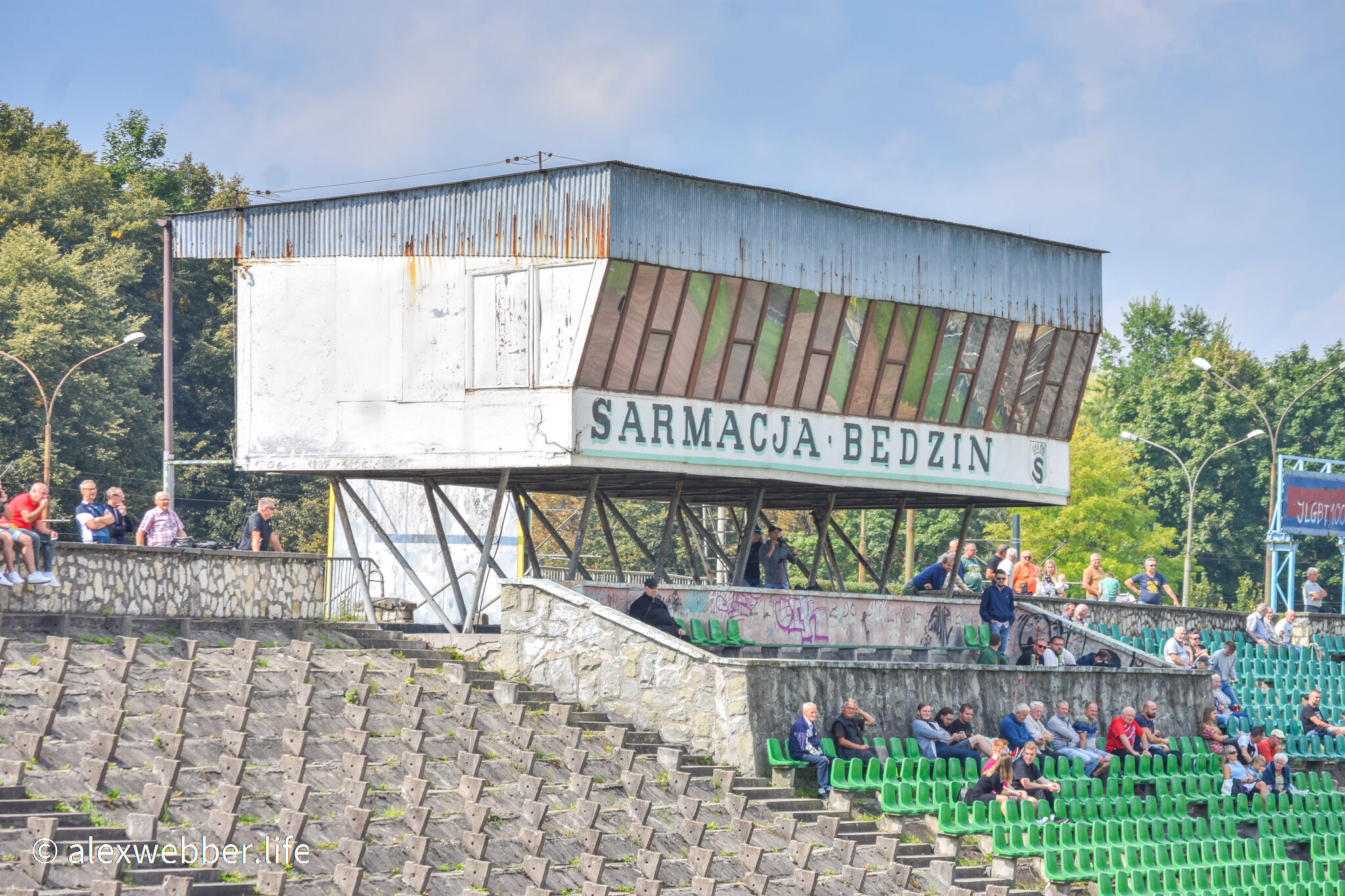 Background
Sarmacja started life originally playing at the home of Hakoah, a local Jewish club that thrived until the Nazi occupation. Although Hakoah were subsequently extinguished, Sarmacja was reactivated after the war and started competing again immediately after Poland's 'liberation' by the Red Army. According to Wikipedia (yep, I know, take that with a grain of a salt), this was "thanks to the forethought of activists such as Stanislaw Baldys, who risked his life to keep the club's sports equipment."
Having survived a campaign to liquidate the club in 1961 (the reason for this motion lying in the club's "capitalist heritage"), the side (or more to the point the city) was handed a new stadium in 1967. Officially opened on July 22nd, the debut game saw Polonia Bytom take on Werder Bremen in front of a packed crowd of 20,000. The following few years were viewed as Sarmacja's 'golden years', and though they found themselves promoted to the fourth tier in 2004 more recent times have seen them flit around with financial misfortune, relegations and other football nasties.
Getting There
Here's another ground to add to the list that's "dead easy to reach if you're staying in Katowice". From the centre of Katowice you're talking about 20 to 30 minutes in an Uber at a cost of approximately PLN 40 (GBP 7). Yep, take public transport if you want to save a few quid, but don't think I'll be joining you or telling you how.
Matchday Experience
The ground is a pale shadow of what it once was, and that's exactly how I like it. Little more than a cracked and broken ruin, vestiges of the glory years can be found outside in the form of a cosmic-looking statue of a discus thrower, ticket booths long since bolted and a set of gates bearing zappy-looking sporting motifs.
Inside, welcome to the time machine. The benches that once lined the stands were removed in 2009, and today what you find is ever-stretching acres of vast concrete terracing. For stadium nerds, this football cemetery is remarkable to look at, and all the more so for its defining feature – a rusting commentary box precariously balanced over the main tribune. In the process of being devoured by the elements, today its one duty seems to be to provide shade for the drinkers that gather to watch the game – of course, with zero catering at this level, if you want to join them you'll need to bring your own booze.
Though offering nothing in the way of vocal backing or organized support, it's a place that should be high on the list for all of us fans that stand united Against Modern Football. It's a gem.