Date: May, 2020 / League: Polish 6th tier
Final Score: no idea / Attendance: under 100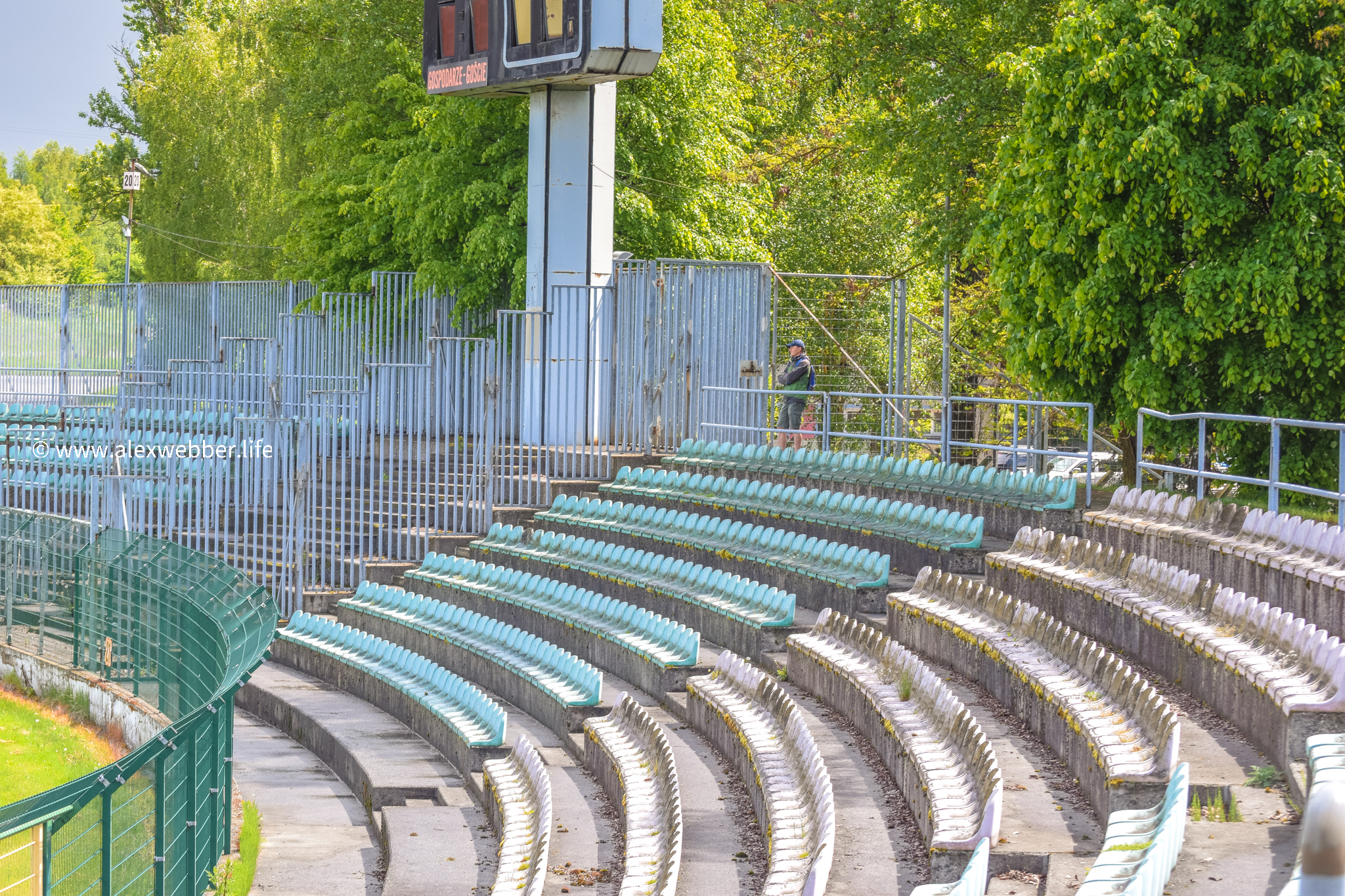 Experience
My football obsession sees me covering a lot of miles to take in a lot of games in a lot of grounds – if truth be told, after a while, these often blur together to form something I'd describe as an incoherent whole. So, despite usually taking notes to accompany my photo shoots, blank spots and memory gaps aren't uncommon – take this match as an example.
According to the time stamps on my snaps, I shot this game on May 29th, 2020, unfortunately, the internet seems to have no memory whatsoever that such a match ever took place. As a result, I can't even tell you who the opposition were, let alone what the final score was. At least, however, I can identify the home side: step forward the deliciously titled Szczakowianka Jaworzno.
Seemingly solely existing to demonstrate the full absurdity of the Polish language, I honestly have not the faintest idea as to why I visited Szczakowianka (moreover, apparently on my birthday). I do remember, though, being so intimidated by the name that I opted for an Uber from Katowice rather than risk being belittled by a ticket seller at the station. Given the 30 kilometre distance, this was not cheap, but this did save my blushes: as I've repeatedly found to my cost, nothing brings out humanity's streak for cruelty quite like seeing a foreigner drowning in the local language.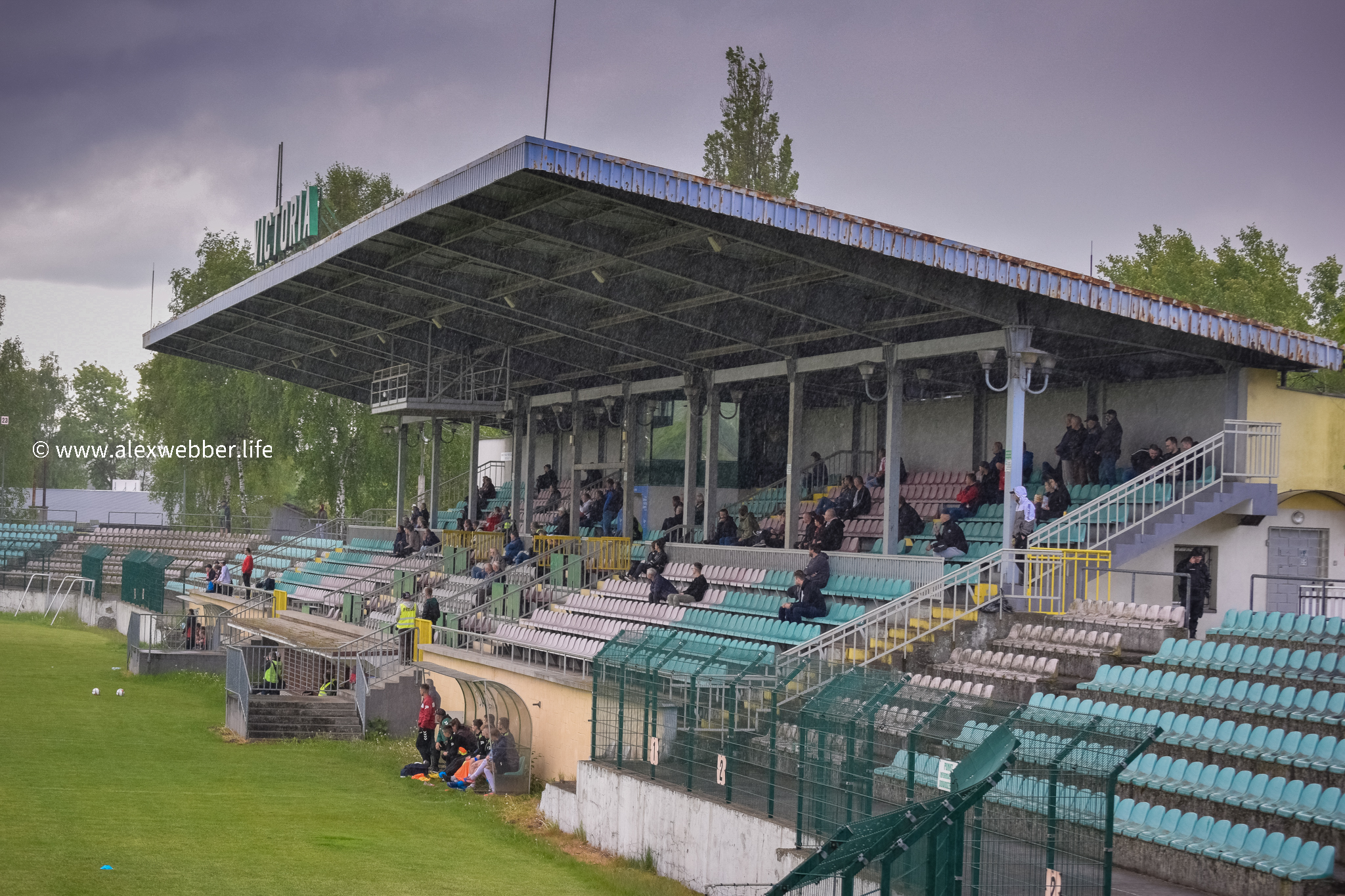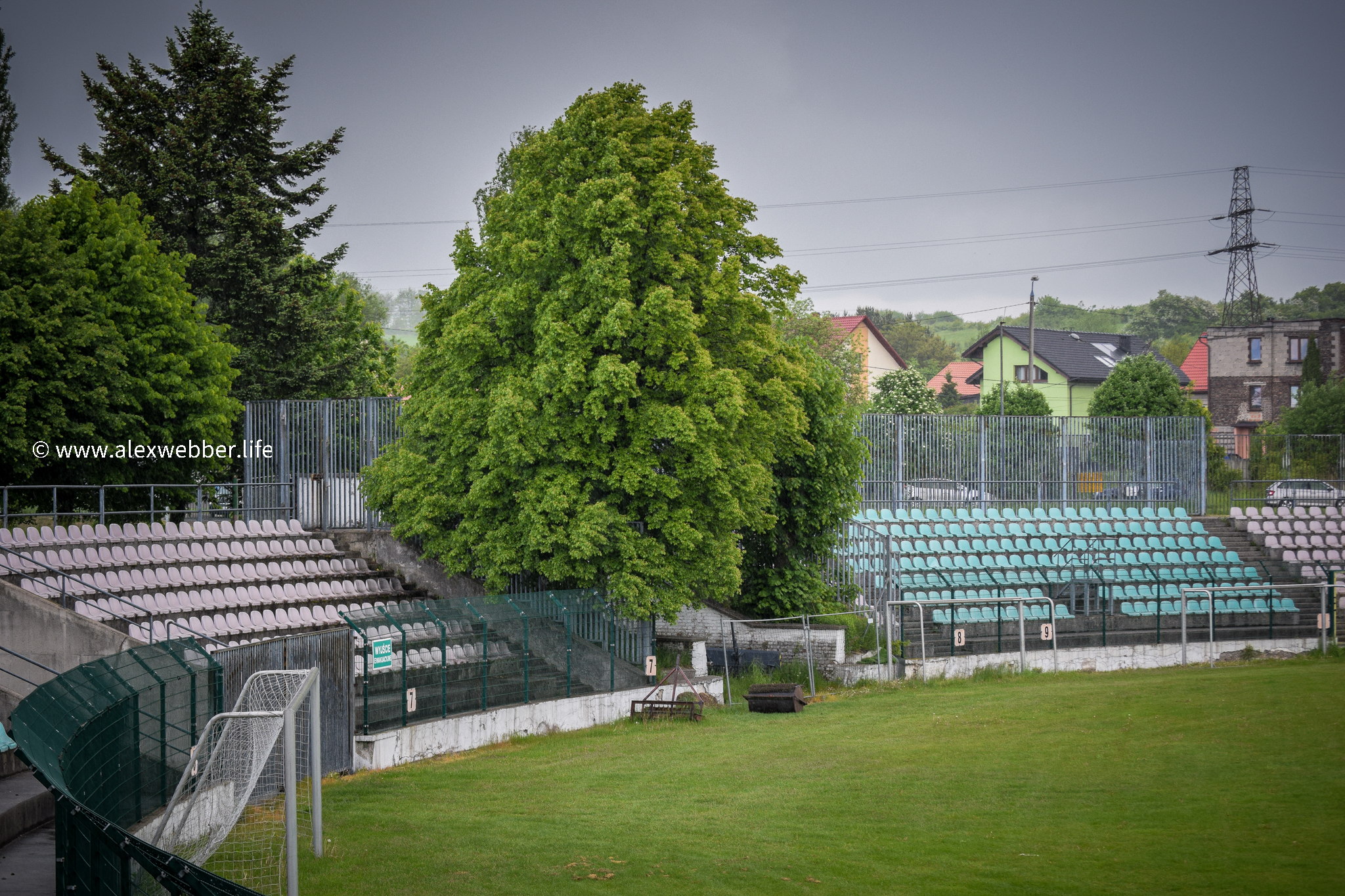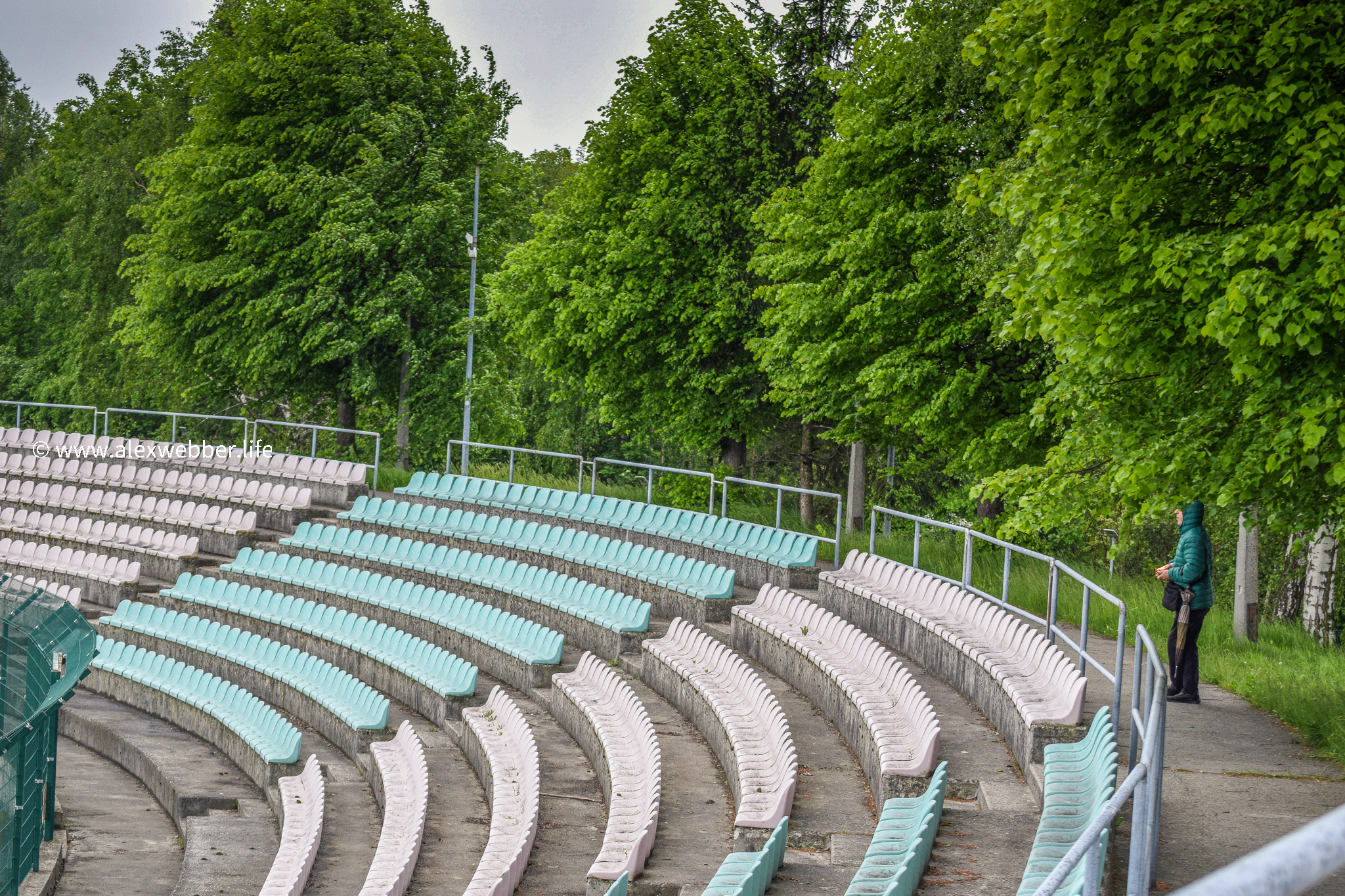 Anyhow, I'm glad to have made the journey, and I'm even happier to have rediscovered these photos sitting in my vault. As forgettable as the match clearly was, the ground itself is a treasure. Though built as recently as 2002, its got a faded, dusty air that suggests it's far older. Seating 7,000, though featuring random wedges of terracing, the sweeping nature of the stands make it feel naturally so much bigger.
Helping that, of course, was the near total absence of any fans. Despite playing in Poland's top flight in 2002/03, Szczakowianka had spent the subsequent seasons crashing down the leagues – what had already been a modest fan base, dwindled even more. I've seen several photos that suggest there is a small football scene here with chaps turning out for the right fixtures, but this most definitely wasn't one of those occasions. At best, there couldn't have been more than 100 present, with this emptiness further amplifying the ground's dimensions.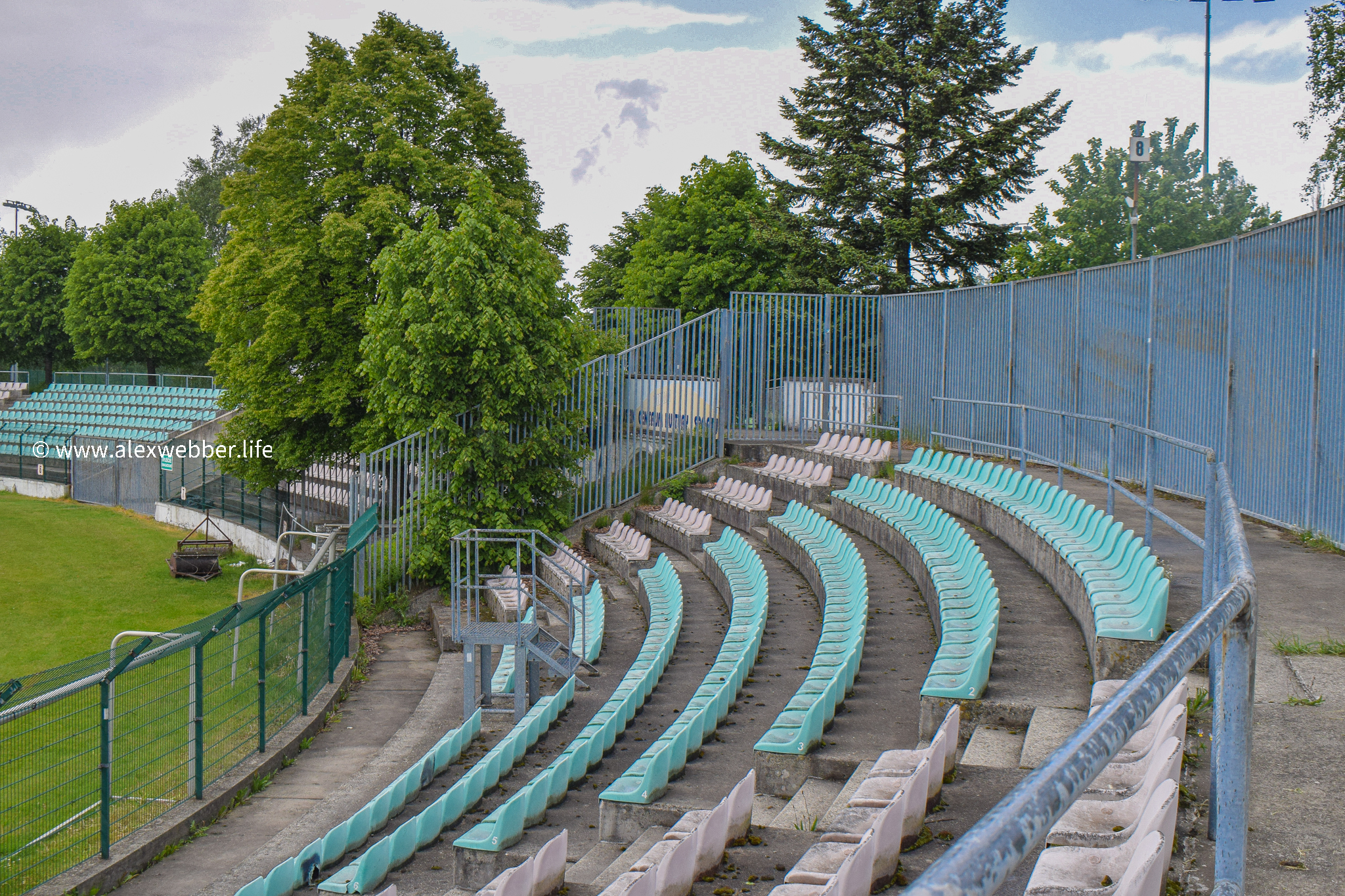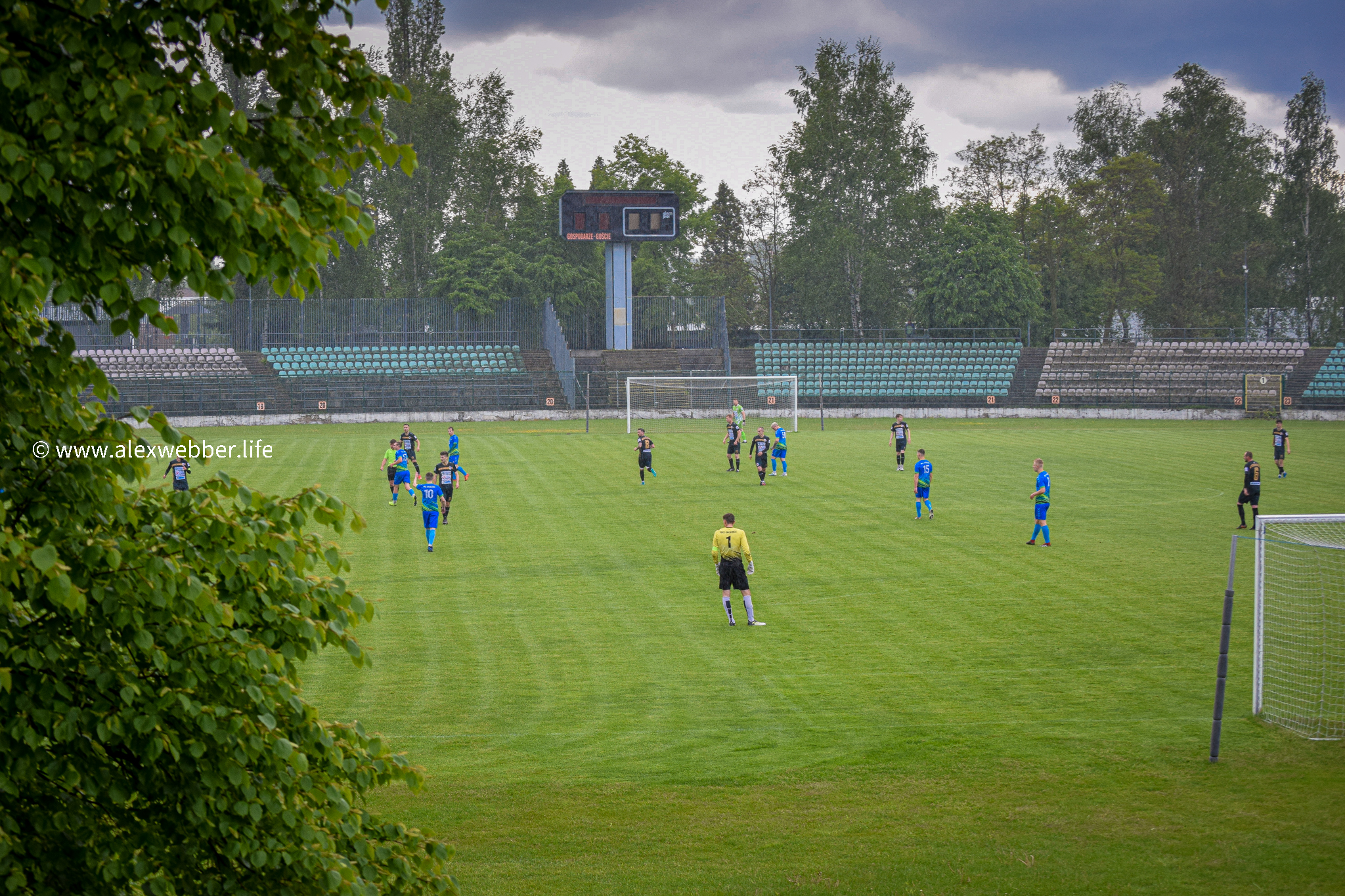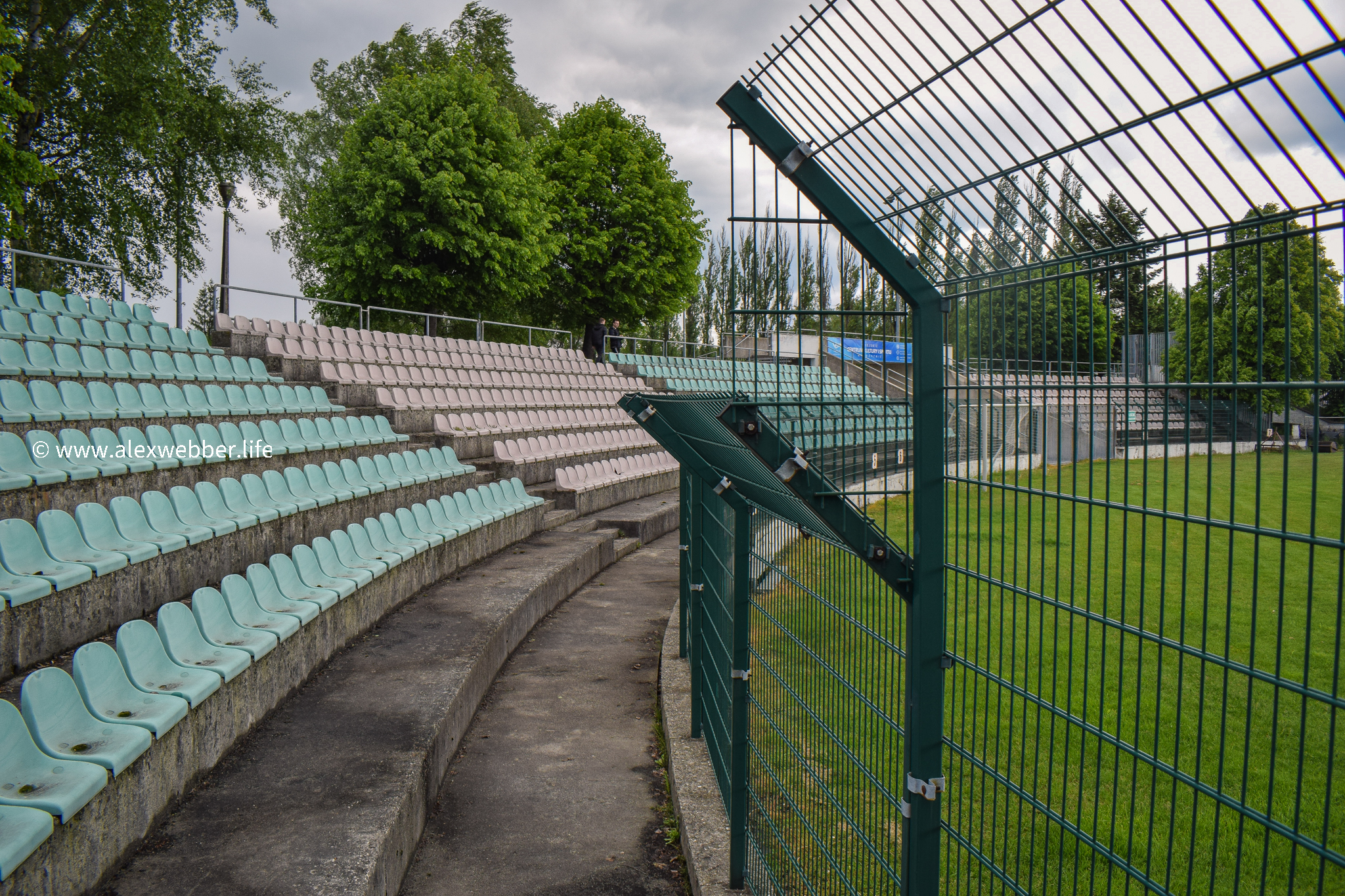 Neither did the lack of atmosphere impact my enjoyment – if anything, this hollowness paired perfectly with the grey skies and drizzle that marked the first half. With the wind whistling through the trees that frame the ground – and, in some instances, actually poke through into the stands – you find here a stadium that feels almost forlornly romantic. It's almost impossible to imagine that this place must have seen some right old bangers when it was briefly rented by GKS Katowice and GKS Tychy.
Nicely rounded out by striking views of the rolling Silesian countryside in the distance, it's an interesting stadium whose other little features number a clunky scoreboard, street-like lamps lighting the grandstand and cutesy birdhouses spread outside. There, mind you, my recollections end.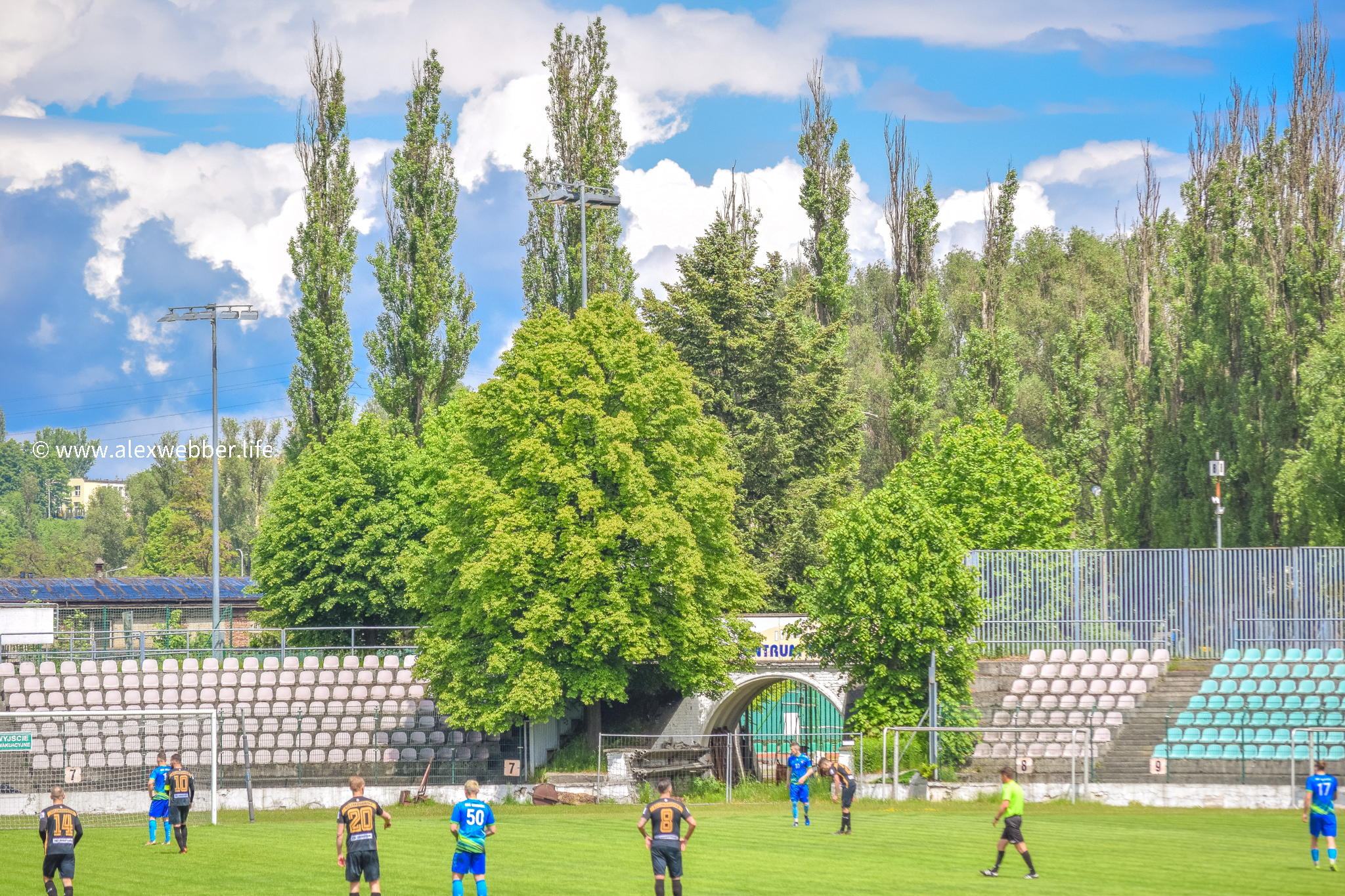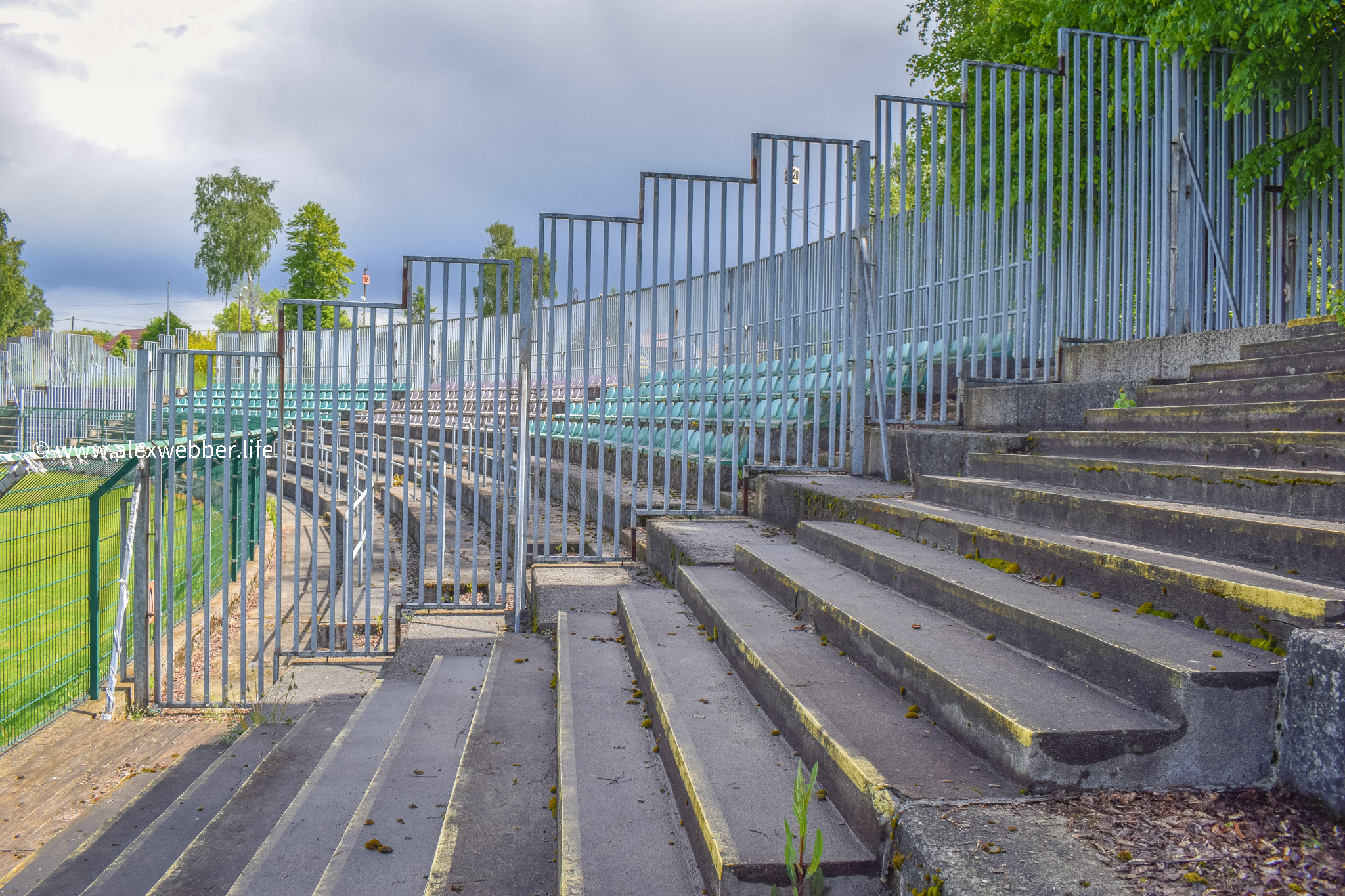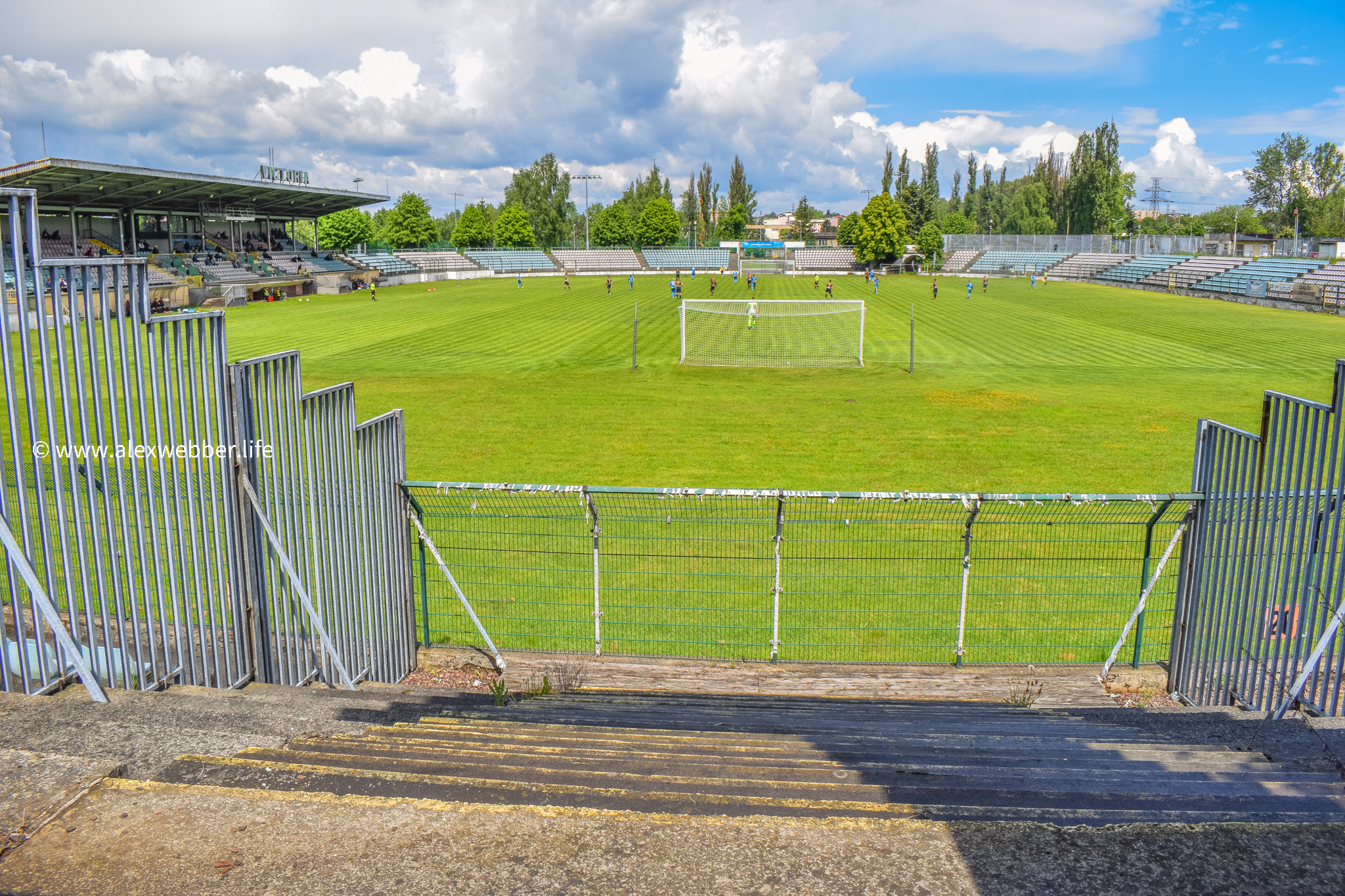 Postscript
Played at a time when the team was in the sixth tier, my visit does not necessarily reflect Szczakowianka's current situation. Since rising to the dizzy heights of the fifth step, evidence exists to indicate that crowds have grown. As importantly, it would also seem that many of Szczakowianka's games are now being played at another ground in town (indeed, for the sake of clarity it should be stressed that the principle tenants of this ground that I visited are a team called Victoria Jaworzno, a fact attested too by the lettering the crowns the grandstand).