Date: 26 March 2022/ League: Polish fifth tier
Final Score: 0-2 / Attendance: 500 (approx)
In A Nutshell
An enthralling experience inside an intriguing stadium more akin to a Jurassic Age ruin.
Getting There
Bytom lies about 15 kilometres north-west of Katowice, and though regional trains run often, Uber is an easier and quicker option that should cost around PLN 35 (GBP 7). If you're stopping in the city centre for a pint first, then Szombierki's ground is a 30-minute walk – again, use Uber and you'll be there in 10.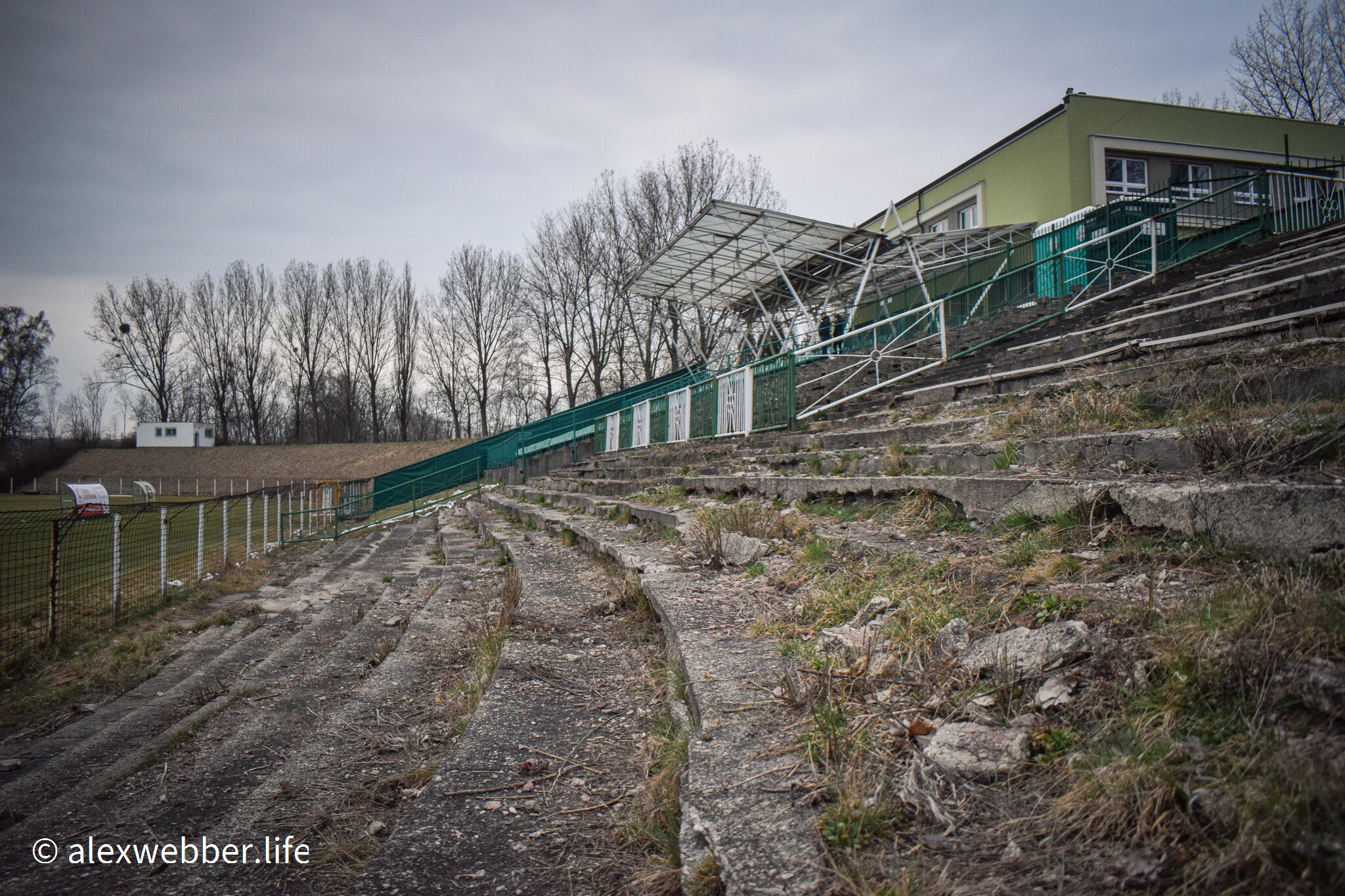 Background
It had been three years since I'd seen these two teams meet, and a lot had changed in that time. For starters, my knowledge had expanded. In 2019, I'd known practically nothing about either club, now, I was armed with a solid sense of background. More than partially, that had come from my mate, Z., a GKS Katowice fan with a quizmaster's knowledge of Poland's lower leagues. The following are his words:
"Ruch and Szombierki are the two smallest clubs in Upper Silesia that have organized groups of fans that are completely independent of any links with other teams – for that reason, this match is a real classic for the football connoisseur."
But expanding on that, it's important to recognize that Szombierki – named so after the district they play in – are not even the biggest club in their own suburb. Dominated by Polonia Bytom, their fan activities are somewhat underground – and that's despite the club once enjoying something of a heyday: winning the Polish title in 1980, they reached the last eight of the European Cup the following season and followed that up with a brief foray into the UEFA Cup the year after (losing in the first round to Feyenoord).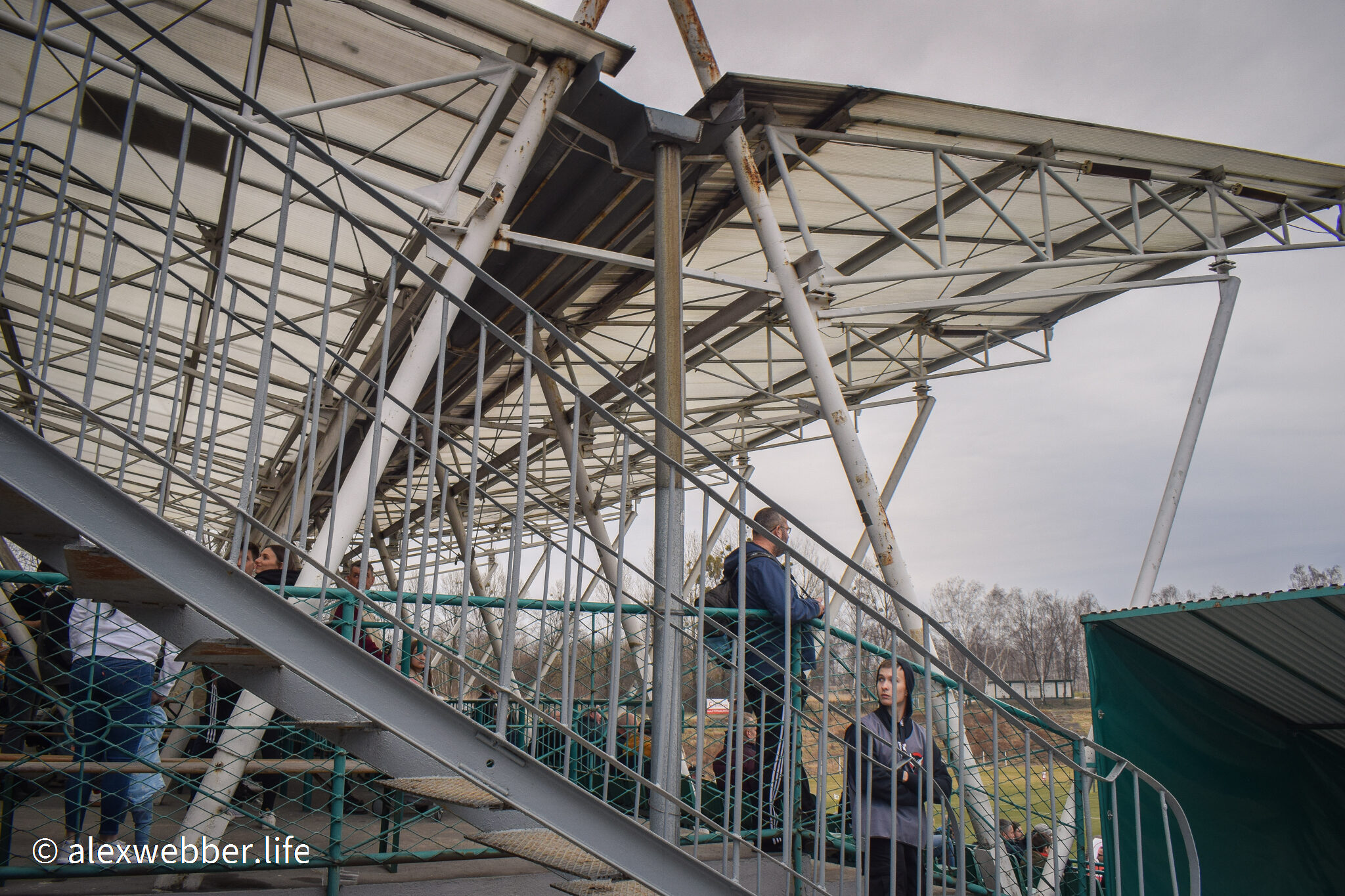 Onto Radzionkow, and I must admit to having a having an immense amount of admiration for their fan group – though not large in number, their unwavering loyalty and devotion is something special, and that's even by Poland's own insanely high standards. Enjoying a three-season spell in the top flight towards the end of the millennium, it's one of those clubs that seems to have genuine potential to reach higher in the future.
And in my opinion, their fans would be fully deserving to see such success: by refusing to link up with other 'bigger' teams, this band of brothers have forged a true football bond among themselves. More than just good, this lot are up with the best – were I not a Bristol City fan, I'd be happy to be Ruch.
Stadium
When it was opened in 1968, this stadium held 30,000, a fitting home for a team that at the time was playing in the top league. The years though have not been kind, both to the club and their ground. Reflecting the team's misfortune, nowadays most of this oval-shaped arena has been abandoned to nature, swallowed whole by weeds, reeds, trees and bushes.
Still, it remains a sight to behold for the enthusiastic groundhopper – flanked by broken terracing, the main stand is crowned by an inverted plastic roof whose transparency has long been lost through a combination of grime and bird crap. Supported by a series of V-shaped pillars it does little to shelter the green seats below from the vagaries of the Polish weather, but it does add a strong semblance of character.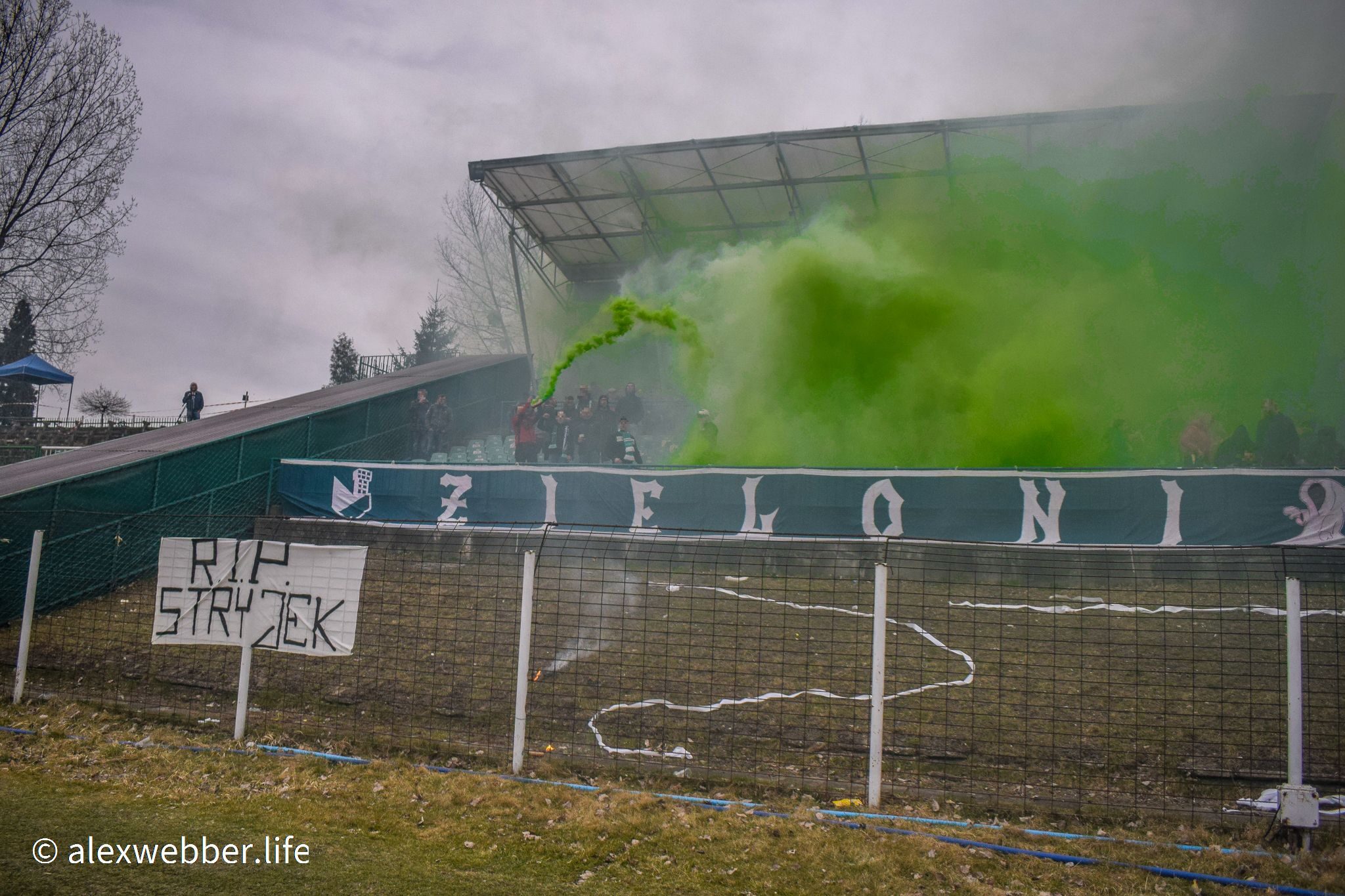 Obscuring a pea-coloured club house, it's behind these columns you'll find a BBQ grill, a beer stand and some benches scattered about. Then, to the side, a steep players tunnel that plunges down to pitch level as if it were Jacob's Ladder.
For me though, the highlight is undoubtedly the away enclosure, a shallow, oblong strip of fenced concrete plopped inside a vast grassy bank. From a visual perspective, it looks utterly unique: surreal, almost savage in its zoo-like aesthetics. You find yourself smiling and uttering the words: "only in Poland".
Experience
The first half offered little other than solid backing from the 75 or so travelling faithful. In the home end, the turnout had been poor – I was aware that Szombierki's 'ultra group' was having problems in terms of raising numbers, but even so I hadn't expected it to be so decimated. A few years ago, they'd taken 65 to Ruch, this time I don't think they had much more than half of that at home. Limiting themselves to the occasional chant, they only seemed to stir with a ticker tape salute as halftime approached.
Underwhelmed, I spent most of the first half glugging back lager towards the back of the stand with a couple of the other photographers that, like me, had expected something more. But more did arrive with the second half. Despite their meager number, Szombierki's fans rallied in the second to offer a good solid pyro show that was answered by Ruch's own thick fog of orange smoking toxins.
After the lethargy of the first half, this quickly developed into a superb atmosphere with both sides bouncing off each other to create a stirring show – if the first 45-minutes had disappointed, the second half was a magnificent demonstration of lower league passion. I absolutely loved it, and credit for that goes to both sets of fans.
The Town
I'd heard many terrifying things about Bytom, but though I'm in no hurry to stay the night there, my afternoon in the city was surprisingly pleasant – in many ways, it reminded me of Katowice fifteen-years back: shabby and frayed around the edges, but also not short on cracked and faded charm. And as smudged and smeared as the centre might be, it's not difficult to appreciate the Art Nouveau buildings that sprinkle the area.
But forget all that, what I liked most of all was a place called the Zelter – a modern-minded gastro pub with a hip design, friendly servers and a line-up of rebel craft beers from Poland's top brewers.