Date: 25 March 2023 / League: Polish 5th tier
Final Score: 0-2 / Attendance: approx. 500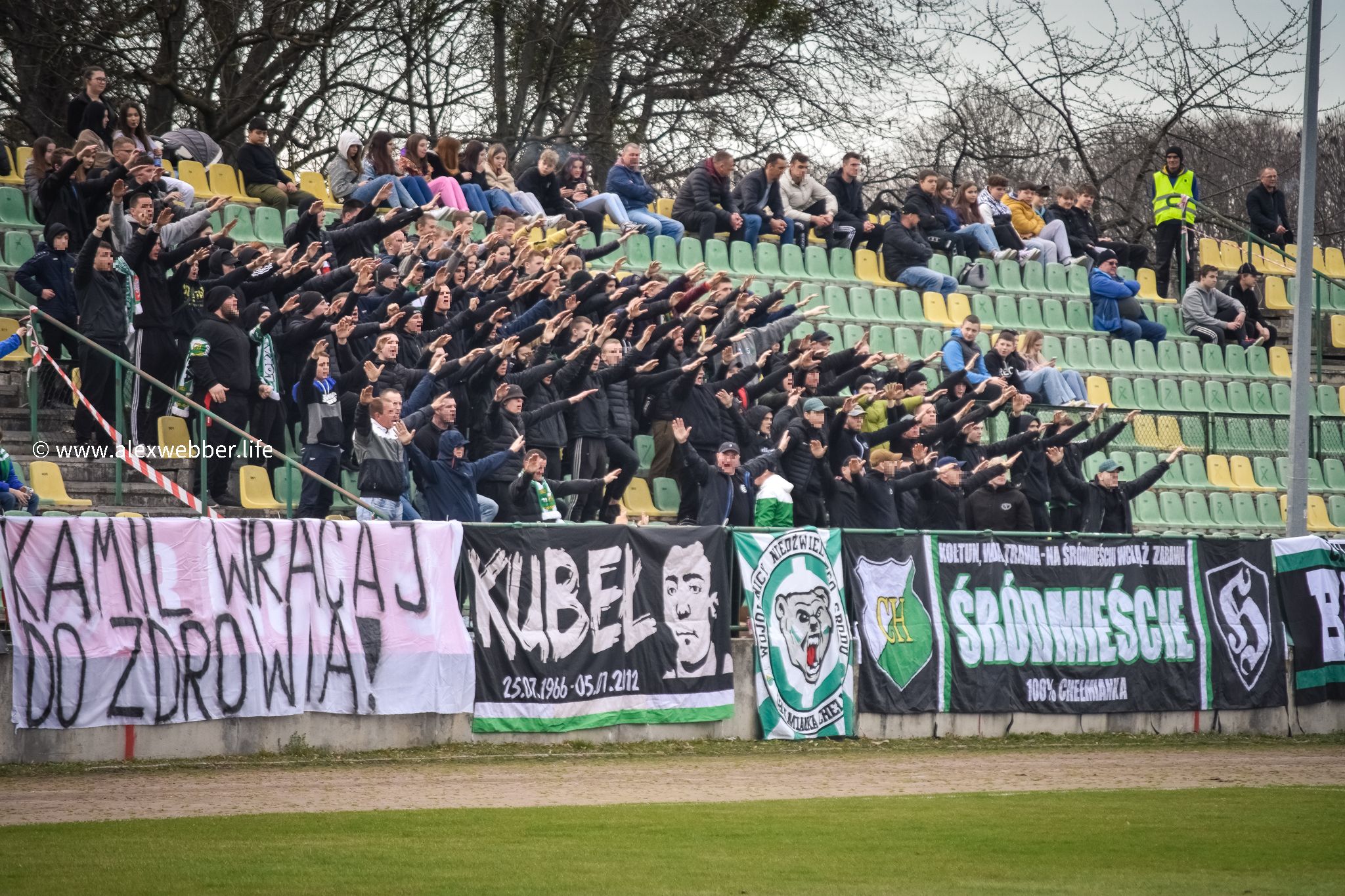 Experience
To a large degree, I must admit I'm guilty of misrepresenting Polish football – the nation's football scene is wild and often crazy, but that does not mean every game is. On the contrary, for the most part your return will be thin – check into a random game, and for the majority of times you'll be feeding off dull football played to scant crowds in bland grounds. Basically, a little like this game.
On an uninspiring weekend, I picked this out as being the best of a bad bunch. Still, being an easy three-hour train ride from Warsaw I figured it was worth the punt. What I hadn't accounted for, was a far from flawless train schedule that ensured to make kick-off, my one and only option was to arrive six-hours before the game was to begin.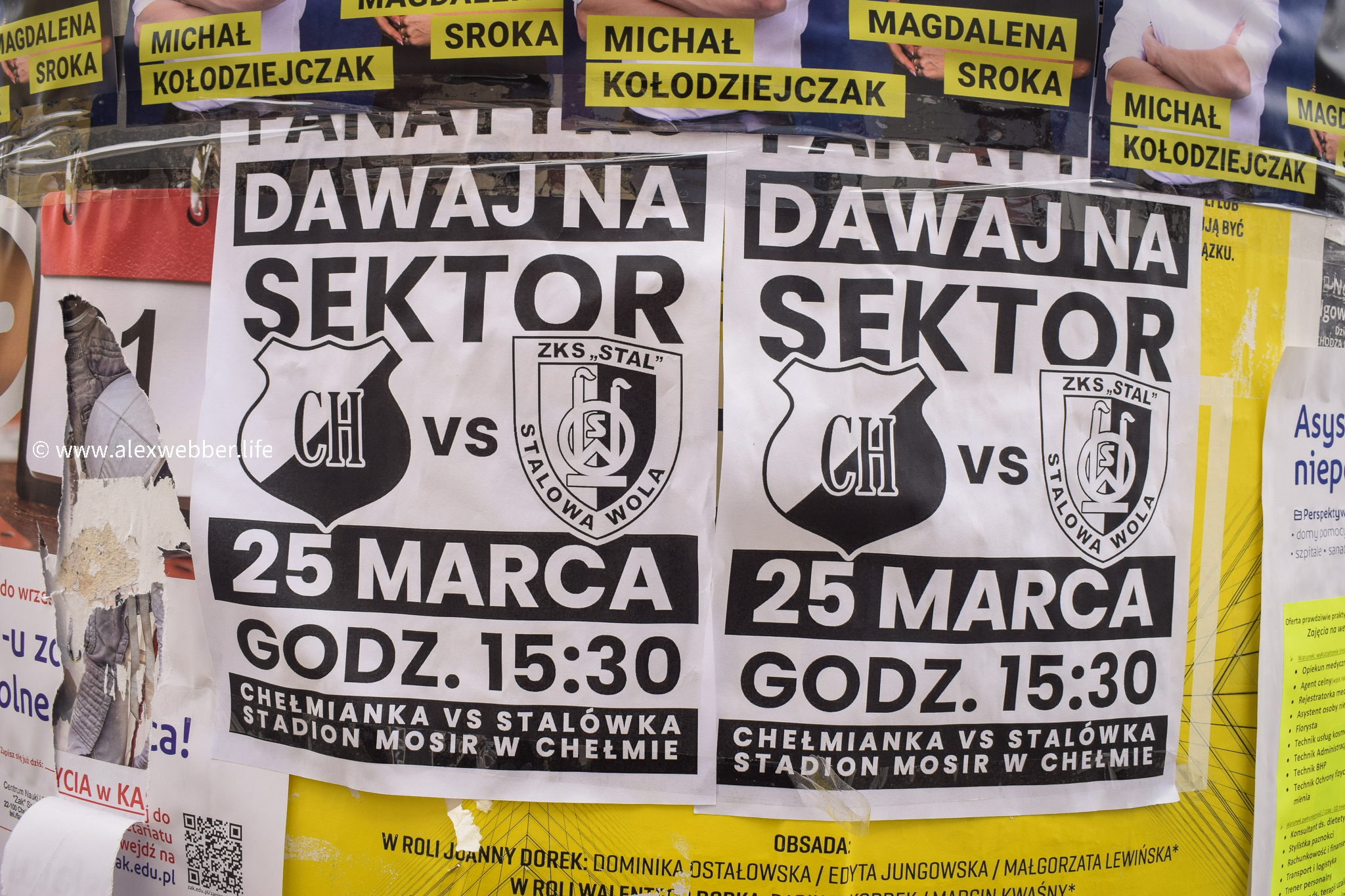 Now I'm not saying that Chelm is a boring town, it's just a little on the docile side. Arriving at 9.30 a.m., the following hours were spent sitting on a park bench counting down for the pubs to open. Or should I say pub.
My one and only previous visit – around 15 years back – had yielded a staggering discovery: a Wild West pub called the McKenzee Saloon inside a former synagogue that once played home to the city's pre-Holocaust Jewish population. Retracing my steps, I eagerly tracked it down and approached it with the kind of stealth you'd associate with a thirsty Homer Simpson. Already imagining that first triumphant morning pint, my heart sank when I saw the sign – CLOSED. Gargh!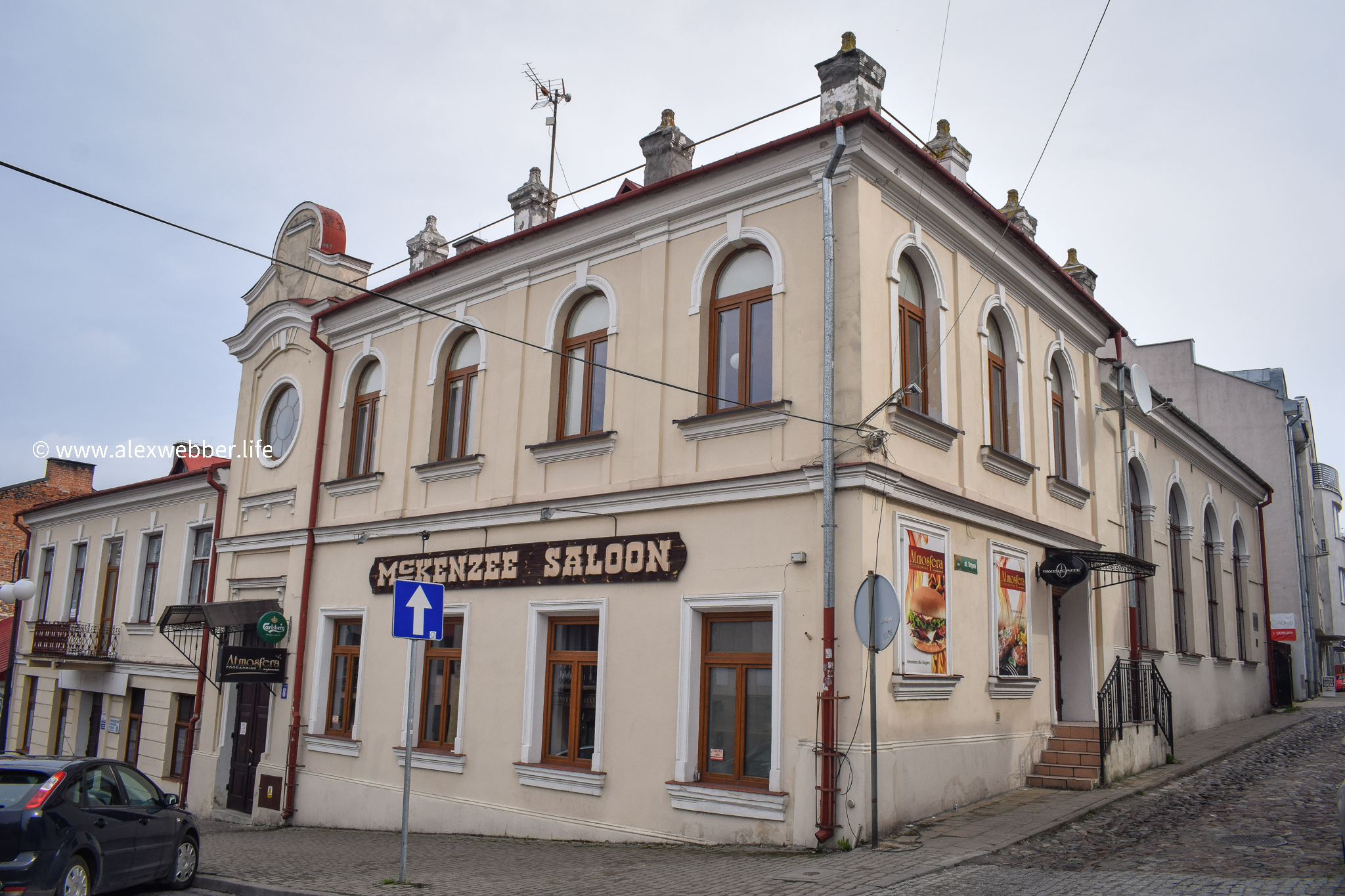 Eventually, another pub did open, allowing me a little sustenance before I set off to soak-up the pre-match atmosphere. Opening before me, Chelm's gently winding back alleys had no shortage of football related graffiti and photocopied posters urging followers to mobilise for this weekend's match. My hopes flickered.
As a stadium, Chelm is typical of those found in the lower leagues. Owned by the municipality, it consists only of two stands running down each side, and a surprisingly futuristic club house that looks like a carpet warehouse. Snooping within, I was allowed access into the administrative nerve centre, a small office awash with trophies and pennants: inexplicably, a pennant from Real Madrid hung next to those gifted by Wisloka Debica and Stal Poniatowa.
Disappointing as the ground may first appear, it does have one major redeeming feature: that being, a classic zoo cage reserved for visiting beasts. By no means was it guaranteed that the away fans would be allowed entry by the local police force, so it was with a sense of relief that they began to trickle in on the stroke of kick-off.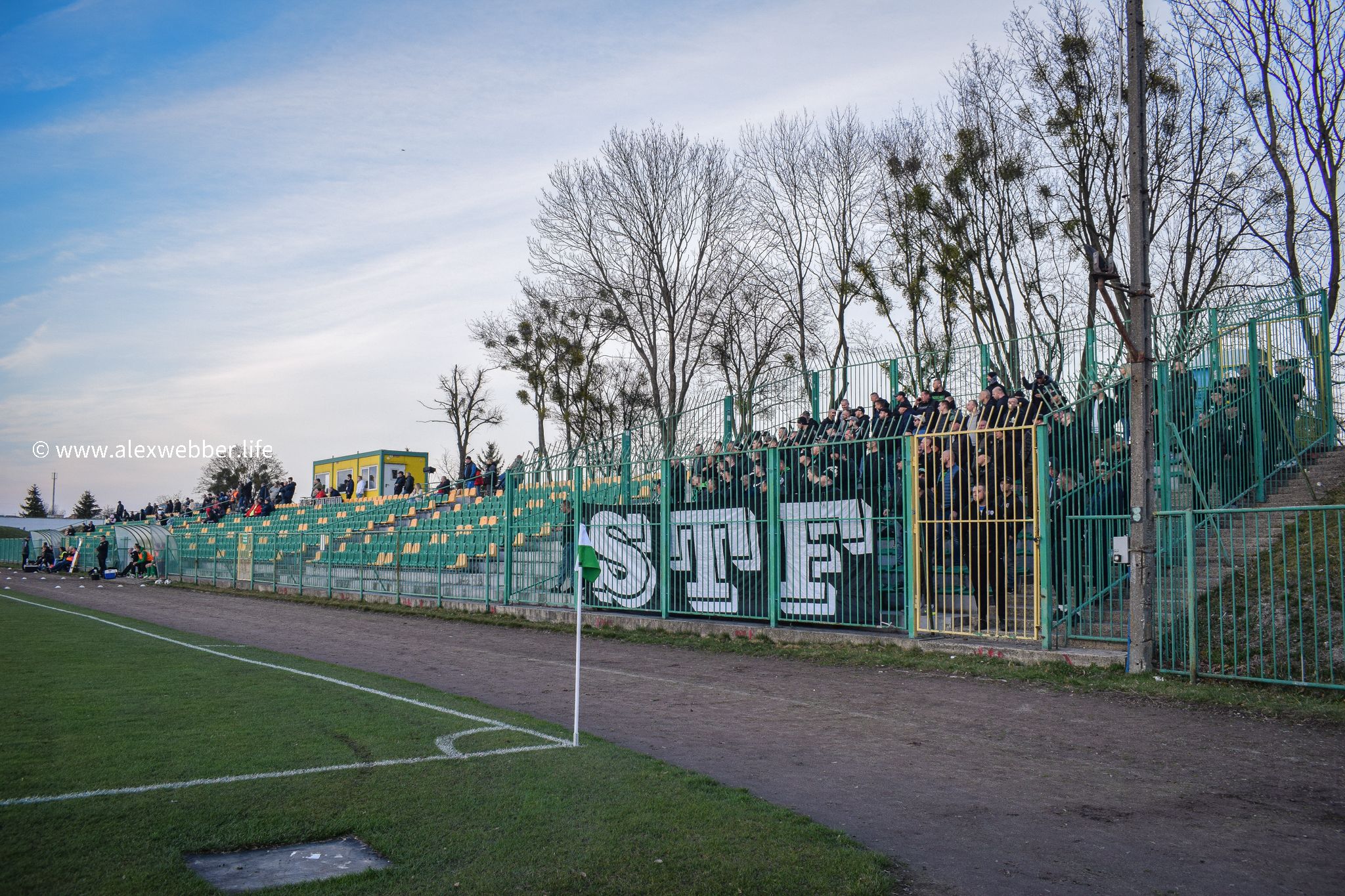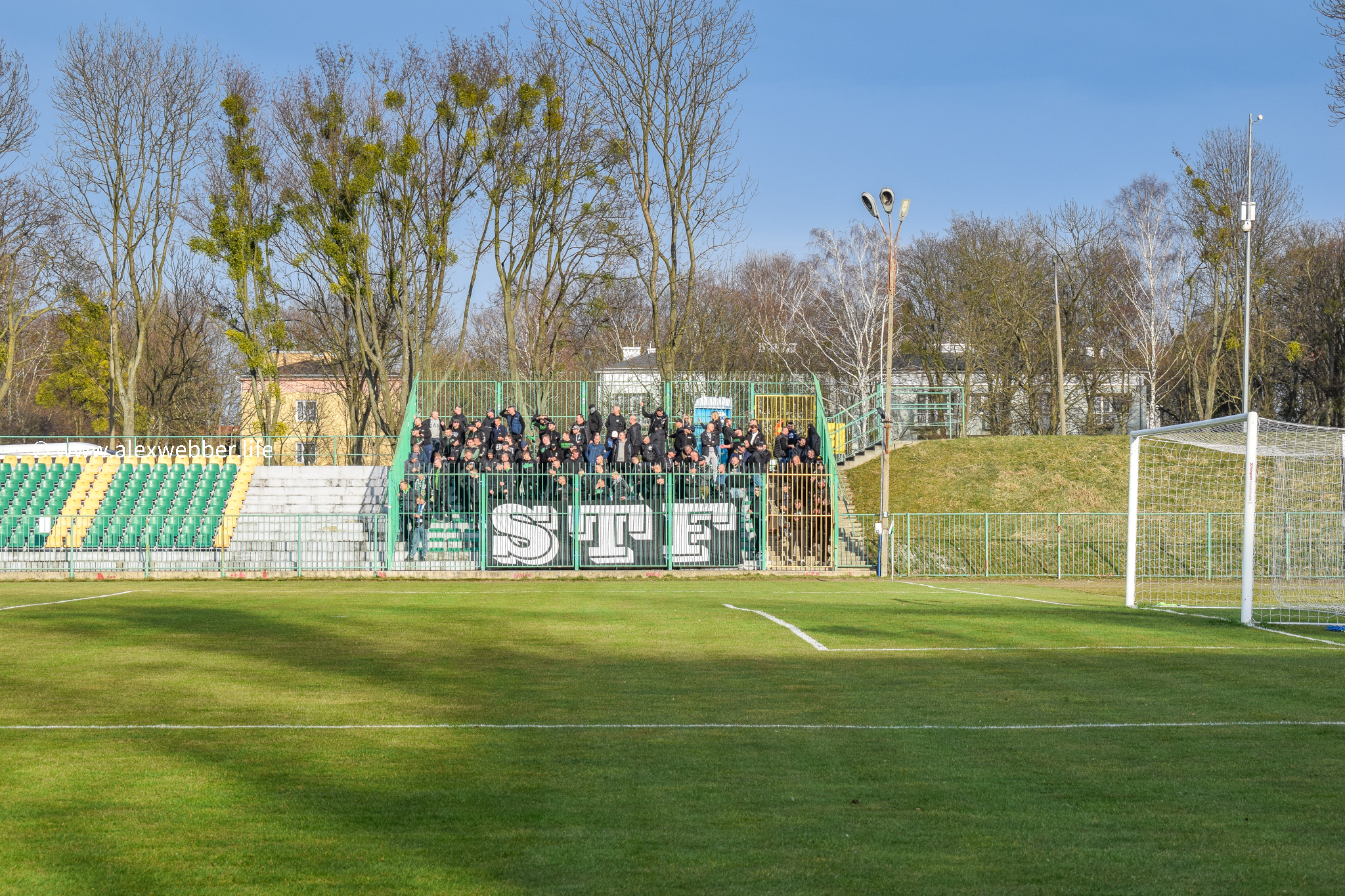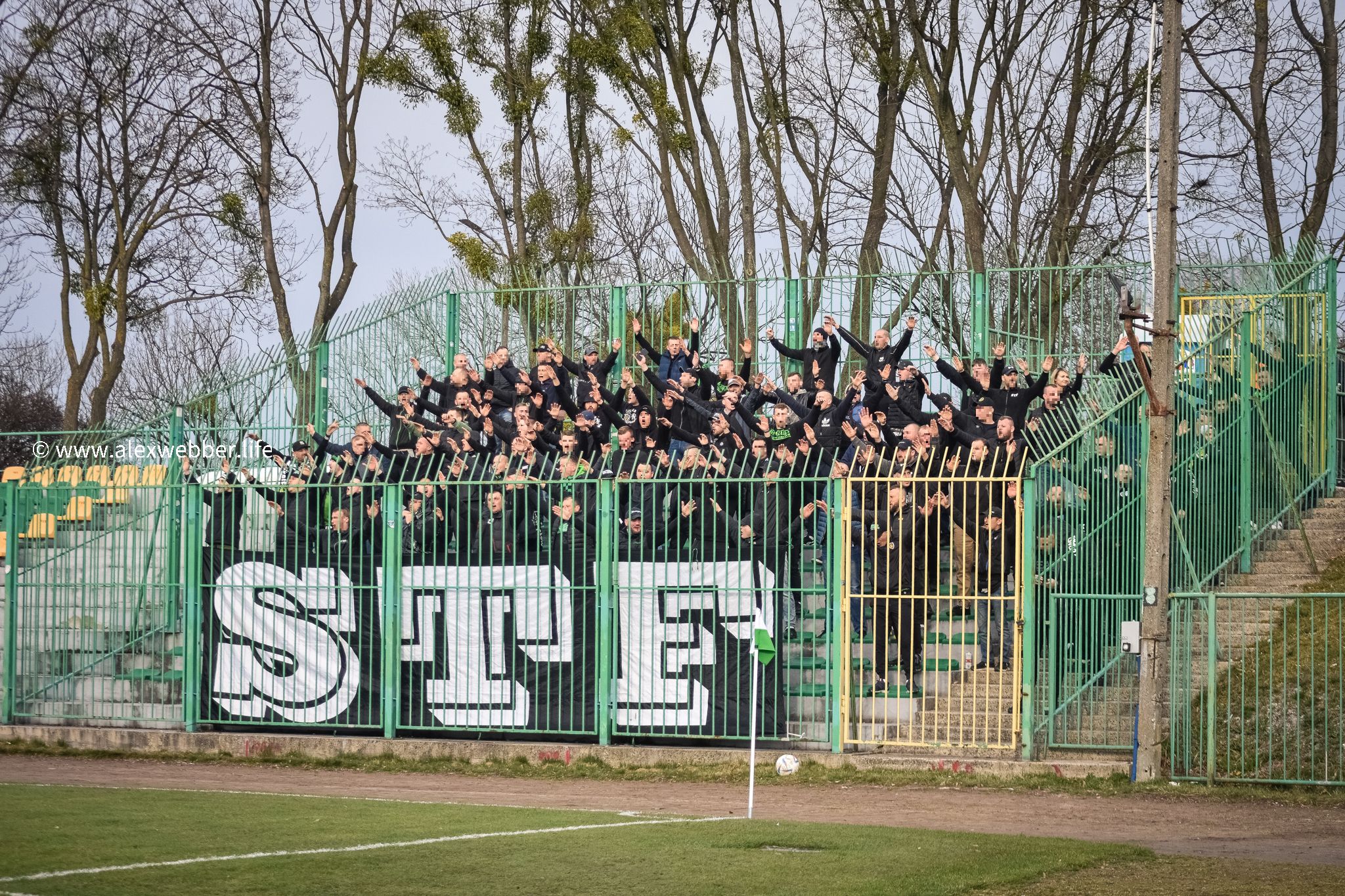 Bringing just over 100, they sparked into life when, after about ten minutes, a large group of Gornik Leczna fans bowled in, rattling on far-off fences and shouting obscenities. Allied with the home side, and staunch rivals of the visitors, the arrival of this lot provided a brief flurry of excitement.
There, though, the adventures ended. For the rest of the afternoon, the opposing sets of supporters contented themselves to providing their sides with solid backing whilst occasionally engaging in the odd hateful taunts.
Not quite the fire and brimstone experience I usually seek to photograph, but still strangely satisfying – for starters, this was the first match of the year where I hadn't been left looking like a frostbitten snowman.
As for the result, a 2-0 win for the away side keeps them in the hunt for promotion while simultaneously locking Chelm into mid-table nothingness.