Date: 15 September 2018 / League: Polish 4th tier
Final Score: 5-3 / Attendance: 1,000
In A Nutshell
A bonkers eight-goal thriller inside a shabby ground once graced by Terry, Lampard and that golden generation of prancing tarts…
Getting There
Hutnik Krakow play in Nowa Huta, a place that defies regular description. Some call it a suburb, others an independent city built as an epic Communist showpiece to counter-balance posh, academic Krakow. From Krakow's city centre, trams trundle down frequently, but getting a taxi is a far simpler solution. Using Uber you'll pay around PLN 40 with the journey usually taking not much longer than 40-minutes.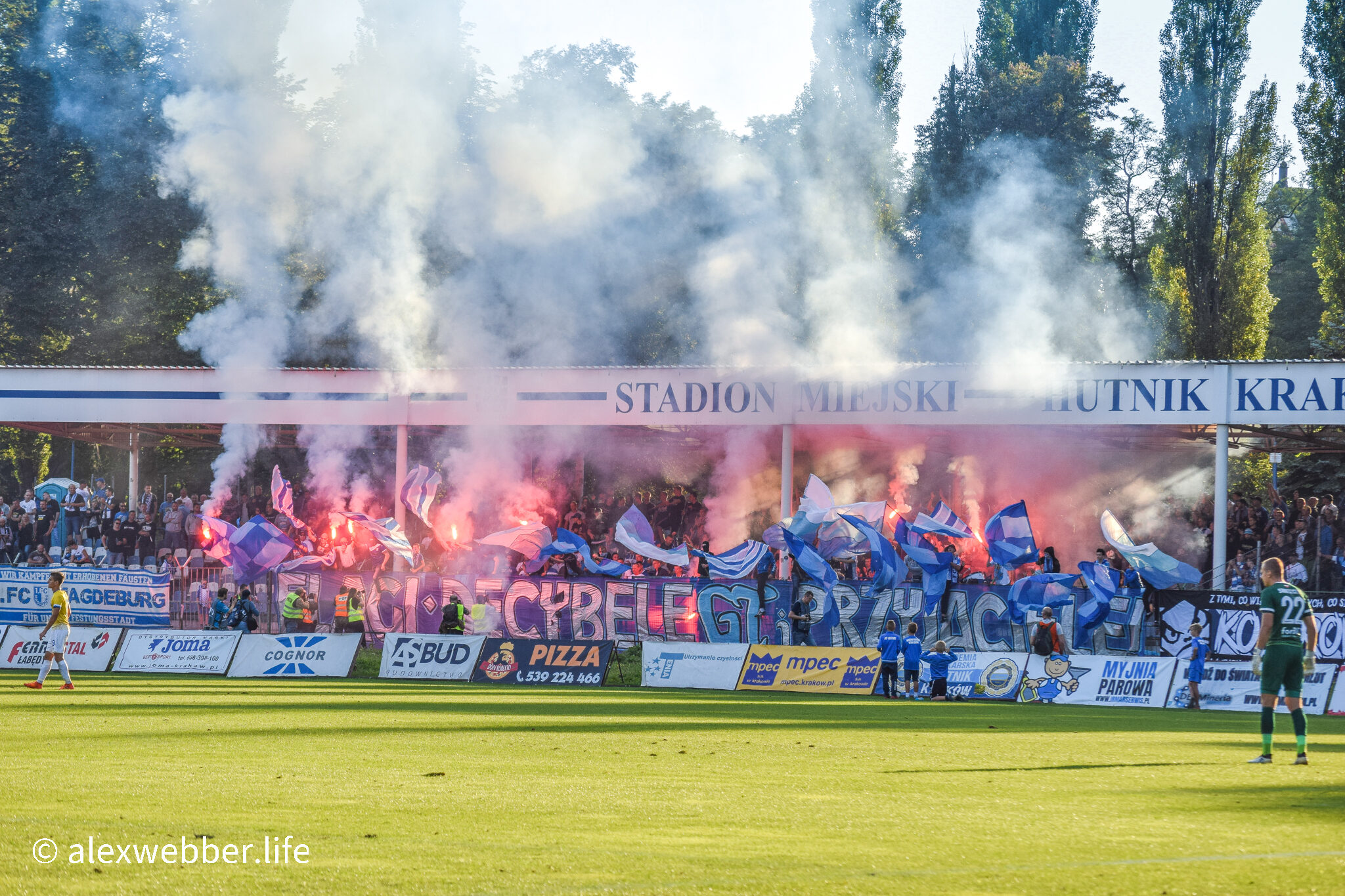 Background
Though regarded as Krakow's 'third team' after Wisla and Cracovia, Hutnik are no strangers to success. For much of the 90s they played in the top flight, and even appeared briefly in the UEFA Cup (only to be knocked out by Monaco in the first round). Financial mismanagement though has beset the club in recent times, and in 2010 went bankrupt altogether. Starting from scratch, they're in the process of clawing their way back up the leagues.
Stadium
First, a disclaimer – and a biggie! Currently undergoing an enthusiastic renovation, from what I've seen of the redevelopment not a huge deal has survived from this visit that I photographed – and what a shame. Something of a classic, features of this place included a single port-a-loo to deal with the crowd, a wooden shed serving out hot dogs the size of my arm, a Communist era scoreboard that you can imagine being used to announce Martial Law, and a cramped main stand whose interiors touted a modest trophy cabinet and pictures of various England legends – yep, whilst other teams had booked state-of-the-art training facilities, England's Euro 2012 squad made do with kicking it about on this lumpy pitch.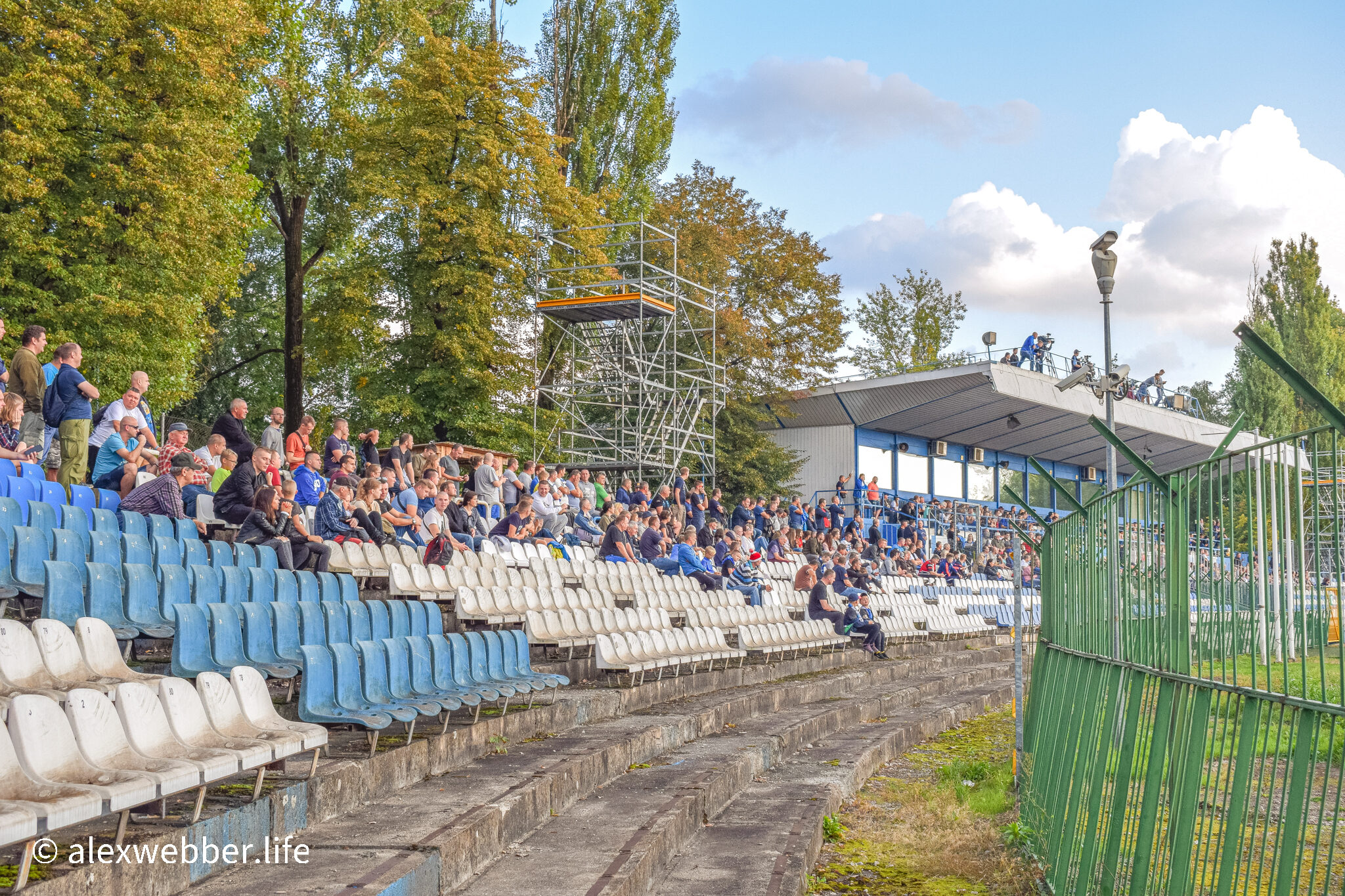 This though was not the first time the ground has been used by stars, and previously its hosted international rugby games (including a match against West Germany in 1958, a year after the stadium was opened), a Jehovah's Witness convention in the 1980s, a helicopter landing by Pope John Paul II (1979), an open-air meeting with the leader of Solidarity, Lech Walesa (1980), and a 60th anniversary celebratory match against the oldest side in the world, Sheffield FC (2009).
Of its other elements, on my visit the ground featured a curved away end and a covered side stand for the more vocal home fans. From what I know, this has been replaced entirely with a temporary stand whilst work continues to bring this ground out of the 17th century.
Experience
This was one of my 'early' football trips around Poland, and I sometimes view this weekend as the tipping point that sent me mental on groundhopping the country. Perfect in every respect, it was one of those that began by arriving on Friday with zero work to skive and a spring in my step: a blinding hotel; a load of WWII books purchased in the wonderfully creaky Massolit second-hand bookstore; the discovery of an ace curry house (Taste of India); and a night spent in a covert, access-by-password speakeasy in the atmospheric Jewish district of Kazimierz. And that was just the Friday.
Waking bleary-eyed for this match, I turned up to the ground motivated by the knowledge that Motor Lublin – a team I have a huge soft spot for – had 'mobilized' for this match to make for a bumper away turn-out of around 400. Amply abetted by their buddies from Slask Wroclaw, their away following was nothing if not raucous – and that was in spite of going five nil down by half-time.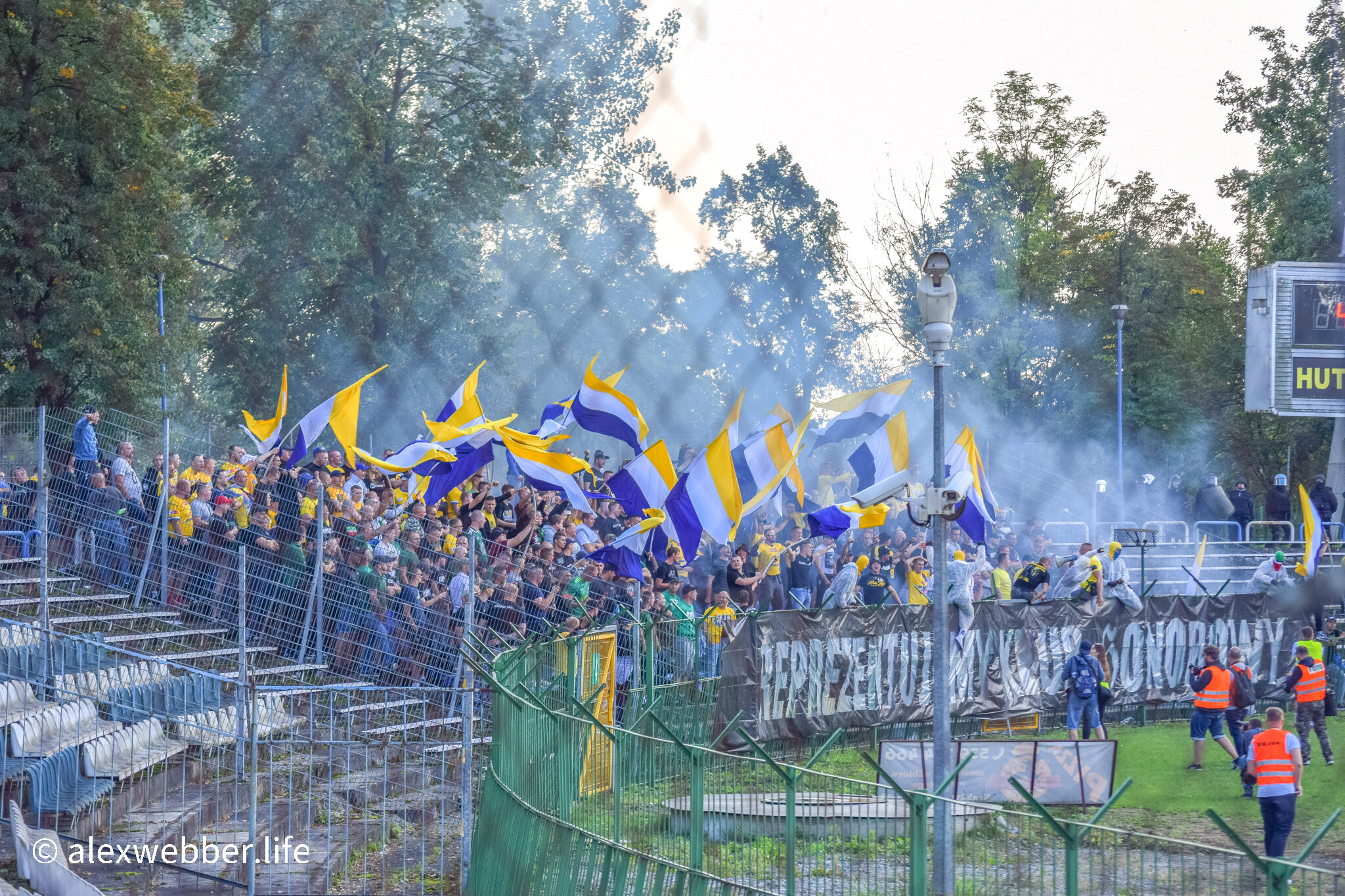 Hutnik, too, had turned out in numbers, and they matched the pyro shows of Motor with throaty backing and their own second-half display of fire and smoke. As someone who was still unused to seeing such 'shows', I was knocked sideways by the passion demonstrated by both sets of fans. I realize it's a weak excuse, but I was simply so busy watching the crowd that I missed all of the goals – having gone 5-0 down, Motor scored three in the second half and came within a whisker of setting up a grandstand finish when they struck the crossbar with five minutes left.
What a day, and a great prelude to Match No. 2 of the day, Wisla v Lechia later that night. Yep, this weekend ranks in greatness with my first Yorkshire pudding – bosh!