Date: 29 May 2021/ League: Polish seventh tier (I think!).
Final Score: 15-2 (no, that's not a typo) / Attendance: approx. 200.
In A Nutshell
My birthday demanded something special, and I got it – a 17-goal feast inside the kind of barmy stadium I thought only existed in football fantasy…
Background
There's not much I can tell you about Czeladz that you won't find yourself using a bit of google. To save you time, my dossier reads thus: founded in 1924, this club have changed club colours five times and their name seven. Never, seemingly, has this been to their benefit. A perennial minnow, according to my finds their biggest success on the domestic stage was an appearance in the third round of the Polish Cup back in the 1990-91 season. Whoopee.
Regardless, they have been known to get very decent support for their level, though it'll bet it's nigh on impossible to find anyone out there that will count Czeladz as their 'main' club. In this neck of the woods, if you're a football fan, then Zaglebie Sosnowiec will always come first.
Getting There
Czeladz is down the road from Katowice in Poland's deep south, and it's Katowice that was my base for the duration of this trip. I'm sure you can reach Czeladz from there by public transport, but with Uber costing about PLN 40 (just over GBP 7) you've got to be tighter than my trousers to take the cheap option. That said, the Uber did backfire on me a little when my Armenian driver dropped me down the dead end of a scrubby country lane. Not too much of a problem though, with the stadium in sight I was there in a few minutes via some holes in the fence.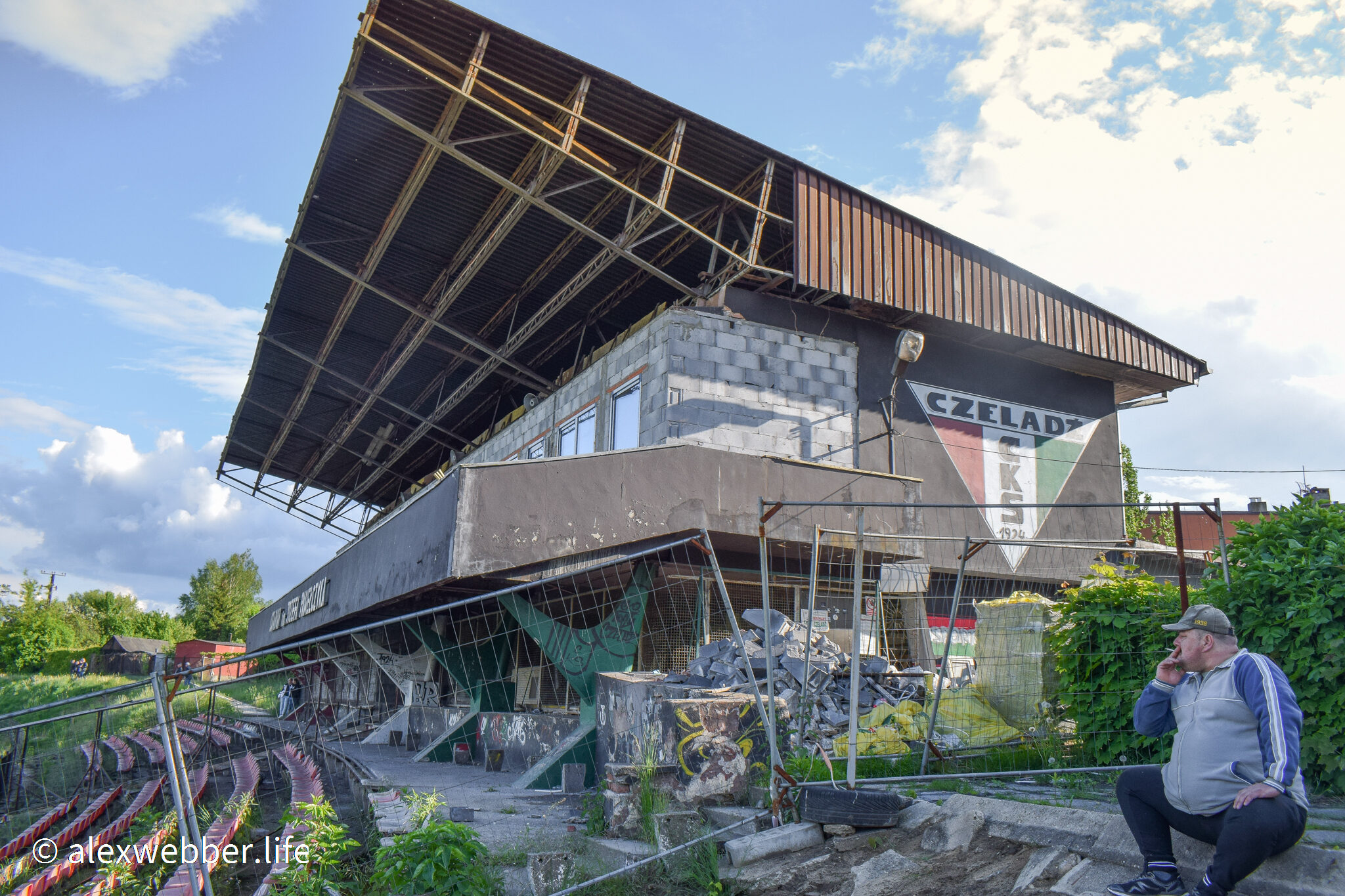 Stadium & Matchday Experience
This match was on my birthday, and as an extra special present the mighty Gods of Football rewarded me with a game like no other – I'm not joking, this was 15-2. Naturally, I missed pretty much all those, but with so much happening I did see a missed pen, a goal ruled out for offside, and home side score twice.
So, you might wonder, how the hell did I manage to break a world record for the number of goals missed? Easily, as it happens. Simply put, this was such a glorious ground that it was easy to overlook what was happening on the field.
There's much to write, so I'll try and keep it short. First off, until 2019 this was a vast and overgrown concrete bowl that I'm gutted to have never visited before; since then, they've knocked the terraces down, but the grandstand remains, albeit derelict and cordoned off – but it was an absolute joy to see, a real leftover from the cosmic 70s architecture that Poland embraced in the bad old days.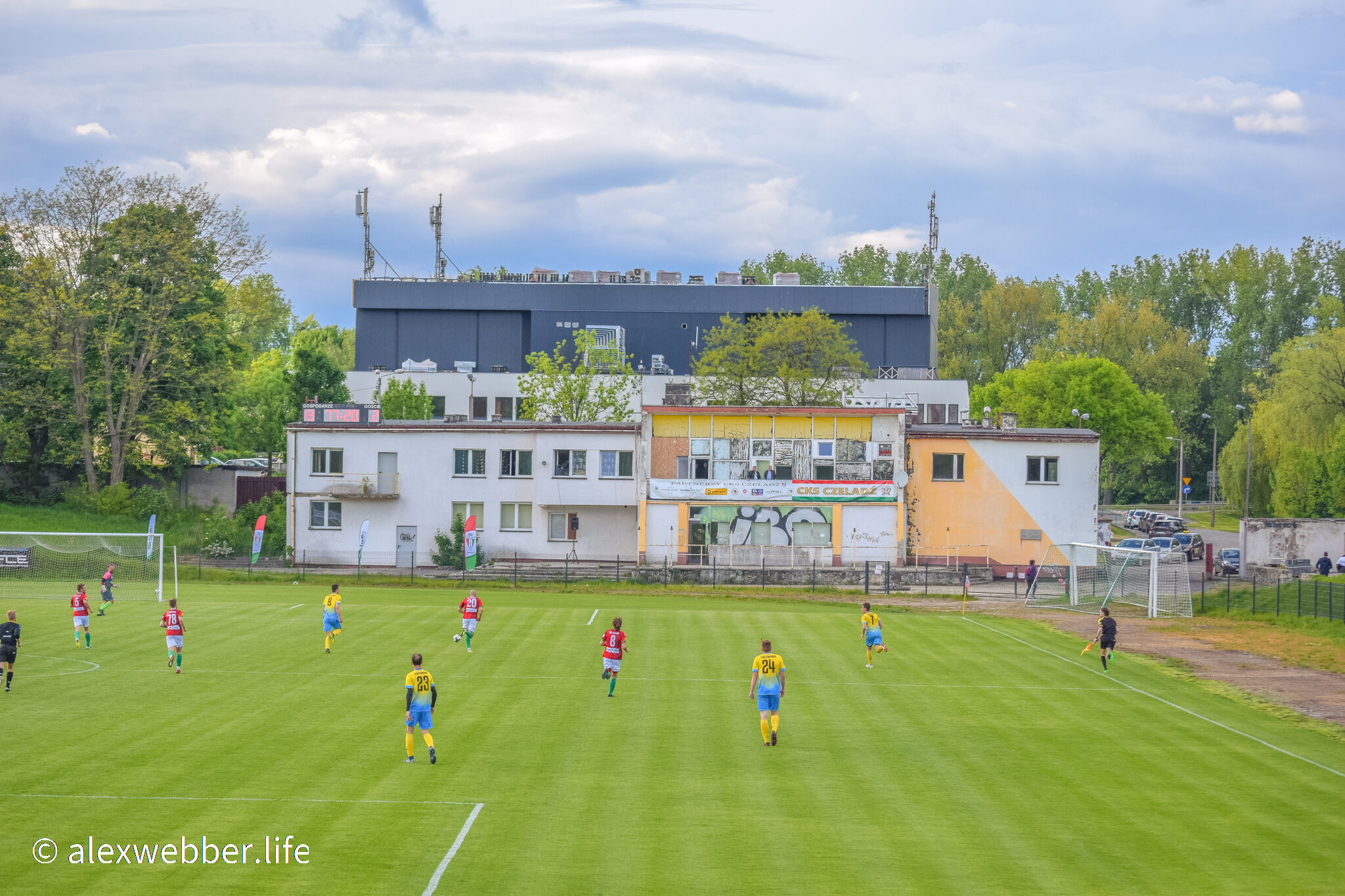 Despite the renovation, I loved it, not least for things like the great walk-up to the ground over a humpbacked bridge, views of the town's cathedral, a beautiful fox-like dog eyeing the game from the overgrown thickets, an away pen that had been left unlocked, and a peeling clubhouse behind one of the goals.
Exploring it was brilliant, but mainly it was all about that stand – what a beauty, and even more so for being surrounded by broken wreckage and piles of bricks. Although a new bank of seating had been installed opposite, I loved how many of the regular fans preferred to stand in the shadows of this broken hulk rather than sitting with the others on pristine plastic.
Though offering little in the way of vocal support (though they do have a band of ultras that turn out for bigger games), this match left Czeladz top of the league, undefeated and having bagged a staggering 138 goals in 23 games.
The Away End
I've got to give a quick shout out to the away end – I love Poland's strange enclosures, and the one at Czeladz is up there with the best. Strangely angled in the corner of the ground, I was buzzing to find it unlocked and thereby allowing me the pleasure of becoming the one sole away fan – with the scoreline being what it was, I can't help but hope the Tucznawa players saw me and felt an extra pang of guilt for delivering such a shameful performance in front of their one devoted fan.
Unhappily, however, my buzz was dampened a little in the second half when some other berk entered the cage to guzzle beer whilst peering through the fence. "Get out," I wanted to tell him, "this end is mine."
Postscript
Czeladz breezed to promotion and remained undefeated for the entirety of the season. In all, their record at the end stood and 28 win and two draws with 183 goals to their name – an average of just over six goals per game. As for the stadium, I'm unclear as to what the future might hold, but clearly this dinosaur stands to change in the forthcoming years.
To my knowledge, renderings have not been published, but I can't say I like what has been written in the press: "The municipal stadium in Czeladz will be a modern and functional sports facility in two to here years." To me, the sounds bloody horrid.