Date: 8 December 2019 / League: Polish top flight
Final Score: 0-3 / Attendance: 32,000
Preamble
It's a biggie, this match. For the first time in years Slask are promising to do something with their season and they begin the day top of the table. Legia, defending champions, lie in second.
With the winter break looming, the fixture carries enormous importance – whoever wins, will spend close to the next two months looking down on the rest.
Usually playing to sparse crowds, such was the interest that Slask took the unprecedented measure of introducing a counter to their website enabling the public to keep track of sales – boosted by rousing social media posts designed by the club to further drum up enthusiasm, the week preceding the game took on the kind of tub-thumping fervour more commonly associated with a WWI enlistment drive. "Your city needs YOU," the club declared on twitter.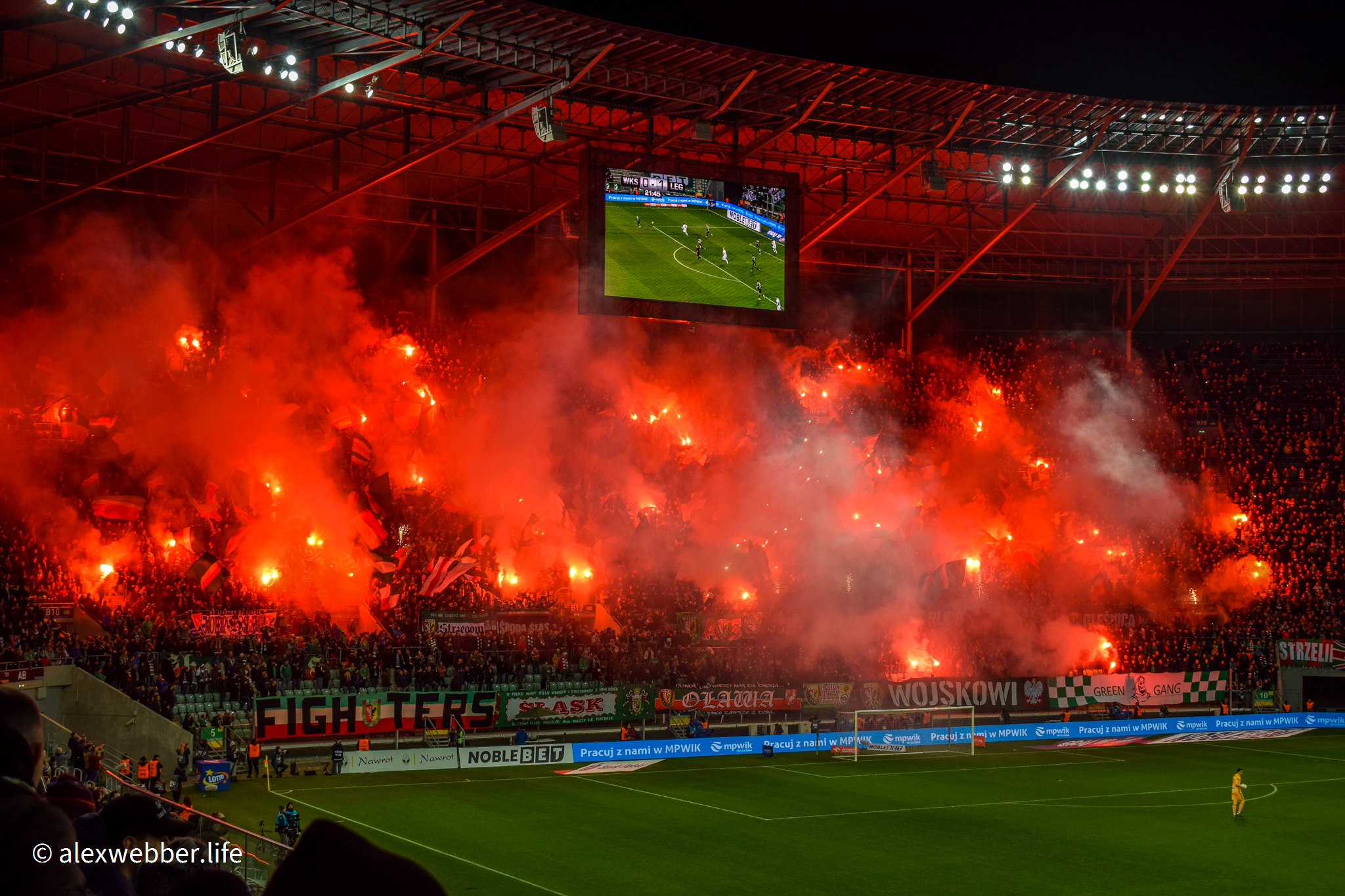 The Stadium
Wroclaw might be one of my favourite cities, but that's on no account of the football offered. Built for Euro 2012, there's something instantly disheartening about the stadium itself. If Slask's spiritual home at Oporowska street serves my definition of what a stadium should be – eccentric, compact and a little rough around the edges – then this new ground, the depressingly titled Stadion Miejski (Municipal Stadium) is an emphatic reverse.
Holding just over 45,000, and set amid a tangle of concrete bypasses on the fringes of town, it says much that it wasn't a football match that saw the stadium officially christened, but a George Michael concert.
Encased in a translucent glass-fibre mesh, it sits on the horizon like an outsized Chinese-style lantern bought from IKEA; practical, utilitarian and battleship grey. At least by day. Come night, it's illuminated in shades that suit the occasion – and for Slask Wroclaw matches, that means a glimmery emerald green.
Coming in this night, it was pleasingly different from the drabness I was used to. And for a change, the approach wasn't short of converging crowds; for the first time in numerous visits here, I knew I was off to football thanks to the streams of fans that the taxi passed.
Leading Up To Kick-Off
With the gauntlet laid down, the people of Wroclaw responded to their club's call to arms in a manner befitting of a city of their size. By kick-off, the number of tickets sold stood at 32,000, a bumper turnout for a team that often struggles to break the five-figure mark.
And while I admit to not particularly liking this stadium – a white elephant if ever there was – it does have fabulous hospitality facilities and it was to these I headed.
At the equivalent of forty of so pounds, they give much bang for the buck: the best seats in the house, free booze and the sight of dozens of hostesses clip clopping around with their bits jiggling around. Sure, save a few quid and sit next to a hostile skinhead with prior convictions, but I take this option each and every time.
Swanky from the outset, entry to the hospitality sector comes via a sky-high lobby that's an almost totemic tribute to the Polish ideal of flash and dazzle: slick, shiny surfaces, bright, brash colours and no shortage of glass and metal. Open to all willing to pay the rather modest admission, you pick up your festival-style access bracelet from a glossy reception desk manned by a team of Bond girls in a sexed-up version of business dress. That done, it's in the transparent lift you go to hit the VIP level, a vast place with the glitzy aesthetics of a 90s nightclub.
In keeping with this underlying aesthetic, the bar is long and lined with ready-to-serve plastic pints of lager – it's to here all head, and by that I mean fake-tanned blokes with pastel shirts and heavy watches.
There are, though, other amusements. Set around the vast expanses, buffet-style serving stations proffer greasy cabbage stews that remind you of prison, whilst elsewhere former professionals amuse Polo-clad kids with keepy-up and penalty shoot-out competitions.
In a weird twist, there was also a model village in a corner, one whose intricate details included fishnet clad prostitutes grappling with sailors.
And The Match…
Visiting Slask previously, sitting in the VIP zone has meant spending the match in enforced isolation, 30-metres plus from the nearest supporters. Today, it's about being shoulder-to-shoulder with bellowing blokes. I love it.
The whole "countdown to war" and "them against us" mentality fostered by the club in the lead-up has really done its job and when the whistle sounds its drowned out by a level of noise I've barely heard before: to accurately describe it, I'd liken it to standing in front of a aeroplane whose engines have learned to swear. The stadium is a hurricane of "come the fuck on Wroclaw" or words to that effect.
As happens whenever and wherever I'm stood at football, the tallest men in the city have decided to position themselves right in front, so rather than the pitch, I'm instead left enjoying A-class views of necks freshly doused in a choking array of aftershave. But this vantage point is enough for me to make out Slask squandering a flurry of early chances, as well as a penalty that's easily palmed away by the visiting keeper.
It's a ballsy start, but eventually Legia assert their class and begin to dominate their hosts. Three nil it ends, with the home side comfortably routed by the time the ref brings the match to a close. Slask have given it their all, but the bottom line is they're just not very good.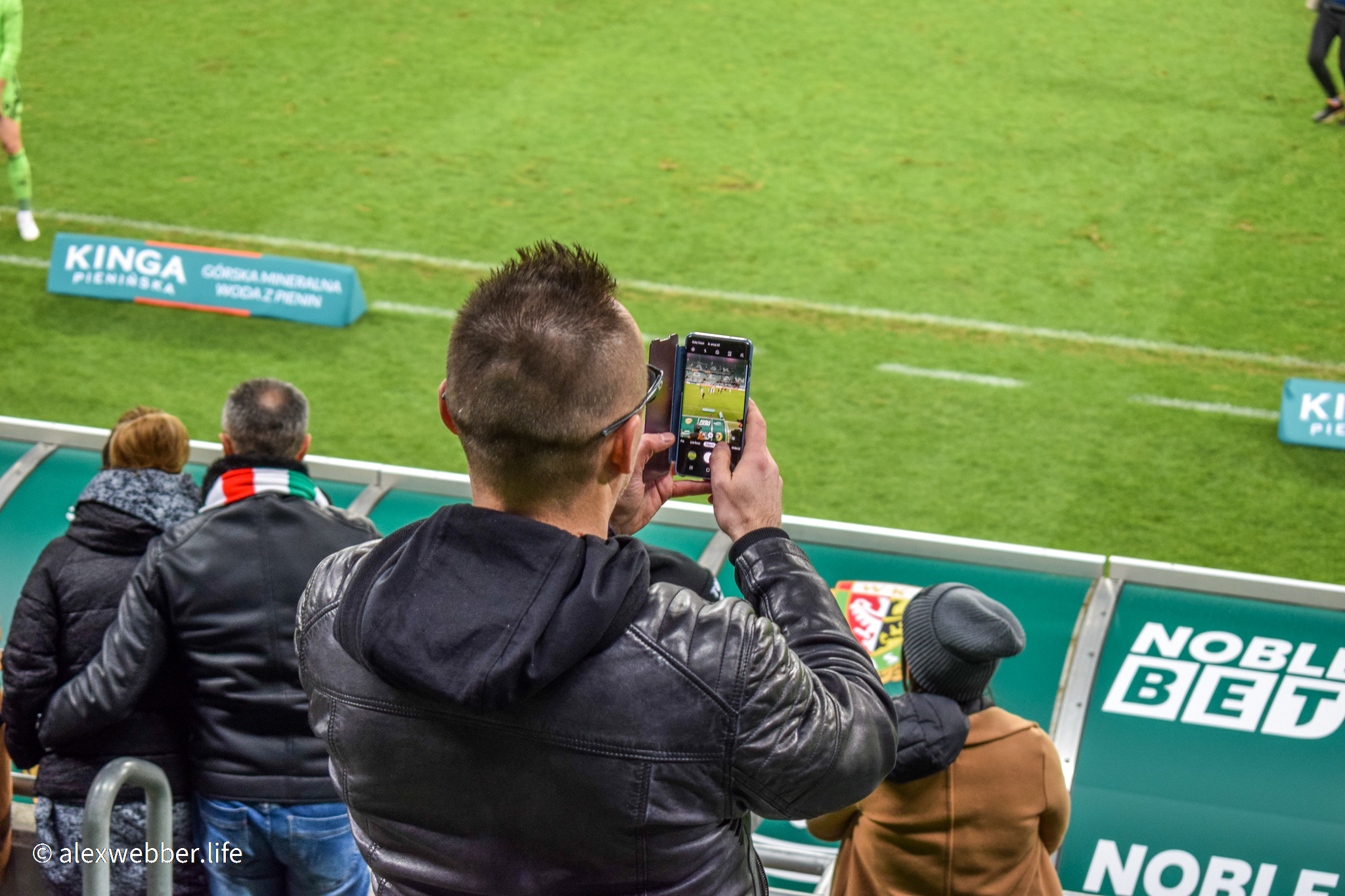 On The Fan Front
Slask might not have fulfilled the footballing end of the bargain, but the fans certainly did what they had to do. It was a world class performance from them, one that made waves across the nation after play was held up for 12-minutes for a pyro show that was so fierce in its might that it shook you to the core.
If you've seen those vids of Soviet Katyusha rockets pounding Nazi positions one after the other, then you get an idea of what this display looked like. It was an incessant barrage of fireworks launched from the home end, and for what seemed like an eternity all sight was lost of the playing surface itself.
I've witnessed pyro shows before, but nothing of this intensity. Seen from the moon, you imagine Wroclaw would have flickered up like a glowing red dot.
Legia did their bit as well. With lockouts and travel bans becoming more and more common in the top flight, I was actually surprised that they were allowed to travel, but travel they did and in generous number. Three and a half-thousand made the journey to constitute, I'm told, the biggest away following that this stadium has yet seen.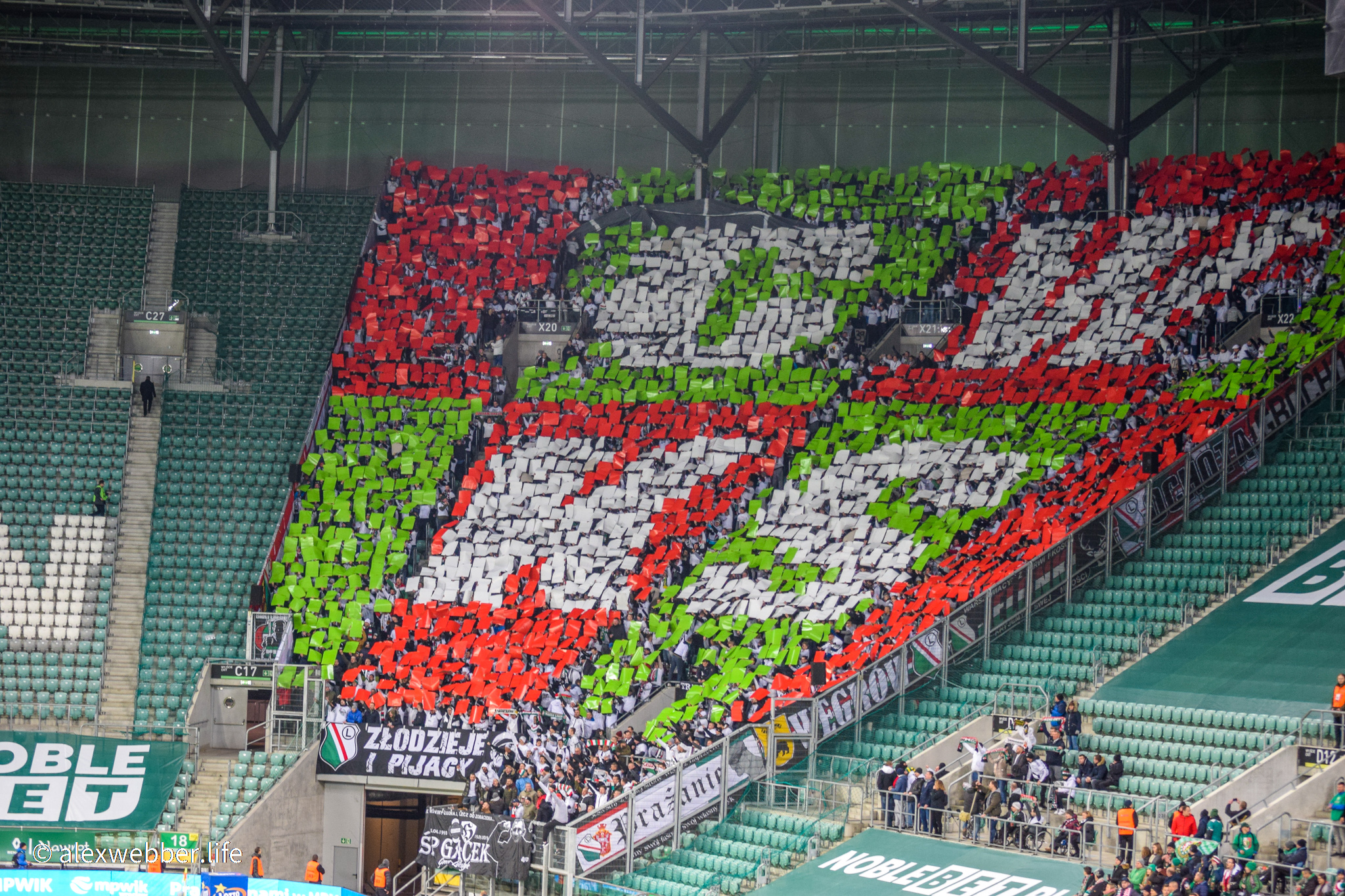 Whether it was by design or by accident, it appeared that the two sets of supporters were engaged in a tit for tat battle for supremacy: whenever one side offered a flag drop or choreographed display, it found itself swiftly followed by one at the other end – you found your head flipping side-to-side like a submarine's periscope.
When Wroclaw unveiled a giant flag in the shape of their home shirt, Legia reacted by launching into an ingeniously devised pyro display that saw their club badge – a circle with an L inside – marked out perfectly in flares. It was a masterpiece of organization, but by no means were Legia finished yet. Just as Slask completed their grand fusillade, Legia's lot replied by dropping a banner that covered the entire cheese-shaped wedge of the away end: bearing the image of a vintage television test card, it warned of an upcoming technical break.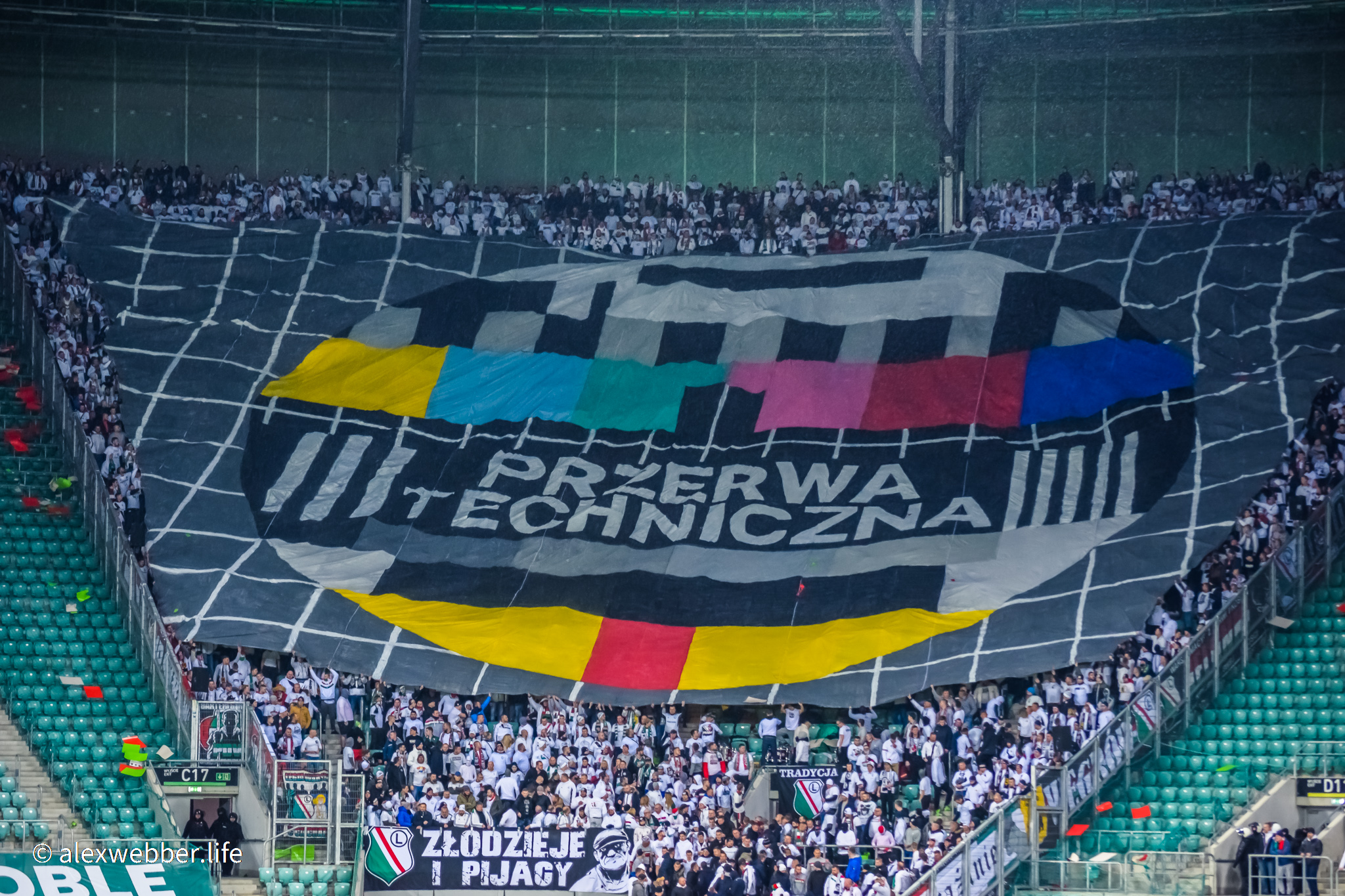 When the banner was finally swept back, it was the turn of the travelling ultras to steal the show with a pyro show that, astonishingly, outdid Wroclaw's. First burning a bright orange colour, within seconds Legia's flares were spewing a dense black smoke that covered their end completely as if some raging fire. Occasionally, glimpses could be caught of masked fans silhouetted against their work. Visually, it was a fearsome and formidable feast.
If the football had been a disappointment for the majority of the crowd, the theatrics surrounding it had been of international standard. I remain staggered to this day.