Date: 27 May 2023 / League: Polish second tier
Final Score: 2-1 / Attendance: 5,998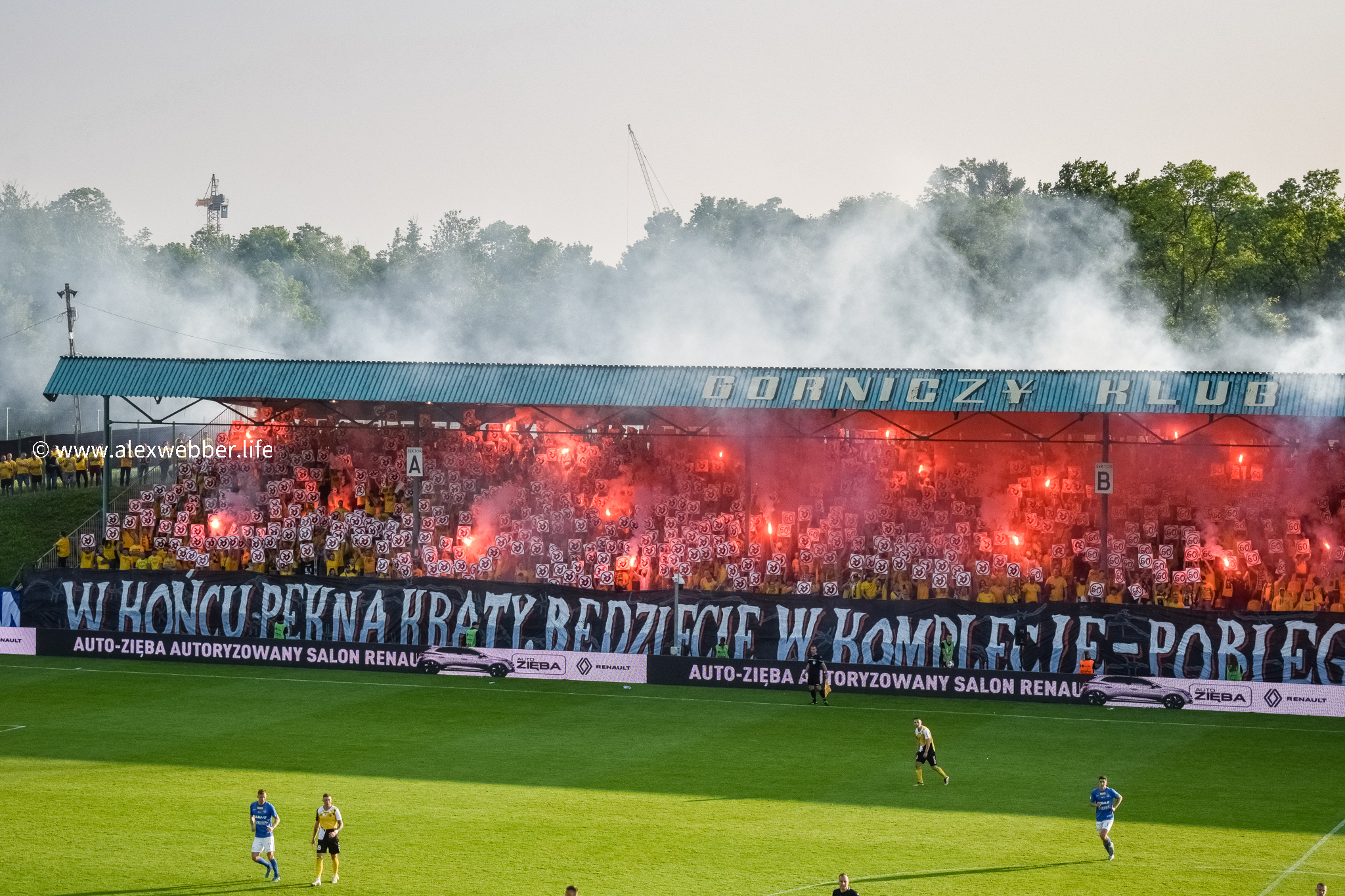 Experience
Forget all the peace and love espoused by the snowflake generation, we all know that football is built on solid foundations of rivalry and hate – for all the fair play nonsense that FIFA like to advocate, they're barking up the wrong tree: as football fans, there's nothing we enjoy more than those ill-tempered games where hate pours from the stands.
Even so, there are some fixtures in Polish football that go beyond the realms of common sense and cross into something entirely more sociopathic. In this respect, the matchup between GKS Katowice and Ruch Chorzow is a case in point.
To call this tie toxic would be disingenuous, in fact, murderous would be more appropriate – and, unfortunately, I'm not actually joking. With both clubs largely kept apart by the league system in recent times, the rivalry between the supporters of these two has instead flourished on the back streets and housing estates of Silesia, often with grim consequences for those involved.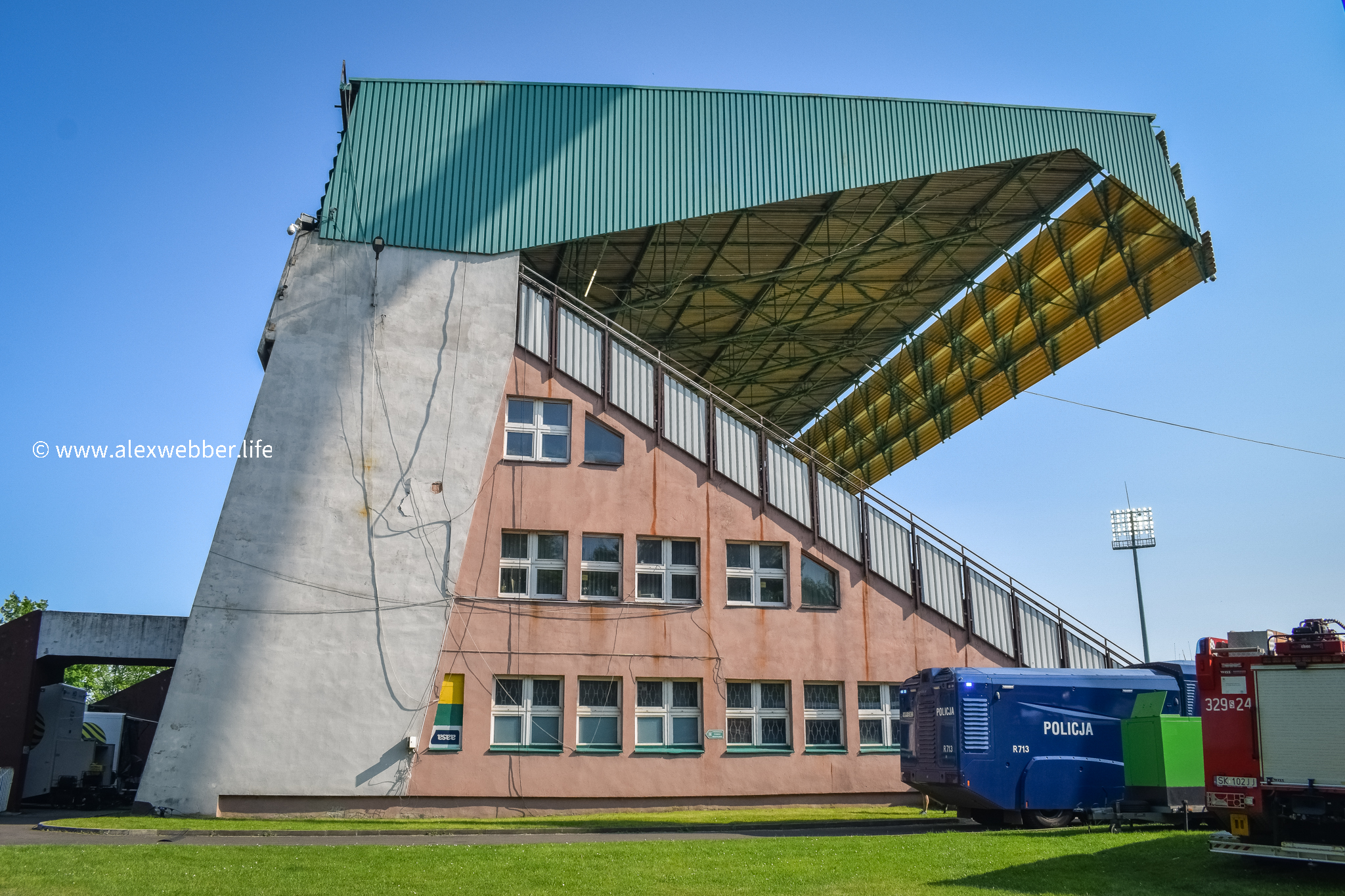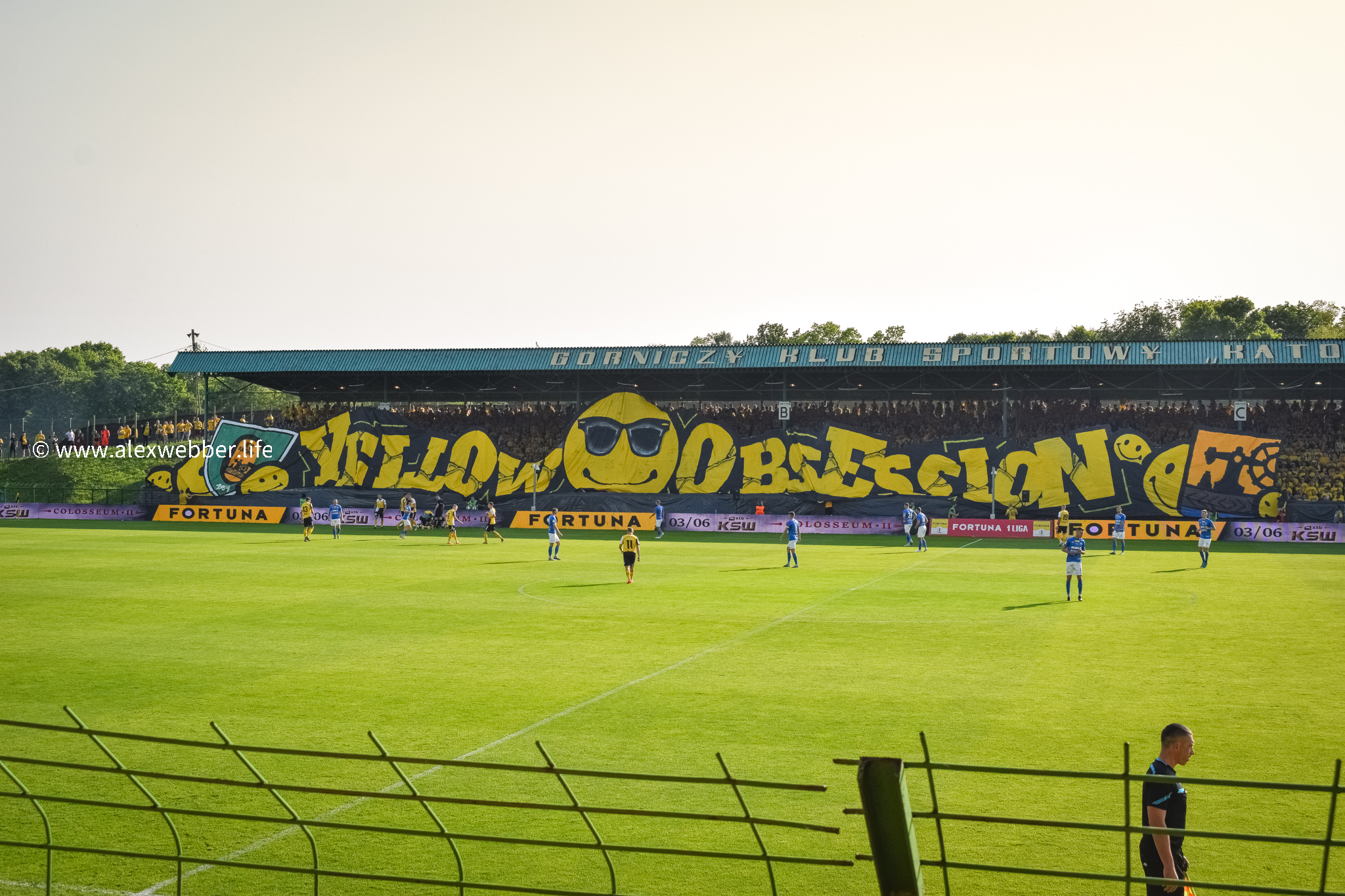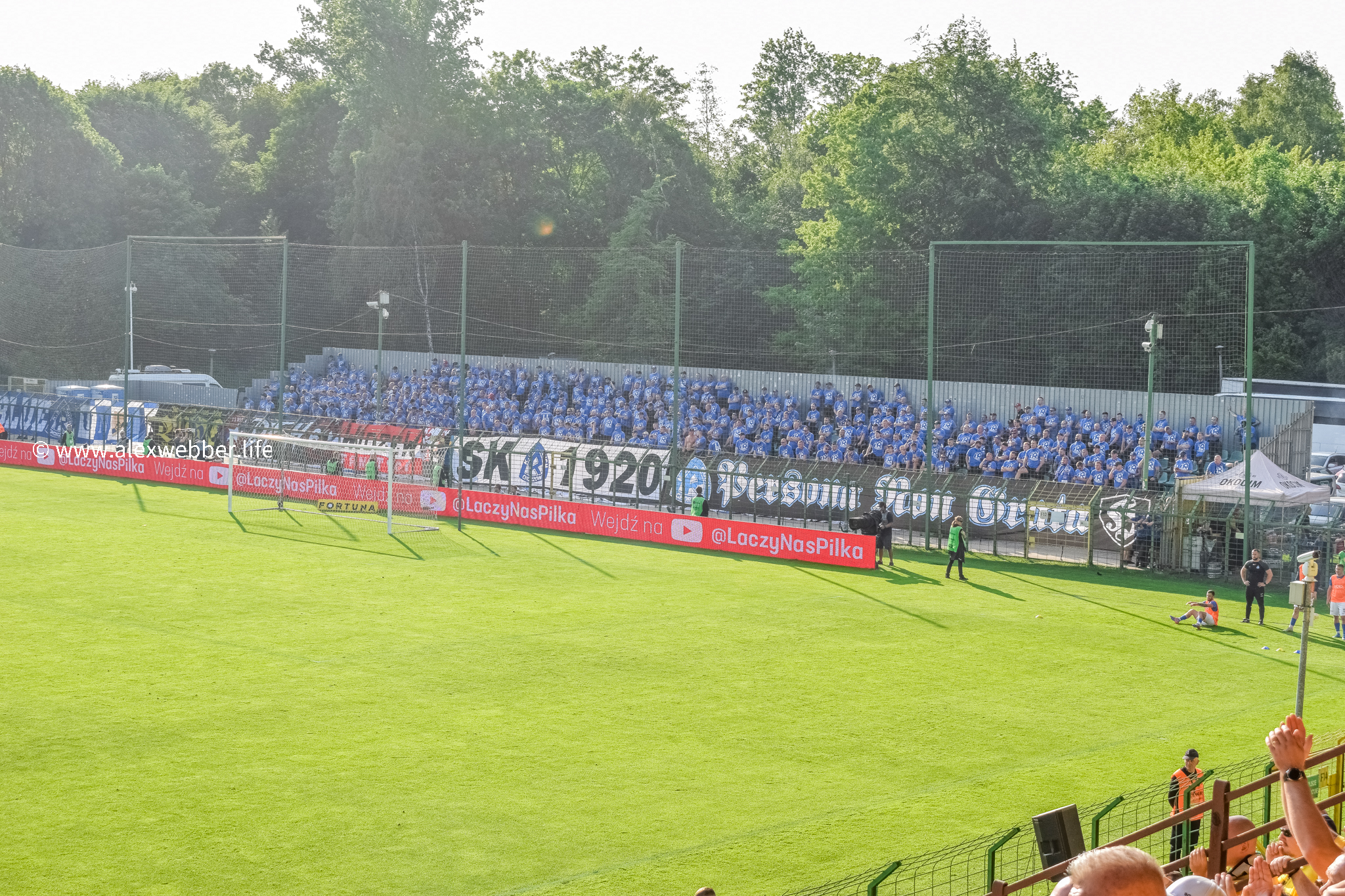 This game, therefore, was hotly anticipated, not least as it would be the first time in 20-years that Chorzow's fans were to be allowed to enter the away end at GKS.
Hyped to almost ludicrous levels, the build-up went so far as to include one fan – who had been caught out in hostile territory – being stripped and strung up from a lamppost.
"You need to watch your back at this game," messaged one friend. "Be more careful than ever," warned another. Leaving no doubt as to how serious this match was being taken, another PM'd me the night before to remind me to wear yellow. "There's a punch-on-sight policy if you're not," he concluded.
This last bit of information, as it turned out, was not entirely truthful, but it was enough to send alarm bells ringing in my head. Arriving to Katowice on Saturday morning, I made sure that the first thing I did was head to the fan store in town to purchase the only item of yellow clothing I have ever worn in my whole life – a rather fetching t-shirt that announced me as one of 'the madmen from Bukowska' (Bukowska being the road on which GKS play). This was, to all intents and purposes, my AMD: Anti Murder Device.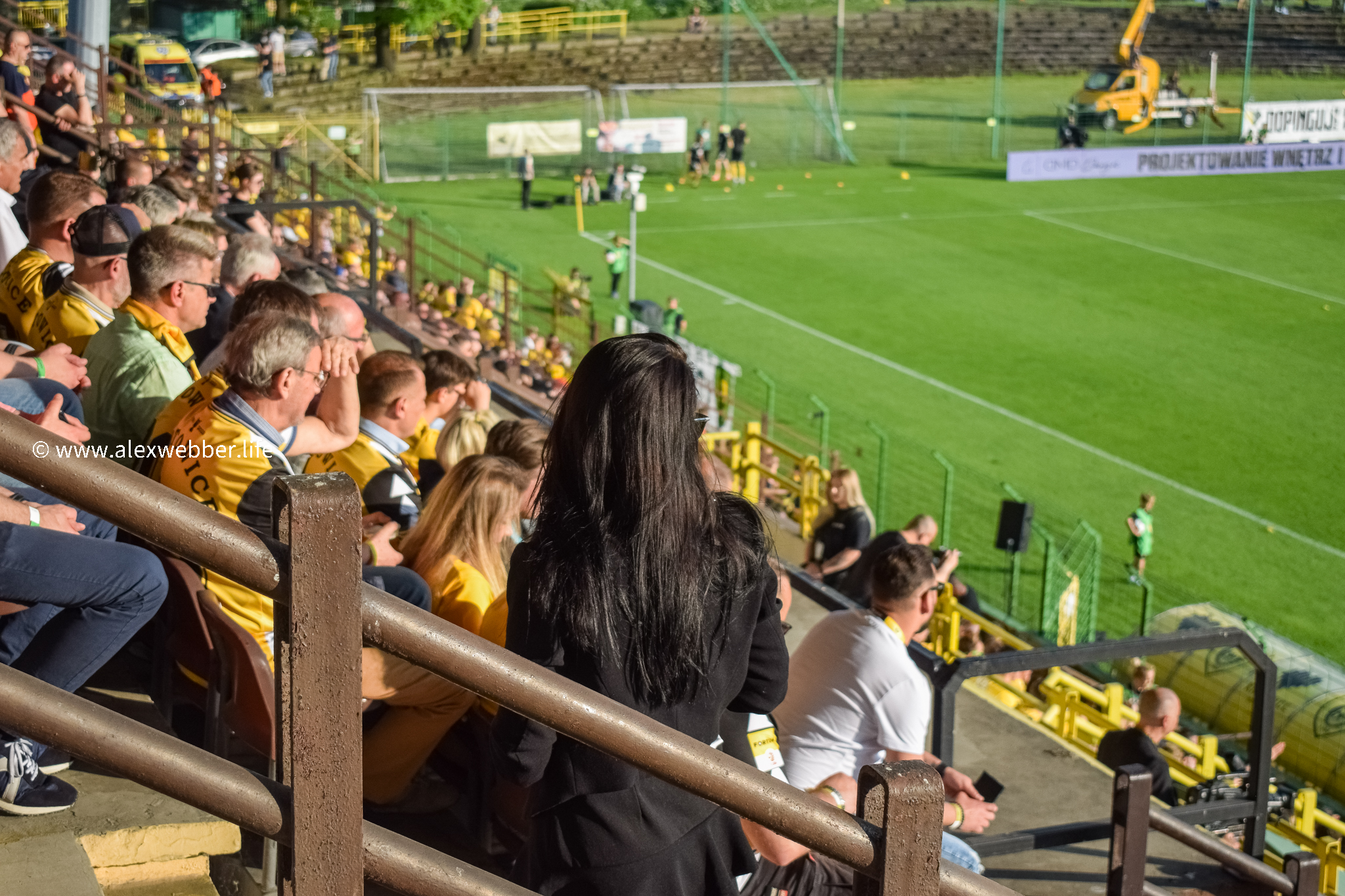 Anyway, with all threats to my life weighing heavily on my mind, I approached this game with genuine caution. My usual pre-match pints were off-the-cards. Moreover, I had failed to get press accreditation and was attending as a 'normal fan'; I needed my wits to smuggle my camera into the ground – a big ask given the stringent security operation surrounding this fixture.
Fortunately, a friend came to my aid. "I know someone who has accreditation," he wrote. "If you meet him before the match he'll take your camera in and you can collect it once you get through the turnstiles."
I had thought this would be some covert handover conducted in secrecy, so imagine my surprise when he simply took my great, big camera bag right outside the main gateway before returning it on the other side under the noses of the stewards. Christ, I thought, remind me to take a petrol bomb next time. Regardless, a big thanks go to my connection.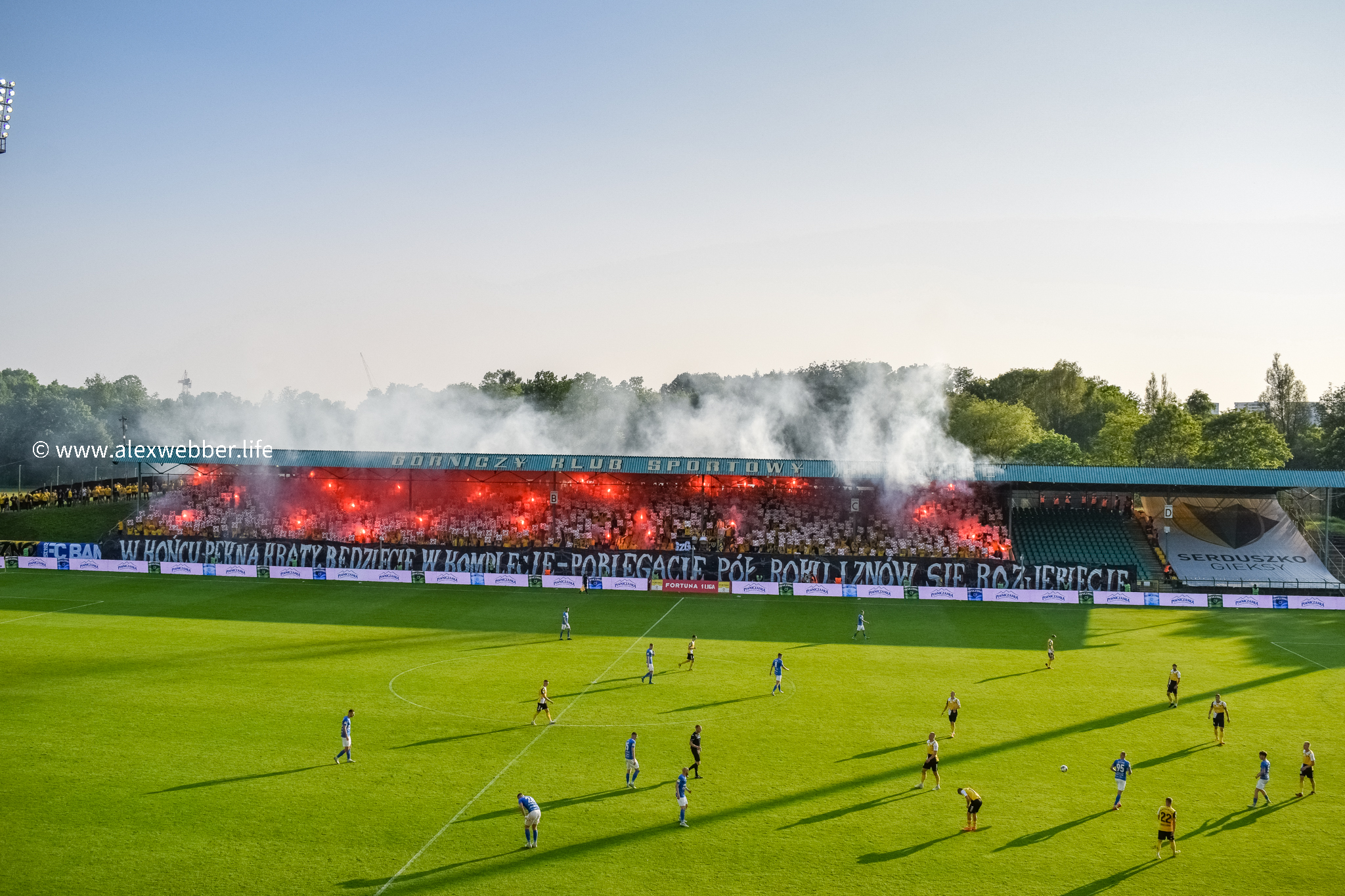 So, anyway, game time. Playing to a wall of sound, GKS edged ahead in the first half with a 31st minute goal sending the home crowd into ecstasy – it's rare to see Polish fans celebrate a goal with such enthusiasm, but on this occasion it was untrammelled chaos. Not since I visited Amsterdam's Red Light District as a teenager have I been grabbed and hugged by so many strangers.
This, mind you, was nothing compared to what was to come. With Ruch equalizing in the 74th minute, the game had been headed towards a draw only for GKS to grab it with, quite literally, the last kick of the game. Pandemonium.
From a fan scene perspective, it had been quite an experience even if the actual choreography had been a little disappointing: in the first half, that had meant a flag drop announcing Katowice's "Yellow Obsession", whilst in the second, a pyro show preceded by a sea of raised placards proclaiming opposition to Article 60 – a law that rewards informants and that has, incidentally, proved pivotal in a string of high profile cases involving Ruch's hooligans.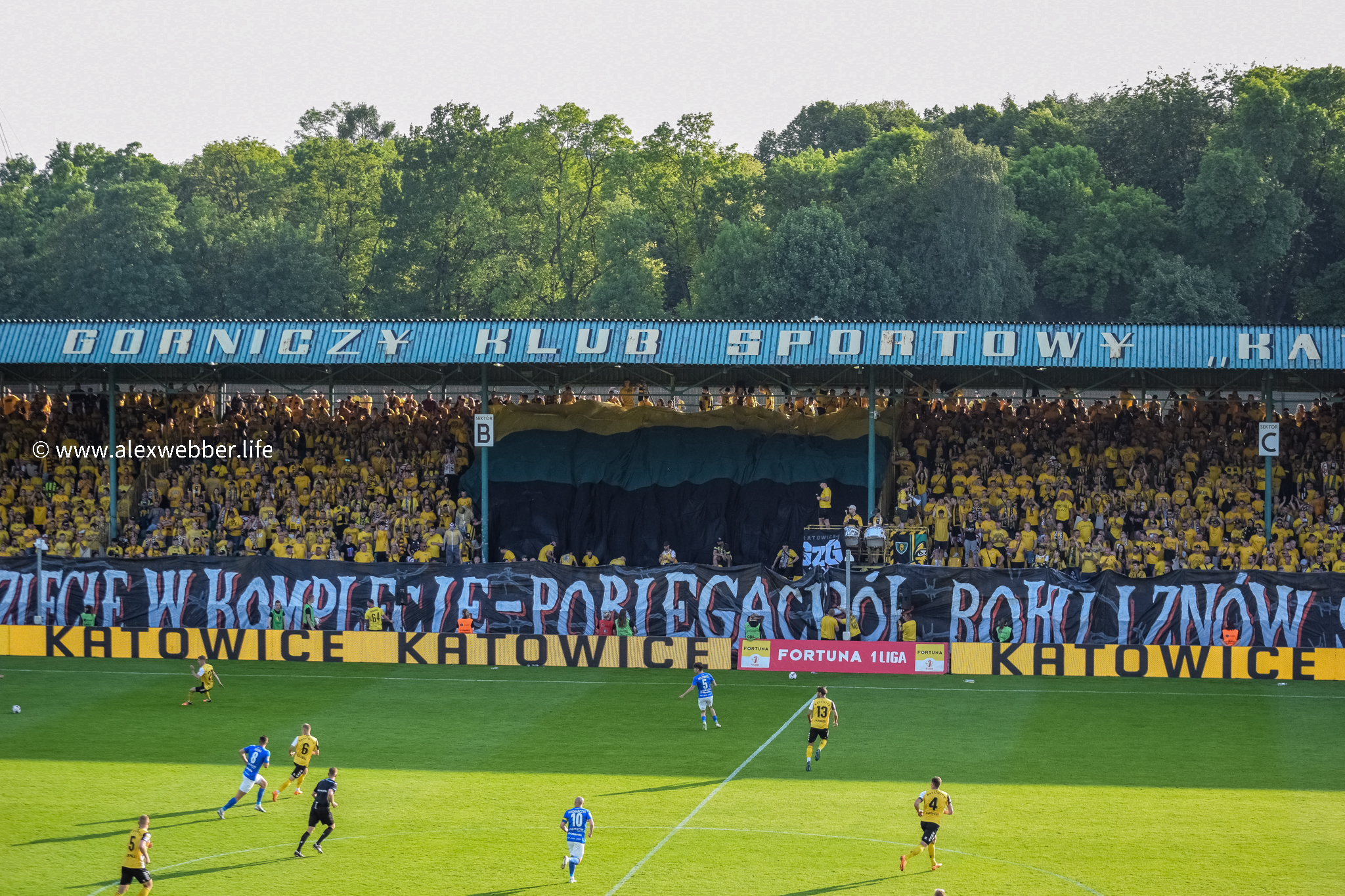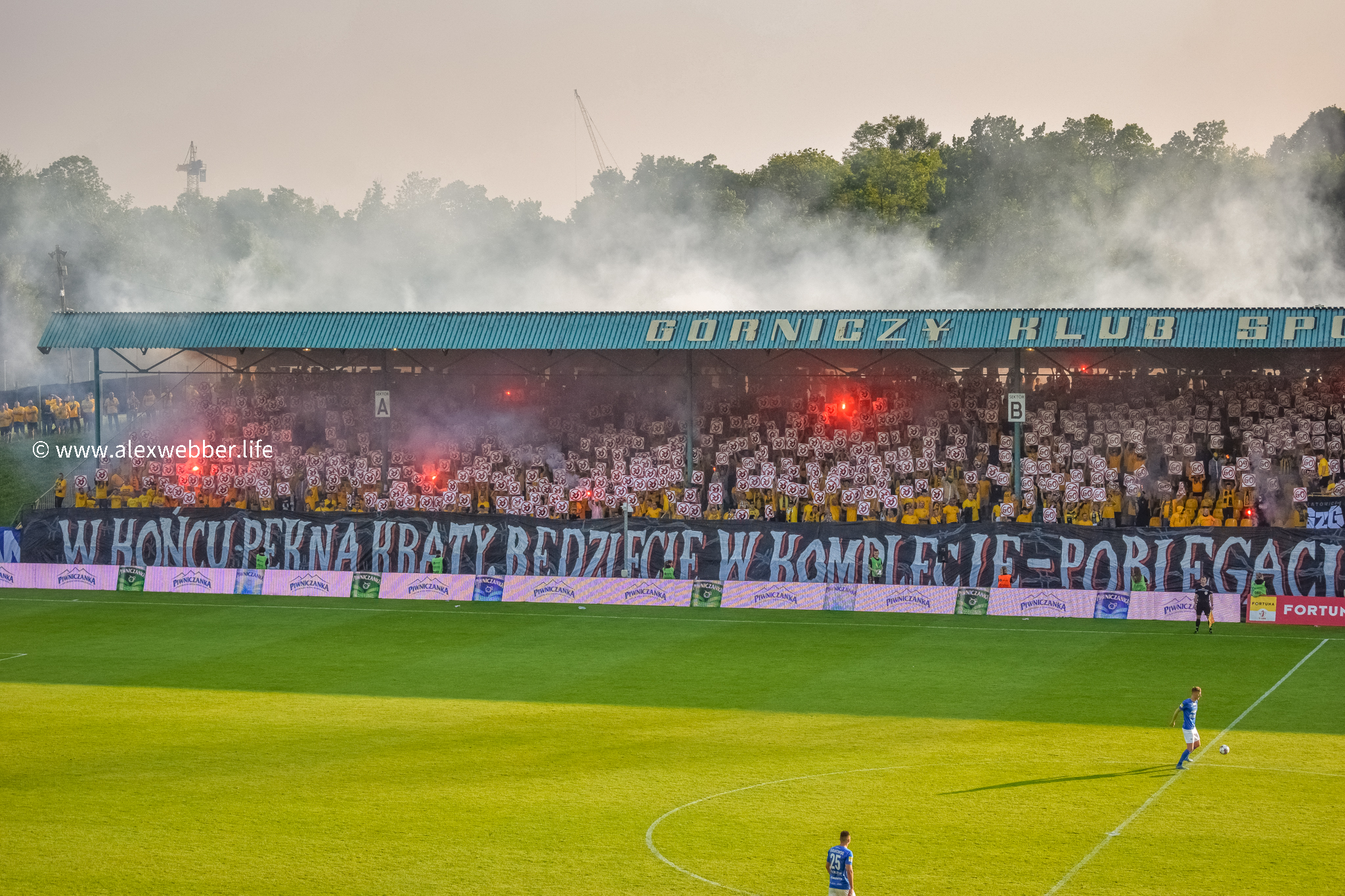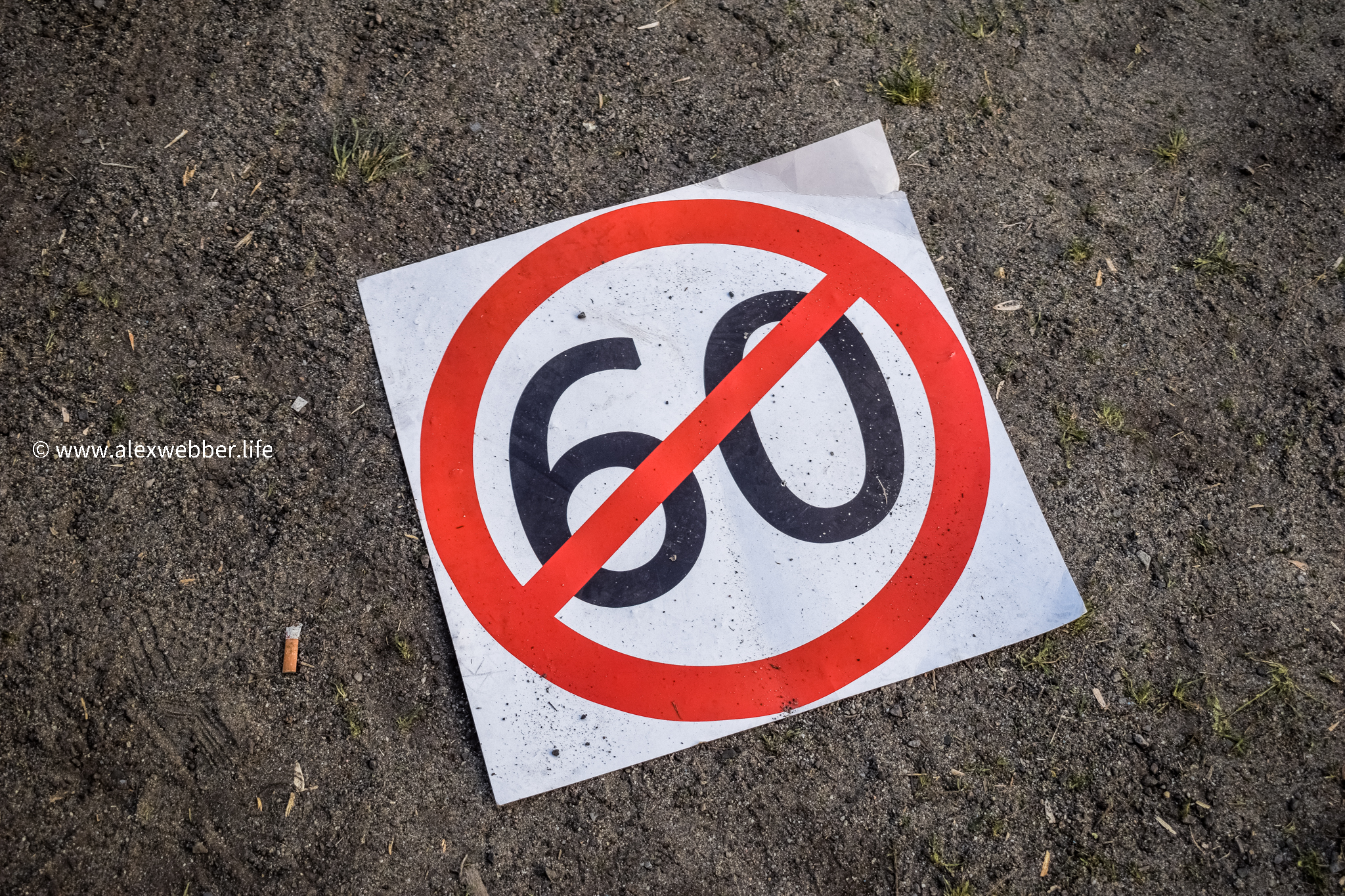 Unlike widely predicted, the game did not descend into unhinged mayhem, this in spite of a brief full-time fracas in the away pen, but I can't say I'm sorry. Admittedly, I seek out the high-risk games for photographic purposes, but there was something about this fixture that was too sinister even for my appetite – on this rare occasion, I was more than happy to simply soak in the vibe and then make it back to the city centre without any near death scrapes to report.
But that said, I did not merely slink away on the sound of the final whistle. Waiting for the crowd to disperse, I seized the opportunity to have a proper prowl around the ground – a stadium that I'd visited twice previously, yet had never fully explored.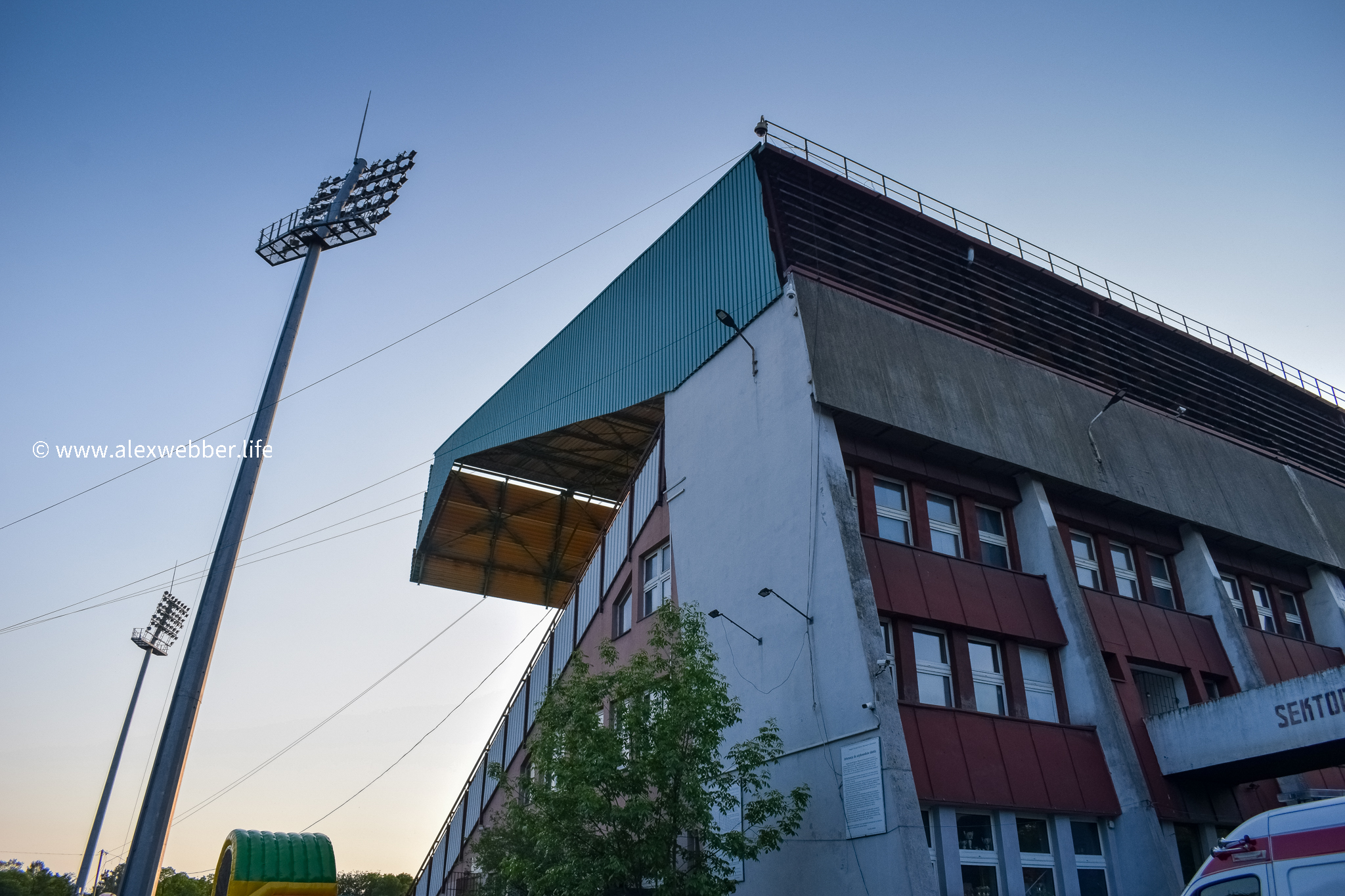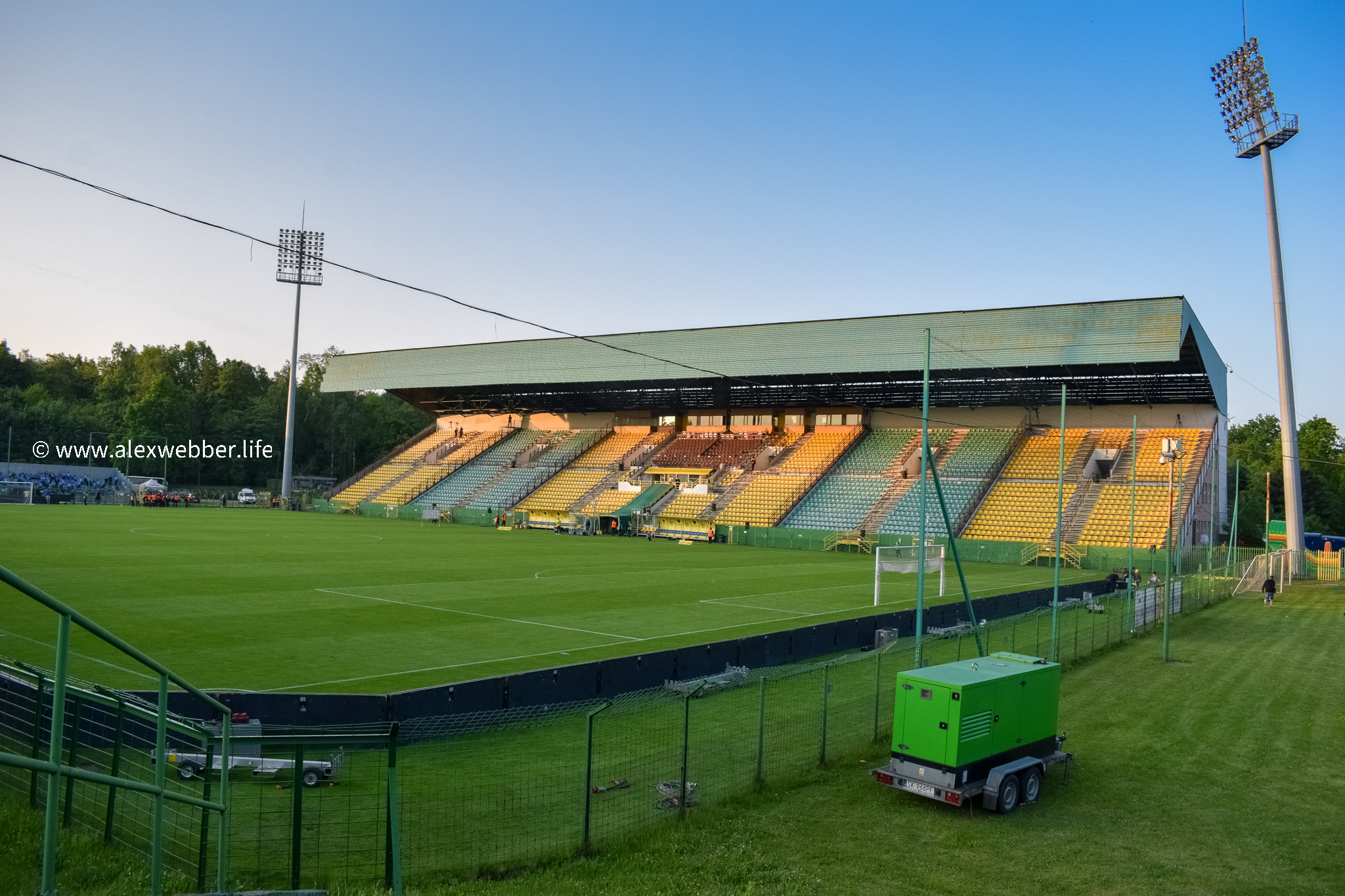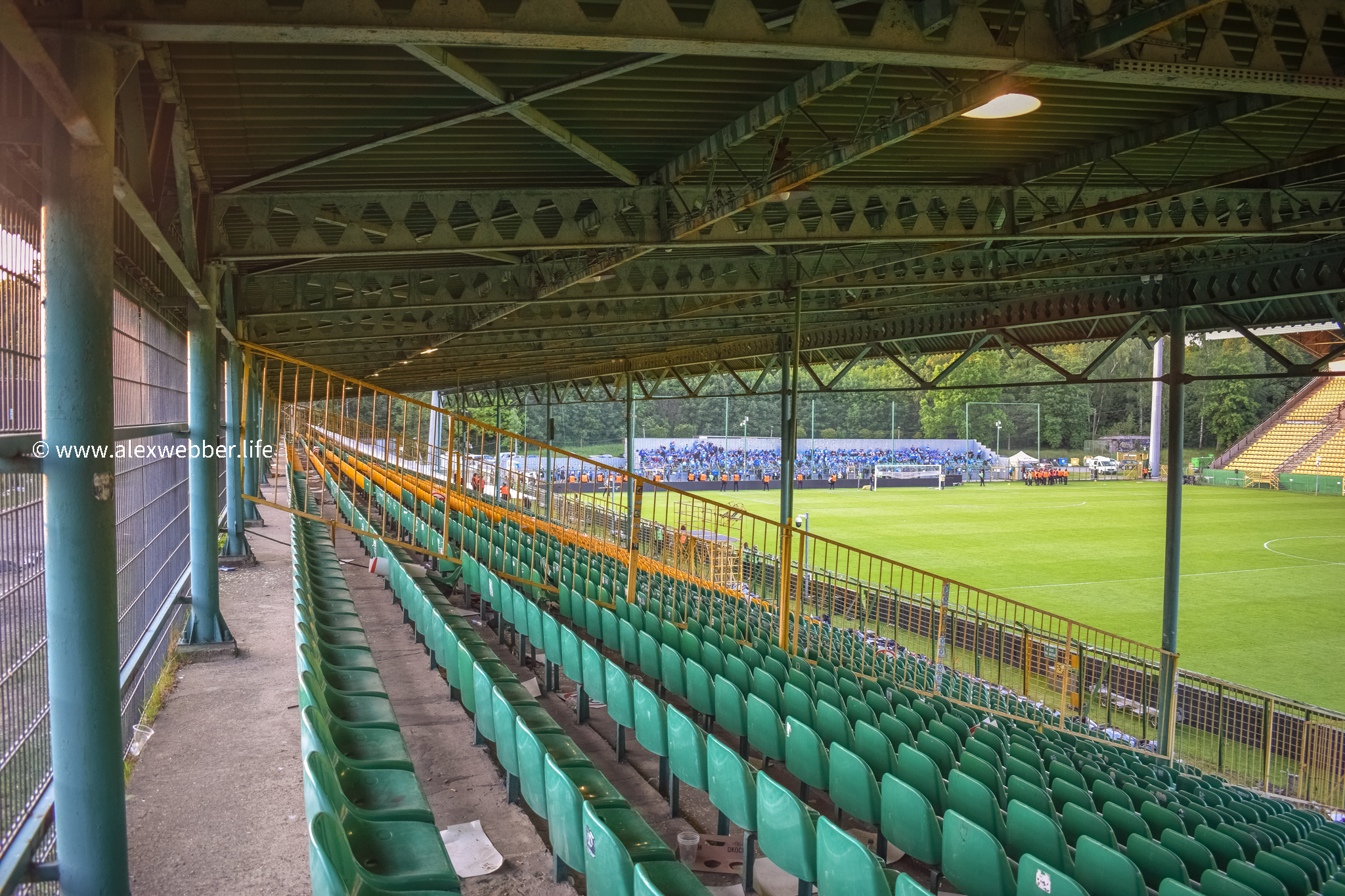 Cracked and broken in many areas, for me it remains a pearl of bygone Poland – featuring, on one side, a main stand that looks like a hybrid merger between a military bunker and a council estate, this retro paradise pairs against the so-called Blaszok opposite.
It's in that where the more vocal home fans gather, and it was fantastic to be able to walk around this shadowy, rusting stand after the match. Bookended by a disused terrace at one end, and a temporary-looking away enclosure at the other, you understand why a new stadium is essential for GKS to build on their potential – at the same time, I for one will be sad to see their current ground go. For the nostalgist, it's a magical blast to the past.