Date: 30 September 2020 / League: Polish 4th tier
Final Score: 1-2 / Attendance: approx. 800
In A Nutshell
A beautifully oddball stadium fails to compensate for a largely catastrophic day…
Getting There
Travelling from Warsaw, the easiest option was a bus from the city's Warszawa Zachodnia coach station – a grim, gloomy place filled with zesty odours and rummaging tramps. Frankly, I knew it was all going to go wrong the moment I boarded the bus only to be told I'd actually booked a ticket for the following day. Oh ffs, I cursed, turning my back ready to give up. "But you can buy a ticket right now," shouted the driver after me – I really wish he hadn't.
The journey was easy enough – 150 minutes on board a wheezy old bus – but proved a rare bonus on a dreadful day. Getting there about three-hours before kick-off, I discovered a town lacking anything resembling a bar near the ground, and a steady rain that got fiercer with each passing minute. No kidding, with nothing else to do I spent two hours before kick-off walking around the aisles of a budget supermarket.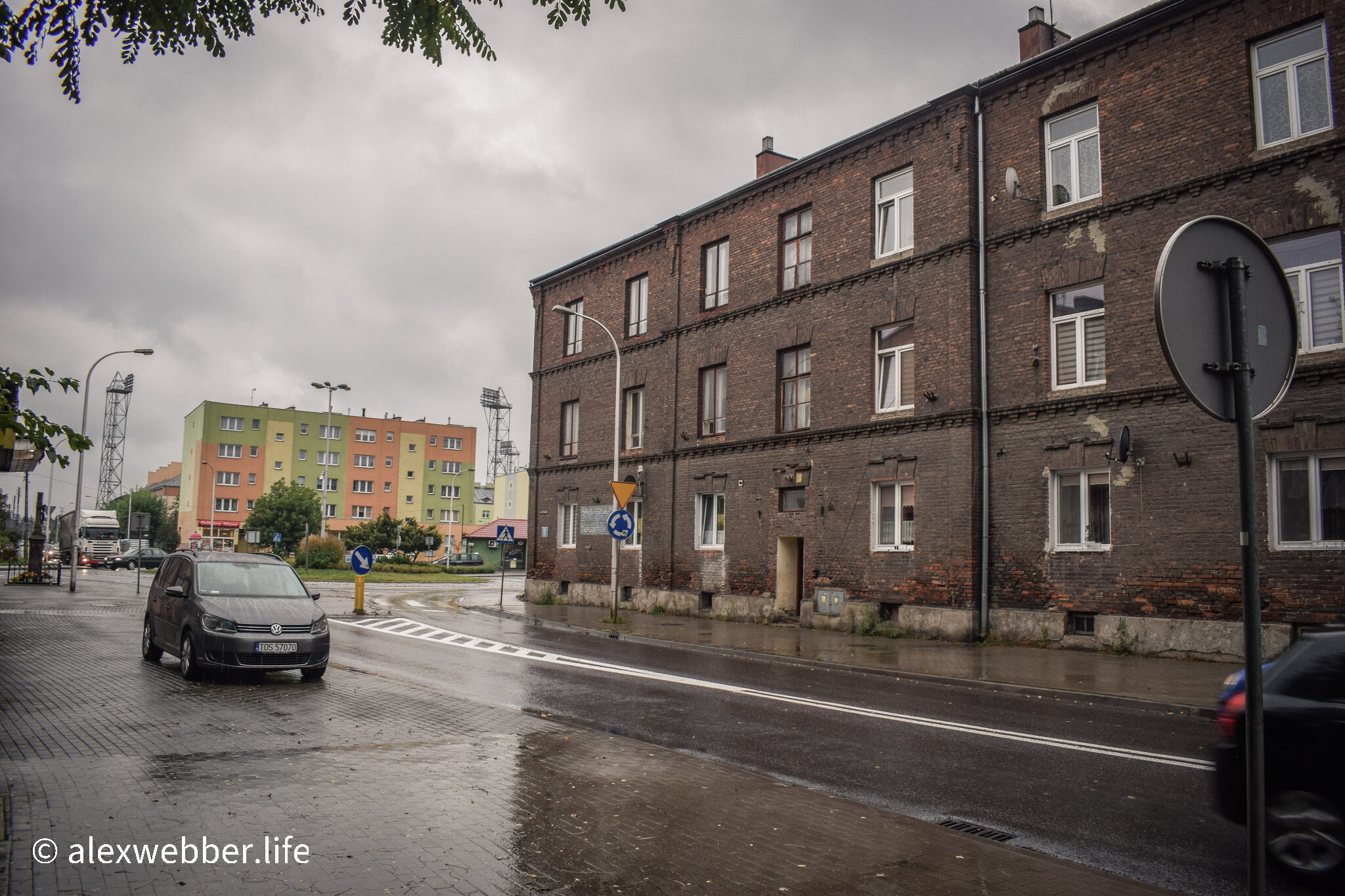 Background
This was a game of considerable potential. Though KSZO are far from what you'd term as being 'a big side', they had a couple of spells in the late 90s and early 00s in the top flight, and have generally done enough over the years since to be respected by many. In fact, even their Wikipedia entry boasted as much: "their fans are known for creating an outstanding atmosphere and their high attendances."
Over to Stal Stalowa Wola, and they too had a few years playing at the highest level in the 90s and, likewise, had also earned a reputation for their loyal and lively following. With the two clubs contesting 'the steelworks derby' (the main industry in both towns), I anticipated much.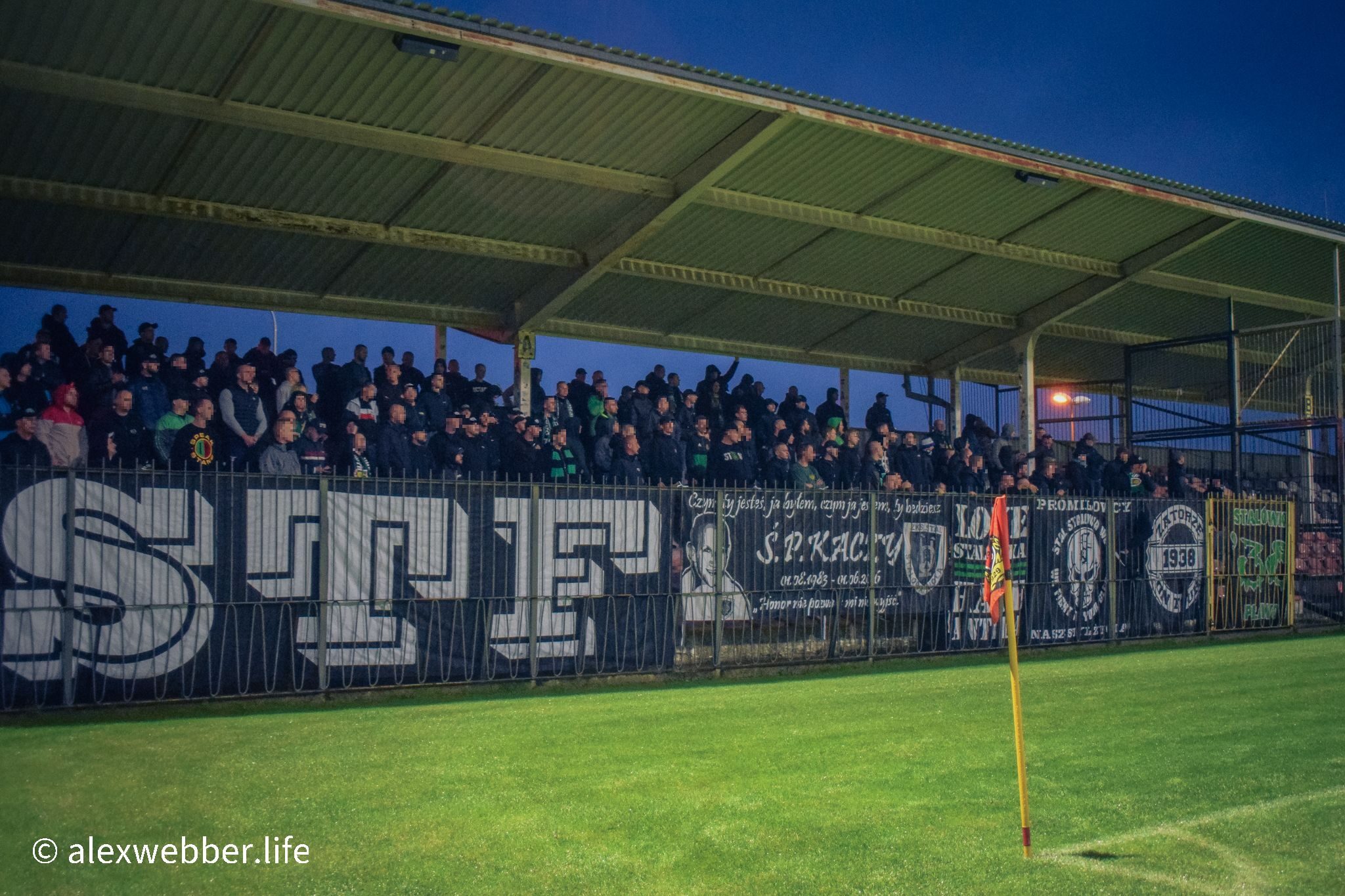 Stadium
A hell of a grand entrance to this ground – almost like something that Albert Speer would design – but it loses heart straight after to reveal itself as a cross between a low-budget Kenilworth Road, a Brittas Empire leisure centre and a municipal car park. And speaking of which, yes, one of the stands doubles as exactly just that.
Still, it's a real curiosity with plenty for groundhoppers to appreciate: a shadowy away pen in a rusting corner; a low-lying main stand with a commentary booth inside a corrugated steel shed; and two ends pathetically shielded from the elements by flimsy barrel-vaulted roofs. Crazy as it sounds, the ground – currently with a capacity of 8,500 – was, for a long time, deemed one of the better in Poland. So much so, it hosted four internationals between 1995 and 2005 (albeit against lowly opposition such as Estonia, New Zealand, Lithuania and San Marino), and two Super Cup matches pitting Poland's champions against the domestic cup winners.
Experience
By kick-off it was absolutely hammering it down and at no time did it come close to subsiding – actually, most of my pictures turned out looking like they'd been taken whilst scuba diving, so what you see is what little I could salvage.
Despite this match being billed as a derby, the home fans offered little and if I'm honest, I don't really blame them – huddling in a corner of their voluminous end, their noise level could be critiqued as being unenthusiastically token.
Thank heavens, therefore, that Stalowa Wola turned up – albeit fashionably late. Presumably delayed by the cozzers, Stal got in just around half-time and their 200 or so fans made up for lost time by lifting the roof off their stand: hat's off to them, the noise they made was unrelenting and the darkness and whipping rain seemed only to add to the decibels. If only for their fans, I'm glad they got the win.
… And After!
I hate to mention the rain again, but bloody hell, by full-time it really was going – my phone was like a bar of soap, popping out of my hands whenever I fished it from my pocket. With the crowd miraculously melting away in an instant, I was left to find my way back to the bus stop in conditions more becoming of a car wash – only when I did, it dawned that no more buses were running from this stop.
Triple damn and fuckity fuck! To say I panicked would be no exaggeration. Soaking wet and hating life, the thought crossed my mind that I'd be stranded for the night in some unloved part of Poland. Oh my lord, did this town even have a hotel?
More by luck than design, I did actually make it back to Warsaw after happening across a coach station frozen in Communist times. Unwelcoming as it was, it was at least dry, and yes, after about two hours of sitting in some cold, cobwebbed corner, a bus did splash into view heading back to Warsaw. A more miserable journey I can't remember: soaked to the bone and teeth chattering with cold, I somehow endured all the while cursing this wretched hobby.
As it happens though, this turned out to be my last match for eight months – unbeknownst to me at the time, Poland's second lockdown was just a couple of weeks away, and this one far crueller than anything that came before. As the weeks marched forth, I came to look at this match with fondness – a horrible experience at the time, and one you only learn to appreciate during a pandemic.