Date: 27 August 2023 / League: Polish 5th tier
Final Score: 2-1 / Attendance: approx. 800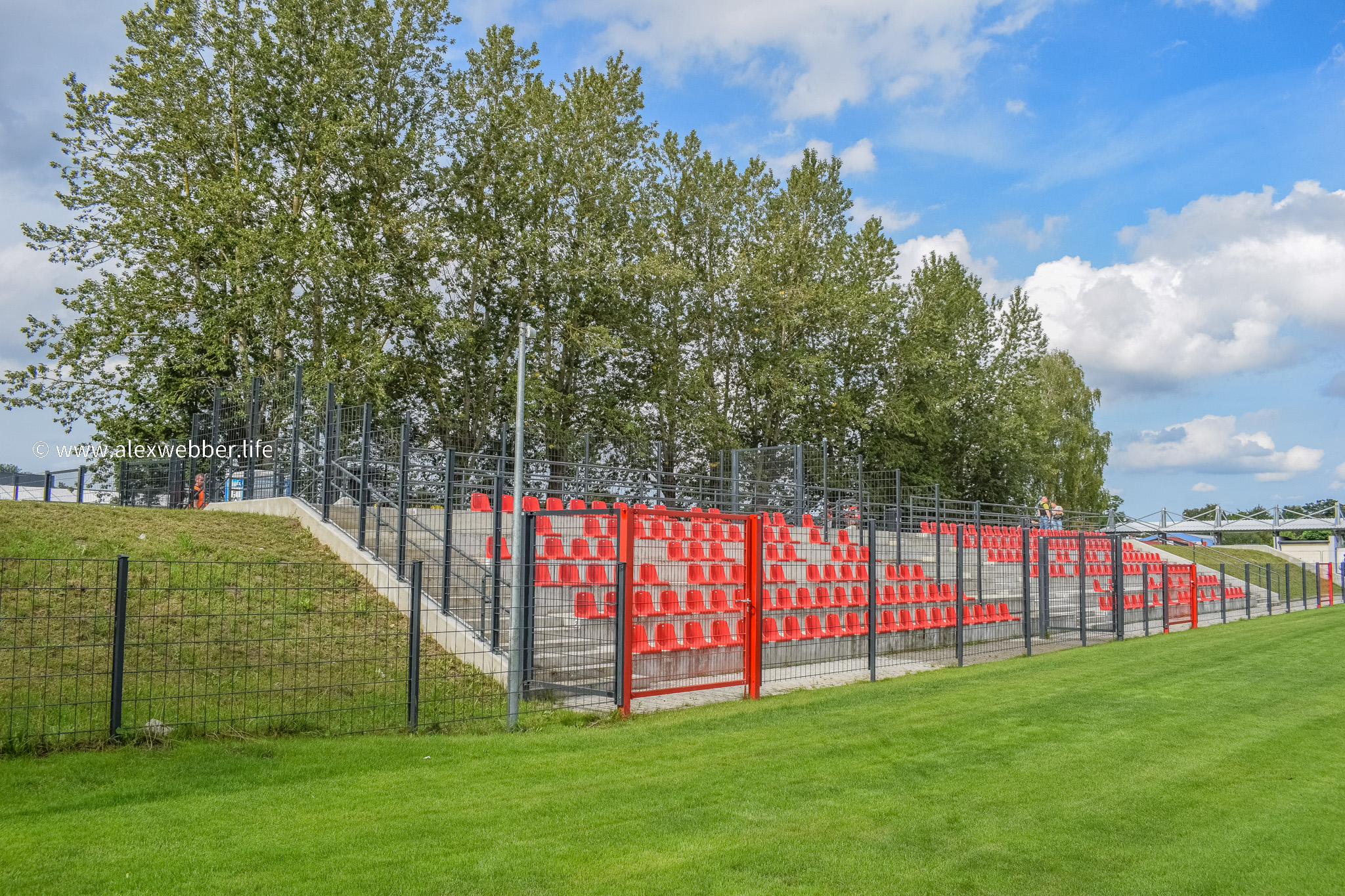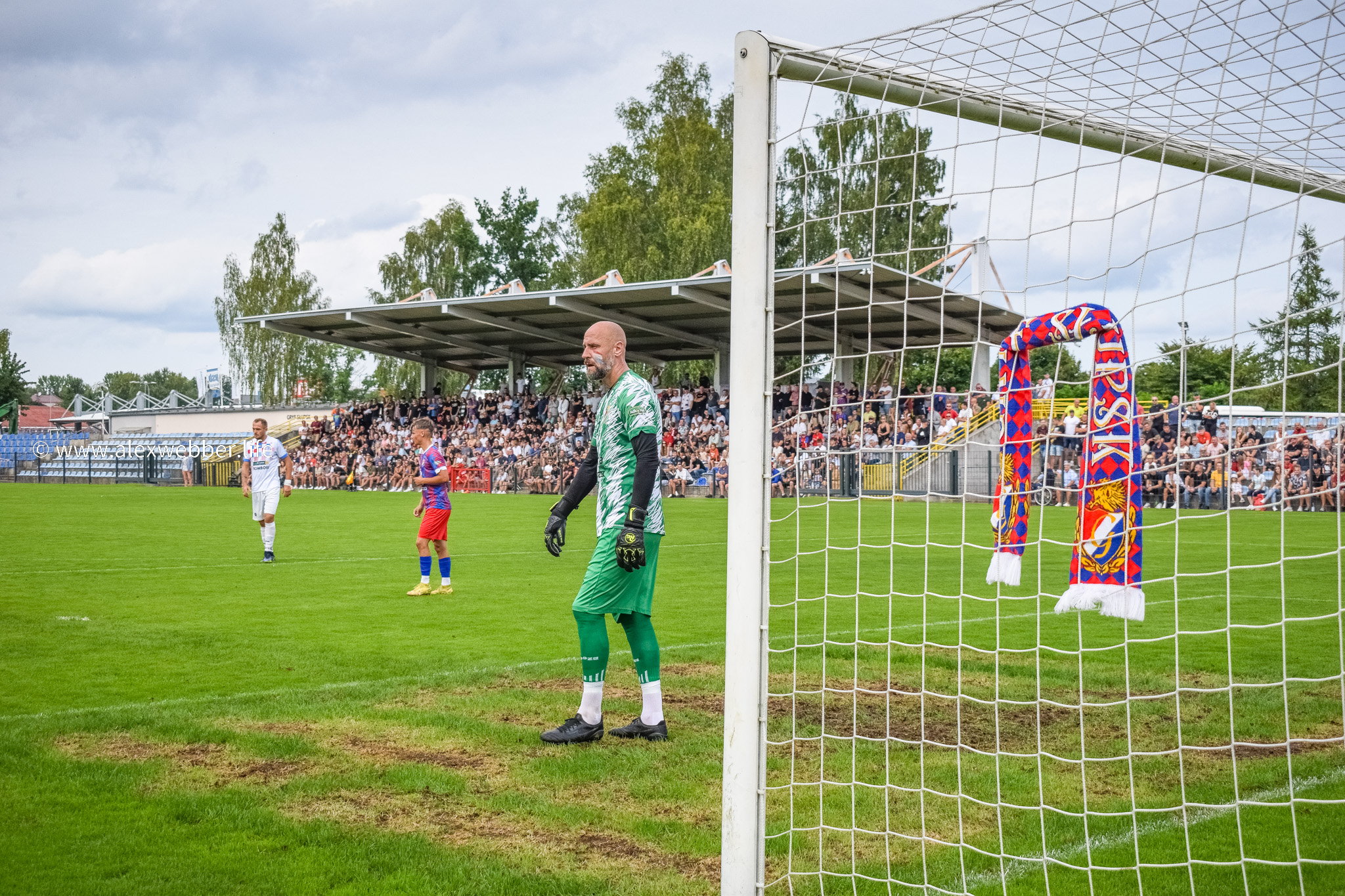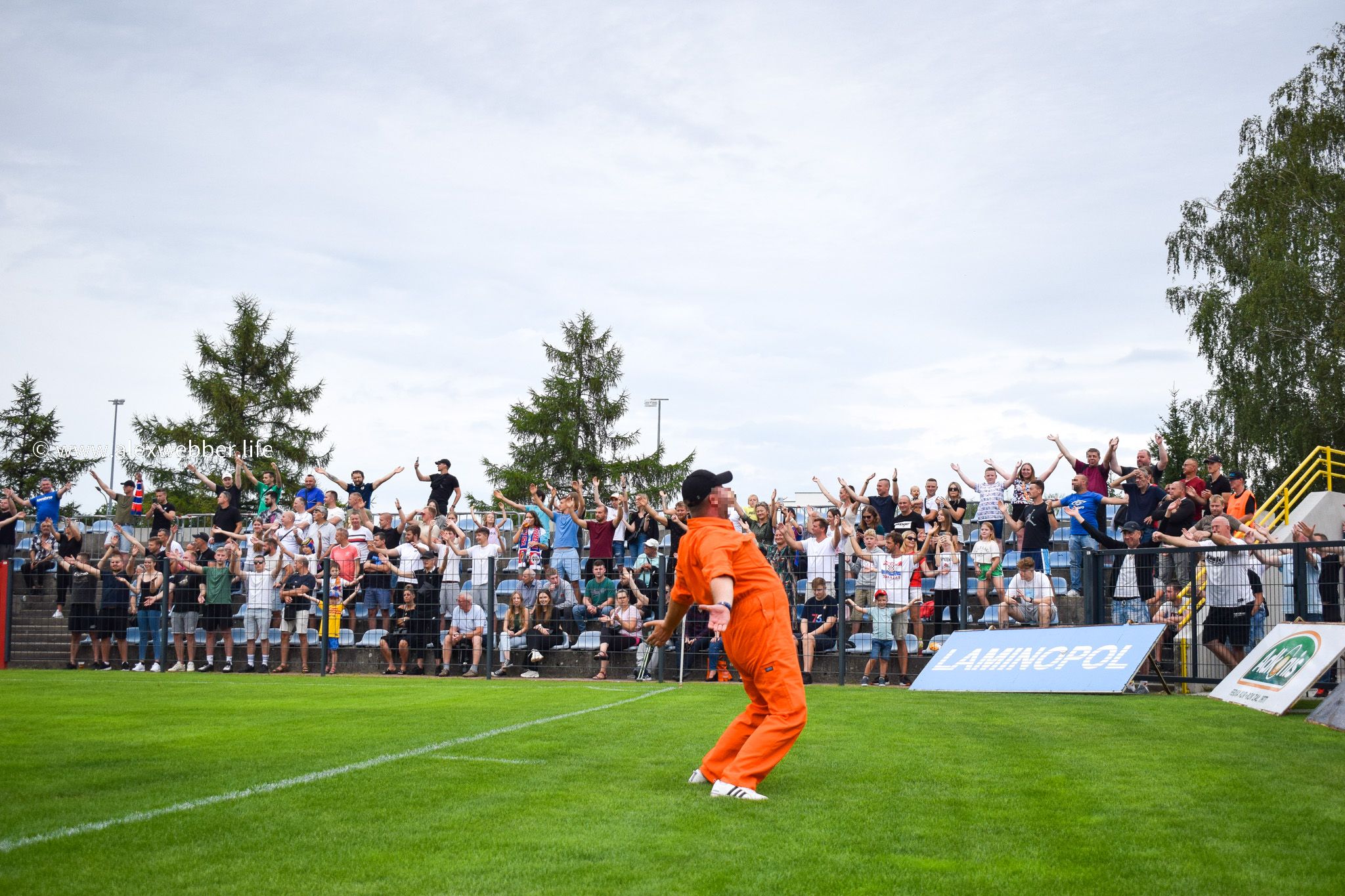 Experience
For me, the heart of Polish football beats the loudest not in the top tier stadiums, but in tertiary towns like Slupsk and Lebork – away from the bright lights and pretensions of Poland's higher divisions, it's in these lower league hotspots you find football served in its rawest, purest form.
That's especially true when considering the derby contested between the aforementioned towns, two clubs found within an easy 90-minute hop west of Gdansk. First discovering the joys of this fixture in 2021, I had done it another two times since, and each and every time it had gone rogue to varying degrees of bonkers.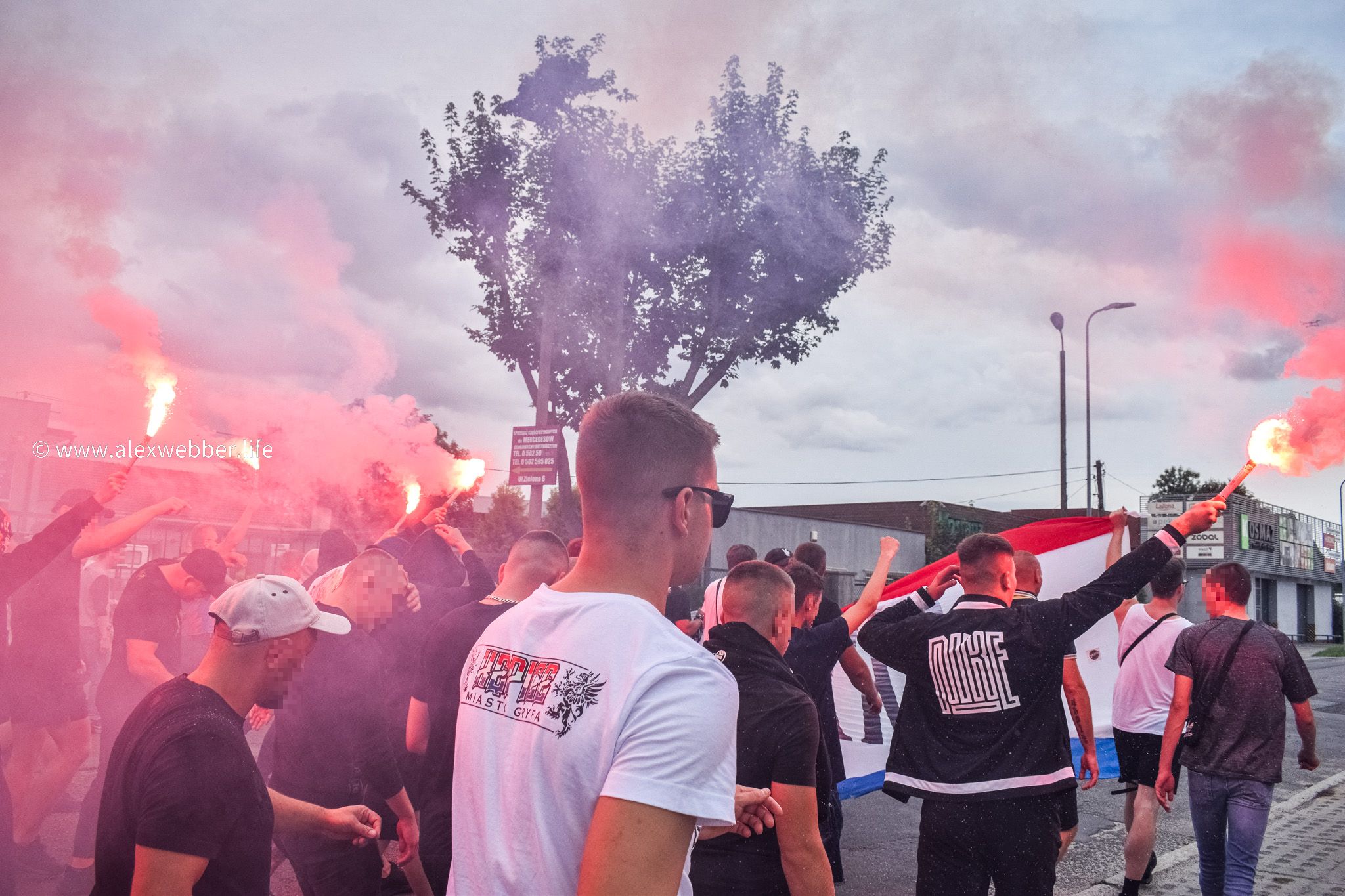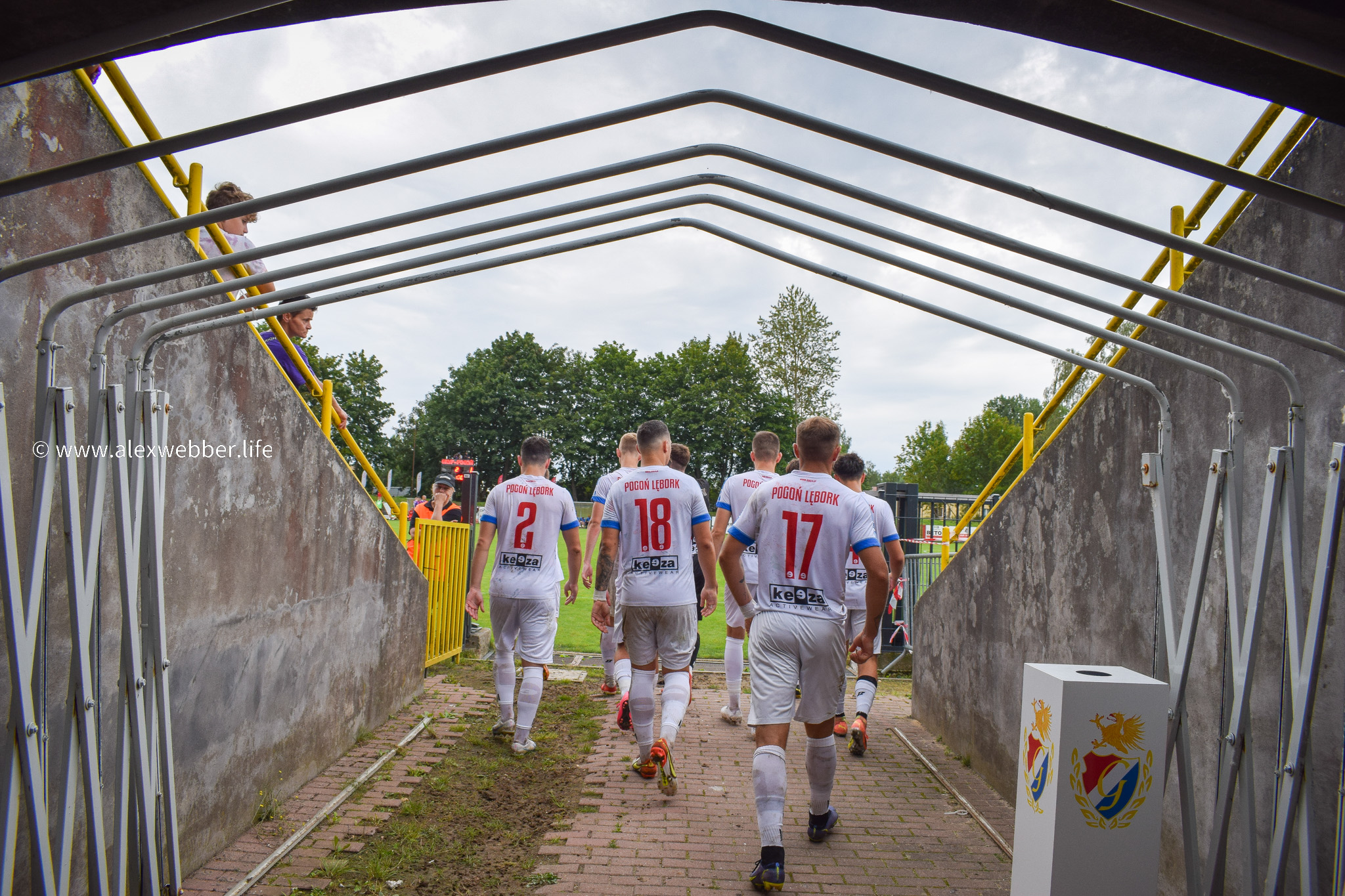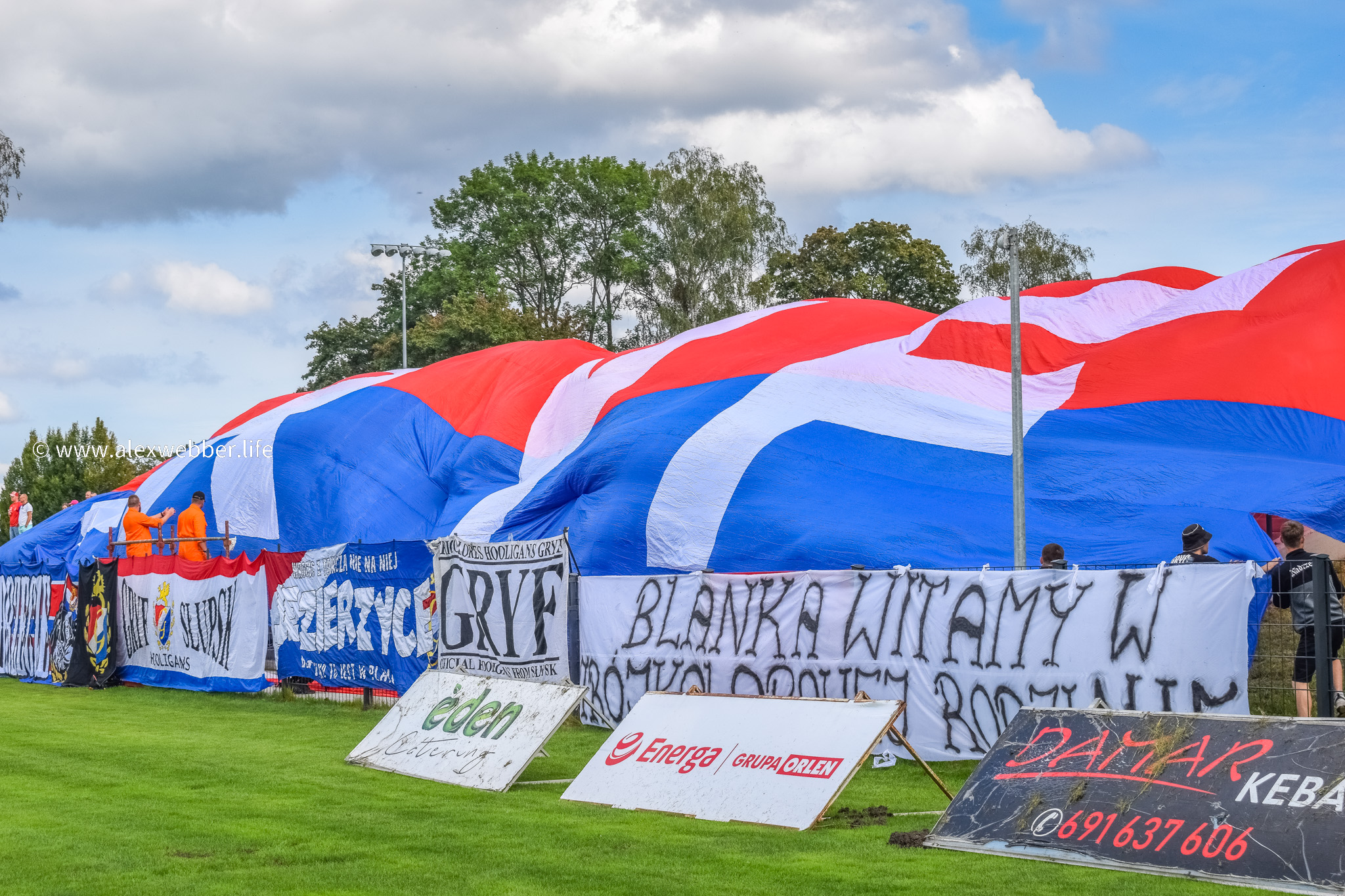 Over the course of three matches, I felt like I'd seen it all: pitch invasions, baton charges, punch-ups, banner burnings, clouds of gas, flying seats, dogs going berserk and fences dismantled. Obviously, I understand some people would not see that as a selling point, but for me it didn't half help to ratchet the atmosphere to delicious highs. Would this match yield another banger?
Absolutely. Reaching Slupsk a few hours before kick-off, I had just enough time to squeeze in a curry by the train station before wobbling my way to the town square where Gryf had announced they'd be meeting before marching en masse to the ground. With kick-off still two-hours away, this mobilisation could be viewed as a show of strength.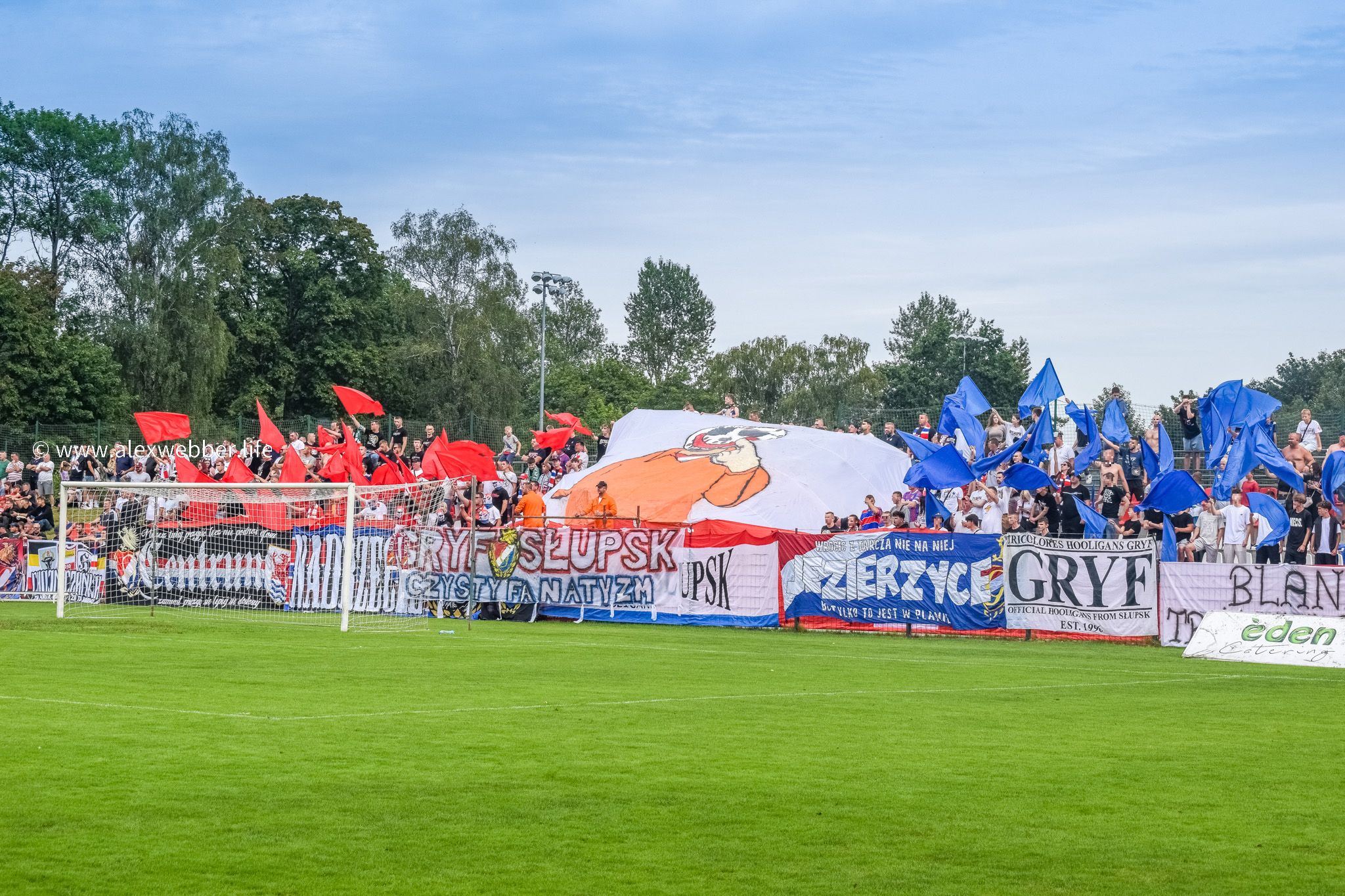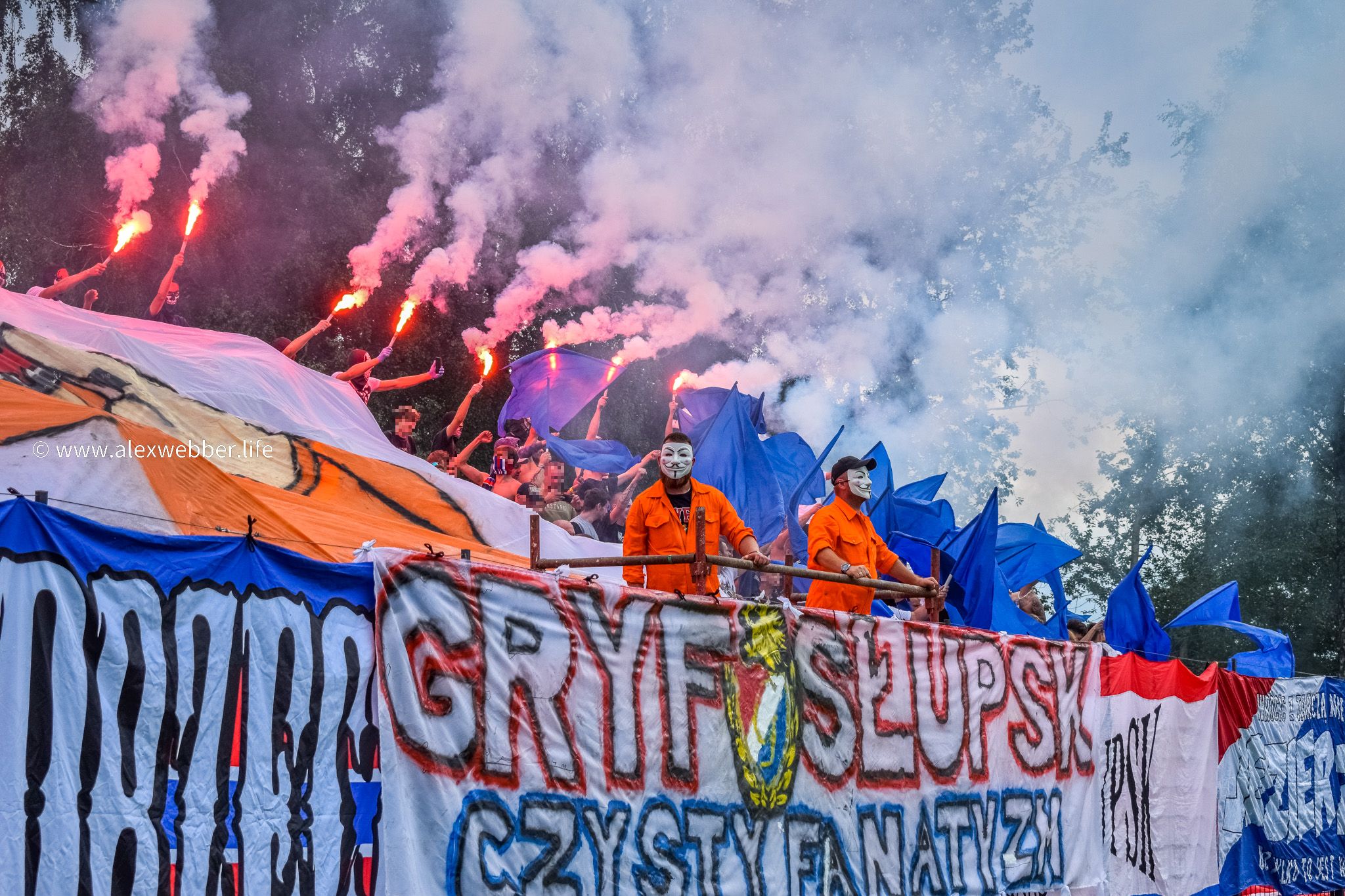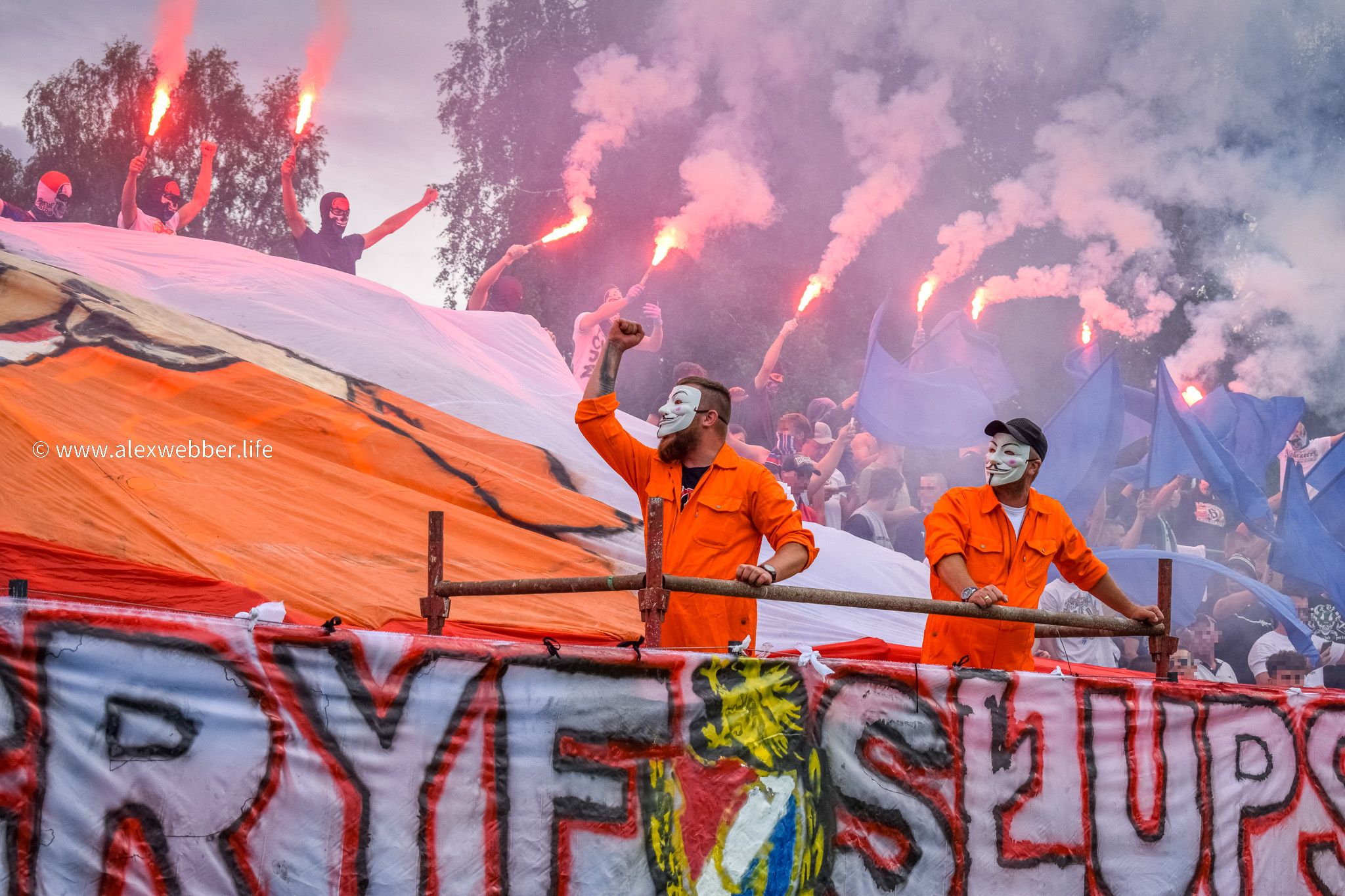 Tailing onto their mob, it was easy to read just how much the match meant to all those that had assembled. As the first flares were released on the way, it was just as easy to read how twitchy the police already were – and for good reason. Although traditionally attracting a moderate crowd – at least by English standards – this tussle had a rich history of lunacy long predating my first visit.
That said, with Poland still on holiday mode, and the lingering heatwave showing little sign of relenting, the prevailing atmosphere on entering felt more akin to a pleasant day in the sun – with still plenty of time till kick-off, fans milled around chugging beers and mingling among each other.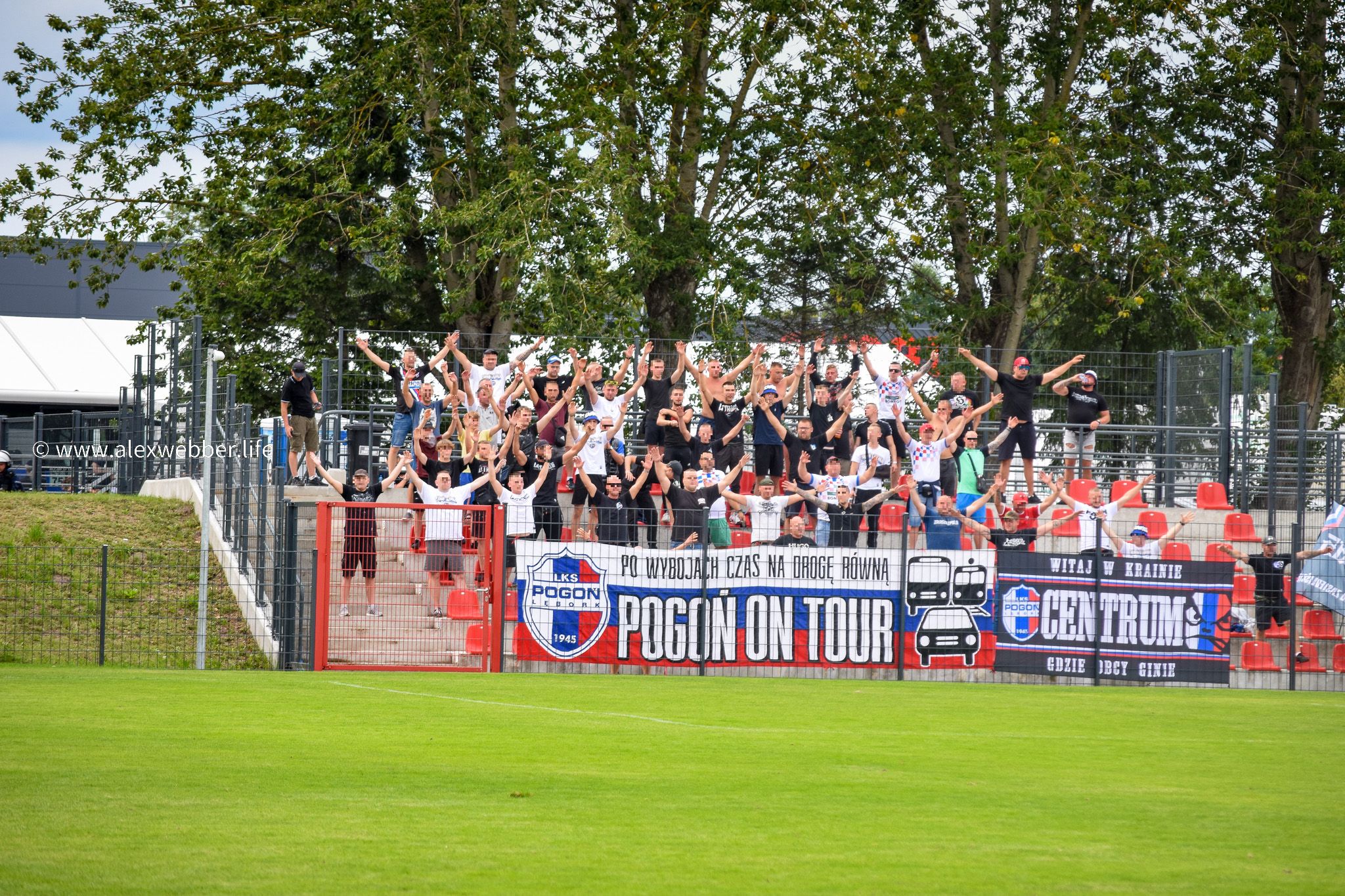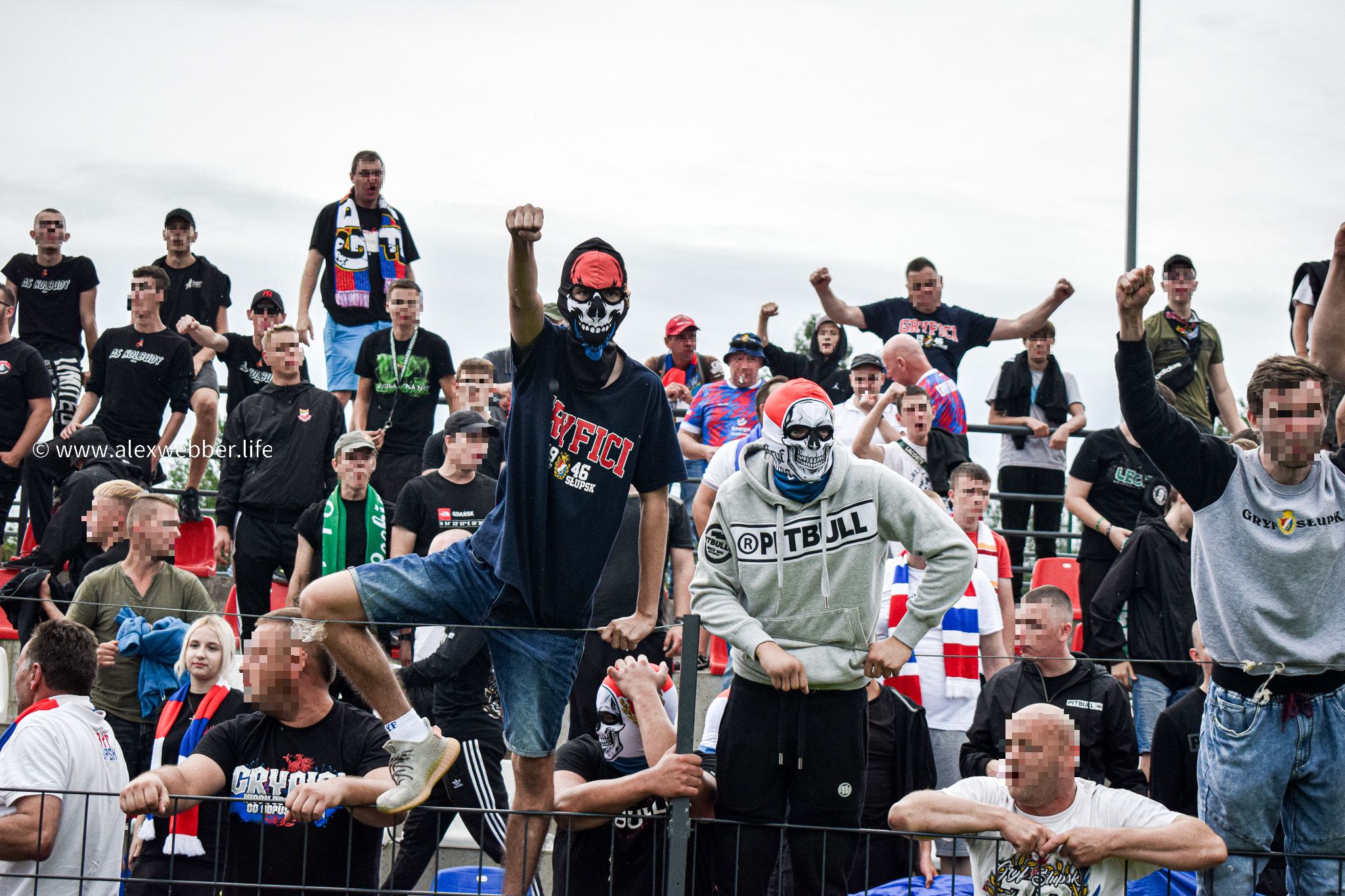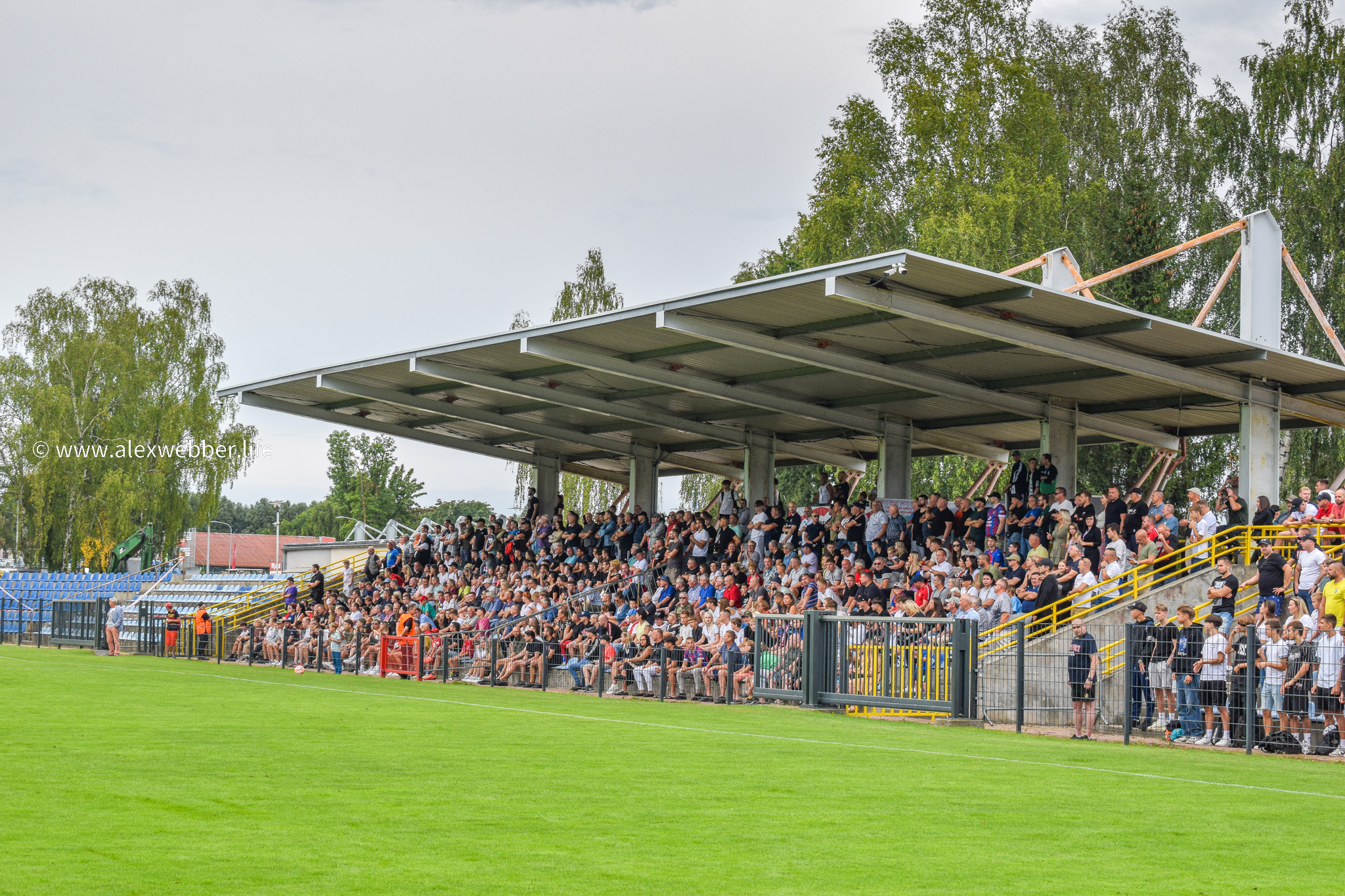 This picnic style atmosphere would change soon enough. Making my way pitch-side for kick-off, the home team immediately launched into their first show of the day, a dramatic flag drop that at one point threated to blow away in the wind. Led in song by two lads attired in Guy Fawkes masks and orange boiler suits, the noise level reached new highs once Pogon Lebork's following arrived mid-way through the first half.
Immediately, it was the visitors though that found themselves celebrating, with a goal on 26-minutes sending the travelling contingent of 60 or so into raptures. Twelve minutes later, it was Gryf's turn to go wild with an equaliser met with the kind of gloating, evil glee that all the best derbies have.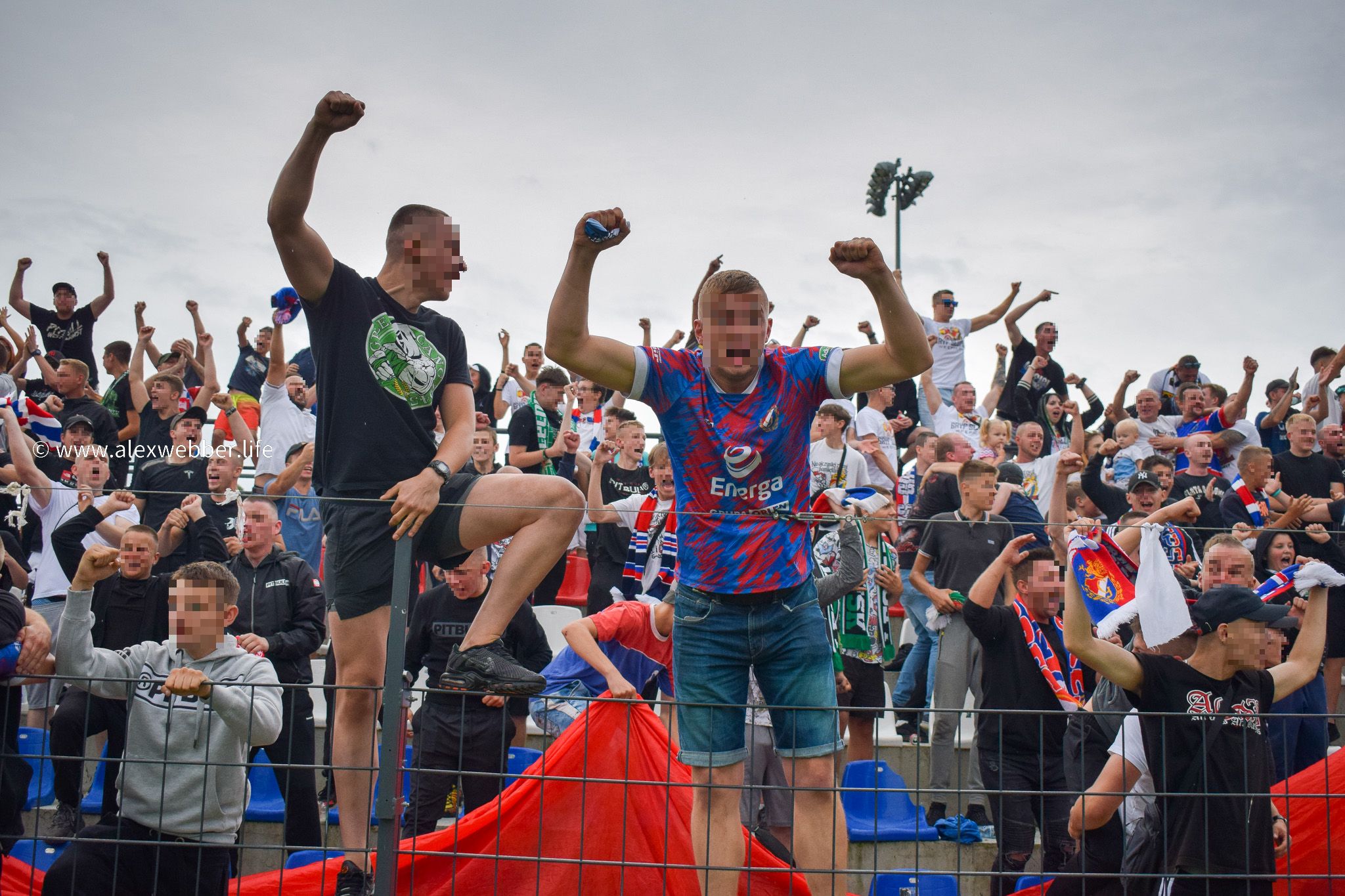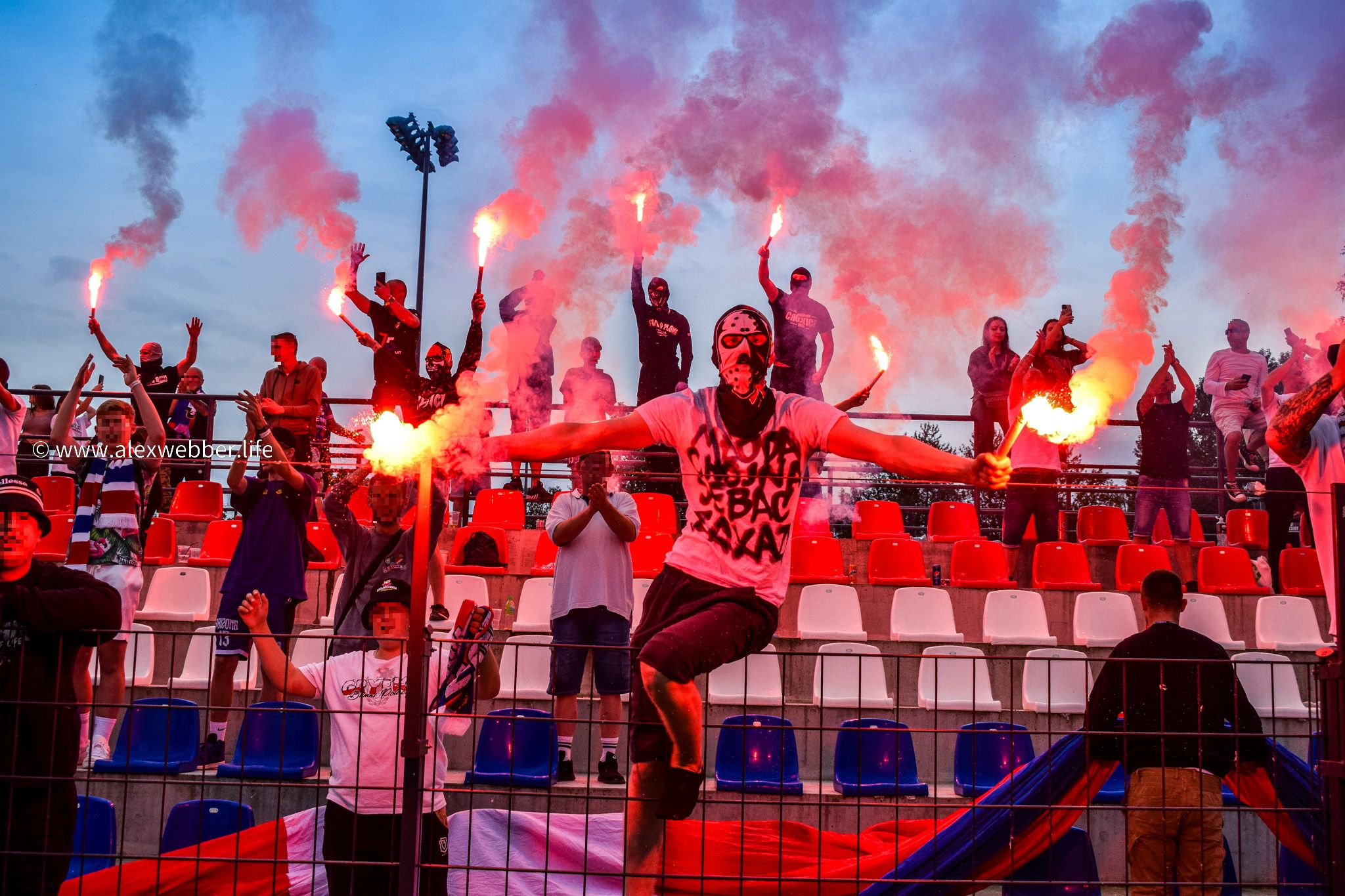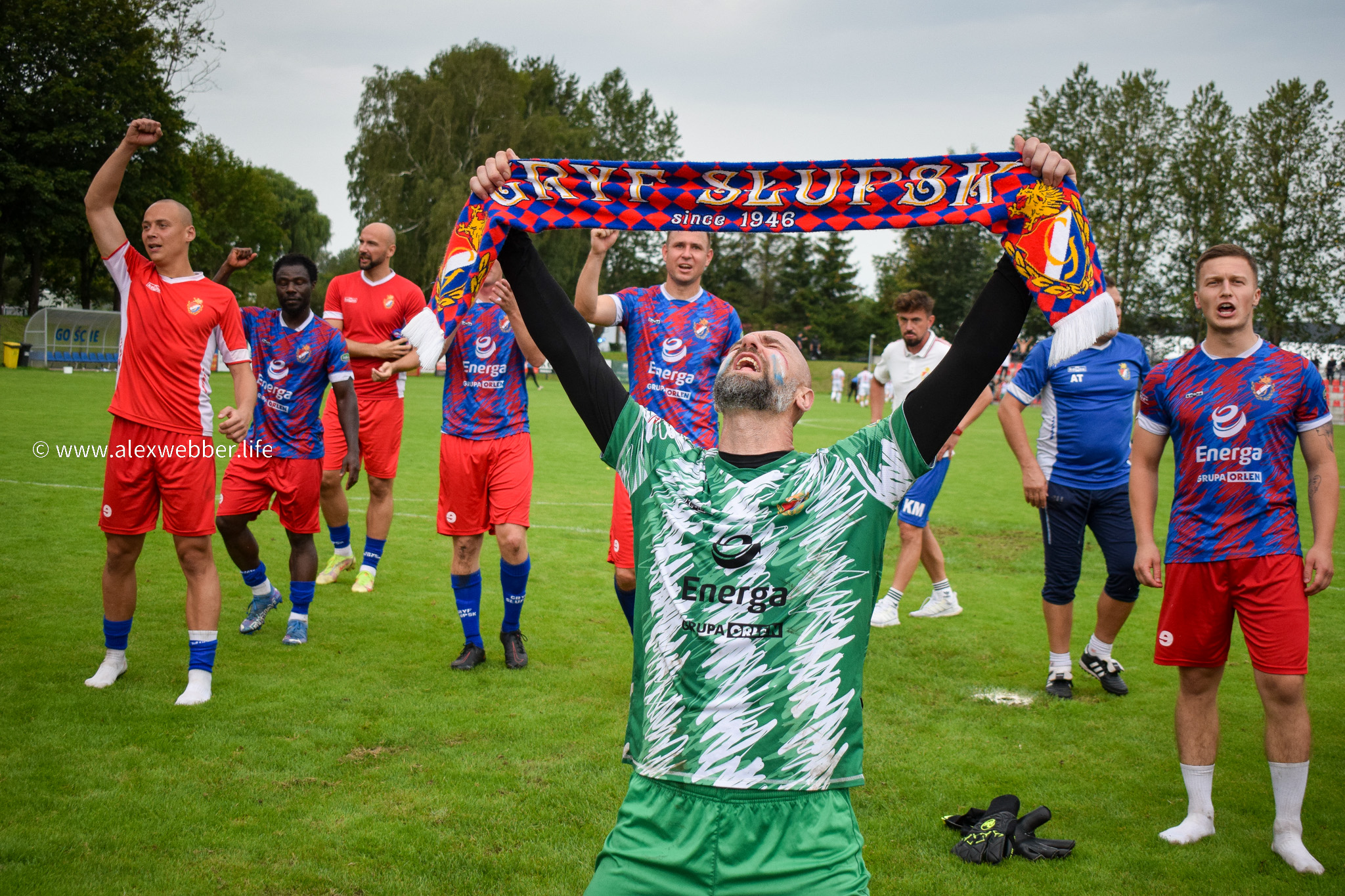 Second-half, and much of the same – taunts between the ends and more shows from Gryf. As the clock wound-down, however, a draw was on the cards and you could feel a sinister air gathering over the home-end. "Get ready, something big is going to happen at full-time," I was told by one lad I'd been chatting to.
Could something sinister be afoot? I would never find out. With the whistle about to sound, Gryf poured forward in one desperate final wave, a soft, speculative shot trickling under Pogon's keeper and into the net. Pandemonium. Rarely have I seen such scenes – unhinged delirium, the players meeting the final whistle by diving into the flare-wielding crowd. A picture of despair, Pogon's youthful goalie lay inconsolable on the floor.
In terms of drama, passion, action and emotion, this game had delivered all and in ample measure. Simply put, again it had provided me with what I'm sure will feature as one of my highlights of the year. Gryf Slupsk v Pogon Lebork – fifth tier this might be, but for me it's the gift that just keeps on giving.