Date: 18 September 2022 / League: Polish 7th tier
Final Score: 0-1 / Attendance: 30ish
In A Nutshell
Lower league football as it should be: beers with strangers in a knackered old ground that only the wise seem to know…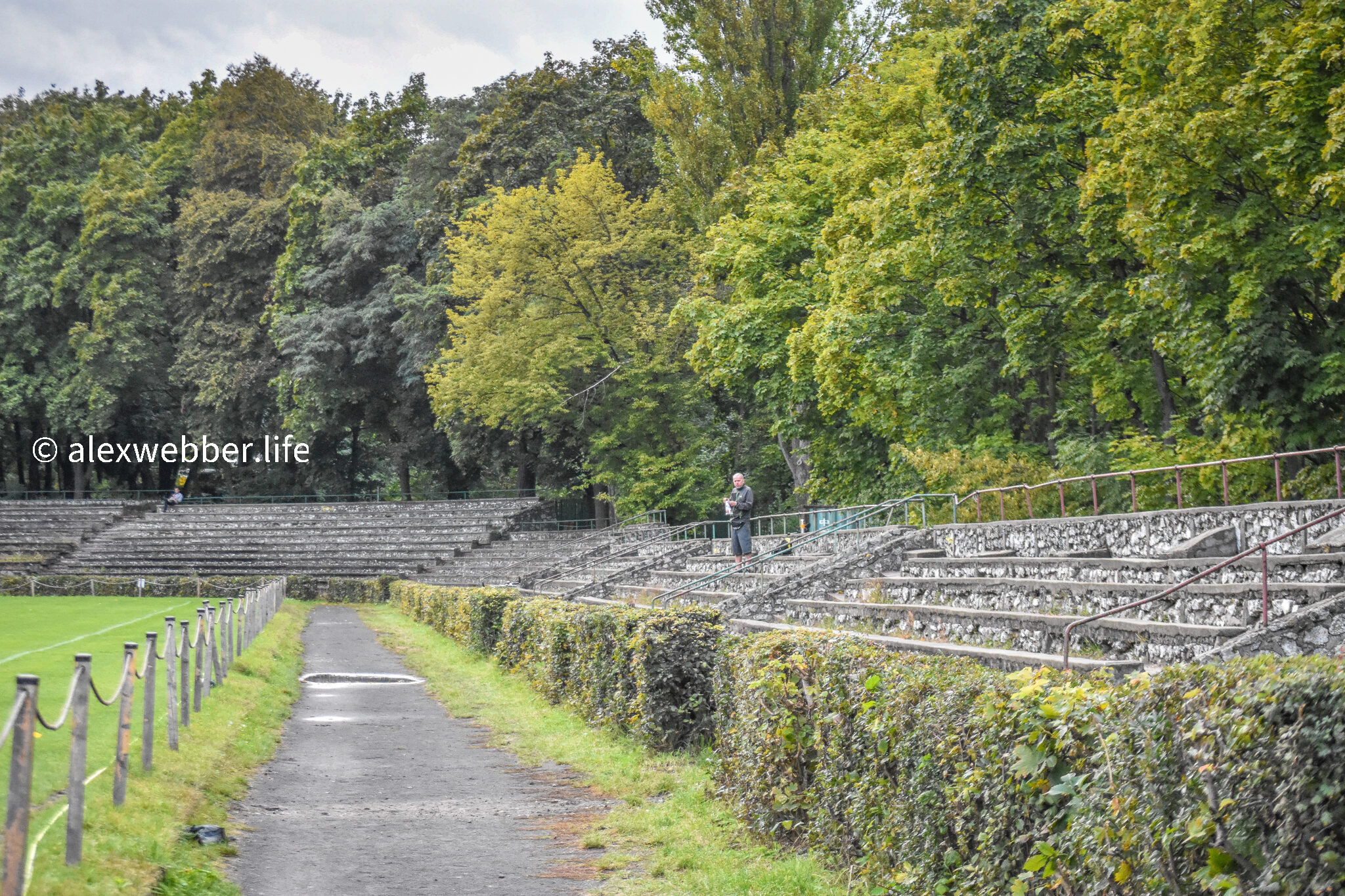 Getting There
I've written about this stadium before, and guess what, it hasn't moved a single inch in the time that's passed. What I wrote then, still applies, so for those pearls of wisdom CLICK ME!
Background
This was not my first visit to this ground, but it was my first to see this stadium's legitimate full-time tenants – a team going by the name of Kabel. Established in 1929, they were founded as the sporting wing of a local cable factory and for decades played at a ground close to the firm's HQ.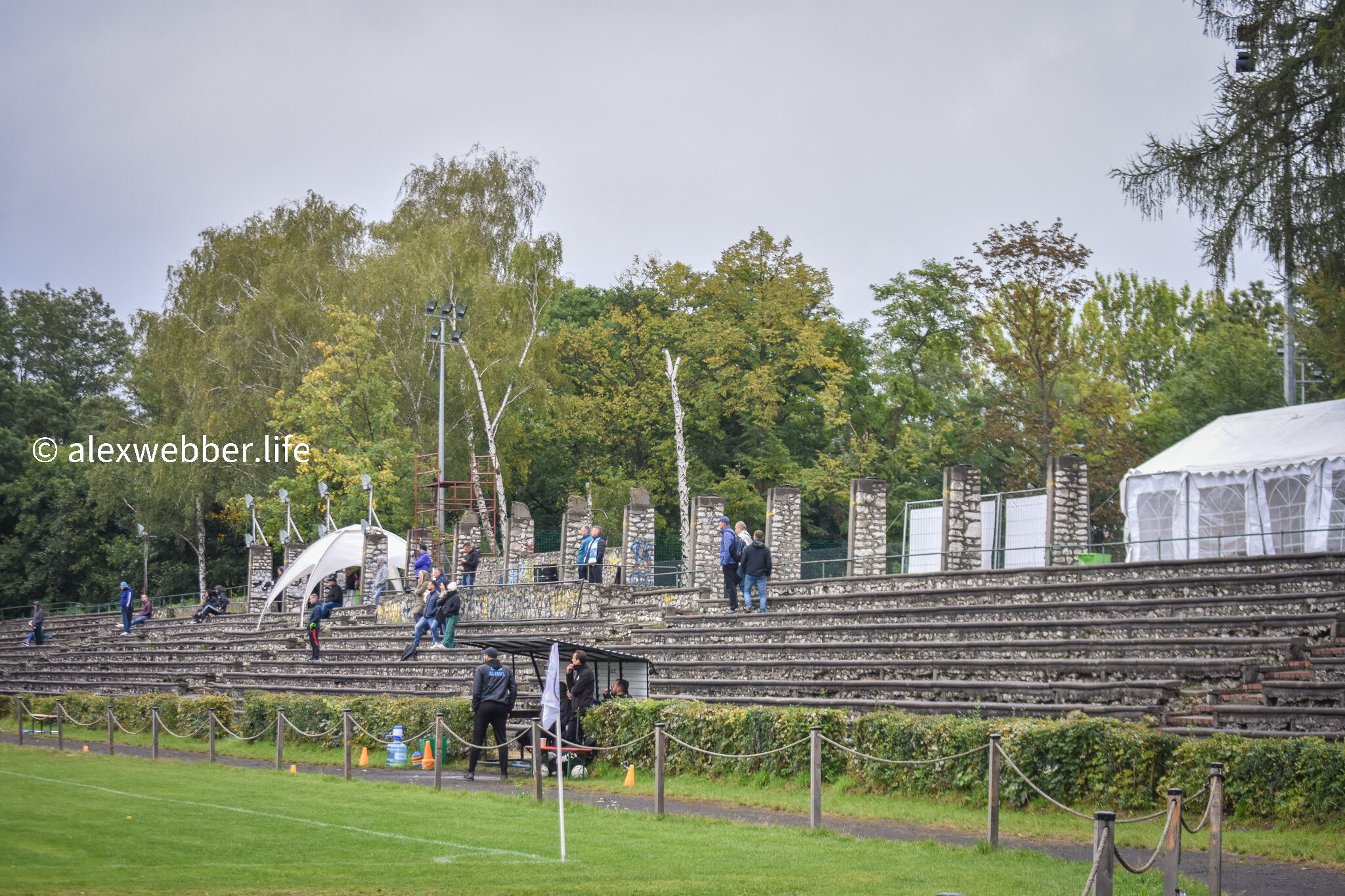 On a local level, they became quite a cherished club and in the 1963/64 season achieved their biggest success to date: a run to the last sixteen of the Polish Cup. In the 90s, meanwhile, they made it as high as the third flight, staying there for six seasons in all, a streak that saw them enjoy fixtures against the likes of Cracovia.
Tough times, however, were around the corner. In 2000 the local cable company was taken over by the owner of Wisla Krakow, and seeing no reason to finance their football team he shut it down entirely – a sorry end to a club that had produced players such as Polish international Piotr Giza and the former Bundesliga striker Miroslaw Spizak (true, with a record of 37 goals in around thirteen seasons, calling him a striker might be being kind).
Anyhow, I digress. After eighteen years of living in some footballing vortex, the club were reactivated and have rented this stadium ever since.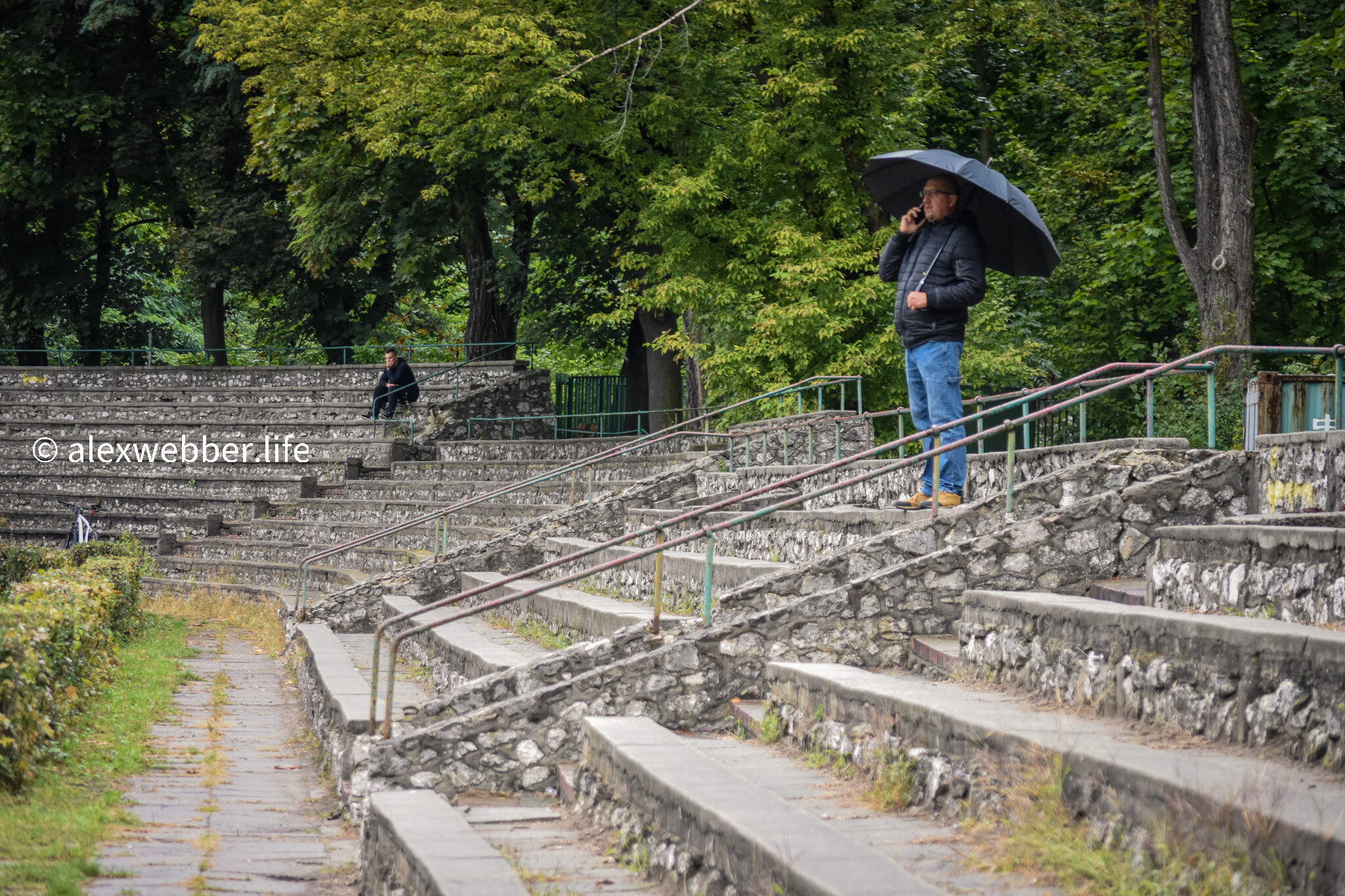 Stadium
I always worry when revisiting grounds such as this – what if it's changed, I find myself thinking. What if some complete dickhead has turned it all to plastic in the misguided name of progress? Well, it appears progress has been made, only of exactly the right kind. Tidied considerably since my last trip to this address, there was even some dude I noticed combing the stands for traces of litter.
Again, I've described this stadium at length before, so whilst I shan't repeat myself, I shall stress just how special it is – chipped and cracked, being here is more akin to exploring one of those forgotten vine-encrusted cemeteries that appear in B-grade horrors. It's timeless, with the ethereal sensation of being here amplified by the softly swaying trees that form a leafy canopy over the gently curving tribune. In an almost surreal twist, from behind the trees rises the Neo-Gothic spire of the local church, adding a glorious final flourish to this picturesque ground.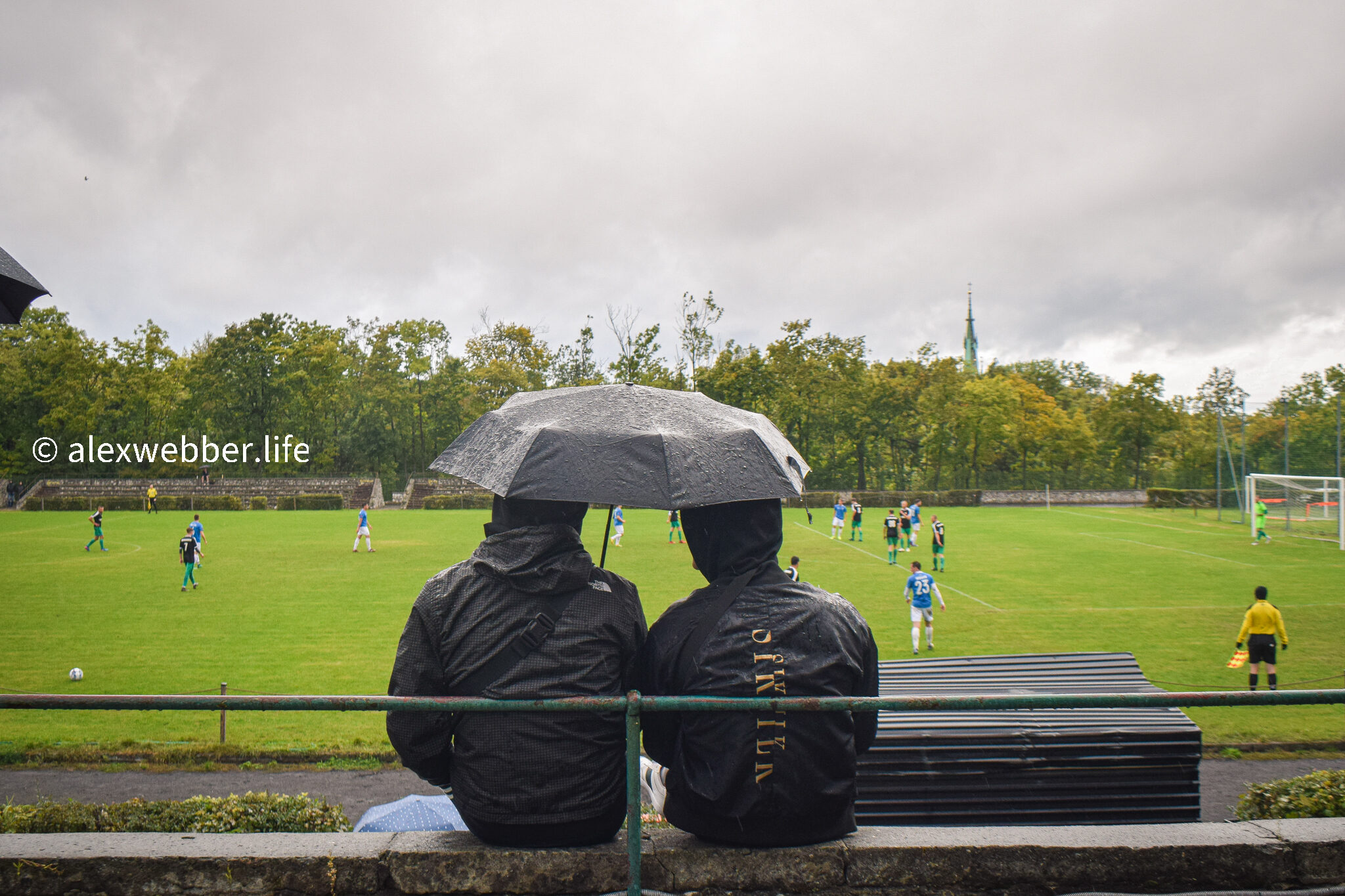 Experience
No matter the weather, this place is a beauty – and thank God for that, because the moment I reached the long-silenced turnstiles the skies turned granite and unleashed their load. Fortunately for the handful of spectators, recent improvements have included a small space-age marquee pegged to the middle of the stand, not to mention a little wooden cabin in which you can enjoy chips and craft beer bought from a little stone rotunda located nearby.
Now, I had planned on just doing one half of football here before cabbing it up to the other end of town to chalk off another stadium, but fate had other plans. Looking splendid in a cyclist's helmet and primrose-coloured anorak, I was hoodwinked into beers by an elderly gentleman who'd spotted me taking photos.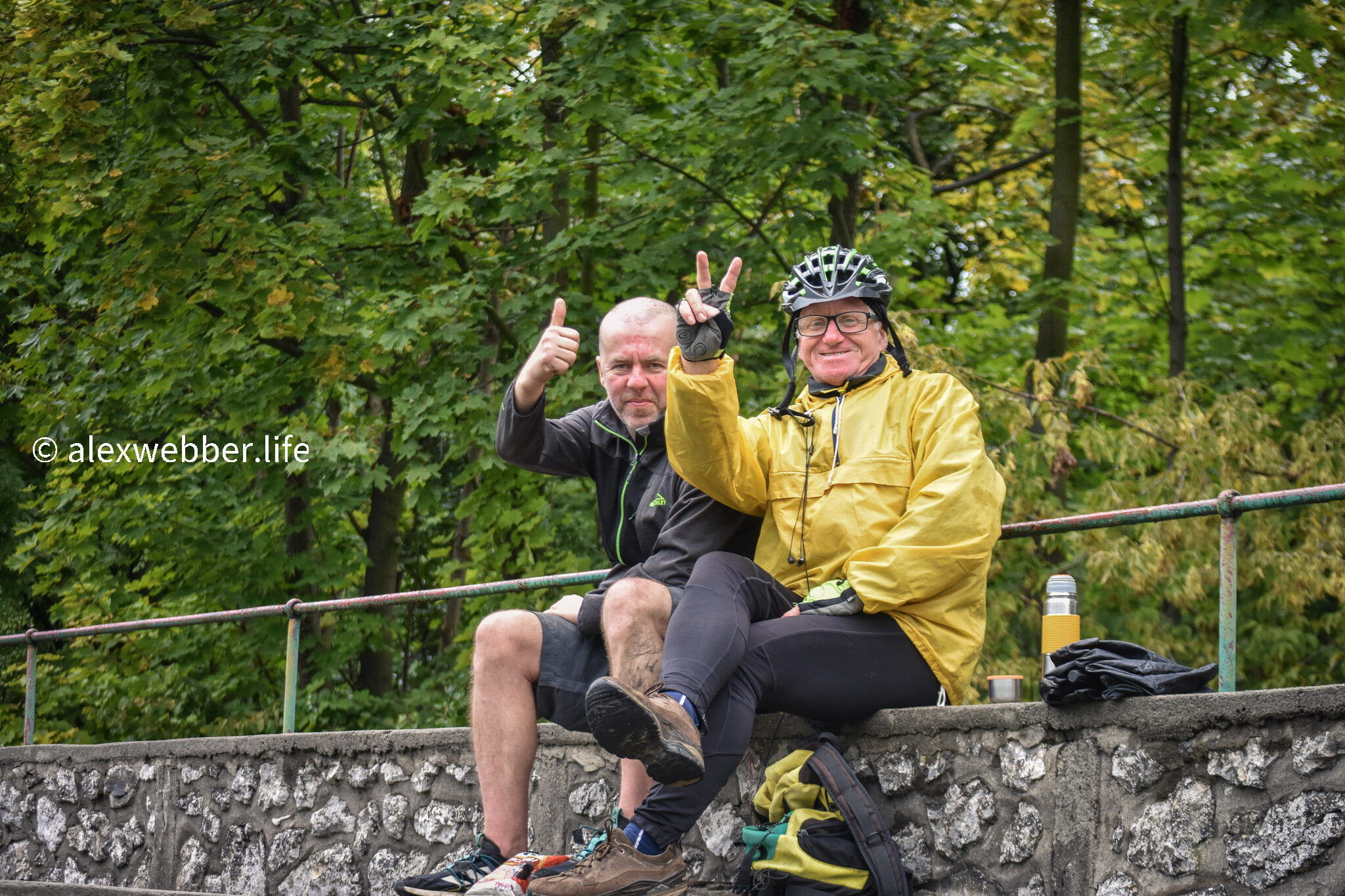 "Come on, have a beer with me," he said. Little did he know, that saying that to me is the equivalent of asking someone on board the Titanic if they fancy the last seat on a lifeboat. Hell yeah.
A ground obsessive himself, he told me he spent his weekends cycling around Poland visiting forgotten, lower league grounds. Armed with a clutch of beers, we retreated into the boozing cabin and let the liquid Berlitz act as our translator. With its windows pleasantly fogged up from the drizzle outside, it was a fantastic hour spent inside, trading stories, ground tips and general football banter.
On the occasions my very rudimentary grasp of Polish failed (which was often), others sat by us would chime in to translate or lend their own contribution to the meandering conversation. Aided and abetted by lashings of more beer, I can't think of a more enjoyable way to spend a weekend.
Afters
It's the ninth rule of football: if it pisses down during a match, then the moment full-time sounds the clouds will clear and the skies turn blue. So it was. Anyhow, that at least afforded me the chance for a pleasing prowl around the Kazimierz district before grappling with an atomic vindaloo served in the Taste of India. Meeting an old friend later in a murky side street bar, I allowed myself a moment of self-congratulation. "You know what I like about Krakow on Sunday," I pondered. "All the Ryan Air mob have flown off home and the city goes back to normal."
Famous last words. Within three minutes we had been accosted by a walrus-shaped gentleman from Bolton who was so drunk as to be drooling. Within another three minutes, he'd dropped his shorts to wave his privates in our face.
We did get a brief break from our new pal when he went inside to have a punch-up with some geezer from Glasgow, but unfortunately this was not the last we would see of him – nor his mighty appendage. In between menacing us with his member, were stories of his gangster exploits, accumulated fortune and disregard for the Germans ("They bombed my fucking city," he spat with barely concealed fury. "They didn't bomb it," I offered, "they improved it.").
Undeterred, the witless babbling simply would not cease. "See this Omega," he said thrusting a chubby, sunburned arm in the air. "Only eight of these in the world. James Bond wears one." Taking a languid puff of his cigarette, my friend stared him in the eye and exhaled for effect. "Well," he mused, "the resemblance between you both is rather uncanny." If nothing else, this weekend certainly had its moments – alas, I remain haunted by the vision of Bolton's swinging bollocks being carried by the winds.