Date: 12 August 2023 / League: Polish 4th tier
Final Score: 0-0 / Attendance: 3,290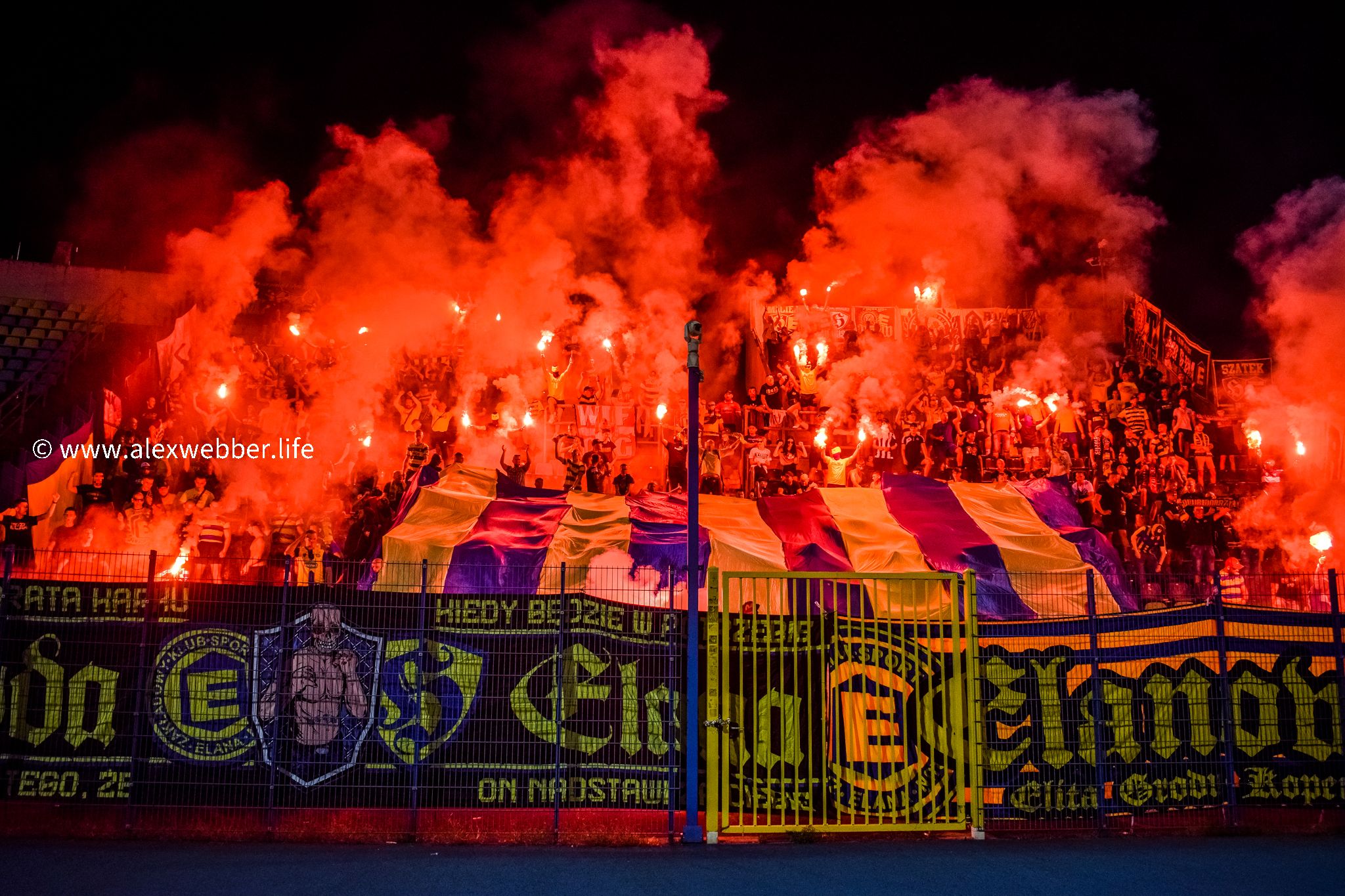 Experience
When the fixture list was first released, I think the reaction was a collective sigh of disappointment – certainly among my friends, anyhow. Yeah, there were plenty of solid-looking fixtures in the first couple of weeks, but nothing really that set the blood racing. For that, we'd have to wait until the middle of August and the clash between Zawisza Bydgoszcz and Elana Torun – two rival cities with a long and bitter history.
But forget that for a moment, for this game – played in the fourth tier – promised more than just the typical, heated derby atmosphere. Having endured some equally terrible times, for both clubs it was a chance to again finally revel in the big match spotlight.
Starting with Zawisza, their woes have been well-documented in Poland. A club of relatively large standing, the last decade had seen a long-lasting boycott and open war with their chairman (involving a set of coffins, no less, being delivered to the ground) – unfortunately, when he finally decided to leave, the club then promptly folded as a result and had to restart from scratch in something like the eighth tier of football. But with the fans rallying behind their club, they've been climbing the leagues ever since. Never look back, etc.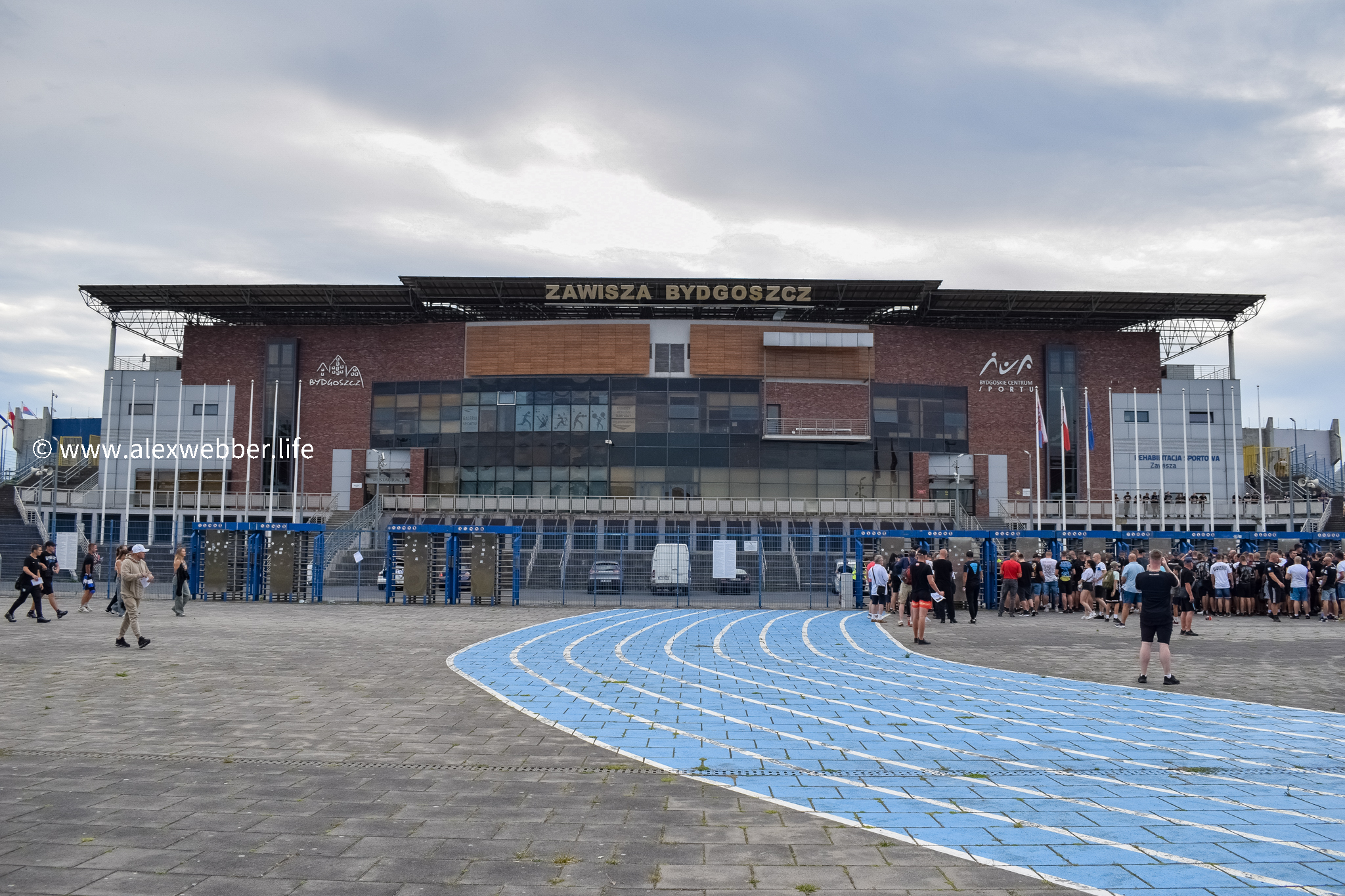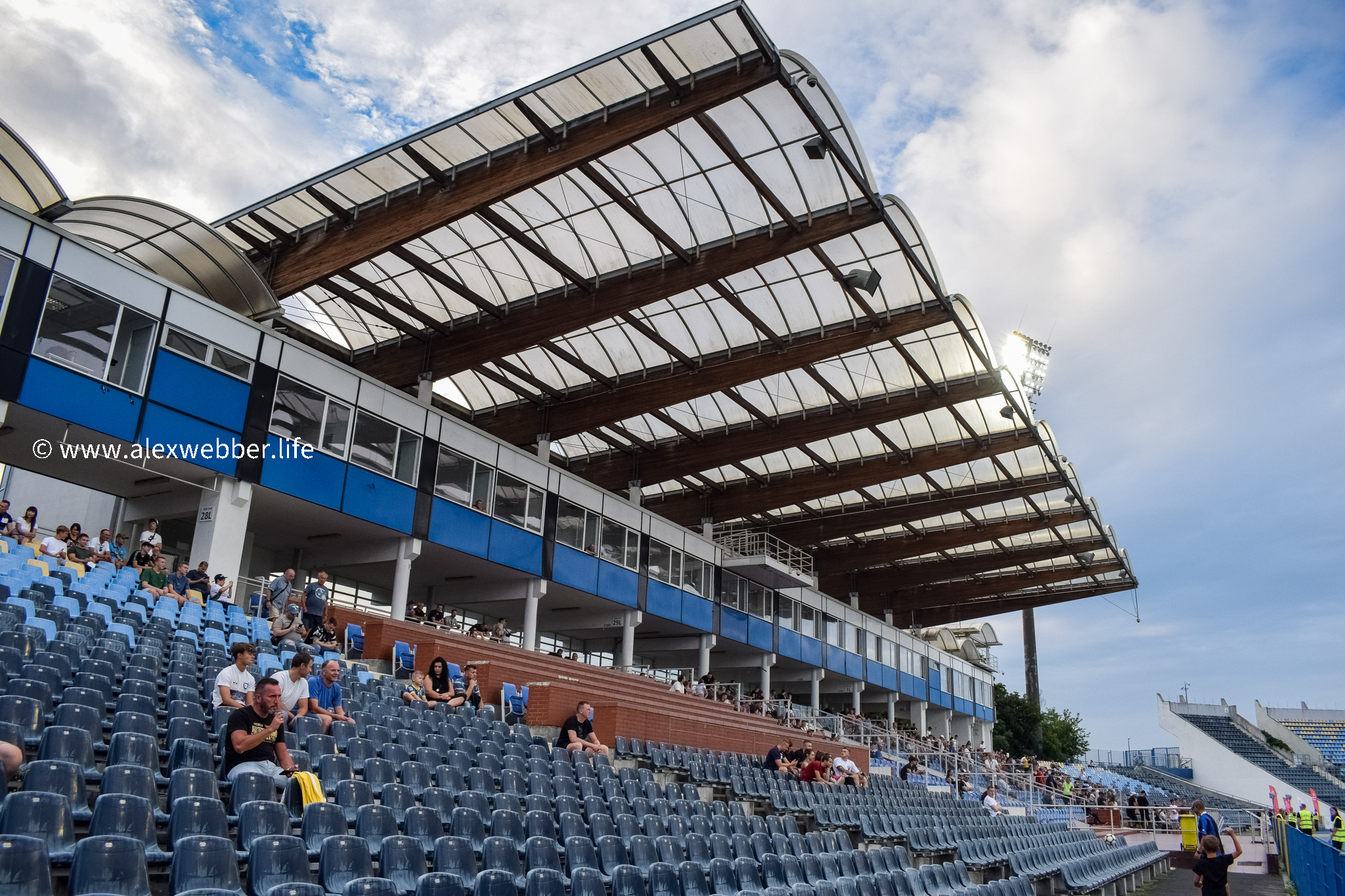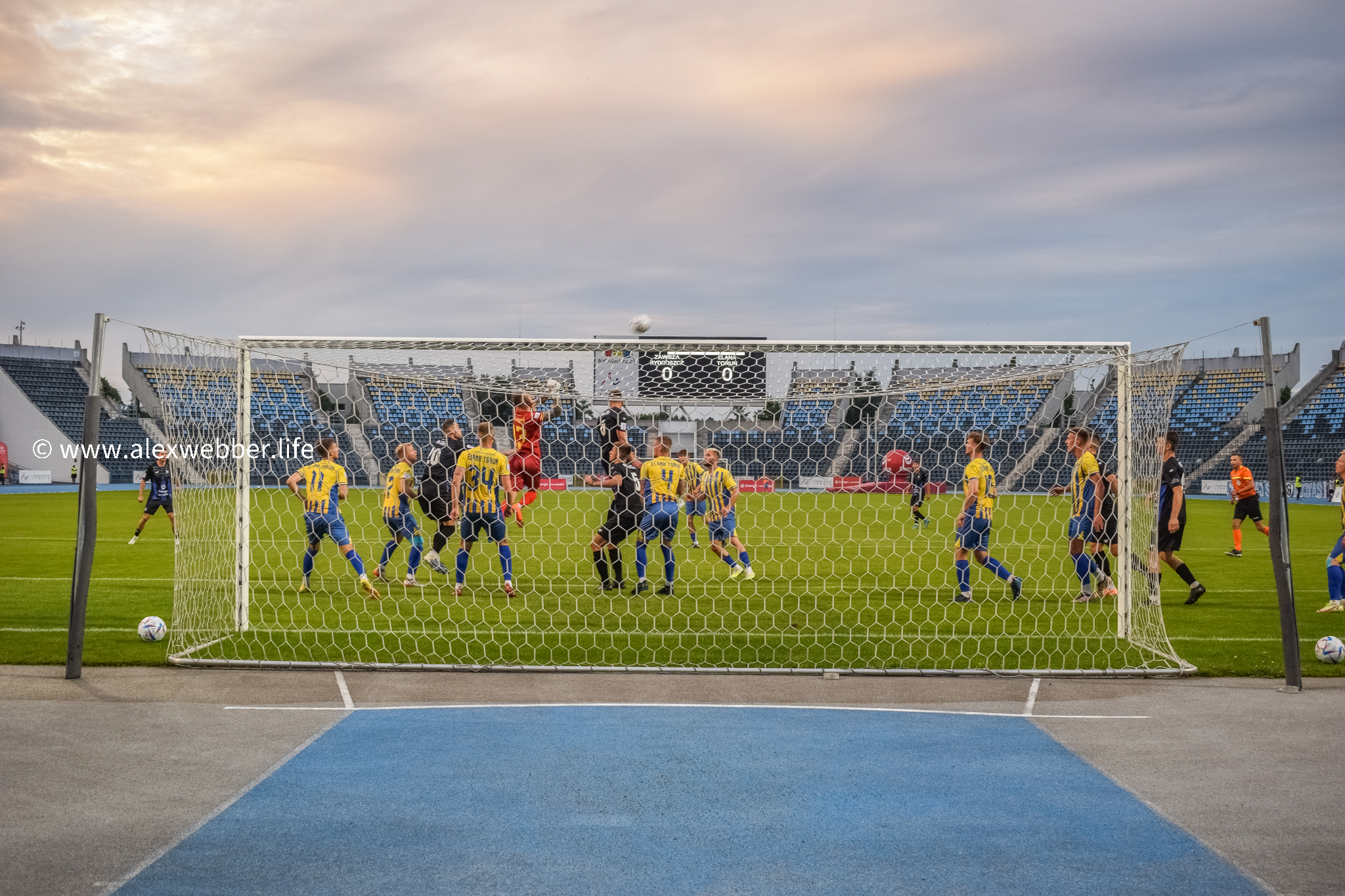 For their part, Elana, too, have had their fair share of misfortune – most recently, that meant a financial implosion around three-years ago that saw them bankrupted in 2021 and withdrawing from their league. Though their fall was less dramatic than Zawisza's, they've still had to rebuild and emerge from the ashes.
This match, therefore, felt significant in more ways than one – more than just an opportunity to claim regional bragging rights, it was a chance for both of these phoenixes to truly show their fans that the bad times were over.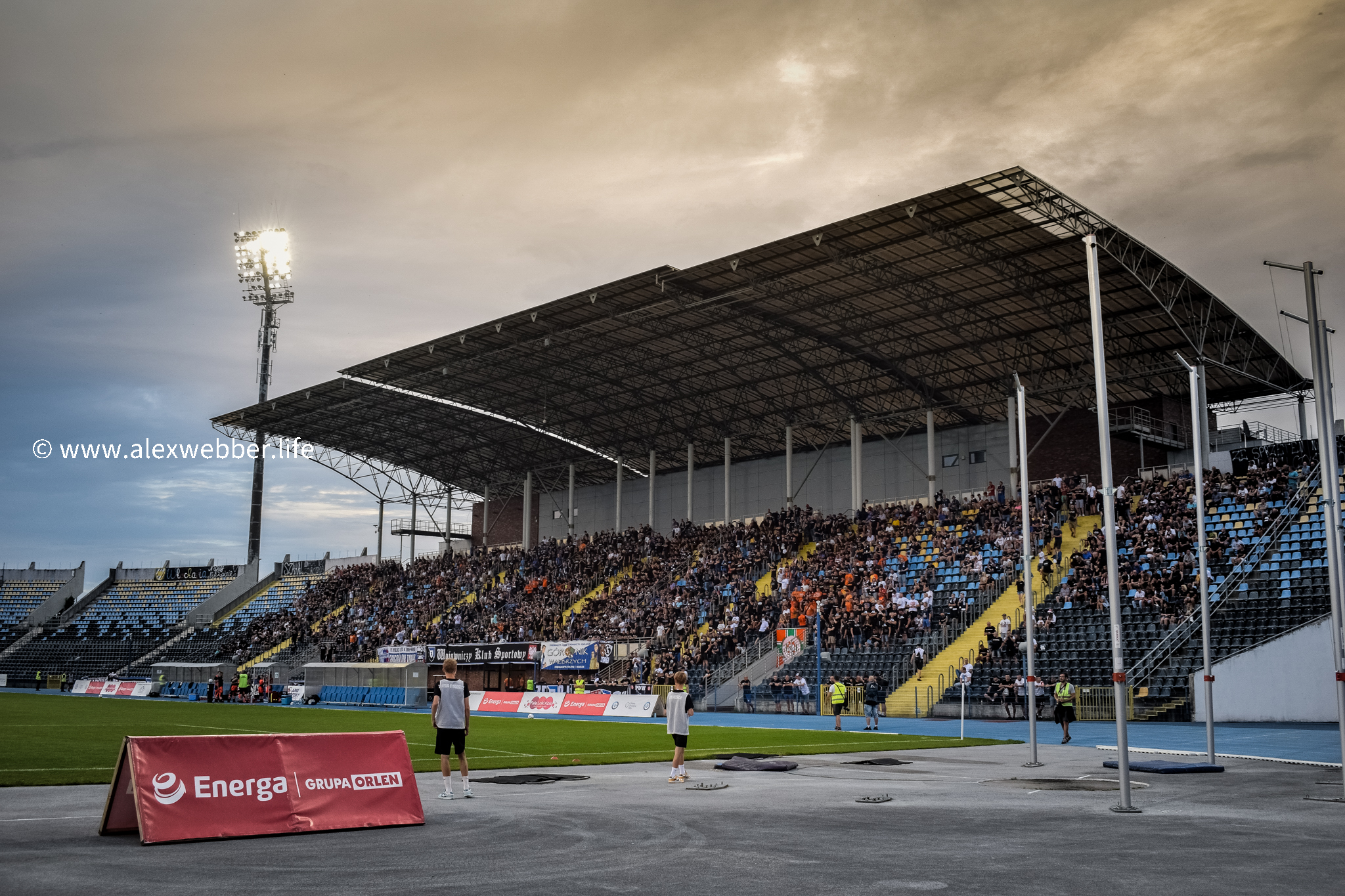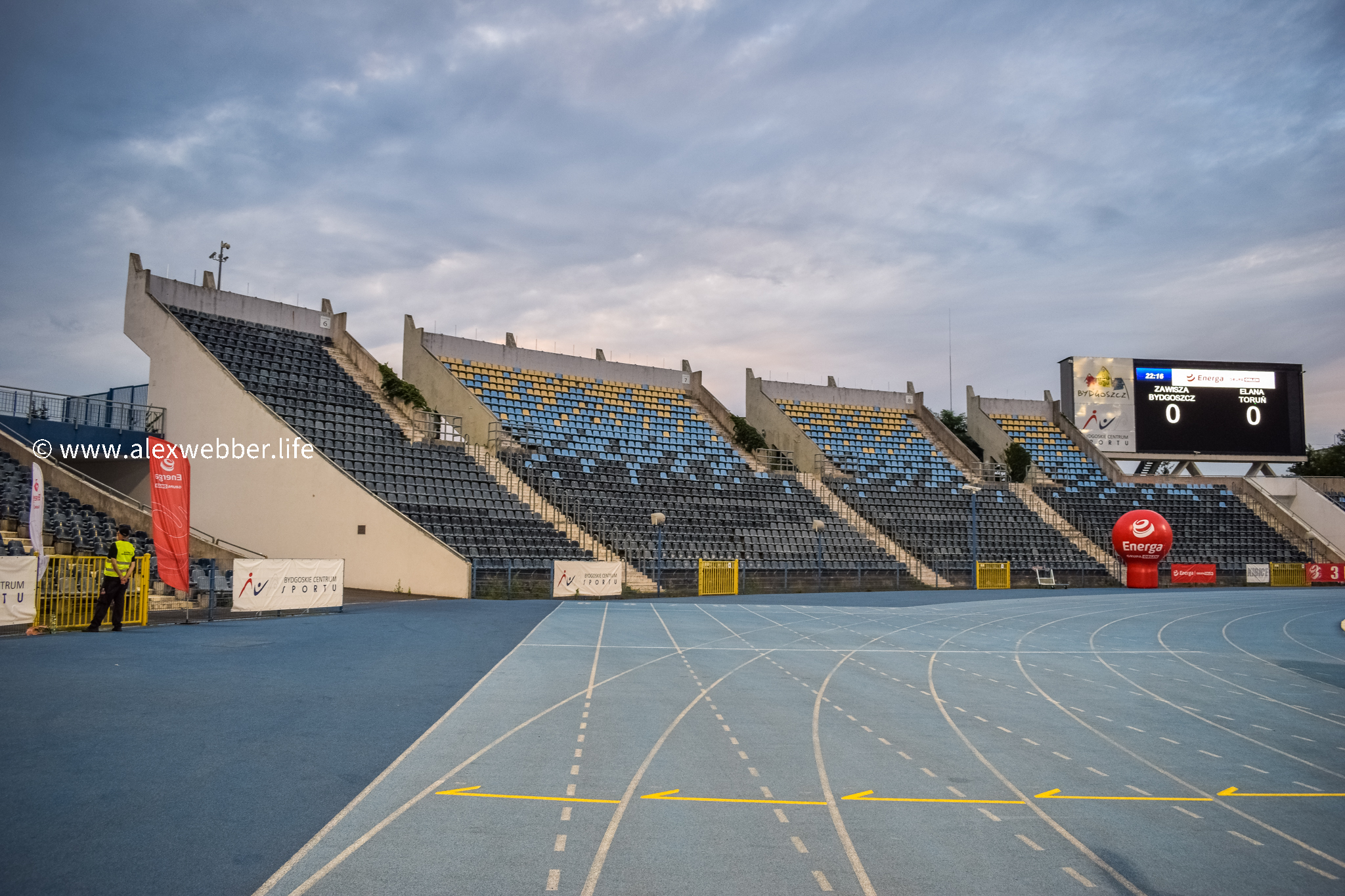 Anyhow, enough background – just how hotly anticipated this derby was by the supporters was born out in ticket sales. Whereas Zawisza have maintained a very healthy away following, home attendances have often been disappointing, numbering well below the 1,000 mark.
This time though, tickets were selling like hotcakes with 3,000 home fans snapping them up. Boosting that figure, Zawisza's allied clubs also turned up in force, namely LKS Lodz (who had been banned from the Lodz derby taking place at the same time), Pogon Lebork, Zaglebie Lubin, Gornik Walbrzych and Wloclavia Wloclawek – and I'm probably missing a couple more.
It was a little more disappointing for Elana who, despite an allocation of 800, could only shift under 500 – usually generously supported by the nutters of Widzew Lodz, this time their mates were absent given the scheduling of their own city derby. Instead, they had to make do with a few bods from other associated groups, such as Wisla Krakow.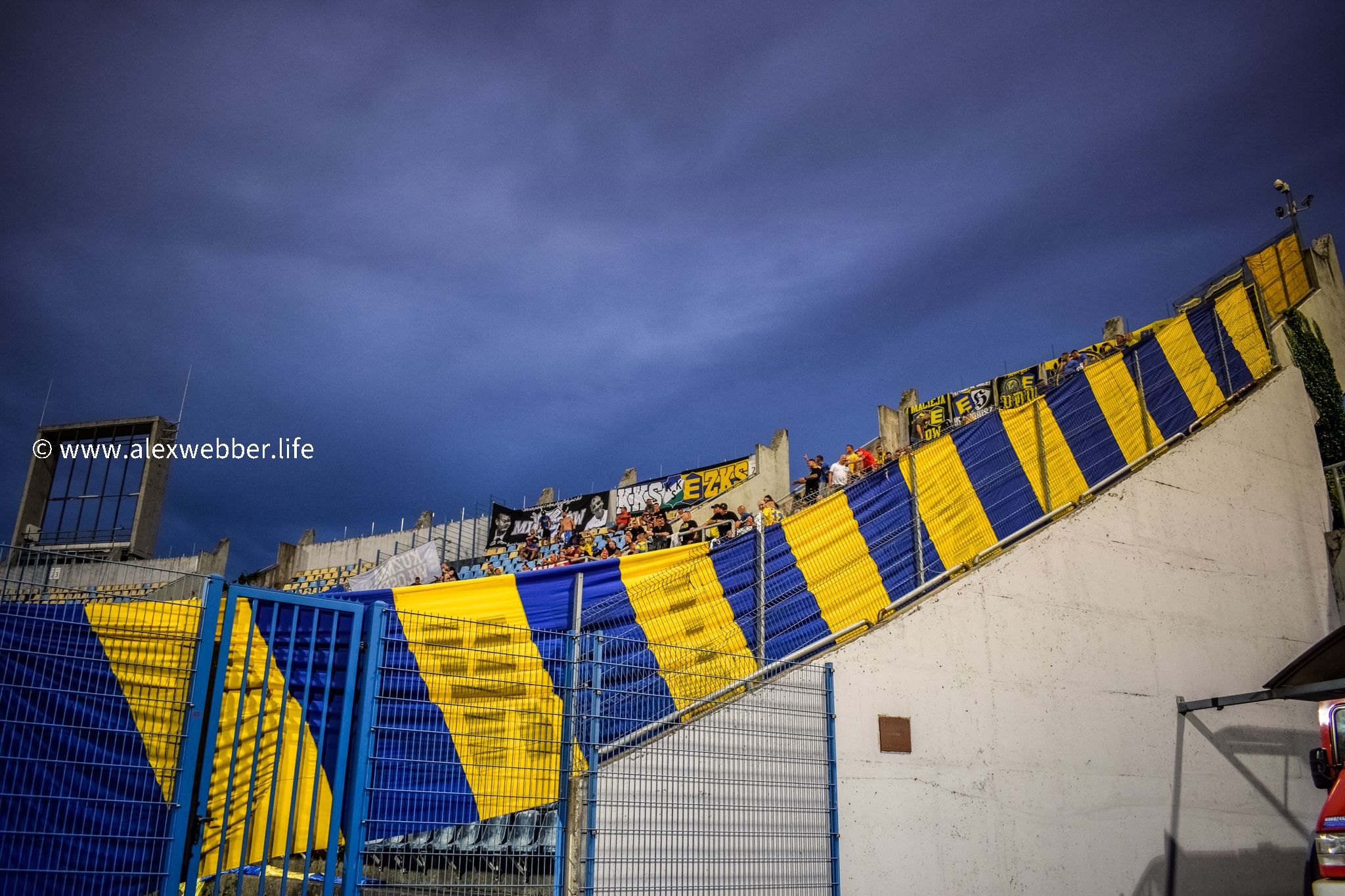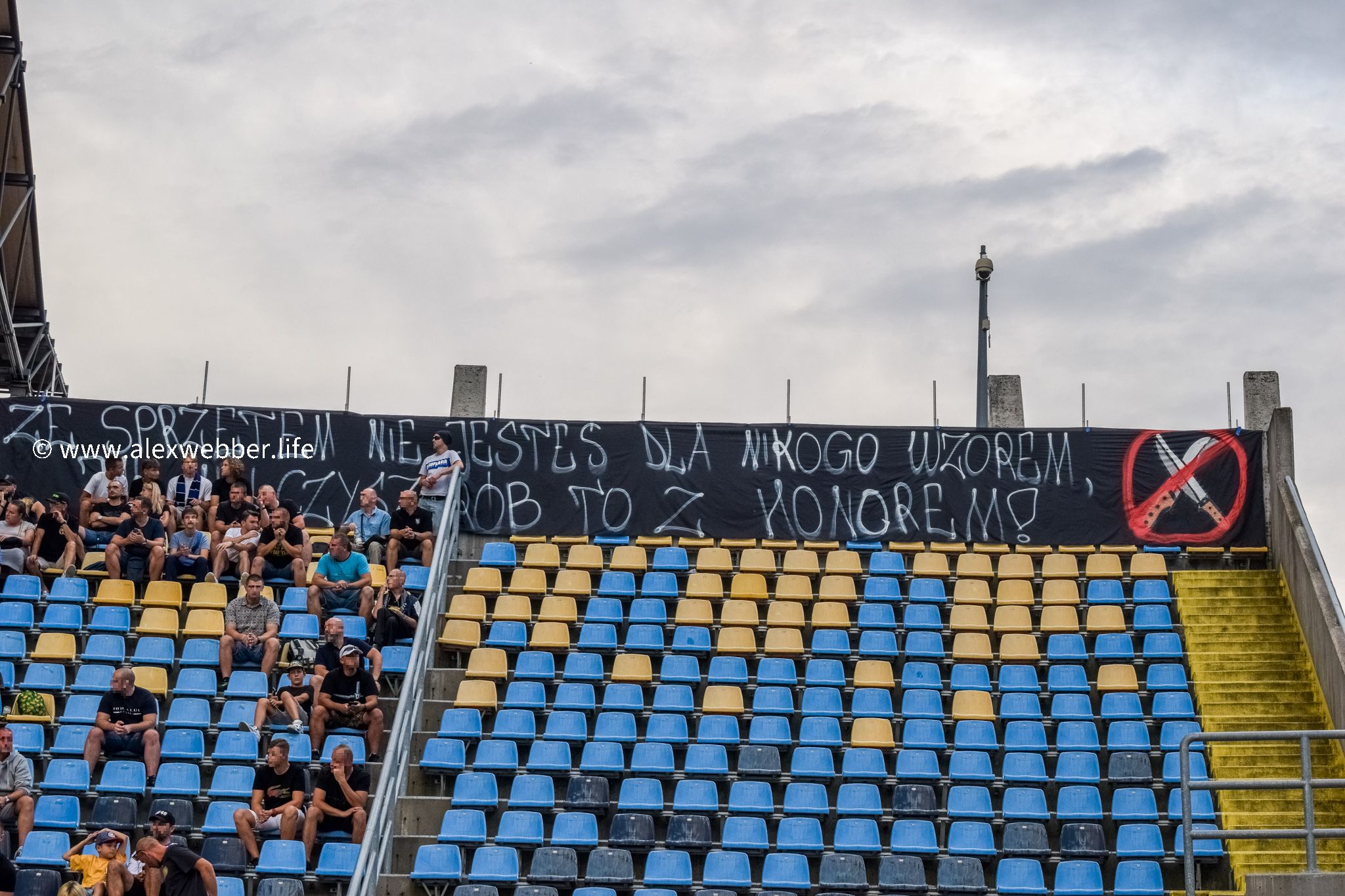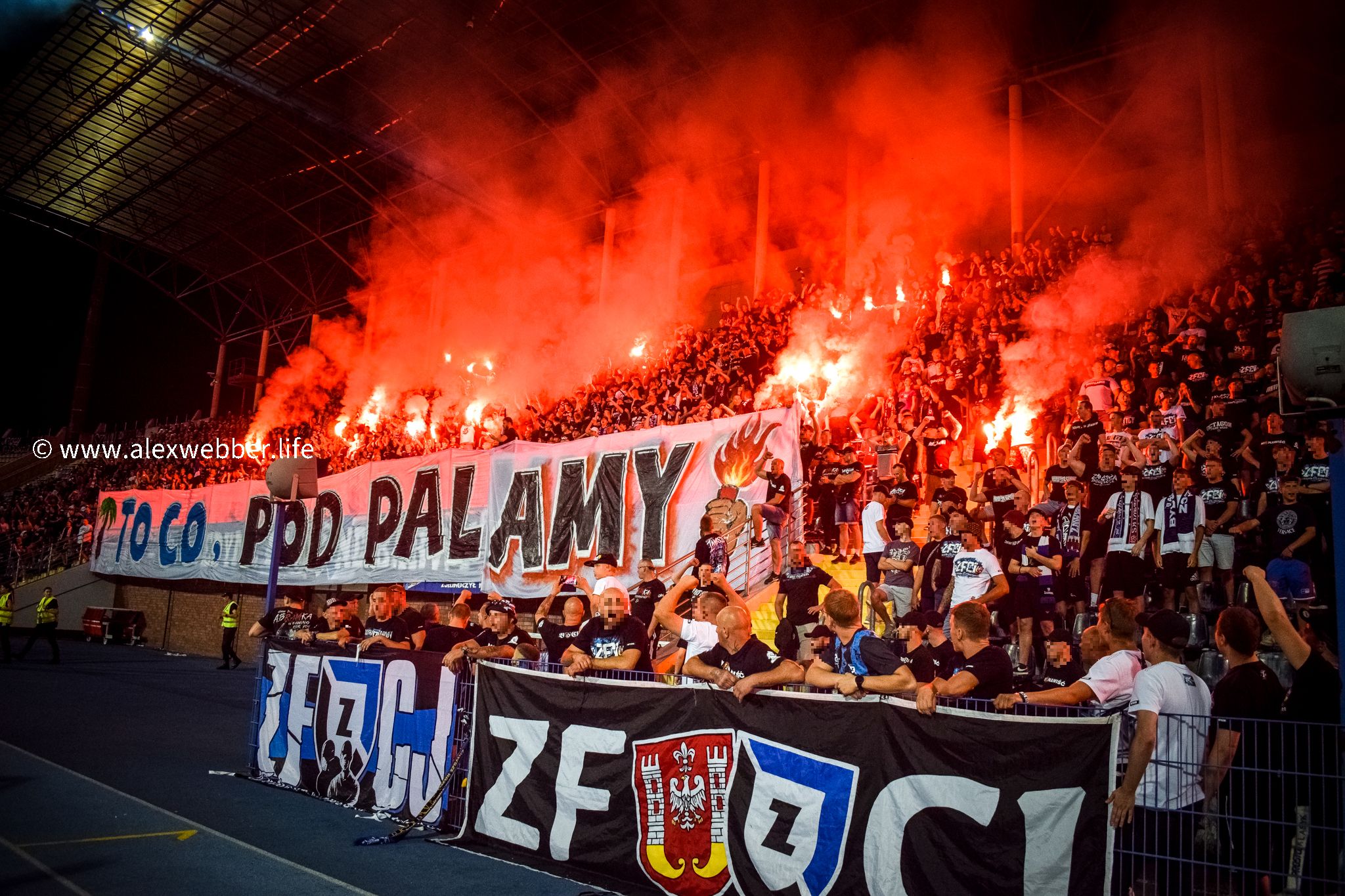 Now I don't say this lightly, there can be no club that's currently more unpopular than Wisla Krakow. Notorious for their fondness of knives and machetes, just the week previously a fan had died after an ambush on Wisla (and their mates from Unia Tarnow) had backfired – a banner hung from Zawisza's stand underlined the contempt for Wisla's unscrupulous methods.
Not that this match needed any added needle. Getting to the ground several hours before kick-off, the air was already thick with menace as wondering groups of Zawisza ambled with intent.
Inside the ground, it was no less soothing. This could never be mistaken for a yoga weekend.
And despite primarily serving as an athletics stadium, I actually quite like the place for its unusual style. With the two ends separated into segments like seen in Bari, it looks refreshingly different from the standard modern Polish ground, a point furthered by a curious main stand featuring a curved roof redolent of Maine Road.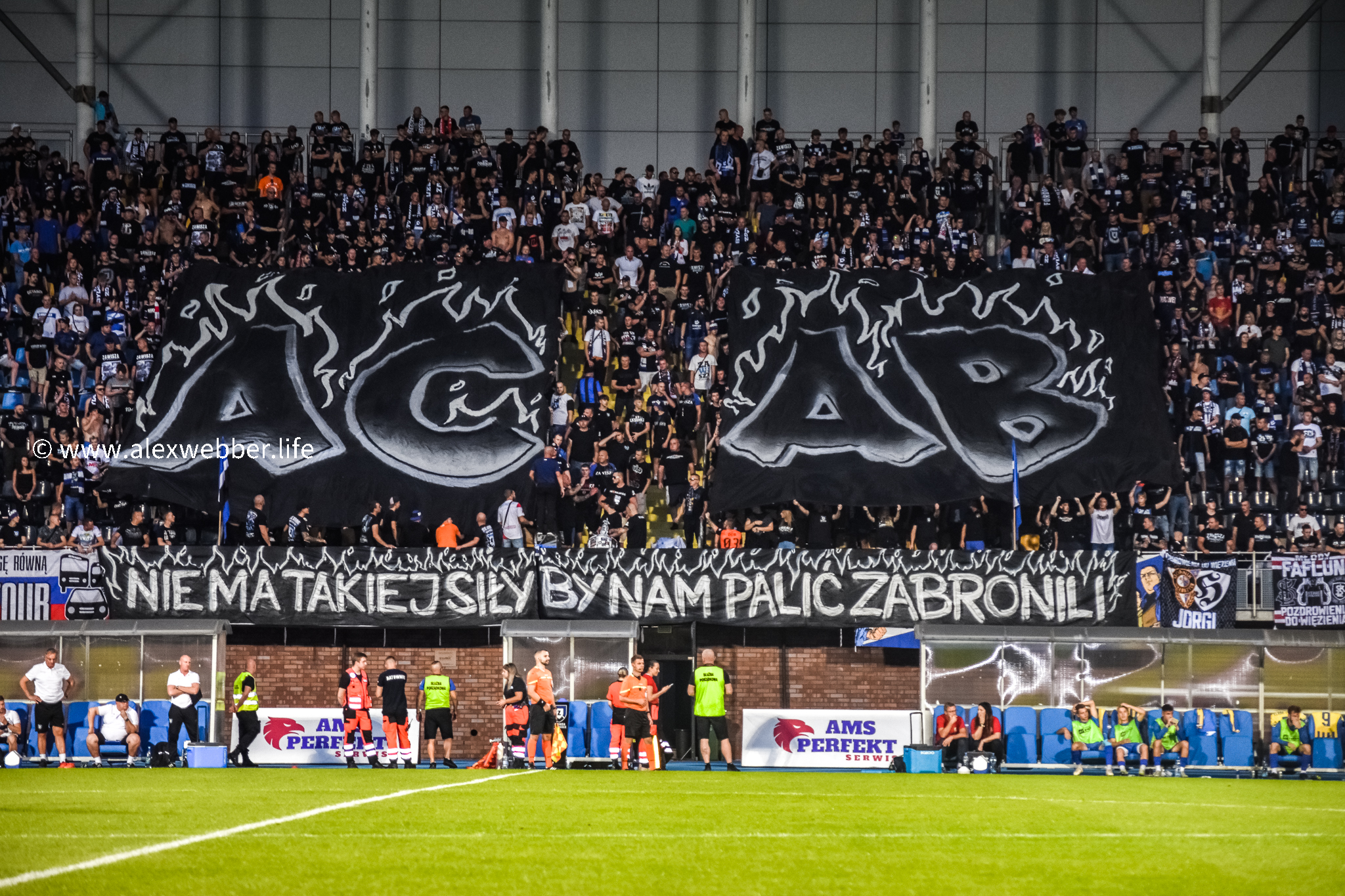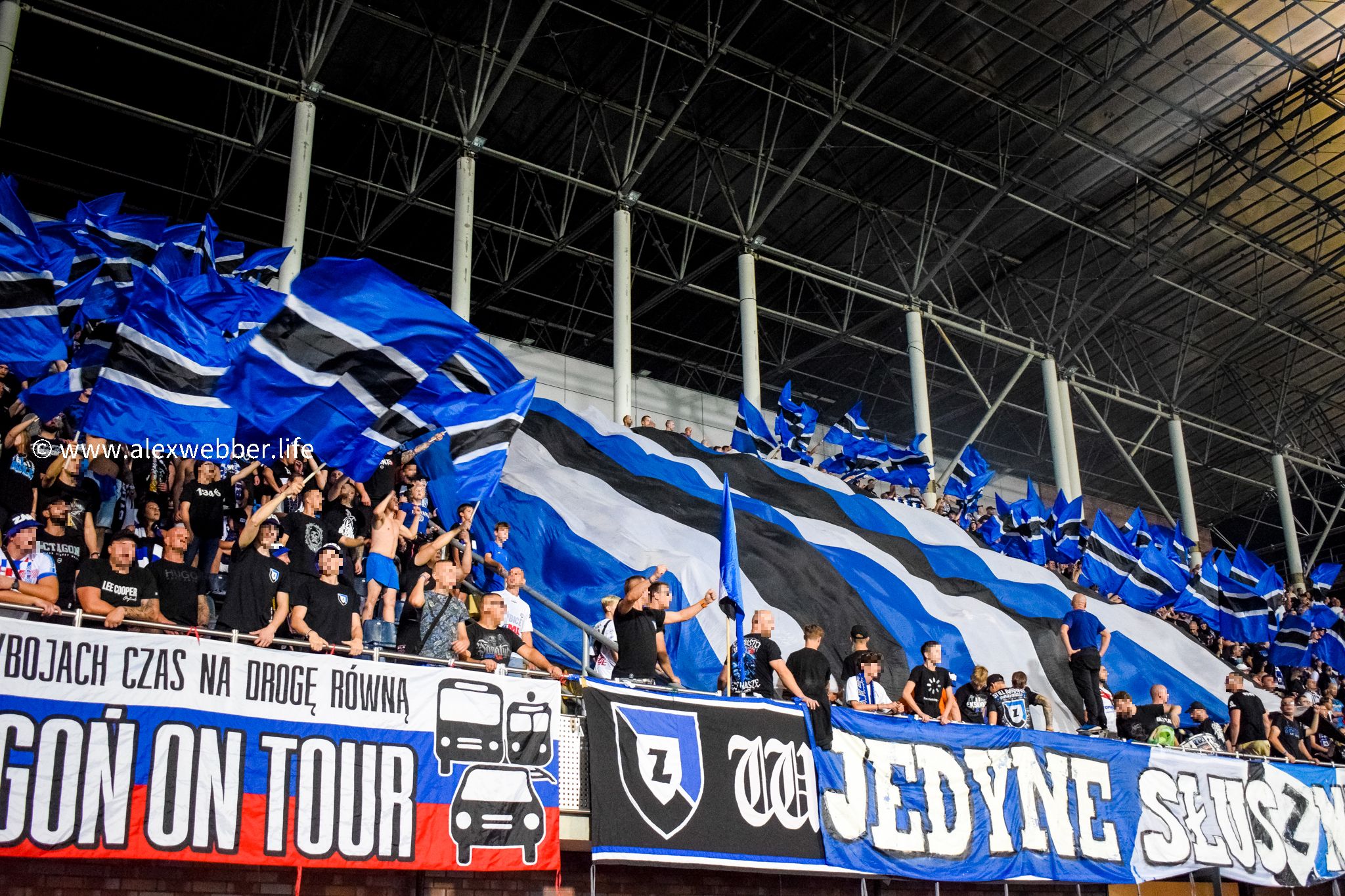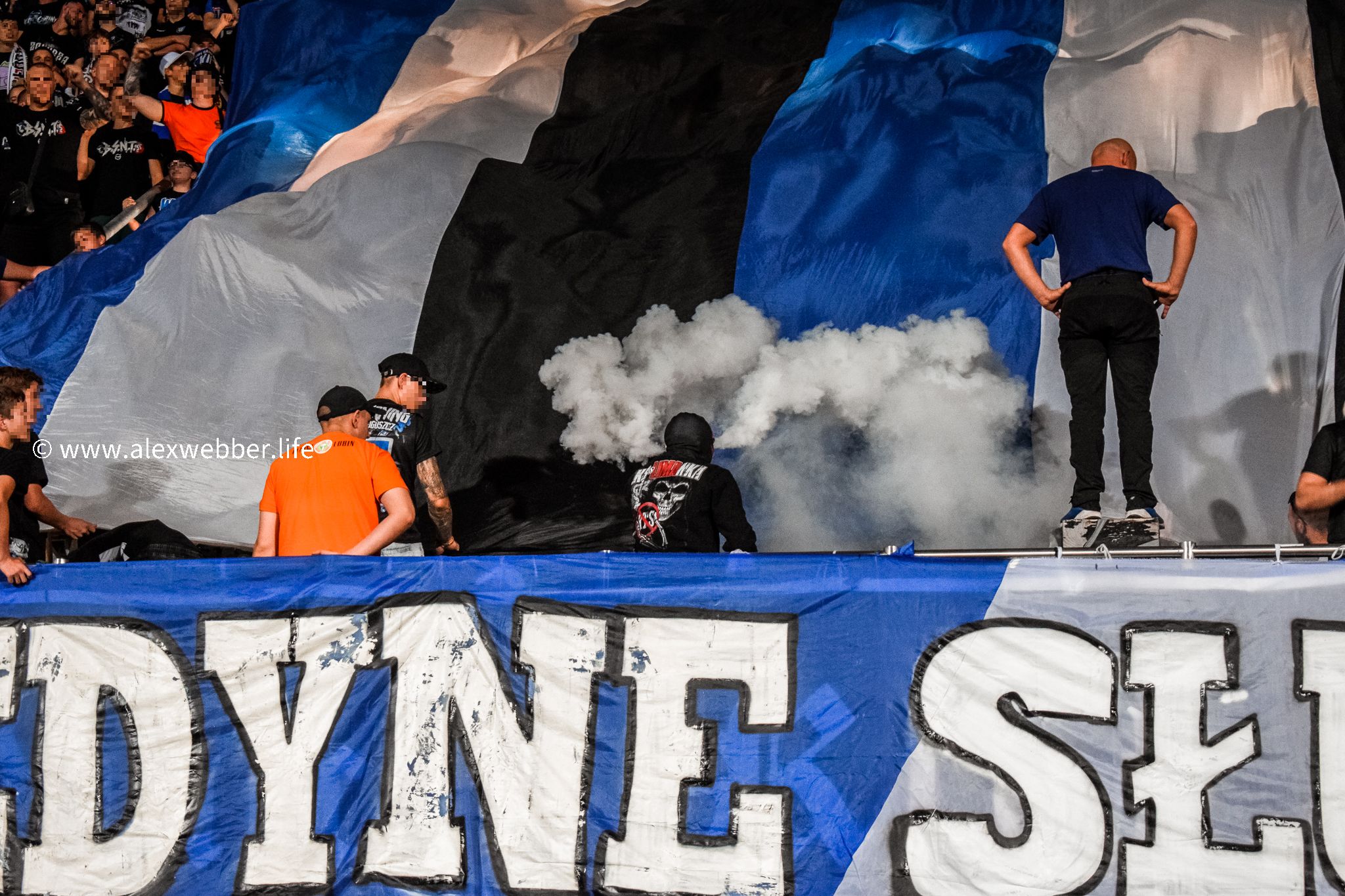 Most importantly, in spite of the running tracks and gaping gaps, it didn't half retain the noise – intense in the first half, the opening period peaked with a banner drop announcing All Cops Are Bastards. Say what you think, eh.
This, of course, was the least that the gathered photographers expected. Attracting interest from all corners, I knew on arrival this was a biggie when I clocked the presence of a gaggle of German storm-chasing snappers. Well over-subscribed, other photographers who had been rejected during the accreditation process wangled their way in using fair means and foul. By the time kick-off sounded, there was a small battalion of us on the touchline, but yet only one or two photographers actually focused on the pitch.
I'm not surprised, either. From the first whistle the game looked like the sort of encounter that would send you to suicide, so it was a good job that at least the stands were alive.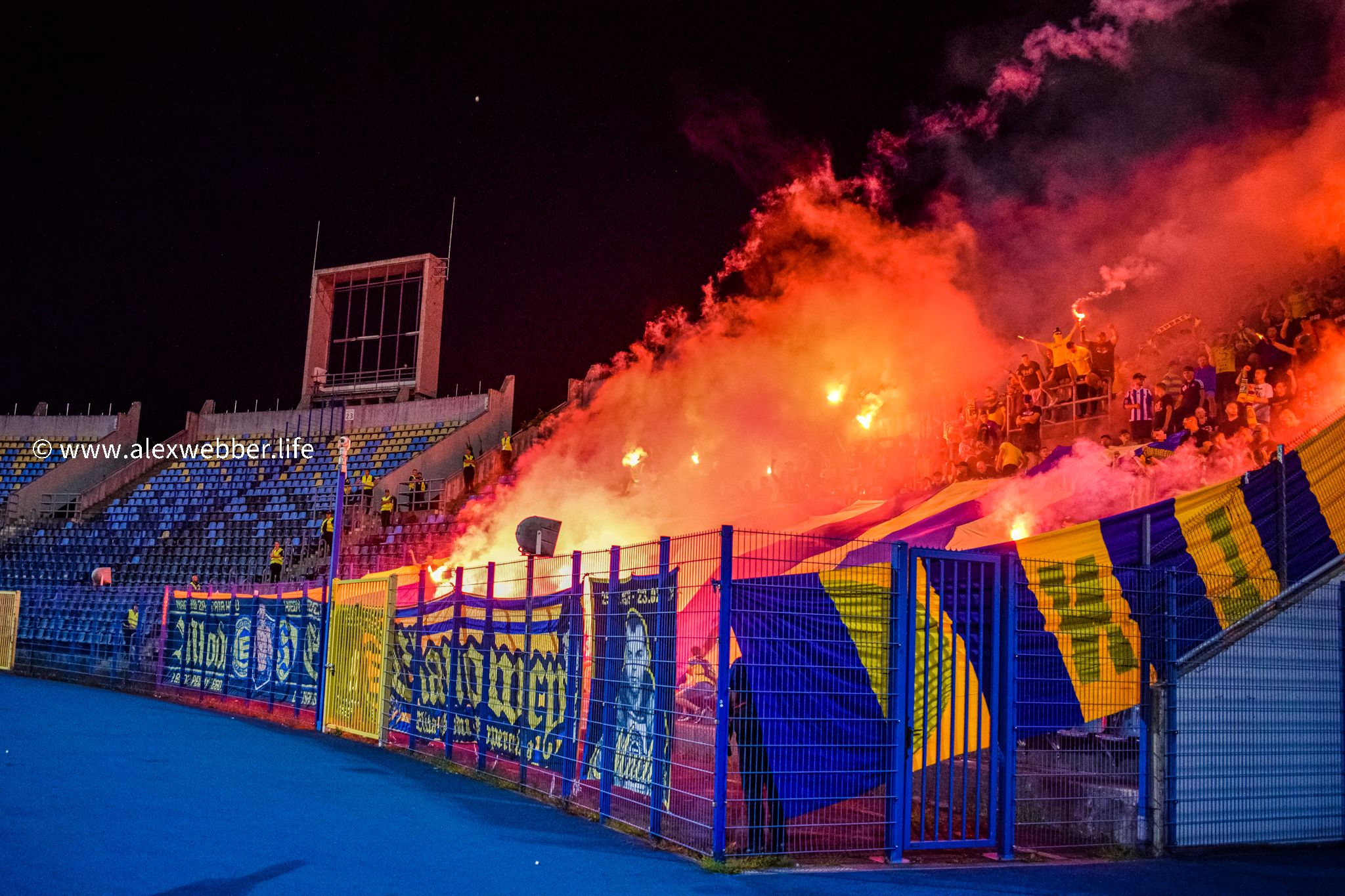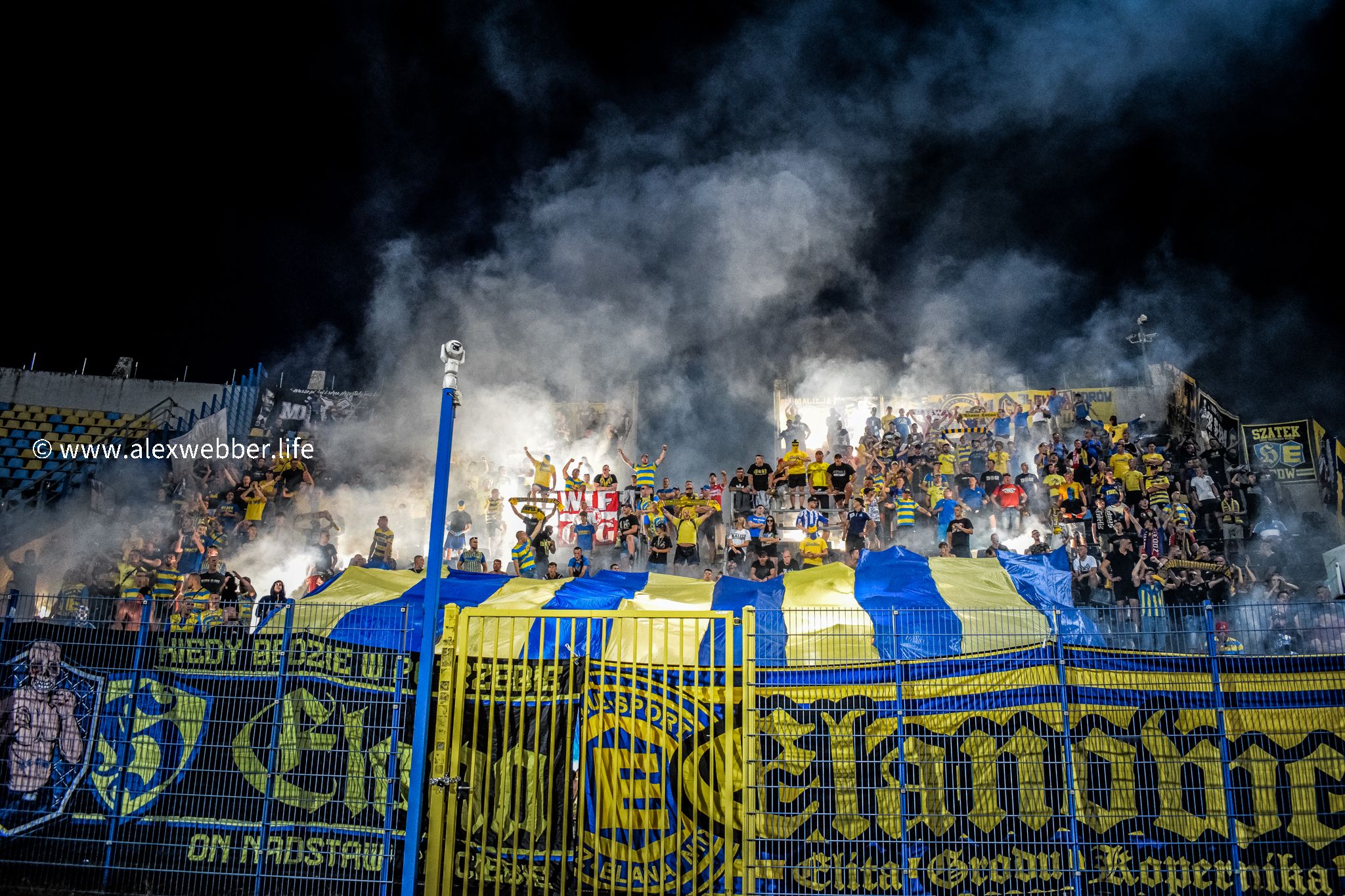 But if the first half had been decent, the second jumped to another level – first, via a show from Elana that turned their sector into an erupting volcano, and then by Zawisza who pretty much spent the last twenty minutes going flipping mental. Electric, pure and simple.
I must confess, given the heritage of this fixture, I had expected some sort of attempt from either side to batter the other, but even without this added adventure it had been an experience and a half – ridiculous to say given a crowd of just over 3k, but there were moments that this felt completely world class. Moreover, after a couple of early disappointments, it finally felt like my season had begun. Onwards!