Date: 8 October 2022 / League: Polish 5th tier
Final Score: 5-2 / Attendance: 150 approx.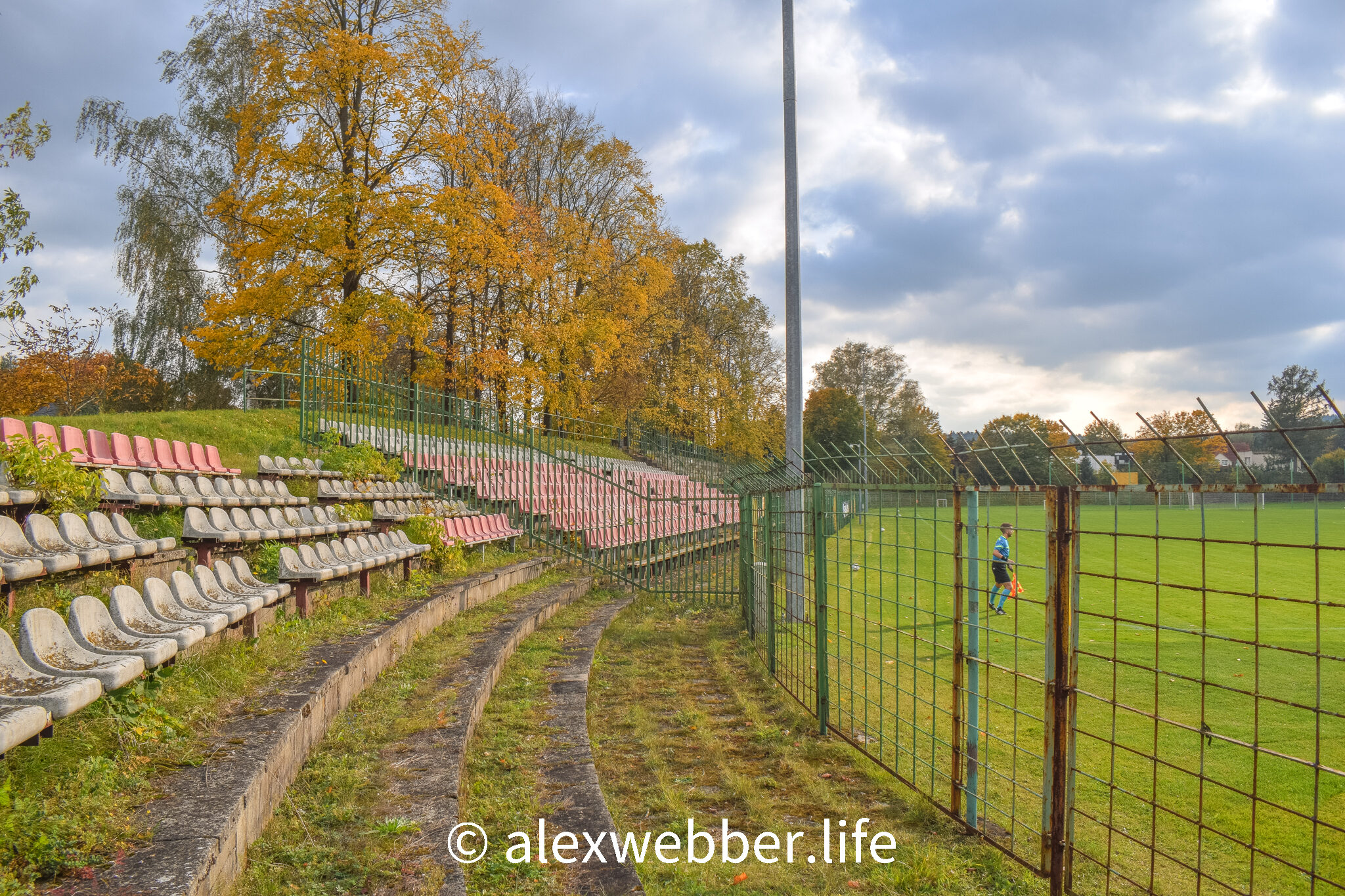 In A Nutshell
Rust, weeds and junk in this glorious scrapheap that Korona Kielce's first team once called home. Now hosting their B side, it's a place that all groundhoppers should treasure.
Background
Built in 1975, for thirty-years this stadium served Korona Kielce's first team – a side that was only born in 1973. Despite their relatively young age, over the last fifteen seasons or so the club have been pretty much a mainstay of the top flight having recovered from a scandal that saw them implicated in fixing fourteen matches during the 2003-2004 season – around twenty Korona players were found guilty, and so too their manager, ex-Celtic man Dariusz Wdowczyk.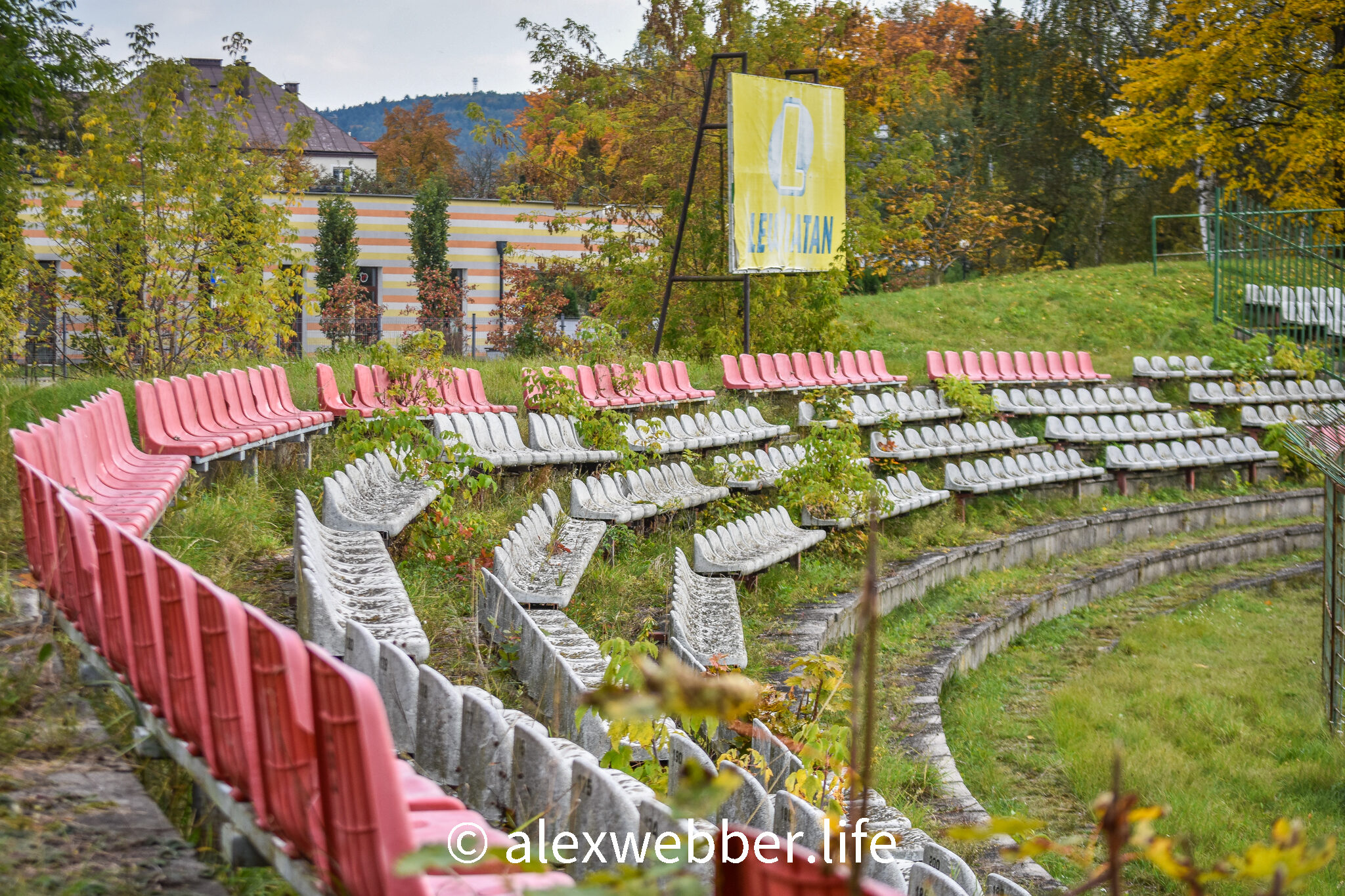 Moving into a new home in 2006 (on April Fool's Day, no less), I had assumed that Korona's old ground had been bulldozed soon after. So imagine my surprise when I learned that their B side, which plays in Poland's league system, to this day turn out there. Take me there!
Adding relevance to this match that I picked, it should be stated that Unia Tarnow's fan enjoy close relations with Wisla Krakow, a team that many in Kielce consider to be their arch-enemy – defined by its bitterness, this rivalry took on added edge in 2007 when a Korona fan was stabbed to death (the guilty Wisla fan was finally arrested and extradited from Britain in 2016). Although I knew nothing would happen this match, I did turn up anticipating at least a small following from Unia despite their shocking start to the season.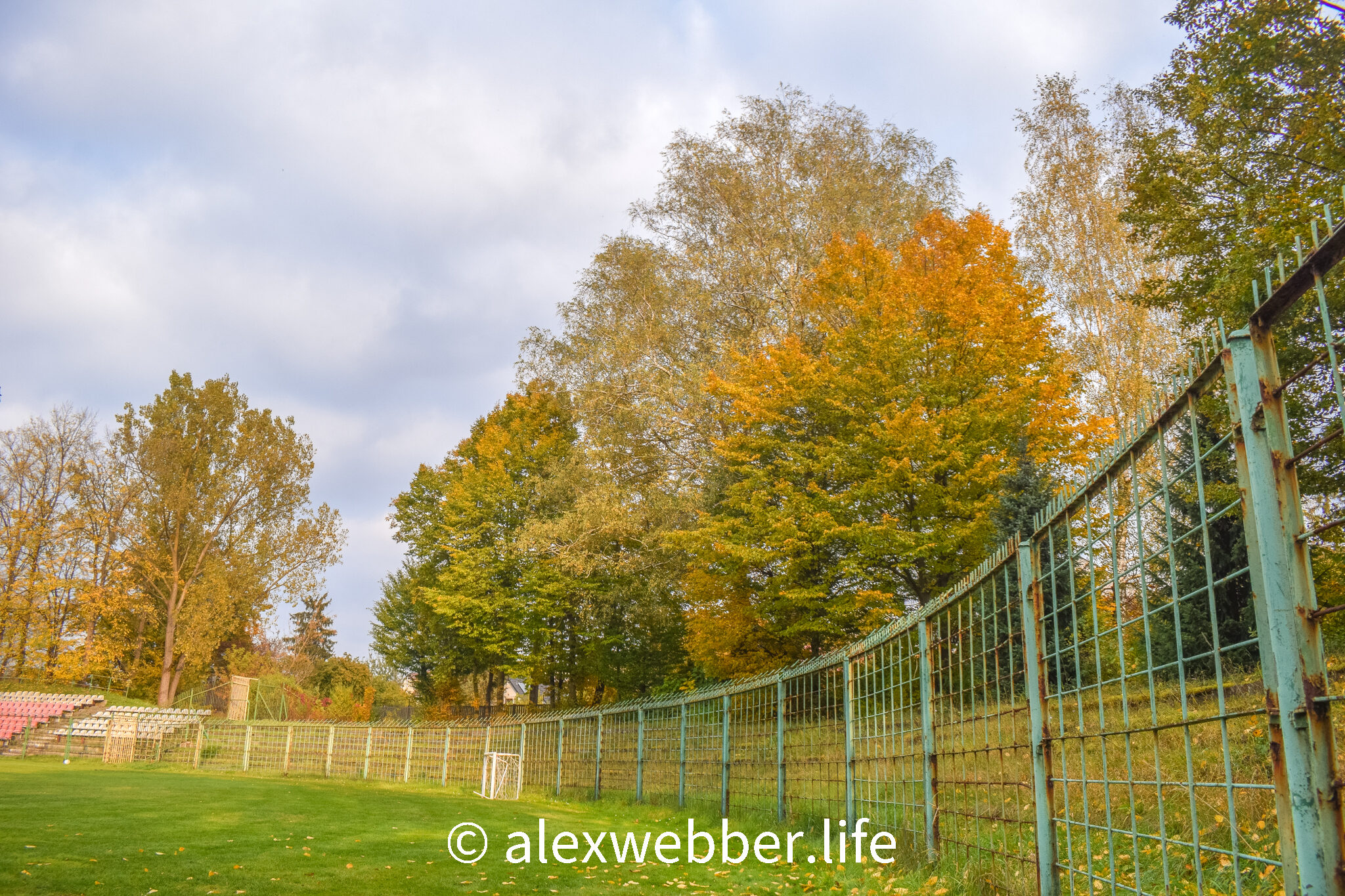 Stadium & Experience
Had I watched the game, I would have been rewarded with a seven goal bonanza. But you don't visit a place like this for football, you visit to breathe its history and soak in its vibe. A gloriously rusting shell, its core point of interest is a 300-seater grandstand mounted on steel supports that no one in their right mind would ever really trust.
A place of flaking paint and cobwebs, it nonetheless isn't short of charm – not least for its jaunty Roy of the Rovers colours. The sightlines, too, are good, but despite admission being free there's no shortage of people who opt to sit on the lower uncovered levels that flank the stand on either side.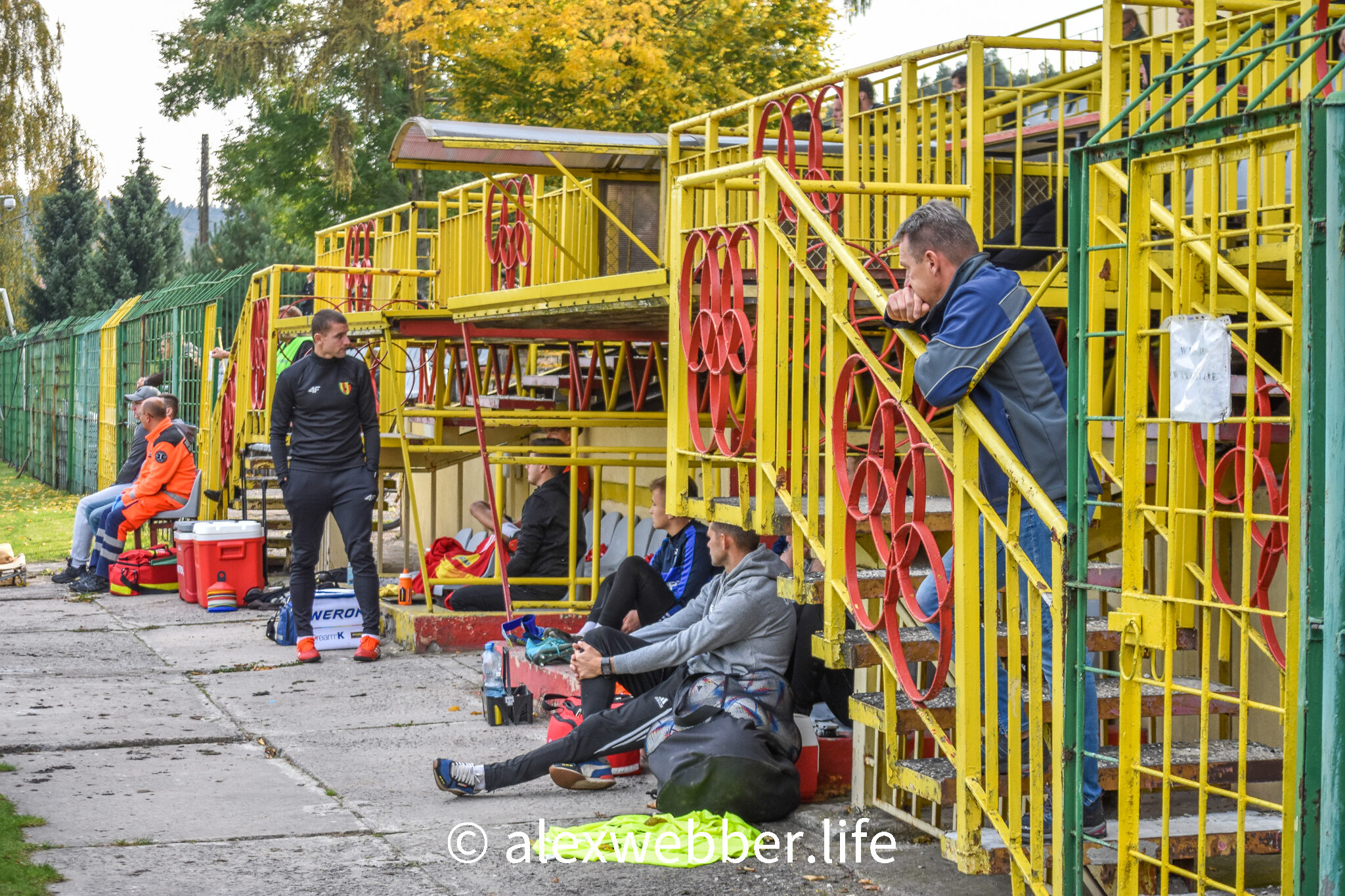 Actually, it was here that I met a Korona Kielce lad who shared some hooligan memories with me whilst his kid posed for photos. Although I couldn't understand much, he made it abundantly clear that he had warm, happy memories of the old school era. Moreover, he explained the poor attendance. "There'd usually be more lads down here for a match against Unia," he told me, "but one of the boys has an MMA fight right now so they've all gone to support him."
Shame, I thought, because moments after he finished Unia arrived. I'd hoped they'd bring a couple of carloads, and this they did. With the second half underway, in they came – ten in all. That's hardly a number to brag about, but I'm not going to knock anyone who supports an underperforming team (they've performed dismally this season, with sample scores including 6-0 and 7-0 losses).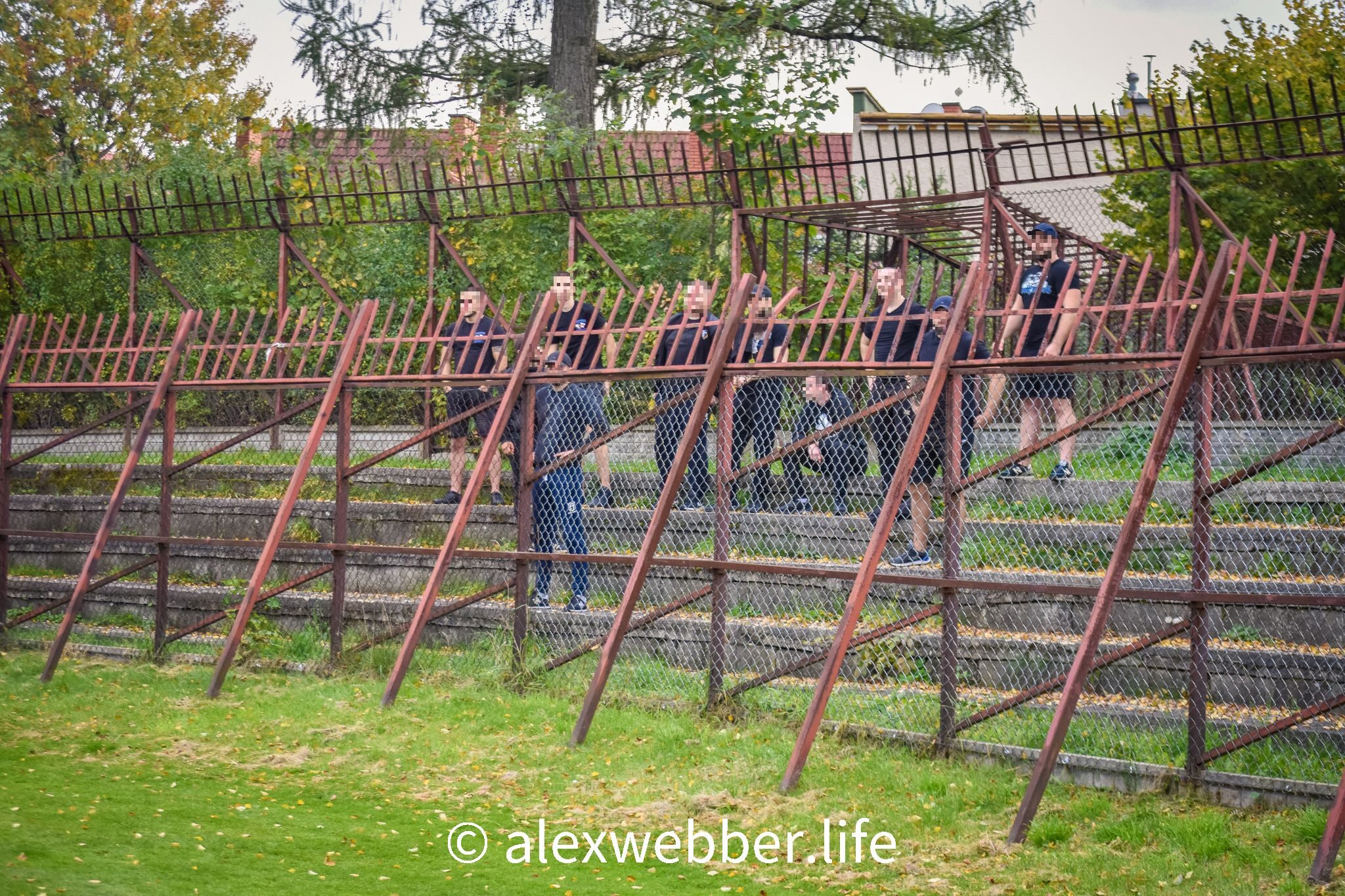 Besides, I've got to admit, I love the sight of an overgrown away cage being opened up for a handful of lads. Respect to them, introducing myself to them through a gap in a fence I was allowed to fire off some shots while they flexed their muscles and sang some songs – top chaps!
Anyway, I'm getting ahead of myself. The rest of the ground is also quite something. Touting oval-shaped ends, much of it is now off-limits, but that didn't stop me from roaming around these abandoned stands.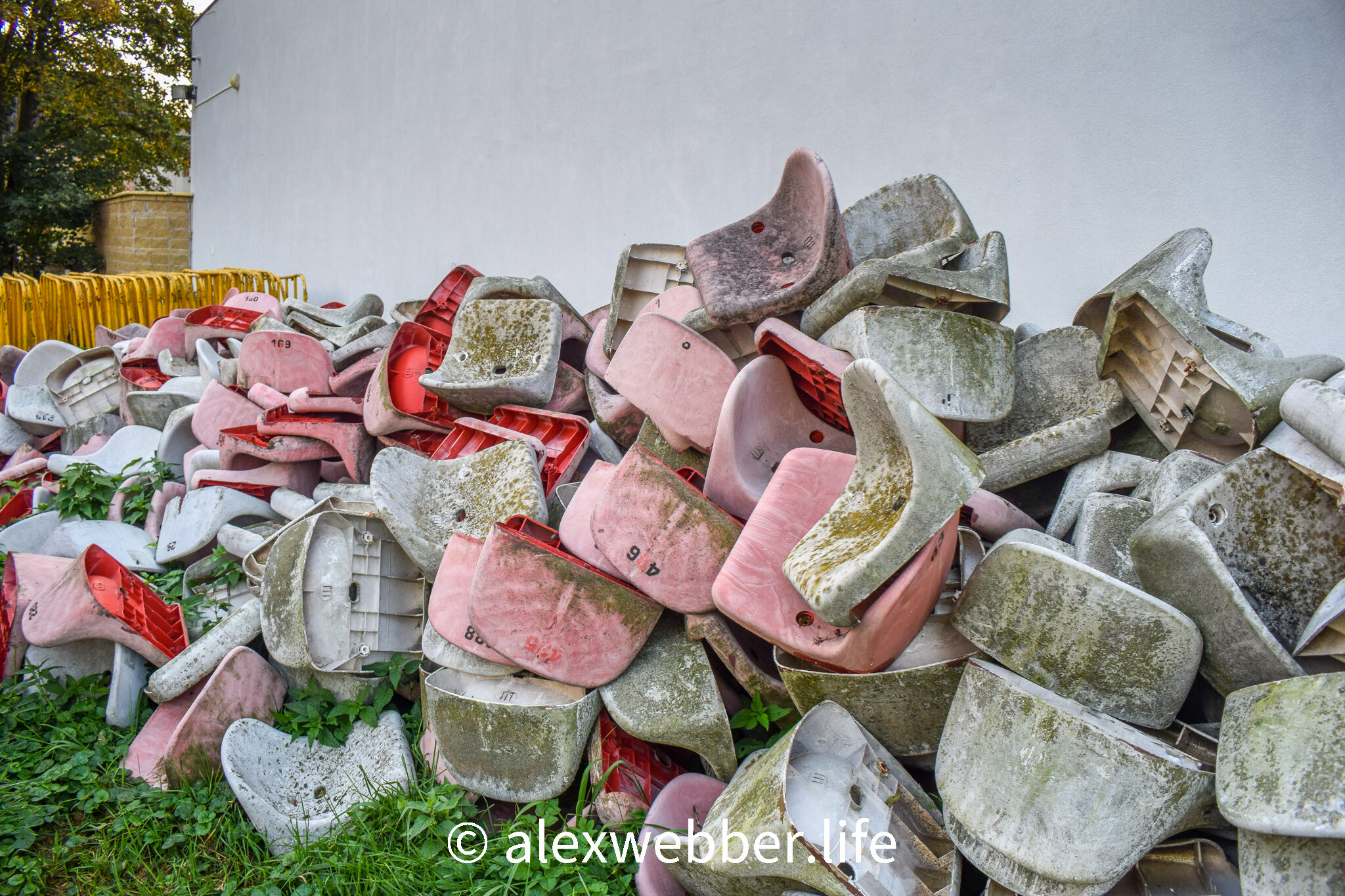 If there was a favourite discovery that I made, then it was a pile of seats out the back – heaped on top of each other in higgledy-piggledy fashion, they could easily have passed for a load of smashed paupers graves in some backwater cemetery. Soaked in the melancholic colours of the Polish autumn, this was quite the place to explore: stained and dilapidated, this was my idea of footballing bliss.
Amusingly, come full-time, Unia's players headed up to the away end with their heads bowed to meekly apologise to the travelling faithful – despite outnumbering their fans, they took their bollocking with the expected contrition before wandering back with the world on their shoulders.
Afters
When I was last here I stayed in the Shoemaker, an Irish pub with a charming bed and breakfast located on the top floor. That time, my peace had been disrupted by an escaped parrot and a stark naked Russian geezer sobbing in the corridor. Surely, nothing could go wrong this time? Of course it could.
Now the Shoemaker, I can highly recommend, but with the accommodation located up in an attic space, it's also full of those head-high wooden beams – weaving around after a couple of evening refreshments, I sparked myself clean out after colliding with one of these aforementioned hazards. As I write this, my nose still looks and feels like a prize-winning tomato.
Geography
Kielce lies half-way between Warsaw and Krakow and should be easy to get to – and yes, usually it is. For some reason though, this time around all trains were fully-booked meaning a three-and-a-half hour bus journey. On the plus side, this gave me the chance to enjoy Poland's strangest coach station – a recently renovated flying saucer building originally that was opened in 1984 after nine-years of construction. Described as the city's defining landmark, its UFO dimensions have made it an unlikely tourist attraction in its own right.