Date: 19 September 2021/ League: Polish second tier
Final Score: 1-1 / Attendance: 4,817.
Preamble
Flying high, both teams entered this match with much to play for – but it wasn't the football that provided the talking points, rather the antics in the stands. Though a mundane stadium to look at, this match will be remembered for a powder keg atmosphere marked by repeated outbreaks of light-hearted tickles and other such japes. It went mad.
Background
If you've read my prior entries, you'll already be accustomed to hearing me babble about Poland's system of rivalries and alliances – so here I go again, and pay attention at the back for this turned out to be pretty important for this particular match.
So, the home side: Tychy. They're friends with both LKS Lodz and the boys from Cracovia of Krakow. Their opponents, Widzew Lodz, they basically hate all those three and are tied up with everyone opposite: their allies include Cracovia's derby foe, Wisla Krakow, and Ruch Chorzow, a murderously nutty side just north of the town of Tychy. And obviously they despise LKS Lodz more than anything in the world.
That might sound like a spider's web of gibberish, but when you do your football equations you might just about work out that this match was basically the equivalent of three derbies rolled into one. Tasty.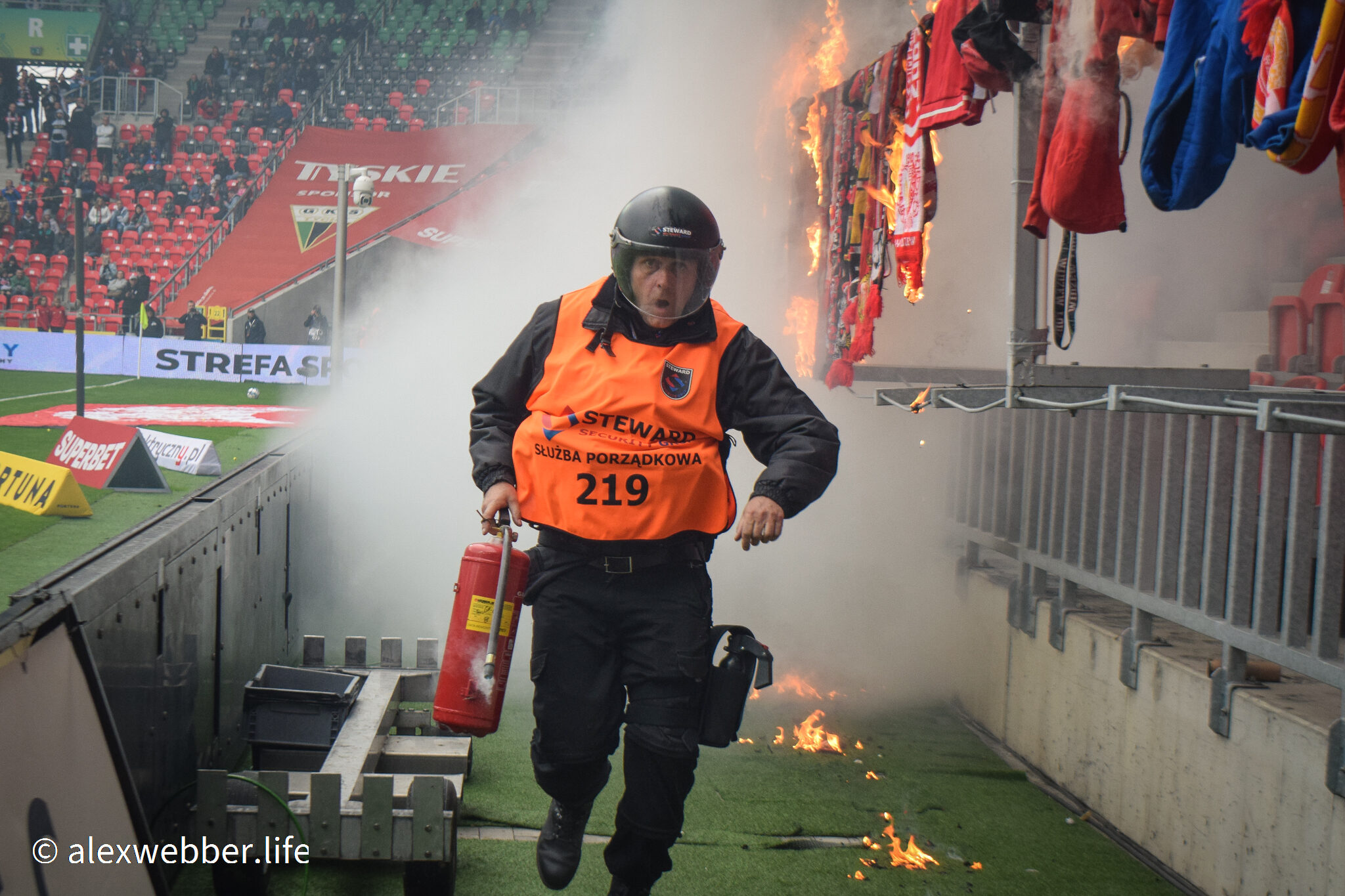 Getting There
Just south of Katowice (as in 20 minutes by train), the town of Tychy is a cinch to reach. With trains also running direct from Warsaw (journey time: three hours) and Krakow (one hour), its geography will not test any traveller.
Getting to the ground from the station though is trickier. Twice I've been here now, and both times finding a taxi has proved a test – book one in advance, or else take potluck hanging around for a random cab or boarding a bus. If you're a keen walker, then Google's directions claim the stadium to be a 30-minute walk.
Stadium
Opened in 2015, and subsequently used as a host venue for the U21 Euros in 2017, the ground is of the type that I typically dislike – a soulless facade paired with a wraparound interior that feels desperately hollow.
Holding just over 15,000, there are some points of interest though, and these include a crazy skywalk leading to the away end, and an unexpectedly flashy cocktail bar contained inside a dark glass cube cut into the stadium.
Lead-Up
Taxi issues had left me shipwrecked at the station for about an hour, so despite arriving to Tychy well ahead of kick-off it wasn't until the last moment that I found a cab and reached the ground – and only then, just about.
You know those times when you're in a hurry and everything is going against you – those kind of times when you're running late and leap into a cab and yell "step on it" with one leg dangling out the door? Well, this was one of those. And if you do know that kind of situation, you'll well know it's not like the films – there is no trail of sparks as the car screeches off. Nah. Instead, the driver will light a fag and scratch his balls before even considering to shift into gear. And so it was.
It would have been quicker travelling by roller skates, but, somehow, eventually I reached the ground in Poland's slowest car. Straight away, I knew I'd missed something. With kick-off just minutes away, the streets were still thronged – and thronged with groups of masked lads crunching over broken glass whilst police dogs went woof and horses cantered around. Bollocks. Quite clearly, it had already gone off.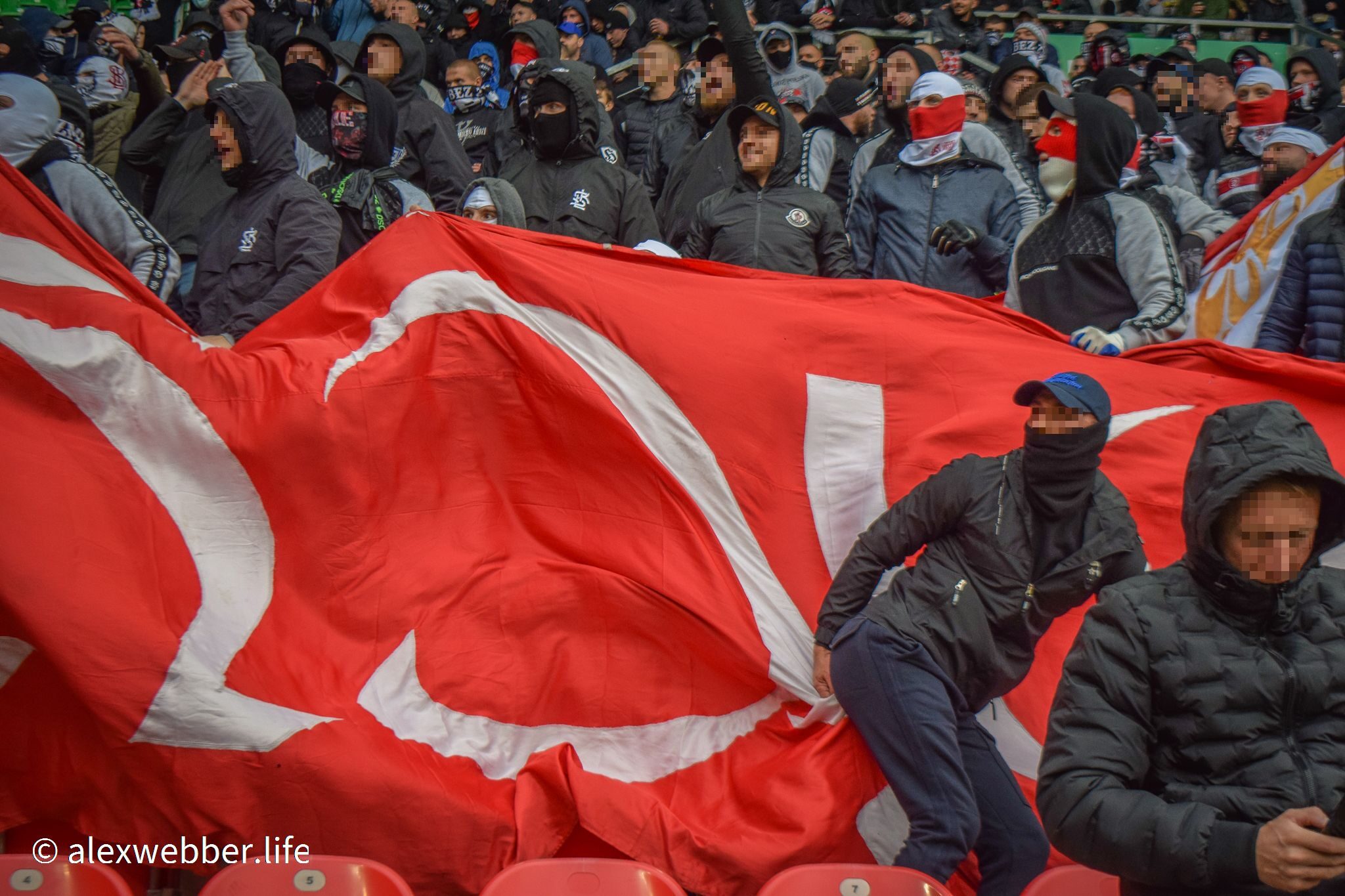 Matchday Experience
What I'd missed was the home side's attempt to confront the away escort. As a "storm chaser", I was gutted, but you could tell by the air that more was afoot. And bloody hell, yes it was. Entering the ground, just the high headcount of hooli photographers served to underline the expectations for this match. You knew it would go volcanic, and it soon actually did.
Pretty much straight from kick-off the home side launched into their flag drop and pyro show, but impressive as this was, attention – and camera lenses – kept drifting elsewhere. Amid the flags and flares going off in the middle of the home end, you could see movements in the crowd – lads mobbing up and moving away from the central area and gathering in the top corner. Then, their breakout.
Streaming into the main stand, about 150 home fans streamed from their enclosure to rush towards the away section. It said much for the 'seen it all before' attitude of Poland's normal fans that Tychy's more placid followers simply moved to make way for the horde in a patient and ordered fashion. I swear, you could even see a few grandads issuing wry little smiles and cheerful tut tuts.
With not much ground left to cover, the Tychy mob found their advance thwarted at the last moment by a thin police line that just about held to prevent them from making the final push into the away end. But that didn't mean the action was over – spurred by this, Widzew disappeared enmasse to try and batter their way through the concourse below. Though out of the sight, the noise and bangs that echoed around the stadium suggested their efforts were full-blooded.
You'd be right to call this a stalemate, but that didn't stop from Tychy – and their friends from LKS and Cracovia – from ramming their point home by waving around a previously captured Widzew banner to taunt the opposing fans.
The Flag Stuff
Onto the second half, and that was the cue for Tychy's ceremonial flag burning. Now in England I think we're a bit puzzled about why 'foreigners' are always trying to steal our flags while we're on international duty – so an explanation might be handy: in this part of Europe hooliganism is an extreme hobby that you actively train for and dedicate your life to. It's not an excuse to go drinking with your mates. Therefore, without any drinking culture, firms don't ponce around wrecking each other's pubs, but instead focus on 'capturing' the flags and colours donned by their rivals.
These are seen as the ultimate prize and are defended to the hilt. To lose a flag or scarf in a fight is seen as worse than having your skull caved in. To lose something of such value, you bring shame on your club.
Anyhow, once a club accrues enough rival flags and scarves, they then wait for a relevant match before hanging them upside down and torching them in front of the 'enemy'. In essence, this is seen as a final, boot-licking humiliation.
And seeing it first-hand, it's fucking spellbinding. Mixing hate with unbridled joy, the scenes brought to mind those vintage photos of Nazi book burnings. Sinister and intense, Tychy's incineration of Widzew's colours was conducted in an atmosphere of rabid glee. Sheer venom blended with unpent triumph. In the background, police and security running panicked through the hateful black haze spewing from the fence.
As striking as this was, it was not the last act. In one final taunt, once the smoke had died down, the LKS mob among the home crowd used the moment to debut their own flag, one that closely mimicked – right down to the same font and message – one of the Widzew banners that had just gone up in flames. Quite simply, it announced LKS to be the true 'fighters' of Lodz.
Webber Is Shamed!
I have two phobias – spiral staircases and public speaking. The former, I'm certain, probably stems from being slayed in a turret in some glorious past life as a noble knight. The other, I guess, has more in line with the fear of public humiliation. So with that in mind, get this:
So there's me snapping away at the burning banners and leaping flames; I'm focused and 'in the zone' – I'm in my own world and buzzing. Then BANG.
Fucking hell. A massive clank to my head. Big black dots fill my eyes. Skull wobbles like it's been smashed with a frying pan. Like in Platoon, I stagger around babbling something about being hit. Maybe a bottle hurled from the crowd?
In utter confusion I stumble about, checking my head with my hand in a dream-like daze – I'm expecting a seeping wound and gushing blood. The dots have passed but my vision is a distorted blur. Ears are ringing like the bells of fucking Westminster. But on my hands? No claret. Confusion. Seconds pass and my senses retune back to normal with a weird woosh-like sensation. What the fuck?
And that's when I hear laughter – not just one laugh, but thousands of wicked cackles filled with cruelty and spite. And then it dawns on me. The entire stadium is laughing at me. I've been smacked in the head by a stray scud of a shot. Public humiliation? I absolutely bloody hate it.
Saved!
The Gods of football can be kind at times. Flushed red with embarrassment, I'm wanting the earth to swallow me. I feel like I've had my pants pulled down. But then, salvation! Mocking jeers are replaced with craned necks and silence. And then, an explosion of joy. With seconds left, and my reputation as a handsome, swashbuckling hooli photographer in tatters, Tychy have stormed up the pitch and smashed in a winner. For the crowd: pandemonium. For me: relief that I've been forgotten.
For Afters
A quick mooch around after the final whistle did enough to show the police had got their act together, so instead of looking for trouble I went looking for a pint. I've already mentioned the lack of matchday drinking culture, but that point was further highlighted when I discovered the entrance to the stadium pub.
Hidden up a set of shadowy stairs, I walked into a place so quiet that I assumed it had already closed. It hadn't, I just happened to be the one and only guest. Looking more like a flashy cocktail bar, it turned out to be an absolute gem with its key feature being an outdoor gallery overlooking the pitch – an ideal place if you've got a couple of hours till your train out of dodge.
"Beautiful," I said to the barman, "can you sit here during the game?"
"Nah," he replied, "the club don't want things dropping down from the ledges."
A valid point I thought, were it not for the fact that the club seemingly doesn't give a toss about fans setting the stadium on fire.
But whatever! Sitting there with a pint, gazing out over the now empty stadium, I was struck with that warm, glowing feeling that comes when you already recognize that it's been a day you'll remember.