Date: 12 September 2020 / League: Polish eighth tier?
Primer
Konstancin is a small satellite settlement outside Warsaw, and I'd imagine the most affluent place in Poland: in lavish palaces dating from the age of Chopin, it's in this prim town that the ambassadors, CEOs, politicians, former aristocracy and retired finance gods reside. But while I've known all that for years, never did I realize it was also home to a beauty of a ground!
Getting There
I ordered myself an Uber from central Warsaw and it took, oooh, I can't remember – 40 minutes maybe? Cost? I'm guessing, but around PLN 60. In English terms, a bit more than a tenner.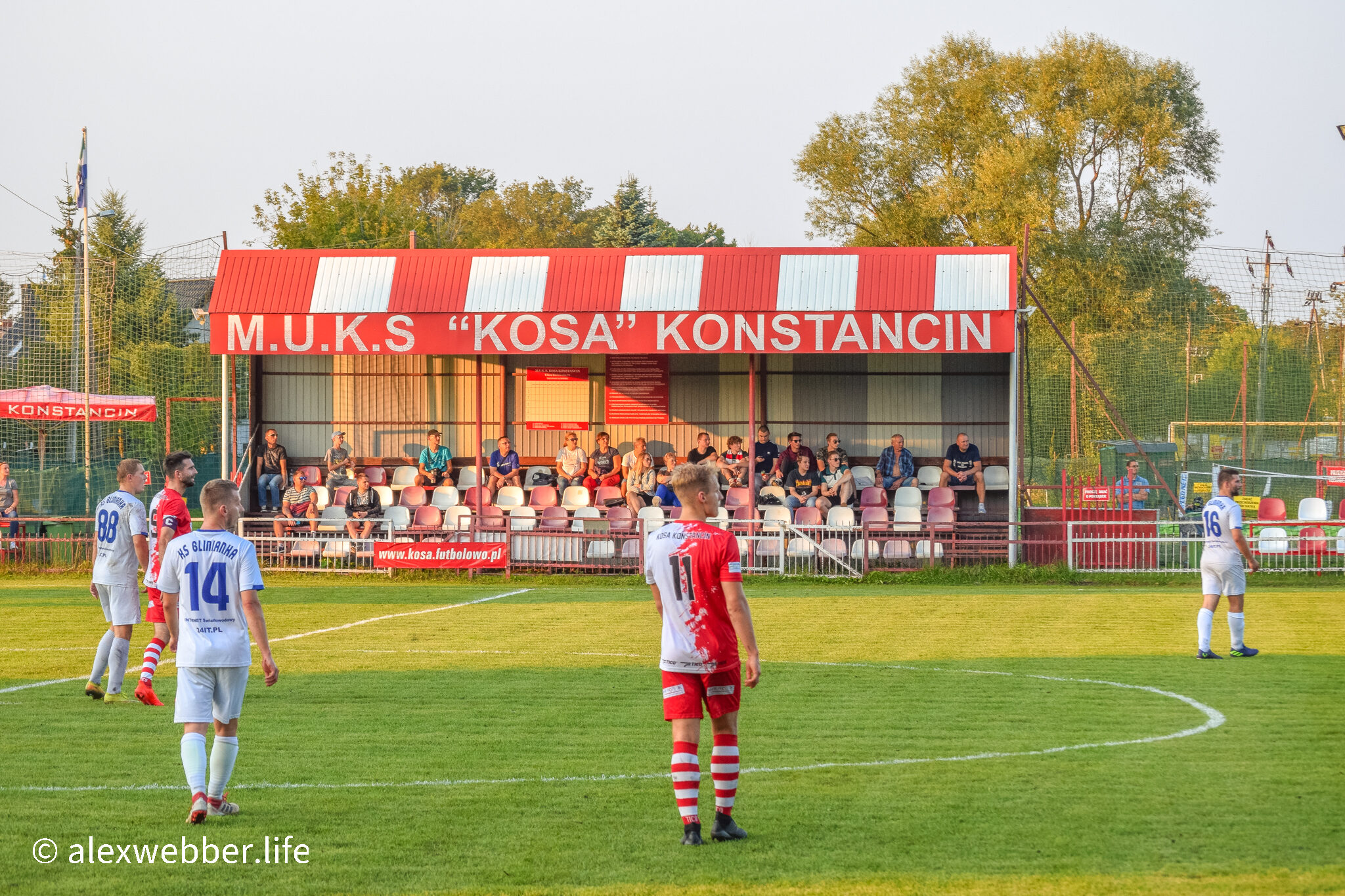 The Stadium
Maybe it's just me, but it brought to mind a miniature, hallucinogenic version of Southampton's Dell and Brentford's Griffin Park – lots of tidy red and white colours, strange angles and chocolate box stands; and that's before you start looking at the geography….
Dramatic as the name sounds, the Kosa Arena is a small-scale ground wedged somehow between a train track, a road, a drainage ditch, a bus stop and a random flurry of portacabins. Lined with leaning picket fences and wonky pitch markings, it's a rickety marvel in a country where lower league grounds tend to consist of one row of seats running the length of the pitch.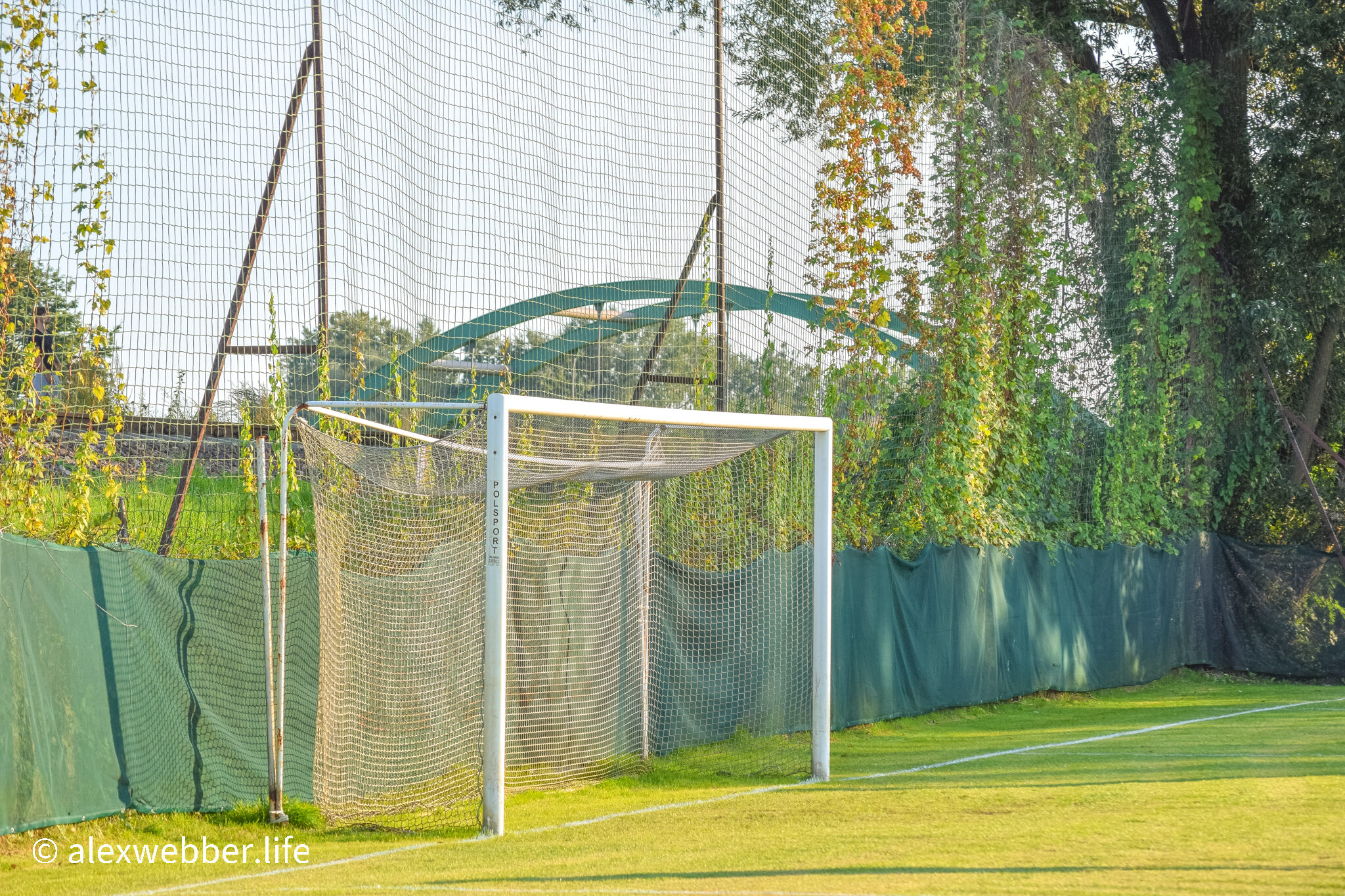 To Know
Bring your own beer! There's no bar on site, and while the signs outside forbid the import of beer, no-one bats an eyelid.
Facilities
The toilet is amazing! It opens, really, right onto the road – not the pavement, for that's about the span of a small infant, but the actual bloody road! Swing the door and you're about twenty inches from hitting a car. And f**k woah, to get inside the ground you're passing a bus stop that leans and cuts practically right onto the pitch. There is also an away end, but that consists of a set of about 20 portable seats that are usually left dumped somewhere to the side – it's not a league that attracts big followings, after all.
I'm not sure what the strangest part of the ground is – but maybe, it's the stack of portacabins behind the main (and only) entrance. That's where the 'club house' seemingly stands and where the officials and players gather on a gallery overlooking the pitch – despite my best efforts, I could not get up there.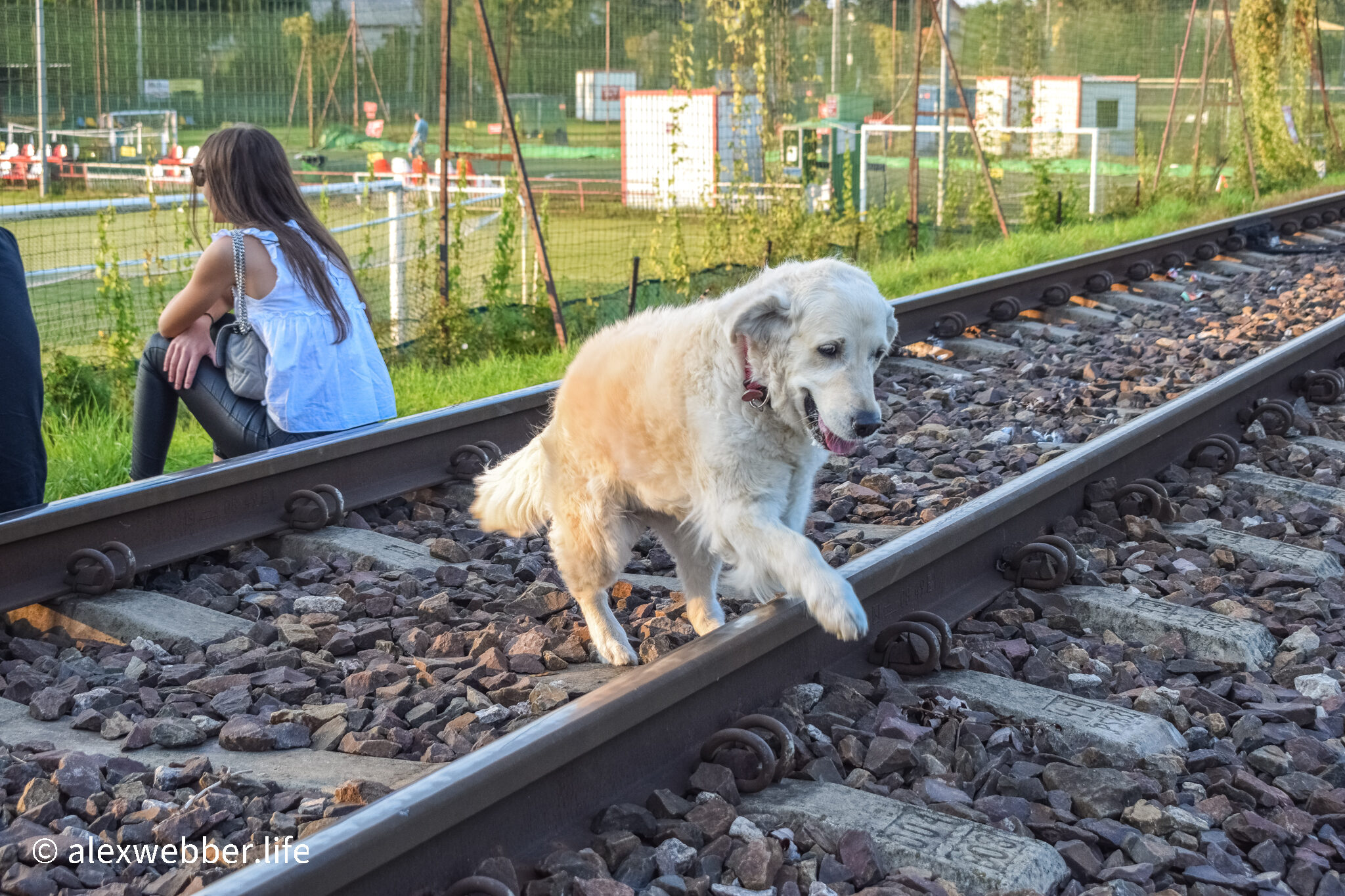 Half-Time Tip
Migrate! When you've done the first half then get out of the ground and loop around it to watch the second half from behind the train tracks that back onto the far goal – you will not be alone!
Anything More?
There is another place from which you can watch the football, and that's from behind a net that runs along a drainage ditch to the side. There were people doing exactly so, and all the time they were hauling out beers and crisps from the boots of their car. No idea why they'd choose this vantage point over the others on offer, but fair play to 'em.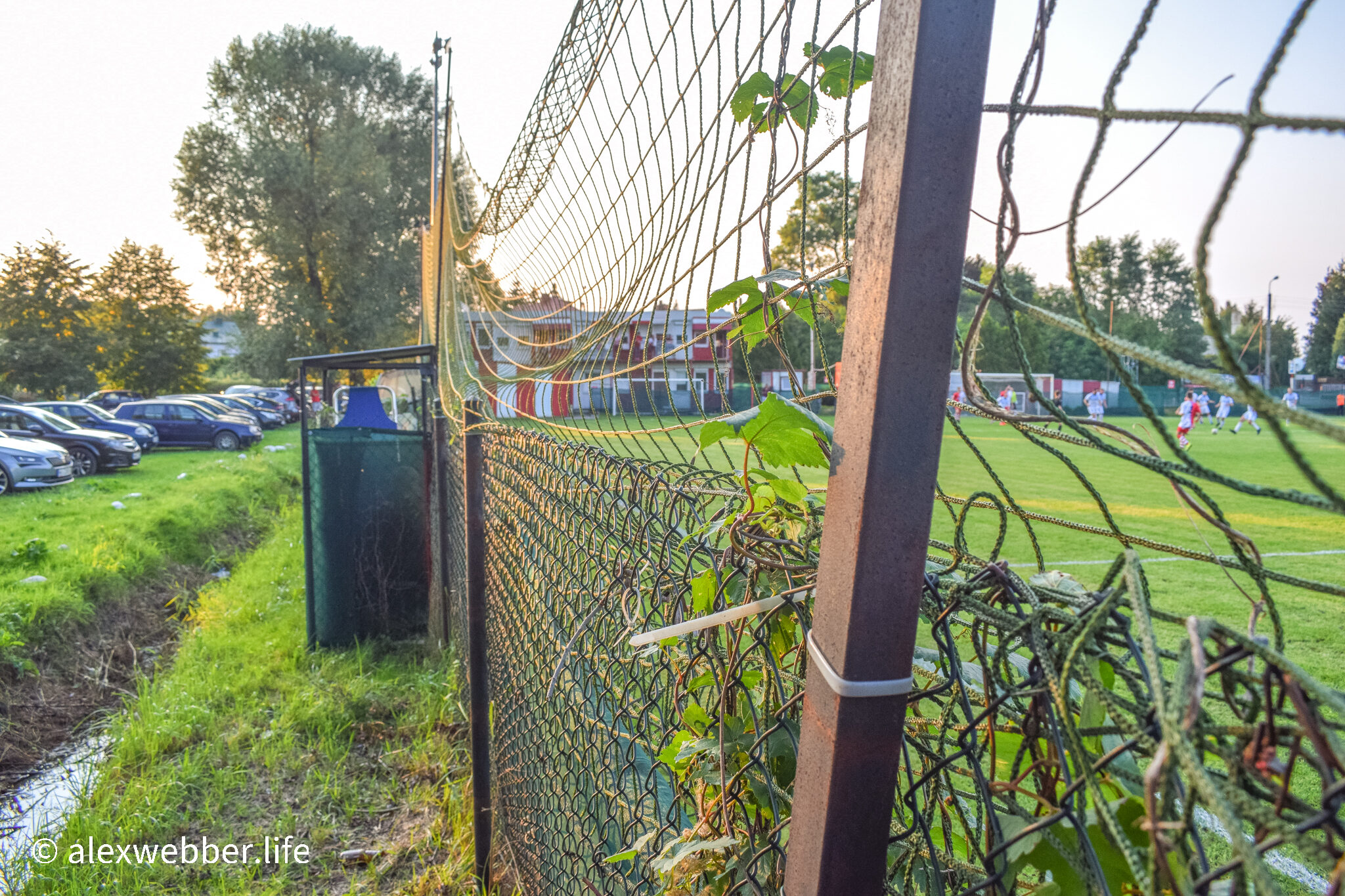 The Club
I might be totally off the mark here, but I've heard – and a few websites seem to support this – that the club was only actually founded in the early 2000s. Doing the founding was some dude called Roman Kosecki, a Polish politician that in a previous life captained the national football team and turned out for Atletico Madrid. Might be wrong on this, so don't shoot the messenger!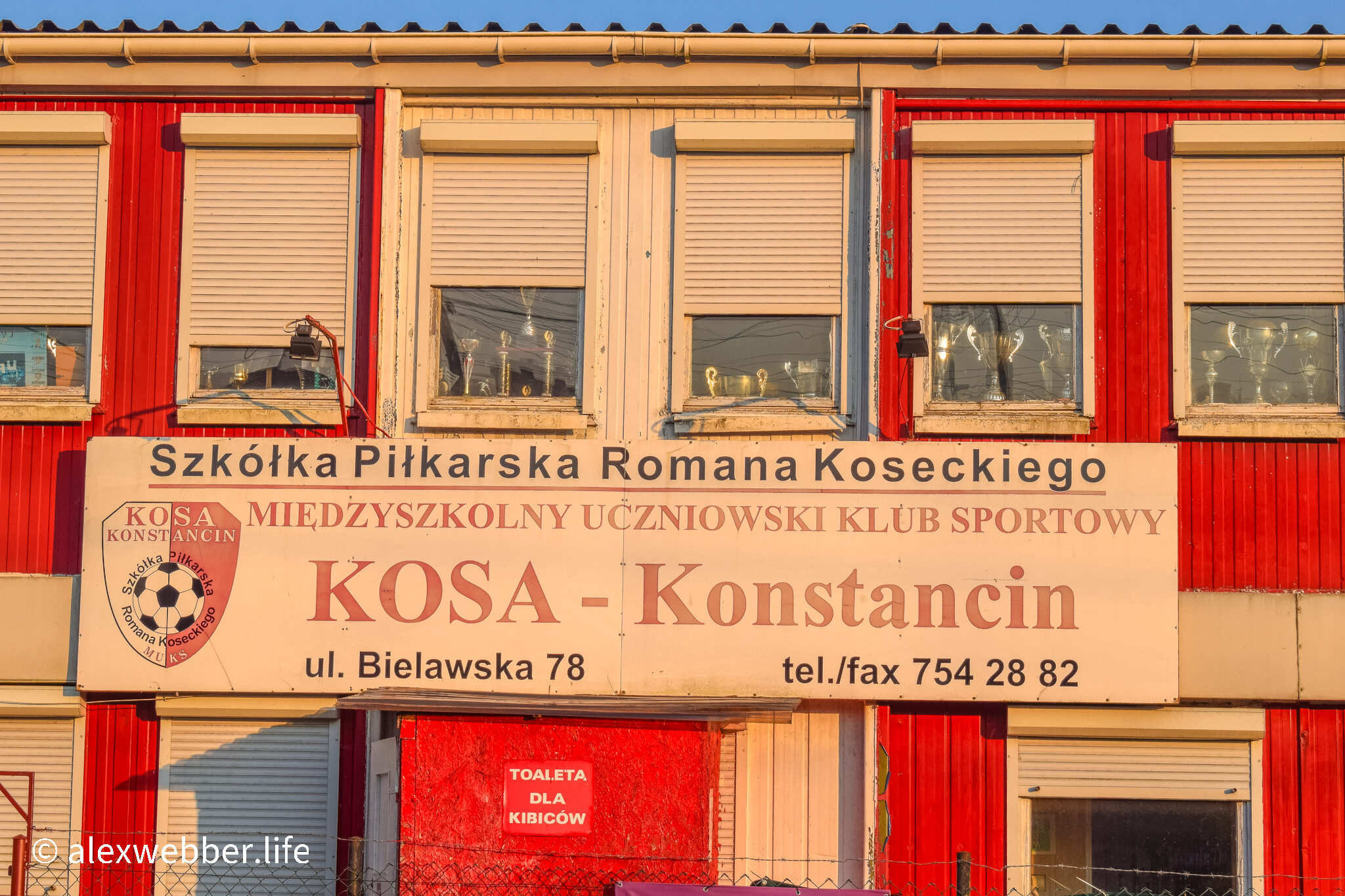 And Konstancin?
For a post-match pint with a difference, head to Park Café, a formal looking hangout inside a 19th century palace. Yep, a pint in a palace – there are many 'normal' people that drink here, but during the summer wedding season don't be surprised to find a driveway blocked up with supercars and morons. Whatever you're wearing, you'll still feel half-price.
Close by, there's some leafy streets to wonder and perv with envy upon the lives of Poland's one percent. Doing that mind, make time to stop at the corner of Prusa and Niecala – formerly used by the NKVD as a detention centre, this building later functioned as a standard police station until the cops freaked out and f***ed off.
Abandoned but still well-kept by whoever the owner may be, the place is said to be haunted by a guilt-ridden Soviet officer. "Maybe he's trying to reveal something," explains one of Poland top ghost hunters, "maybe he's trying to tell us where he buried his victims."
Final Word
If you're in Warsaw to watch Legia or Polonia, then pencil in this ground as well. Presenting a more romantic side to Polish football, it's more like something you'd see in Midsomer Murders – me, I couldn't help but imagine sipping a glass of Pimm's while investigating the groundsman's murder. My guess: lead pipe, stairwell.