Date: 28 August 2021 / League: Polish 5th tier
Final Score: 1-0 / Attendance: approx. 300
In A Nutshell
A killer of a journey and a killer of a hangover fail to dampen the magic of this lower-end beauty…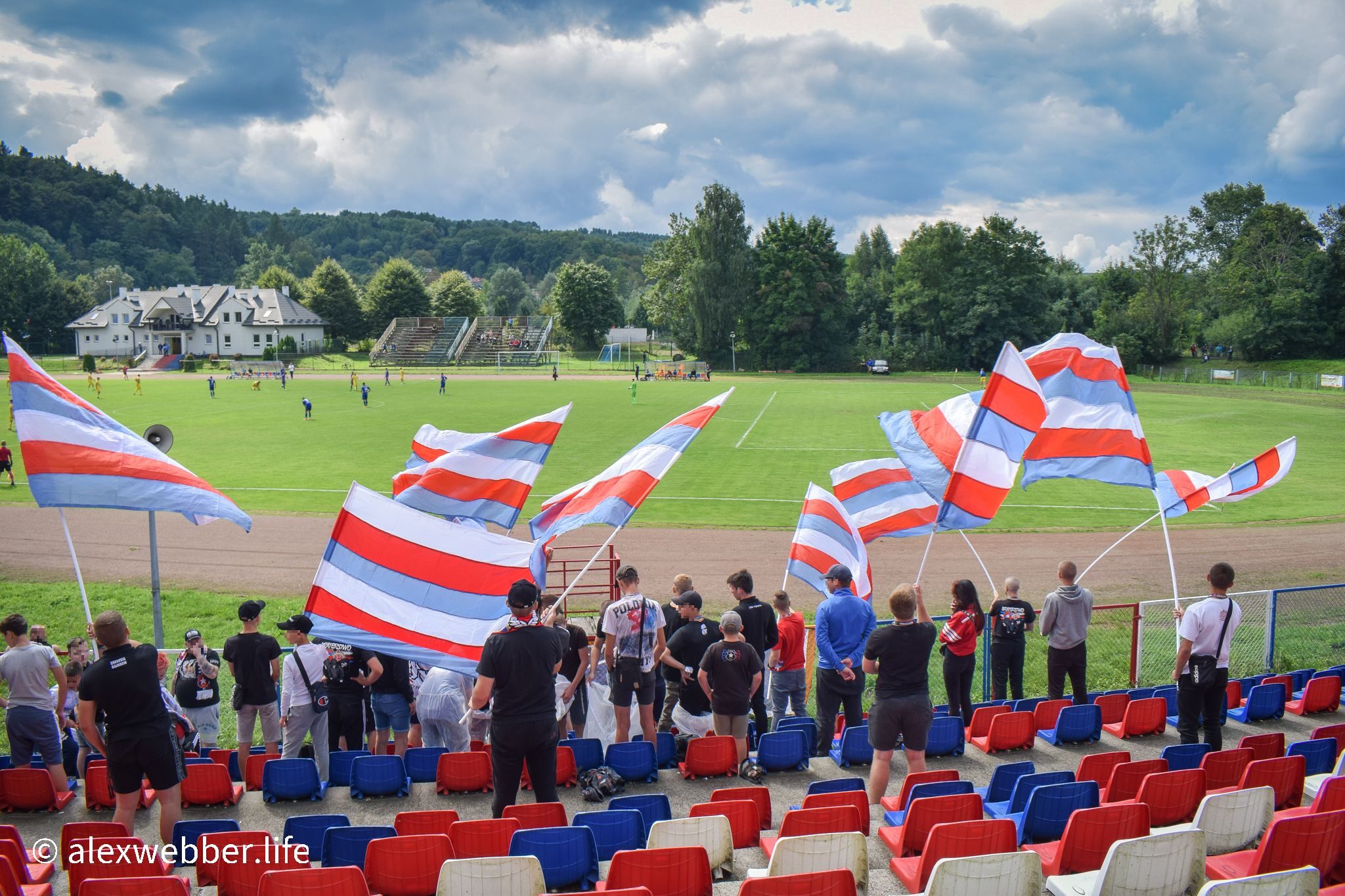 Getting There
Rzeszow is the easiest major city to arrive via (at least, the nearest one with some flights from Britain), and from there you'll need 90-minutes on the train to reach Przemysl. Krakow is also an option with rail travel taking just over three hours. From Warsaw, only an idiot would decide to go by train (hi!). Officially slated to take six-and-a-half hours, delays and breakdowns meant my journey went well beyond eight.
But boy, is it worth it – the station alone brings to mind the palatial residences of the Habsburg Emperors and looks like it could have been built on the orders of Versace. As for the stadium, that's a scenic 20-minute walk through the Old Town or ten minutes or so by cab.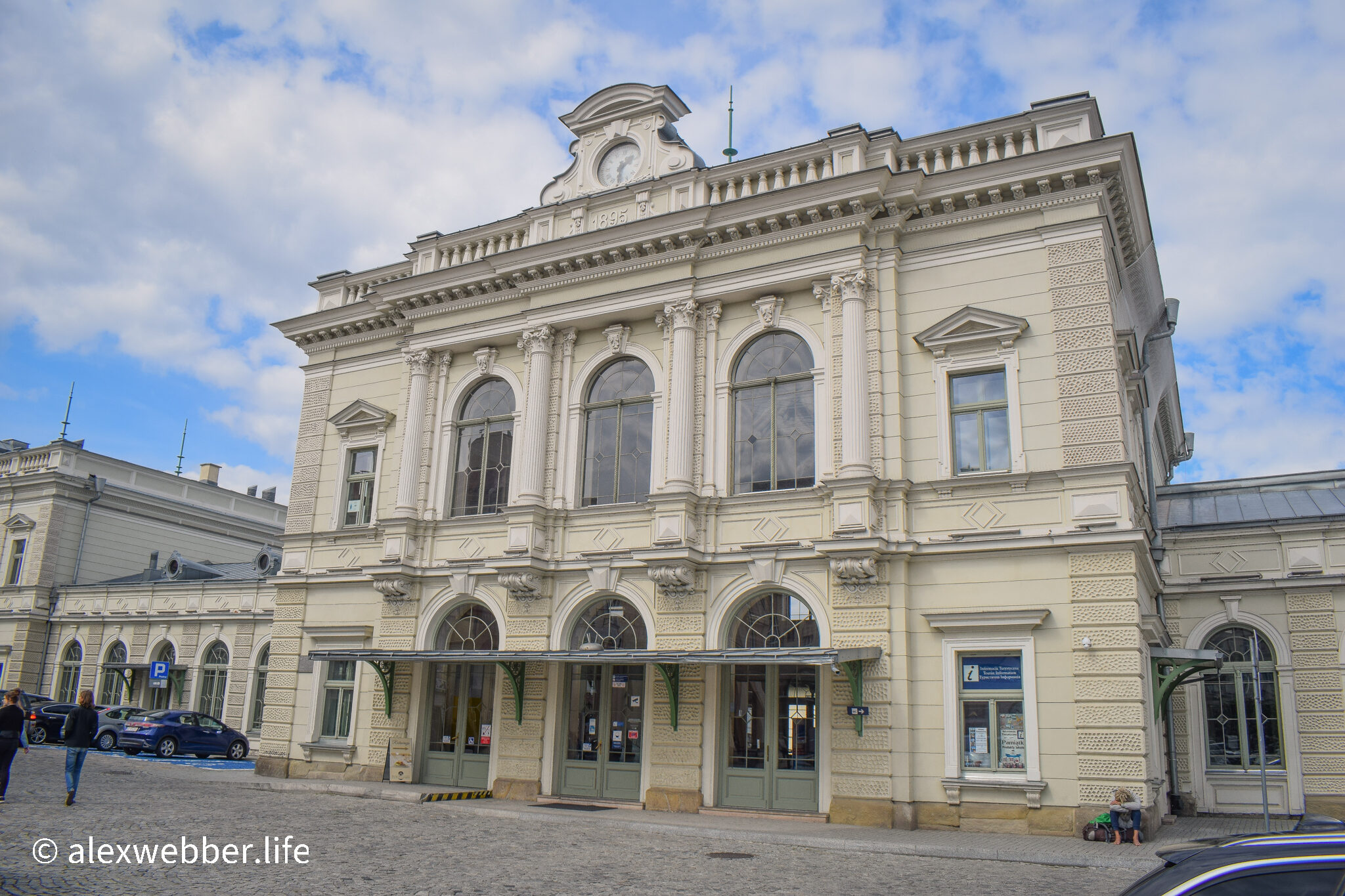 Background
These are not exactly small towns (Przemysl: 60,000; Sanok: 40,000), but their off-grid geography has counted against them and kept mainstream success out of reach. Regardless, both fanbases enjoy, at least to my knowledge, a very solid reputation in their region. Being something of a regional derby, previous meetings between these two had been fiery, so I travelled to this game in a state of quiet anticipation.
Stadium
As a stadium nerd, this is precisely the kind of place that I love to uncover. Entered under a sign written in a groovy 70s-style script, the ground presents a motherlode of curiosities, inconsistencies, contrasts and treasures.
A tale of two sides (the ends are nothing more than grassy banks), one of these has been replenished to feature newly-fitted seating – yet for all this token posturing, the club ain't fooling no-one. Hastily bolted onto a curvy, open terrace, reminders of their lowly league level are apparent courtesy of a crumbling pig pen whacked onto the bottom of this tribune.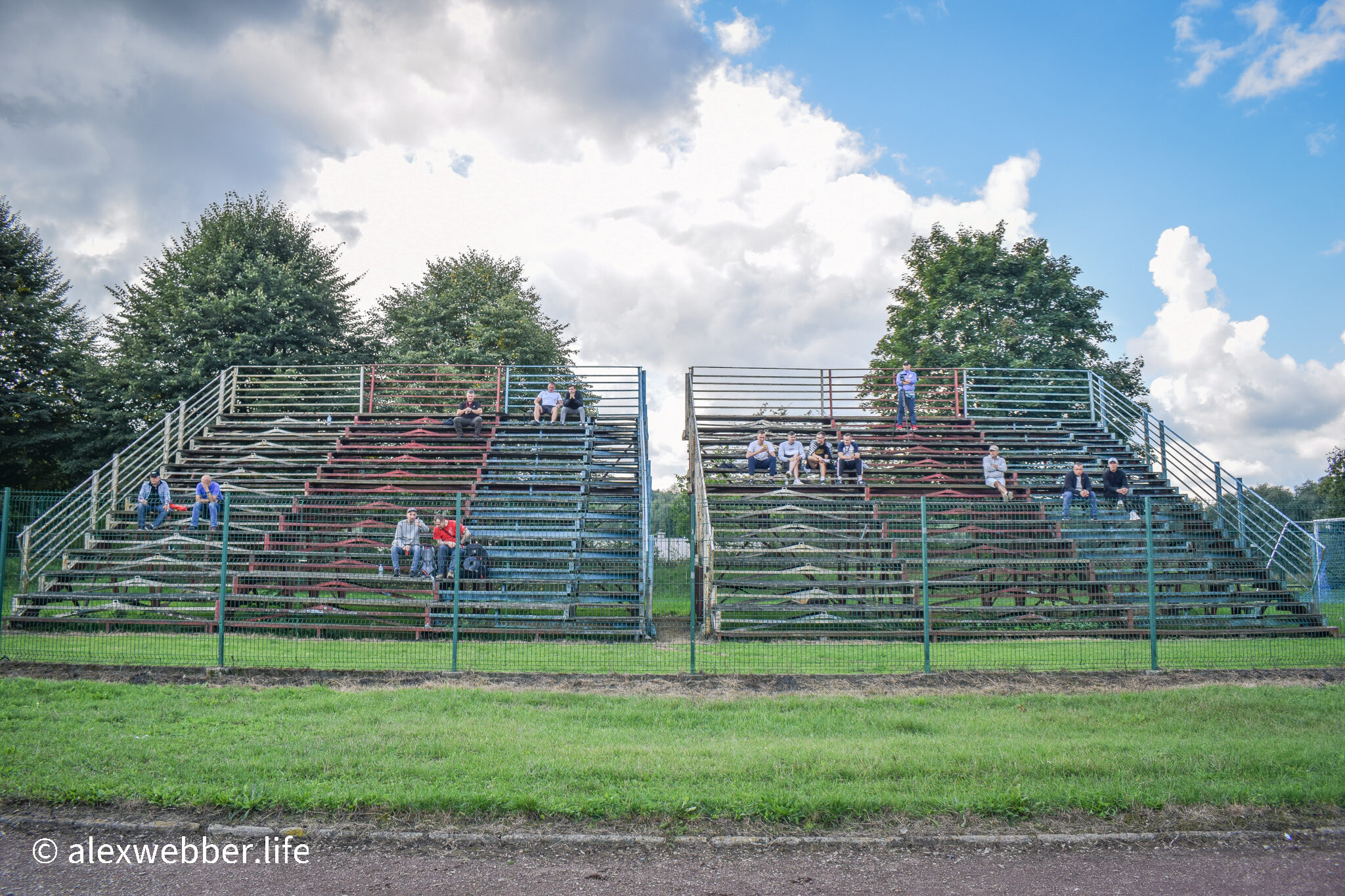 Not that this cage is used as an away sector anymore – for that, look across the pitch and the two wooden, scaffold-like stands. What a pair they are – when I describe them as stands, think more of splintered strips of wood stacked on a cat's cradle of rusting metal.
But there's more! Sitting next to this wobbly, weathered duo, find the club's HQ and changing rooms occupying a splendidly nouveau riche villa built overlooking the pitch – I love the idea of the upper floors serving as the home of a flashy chairman with a love of sovereign rings, sunbeds and strippers (legal disclaimer: I don't have a clue who the owner is, but I'm certain he's nothing of the kind!).
And let's not forget the view – rising in the distance, the city's Castle Park looms on the horizon, its incline covered by a phalanx of trees. Dark and mysterious, you wonder if the edge of the world lies over this steep, hilly crest.
Experience
Let's backtrack a little. You remember how I said it took me over eight-hours to reach Przemysl? Rewind to that point: by the time I arrived, evening was already well in full swing, and damn right I had that Friday feeling. Chucking my bag into some spartan apartment I had rented, I hit town like a whirlwind.
Having travelled all that bloody way, I came within a whisker of missing the game after sleeping through my alarm and the snooze calls that followed. Saved only by the fact that my apartment was so crap as to not feature curtains, I was woken by piercing sunlight slanting through the window – groping around for my phone to check the phone, I was surprised to learn that the match was kicking-off in approximately ten-minutes. Yikes!
But isn't it just amazing how fast you can move if a match is involved – within twenty minutes flat I was inside the ground – looking green, dishevelled and with a sock hanging out of my pocket, but nonetheless inside the ground. I'd made it.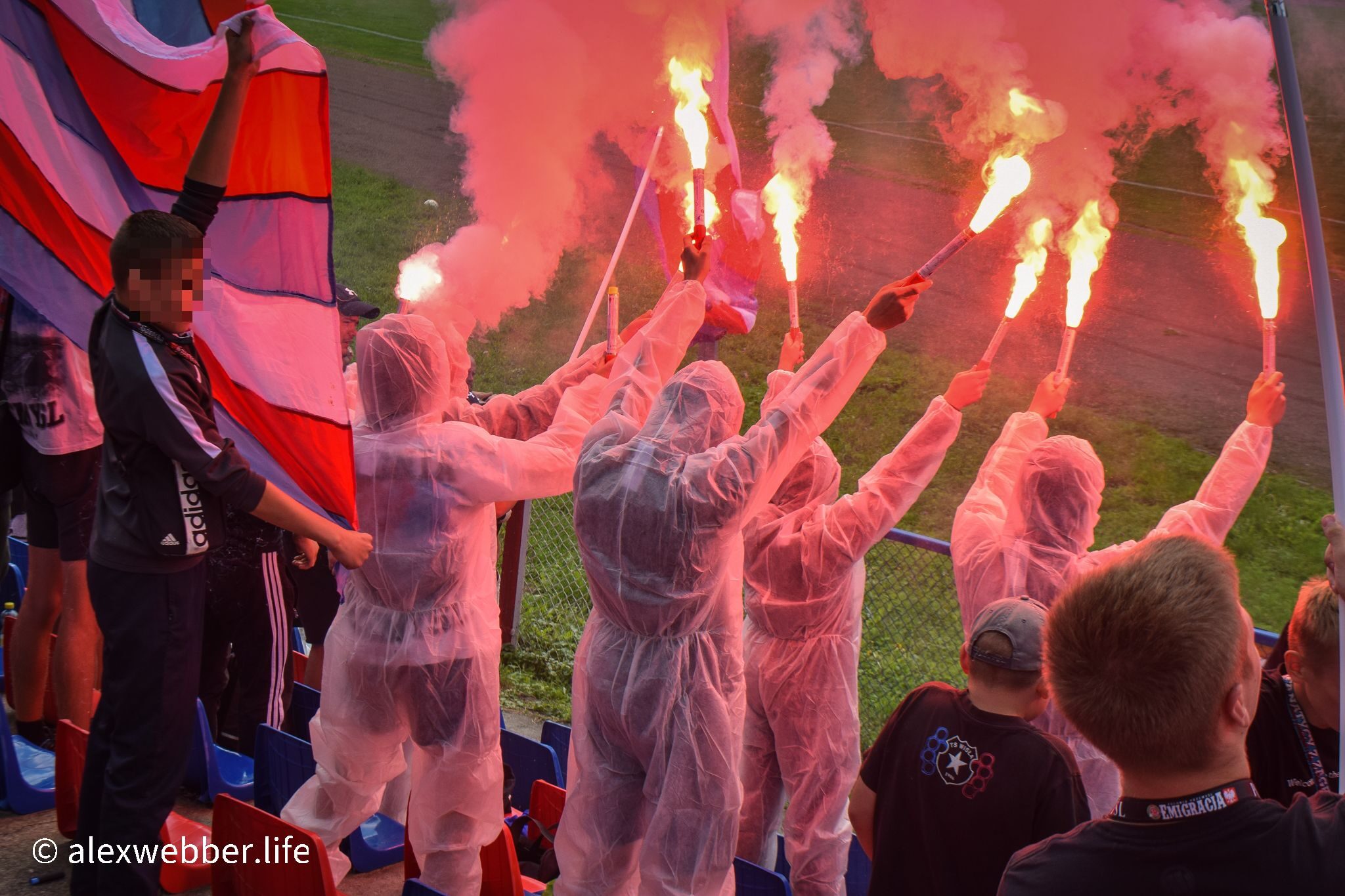 The away fans hadn't – I had seen nothing online in the lead-up about them being banned (I wouldn't have bothered travelling had I known), so to find out on the day was one of those heart-sinking moments met with a very loud AAAARGH.
In hindsight, mind you, it worked out fine. If you're mashed from the night before, this stadium isn't just perfect, it should be a prescribed by a doctor: though lacking any catering within, you're free to crawl to the convenience store across the road to stock up on purple energy drinks and fags before then heading back into the stadium to chill in the shade, snooze on the grass and then vomit in the bushes when it all gets too much. Slowly, you revive.
Wait up mind, for I'm underselling this match. Though I spent most of the first half in a zombified state and staring at the clouds, the second half saw my soul revived and regenerated thanks to the supporters.
Though the crowd was sparse and lacking many of Polonia's older ultras, their younger lot (and I mean younger: there were some that couldn't have been more ten), did a fine job of revving up the noise and pulling me back from the doors of death. Flags, pyro, you know the drill. Guided by the few older heads that had turned up, they turned what could easily have been a flat disappointment into a day where the atmosphere was as special as the ground.
After
Having squandered the previous night in some shadowy basement purporting to be a heavy metal / craft beer pub, my few hours of clarity the next afternoon took me past WWII bunkers, an ethereal Jewish cemetery and then the Old Town itself – a place of sloping cobbled streets and soaring church towers, Przemysl's historic centre is something of a beauty. Neither is it short of weird curiosities – for instance, track down the beer-swigging statue of The Good Soldier Svejk or prepare to be baffled at the astounding and bizarre Museum of Bells & Pipes.