Granat Skarzysko-Kamienna v KSZO 1929 Ostrowiec Swietokrzyski
Date: 16 June 2019 / League: Provincial Cup Final (Swietokrzyski province)
Final Score: 1-3 / Attendance: 2,000
In A Nutshell
A naked Russian, an escaped parrot and a provincial cup final played in the city of Kielce – this weekend was the gift that kept on giving!
Getting There
Planted between Krakow and Warsaw in the country's centre, Kielce is accessed easily from both of these major cities. By bus and train, factor in between two-and-a-half and three-and-half hours to get down from either. Currently known as the Suzuki Arena, the stadium is about 10-15 mins by cab and about 15 mins on foot from the centre.
Background
Poland is divided into sixteen provinces (or voivodeships to give them their formal title), and each of these has its own Football Association and district cup played out by its lower league teams. In this case, I headed to Kielce which had been chosen as the venue for the Swietokrzyski area final – how important this cup is I've no idea, but with 2,000 present (I actually thought it was far less), I doubt either team had seen a crowd of this size all season.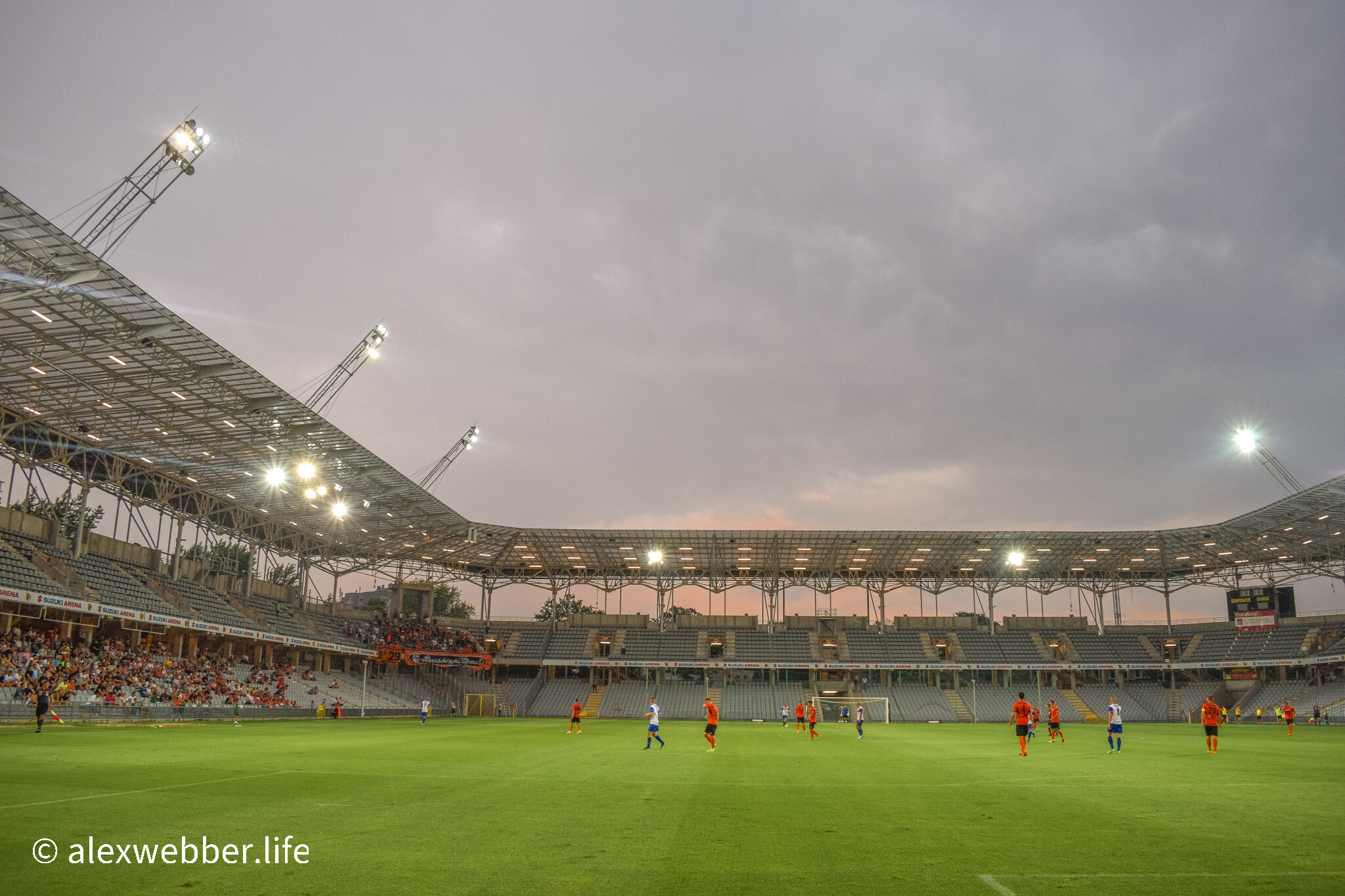 Stadium
Looking like it was delivered on a stringent budget, the 15,700 capacity Suzuki Arena was completed in 2006 to serve the purposes of the local side Korona Kielce. From the outside, its tacky aesthetics are lent a crass and visually jarring look thanks to the overwhelming proliferation of billboards. Within, the bare concrete forms and grey seating arrangements pronounce the anonymity of this ground.
Yet despite its uninspiring visuals, it does tick all the boxes required by football's governing federations which explains why Poland's national side have played here three times – in fact, it was here Poland recorded their highest ever score after thumping San Marino 10-0 in 2009 (among the scorers, an upcoming talent by the name of Robert Lewandowski).
Of course, far superior grounds have since been built around Poland, and as such this stadium has seen its national status heavily eroded – nonetheless, it was picked out to host three group games when Poland hosted the U21 European Championships in 2017.
Experience
The U21 Euros had actually represented my first trip to Kielce's ground. Enlisting for national service, I had headed down here to give England my backing, along with approximately 200 to 300 other English bods. Watching a diabolical nil-nil draw against Sweden, our meager number found itself emphatically out-sung by the 5,000 or so pissed Viking beer monsters.
This time the crowd was significantly lower but, in all honesty, probably actually even louder. Not without excitement, half-time also brought with it an overly ambitious attempt by 30 or so Granat to reach KSZO in the corner of the upper tier – alas, I've only got one very blurry photo in this album of the incident in question.
Afters
I found Kielce immensely enjoyable on this trip, so much so that I extended my trip by an extra couple of nights. It's not the most exciting of Poland's cities by any stretch, but it does have some great bars and an interesting historic centre composed mainly of 19th century tenements. If you choose to stay here yourself, I can recommend the Shoemaker, an Irish pub / B&B – tucked through a skanky passageway, initial suspicions lift the moment the place comes into sight.
Greeted by poppy red façade and cascading plants, the place reveals itself to be the most convincing Irish pub I've yet found in Poland – so yes, I spent much of my time road-testing Guinness underneath pictures of some bird called Grandmother Murray whilst chaos reigned around – among other events, my stay was marked by an escaped parrot flapping around the pub, and a naked Russian dude wondering the corridors whilst gently weeping in the shadows.