Date: 30 October 2021 / League: Polish 2nd tier
Final Score: 0-0 / Attendance: 1,894
In A Nutshell
Looking more like a fortified council estate with a pitch at its centre, this brutalist ground surely rates among Poland's finest football assets – a fitting place, therefore, for a gritty nil-nil draw slogged out between two local rivals.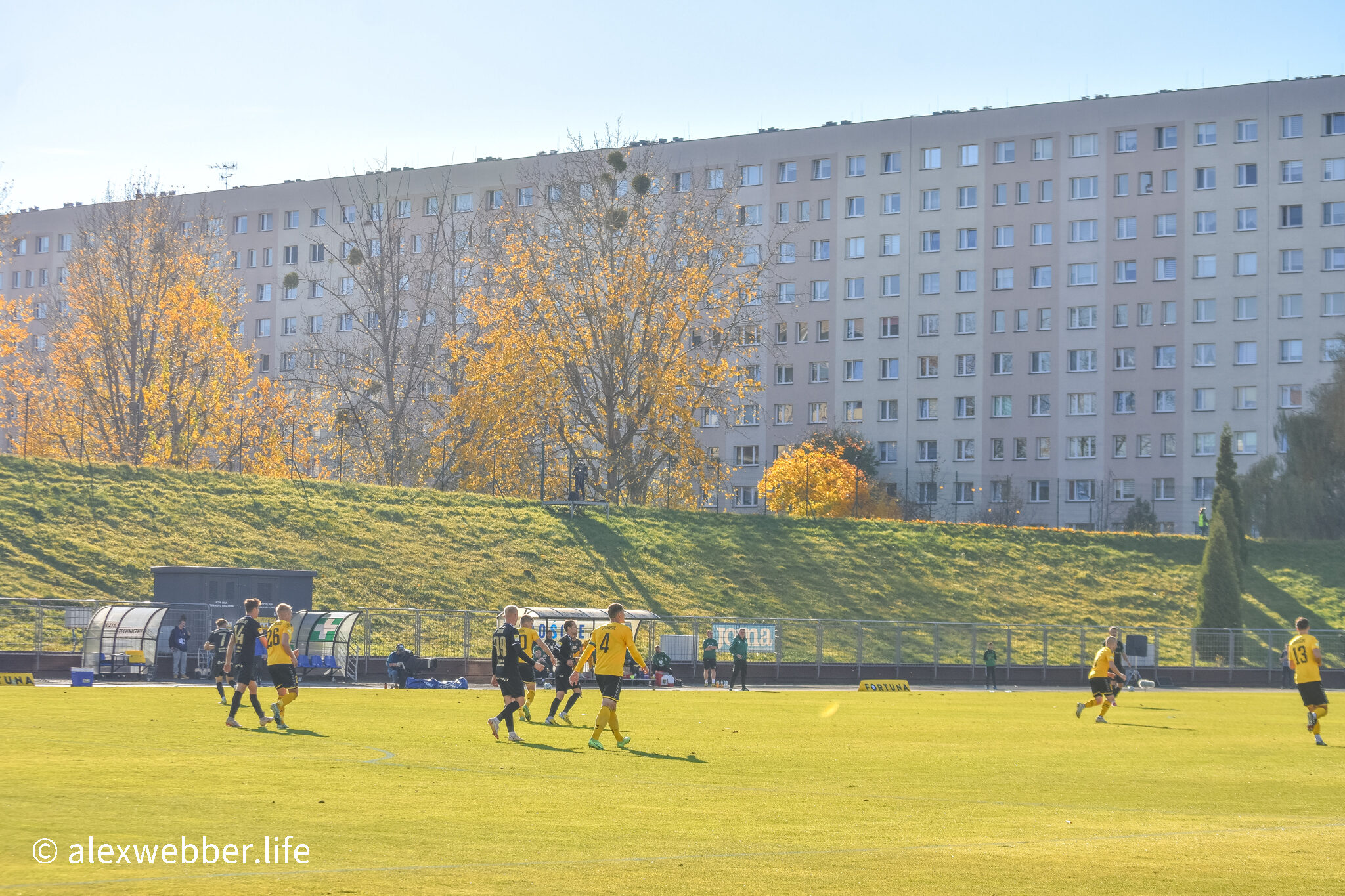 Getting There
I'd long harboured ambitions of visiting Jastrzebie Zdroj, but previous attempts had been thwarted by hangovers, missed connections and general buffoonery. Leaving nothing to chance, this time around I was up at 4 a.m. on Saturday to make sure I wouldn't miss this local derby.
On the face of it, it is easy to reach, with Katowice used by most as their staging point – having reached there, you'll need an onward bus whose departure point seems to change at a whim: check and double check to ensure you're waiting in the right place. Similarly, once in Jastrzebie Zdroj, drop off (and collection) points seem a little arbitrary and subject to change. You do not want to get stuck here for the night, so leave nothing to chance.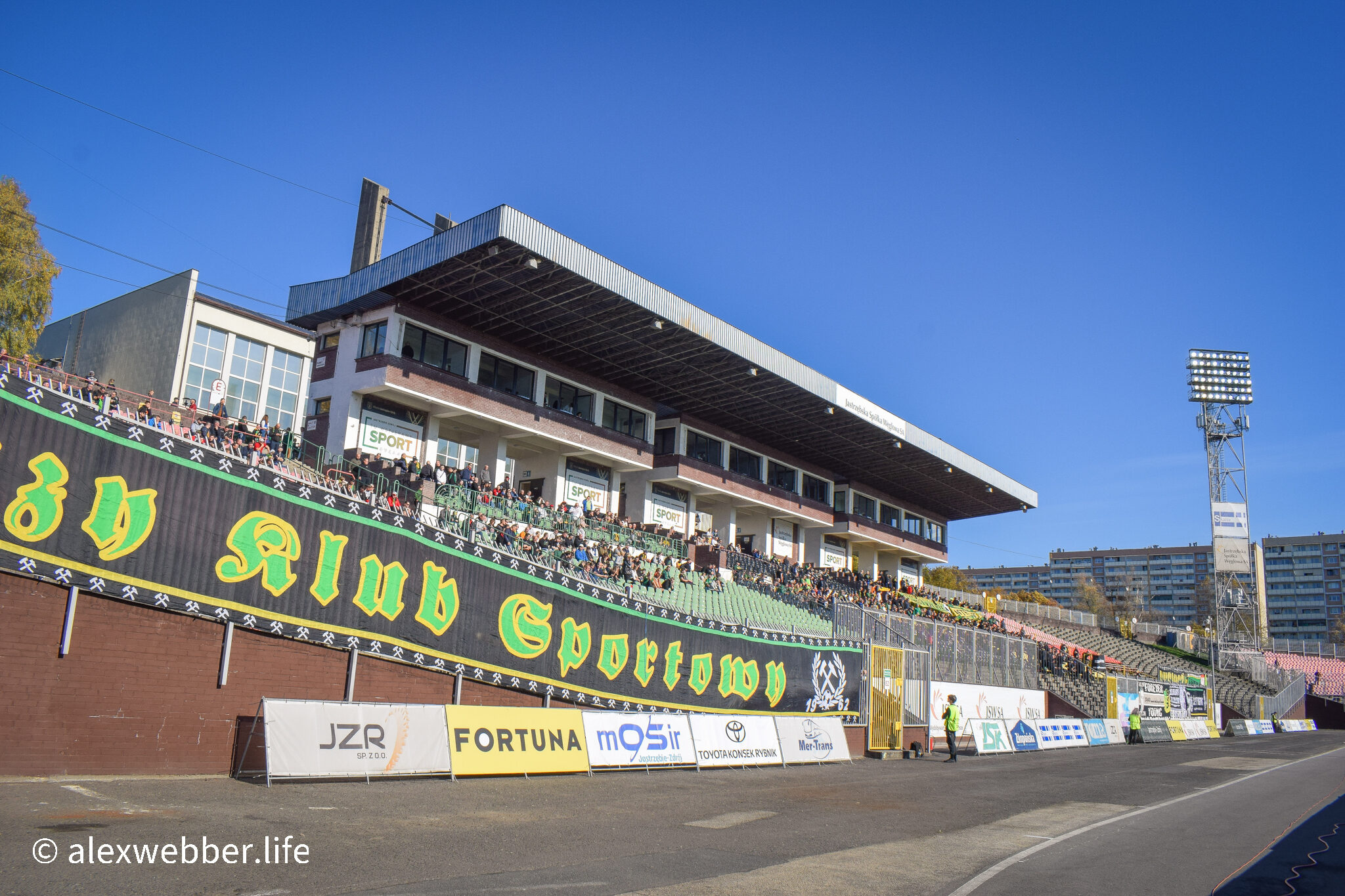 Background
Founded in 1961, GKS Jastrzebie have been through seven name changes in their short history, none of which have proved particularly lucky. Appearing in the top flight for just one token season, for the most part they've bounced between the second the forth tiers.
Polish Cup winners thrice over, and league runners-up four times, GKS Katowice have fared far better over the years and can even point to various European forays over the course of their 60-year odd history. Though not the biggest derby to be contested in the Upper Silesian region, with less than one hour separating these sides it has been known to get heated.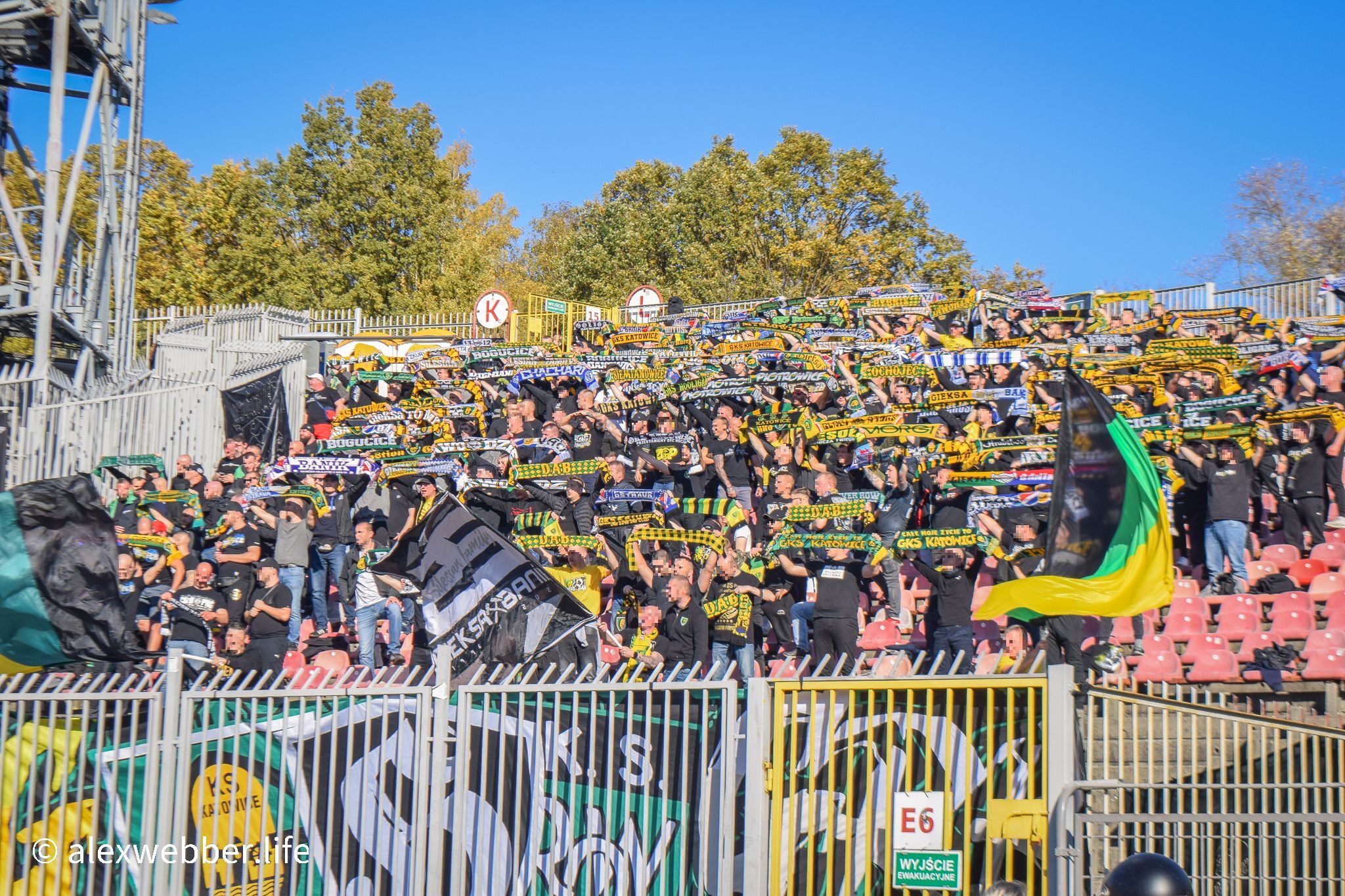 Stadium
Bestial and brutal in equal measure, consider this stadium a parting gift from the Communist era. Completed in 1989 – just as Poland was experiencing its political transformation – it overwhelms through its sheer unsightliness. So ugly as to be beautiful, it's a half-completed bowl featuring monolithic floodlights, acres of concrete, towering fences, a cheese wedge of an away pen and a jarring colour scheme that makes no sense whatsoever. Strangely, not one source seems to agree on the capacity, and I've seen different figures offered: 5,500; 5,650; 5,750; 6,800; and 15,000. Either way, it's far smaller than its overbearing dimensions seem to suggest.
Composed of red, black, green and yellow seats, these are almost lost amid the sea of bare terracing, and it's incomplete look is given added oomph by a vast stretch of grass running down the side. Nonetheless, when it opened it was considered one of Poland's most modern grounds – a point highlighted by the number of international fixtures held here. Among these, its inaugural match pitted England's U21s against their Polish counterparts (Steve Bull scoring a brace in a 3-1 win); three years later, Czechoslovakia played their final game here before the nations split forever; and in 1993 England's U21s returned, this time with a side featuring Andy Cole, Jamie Redknapp and Darren 'sicknote' Anderton.
Yet for all that, it is the setting that marks this ground out as something utterly extraordinary – penned in by vast housing blocks, these look like giant Tetris blocks that have thudded to earth in haphazard fashion. Practically throttling the stadium, they lend it an almost claustrophobic and dehumanizing form.
Experience
Regards the match experience, Katowice were only given 400 tickets but nonetheless did a grand job of giving me tinnitus. Backed by their buddies from Banik Ostrava, together these two allies provided a striking flag show in the colours of both clubs.
As for the home side, I knew they meant business from the moment I joined them for their pre-match march up to the ground – holy cannoli, there were some big lumps among them. That said, despite providing staunch backing throughout, I was surprised that they didn't produce any choreographed displays.
Certainly, the police overkill prevented any of the wild scenes this fixture has previously seen, but walking the estates after you can imagine that this was once a hell of an away day during the height of Poland's hooli scene. Definitely bad blood still lingers between the two sets of followers here, and I was made quite aware of that while tailing the home mob prior to the game. Postscript: this was to be a season to forget for both sides. GKS Jastrzebie ended up finishing rock bottom of the league, while GKS Katowice ended up slapped with a 6-month travel ban following a riot in their home game against Widzew.
Afters
Get out while you can! By all accounts Jastrzebie Zdroj was once one of the prettiest little spa towns in Central Europe, up until sixty or so years back when the authorities decided to turn it into an industrial, coal town.
Aside from covering the landscape with mines, that also meant the construction of a labyrinth of housing blocks – though these lend the ground personality aplenty, getting lost among them afterwards is an experience that is both depressing and distressing. Honestly, if ever I decide to top myself I shan't go to that weird forest in Japan where teenagers hang themselves, I'll save myself the time and go to Jastrzebie instead.