Date: 7 September 2019 / League: friendly
Final Score: 2-1 / Attendance: 900
In A Nutshell
A centenary celebration match that saw the sky all but catch fire in an immense display of fan firepower and passion.
WARNING
The fans of Beskid Andrychow are doing something quite special on Poland's football scene: whilst many organized groups are dwindling or dying, they have responded in a pro-active and determined way to the domestic 'supporter crisis' to keep their local football culture alive. To their credit, they have reignited the scene in their town despite the legal pressures that Polish football fans face.
However, their group does definitely not exist only for your amusement. This is their culture, and they are incredibly proud and intensely protective of it. Groundhoppers are actively discouraged. This is a beautiful stadium, and my visit here stands up as one of my favourite football memories of all time: but it is important that you bear in mind that I was specifically allowed to visit only after speaking to representatives of their fan group beforehand.
Yes, I am sure you can visit 'on-the-quiet' and have an equally great time, but my honest advice to any 'outsider' choosing to make the trip is to first touch base with their followers and explain who you are and why you want to visit. If they say 'no', respect that decision.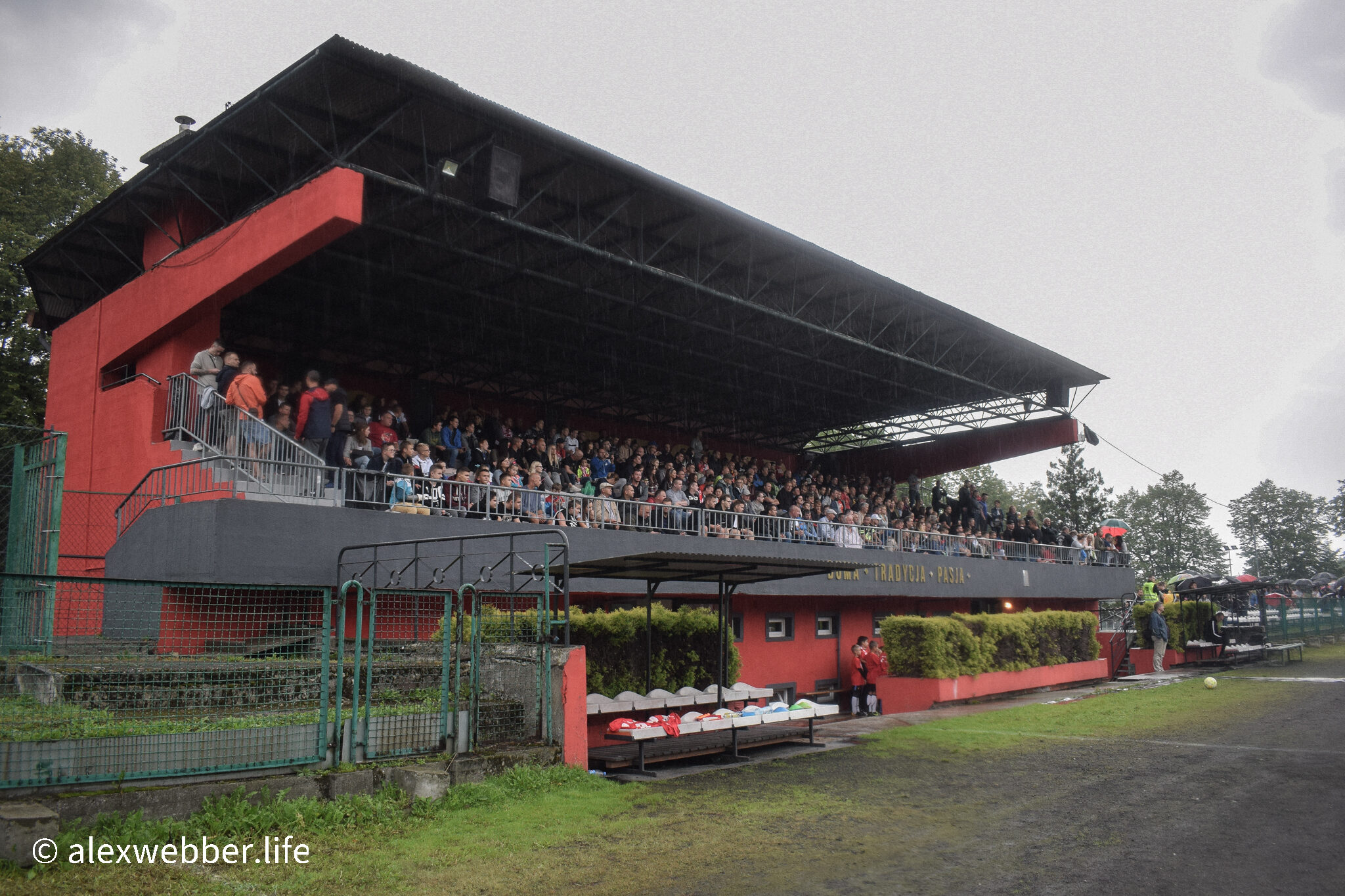 Getting There
Andrychow is not an easy place to reach unless you have a private helicopter. Coming from Warsaw, I took a five-hour train south to Bielsko-Biala and used that city as my base for the weekend. From B-B, Andrychow was a further hour on the kind of condemned-looking transport you usually see on a Michael Palin documentary shot in 1980s Asia. Having arrived, the ground was a 15-minute walk down a boggy country path left looking like an assault course after a fierce autumn shower.
Background
Andrychow's entry on the Polish-language Wikipedia weighs in at just four sentences long, and that should tell you much about the club's (lack of) historic success. What it does not tell you is that they have a small but passionate set of followers that have earned admiration all around Poland for their commitment. In an era in which ultra groups are dying on their arse, Beskid Andrychow's fans have revived the culture and carved a name for their colourful tifo settings and unwavering support.
Knowing this, my first experience of this fan group was at an away game in Krakow – played against an irrelevant suburban team by the name of Orzel Piaski Wielki, I turned up on a piercingly bright Sunday afternoon to find Andrychow had taken about 70 or so for this match (thereby pretty much doubling the attendance). Immediately I came under scrutiny after being spotted taking pictures.
Truthing it, I told them who I was and why I was photographing (for Stadionowi Oprawcy). "We've had some bad experiences with them," I was told, "don't send them your pictures."
Fair enough – I did not. I did though later find Beskid's own Facebook fan page and sent my pics directly to them. Over the following few days I spoke to the lad that looked after their profile, and I guess that the extent of my obsession with Polish football must have hammered through. "Look," he said, "we've got a massive game coming up so feel free to come down – but as before, no pics to that website." The deal was done.
Stadium
Just amazing. Words can't convey just how beautiful it is: in the main, its principal component is a small scarlet-coloured, cantilevered stand flanked by neatly-trimmed hedgerows; lying to its side, an away section accessed through a narrow tunnel of mesh-wire fencing. To call it an away end though, that's almost a fantasy – it's actually just a flat piece of concrete (since my visit, it appears they've added some temporary seats).
Elsewhere, woodland looms behind one goal (a red-roofed cottage poking out of the vegetation), whilst on the side runs an open bank of seating that leads up to a curious stone-clad gallery hanging over a grassy embankment. Flagpoles and fluttering banners line it.
I've no idea what the facilities are usually like, but with this being a special, one-off game there was also a couple of tents at the other end serving beer and sausages.
Impressively, that the stadium looks like this is thanks to the fans – so I'm told, it was the ultras that both paid and executed the entire renovation of the stadium by donating their own time and cash. To drive the point home, checking into FB in the days before the game, I saw that it was also thanks to them that the team had taken delivery of a new washing machine after announcing that their old one had broken.
Experience
Right, so… I've just revealed this was a special, one-off game. It sure was. Played as a friendly during the international break, this match was a centenary celebration of Beskid's existence and saw the home side host Zaglebie Sosnowiec – a club with which they share a long-standing friendship.
I'd got to Bielsko-Biala many hours before, and with so long to spare I did what anyone else would do in my position: I got trollied in the pub (a brilliantly artsy labyrinth called Srodek). By the time I rolled into Andrychow, I was walking like an octopus that had been taken from the water.
Beskid's fans, I was aware, had arranged to meet in the town centre so as to march as one to the ground, but whilst I would have liked to have seen that I'd been specifically been requested to not be present. Again, fair enough, so with that in mind I'd wobbled straight to the ground only to discover the sight of a beer tent. Oh Lord, I drank. But it was one of those days where no matter how much you throw down your throat, the clock just doesn't move an inch. When, eventually, Beskid's column of fans marched into view I was in the kind of state that would usually get you jailed.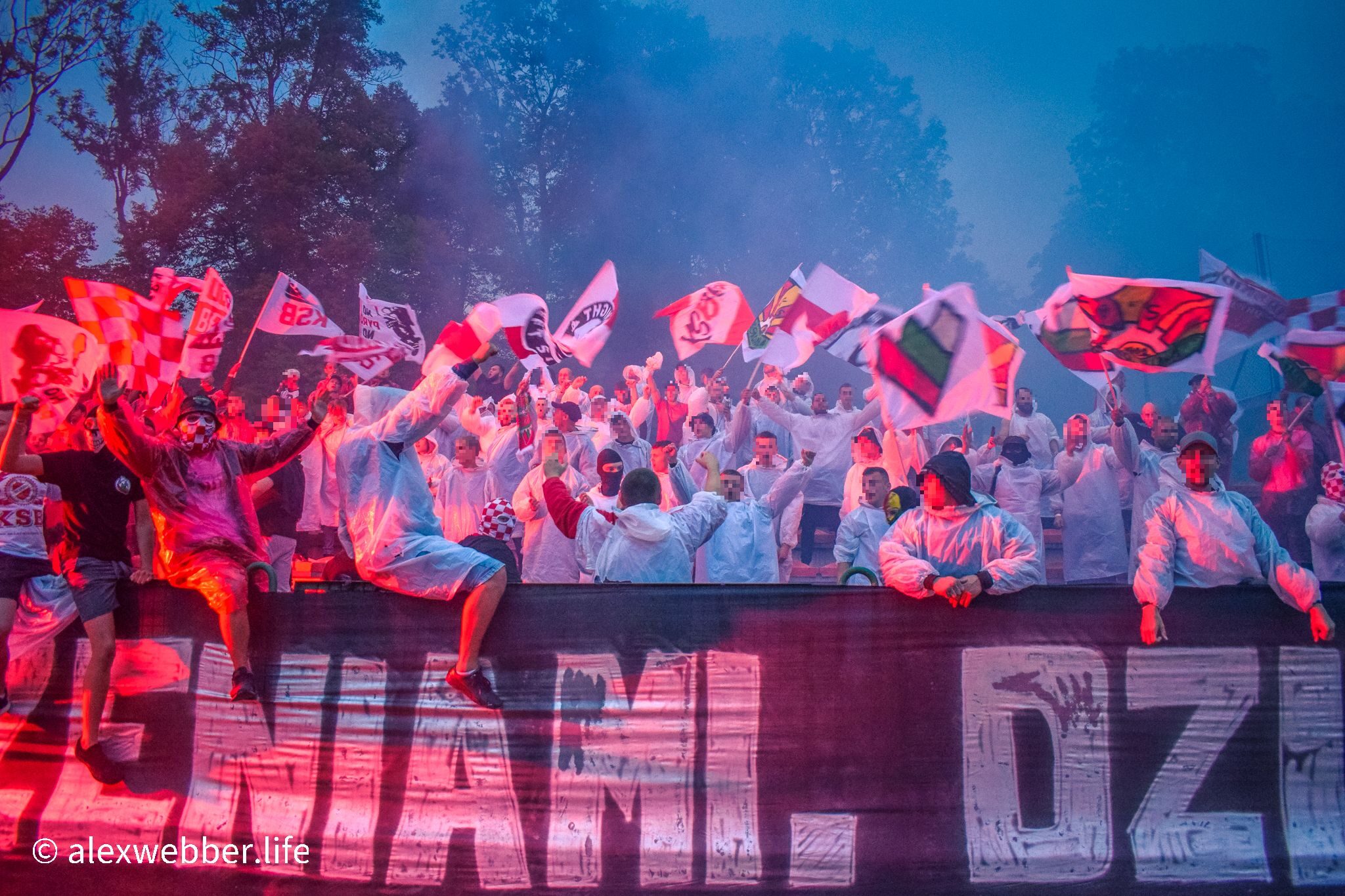 Despite being a total wreck (or maybe because?), I was approached immediately by the Beskid lads I had met in Krakow and immediately made welcome. Once more, they repeated their rules, but added emphatically that I was completely safe to prowl. "Anyone gives you grief, say XXX has cleared it."
I need not have worried. Everyone, absolutely everyone, thereafter treated me like some visiting dignitary. More beers were had. Stories shared with strangers while slopping lager over each other.
The match? A blur. For the first half, some fiery pyro, but for me simply more beers propped up against a forklift truck that was parked by the stand. "Do you like it," asked one of the lads at half-time. "It'll get even better in the second half," he continued. "You're alright to go into our stand if you want."
I cannot begin to describe that. Joining them inside the open stand, the sensation was of being sucked into a whirlpool of madness and celebration: all bouncing, jumping, flailing, lunging, leaping, and tumbling over each other. Fireworks being unleashed at point blank distance. And the noise. F***ing hell. Nine-hundred was the attendance, but it felt a hundred times more. Colour. Chaos. Insanity.
With the match stopped on the stroke of 19:19 (a nod to the year the club was founded), I found myself back on the touchline, walking up and down whilst fireworks and flares ripped all around. Over the fences, masked fans were reaching out embracing me as if I was one of the players. Frankly, it had morphed into one of the most extraordinary experiences I've ever had at football – something deeply wild and emotional to the point of being dreamlike. A once-in-a-lifetime experience where you feel the world spinning in the sky.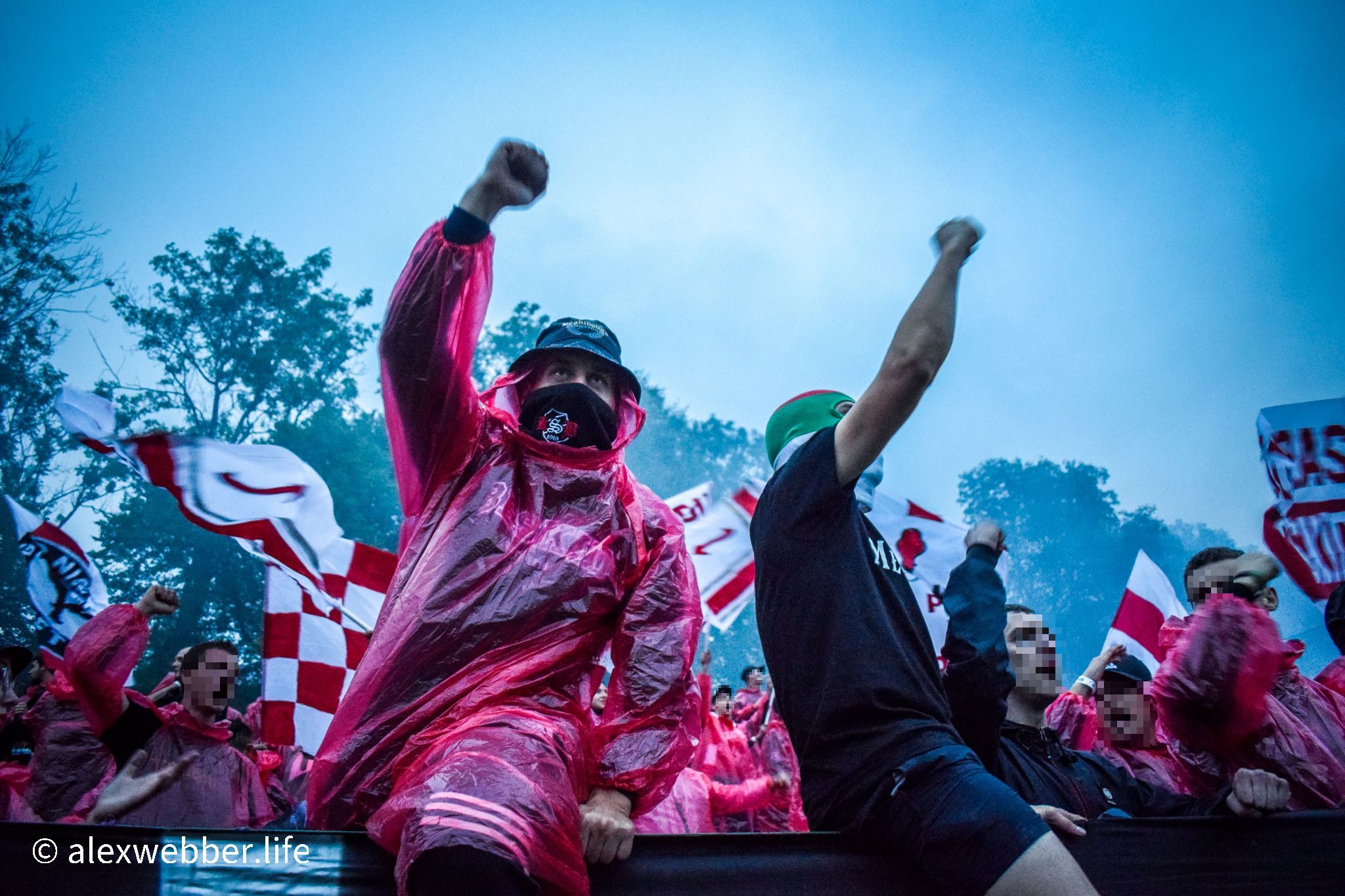 Final Word
It took me days to process this match, or actually even longer. Ludicrous as it sounds given that this was a friendly with an attendance of just 900 people, this is a game that has etched itself into my mind as one of the best I've ever been to. Not just in Poland, but anywhere in the world. It is days like this that justify those long hours on the trains and the dead-end weekends that end in disappointment. It is days like this that make football magic.