Date: 26 September 2021 / League: Polish 6th tier
Final Score: / Attendance: 250? That's a guess, not official
In A Nutshell
Beautiful madness inside a magical, enchanting chalet of a stadium – the kind of match you never want to end…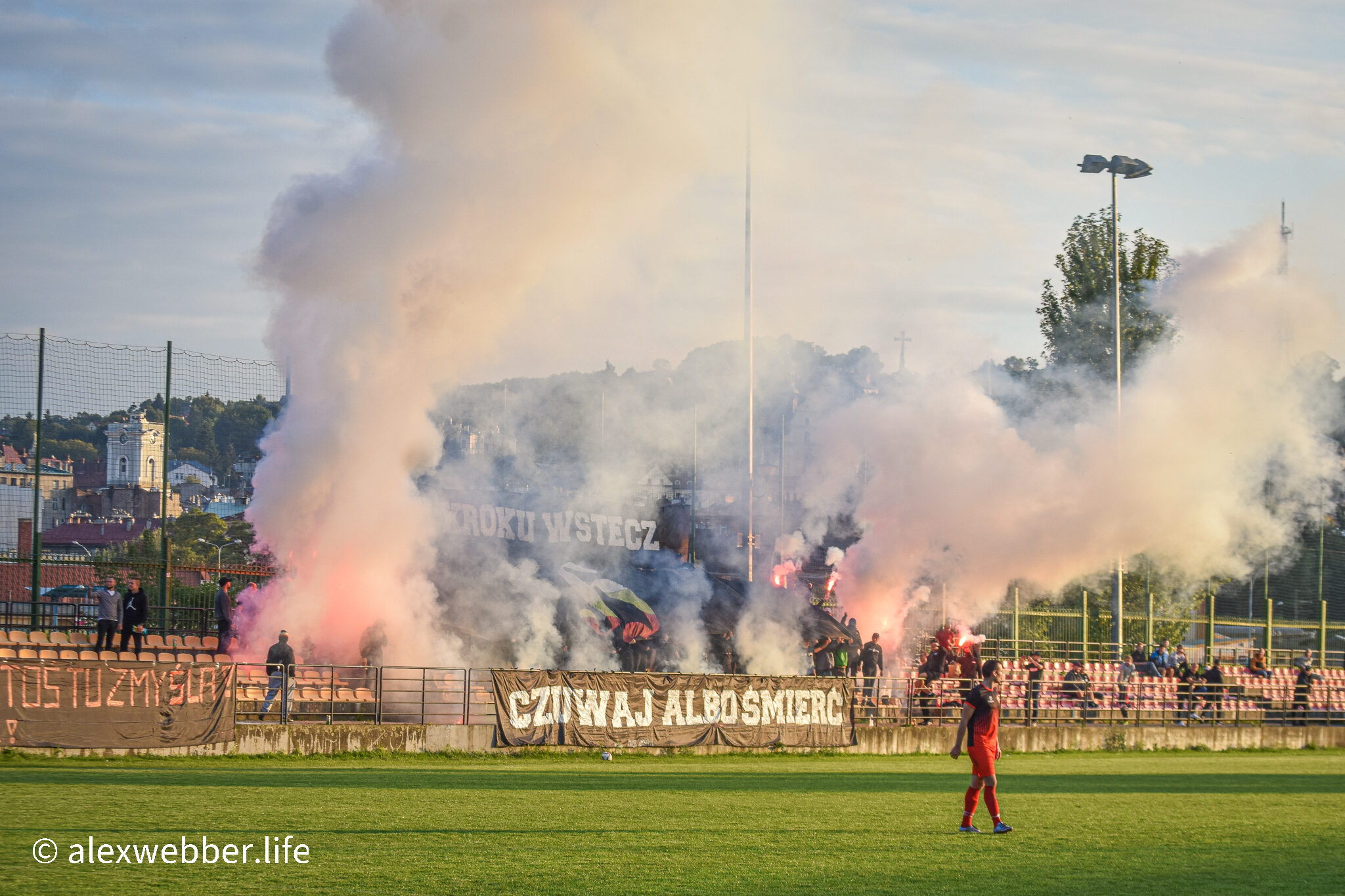 Prelude
As a stadium Czuwaj had not been on my radar for long, but as a fanbase I'd heard a lot about their fans – more than a few people had told me that for 'the real' south-east Polish experience I needed to check them out. Turns out, they were not wrong. Aside from an entrancing ground that could have been designed by Harry Potter, this was a match notable for the passion of the small but vociferous band of supporters that gathered for the game.
Granted, with Czuwaj flirting about the basement leagues, this was not the usual experience, but instead one of those once-a-season festival-style fixtures against a team that they enjoy a close friendship with. Essentially, this game had a nailed-on pyro situation and I wasn't going to miss it.
Stadium
Behold, not just one of the greatest stadiums in Poland, but in all of bloody Europe! Am I kidding? No, I'm being deadly serious and sincere. In fact, I'm both flabbergasted and fuming I hadn't known about it before – literally, I found out about it in the summer of 2021, though with Czuwaj struggling in a largely irrelevant division I had to wait a few more months before the right match arose.
To say I was counting the days was an understatement – the few groundhopping pictures I'd found in the lead-up promised a stunner of a ground dominated by a striking pavilion of ginormous proportions. But as good as it looked in the photos, it proved far better in the flesh.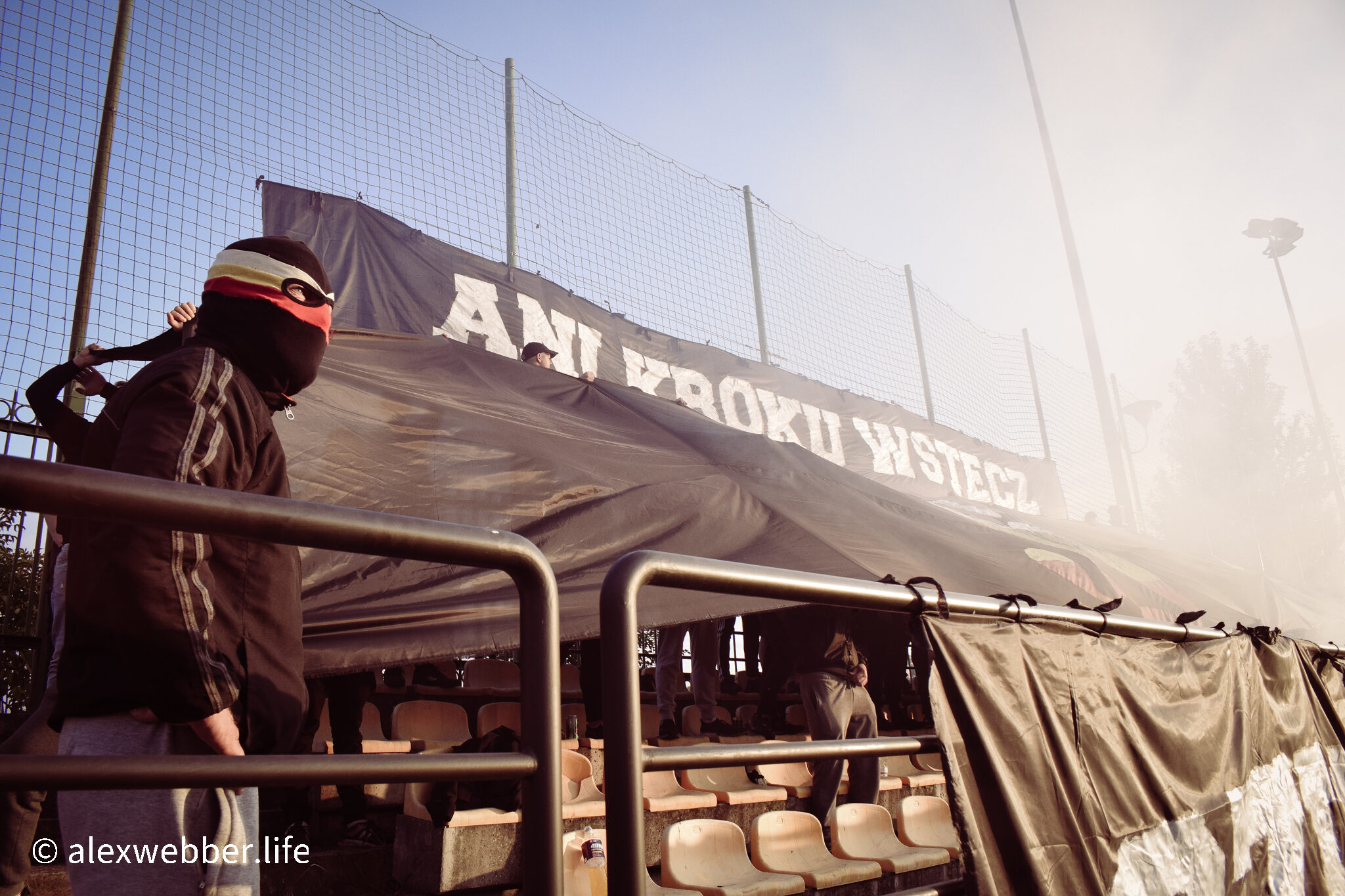 Opened in 1932, Mieczyslaw Slaby Stadium (renamed so in 1991 to honour a locally-born army medic that served heroically during the 1939 Siege of Westerplatte), defines itself through its wooden club house. Though compared to a timber cricket pavilion by the occasional visiting Englishman, it actually takes its style from the Zakopane form of architecture that trended in Poland's mountain ranges in the pre-war years – think chalet aesthetics with pointy towers, steep, slanty roofs and lace-like patterning on the dark wooden surfaces.
Simply put, it's mind-boggling in its intricacy, size and sheer WHAT THE F**K beauty. You could just as easily imagine The Munsters living inside as you can Poland's great avant garde artists of the inter-bellum era. Featuring a wonderfully rickety gallery overlooking the pitch, you bounce over wooden slats to take your perch for the best view in the house – how some women do so in high heels, lord only knows. Kudos to Polish women!
Anyhow, despite being drunk to the point of menace, I can't sing the praises of the club highly enough – seeing my interest in the place, I was beckoned inside by one of the directors and allowed unhindered access to explore within. Woah. Across creaky wooden planks I found myself in a trophy room kitted out with pennants, cups and historical photos referencing their finest glories: among all that, a painting of Pope John Paul II and a various trinkets alluding to the club's scouting connections. Although I never made it upstairs, I like to maintain the romantic view that it's home to secret rooms dripping with treasures. My tip for the club: add a swish boutique hotel room and charge the earth so that groundhoppers like myself can have a stay to remember.
The Rest
From entering, the ground curves around in a sea of shallow modern seating – this, though, is mixed with details like a small wooden hut serving as changing rooms for the local tennis club (yep, I walked in on some sweaty bozo changing his pants) and teasing views of the Old Town beyond. From what I saw, there is no away end, though I would not be surprised to learn that the small section of seating to the other side of the pavilion sometimes doubles to serve this purpose. As for the ultras, they gather opposite this club house on an open stretch of seating that backs onto the river.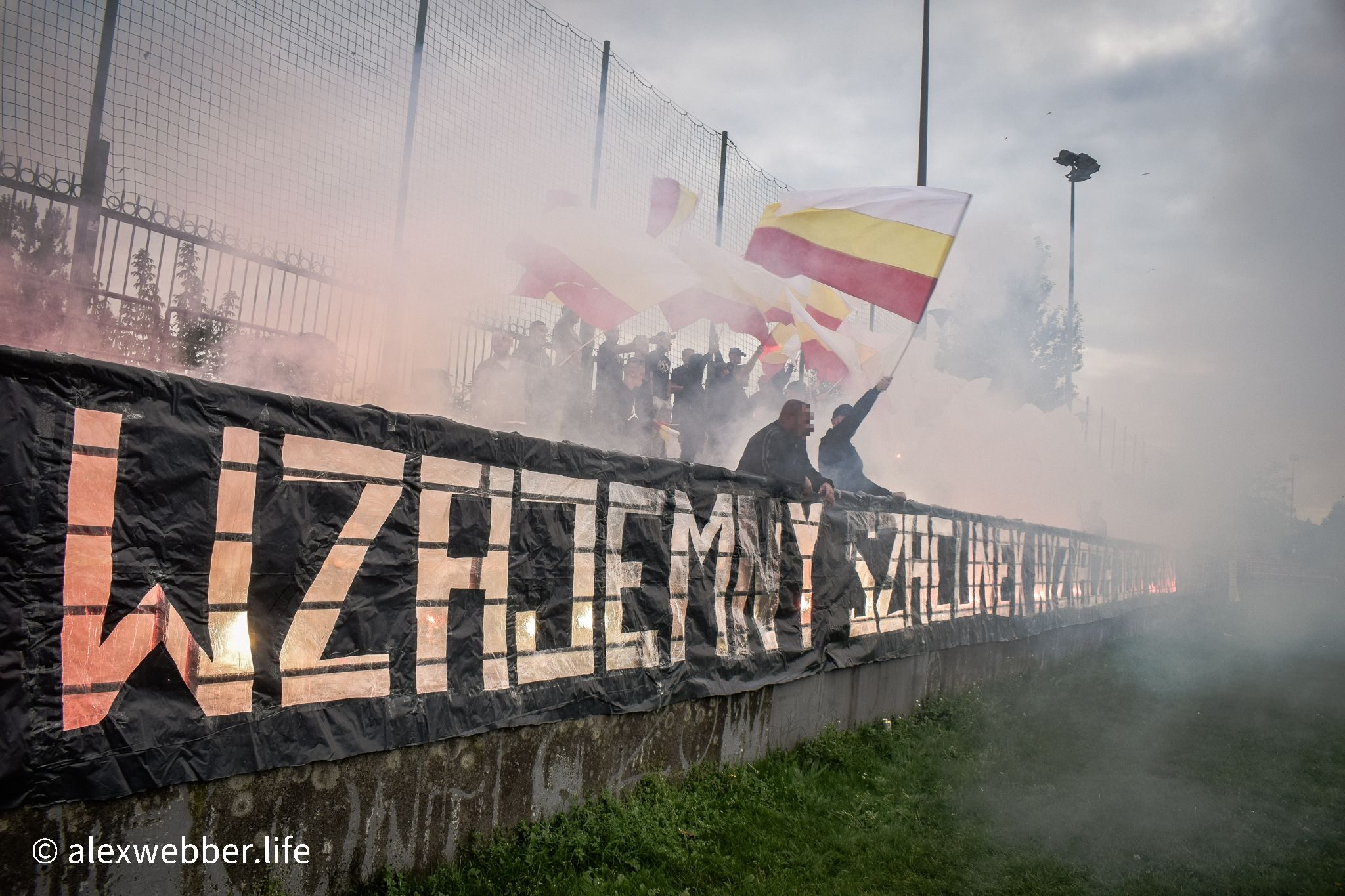 Matchday Experience
When it comes to smaller clubs (and I say that with all due respect to Czuwaj), I try and message their ultra group beforehand to ask for permission and approval. This time, I couldn't find such an online contact, so instead I settled for merely getting a green light from the club. Word, however, had travelled back to the fans.
Turning up, I was already a bit wobbly from a few pre-match beers, but figured I had a bit of time to snap off some pics outside and sober myself up. No chance. The moment I pulled out the camera I was approached by some black-clad hooligans enquiring as to "what the hell I was doing".
"Right, erm, I've contacted the club and…"
They cut me off. "Oh yeah," they replied in English. "We know all about that. Block all faces after you take the pictures, have a great time. We know you're coming and have told everyone else. You'll be safe."
Blimey, thank you.
They were true to their word. Everyone I met treated me with utmost courtesy and kindness, a couple of their lads going so far as to hand over beers during any lulls in play. "FFS," I'm thinking, I can barely stand but it would be rude to refuse. Plastered, yes I was, and once more firmly reminded just how amazingly hospitable Poles can be.
But this game was more than a piss-up. A celebration of Czuwaj's friendship with Radymno, the match was played out to a bouncing, boisterous support that saw a barrage of flags and banners as well as a few eruptions of pyro. How many, it's tough to say, but this was one of the best atmospheres I've had the pleasure to witness. On the support front, I'd put the number of ultras at probably only 80, but their level of noise was utterly world class. To see that in a stadium such as this, I knew I was onto a special memory.
A Quick Word
Czuwaj welcomed me warmly. I've had that before on a few occasions, and in that regard visits to Tarnovia, Wisloka, Radzionkow and Andrychow really stand out. Keep in mind, however, that your experience may differ. This is a very naughty-looking firm that can mix with any of the big boys, and anyone visiting should bear that in mind. They command a lot of respect around Poland, and they deserve your respect as well. Do not be a dick!
Postscript
Czuwaj are in financial meltdown and their fans are engaged in a determined battle to save the club. I am not alone in hoping that they succeed – this stadium, and the fans inside it, are absolutely epic.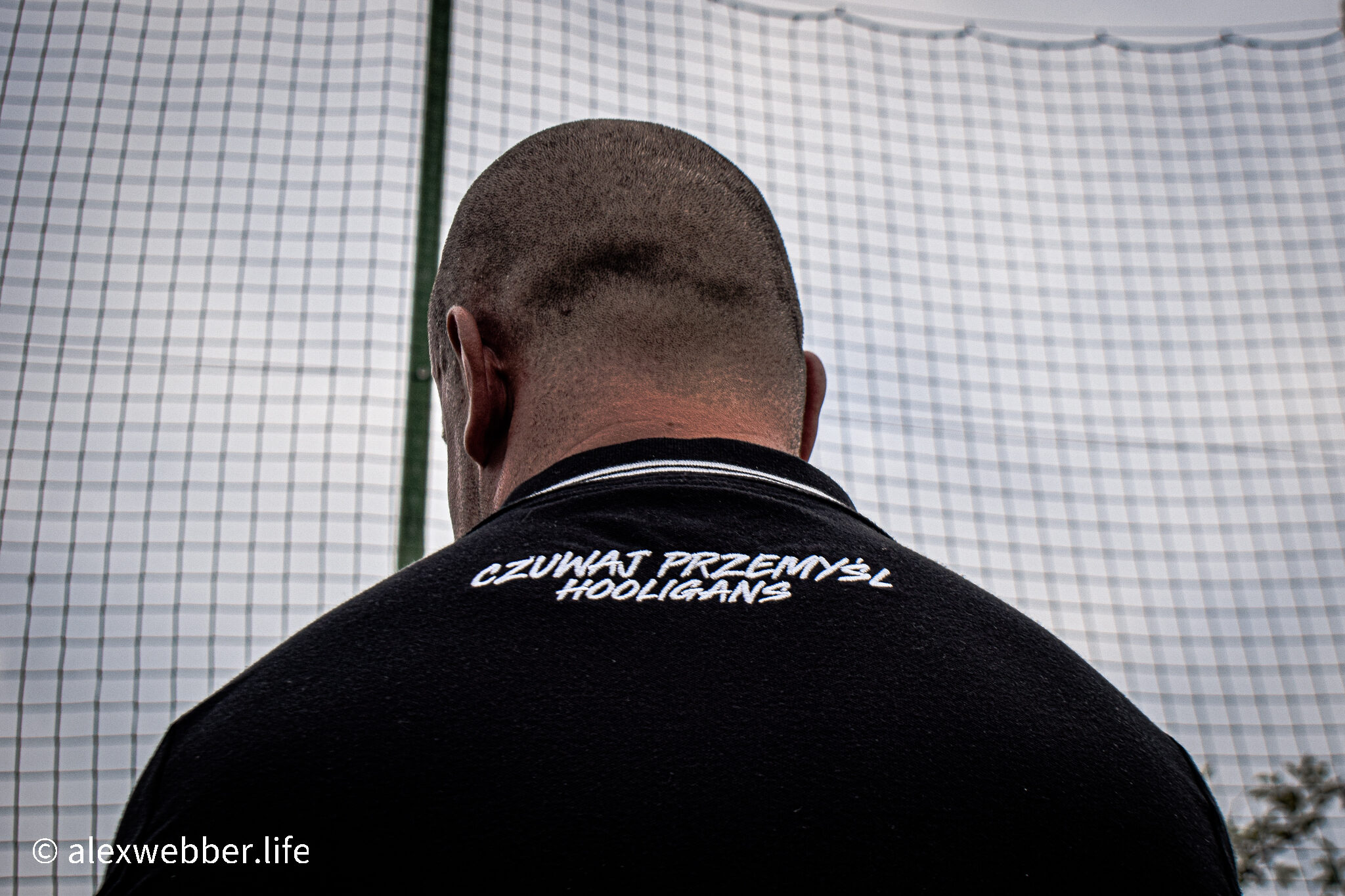 Getting There
Przemysl is completely beautiful, but there's a reason not many visit (aside from the wave of refugees currently coming from Ukraine). It's a nightmare to reach. The nearest big city with rather limited airport links to the UK is Rzeszow, a place that lies 90-minutes away by train. Krakow, meanwhile, can be done in about 4-hours by choo choo.
Myself, I came down from Warsaw – and if I'm honest, that's totally idiotic. Usually taking just over six-hours, a few delays meant my journey stretched out to over seven. F**ing hell, I could have gone to New York. Regardless, if you're in first class it's a trip that's usually conducted in the privacy of your own cabin. If you do what I did and bring a couple of beers and a book about serial killers, then time will fly by. Even so, waking up at about 4 in the morning there was a stage where I could not help but wonder if this hobby was worth it. In retrospect, the answer is yes – and in this particular case, Czuwaj rates as one of the greatest highlights of my ongoing football crusade.