In A Nutshell
Known as the Edmund Szyc Stadium, the former home of Warta Poznan is one of Poland's great football ruins – a place steeped in history, but left to rot and be eaten by nature.
Getting There
Dead simple – from Poznan's Old Town just walk south for about 20-minutes and you'll find yourself there. Getting in is a different matter – fenced off from the public after it became something of a homeless village, you need to skirt around the perimeter until you find a hole to sneak through.
WARNING
I've no idea about legal issues and so forth, but the fact that it has a fence in the first place suggests – to me at least – that you're not meant to enter. I did, because I, and I maintain to this day, I did not understand what any of the big, red signs were trying to say.
Moreover, if you choose to follow my lead, do remember that you're entering an abandoned facility: things like holes in the ground, broken glass, needles, nails and other hazardous obstacles abound. Dress sensibly and keep your eyes peeled – most importantly, do not hold me responsible if you find yourself falling over the side of the stand and breaking your brain into a jillion little pieces.
Background
Opened in the 1920s by the President of Poland (who had to be evacuated mid-ceremony after bits of scaffolding started raining down), it later became the site of a wartime Jewish labour camp – apparently there's a memorial commemorating those who died, but I've yet to chance upon it while poking around.
Back to football, and though the stadium is best known for its associations with Warta Poznan, their cross-city rivals, Lech, also used it in times of need. Apocryphal it might be, but Lech's attendance of 60,000 against Zawisza Bydgoszcz in 1972 remains – to this day – reputedly the highest second tier crowd ever recorded in Europe.
Whether that's fact or fiction I haven't a clue, but what is better documented are the ten internationals this ground hosted between 1931 and 1980. The 70s in particular were a good time to visit, with games including two fixtures against the Republic of Ireland (0-0 and 0-2 respectively) and a 7-0 whipping of the USA (with legends like Deyna and Lato on the scoresheet).
Held here in 1980, the final international saw Poland edge Scotland 1-0 with a Boniek goal enough to put Gordon Strachan and Kenny Dalglish to the sword (incidentally, Irish players to turn out included Liam Brady and Joe Kinnear).
And it wasn't just football that this arena was used for – Boney M performed here, and so too did numerous celebrity preachers during the 1980s. But there the good times ended. The collapse of Communism saw Warta Poznan plunged into financial chaos, and around 20-years ago their fiscal crisis came to a head when the club sold the ground to a housing developer. Plans for a residential estate fell through due to legal complexities though, and the stadium has remained empty ever since.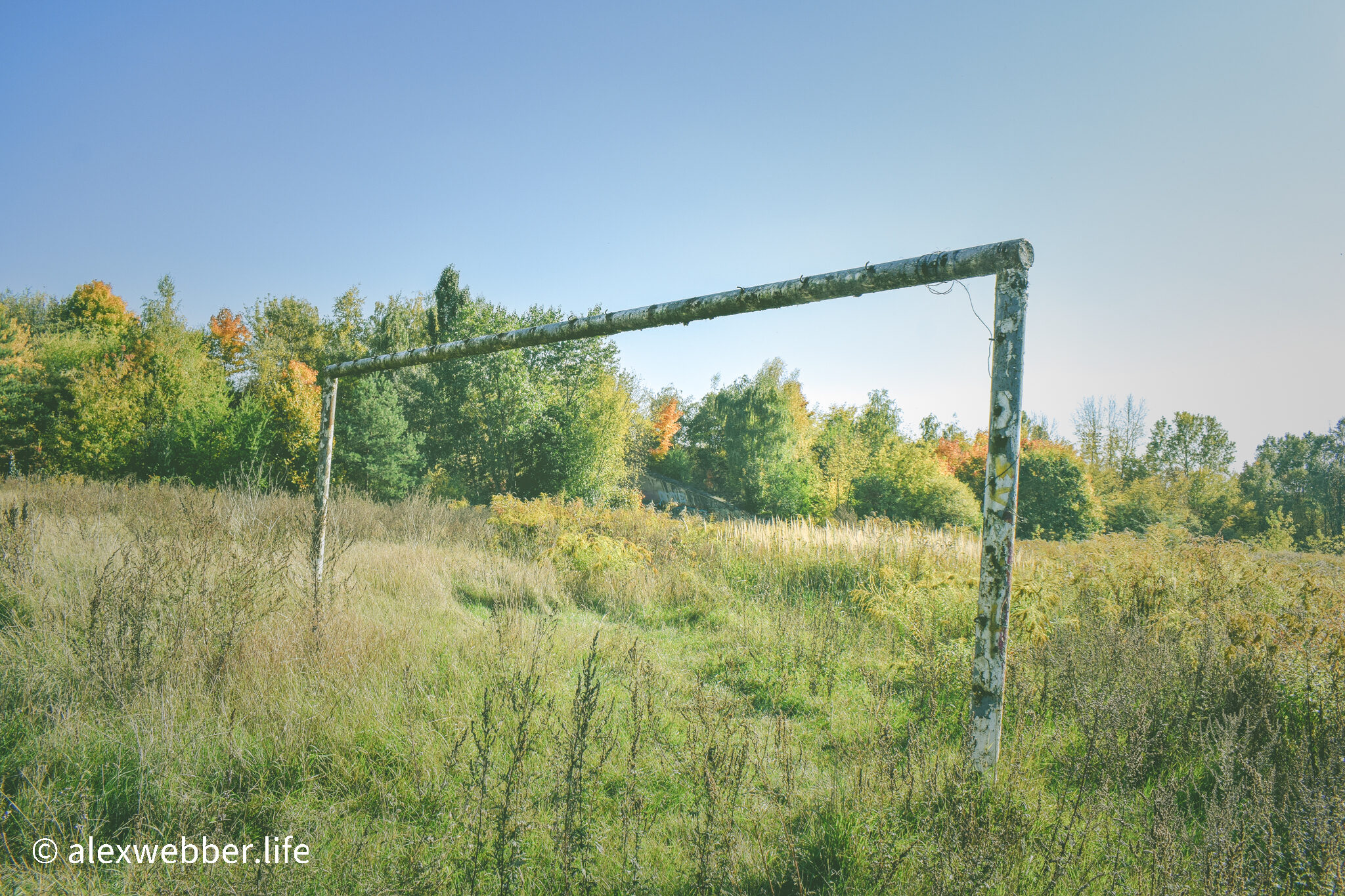 Stadium
Abandoned for two decades, today the ground is a lost world of memories and ripe for urban exploration. Outside, ticket booths and exit points still stand though the richest rewards lie within. Past the kind of sinister, psychedelic graffiti you'd associate with the Manson Family, visitors find themselves crunching over a carpet of smashed bottles to reach a playing field now layered with unruly bushes and waist-high reeds. Amazingly, both goals peer from out of this.
Walking around, it's a surreal and slightly eerie trip into the past – walking up shattered stairwells, clambering over terraces and peering through blackened ticket hatches. Though a melancholic sight to behold, I love that a place like this can be found in the heart of the city. What the future holds is unclear (apparently the city do again own the plot), but for the time being it's a remarkable phantom whose atmosphere breathes heavy.