Date: 15 June 2022 / League: Polish 5th tier
Final Score: 8-0 / Attendance: approx. 250
In A Nutshell
An end of season derby contested by two teams that enjoy an enduring friendship with each other – as such, a celebratory atmosphere inside a dapper one-sided stadium.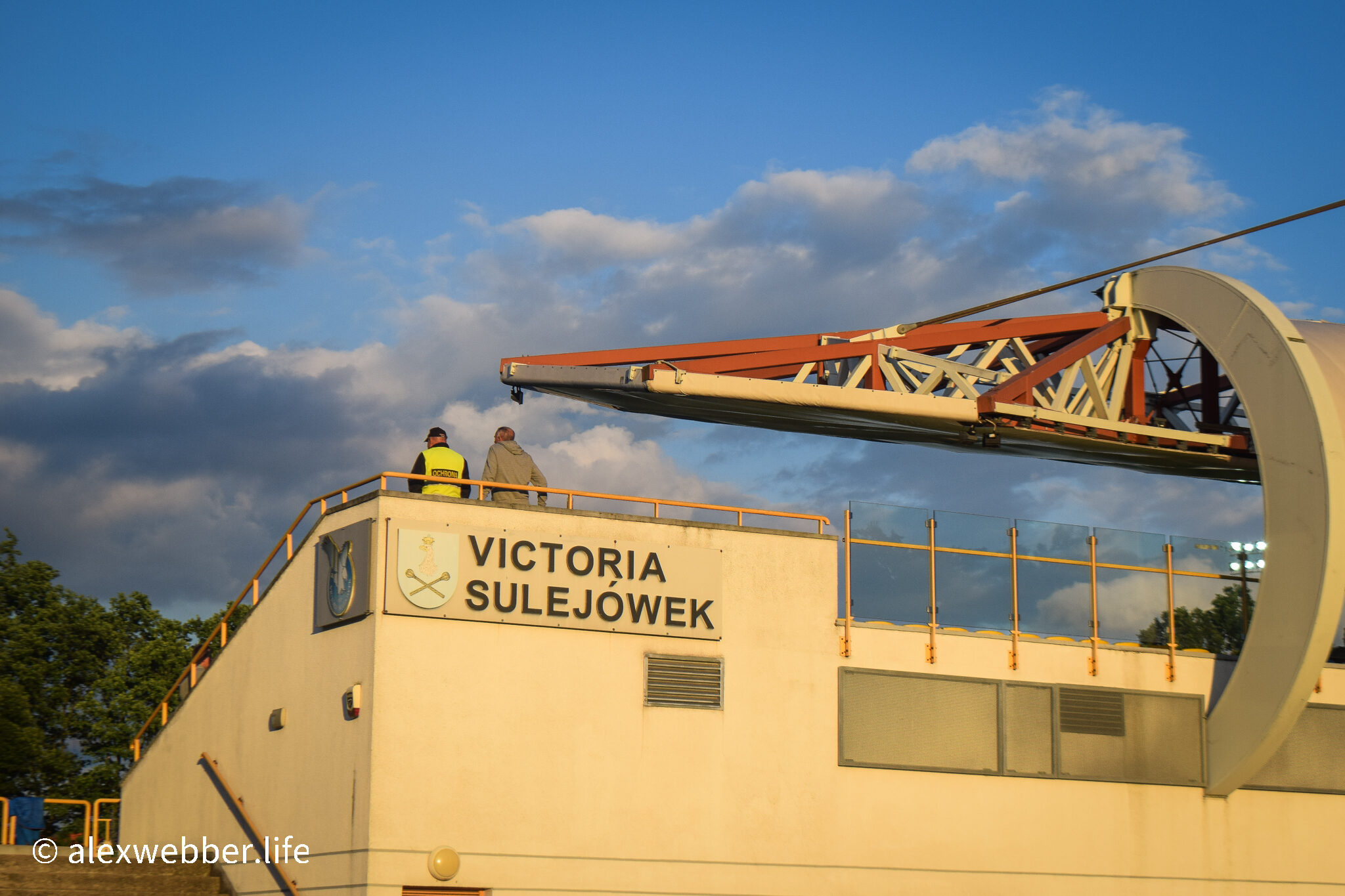 Lead-Up
I came very close to skipping this game on account of a rather unlikely coincidence – the night before I'd met up with a couple of Polonia lads I know to discuss their epic match the previous weekend over a refreshing glass of beer: well, one of them tells me he's meeting a Belgian bloke later after the international match being held down the road that night.
Wouldn't you know it, Mr. Molenbeek turn up an hour later and, on learning I'm from Bristol, starts showing me photos from his trip there the previous year. Anyway, blah, blah, he's scrolling through his pics when I stop him: hang on a moment, I know that bloke in your pics! That's my mate!! So, of course, glasses were clinked, and one beer turned into a dozen. Come Wednesday, and I was in no fit state to do much other than sit in my pants with the curtains drawn. Football was the last thing on my mind, but given the proximity of Sulejowek I forced myself out. A wise move, it turned out.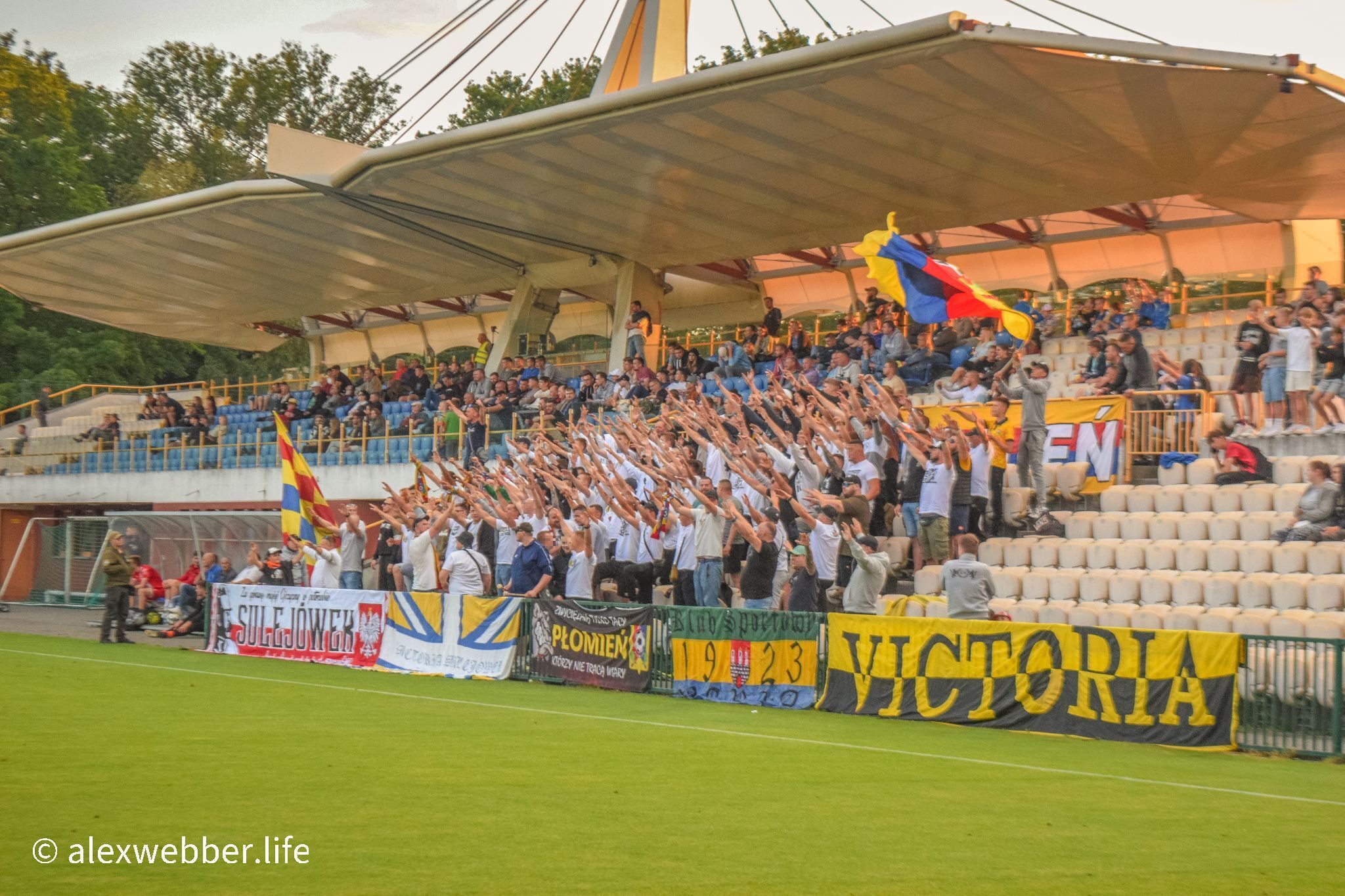 Getting There
Sulejowek is an affluent satellite town directly east of Warsaw, and while the regional commuter train stops close to the ground, Uber is even easier – especially if you feel like someone has shot you in the skull. Expect to pay around GBP 7 for the 35-minute drive.
Stadium
A really smart ground this, framed by woodland and with one modern main stand featuring a small away pen in the corner and a café festooned with football memorabilia – what a pity it doesn't serve beer, for a pint or two here would be a lovely thing to enjoy.
Rebuilt in 2010, the general fit-out is of such quality that Russia used it as their base during Euro 2012. Still looking spanking new, the main tribune would not be out of place several divisions higher, and though I'm not a fan of modern football architecture this stand is definitely pleasing on the eye – even more so when bathed in the hazy glow of a setting summer sun.
Experience
With both teams sharing something of a brotherhood (their supporters each support Legia Warsaw as their main side), the general mood had a good-humored, carnival undercurrent. About 120 ultras turned up, including 25 from Plomien, with the kinship between these two sets underlined on kick-off with both uniting to chant for a draw. Not that this registered with the players – by half-time Sulejowek were 6-0 up, and by full-time they'd added a further two. On the pitch, it was a bona fide massacre, and off it, it was equally interesting – the second half especially which was marked by a solid ten-minute pyro show.
The Last Word
On a final note, the police here really are something else. The last time I was up here was with Polonia Warsaw in 2019, and despite all 60 of us having tickets we were blocked from entering the ground, kept in a wet, muddy field for the duration of the game, held for over an hour after the final whistle, and then fined for the equivalent of causing a public nuisance. This time around, it was the home ultras who felt the ire of the police and found themselves kept from leaving the ground and given varying amounts of grief for their pyro previous – a sober end to a very decent night.