Date: 13 June 2019 / League: Lubelski Regional Cup Final
Final Score: 2-3 / Attendance: 999
Preamble
A district cup final contested between two local rivals inside a tumbledown ruin.
Background
Poland has a law classifying anything with an attendance of over 999 as a 'mass event' – to hold one of these mass events, you need to give police a notice period of 14-days so that they can order in some donuts and prepare their strategy ahead of time. Logical as this might sound, this rule does not take into account that sometimes it is completely impossible to do so.
Like in the case of this match. Despite having the potential to attract a pretty decent crowd, the home side only won their semi-final tie 13-days before this match took place. So that was it, a 999 maximum crowd in a stadium holding over 10,000. Worse, the away following weren't allowed in at all for breaching some regulation or other meaning the 150 travelling fans spent the entire game locked outside and ringed by police. If you want an example of how frustrating Polish football can be, then use this as Exhibit A.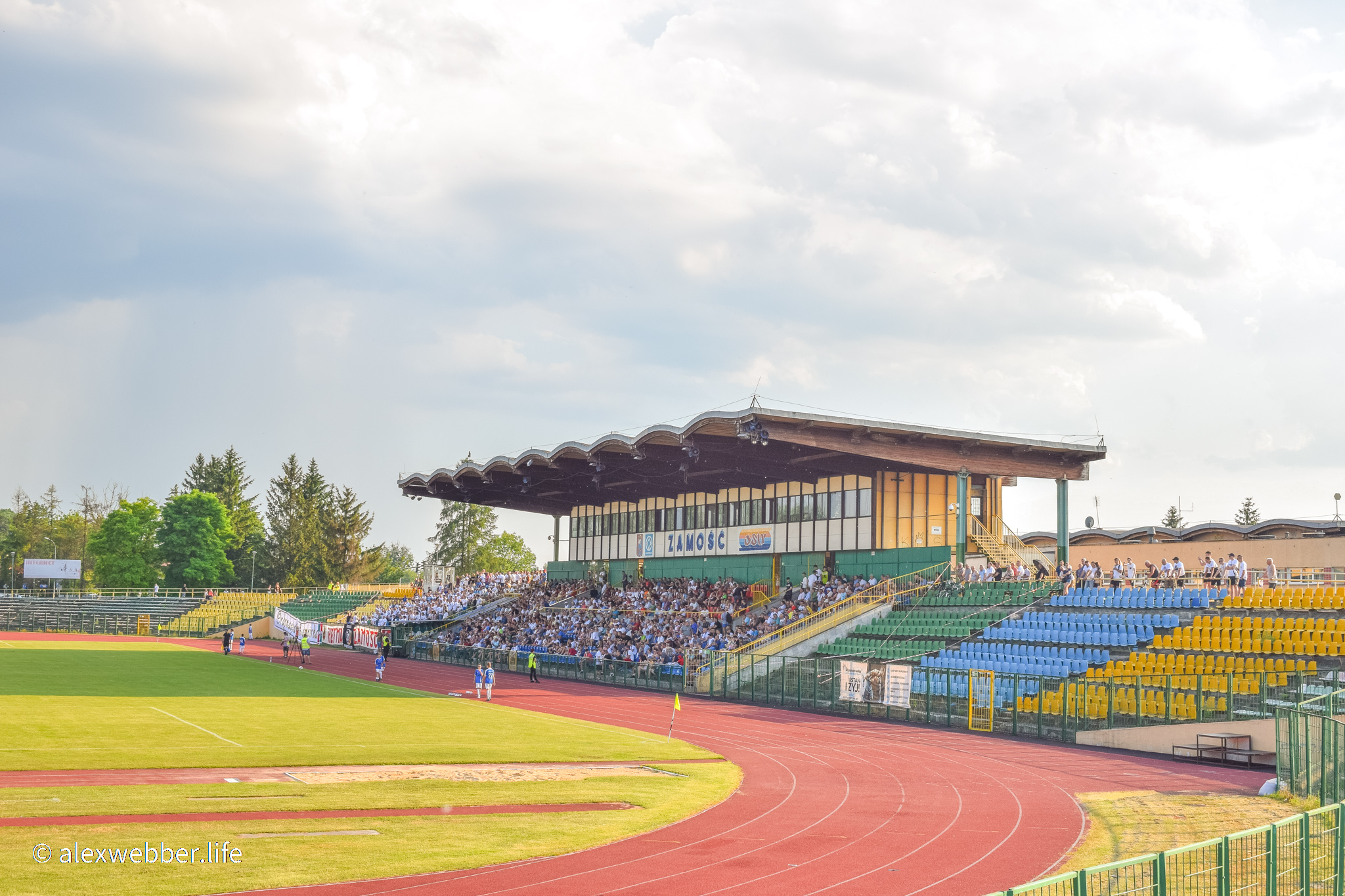 The Stadium
There wasn't much I could find beforehand about it, and viewing it from Google Maps didn't promise much: just another sad and dusty bowl dating from nineteen sixty something. Up close though, and it's not a bad ground for the devoted stadium nerd.
Looking around, you can tell it's not seen a sell-out for a few lifetimes, and that much was evidenced by the number of weeds sprouting forth from seats now permanently tilted and set at crazy, windblown angles. Nope, I wasn't shooting the seating from a funny perspective to be arty, the rake of seats genuinely were tipped, twisted, crooked and leaning after years and years of neglect and non-usage. Strangely beautiful, it bought to mind the old tombstones you sometimes see sinking into the grounds of a derelict cemetery.
Home also to a director's box and police point inside an oblong metal box hovering over the main stand, the other point of interest is an away cage coated in a shell of shattered concrete and bits of litter. What a sight it would have been to have seen this opened – alas, that joy will have to wait for another time.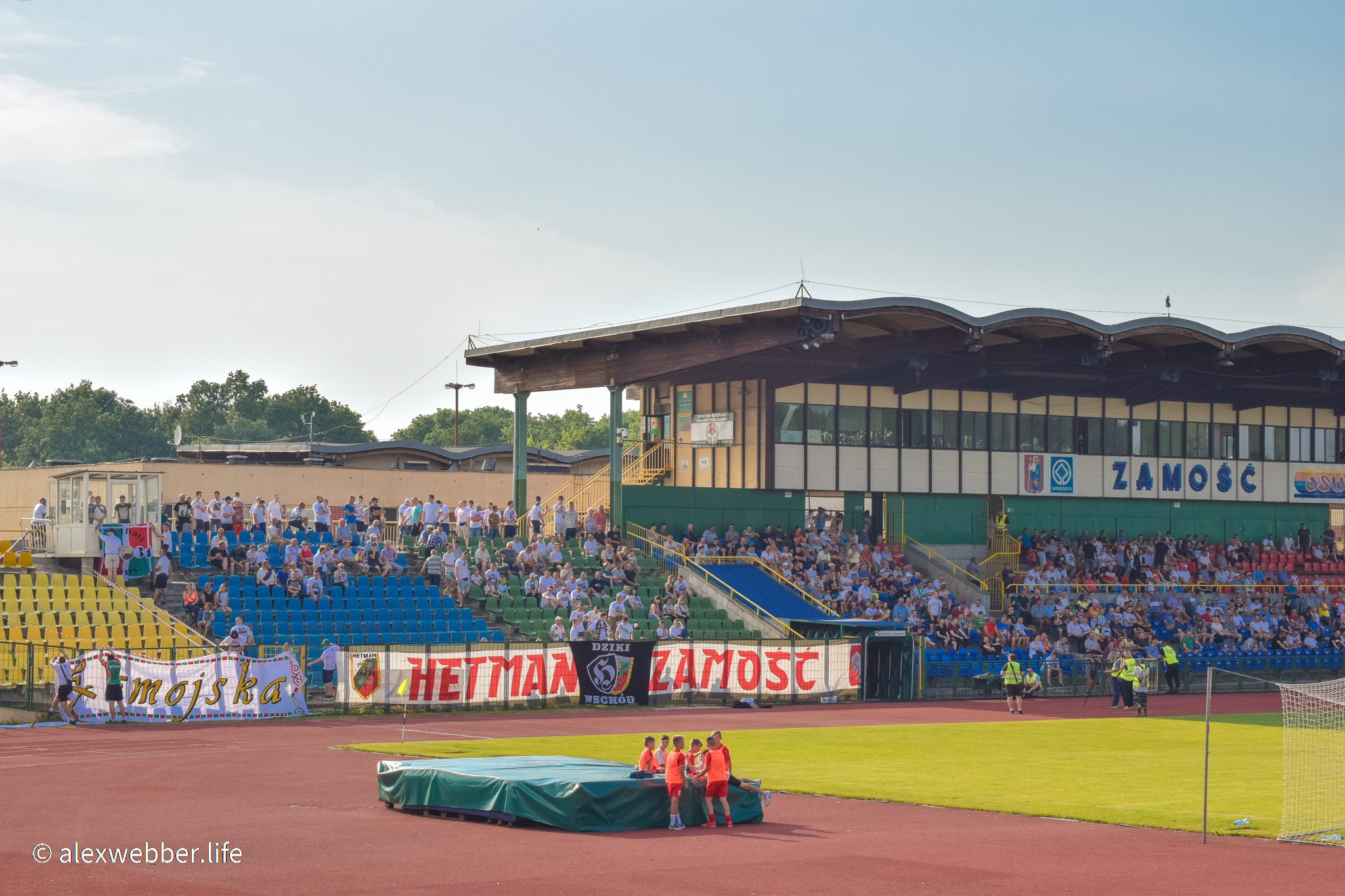 Matchday Experience
Having survived a seven-hour bus journey to reach Zamosc, I plugged myself into the first pub I saw upon reaching the city centre. For that reason, I remember little about this match other than staggering around and shooting surreptitious pictures from behind the home lot.
Given the relevance of this match, I expected a little more, but then what more can you really expect when away fans aren't present, home fans have had their tickets limited, and the kick-off has been scheduled for some ungodly hour like 5 p.m. on a sweltering afternoon. With those points considered, it wasn't all that bad, just not exactly what I had fervently expected. As for the football itself, it was the away side that emerged victorious after scoring twice in the final three minutes.
Getting There
Zamosc is tricky, and even trickier if travelling from Warsaw. I was at the bus station at seven in the morning, taking my place alongside scavenging vagrants and pot-bellied Russians wearing flip flops and vests. And bloody hell, was this a tough journey – enjoyed inside a mini-bus that looked like it had been donated by a western aid agency about forty-years ago, the trip passed in a suffocating heat that was so overwhelming I could hear my scalp sizzle. But one thing about Zamosc, it really is worth the enduring the trek.
The City
If you want "under-the-radar", it's to Zamosc you must head. Granted, that might strike you as an odd way to describe a town that's often shortlisted as being one of the seven wonders of Poland, but just ask any Pole as to when they last visited and the silence will be telling. In fact, have they ever even been there? Have they hell. To me, that's part of the attractions – at times, you can feel like you're the first tourist for decades.
Founded in 1580 by Jan Zamoyski, a local duke of immense resources, Zamość was built from scratch to a disciplined grid-like layout. Headhunting some of the finest Italian architects of the time, Zamoyski's vision saw the birth of a town of such beauty that it soon earned the nickname as "the Padova of the North".
Hemmed in by stout red brick bastions and military fortifications, the renaissance pearl that is the Old Town remains as striking and fresh as the day it was finished: a place of colonnaded passageways and shaded, leafy courtyards, it all leads to a mesmerizing square that stops you in your tracks. Framed by rainbow coloured burgher houses, and dominated by a 52-metre town hall tower that wouldn't be out of place on a wedding cake, it's nothing if not a feast for the eyes.
From a social perspective there's not a huge deal to scream about, but that said Café Mazagran would easily flourish in any big city with its minimal interior and selection of specialty coffees, hipster colas and bottled craft beers, whilst the more traditional Corner Pub, with its little secretive side garden, is as fine a place as any to settle for the night.
For me, however, it's all about bunkering down on the square with a pint on the Rynek and the town hall in front. Armed with a frosty lager, there's no better place in which to feel the hours drift by as the skies dim down; it's a bewitching sight, the kind that leaves you feeling pleased with the world, and all the better for being whistling distance from the hotel of my choice.
Should you ask, then that's the Arte – the kind of hotel I've always dreamed of happening upon, it's an intimate little place with tastefully appointed rooms designed in a modern, boutique manner that never clashes with the setting. Harmonious in its design, it's topped off nicely by the hospitality of its staff – in fact, such was the gliding grace of the manageress, I came within a whisker of jacking in the day job to offer my services as a chubby, little bellboy. Thinking back to it all now, maybe I still should.