Date: 26 March 2022 / League: Polish 6th tier
Final Score: 0-0 / Attendance: At a guess, 35 to 50
In A Nutshell
A bore draw in front of a heavily sedated Saturday morning crowd of old timers and hungover lads… but also, one of the most unique stands around!
Background
Founded in 1920, Wirek enjoyed their richest glories in the 1960s when, for one season, they rose as high as Poland's second tier. That's about all that I and the internet can tell you about them, but even less is known about Jozefka Chorzow. For all I know, they could have come from outer space. For sure, their team performed like space cadets – this was lower league football at its most desperate. And with both side dilly-dallying around the mid-table, never did it really threaten to ignite into anything more skilled than a half-arsed kickaround.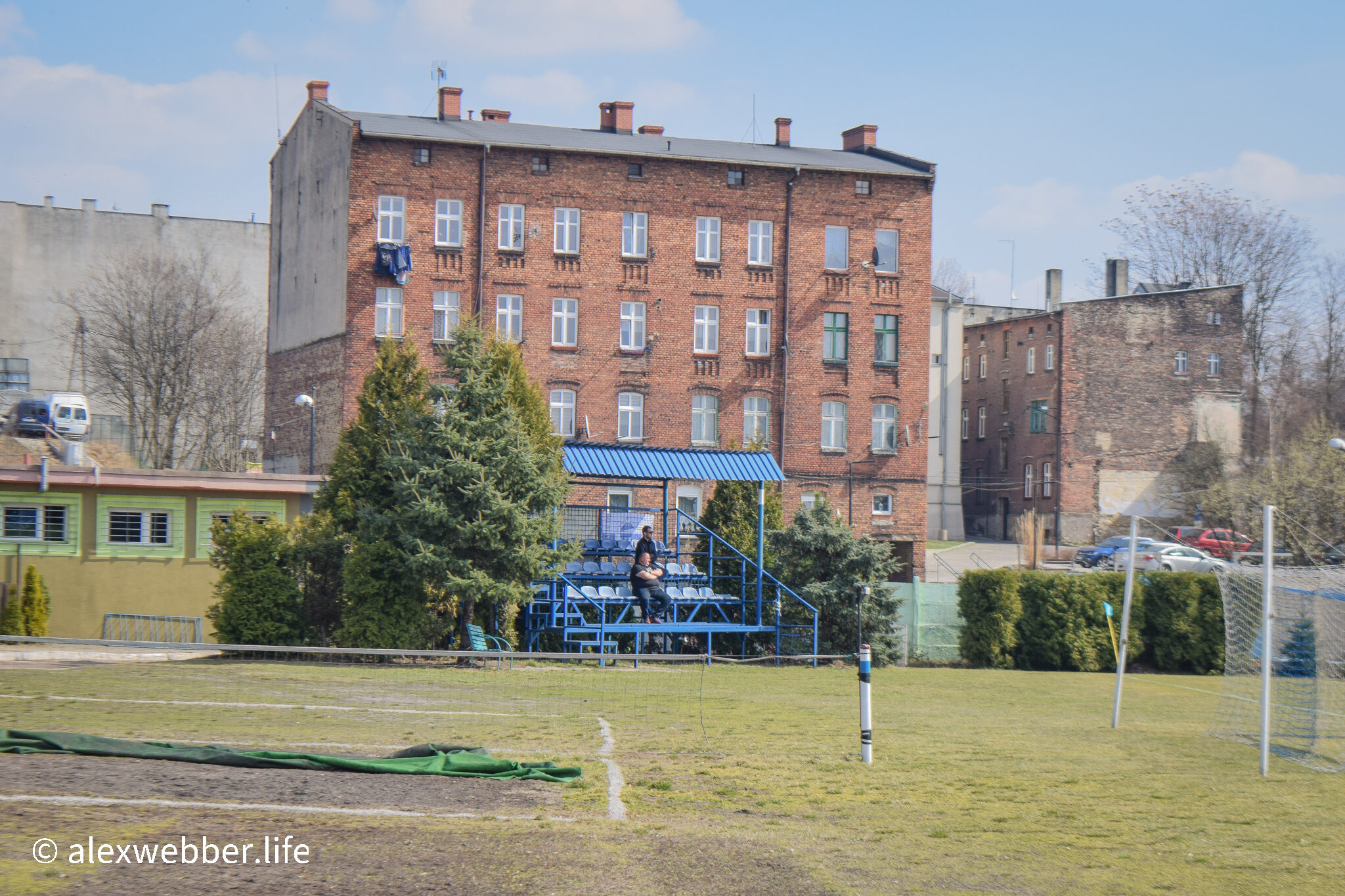 Stadium & Experience
You enter via a clunky metal door sprayed with graffiti artwork that depicts a roaring tiger – with no towering floodlights or anything else to suggest you are walking into a football ground, first-time visitors inch open the gate in the half-expectation of discovering a rubbish dump, a scrapyard or a 90-style rave. But no, it is the right door, and it reveals groundhopper gold.
The main tribune that you find yourself entering is little more than a shallow strip of plastic seats caked in dust and then shielded from the elements by three separate roofs that run the stand's length.
It is here that Wirek's fans gather, and on my visit that meant an ensemble of gnarled pensioners, a vaguely sinister looking football nerd (you know the sort: anorak, notebook and weird internet habits), a few couples (yep, treat the Tinder date to some Silesian football) and a scattering of tough-looking lads swapping stories from the previous night over shared swigs of lager – you'd give them a swerve if you saw them at Ruch Chorzow (the side everyone here supports as their 'main team'), but in this situation there's something quite warming and nostalgic about eavesdropping in to their laddish cackles and gentle joshing. As for the dog count: two.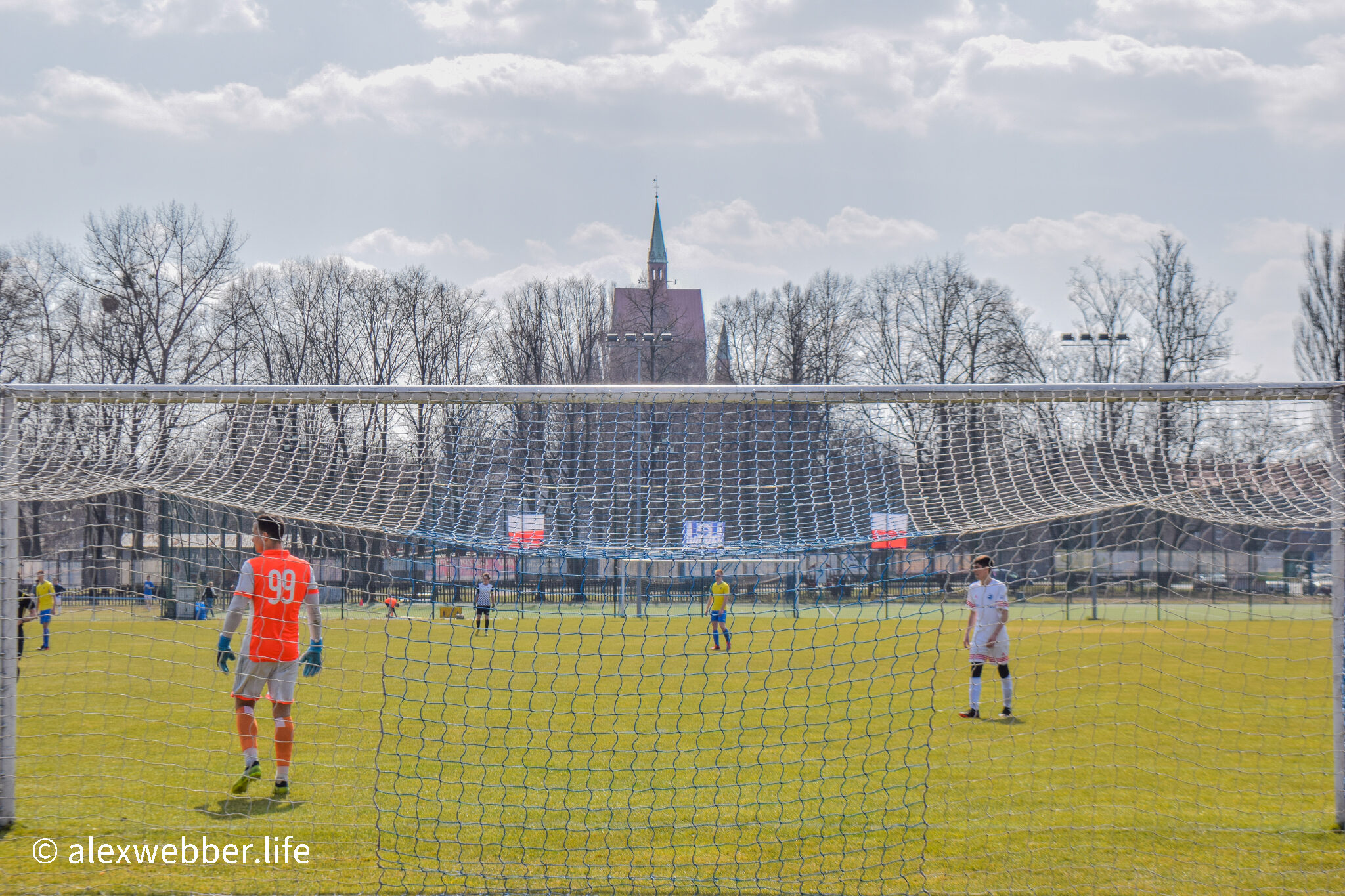 In itself, this main stand is probably only special for the spectacular amount of dust that it's accrued – there's a reason the locals all arrive with a newspaper, and it ain't to bloody read. Bring one, and sit on it. What marks the ground out is the little bits and pieces scattered all around: for example, a muddy tennis court backing right onto one of the goals as well as an outdoor gym sitting inside a shadowy, open-sided hut. Further, you've got two team dug-outs that are actually more like miniature little stands. As for the crowning glory, that's the away end.
At least, I think it's the away end – built overlooking one of the corners, and thoughtfully flanked by a bench for those that want to keep their feet on the ground, it's a quite compelling piece of stadium architecture: looking more like a small boy's ambitious Lego project, its charms are exacerbated by the conifers planted around it – I love to think that come Christmas time, the club decorate these with tinsel and baubles.
With zero in the way of visiting fans, you sit here alongside the club's tannoy announcer who you'll find sitting in the corner staring deeply at his laptop – what he's viewing, I can only imagine.
And, finally, do note the 'familok' that rises behind – almost symbolic of Silesia, these brick tenements were traditionally built to house coal miners and their families at the height of the Industrial Revolution. From these windows you'll catch a few locals catching a glimpse of the action down below.
Getting There
Wirek play in Ruda Slaska, a town easily reached using Katowice as your base. Arriving in the morning, I caught an Uber from Katowice station and got there in about 15-minutes. Price-wise, factor in around PLN 40 (GBP 8) for the journey. As for admission to the stadium itself, there is a steward lurking behind the gate, but he didn't ask for money so I walked right past with a cheerful 'good morning'.