Date: 29 April 2019 / League: Polish top flight
Final Score: 4-0 / Attendance: 11,549
In A Nutshell
A Silesian derby contested by two historic sides with passionate fan bases. With both clubs capable of pulling good followings, this was forecast to be a cracker – their natural geographic enmity aside, this was also a relegation battle with much at stake.
Getting there
A hassle-free affair if, like me, you choose Katowice as your base camp. Regional trains run frequently to Zabrze and take under 20-minutes, whilst a cab ride won't stretch to more than PLN 100.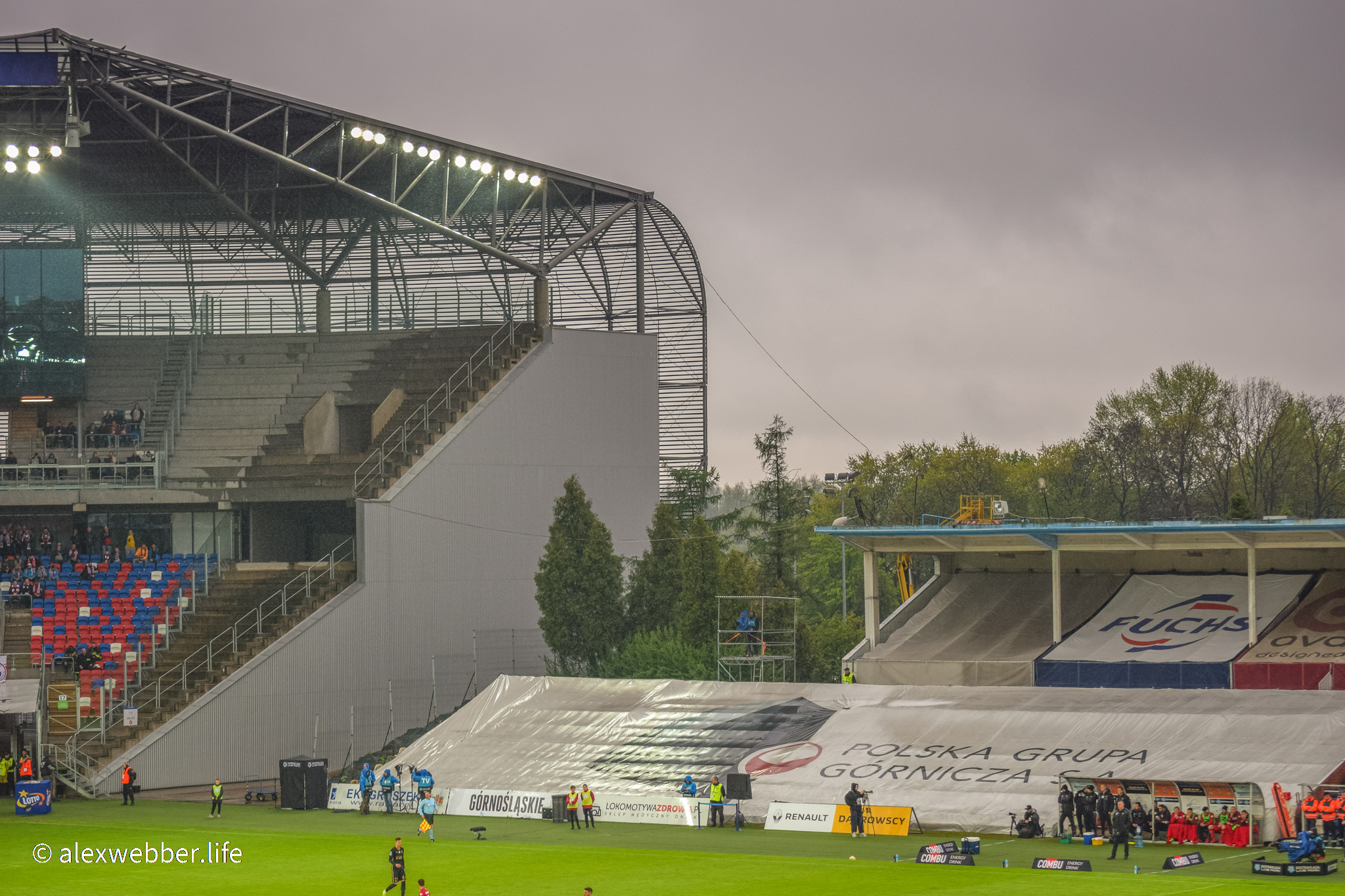 Background Bits
Holders of 14 league titles, and even once runners-up in the Cup Winner's Cup (a 1970 loss to Man City), Zabrze are one of the mightiest names in domestic football. After a period in the doldrums, they're again flying high a point underscored by a smart stadium rebuild that lasted until 2016 and the recent acquisition of former Arsenal man Lukasz Podolski. Less than 30 kilometers away, Zaglebie Sosnowiec have an equally honorable pedigree having won the Polish Cup four times.
The Ground
I'm not a fan of the generic wraparound stadiums now so prevalent in Poland's top leagues, but in Zabrze's case I'll make the exception. Firstly, it would be disingenuous to even class it as such given that one side has been left entirely undeveloped.
Though closed to the public and obscured by tarpaulins, it's a flimsy-looking throwback to the club's glory years. Formerly providing the only covered area in the ground, today this rickety structure is dwarfed by the rest of the stadium. Ultimately, of course, the plan is to rebuild it in a uniform way that coherently joins it to the rest of the ground, but so far the estimated PLN 100 million cost (a twelfth of the city's budget) has proved an insurmountable obstacle.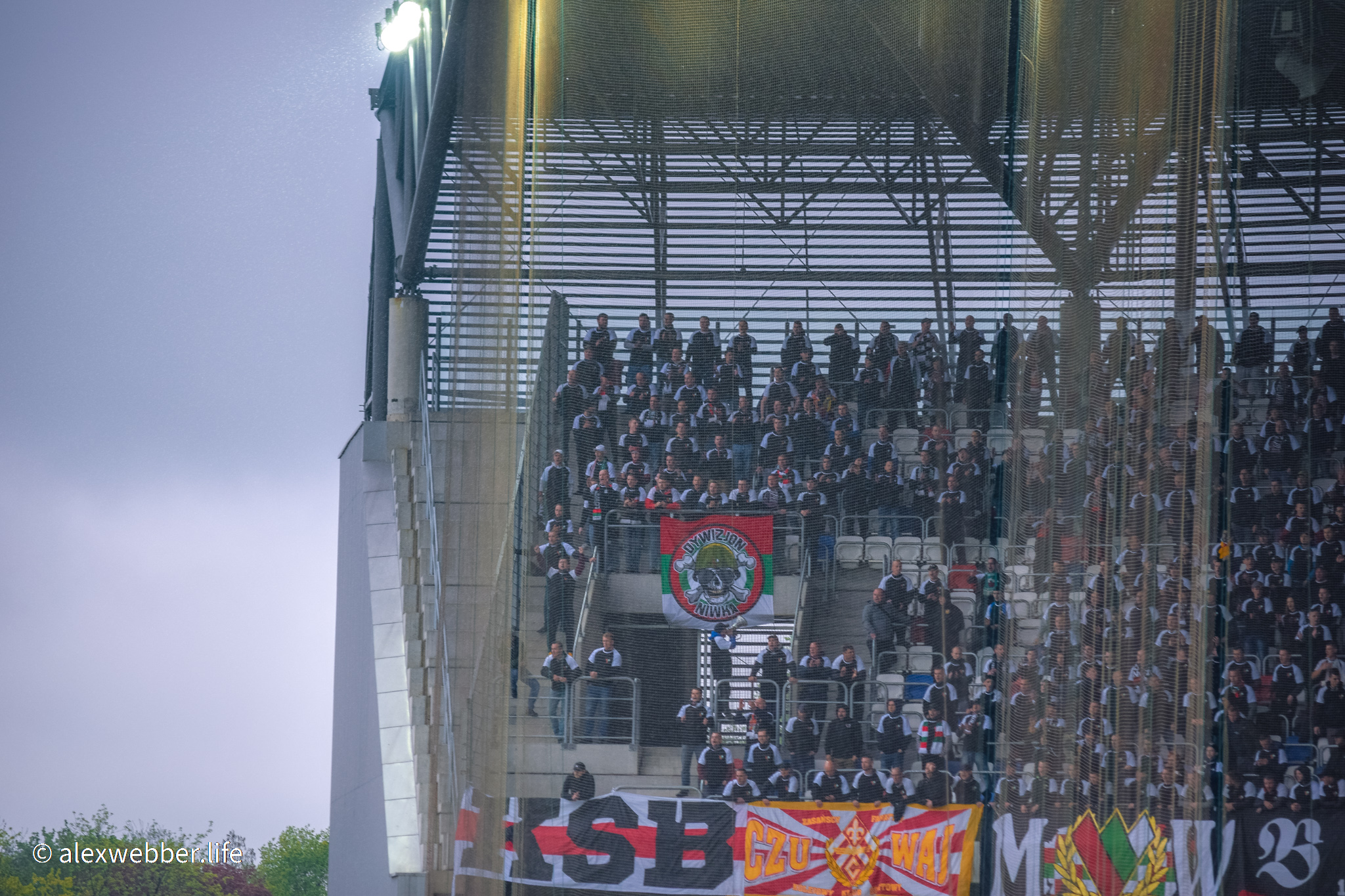 For me, that's not a bad thing for it adds a historical character to the ground that would otherwise be absent. In fact, I'd go as far as to say that it adds the kind of charming imbalance every stadium needs to break from the curse of modern monotone symmetry: would it not be a better idea to simply refurbish this surviving antique relic?
And the rest? there's no doubting this is an A-Class stadium that says much for Zabrze's ambitions. Featuring neat two-tier stands that seamlessly blend together, it's particularly pleasing from the outside – encased within a light and skeletal metal frame, it's stunning at night when the illuminations are on.
As things stand, the ground holds close to 25,000 spectators – should that final stand ever be delivered, that'll bring that total to 32,000.
The Experience
For the princely fee of PLN 200 (approx. GBP 40) I went VIP, a choice that gave me access to a swanky lounge lit up like a nightclub. With free booze playing a star role in the offer, the match passed by in a blur – what I do remember was a sizzling atmosphere helped by the dynamics of a ground seemingly designed to capture the noise inside. For all that, given the magnitude of this match, it was a surprise that it lacked any pre-arranged tifo displays.
Great view from my seat, but in all frankness the majority of my time was spent swanning around the lounge mingling with other like-minded characters. And here's a point on which to dwell. If many of the VIP areas inside Polish stadiums have the energy of a corporate mixer, in Zabrze it felt more driven by fun – I got the idea I wasn't the only one thrilled with the bottomless access to the buffet and the beer: it was a long, loud night.
Don't Mention The War
Before the borders were redrawn courtesy of the post-war new order, Zabrze fell inside the German part of Europe's map. Renamed Hindenburg in 1915 in honour of the German statesman, the fervid patriotism of the local populace could not be called into question. When Hitler swept to power in 1933, the news was enthusiastically received here. So much so that when the stadium was built the following year, it was christened the Adolf-Hitler-Kampfbahn – under fluttering swastika banners, faithful Nazis would fill this stadium for rallies and parades.
But whilst Hitler's name was erased from the stadium when the town passed into Poland's possession after the war, it wasn't until 2004 that he was formally removed as the stadium's patron and replaced by Ernest Pohl, a locally-born striker whose goals helped Zabrze to eight league titles.
The Town
A heavily industrialized city of roughly 175,000 people, you'll find the odd tourist swinging by to enjoy its smeared but eclectic pre-war architecture as well as a string of sights related to its coal mining heritage. Not me, I'm sorry to say. Close enough to Katowice to take a cab, I did just that.