Date: 6 April 2019 / League: Polish 4th tier
Final Score: 2-1 / Attendance: approx. 80
In A Nutshell
Behold, one of Poland's classic away pens! Not even fit for battery hens, it's a cage with few equals – and nicely perched inside a ground filled with kinks and quirks…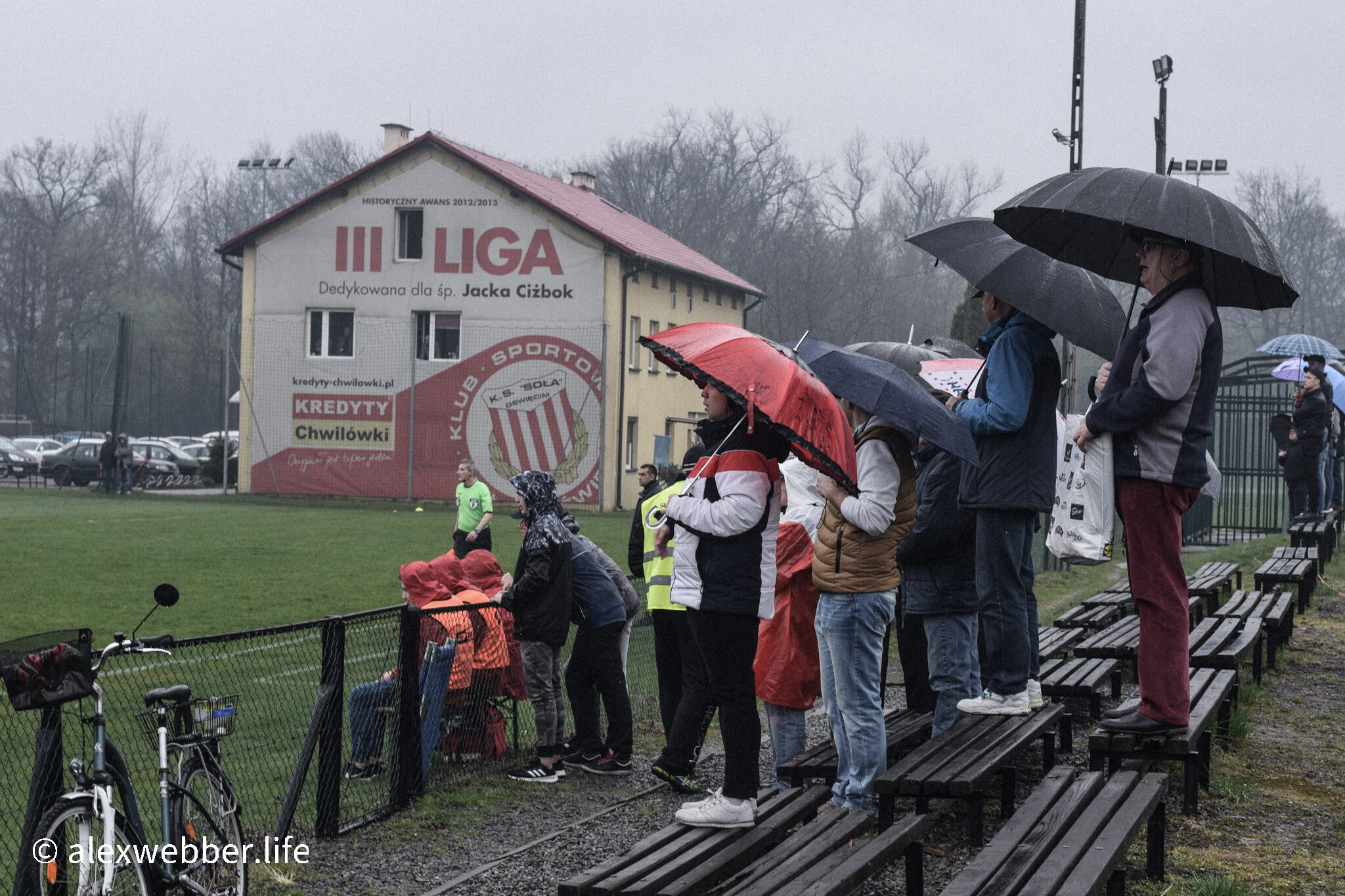 Getting There
I was in town as part of a football double-header that saw me first attend a match at Sola's cross-town rivals, Unia. As such, for Getting There deets, click here! Where the stadium itself is concerned, that's an easy 15-minute walk from the town square.
Background
To write about Sola Oswiecim, the past tense is necessary – founded in 1919, their centenary year proved one to remember… albeit for entirely shitty reasons. Having plugged away in the lower leagues for pretty much their whole history, it was to finish as their last season ever. Though they successfully dodged relegation by the skin of their teeth following a string of unli, they were unable to dodge the creditors and found themselves being wound-up two months after the campaign concluded.
Contrast their fortunes to Stal – though this match ended in defeat, the visitors found themselves celebrating promotion just weeks later as champions. Though traditionally something of a yo-yo team, they're quite a sizeable club with even some limited European pedigree. Turning out in the European Cup Winners' Cup in 1975, their advance was only narrowly halted in the second round by the mighty Wrexham (who themselves would only crash out after being narrowly beaten by the eventual winners, Anderlecht).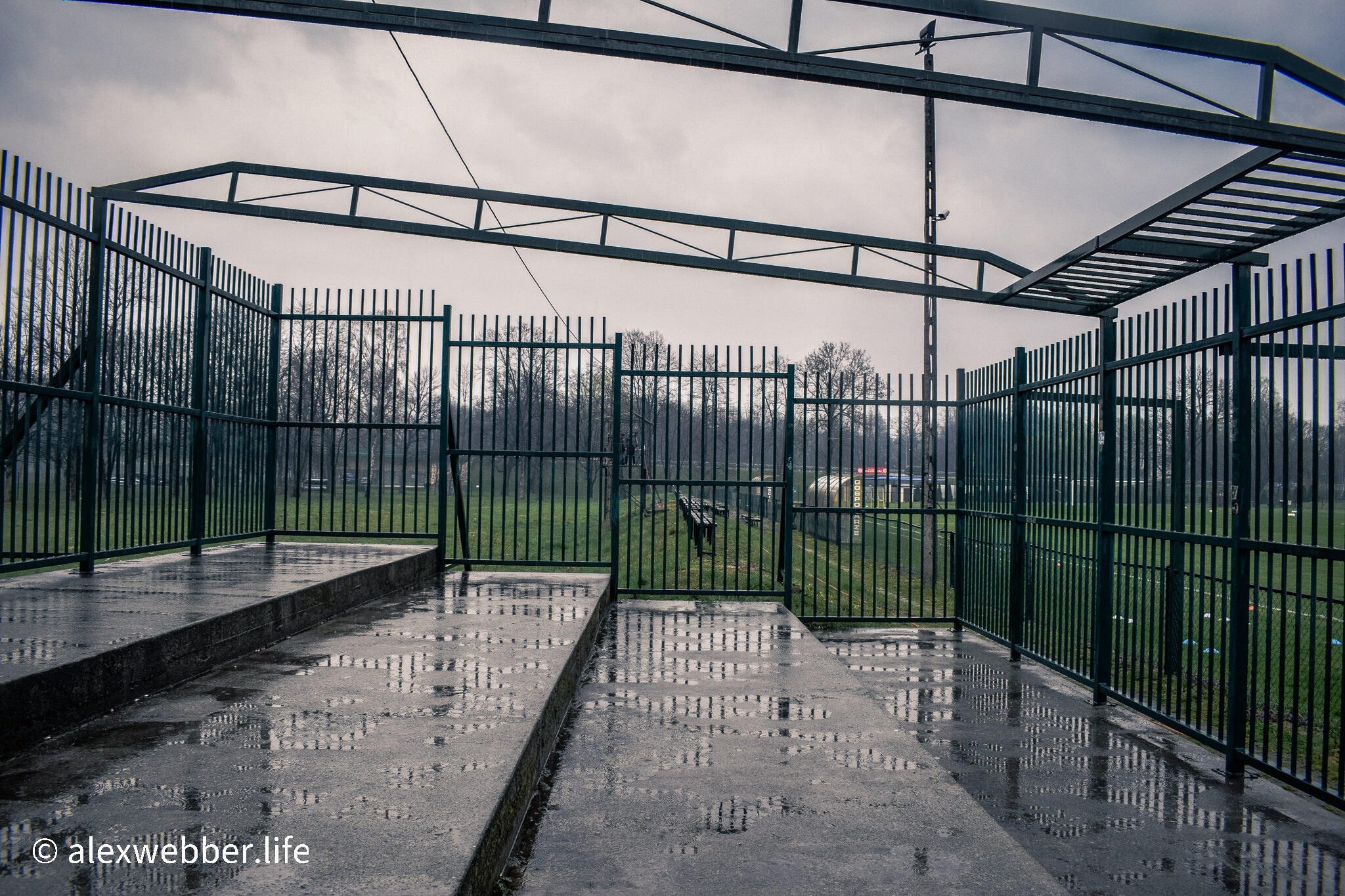 Stadium
You would definitely classify it as 'eccentric'. Running down one side, find new-ish temporary seating favoured by the posher punters. To the left is the club house and changing rooms, a stout building clad in a giant billboard honouring the club's greatest achievement: their promotion to the fourth tier in 2013. Sitting at the other end, discover a barred ticket cabin and a BBQ area that was sadly under wraps – according to one page, delays in play attributed to drifting smoke weren't too uncommon.
The piece de resistance though is the main stand, a grassy bank scattered with cinder particles and wonky-looking benches and finished off smartly with a flimsy camera gantry. But the best bit of all? Look no further than an away cage of such brutal comfort that you wince just looking at it – it would be easier escaping from Alcatraz than getting out of that barred menace.
Experience
Rain, rain, and a bit more rain. But if I had it bad trudging around in the muddy grass, the visiting Stal fans had it even worse. Four coaches they brought, and they barely got to leave them – held in a field by the police, they eventually gave up seeking admission and departed at half-time to the noticeable pleasure of the local constabulary.
That left me and about 80 other poor sods to watch the remainder of the game peering out from under our brollies and hastily assembled anti-weather devices (myself: a plastic bag). Despite their lowly position, and a scratch squad comprised of lanky teenagers, jaded journeymen and people willing to play for a bag of buttons, the hosts ended up making easy work of the promotion candidates with a comfortable win that was rarely in doubt. An interesting enough day, even though I chose to leave with ten minutes to go – at that stage, the prospect of trench foot outweighed any gains to be had by staying on till the whistle.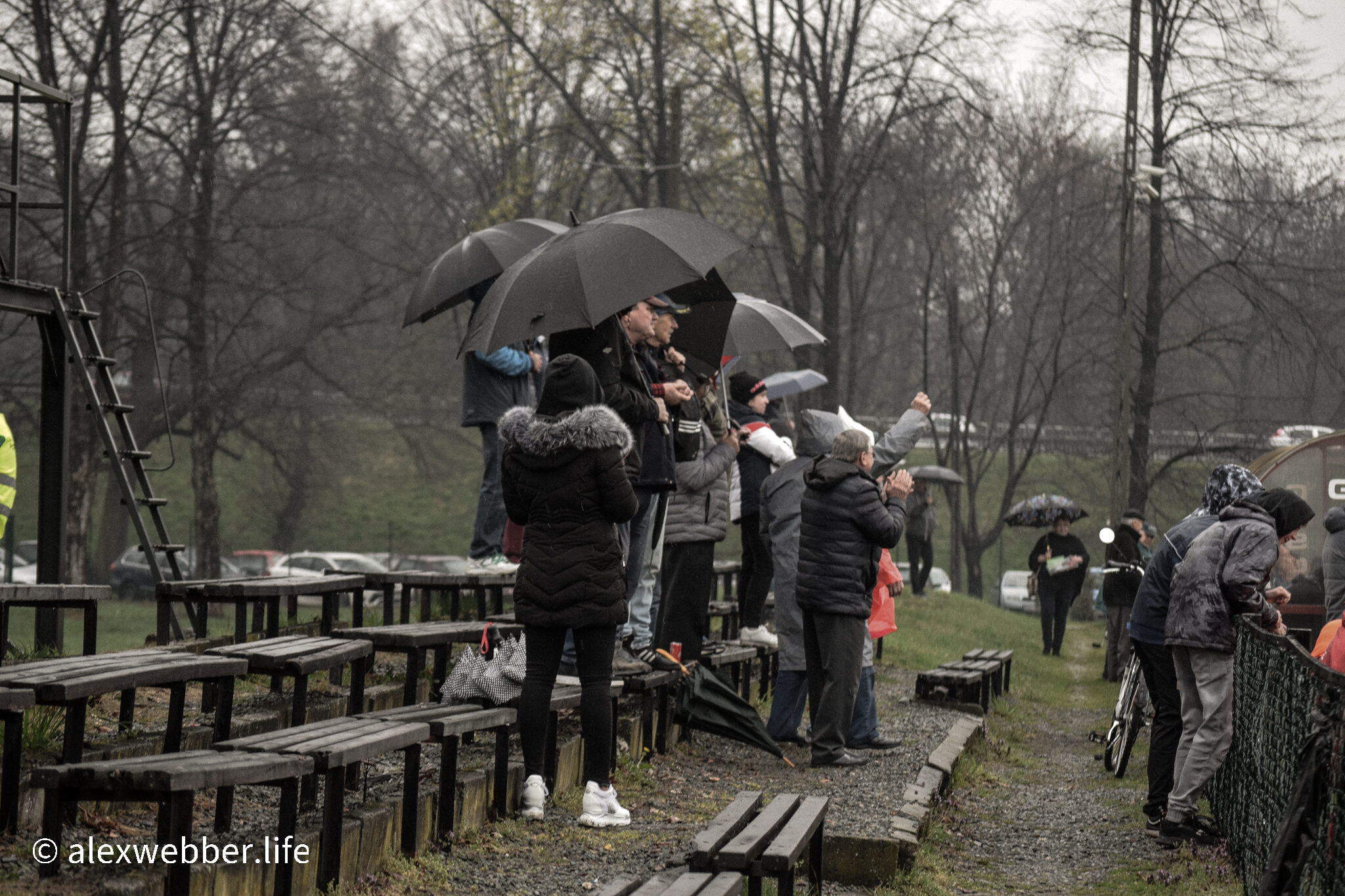 Postscript
After failing to pay their league license fee in August 2019, the senior side was withdrawn from competitive football with just three days to go before the new season began. From there, I'm a little stuck to explain what happened next. It would appear promises to start afresh have not been fulfilled, but by the same marker a look at their social media channel suggests the youth wing of this club still flourishes: with that in mind, it looks like visitors can still catch some football here, just not of the league variety.