Date: June 3rd, 2021 / League: IV Liga Grupa Pomorska (Fifth tier)
Final Score: 2-2 / Attendance: 600
In A Nutshell
Seeing that I'm penning this a year after the event, I haven't the foggiest what the league standings were at the time. Regardless, I'd be pretty confident to say this was a mid-table clash with nothing but local pride at stake – set 30 minutes away from each other, the two clubs share a bitter rivalry that has often spilled over into carnage.
Surprisingly, away fans had been given the green light to travel, but with so many last minute bans being enacted, I went up more in hope than expectation.
As it turned out, this was the kind of the nutty match I had thought I would not see again for several years – for want of a better term, it was ample proof of the domestic football scene's resilience to both the law and the pandemic.
The Stadium
In standalone terms, there's not a great deal that marks the ground out as anything special. It's not ugly, just a bit anonymous – the main stand, for instance, conveys the warmth and workmanship of a logistics warehouse. And who was the genius that forgot to build a wall at the back? Keeping in mind the pathological nature of Poland's weather patterns, that stand simply isn't going to protect anyone from the elements.
As for the rest… Opposite the main stand, find nothingness: just the team dugouts and a grassy bank behind them. Then, at the ends, a small away pen with smart blue seats secured with daffodil coloured fencing, and at the other, a curvy open stand housing the more vocal home fans.
Facilities: a hot dog van selling sausages and beery froth, and toilets inside a shipping container. Club shop? Stock up on scarves and stickers from a collapsible table just by the home end.
Getting There
With hours to kill before the match, I opted to walk to the ground from the city centre, and even allowing for a few wrong turns it didn't take me longer than 30 minutes. Along the way, it was a walk that took me past quiet, pre-war garden suburbs, small groups of football youths mooching and scouting, and lots of DIY posters pasted onto lampposts encouraging the locals to come out in force for this very match. Every now and again, chanting would ring out from afar before fading in the distance. Certainly, there was 'something in the air'.
The Experience
Usually, at least where the lower leagues are concerned, I'll contact the relevant fan groups beforehand, explaining who I am and why I'm taking pictures – always, or at least the majority of the time, the response will be positive. This time, my press accreditation hadn't come through until literally ten hours before my train left, so there wasn't time for any of that. In essence I went up here on the blind, which isn't particularly stupid, it just makes life harder if you're a fat little bloke from Bristol – when the home crew marched into view before the game, they weren't instantly delighted to see some small stranger (me!) getting up in their grills to take pics.
After a hurried introduction, they gave me a pass, something I owe to the intervention of some English-speaking Lechia Gdansk and Chojniczanka Chojnice lads that had come along to support Gryf – fair play to them, absolutely diamond chaps that demonstrated great etiquette towards me.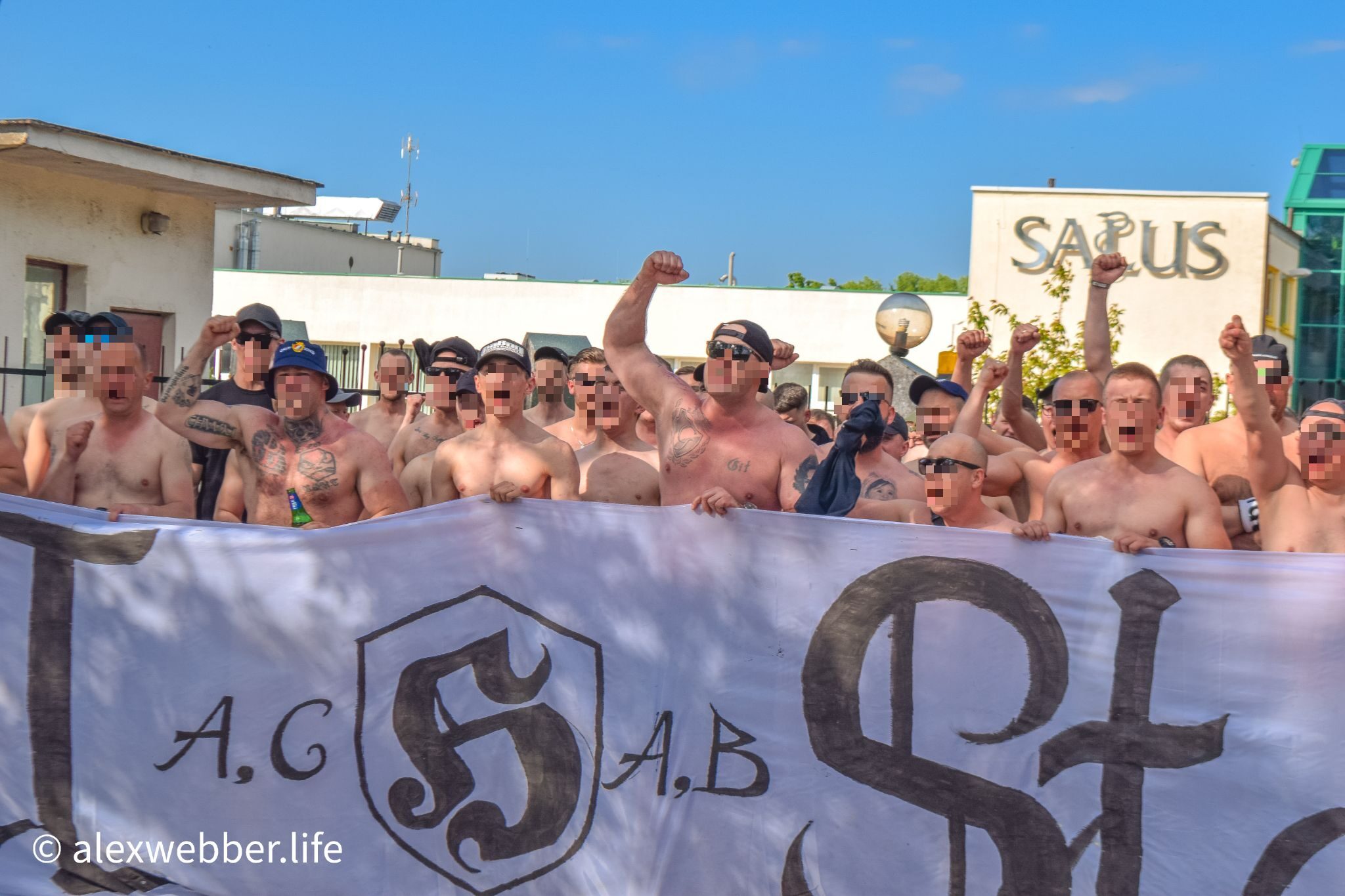 After being permitted to take pics of their mob lining-up, I stuck around a little talking to the geezers I'd met. "So, Pogon are travelling?" I ventured.
Came the reply: "Yeah, but they won't get let in – there's already been some problems earlier between us today so there's no chance that the police will now open the away end." Oh ffs, I thought, you just couldn't have waited, could you.
As it turned out, Pogon hadn't been shipped out of town, and although their followers weren't actually allowed into the ground, they were permitted to stand outside the away end tightly ringed by police. With my press lanyard dangling round my neck I was able to ghost through the plod and roam right into them for photos.
Though their number was tight – one coachload plus four or five cars – it was the kind of unit that stops you in your tracks: gorillas, cage fighters, and assorted shady psychos. To shift them, you'd need military hardware – but fair play to this lot and all: if Gryf had given me a pass to dick around with my camera, so too did Pogon.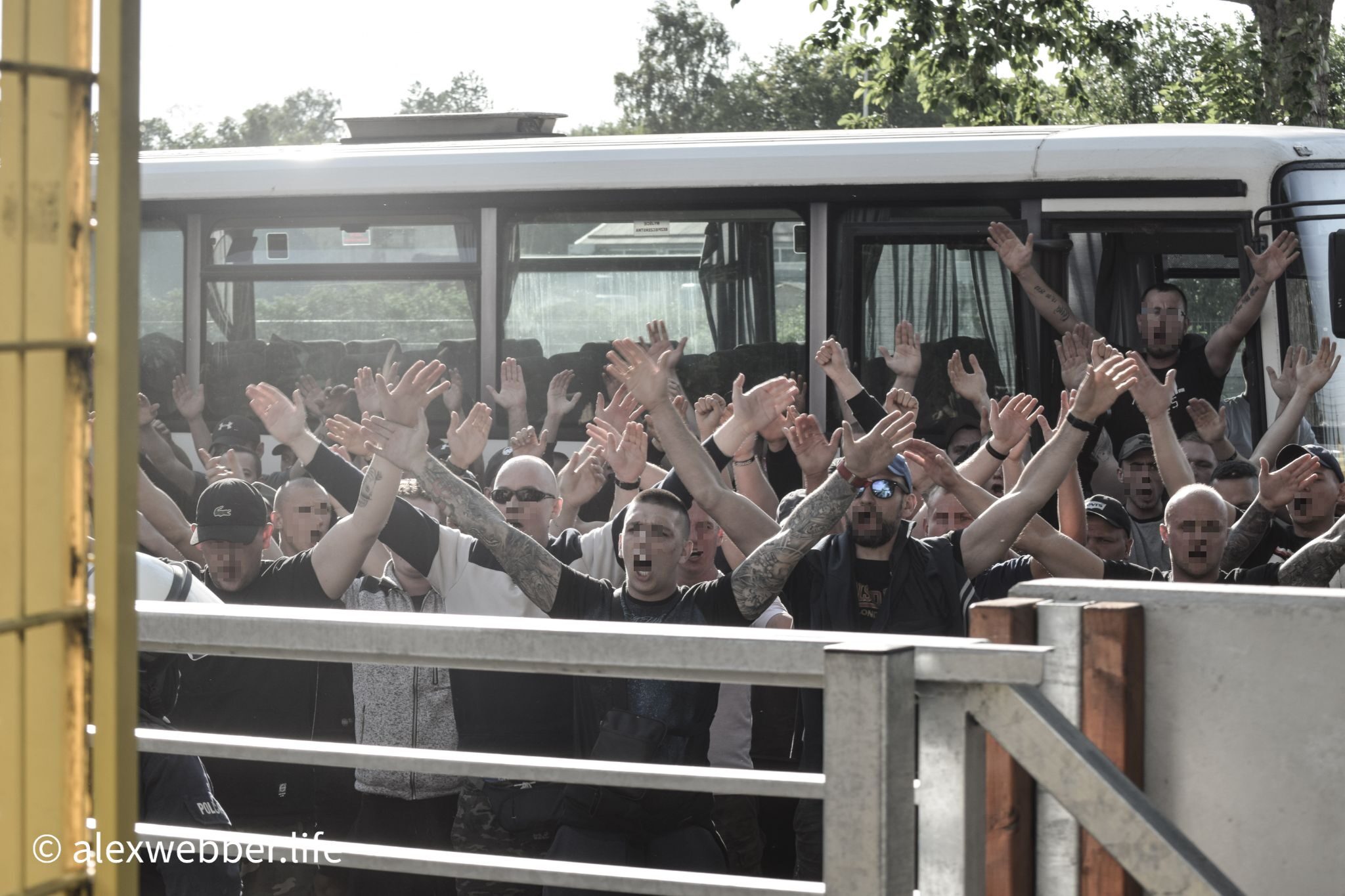 Still, the first half was a non-event: with the home lot subjected to vigorous searches, they didn't start massing inside the ground until half-time. For their part, Pogon were left to vocally support their side from outside a farmyard-style gate with no view of the game.
Second half, and it ramped up significantly once Gryf were in – their solid wall of noise only went quiet with about ten minutes left when they paused to unfurl a two part banner declaring something along the lines of: "Our beloved club has lasted three quarters of a century, and together, we will follow it to our graves."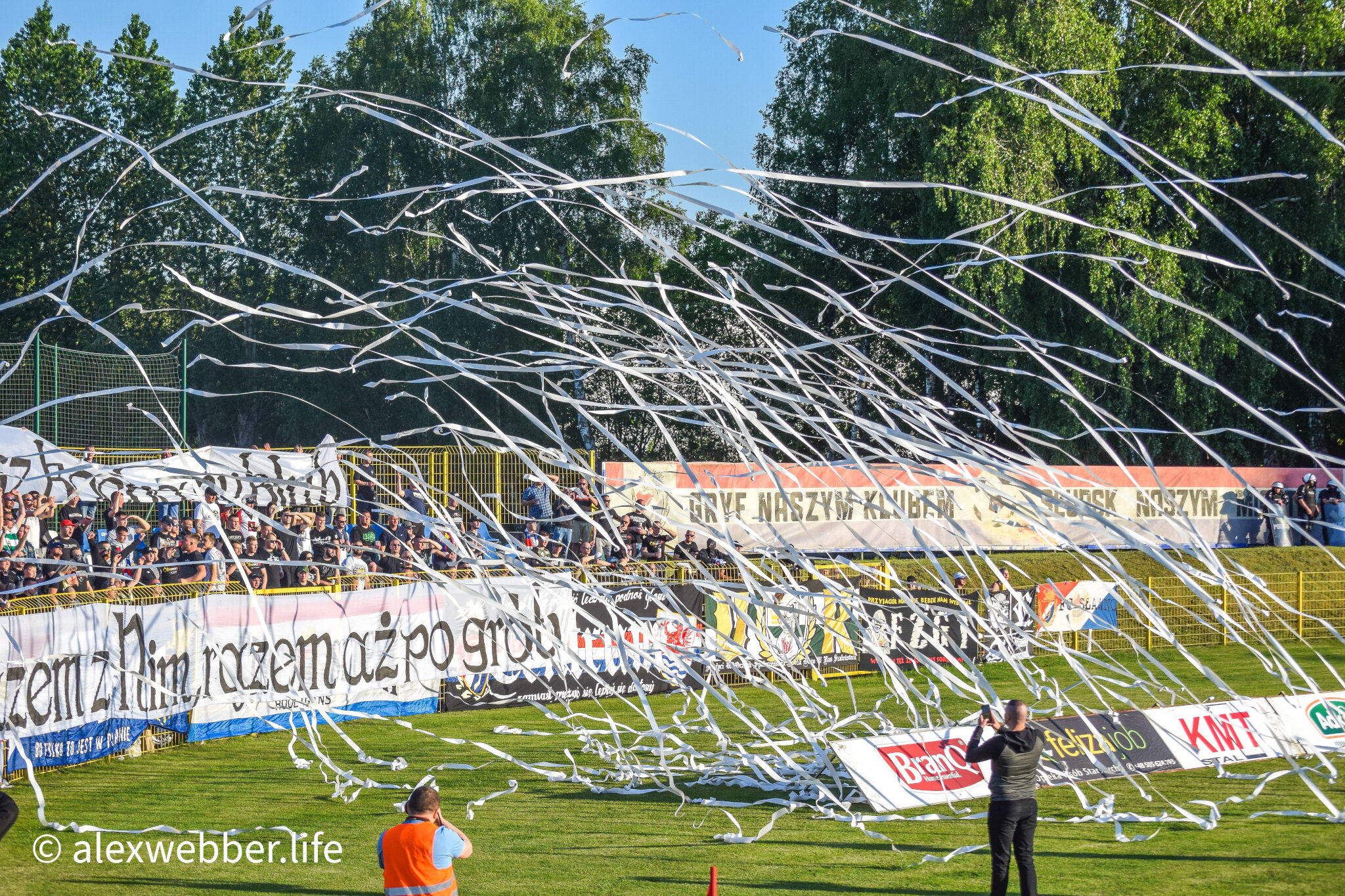 Then, on cue, came a streamer salute followed by an explosion of pyrotechnics. Still, there was something in the air that suggested there would be more to come. My money was on an attempt by Gryf to get to the away support via a flanking movement up the empty side of the stadium. I was wrong (I didn't realize at the time, but Pogon had already been herded off).
Instead, with the match in its dying throes it all went bananas after a home fan was violently apprehended by the police as he made his way to the exit (online footage shows the fan being dragged to the ground while dogs take hungry bites and a policeman kicks him in the head).
Incensed, the home support responded by first pelting the police with missiles, and then charging them in several waves – and no, these were not the token efforts sometimes seen in England. This was the real deal. Repelled by volleys of pepper spray and thumping batons, minutes of cat-and-mouse followed.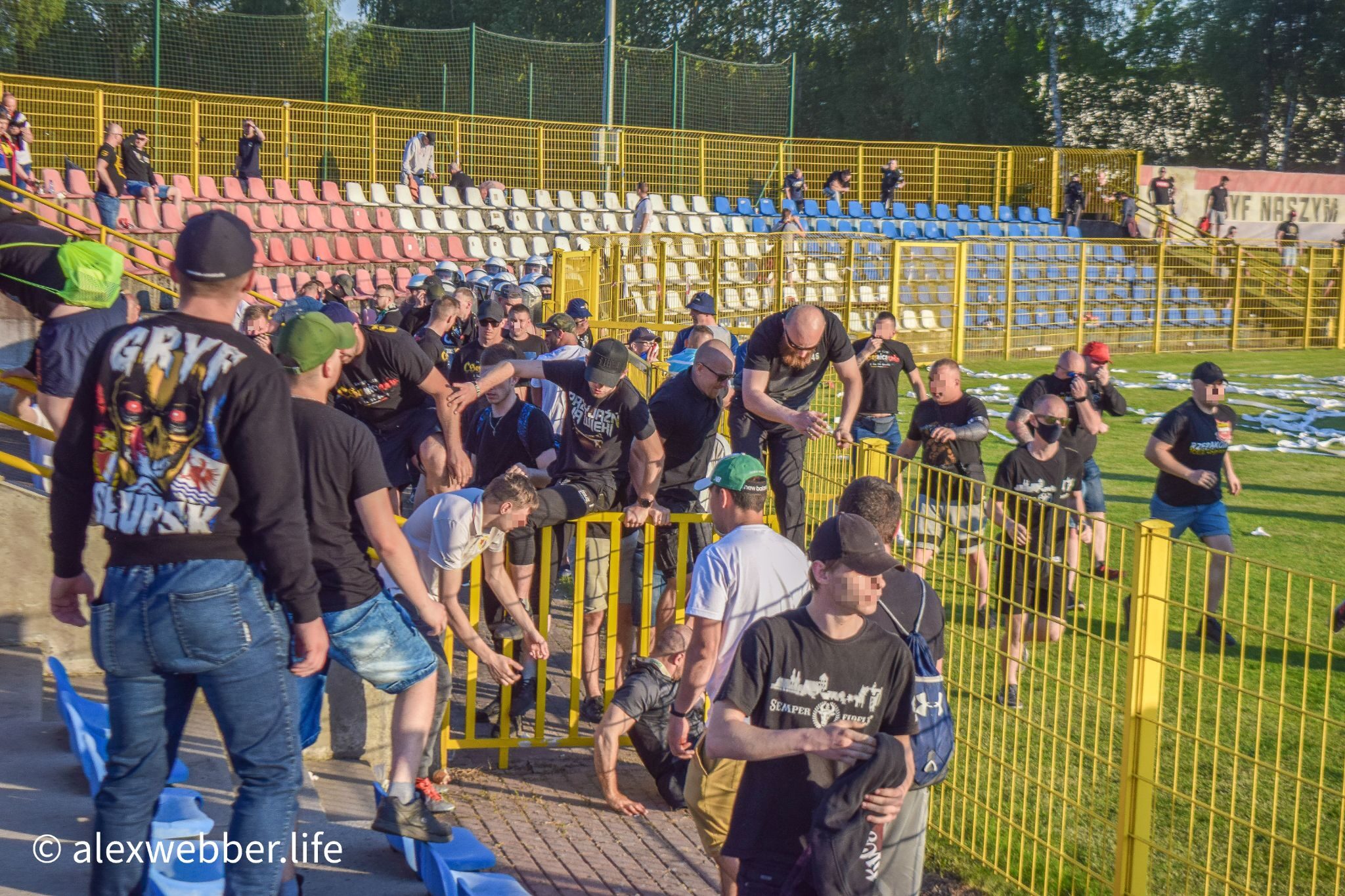 Missiles, charge, retreat, re-form. Repeat. With the air choked in a fog of chemicals, and so many innocent bystanders being caught out by indiscriminate whacks, it wasn't long for the gates to go in to let fans flock onto the pitch.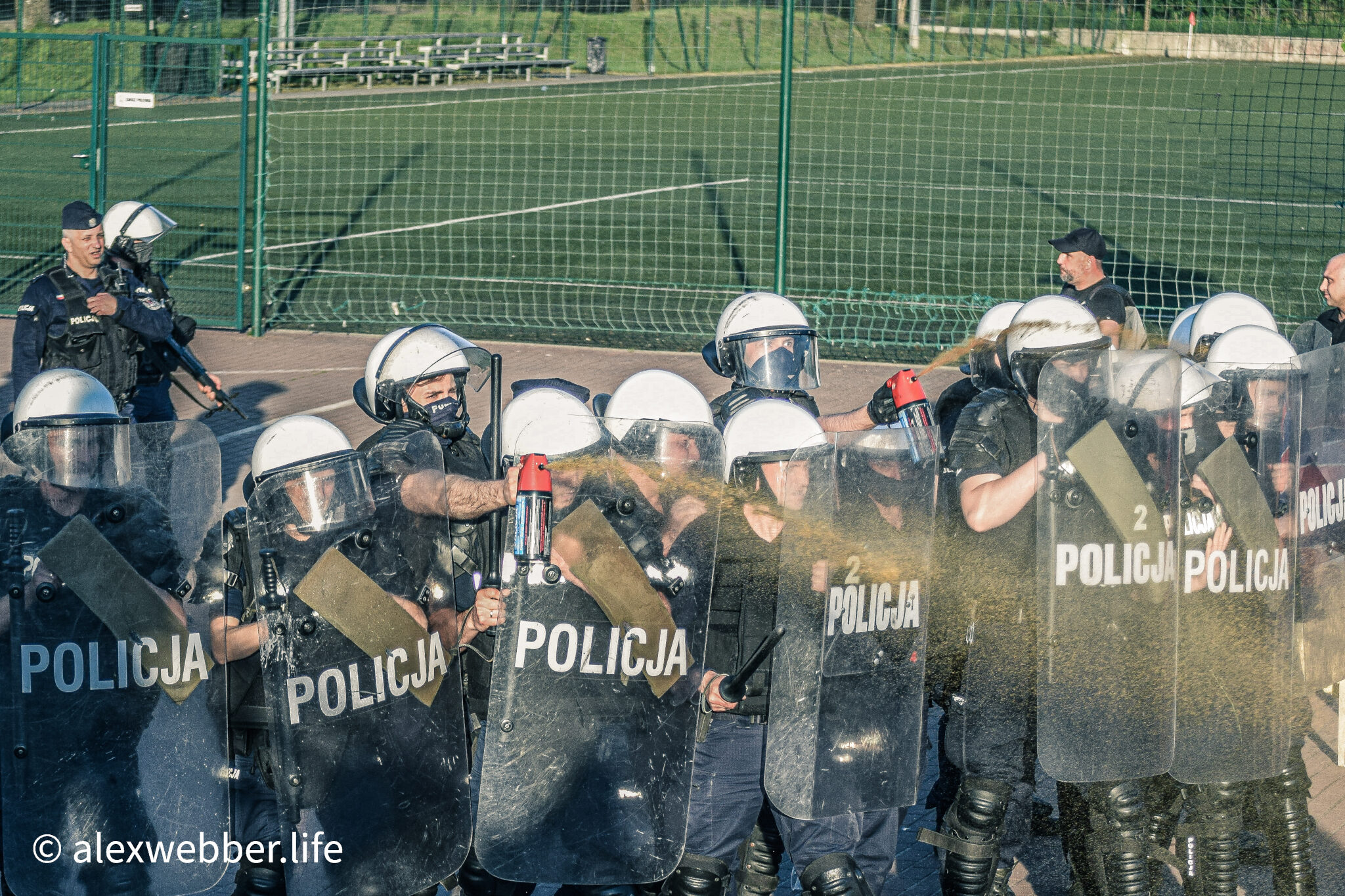 In all this, possibly the defining image proved to be one normal fan running for safety with a beer carefully clasped in his hands: "you can gas me all you want, but you ain't spilling my pint!"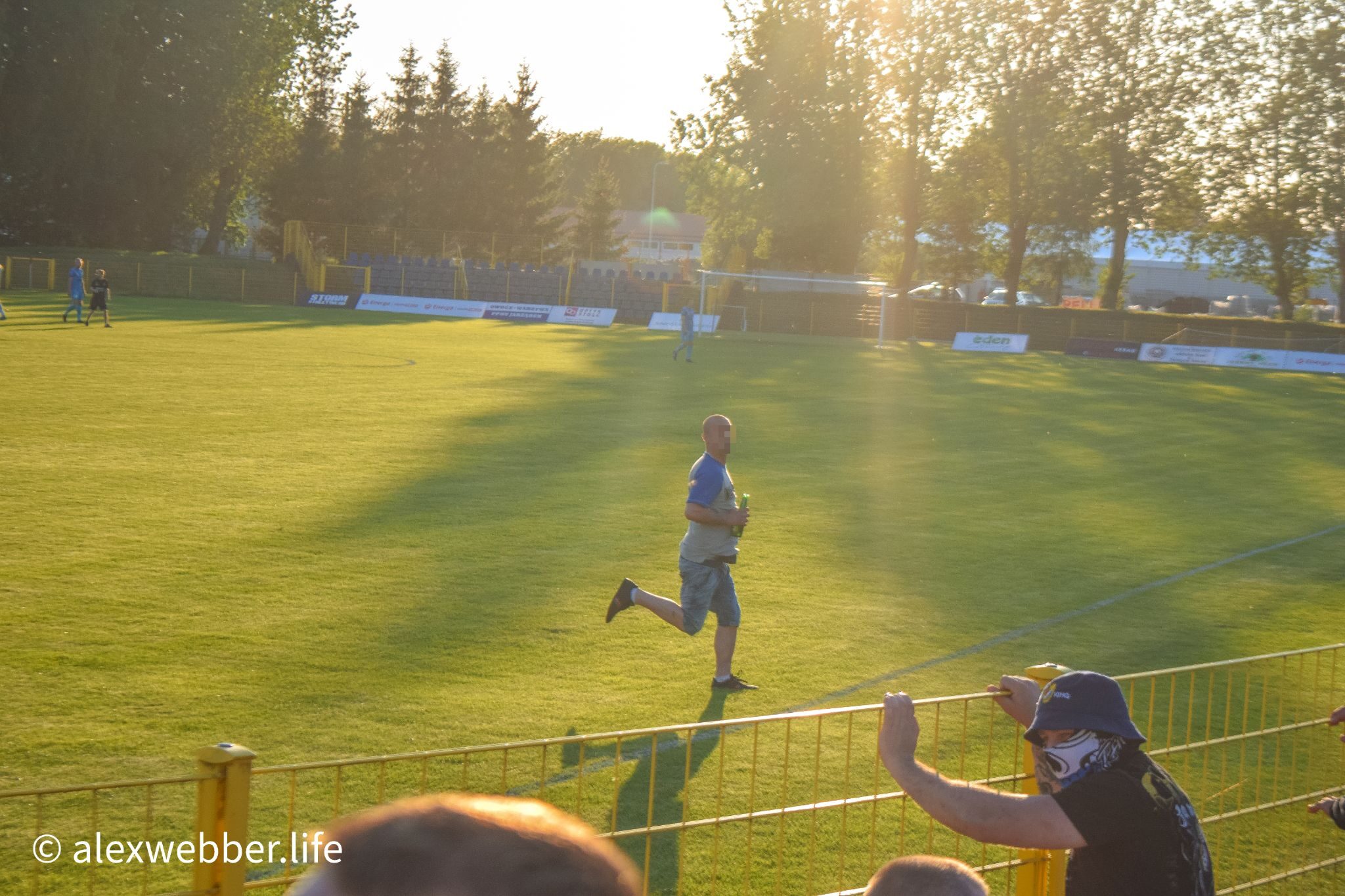 Other Stuff
I had wanted to hate Slupsk when I first arrived, and I think the city wanted pretty much the same. For sure, it didn't give a hoot about handing out first impressions.
It's a trek from Warsaw, one that lands you bang in a station that looks like something saved over from The Old Days of Poland: dark and tomblike, it's stained, stinky, smeared and sticky. After a six-hour train journey that had begun at 5 a.m., I felt much the same.
Outside, the high street was a faded affair notable for its emptiness and shuttered shops, whilst the Old Town Square featured attractions such as a big box supermarket, a car park and a line of 60s flats – it won't win any beauty pageants.
Weirdly though, I ended up liking the place. It helped that the first restaurant I found (Masala) actually turned out to serve a very passable vindaloo, and the town's credentials were boosted further by some cool outbreaks of wall art and a picturesque clutch of churches and mills positioned around a small, modest castle.
As someone who can't stand modern museums full of CGI and sound effects, it made a pleasing diversion to walk into a castle filled with displays that included the cushion belonging to some King, a few beer mugs harking from the days when this town was called Stolp and an exhibition dedicated to the history of Pomeranian cutlery – a bit nerdy and dull, but oddly pleasant and distracting.
Back outside, more hours were eaten by just meandering aimlessly around the town and past a magnificent town hall, a signpost to Carlisle (1,873 kilometres), pretty art nouveau tenements and a few plaques marking sites of Jewish interest.
You bet I wouldn't go on honeymoon here, but as a town it's worth a few hours of exploration if you're up here for a match – it's not short on small surprises and unexpected pleasures.
Geography
Up north. From Warsaw it took me six-hours to get there by train. Next time, I'll split the journey by stopping for the night in the Tri-City (Gdansk, Gdynia, Sopot) which lies around an hour away – you should do the same.
Final Thought
I sound like one of those wanky half-and-half scarf neutrals you get in the Premier League – usually, though I rarely watch the games I photograph, I will pick a side based on the support from their fans. This time, that was impossible – maximum respect to both sets here. Great support, some proper geezers. Beyond that, both groups would have been well within their rights stringing me up for being an irritating prat. For whatever reason, neither did – and I sincerely appreciate that.