Date: 14 November 2021 / League: Polish 5th tier
Final Score: 0-1 / Attendance: approx. 500-600
In A Nutshell
Breaking out into a malevolent ecstasy of fire and smoke, this northern derby delivered a banger inside a grotty but beautiful stadium plopped within a forest.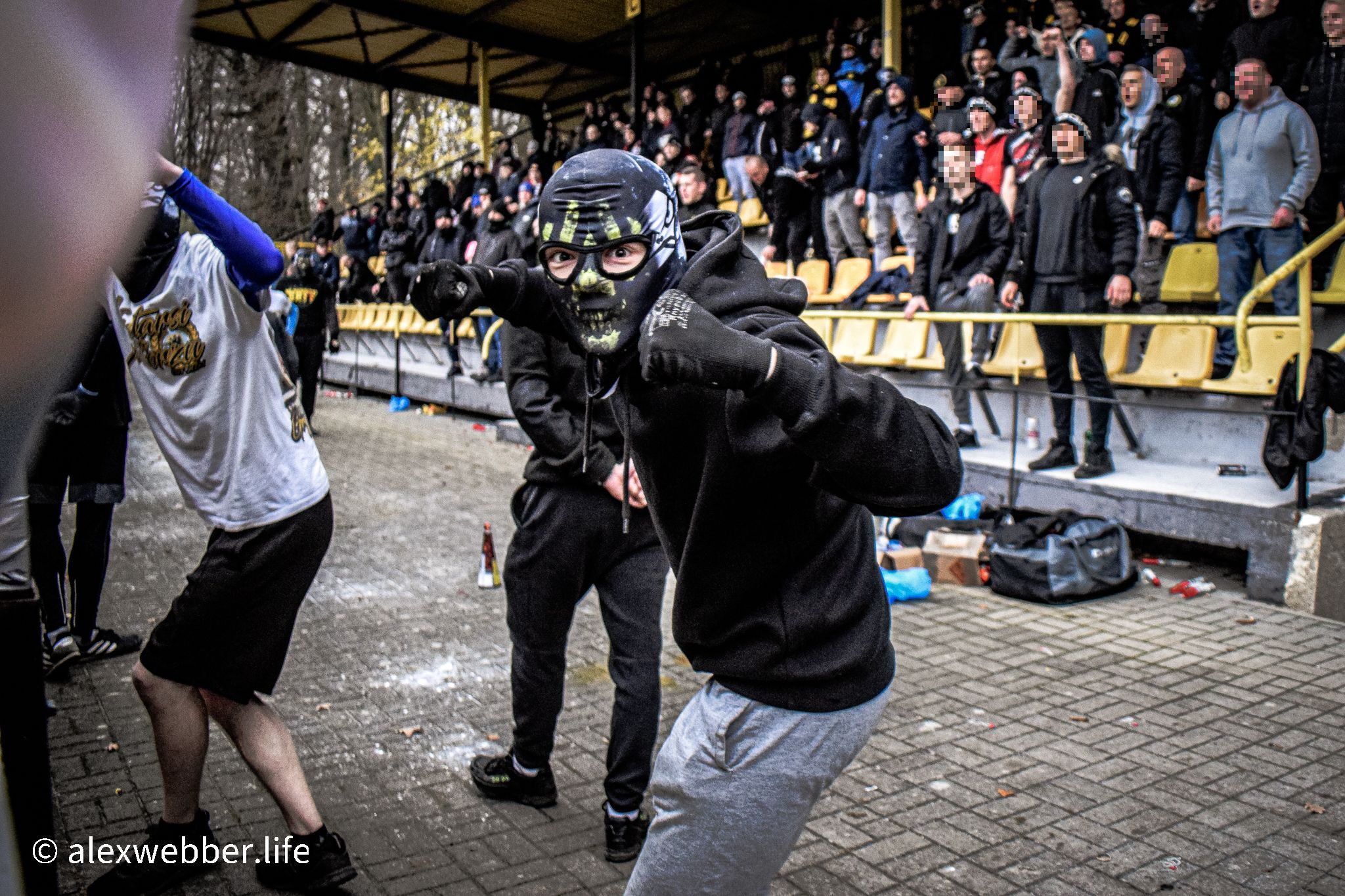 Getting There
To reach Wejherowo, use the handsome Hanseatic town of Gdansk as your base camp. From there, a regional train will you get there in about 70 to 80 minutes – and that's when the fun begins. A twenty-minute walk south, for around half of that time your journey to the stadium takes you up steep forest paths sprinkled with ornate woodland shrines. I simply cannot imagine what kind of lethal battles must have taken place in this setting back at the height of Poland's hooligan epidemic.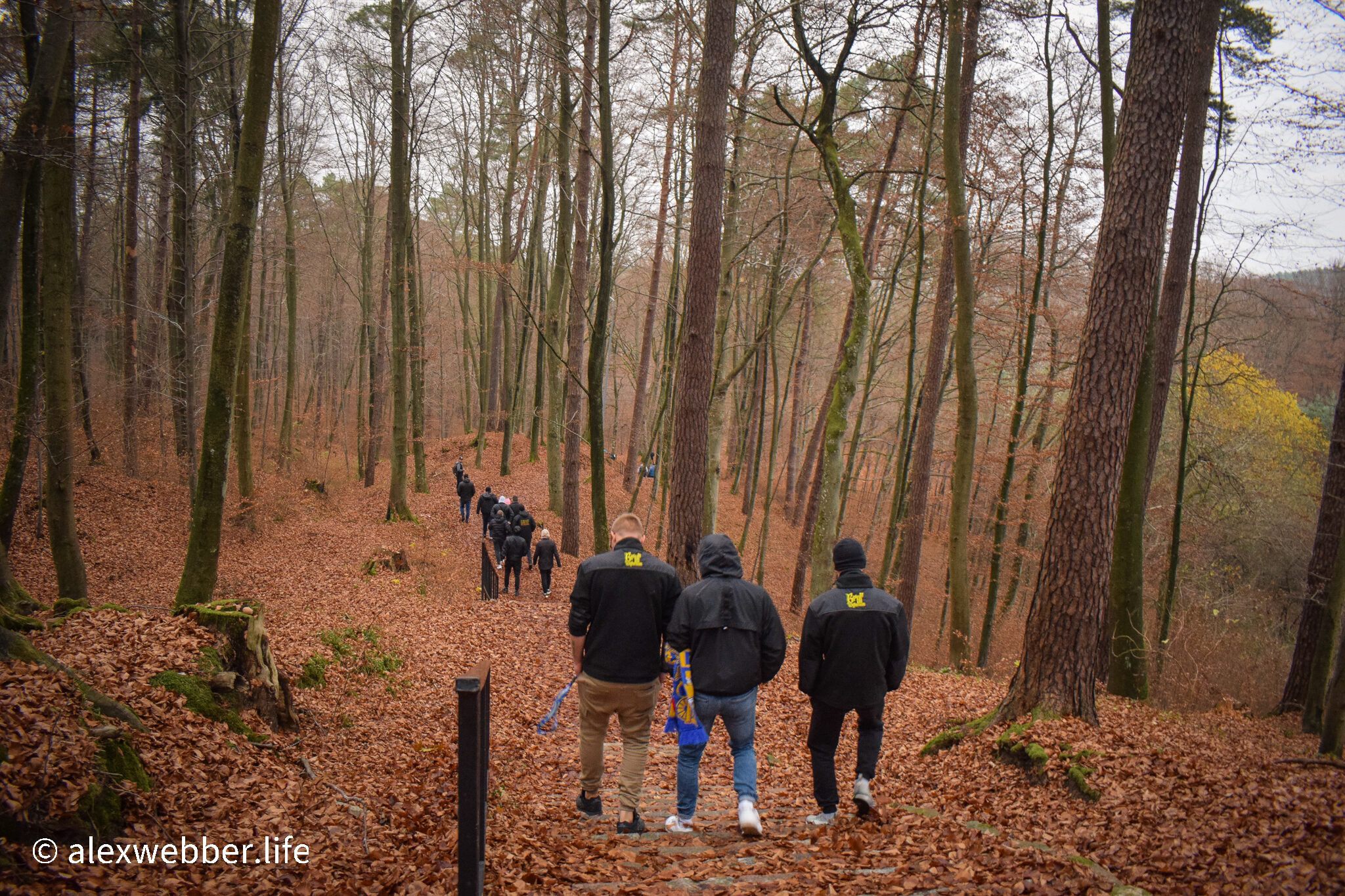 Background
The home side were celebrating their centenary, so I travelled with the certainty that the fans would be laying on some kind of visual feast – and adding to that suspicion was this fixture's own rich history owing to the country's tangled web of alliances and rivalries: you see, not only do Wejherowo harbour a loathing of Slupsk, but also a rather strong dislike for Slupsk's friends from Gdansk. Having seen Slupsk / Lechia Gdansk in action before (CLICK ME!), I knew they were rather serious about their soccer. Could fireworks be on the cards?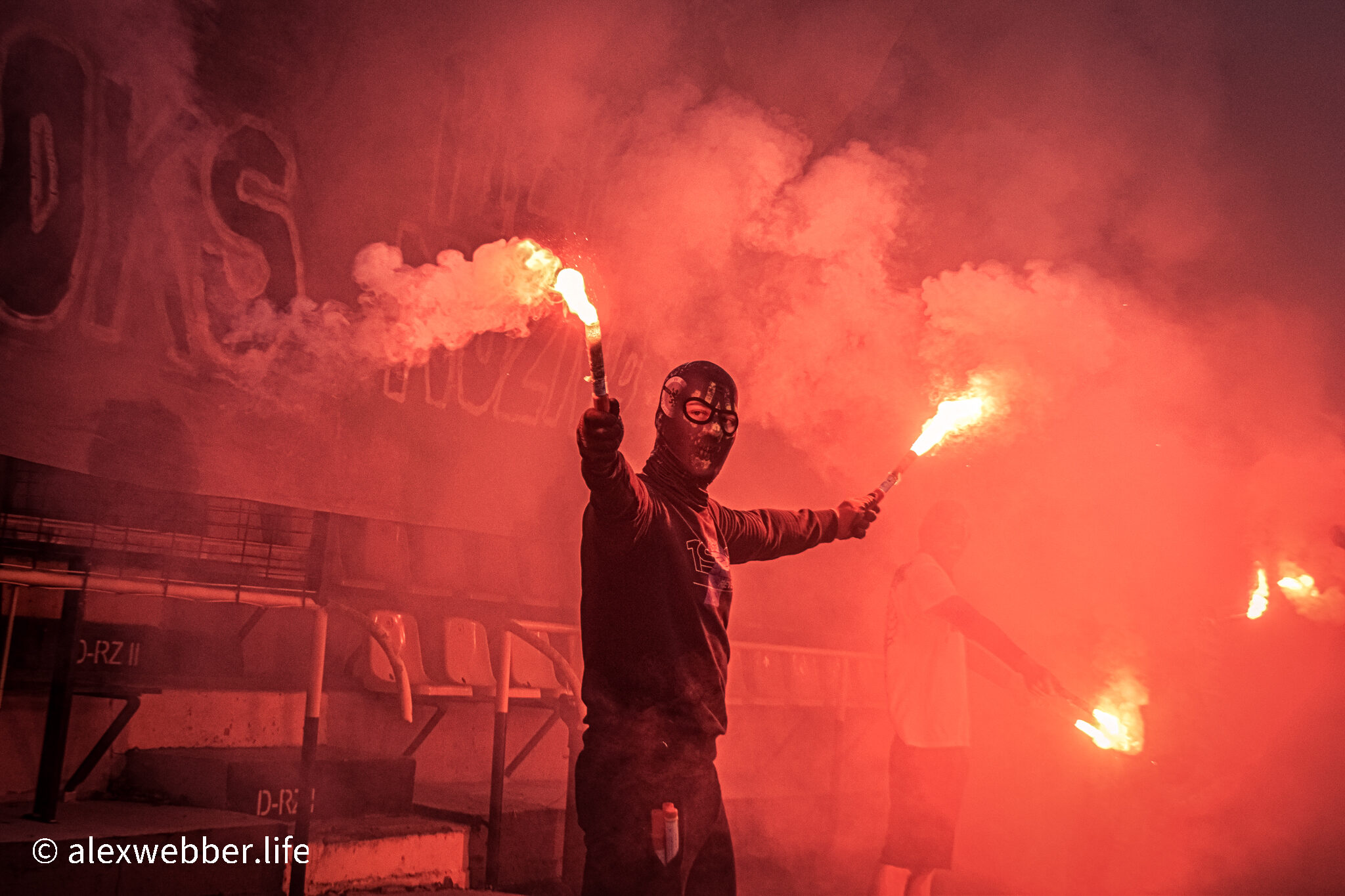 Stadium
A chipped and creaky leftover, this stadium has one covered stand and nothing at either ends. Then, facing the grandstand (if you can even call it that), there's a small away pen flanked by an open bank of seats positioned on a greasy grass slope. Though hardly the most enticing place I've visited, it's a nice one to chalk off if you're travelling around the north – it might look past it's sell-by date, but for me it's stadiums like this that make football magic.
Experience
By chance, I ended up marching up to the ground with the home mob, a quiet thrilling woodland walk conducted to volleys of smoke cannisters and burning flares. Not before nor since have I enjoyed a forest walk quite so much.
Onto the game, and 100 or so Slupsk did arrive with their compatriots from Lech Gdansk, but they were prevented from entering the ground after being corralled by the police. Kept in a wooded corner far out of sight of the home fans, their containment did not ruin the atmosphere.
In belligerent voice, the 400 or so home ultras turned this match into a full-throttle affair featuring pyro and flag drops in the first half, and the dramatic incineration of captured Gdansk booty in the second – electric to watch, and all the more satisfying after seeing an FA official self-combusting with rage at the sight of these antics. This stadium was rocking, and I have no problem declaring this match among my favourites of the season.