Date: 3 May 2023 / League: Polish fifth tier
Final Score: 0-2 / Attendance: 500 approx.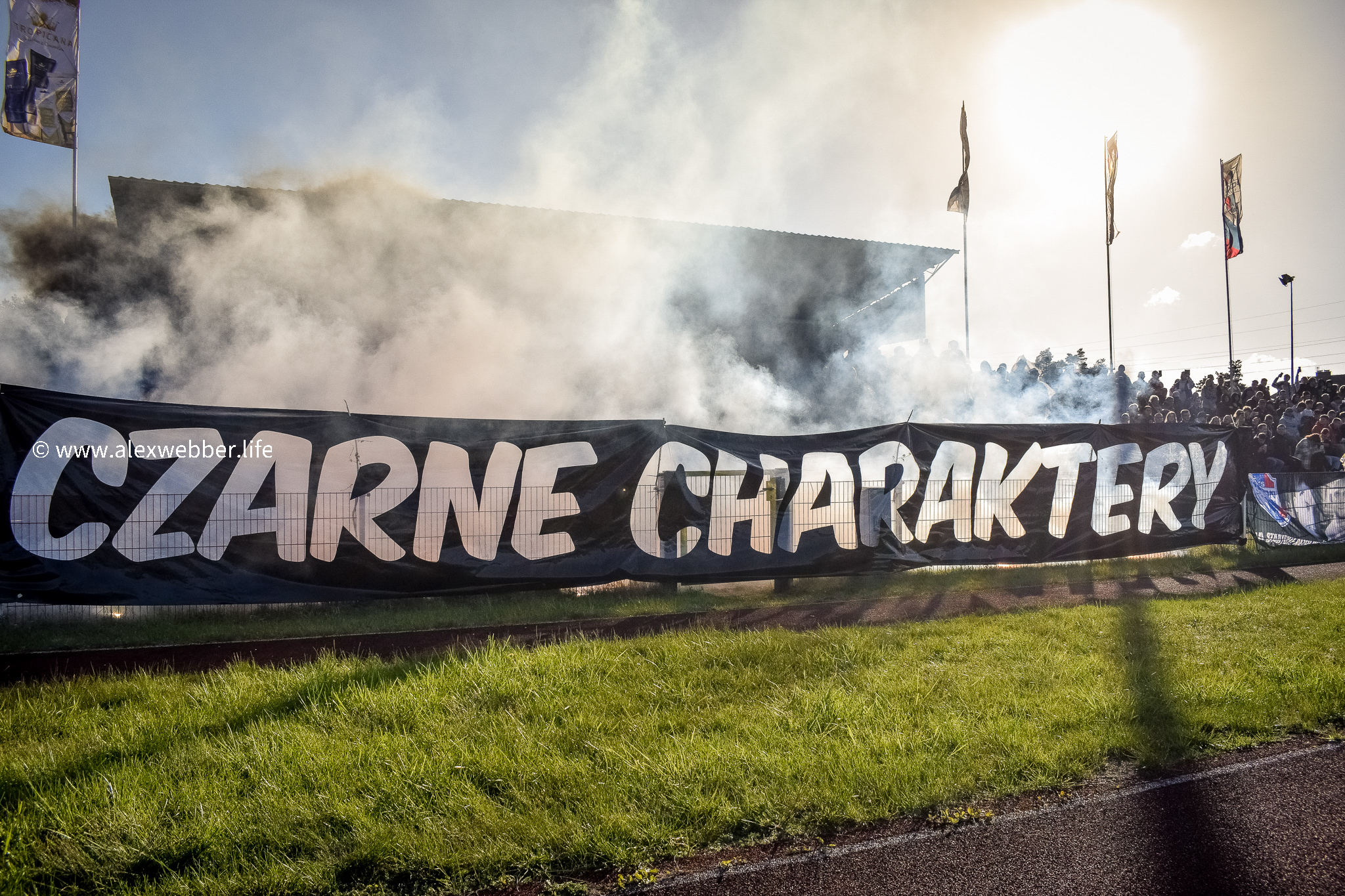 Experience
As much as I enjoy the big games at the big clubs, there's an air of predictability to the matchday experience – by in large, you know what you're going to get: a show and a spectacle to go with your popcorn and Pepsi.
For me, the lower leagues are where it's at – off the track less travelled, there's a sense of the unknown and unexpected. Anything can happen and usually it will.
Over the years, I've uncovered some superb fixtures, but few have delivered in quite the same way as the Slupsk-Lebork derby – in a nutshell, it's always been a rung above crazy (for those trips, CLICK ME and CLICK ME!).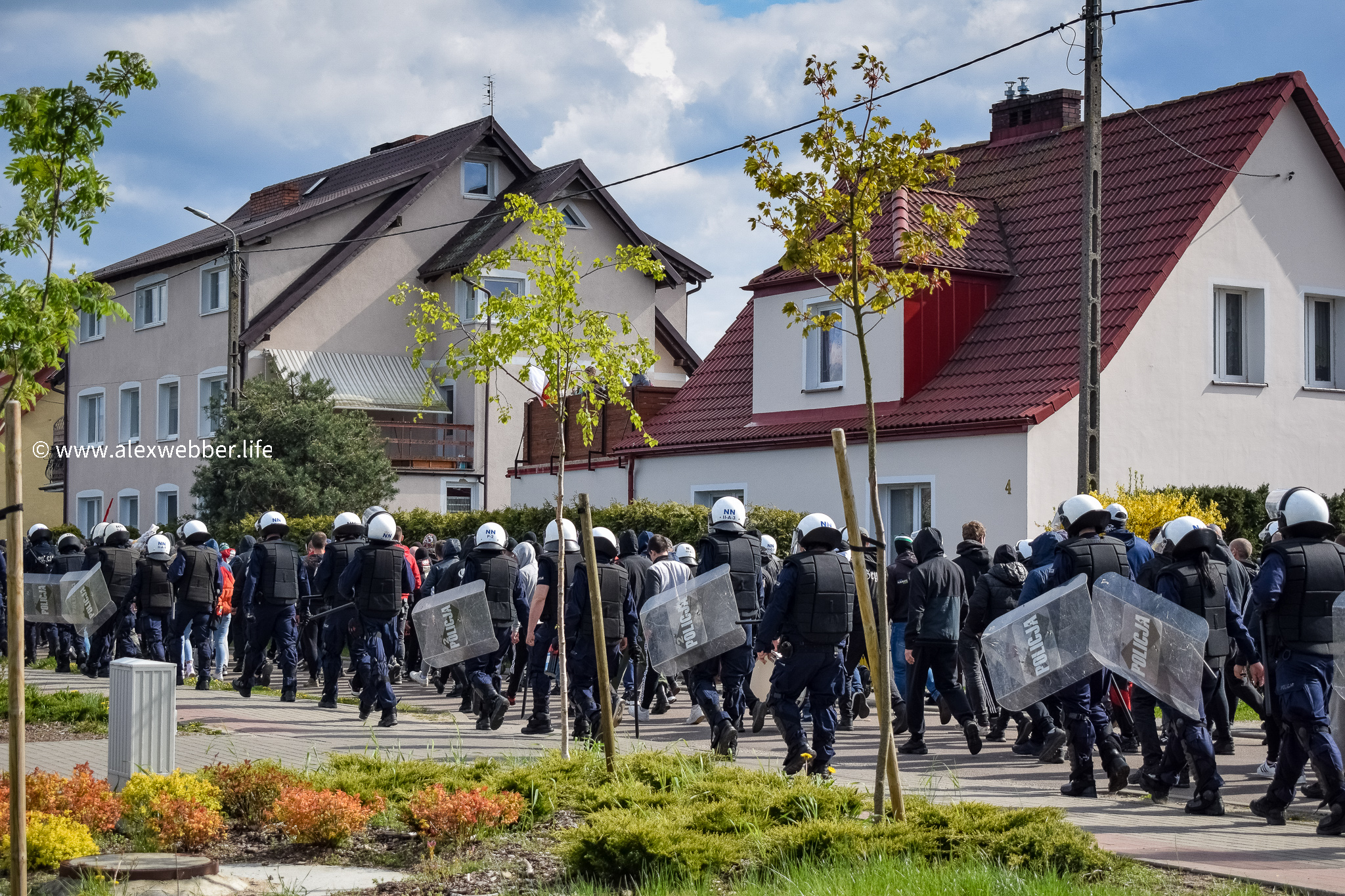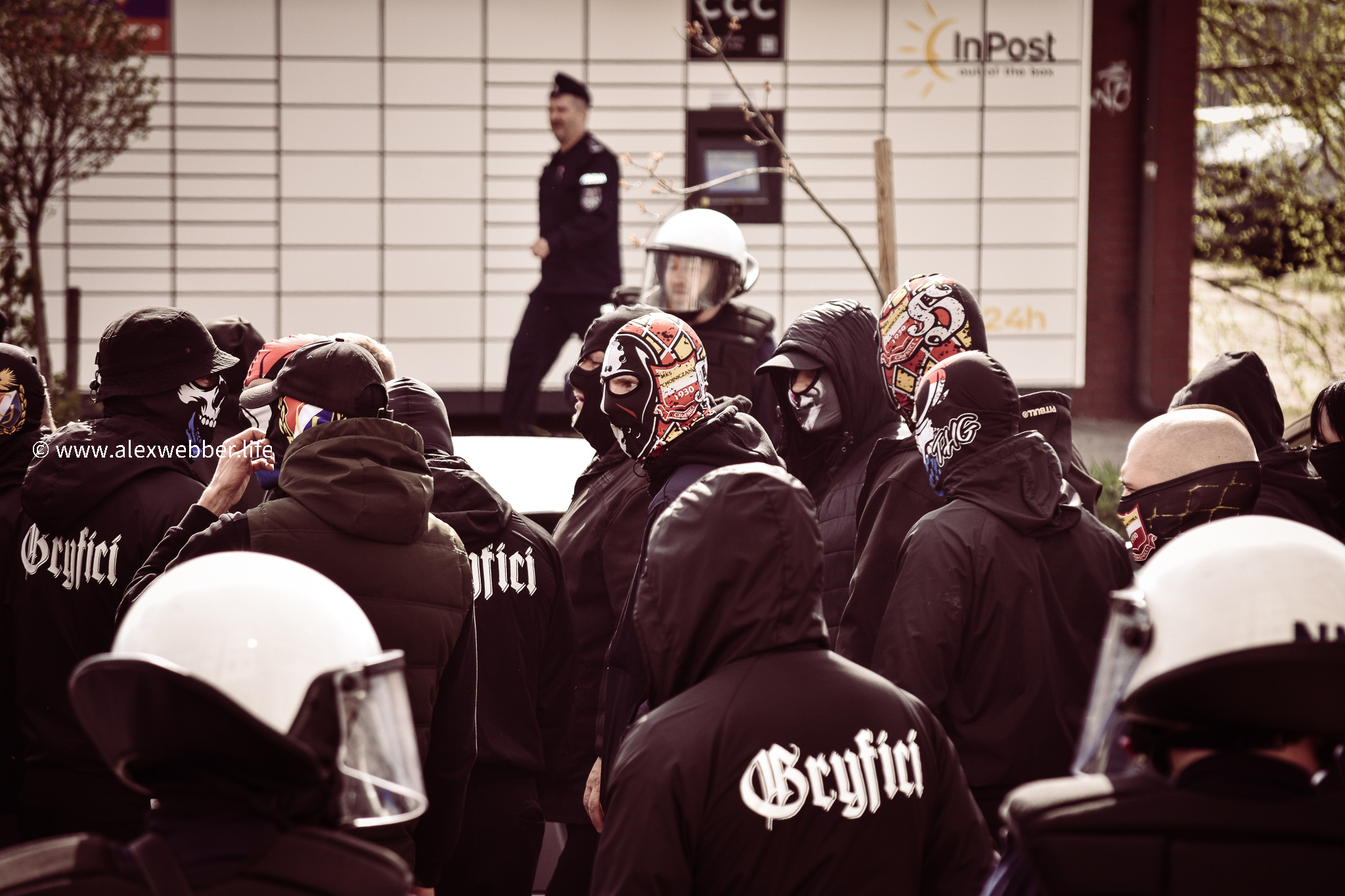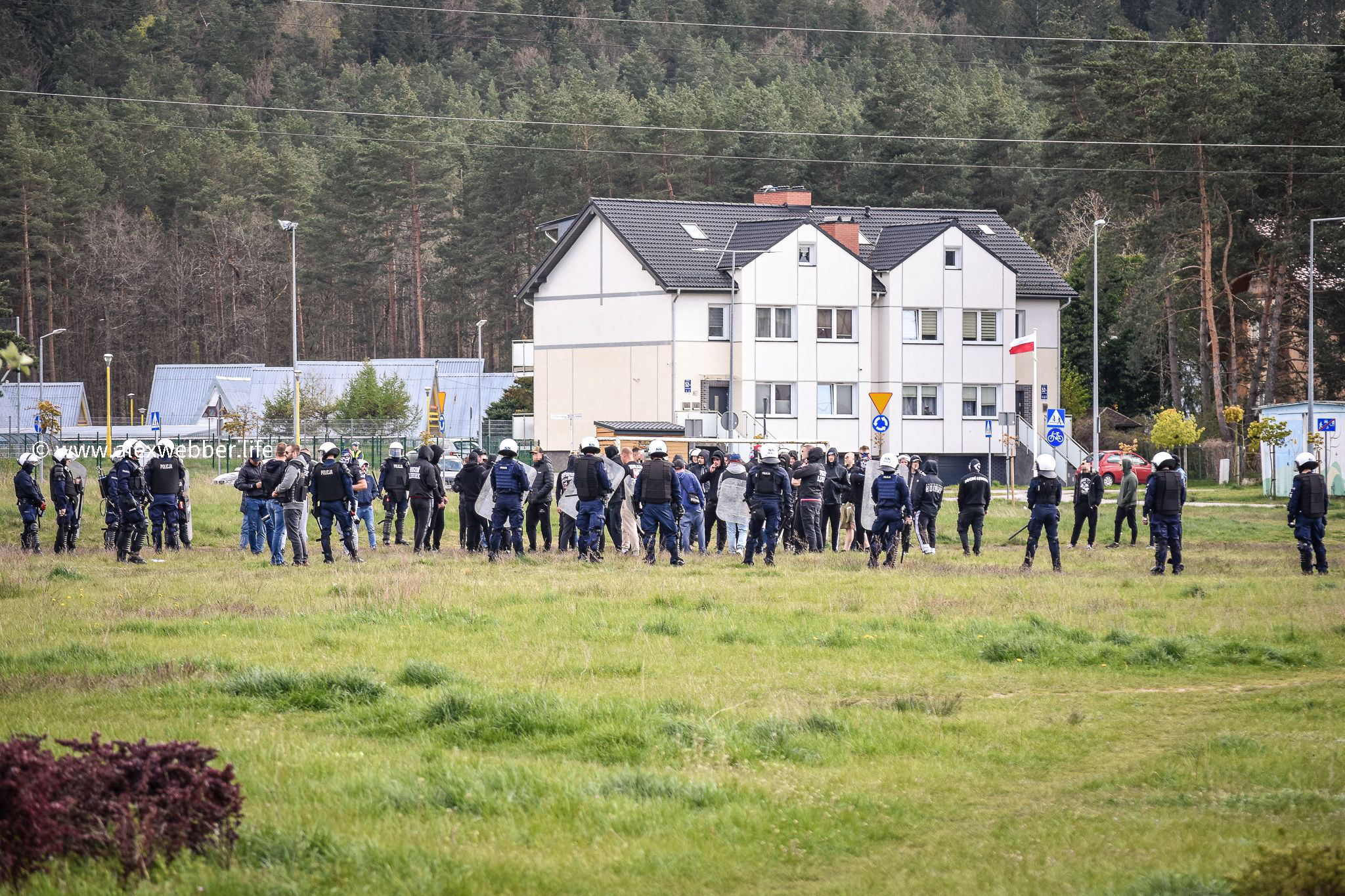 This, though, would be my first experience of Lebork, and having seen that Slupsk were on a 12.30 train I got there extra early to mooch around the station and watch them arrive. Honestly, my hopes sunk the moment I got there – devoid of any police presence, I immediately assumed the worst: that is, that once again a last-minute ban had been placed on the travellers.
Somewhat glumly, and with about three hours to kill until kick-off, I settled into a local bar for some consolatory drinks. On beer No. 3, my gloom lifted when, out of the blue, a battalion of riot wagons appeared to surround the station. From my perch in the pub, I could overhear the seasoned barflies talking about the impending entry of Slupsk's set of fans – my day was back on!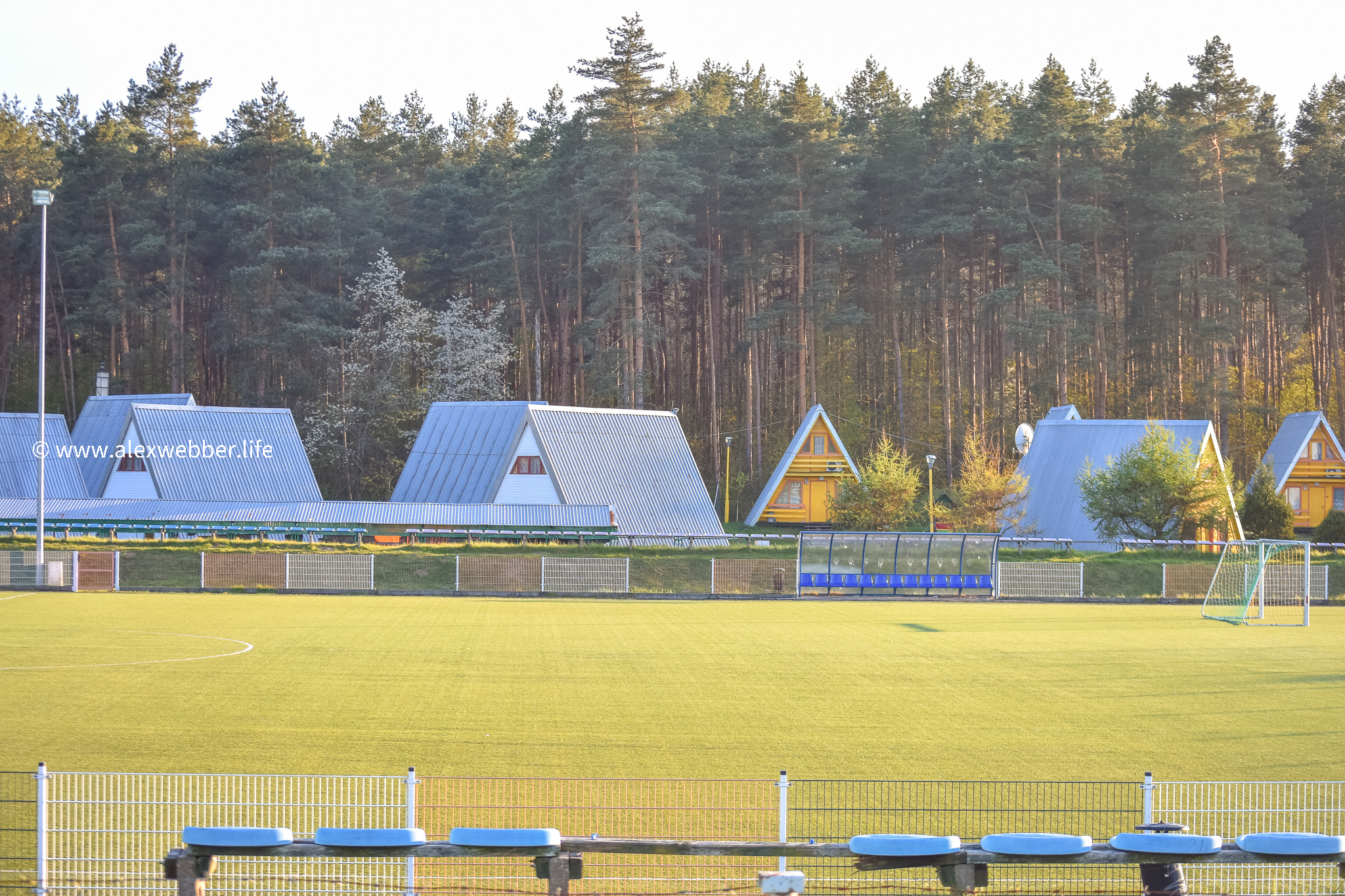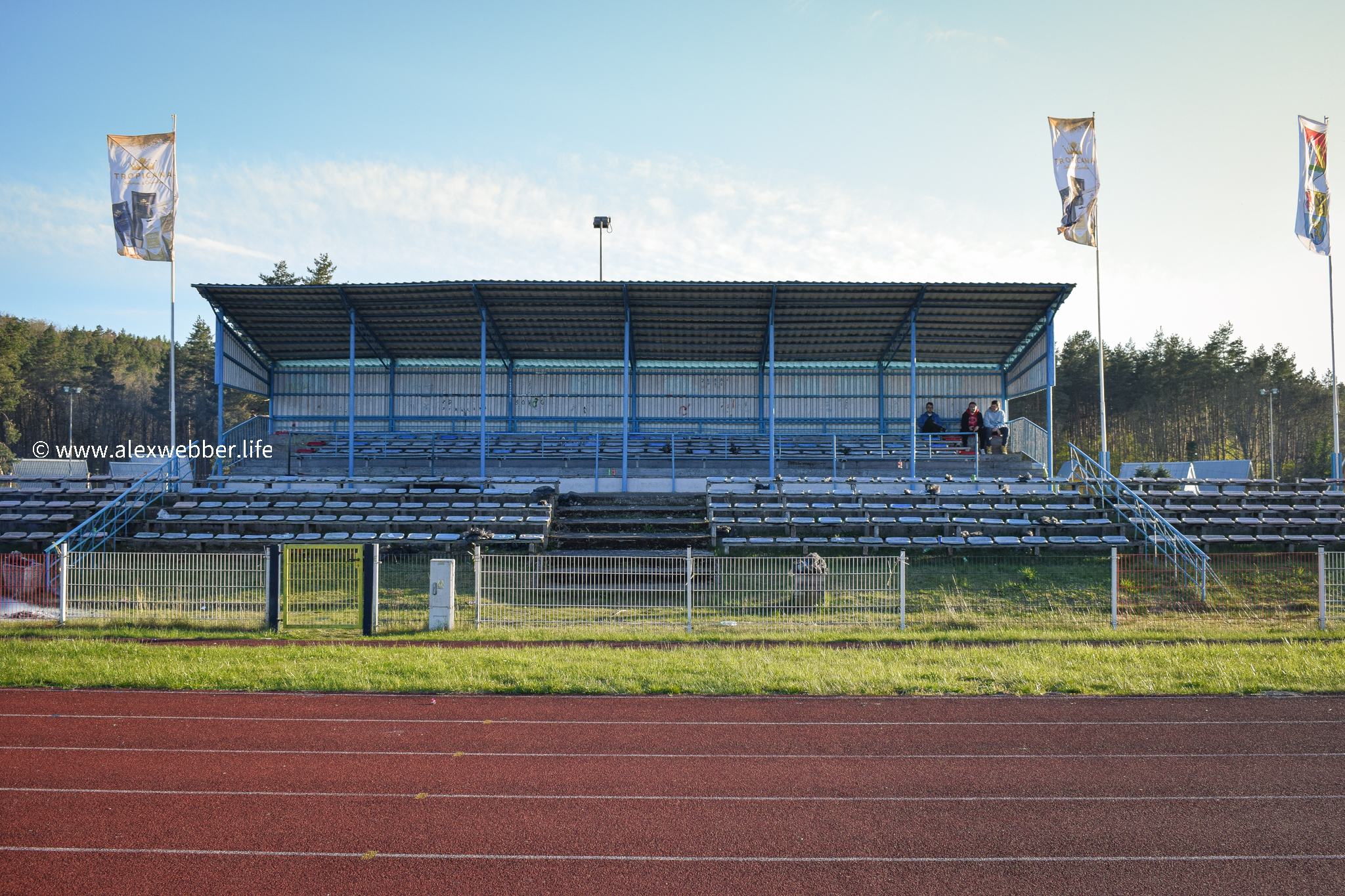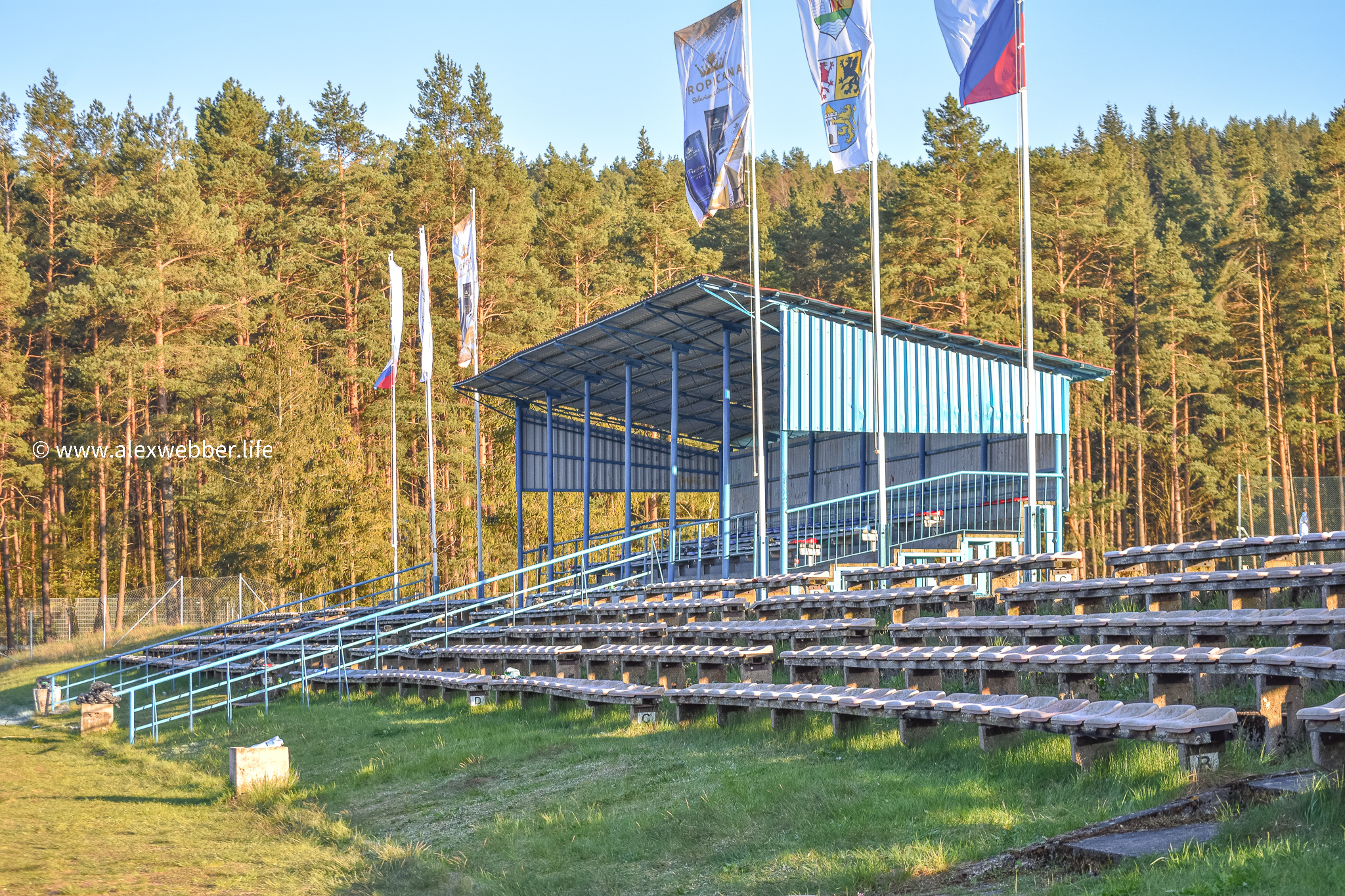 Being a nosey and interfering berk, when Slupsk did arrive I ditched the pint to follow their escort from behind – usually, these are boring stop-start processions but it wasn't long till this one got lively. Having emerged from a short subway tunnel into a housing estate, the air was suddenly pierced up ahead by the shouts of Lebork's welcoming committee.
Too far away to see what was happening, I let my ears be my eyes as I listened to lots of clatter, commotion and general argy-bargy. Making my way to the front, it was clear this was going to be a lively day – Lebork had already been dispersed but I could see them scuffling and running around with the police units in the distance. Where I was, Slupsk's lot were also giving the police something to think about with their sporadic surges met with a flurry of baton strikes.
An interesting start I thought, but no way would this match be allowed to proceed with the visitors inside. Fortunately though, I was proved wrong.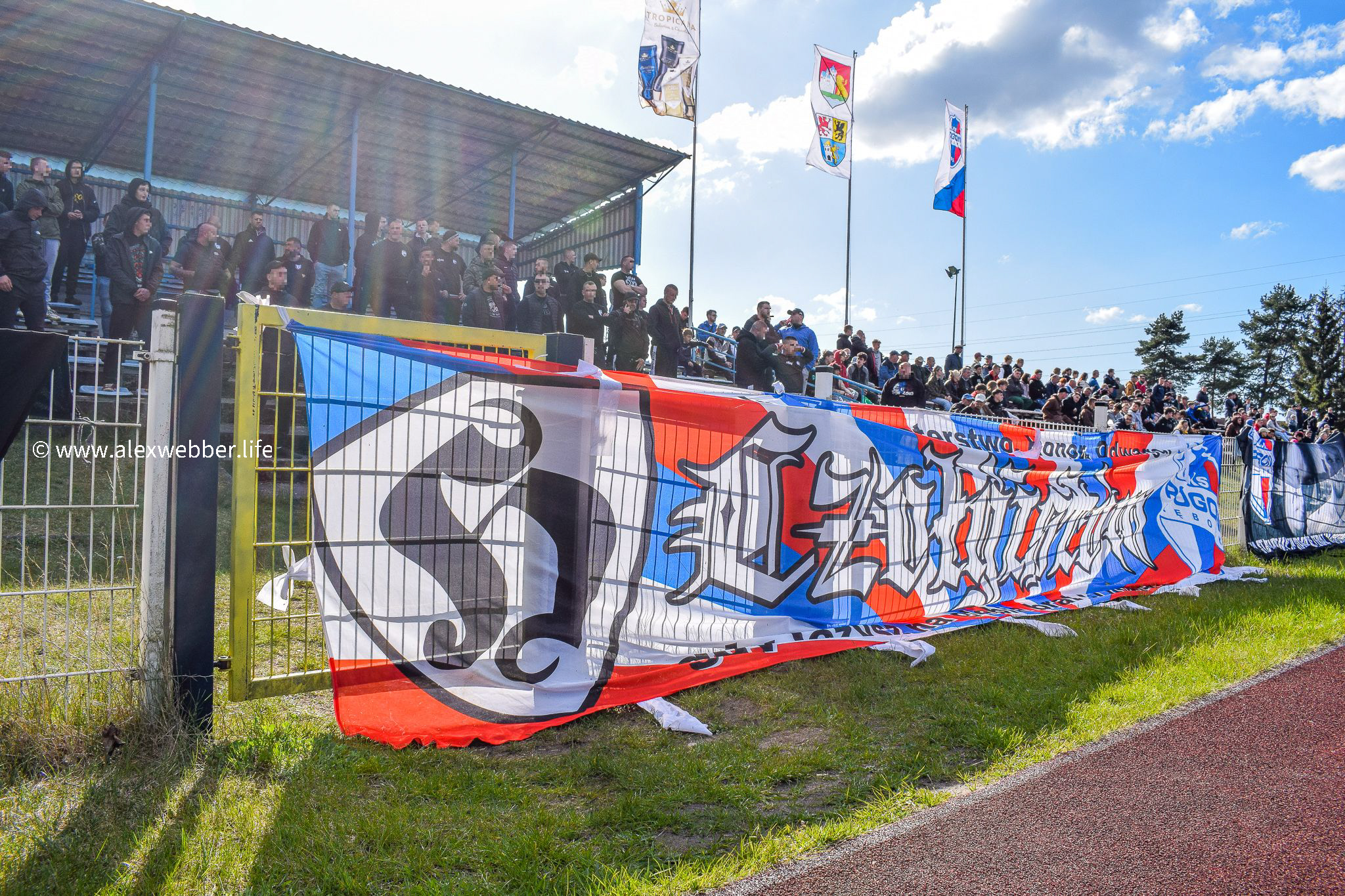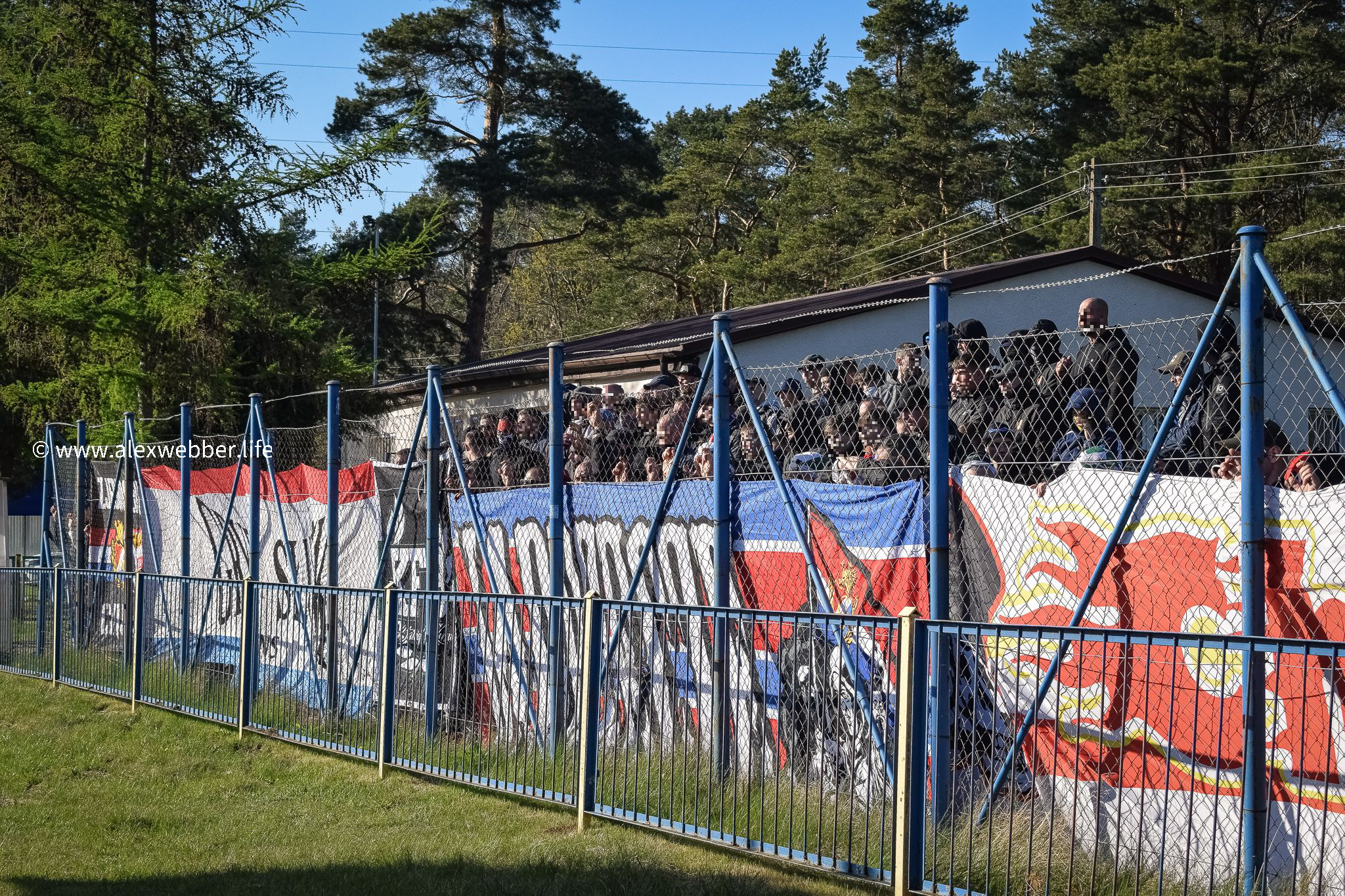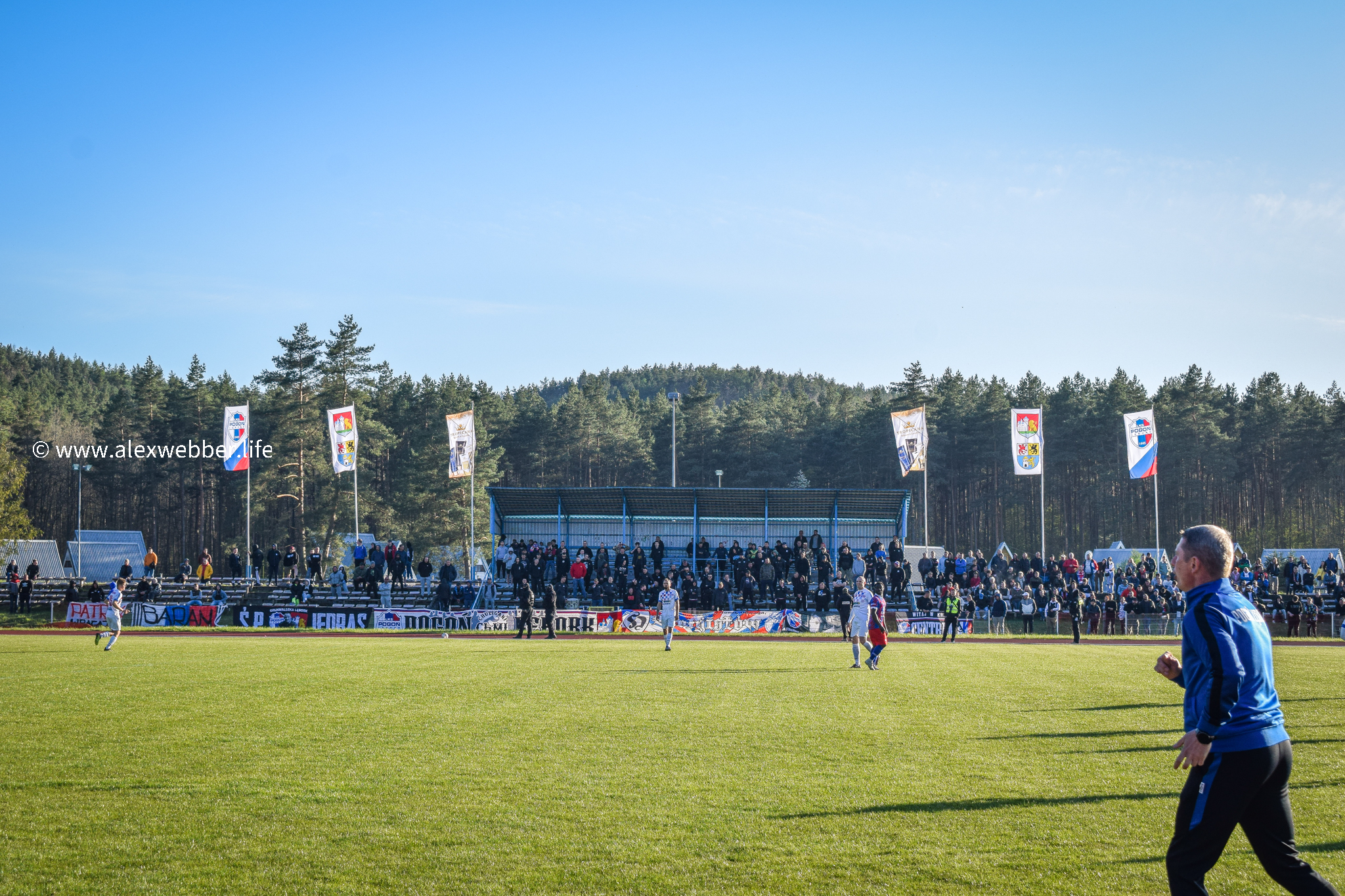 From the outset, it was clear this would be a game that would continue in the spirit of hatred. As Slupsk slowly trickled into their pen, you could see already their followers masking up in balaclavas, and come the second half the temperature rose further. This was the cue for Pogon to launch their pyro show with black smoke bombs creating a misty battlefield fog.
For their part, Gryf too had managed to smuggle in pyrotechnical devices despite the stringent searches that had seen their following only enter in full around the half-time mark. These infractions would prove to be the least of the police's worries, and when their team went ahead the away lot took this as a sign to dismantle the fences.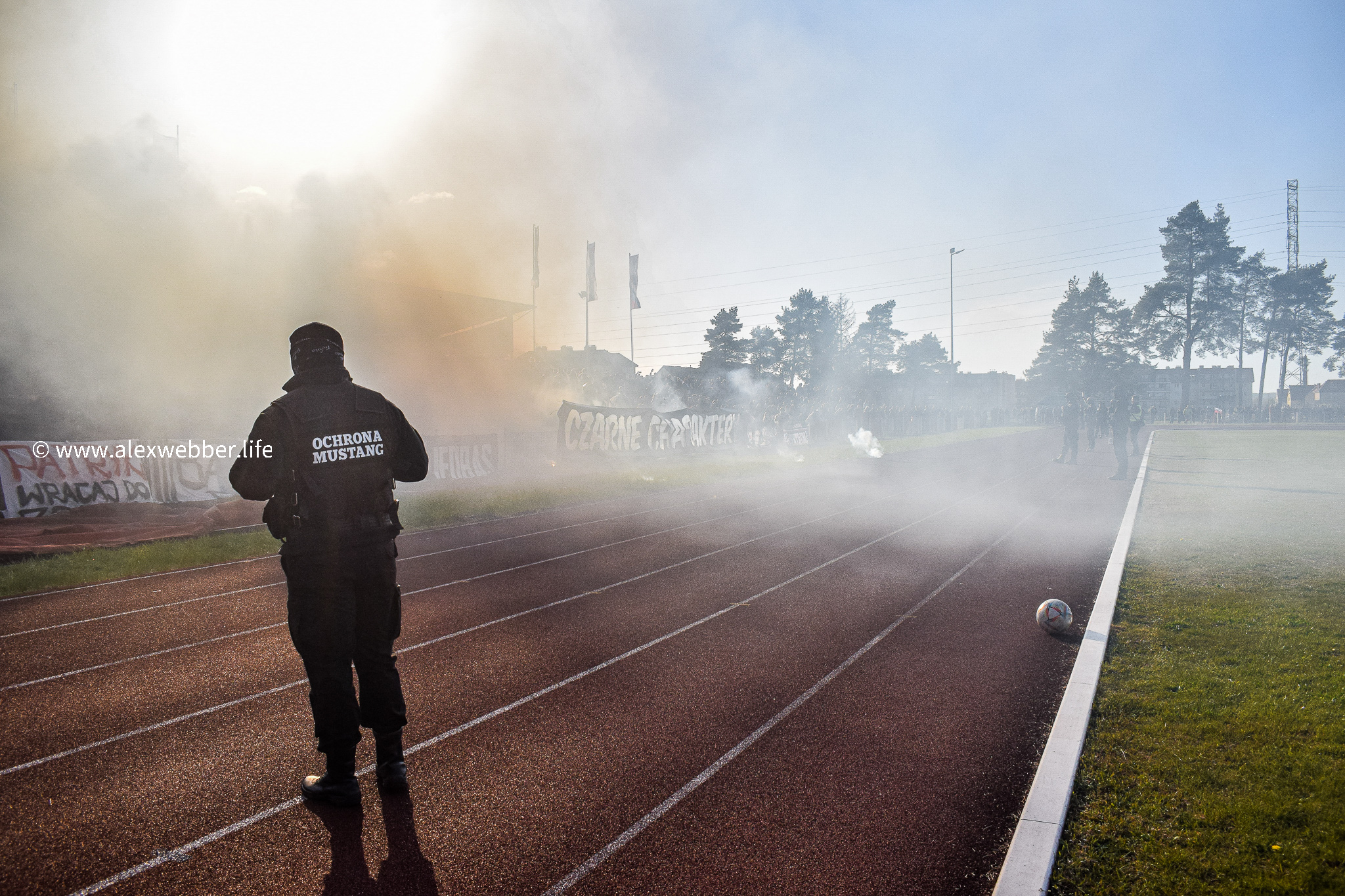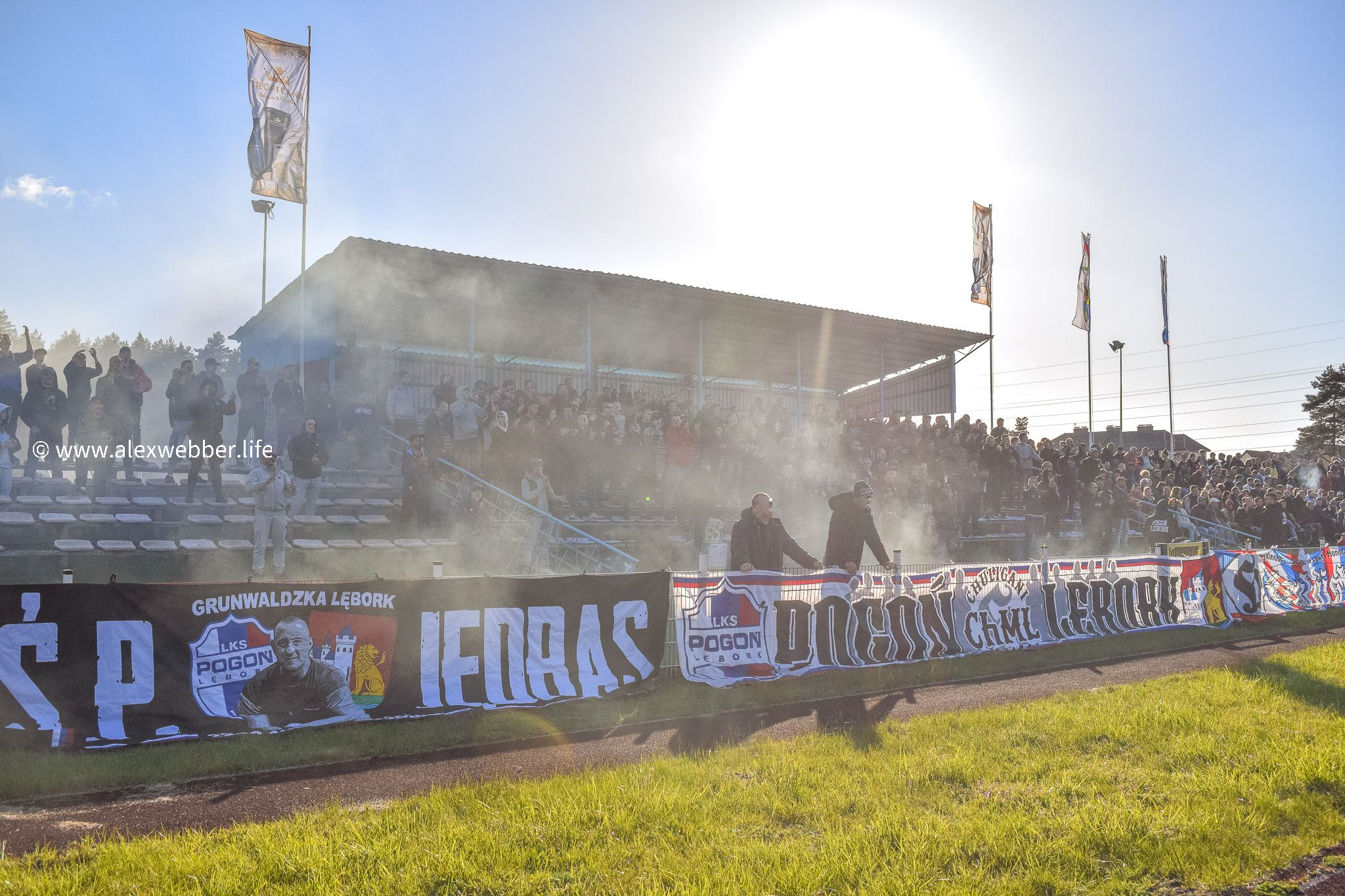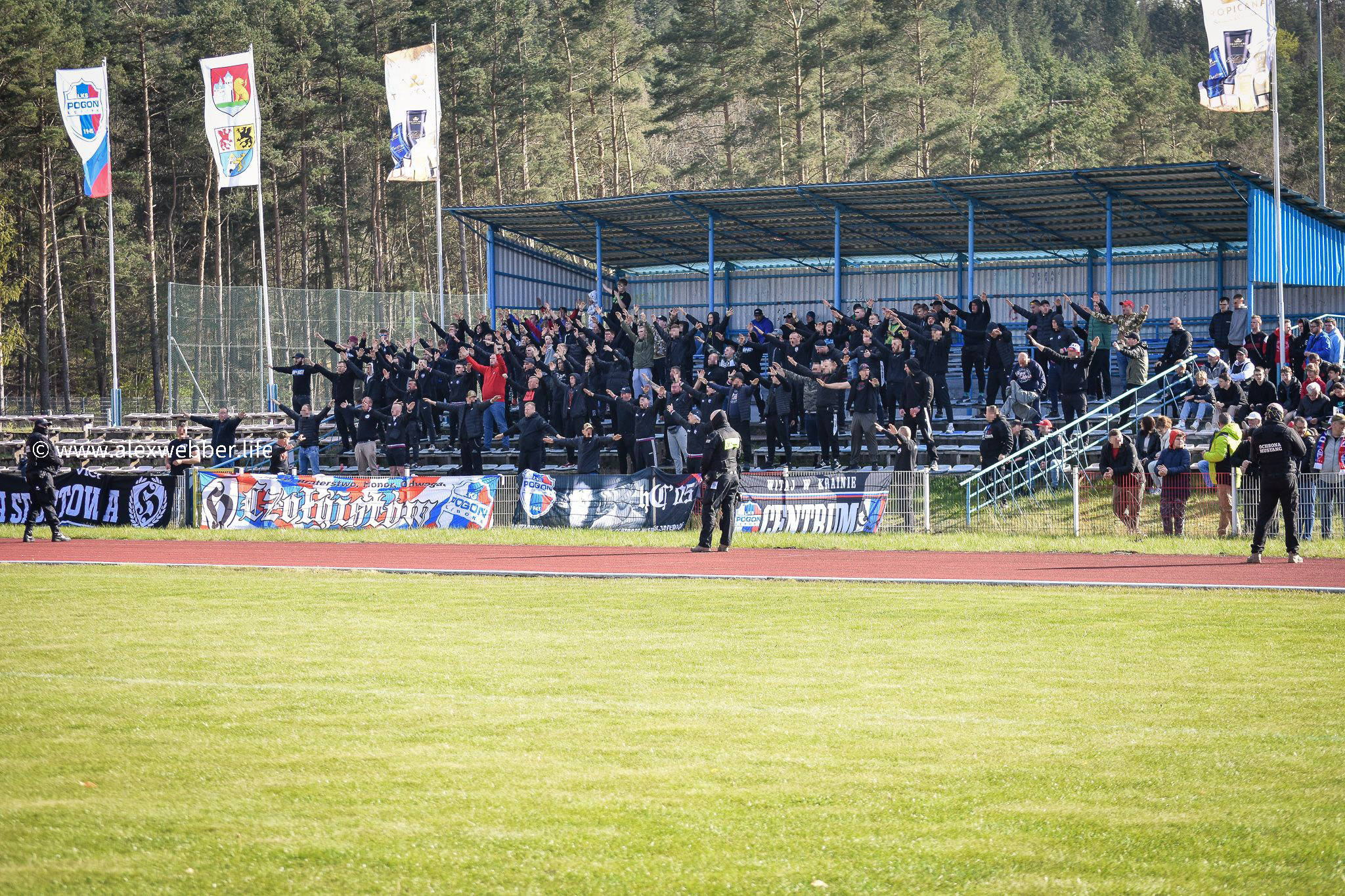 As a thin line of shield-touting riot police formed before them, I found myself increasingly looking for my own exit strategy – still unable to run following an ACL reconstruction, I devised a genius escape plan that, in the event of them storming the pitch, would have seen me diving into the nearest bush. In the end, this measure wasn't necessary though the fact that it was seriously under consideration is a tribute to the hair-raising old school atmosphere that this fixture was played in.
But even without the spine-tingling tension of a derby, a trip to Lebork comes highly recommended. Though there's not much to the ground, it's a bit of a hidden beauty framed as it is by forests and pointy-roofed holiday cabins. As for the stadium itself, there's charm here as well – a classically basic away pen and, opposite, a wooden main stand built onto a gentle, grassy slope.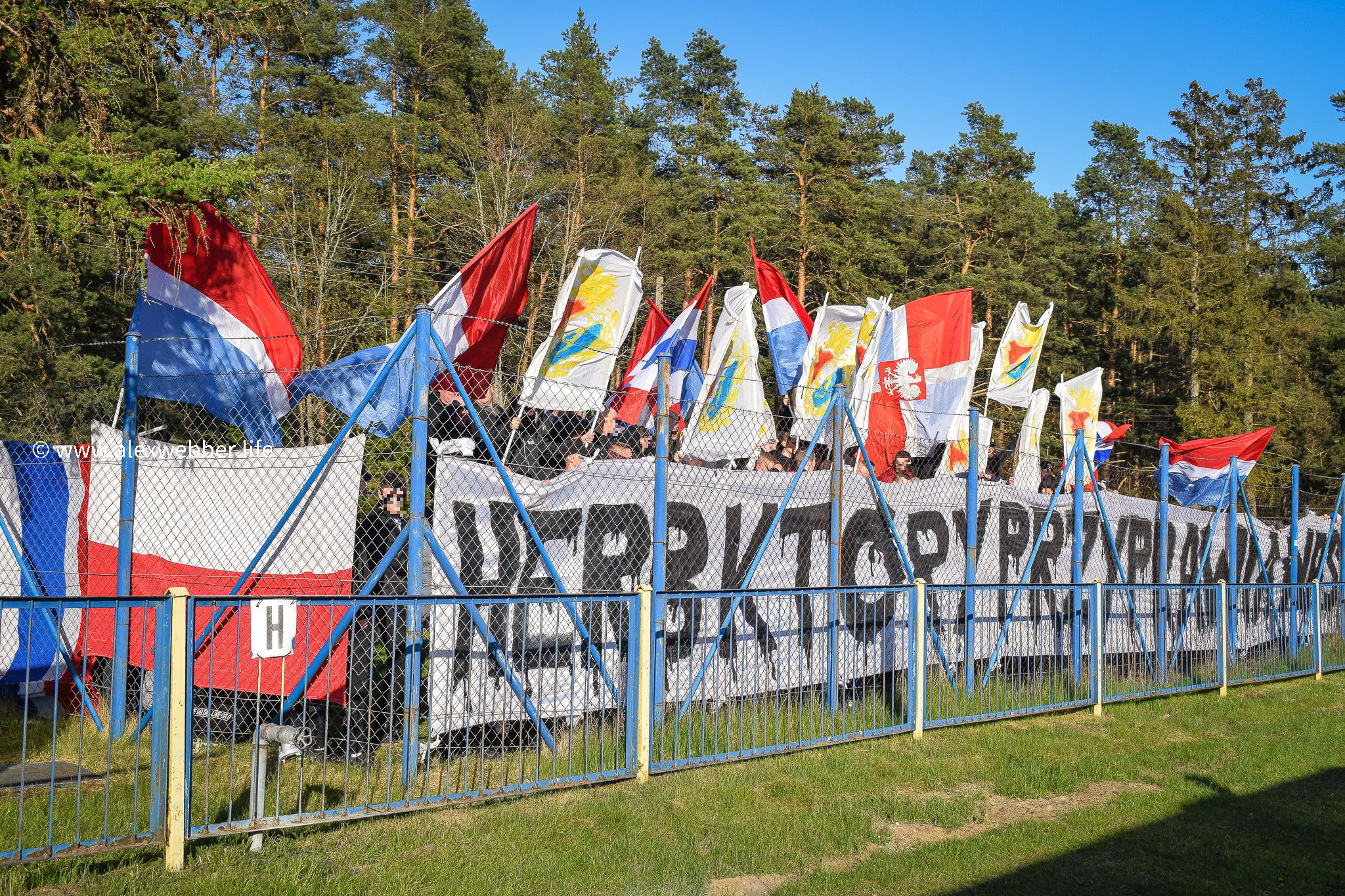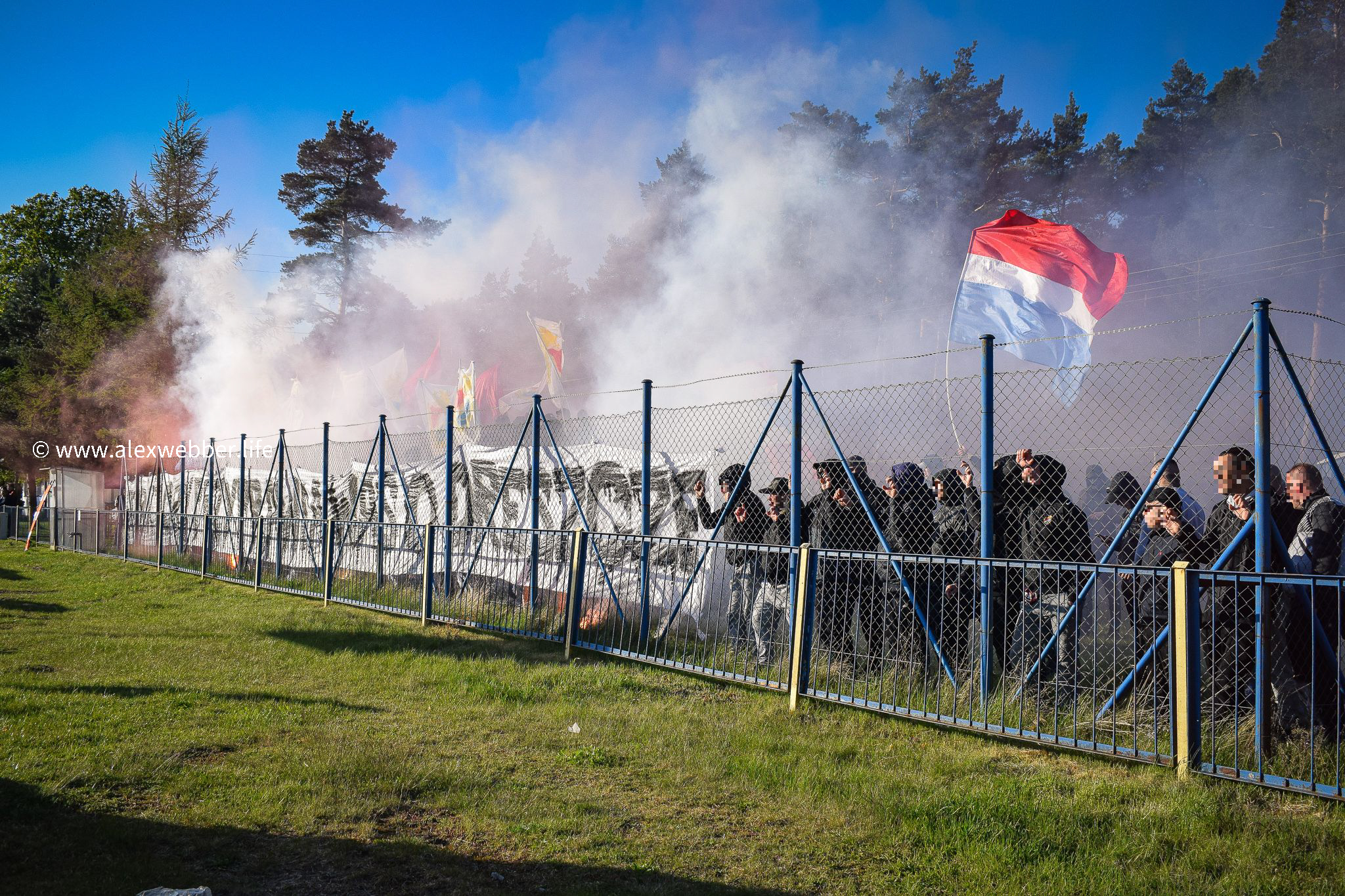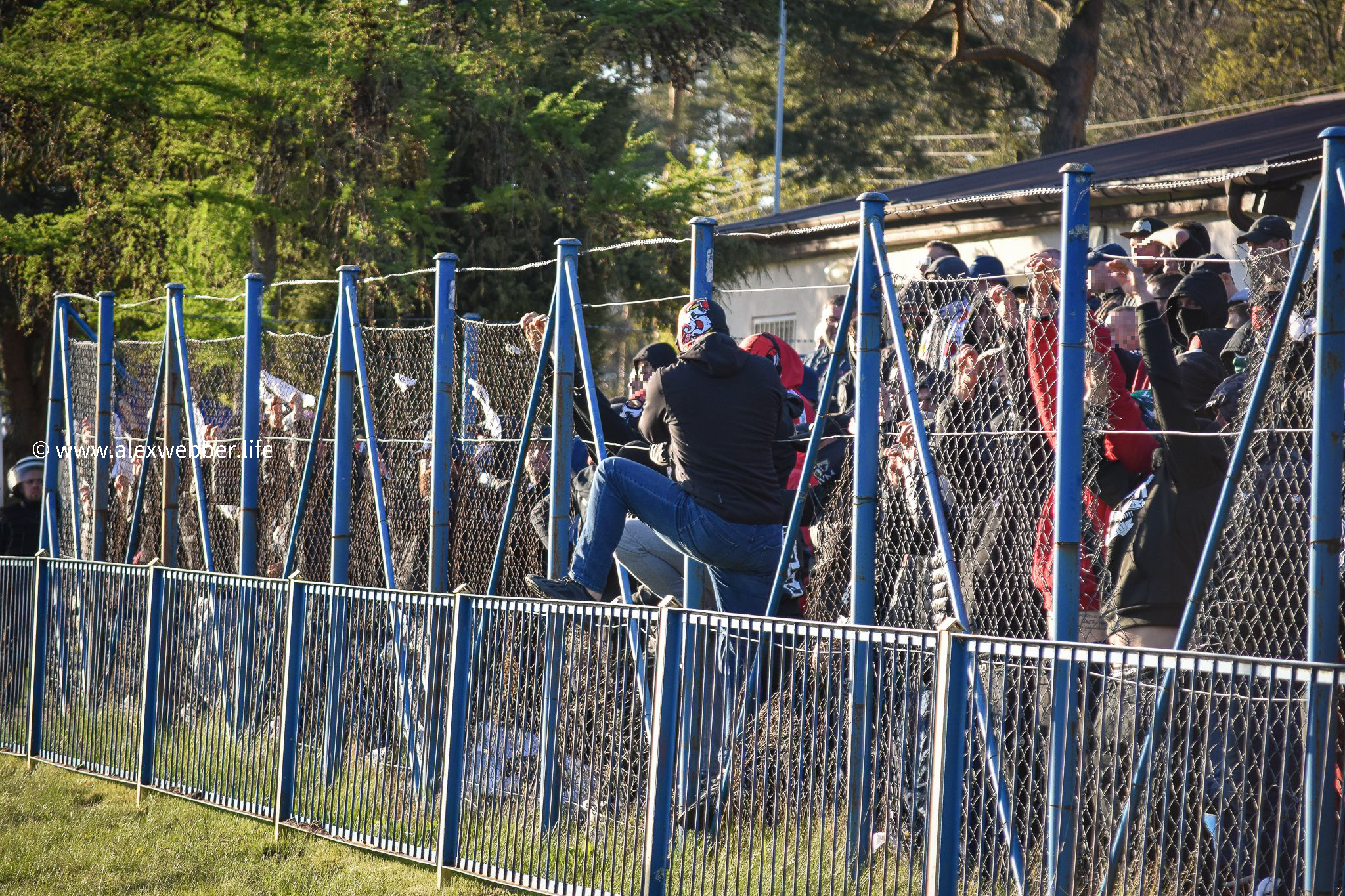 Though that's about it, in the warm glow of the Polish summer it looks endlessly romantic – a proper football ground for proper fans.
And it's on the subject of the fans that I feel I should finish this post – despite this day being not short on white knuckle thrills, everyone I met was nothing short of brilliant. In fact, come the end of the game, one of Lebork's lads even took me on a historic tour of the Old Town before dropping me off at the station. All in all, a great day and it would not be an exaggeration to call it one of the highlights of what's been a pretty cracking season.