Date: 4 June 2022 / League: Polish fifth tier
Final Score: 3-2/ Attendance: approx. 150
In A Nutshell
A charming stadium framed by forests and lakes deep in Poland's middle earth…
Getting There
The town of Pobiedziska lies 40 kilometres east of Poznan – trains run semi-regularly and take about 30-minutes with the ground lying around a further 15-minutes by foot. Alternatively, if you lack the motivation to deal with trains then Uber costs just under PLN 100 (GBP 25) and will deliver you right on Huragan's doorstep within around 35-minutes.
Background
With a population of around 10,000, you can't accuse Huragan of under-achieving, but neither have they ever really done much. Founded in 1937, their biggest accomplishment to date is a single season in the third flight at the start of the millennium.
Founded in 1912, Koscian too have little to boast about in terms of on-the-field success, but like Huragan they too had a couple of brief spells in the third division at the turn of the century. That's not to be dismissive of them, however – unlike their opponents, they've got a small hardcore set of supporters that turns out at home matches and certain away matches… this though, was not one of those.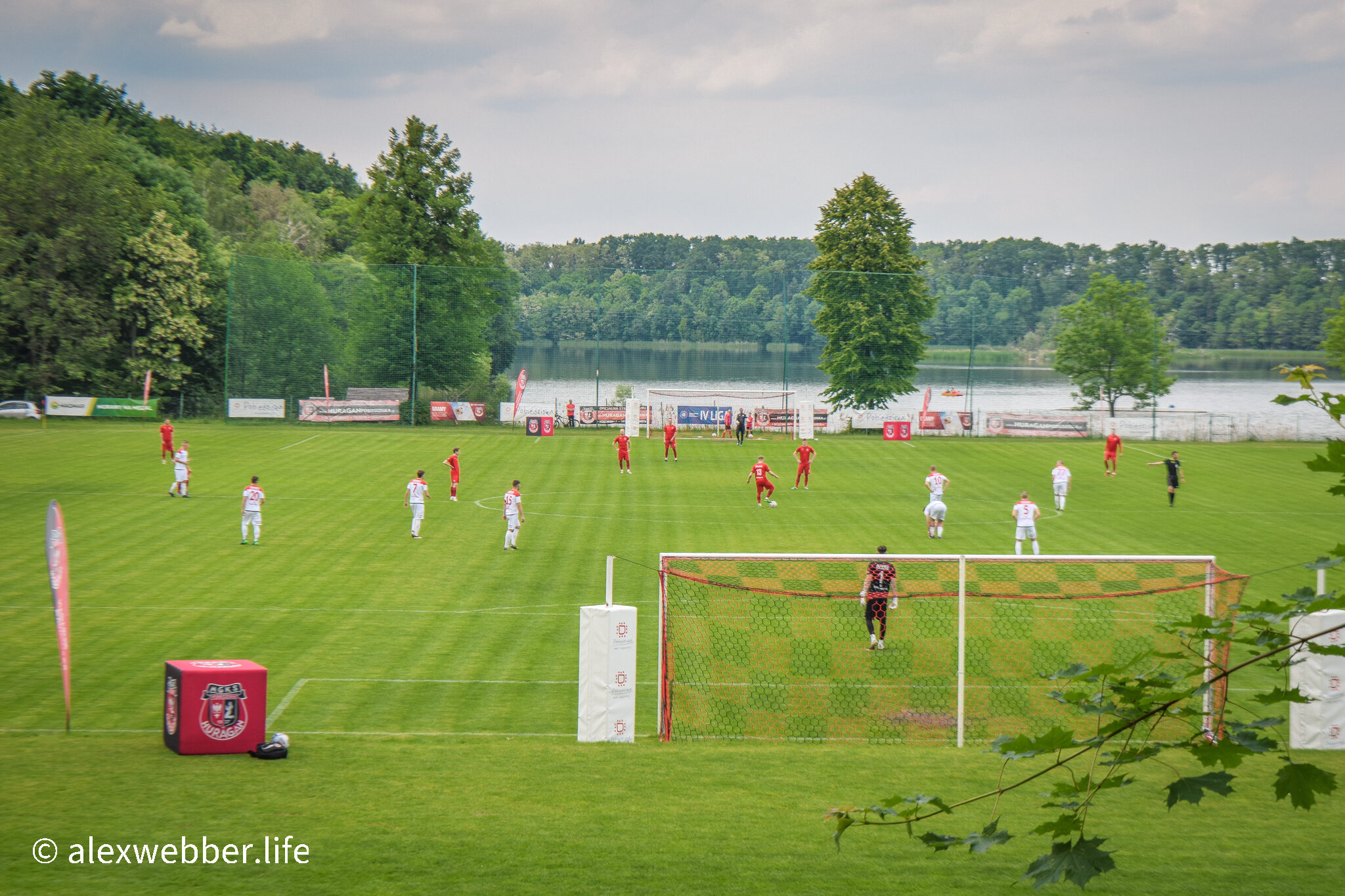 Stadium & Matchday Experience
With the top three tiers already tied up, pickings were slim this weekend so instead of the usual storm chasing I used the lull to catch up with friends in Poznan and take in a nearby stadium. Smart place is Huragan, a ground whose principal selling points are a cute 85-seater main stand, a tree-fringed open tribune and a placid lake right behind one of the goals – stood beside the goal, I could literally hear the local fisherman wading through the waters just yards away.
Known as one of the more scenic grounds in Poland, visiting Huragan is a chilled out experience that's the football equivalent of a pleasant picnic after boshing back some Xanax. Nothing in the way of vocal support, and totally lacking any away fans (I had hoped Obra would bring a dozen or so, but no luck), you simply could not have imagined a more serene experience.
Neither have this ground's charms been lost on UEFA – in 2006 it hosted three U19 Euro Championship matches, and was also the stage for Scotland being tonked 4-0 by Spain in the same tournament – strange as it may seem, but Juan Mata and Gerard Pique have graced this very pitch.
Touting an overall capacity of around a 1,000, it's hard to envisage anything approaching a fervid atmosphere here, but regardless it's a recommended side trip should you find yourself in Poznan.