Date: 7 May 2022 / League: Polish 5th tier
Final Score: 4-1 / Attendance: approx. 250
In A Nutshell
On a weekend lacking any truly standout fixtures, this was a wildcard punt on two northern teams with a dislike for each other – would this gamble pay off? Nah!
Getting There
Koscierzyna is in Kashubia, a region with its own distinct language and sense of identity. Travelling past rolling fields, thick forests and glistening lakes, the easiest way to reach it via public transport is to take the 90-minute train from the Tri-City (Gdansk, Gdynia, Sopot). On arriving, the ground is a 15-minute walk from the station.
Stadium
Put it this way, it's not short on quirks. At one end sits a slope-roofed club house crowned with the club logo – a bear larking away under a branch – and a steep verge where locals park up their bikes and can take up position on some rickety wooden benches.
Then, to the side, you've got a main stand whose open form is given added appeal through the presence of a grassy top tier: running just metres behind this is the rail line that takes you in and out of town.
As for the rest of the ground, that's fringed by overgrown scrubland that helps provide an element of natural, rugged beauty: at sunset, I imagine the place looks stunning, and that air of sedate backwater charm is given added appeal courtesy of the church steeple that pokes out of the trees in the distance.
Experience
Kaszubia's fans have links with Gryf Wehejorow and Arka Gdynia, whilst Gryf Slupsk are attached to Lechia Gdansk, KP Starogard Gdanski and Chojniczanka Chojnice. Matched head-to-head, these two do not like each other, and with the Gdansk / Gdynia derby nailed down by the police, matches like this are often a golden opportunity for rivals to settle old scores in a contained sporting arena. "It could get hot," warned a friend of mine from Chojnice.
It did not, and for that the police operation can be squarely credited. Frustrating the efforts of the 100-strong away following, their coach and car convoy didn't reach the stadium until the mid-way point of the first half – and wouldn't you know it, they turned up to find the visitors enclosure locked.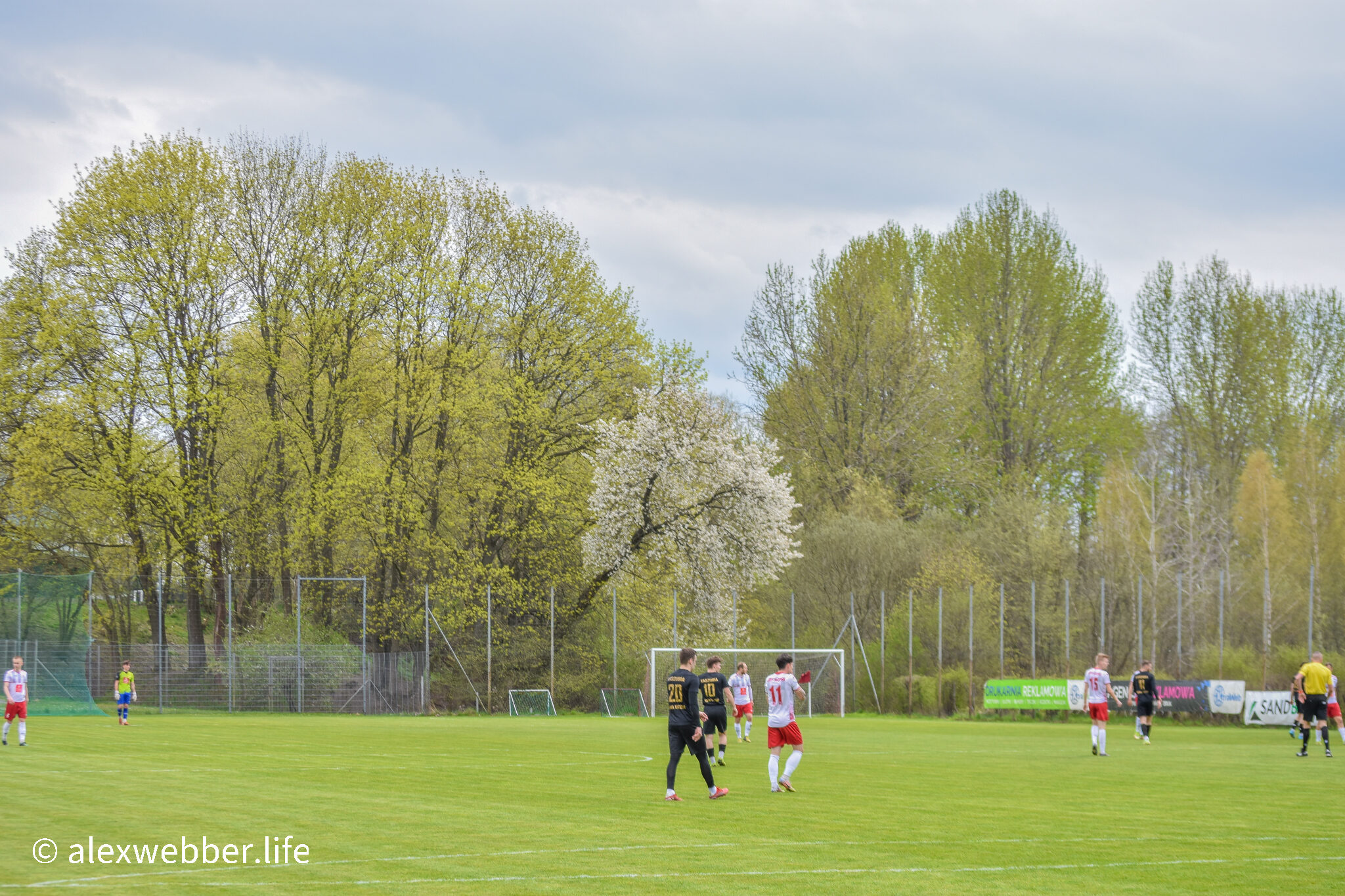 With their details and identities taken individually, the away fans then found themselves shunted off to a fenced field behind the goal where they were allowed to watch the rest of the match ringed by a battalion of riot police.
Outnumbering the home fans, they provided rowdy backing though it was pretty obvious from the outset that anything more lively was strictly off the menu.
As for the match, that was an entertaining duel between two mid-table sides. Two-nil up after ten minutes, a red card for the home side provided a glimmer of hope for Gryf, and that sense of a mounting comeback reached its zenith when they pulled a goal back. Alas, the result was put beyond doubt with the home team adding two more goals in the final twenty minutes. All in all, an interesting day out, albeit not exactly an experience you'd describe as 'one to remember'.
… And After!
To Gdynia! On a non-football note, it's well worth basing yourself in the conurbation known as the Tri-City (Gdansk, Gdynia, Sopot) should you choose to explore this region. Though most will choose Gdansk over the other two, I'm here to spotlight Gdynia, and in particular, a remarkable hotel called the Quadrille.
Named after a dance featured in Alice in Wonderland, this neo-Gothic palace has been repurposed as a luxury hotel that pays homage to the works of Lewis Carrol. Absolutely barmy, it's as surreal as it is superb and a high recommended stop-off when you're in Northern Poland.