Date: 14 May 2022 / League: Polish 7th tier
Final Score: 4-0 / Attendance: 50 or so…
In A Nutshell
Both a beauty and a beast, this was a day to remember inside a fantastic old ruin with history at your fingertips…
Getting There
As a city, the northern city of Gdansk can be reached from just about anywhere: direct flights from Britain, or where I was concerned, a 2.5 hours train coming up from Warsaw. Just to think, I still remember those years when the same journey took just over six in a creaky tinpot train. I digress. From the centre of the city, it's a ten-minute Uber ride that won't cost far beyond PLN 20.
Word of warning: with Uber's mapping somewhat askew, I got dropped off at an office car park rather than the stadium itself – although I could see the ground, an impenetrable fence meant I had to then do a little detour before reaching the entrance. No probs on that front – if, like me, you've had a few pints beforehand, use this interlude to have a lash in the bushes.
Background
None to offer! Or, at least, none of any value. Stocznowiec were founded a few months after the end of WWII under the name of Nit (I assume not the things you might get in your hair) before later morphing into a club called Stal. From what I can understand, they finally arrived at the name Stocznowiec in 1970 following a merger between two clubs.
Regardless of all of these changes, the club have failed to do anything remotely spectacular. End of story.
Stadium
For some it'll of course look like a rusting and overgrown junkyard, but to me it's places like this that make football magic. First off, never before have I seen a stadium with so many military bunkers poking out of the undergrowth. Dating back to WWII when this city was, of course, better-known as the Nazi stronghold of Danzig, they're piled up everywhere –outside the entrance I lost count at seven. Seeing my interest, a passing dog walker shouted out that there were even more beyond.
But then again, history is not in short supply here – forming a striking backdrop, you enter the main stand (for free) to fine a gobsmacking view of the cranes that peer behind in the shipyard – formerly the Lenin Shipyard, it's here that Solidarity was born.
Galvanized by the leadership of an unemployed electrician by the name of Lech Walesa, this movement played a decisive role in the fall of the Iron Curtain. Today though, these towering relics look more like abandoned Transformers as they stand forlornly next to smoking chimney stacks spewing industrial bile.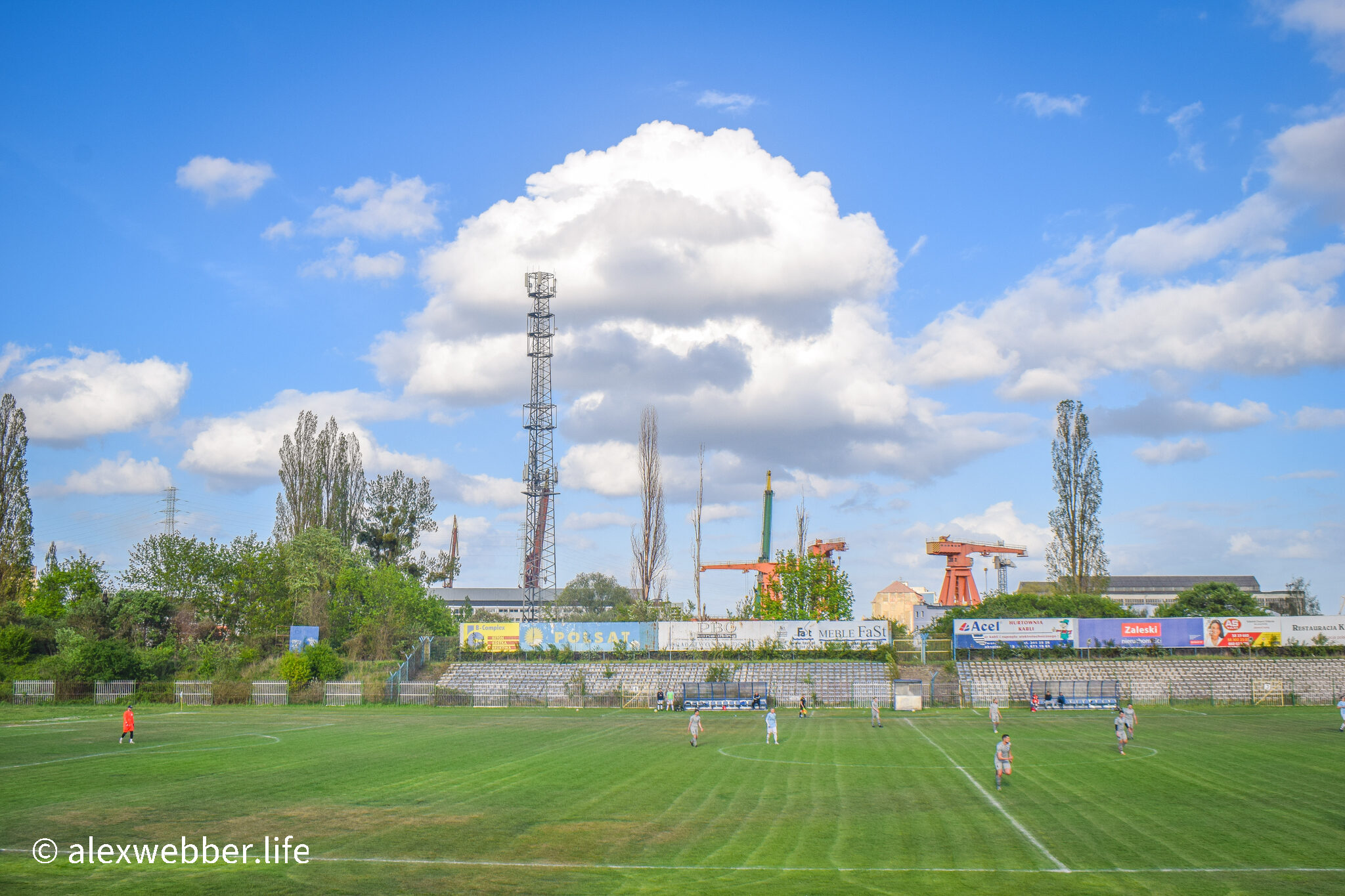 And there's football history as well! One of the curious little points of interest is a scoreboard buried behind trees that has a display that reads Polska – Anglia. After a bit of googling, I found this was a left-over from a 2001 match played by England's U18s against Poland. A nil-nil draw, it appears everyone ever called Jermaine got a run-out: Defoe, Jenas, Pennant. Amazing to think 5,600 attended the match.
To say it's seen better days is an understatement: it's a wreck, but one with charms aplenty for the stadium connoisseur: a half-derelict away cage, a grotty club house, long overgrown terraces, half-shattered seats and a tangle of gas pipes running right around the sides.
And never before have I seen such shoddy groundsman-ship – aside from wonky faded lines running up the sides, I found myself genuinely wondering if the madman had tried to depict a cock and balls on the pitch. It definitely would not surprise me.
What did, however, was the final coup de grace – as it transpired, it's not just outside that there stand hidden bunkers. Right by that England scoreboard, I found another fortification right by the fence.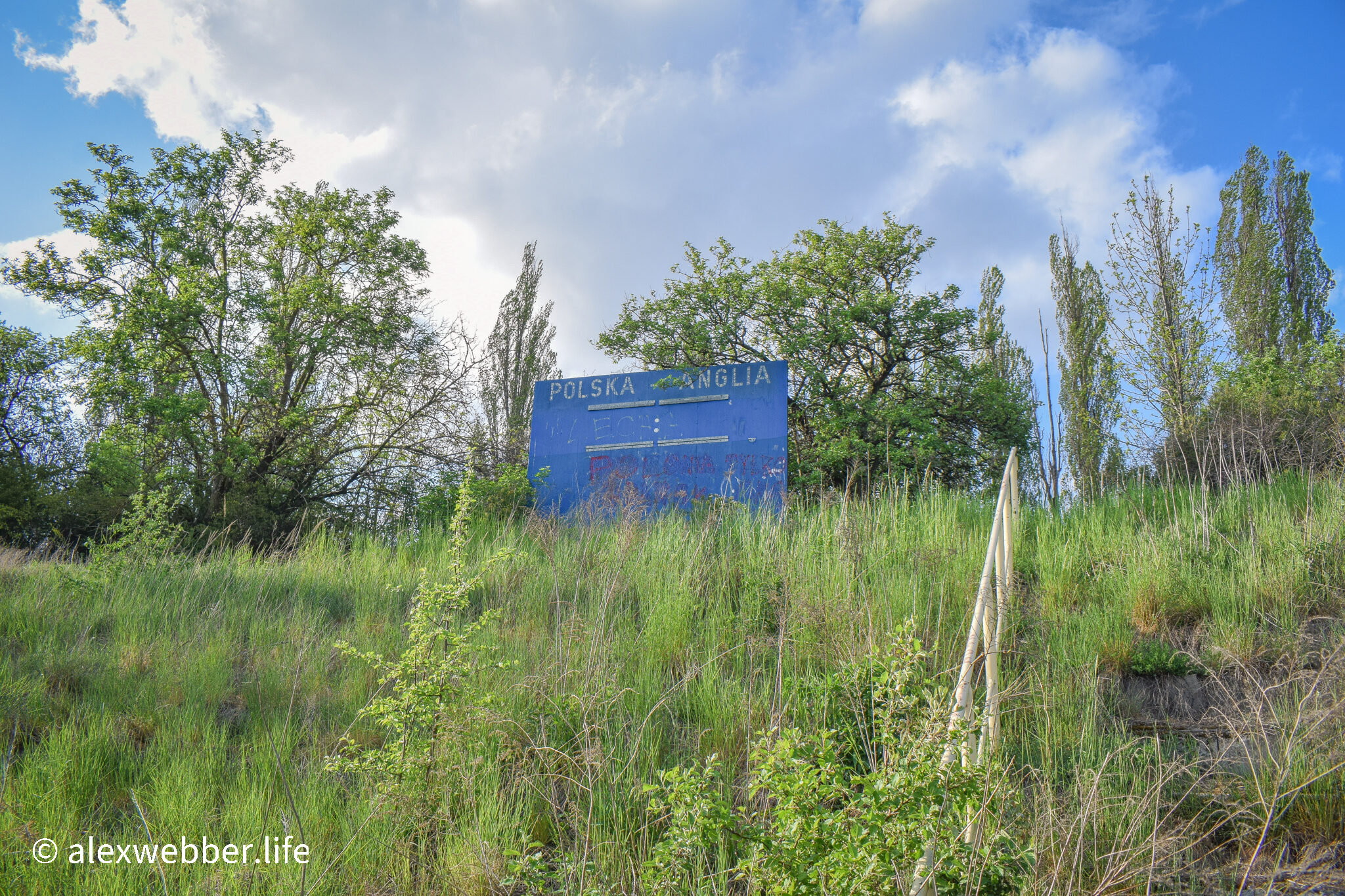 Matchday Experience
Not really anything to report – so entranced was I by the ground, I paid no attention to the game itself. Apparently, mind you, the home side triumphed 4-0, a result that saw them cement their status as the already promoted leaders of their league.
Crowd-wise, I'd place that at 50, with that number composed of a predictable assortment: a handful of German groundhoppers, old men escaping their wives, and beer-swigging locals draped in Lechia Gdansk gear ahead of the big match that night. Though nothing fiery, I cannot begin to underline just how special this place is.