Date: 22 August 2019 / League: Europa League Play-off
Score: 0-0 / Attendance: 28,000
In A Nutshell
Two notoriously loyal sets of fans facing off in the first-leg of a European match – it sounded delicious, and so it proved.
Preamble
Living in Warsaw as I do, I treat the visit of a British side here with additional attention. Honestly though, mooching around in the city centre beforehand I was pretty disappointed: the Brit pubs were largely empty, and the only noticeable concentration of Rangers fans that I found were being safely guarded by police in the Marriott's sports pub.
Even so, there was a 'big game air' to the match that had been underlined by my personal battle for a ticket. It came down to the wire, and having proved unable to secure a ticket by legitimate means I had to ring the club and use my press-begging tactics. By the skin of my teeth, my plea was heard.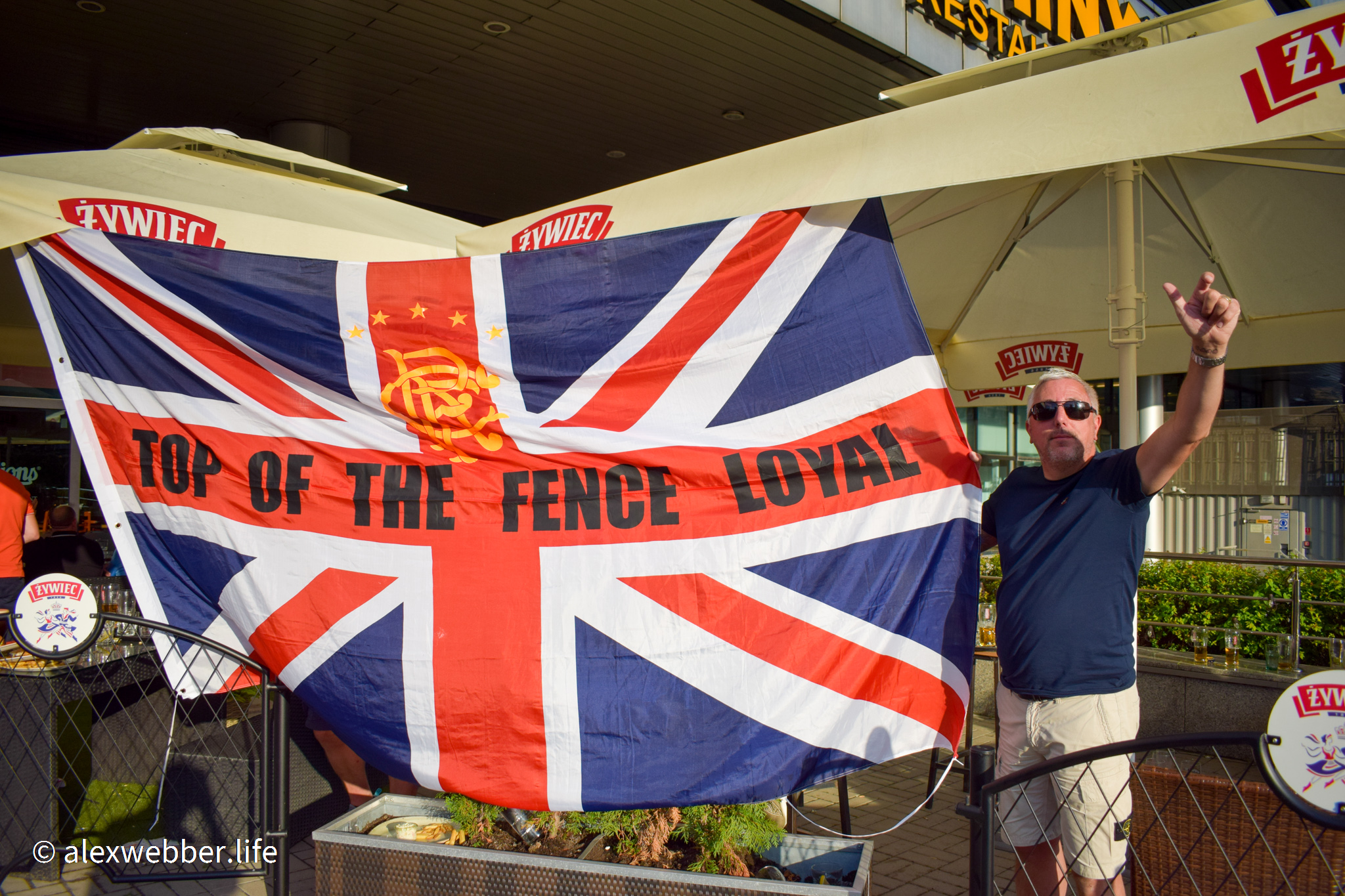 Stadium
Blah, blah – I've been to this ground several times, so if you want to hear about that then consult another entry.
Experience
So… having earlier adopted a Tiny Tim voice to Legia's PR guy, I'd wangled entry to the press area. Though far removed from the action, the noise could not be escaped. Steven Gerrard later described it as one of the fiercest atmospheres he's seen, and I would be certain he was not paying a hollow platitude.
Prior to kick-off, the flag drop from Legia set the tone: covering the whole of the 'home end', it simply announced "It's Not What's In Front Of You, It's Who Is Behind You". Basic but effective. Unveiled to a wall of noise, as well as a line of flares at the top, it was one of those moments that made the hair stand on end.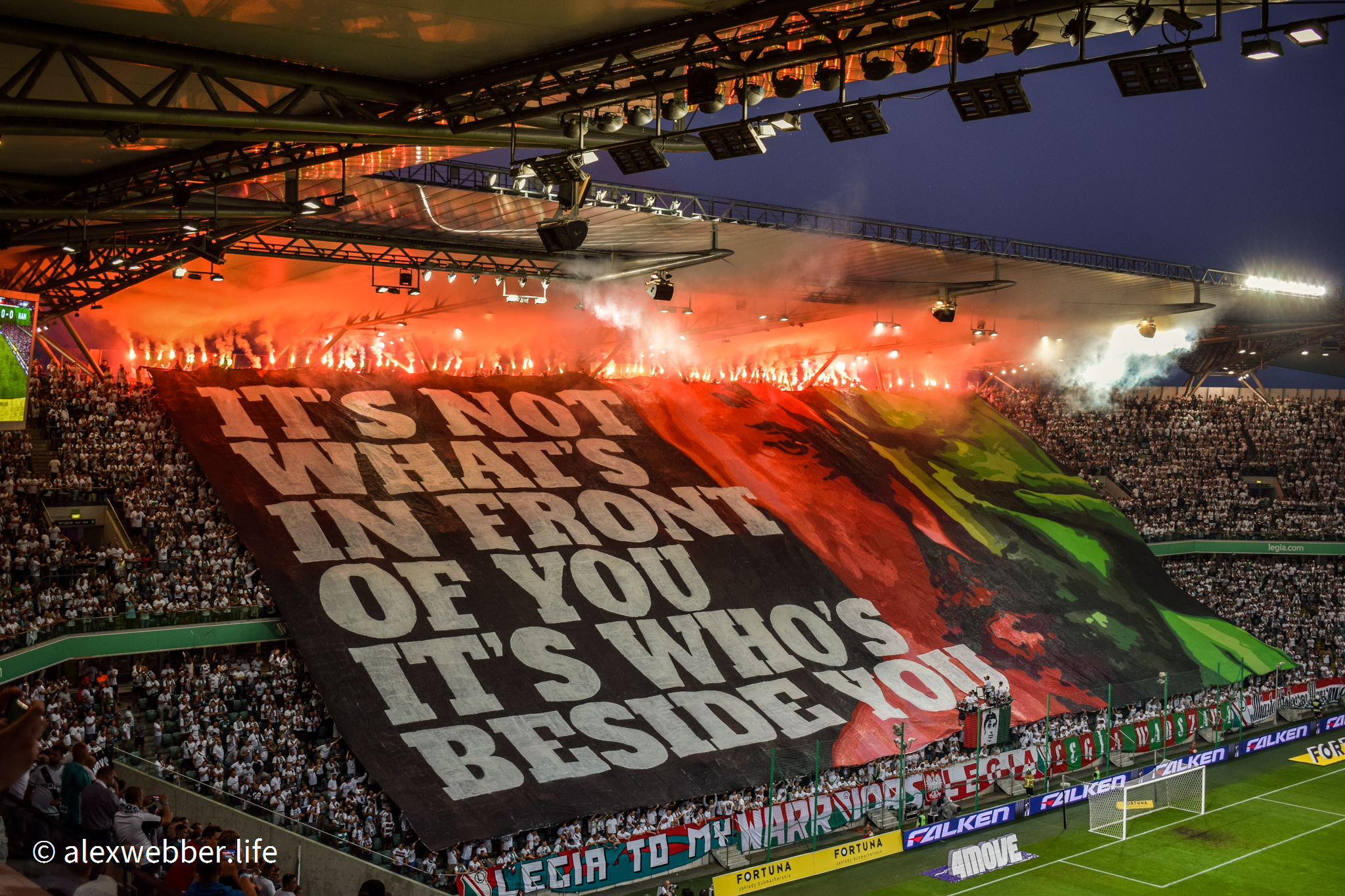 From there, the barrage continued throughout in varying increments of din: from deafening to ear-shattering to "for f**k's sake, I've now got a migraine". Strangely, mind you, no more pyro, no more flag drops – as it turned out, Legia were saving themselves for the away leg (during which they delivered the Pope-related flag drop that had been predicted for this game).
Without courting offence, I had expected a little more Rangers – definitely from a numerical perspective, but also from the angle of active support. That said, I think to have been heard through Legia they'd have needed military assistance.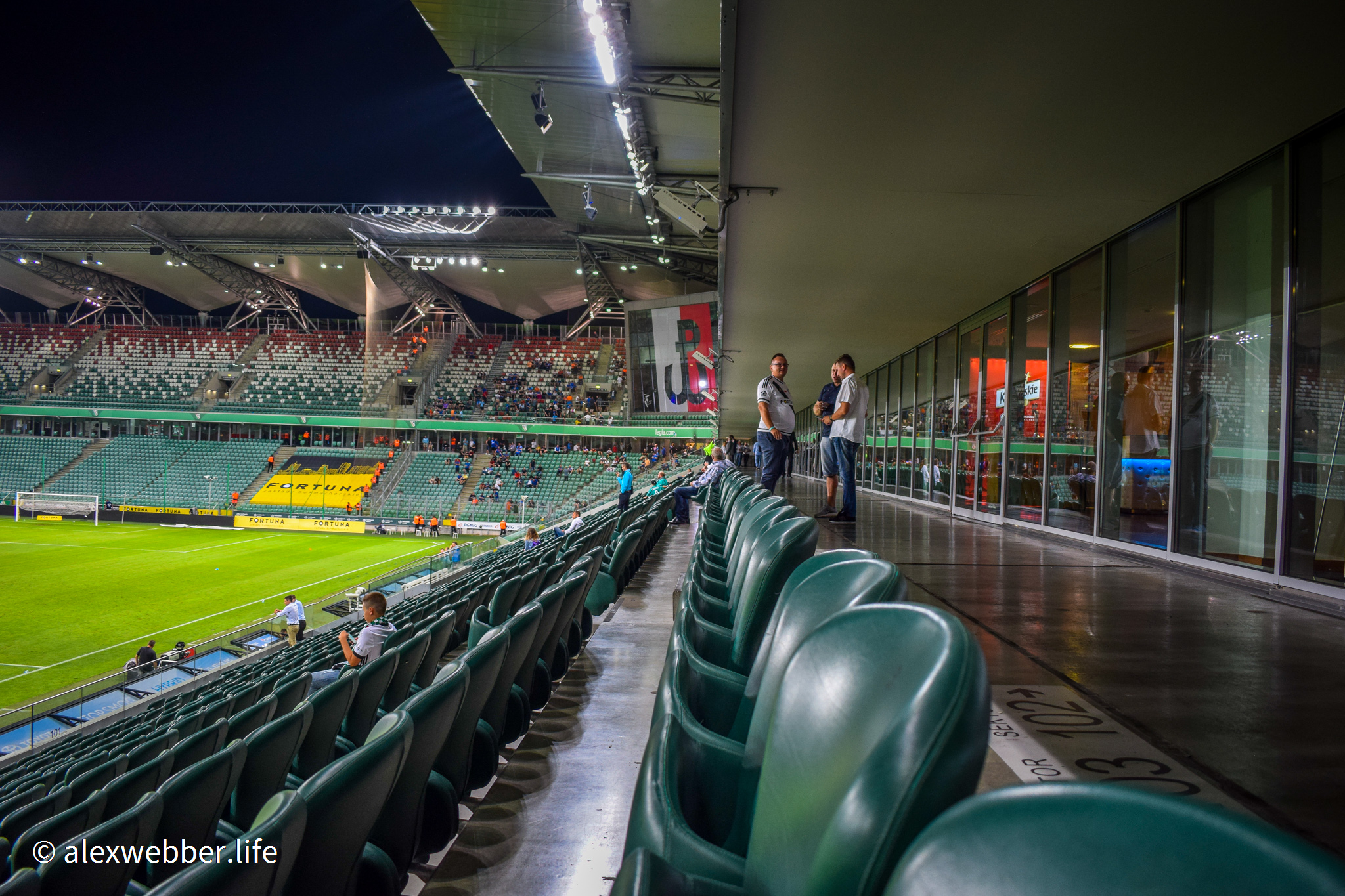 Bonus!
Honestly, I was making my way home. I wanted to get out of the press area if for no other reason than to get away from the Scottish FA officials that were showboating around it as if they were representing Brazil. Through their manner, you got the impression they thought of the whole evening as some missionary expedition to the darkest third world. F**k em, patronizing bastards.
So yeah, there I was making my way down the stairs when I spotted an open door leading to the floor for VIPs. Expecting to be stopped at any moment by the door security, I walked in. And walked further. Then a little more.
With the expected tap on the shoulder never arriving, instead I made myself at home in the hospitality section and treated myself to gallons of booze and God knows what else. To recover, I needed three days off work.