Date: 1 October 2022 / League: Polish 5th tier
Final Score: 2-0 (match abandoned) / Attendance: 700 (that's a guess)
In A Nutshell
I shall allow Google's translation of the entry on 90minut.pl to speak nobly on my behalf: "Match abandoned after 26 minutes due to rioting in the stands." Case closed.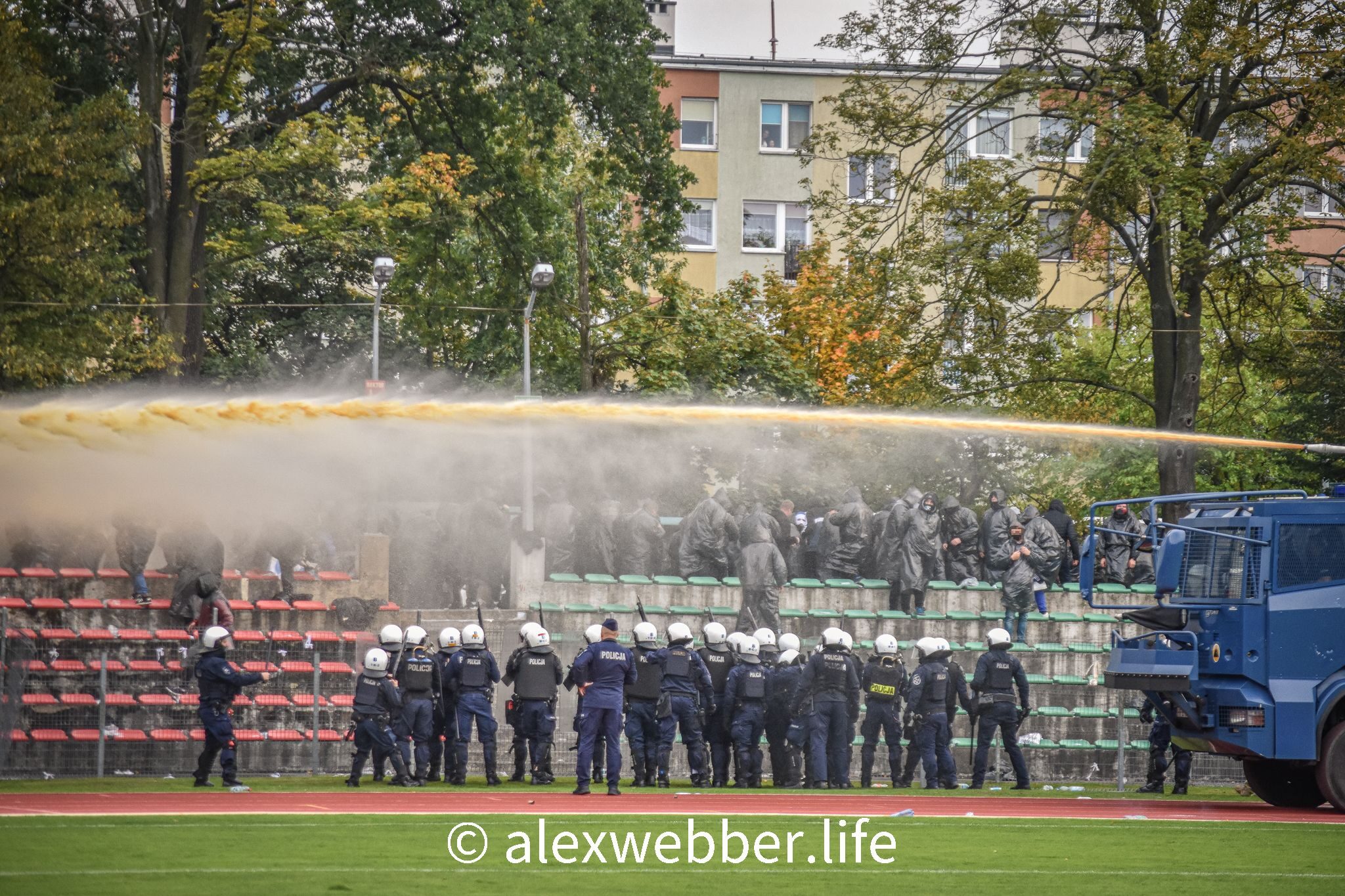 Getting There
Done it before – for that, CLICK ME!
Background
I've supplied details on both teams before (for Gornik Walbrzych, CLICK ME!), but what is worth knowing is that this is something of a hotly contested regional derby that was last played ten years previously. Talked about for weeks leading up, that Olawa were joined by representatives from Slask Wroclaw, Ferencvaros, Bielawa, Chojniczanka and Rokita Brzeg Dolny should amply demonstrate the interest that this game aroused from the hooligan community.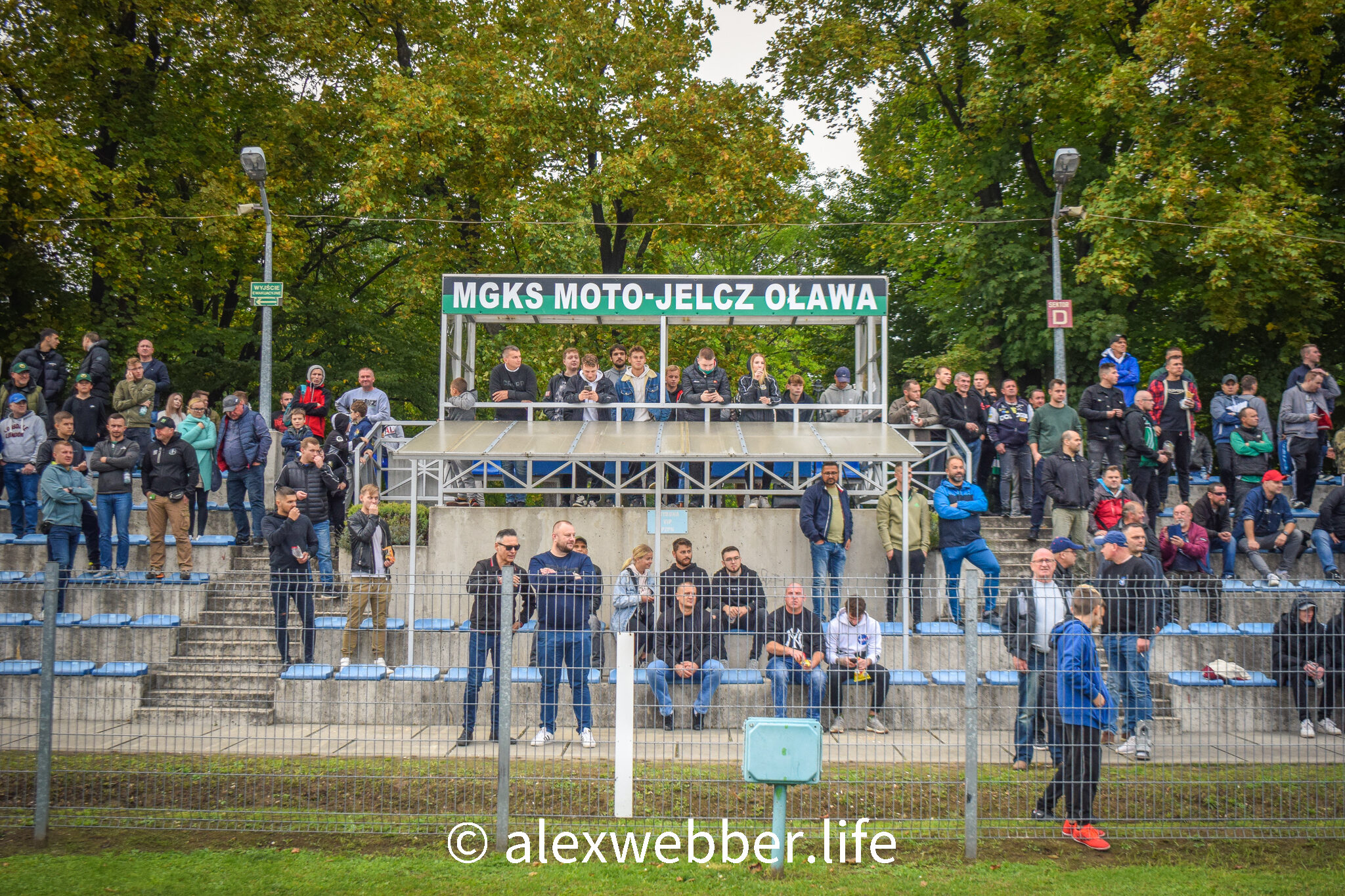 Stadium
Returning to a ground that you've previously enjoyed always has a habit of harvesting new, fantastical details. In the case of Olawa, how was it that I never before noticed their disabled section? Sorry, I'll answer my own question here – I missed it, because it's actually nothing more than a signpost plunged onto a grassy slope: that's it.
As for other things – happily, I'm delighted to report that this ground's other glories continue to exist: on that front, I'm referring to a crane booth doubling as some kind of enigmatic control box and a double-decker stand that looks like it was assembled as an infant school project. Then, surrounding all of this, you have moats and a beautiful frame of trees and shrubs. In the soft caramel glow of Poland's autumn, it feels like a horticultural treasure!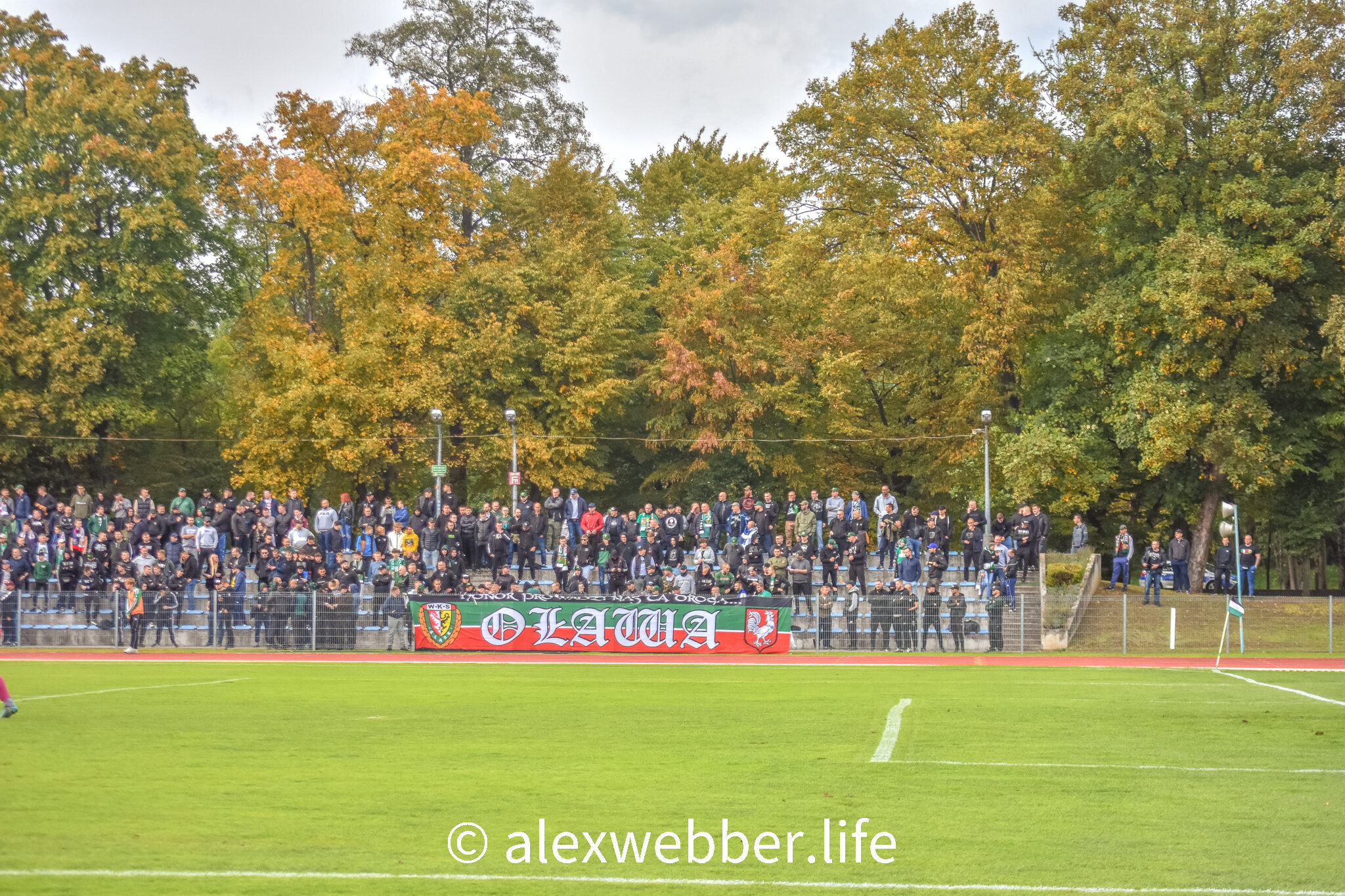 Experience
The last time I went to Olawa it had been on a hunch that did not deliver – what I mean, is that the away team did not turn up. More to the point, they were stopped by the police. So yes, whilst I'd had my eye on this match for a while, the days leading up were fuelled by paranoia – checking police, club, fan and news websites on what became an almost hourly basis, I was convinced that a last moment travel ban would be imposed upon Gornik. To the regret of the 200 dibble that were tasked with controlling this match, it never was.
As for me, bastard connections and sold-out trains meant I had to rise at 4 a.m. to make this match – a time where I'm usually either found snoring like a dinosaur or snorting rails of charlie off a stripper's bum (only kidding!). Anyhow, my endurance was rewarded on arrival – straight away, just the air gave off a thick sense of menace.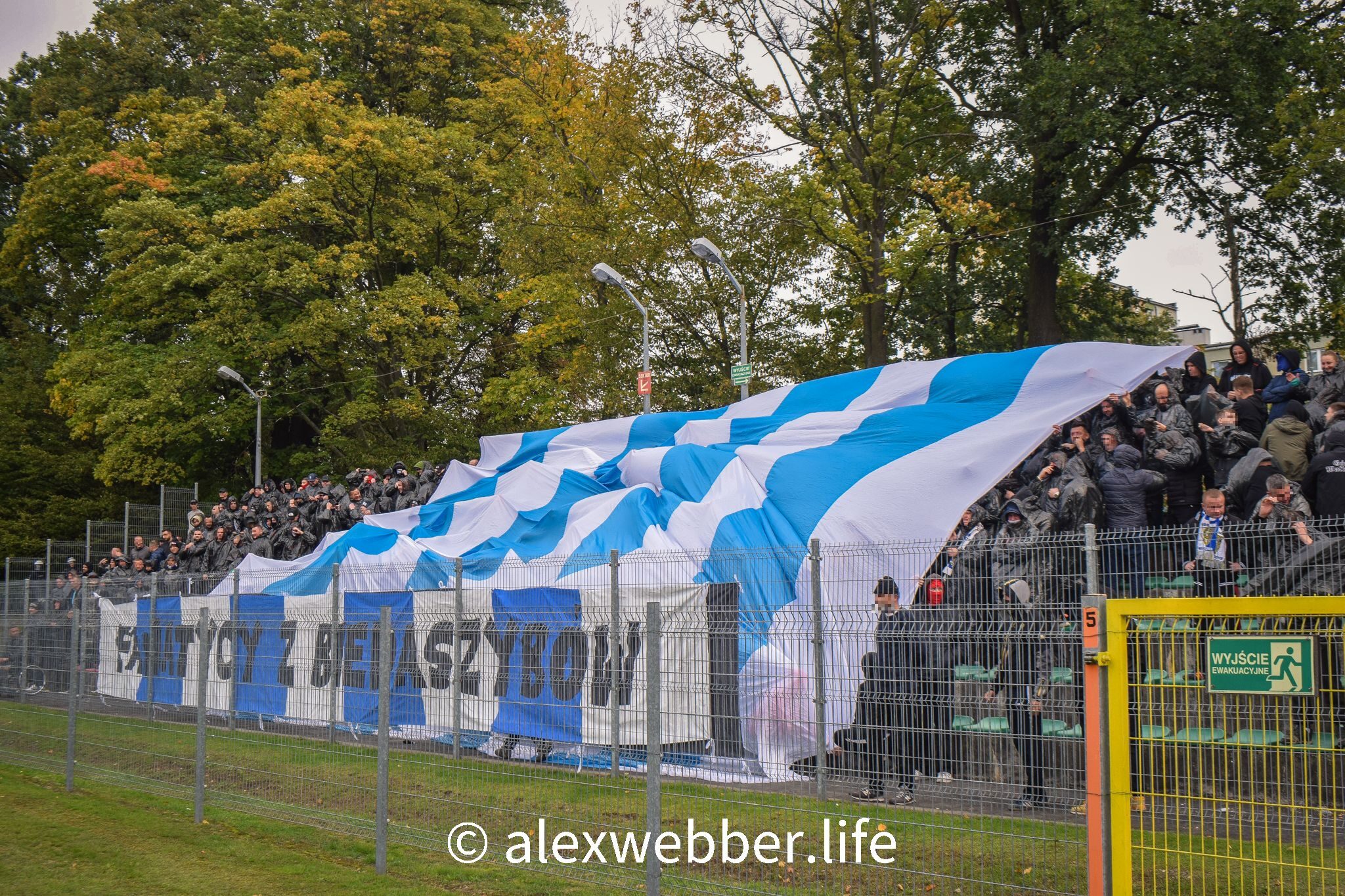 The visitors did not arrive until just before kick-off, but despite this they were ushered into the ground swiftly enough having undergone what appears to be just cursory checks. Positioning myself next to their cage, it was impossible not to notice that some were already slipping on masks and checking the integrity of the fencing.
The home side, meanwhile, they had mobbed up in the bottom corner of the ground, and did not enter their 'section' until they were all as one. Seeing this swarm of thugs make their entrance, you knew that this powder keg would blow at any moment.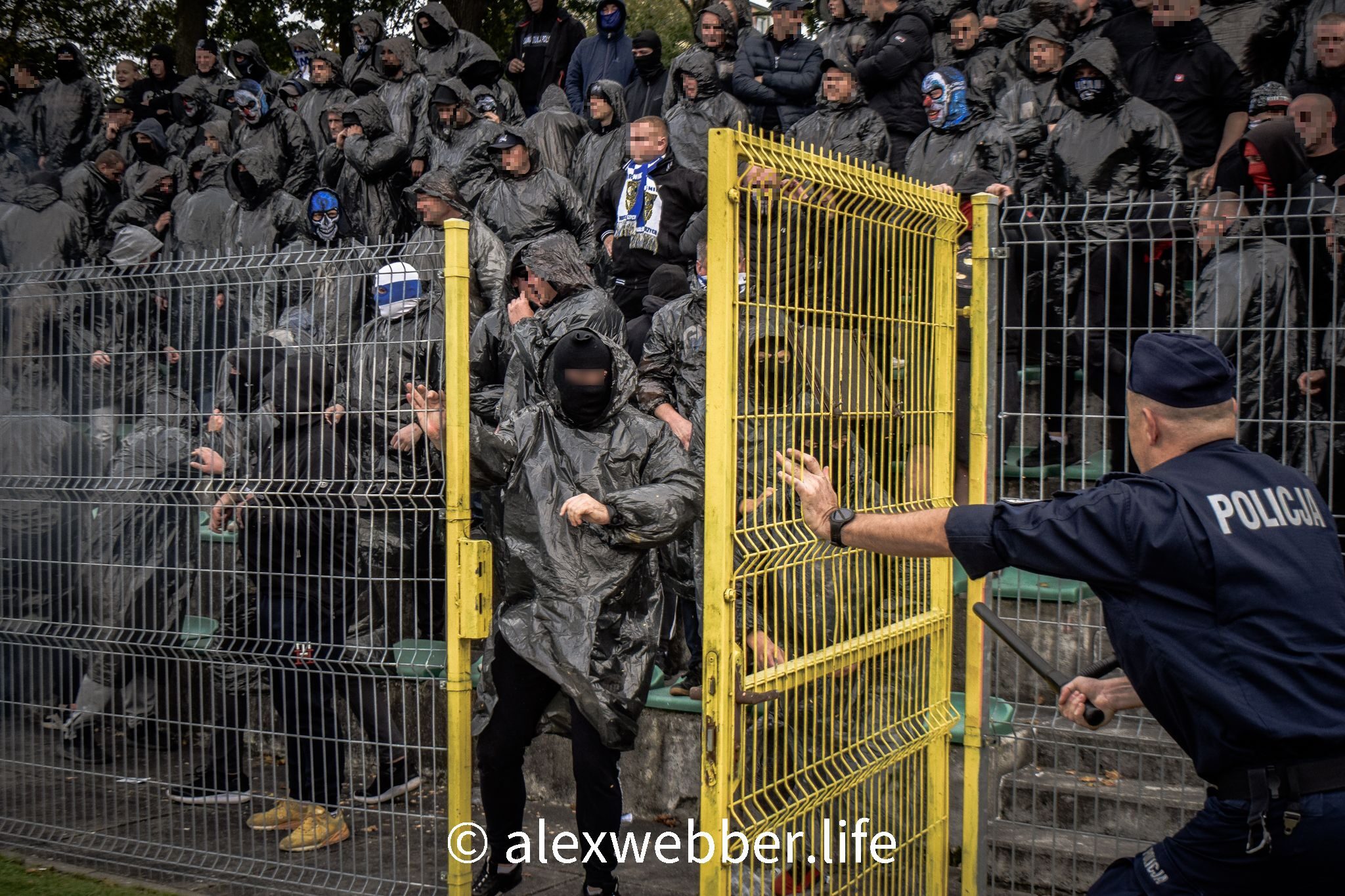 What I didn't expect, was that it would blow so soon. In the first minute the home side scored. On the stroke of 15, they doubled their lead. I think it was pretty much then that Gornik decided to make their flag drop – always a prelude to an inevitable show of pyro.
I do love a bit of pyro, but usually it is just a 'show'. This time, however, it was a smokescreen in the most literal sense – a smokescreen created to disguise their real intentions: the destruction and dismantling of the fences in front. Bang me sideways, this was not a boyish rattle of the metalwork, but a savage demolition of what lay in front. With the riot police rushing in to restore order, what unfolded was mayhem in its rawest sense. Pepper spray, water cannon, baton strikes, and missiles whizzing past.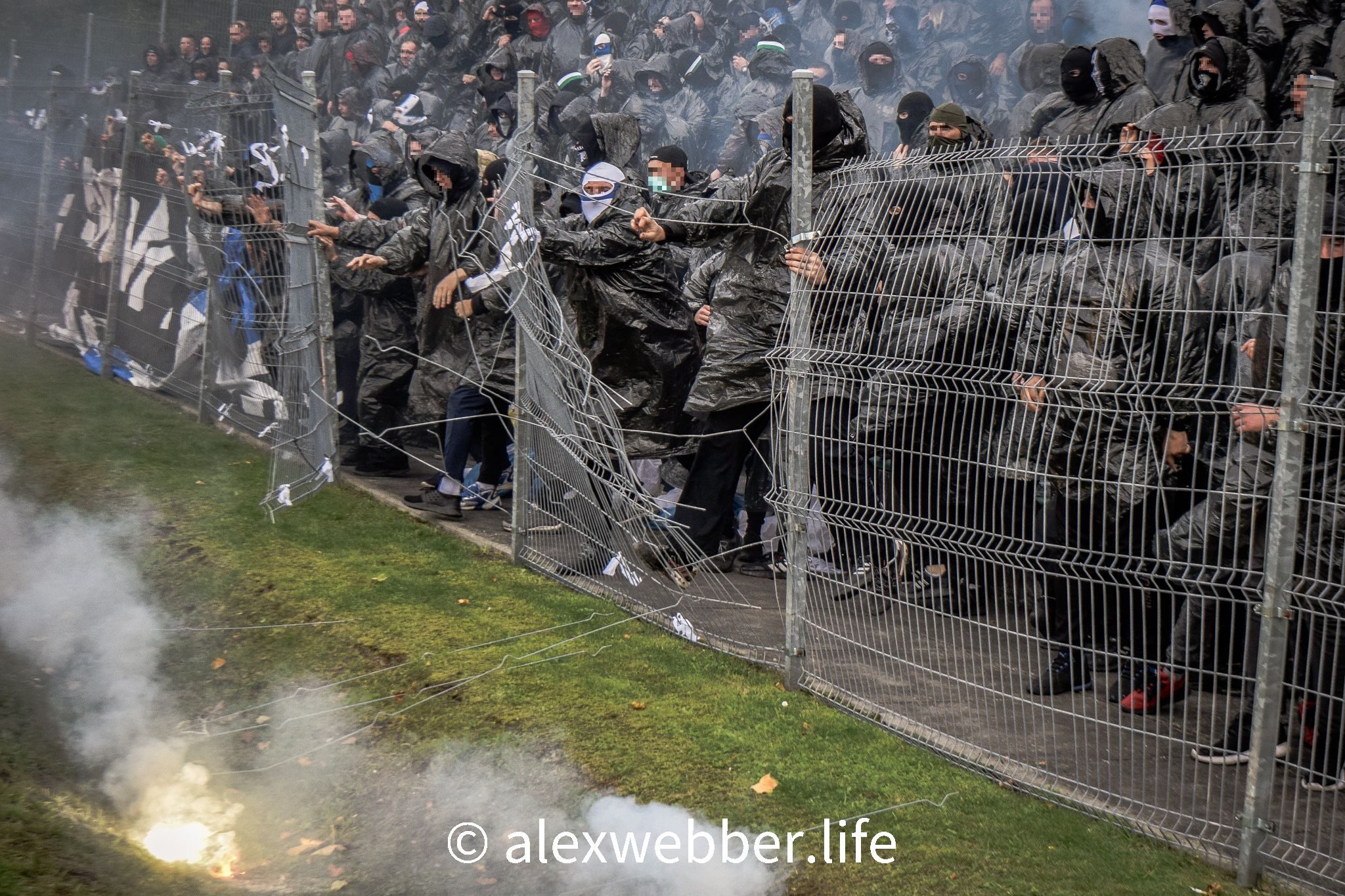 The home side did not sit on their hands, either. Seizing their chance, they used this moment to torch a captured Gornik flag before emerging from the haze to make their way onto the pitch. "Come on ya' c***s!".
Going off everywhere I looked, it was one of those rare times I wish I had been born a triplet. Definitely, a duo of well-equipped Webber clones would have been handy to cover the myriad of angles that this game presented.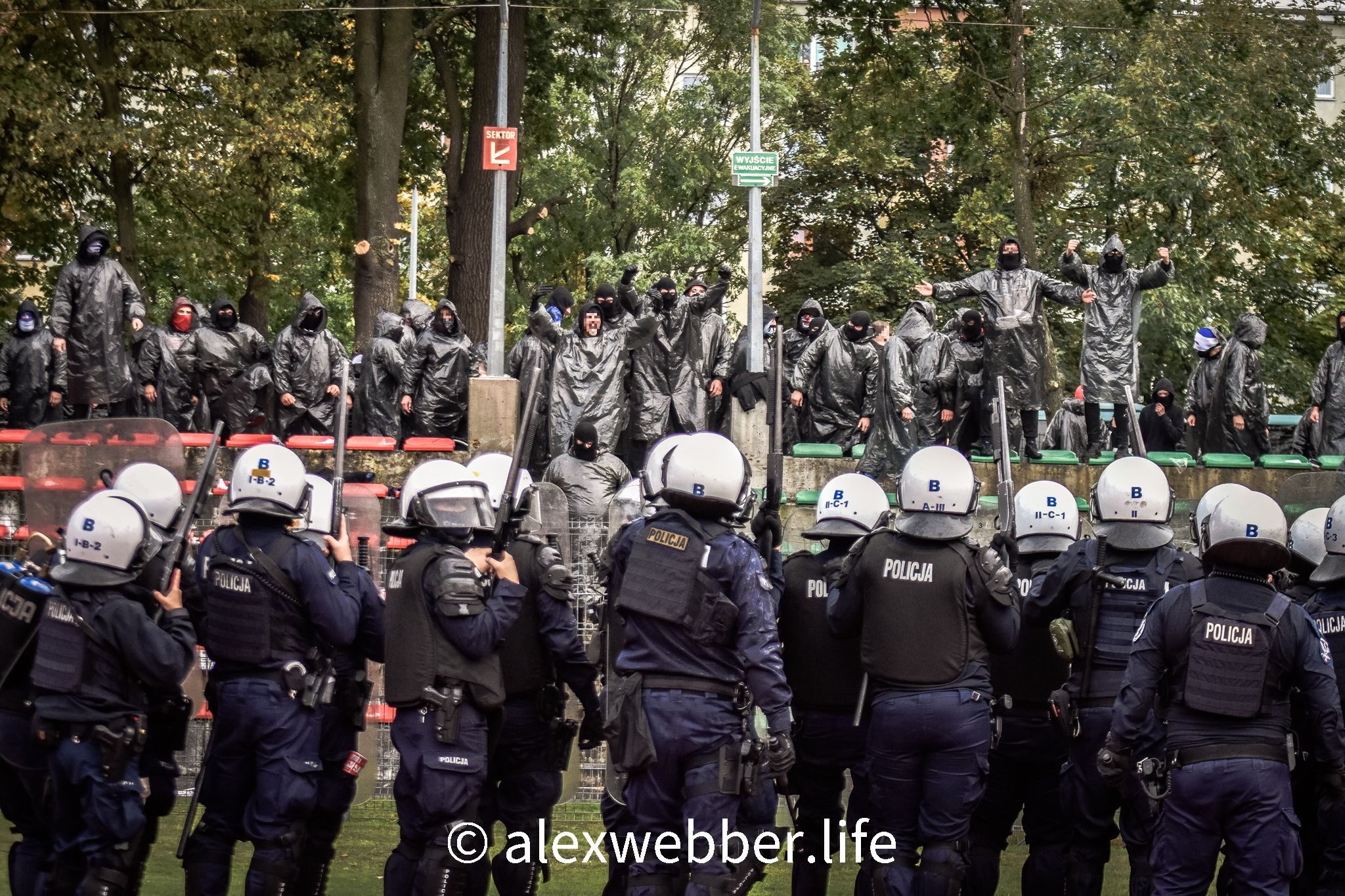 And on it went. The police had just about enough artillery to stop the fans actually clashing against each other, but with the amount of tear gas wafting around, and riot vans lined against the pitch, it was clear that this was a match that could not go any further. Cancelled.
Afters
The lads did not get it together inside the ground, but subsequent videos and reports show that this was not the end – on the streets of Olawa, a Gornik coach and a few carloads were ambushed outside a pub resulting in a brief but passionate exchange of contrasting views. I missed this, and I missed this because I was already on my back to my weekend base, the exquisite city of Wroclaw.
There is no finer city in Poland in my opinion, and I enjoyed it to the max – a little bit too much, in fact. I had planned on attending another naughty derby the following day, but woke up feeling like I had been lined up against a wall and shot in the head. And who knows, the night is such a blur that I haven't ruled that out.
Not a bad thing though. This season has been so absolutely f***ing mental that I'm even dreaming of bald blokes chasing me with sticks. So it was for all the best I reckon, that instead of another day of being tear gassed that I chose, instead, to crawl to a lower league game played in a Valium spirit – and yeah, you'll be able to read about that in the coming days. Adios!