Date: 12 June 2021 / League: Polish 5th tier
Final Score: 2-3 / Attendance: approx. 200-250
In A Nutshell
I went to Olawa on a hunch, the kind of hunch that proves I've a long way to go before I can tread in the footsteps of Lieutenant Columbo. But whilst this day wasn't short of dismal moments, who could not be charmed by a lower league ground featuring a crane operator's booth as part of its design?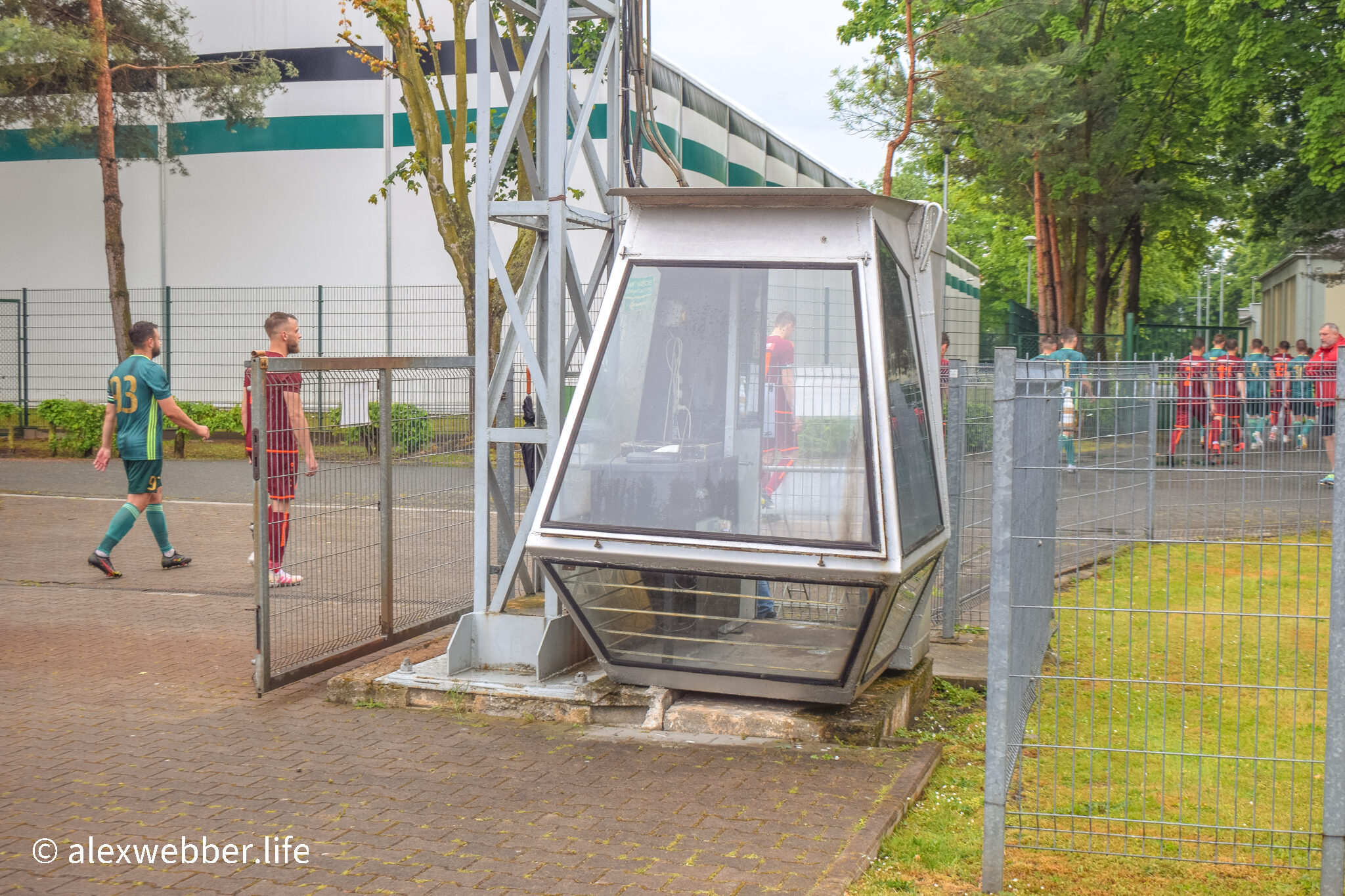 Getting There
To get to Olawa, your best base camp choice is the city of Wroclaw. Around 30 kilometres south-east, Olawa is an easy 25-minute journey on a regional train. Once you're there, the football ground is a 30-minute walk north that will take you through it's smart but quiet Old Town. If you're early, then I can highly recommend taking shelter in Probus, a craft brew-pub inside a 19th century building once used by the Wehrmacht and Red Army as a military barracks.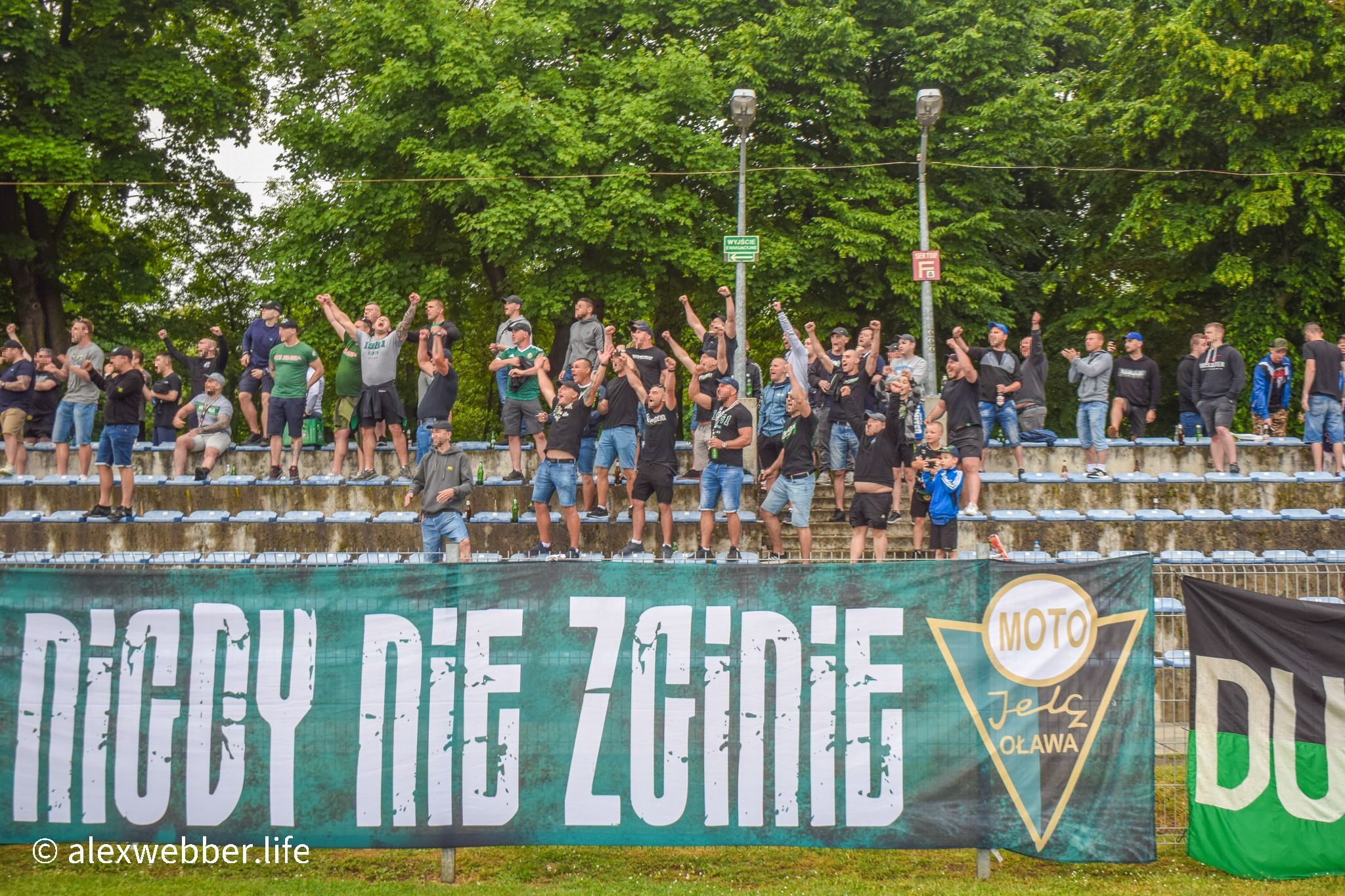 Background
First taking to the field in 1974, Olawa spent just over 30-years flitting exclusively between the second and third leagues. Since then, their fortunes have nosedived and the club still appears to be dusting itself down from its financial implosion in 2015. Restarting from scratch, they've spent the subsequent years rebuilding their tattered reputation. Located an hour's drive away, their opponents, Lechia Dzierzoniow, have also experienced recent trauma after a prolonged spell in the fourth tier finally came to an end in 2019.
Although hardly the fiercest rivalry in Poland, these two certainly don't exchange Christmas cards, and according to pre-match rumours Ruch Chorzow's lunatic fringe were planning to lend support their Lechia. With the home side enjoying good relations with Slask Wroclaw, this was my inside tip for a lower league belter – clearly, I got it wrong.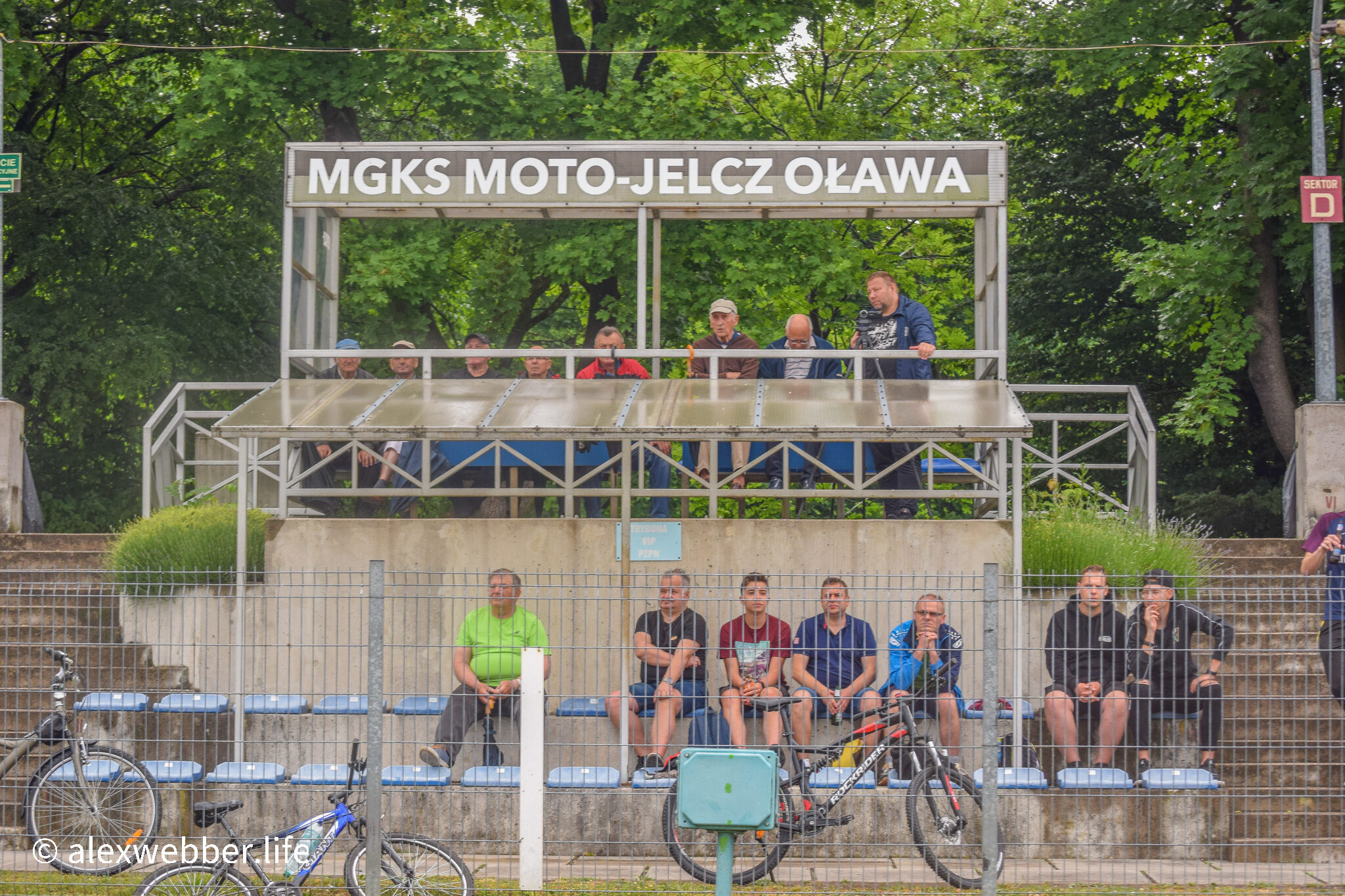 Stadium
On first analysis, Olawa's ground typifies the modernized municipal grounds you find at this level of football: two open sides, a running track, and an immaculate pitch at the centre of it all. On second look though, it's well worth checking: first off, you've got a bus stop style construction planted by one corner of the pitch – whether this is some kind of executive cabin I'm none the wiser, though I would certainly like to think so.
Then, there's the matter of the crane booth – it's in here that the matchday announcer sits to play half-time tunes and read out the teams. But best of all, there's also a tiny two-tiered covered stand where the club officials seem to gather. If Fisher-Price designed stadiums, they'd come up with this.
Experience
Arriving to the ground I could see whirring sirens in the distance and what appeared to be a coach – though I might be wrong in the assumption, I figured that to be the Ruch battle bus… intercepted just 200 yards from the stadium. An inauspicious start.
The home side's mob had gathered in one corner of their stand – facing the away pen – and when they hung a captured Lechia scarf to the fence hope flickered inside of me. Maybe something would happen after all. Patiently, I waited for Lechia's arrival but that never happened.
I didn't let that ruin my day though, the rain did that – the first half saw a downpour, but just as I'd finished drying at the final whistle, my God, then the follow-up came. And this time it was biblical. I kid you not, it was similar to being in a carwash, only without the car.
Shaking, shivering and soaked to the bone, it took forever to get back to my hotel in Wroclaw, but you know what, I found myself laughing my head off as I waded through the storm: after months of lockdown, this is what I had really missed about football. Not the pyro shows and the buzz of firing off pics whilst lunatics charge around, but those desperate trips where everything goes wrong – not that I felt that at the time. Returning back to Wroclaw, I was dismayed to find that the storm had averted the city altogether. As glamorous Playboy kittens clip clopped down the streets to the city's bar and clubs, I passed in shame looking much like I'd spent the day in a sewer.
Postscript
Lechia won with the last kick of the game, a disputed penalty that handed them a 3-2 win and the title. However, whilst they had proved themselves too good for this league, they weren't too good for the league above – for the second year on the trot, they lost in the playoffs, a match contested between themselves and side that had finished bottom in the league right above them.