Date: 8 June 2019 / League: fifth tier (or possibly sixth!)
Final Score: 2-0 / Attendance: 500 (at a guess)
In A Nutshell
On a steaming summer's day, two old foes meet head-on in Poland's deep south…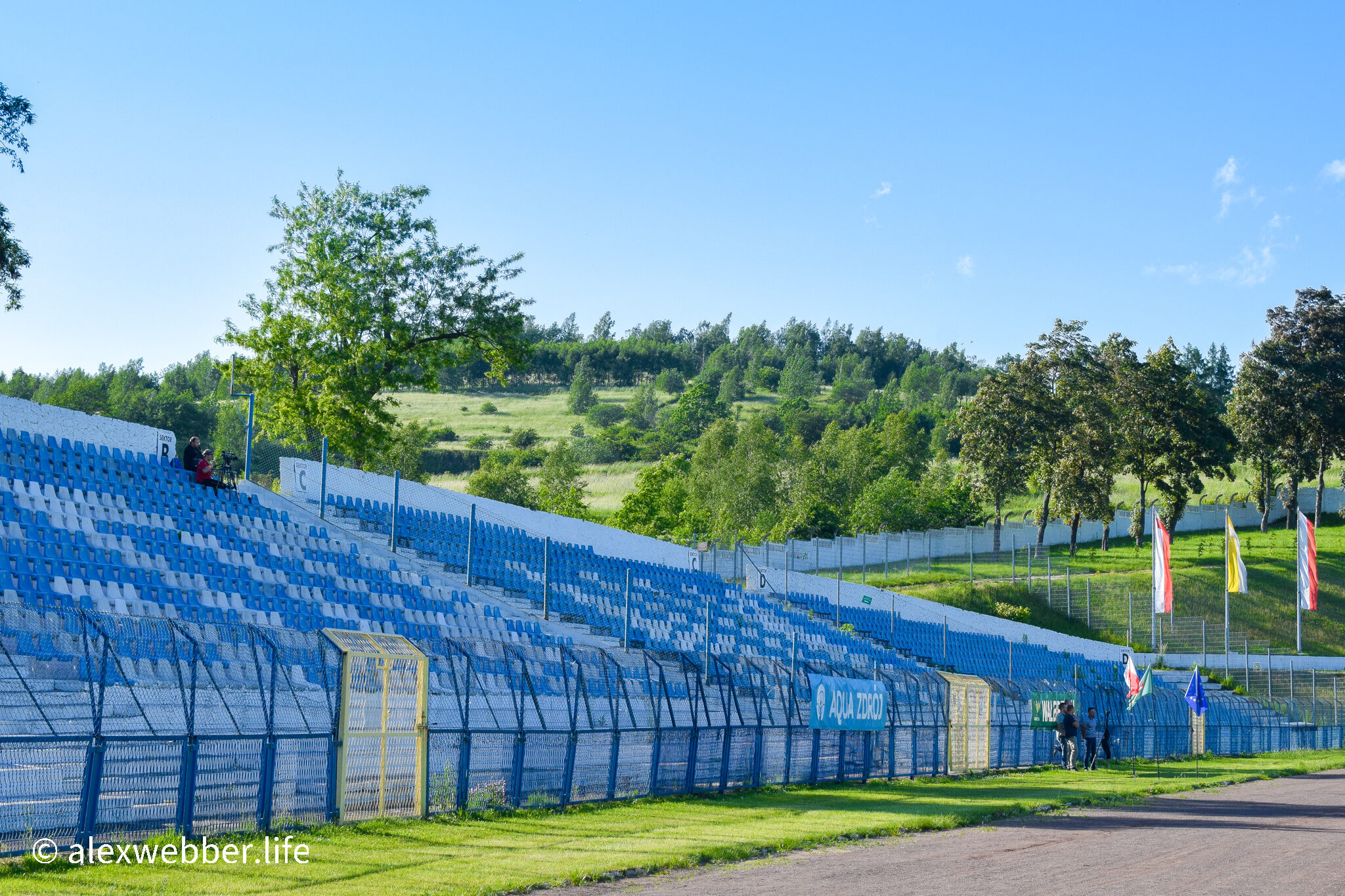 Getting There
Walbrzych is a bit of a sprawl so no matter where you're staying a taxi is recommended – and here, they're cheap and plentiful. But if getting to the stadium is easy, getting in is not. It wasn't for me, anyway.
With various roads blocked off by the police due to the arrival of the away contingent, it took a few attempts to follow given directions to the entrance – and then, confusion reigned. Accessed via an aqua park, reception staff were convinced that I'd turned up to have a bash on a waterslide despite turning up a little worse for wear after some naughty pre-match liveners. "No, for the tenth time, I don't want an effing swim, I want football."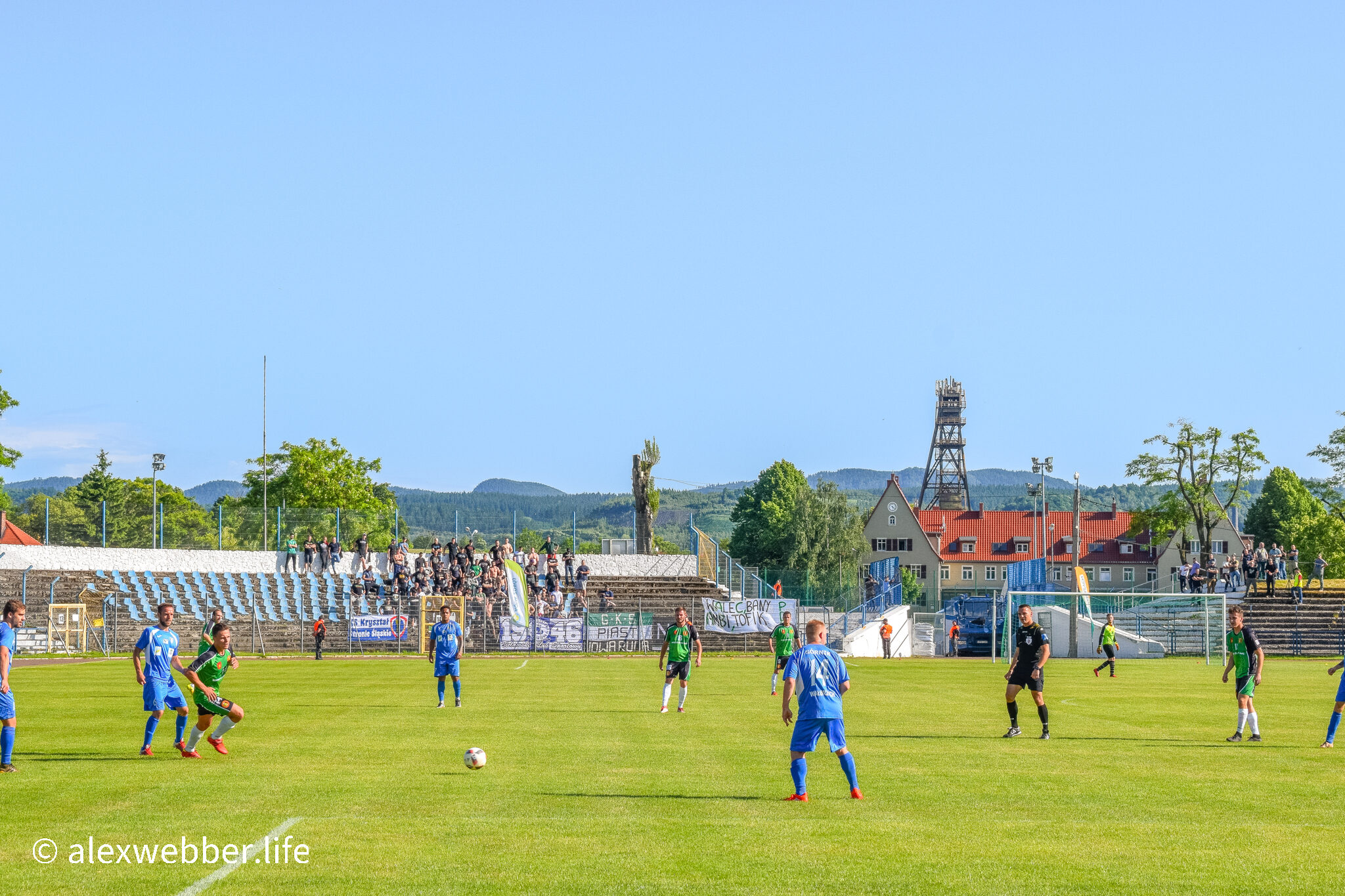 Stadium
Completed in 1966, what once held 25,000 now has seating for, according to official data, only 3,500 – being there, it seems more, not least due to the vast, curved bank of seating that dominates the side.
Originally home to their bitter rivals Zaglebie Walbrzych (a team Gornik merged with amid much outrage in 1992), I get the reckoning that this point still sticks in the craw of Gornik's followers. To them, I strongly suspect, this will never be 'home'.
Not that this makes it a bad ground. I loved it, and I loved it for aspects such as the views offered of the Owl Mountains in the distance, its rickety away terrace, its chicken wire fencing and general sense of neglected imperfection. You can see that the club have tried to keep up appearances, but in the more unused parts of the ground they're fighting a losing battle against the weeds and debris that have gradually built up. Most of all though, I love that the ticket booth is to be found in a combi van that's been parked haphazardly outside: I mean, who doesn't dream of buying a match ticket from a Scooby Doo van?
Matchday Experience
Hot to say the least – a minute longer in the sun and I'd have melted into a big, wet puddle of Webber. Damn right that would have been a shame because despite the withering weather this was a cracker for the casual observer.
Flag drops, pyro and staunch backing from the home lot – you name it, it had it. As the final game of the season, this was a dead rubber of a game between two teams with nothing to play for, but their historic regional rivalry ensured an enthralling atmosphere filled with bite.
Contested between two coal mining towns with a traditional dislike for each other, the previous meeting between the pair had seen Gornik's fans save themselves for full-time before launching into an attack on Piast. Aware of this, I decided to linger after the final whistle and was justly rewarded when, about ten minutes after time, the locals leapt onto the pitch to charge the away end.
Desperate scenes followed, with the police forming a last-ditch line that just about prevented complete carnage ensuing. Missiles dispatched, a whiff of gas in the air and some windmilling followed – brief and abrupt but an energetic end to a highly entertaining afternoon.
Afters
Though decrepit and declining, it's a beautiful town as well with a real shadowy, nostalgic air to it: a real under-the-radar gem that takes you back to the pre-war years when this city fell inside the borders of the Reich – indeed, it's for this reason you may have heard of it before. Making world news a few years before, it's in this part of the world the planet's press descended after local adventurers had announced they'd located the mythical Nazi 'Gold Train'.
Anyhow, it's a belter of a city and one all the better for an authentically faded old town that's showing some signs of renewal. A great day topped out by several pints inside a Gold Train themed pub and a ghost tour in a local castle.