Date: 9 November 2022 / League: Polish Cup (last 16)
Final Score: 1-0 / Attendance: 7,561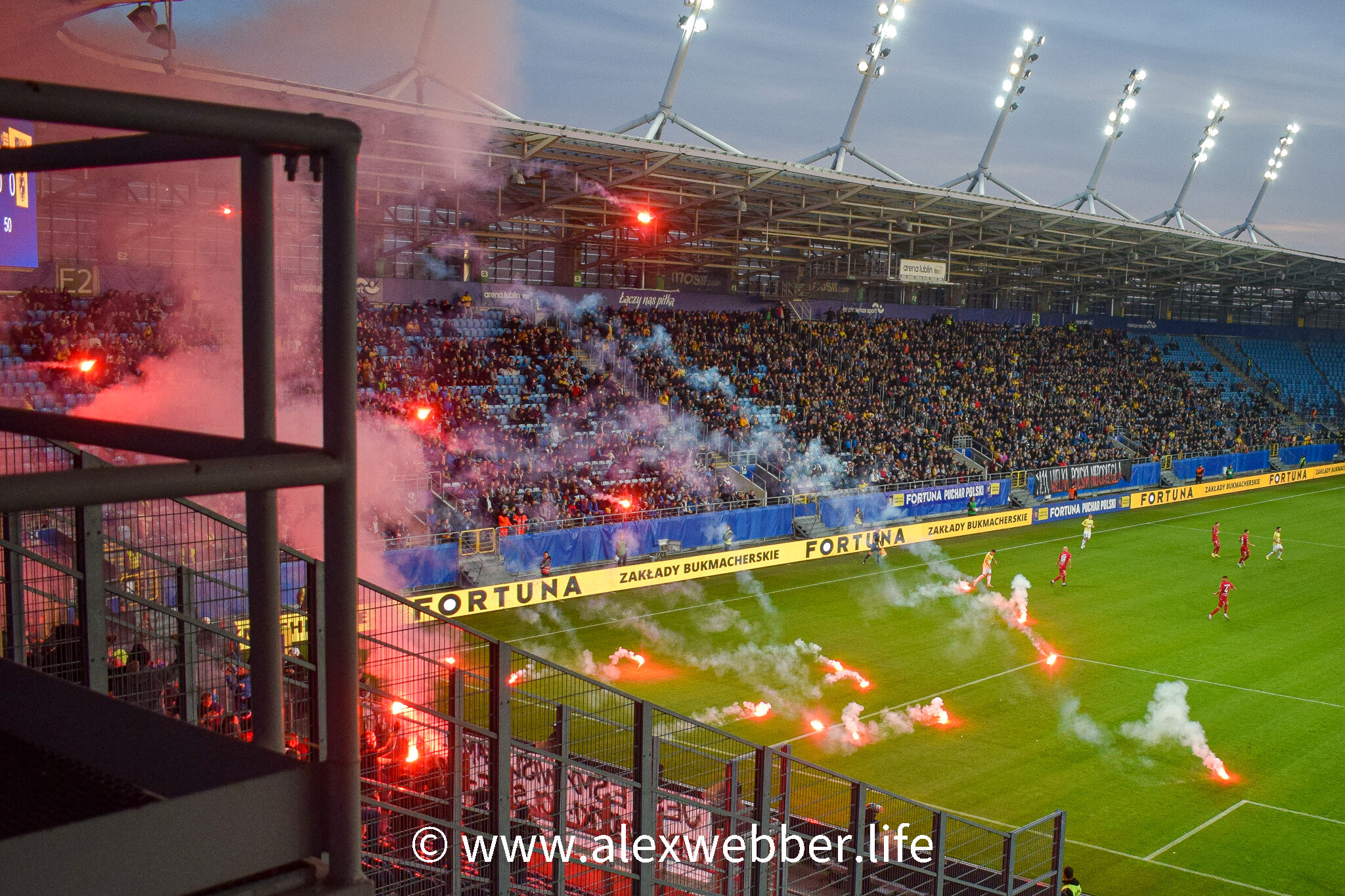 In A Nutshell
Separated by the league system for years, two old foes finally meet for a place in the Cup quarter-final!
Background
Polish football does like to throw a curveball every now and again just to keep you on your toes, and the domestic cup is a great example of that – and you can take this match as an example. Pitting together two fierce rivals that hadn't met in Lublin for, so I am told, twenty-seven years, this had the makings of a classic.
So guess what happened next – the TV company covering this match decided to schedule kick-off for 2.30 p.m. on a Wednesday afternoon. Not to be outdone by this stroke of genius, the home side then opted to take the insanity to the next level entirely by rewarding their fans by hiking up prices to the tune of double (something they fortunately backed down on after some diplomatic complaints from Motor Lublin's scarier element).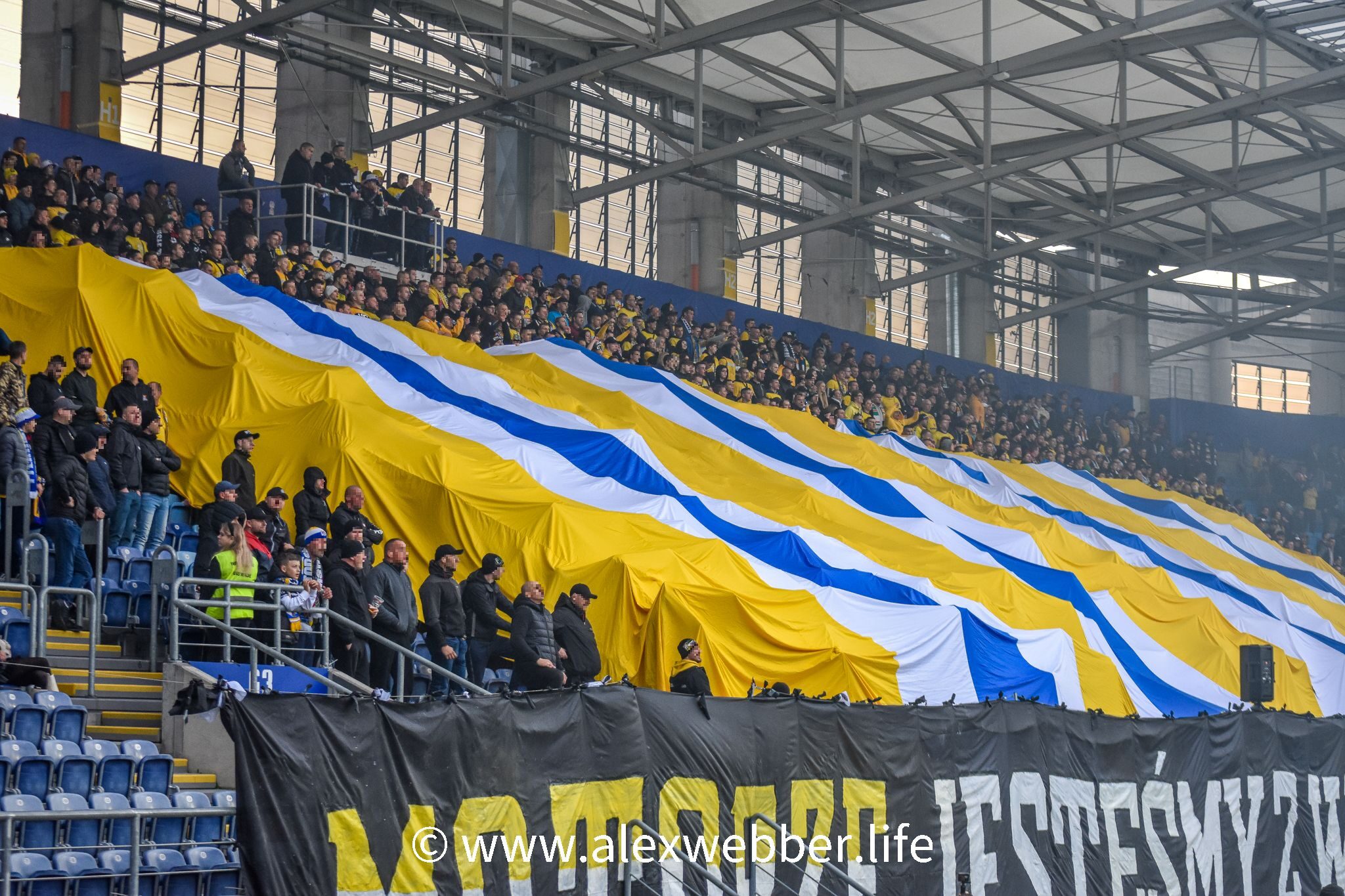 Still, what should have been a full-house for a game to decide who would advance to the quarter-final, ended up demonstrating just how far removed football's decision-makers are from the fans.
Of course, crazy as all of this was, I travelled down in the good faith that this would still be a banger. Known as one of Poland's more random rivalries, the geographical distance between these two (approx. 300 km) has done little to dilute the dislike they share for each other. Stemming from an early 90s dispute relating to Motor's ongoing friendship with Slask Wroclaw, the hatred has only festered and developed with time.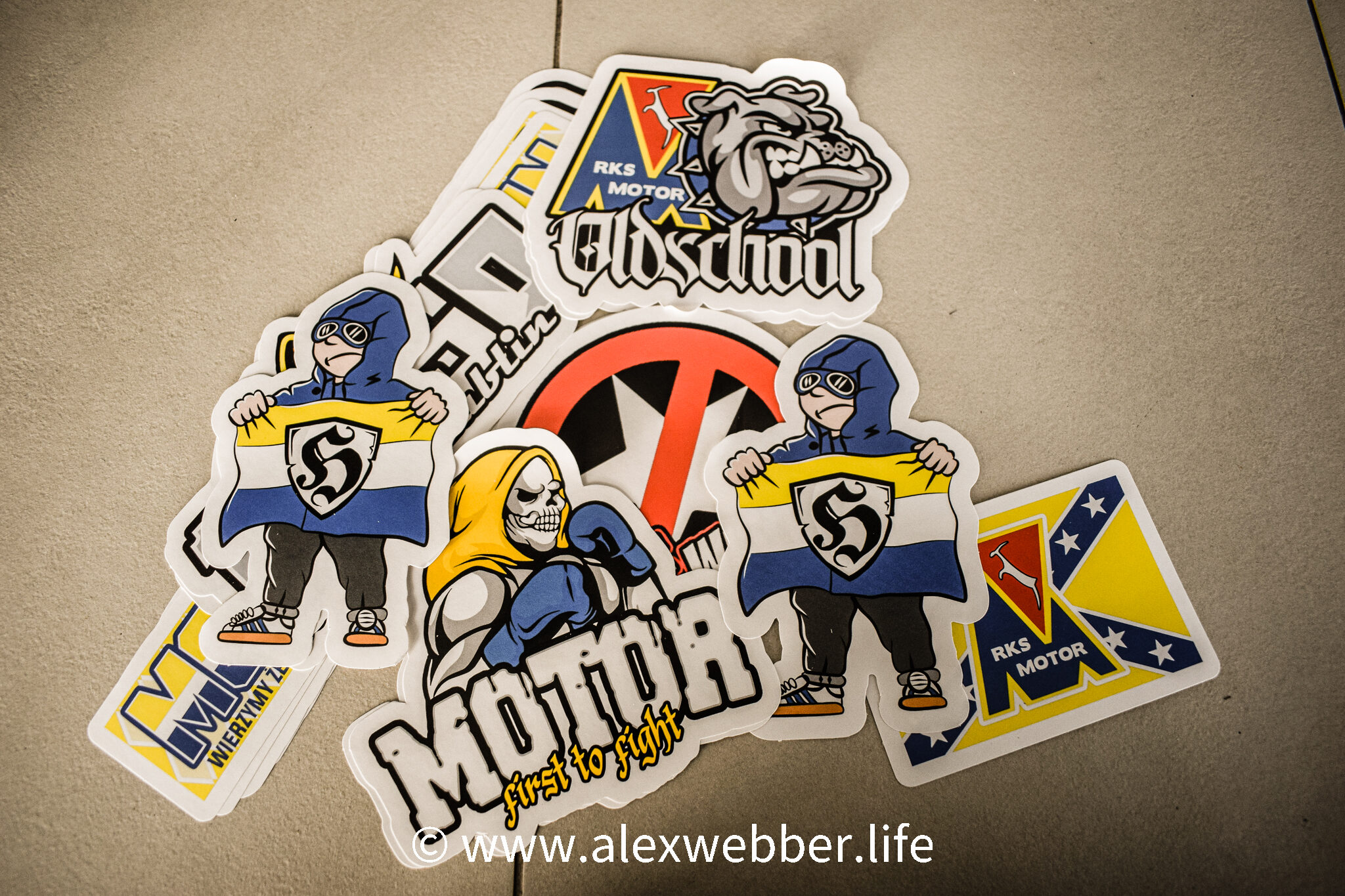 Stadium & Experience
Had this been held at a sensible time the match would have most likely sold-out. As it was, only around half of the available ticket pool was snapped up, but the empty seats did little to dampen the spirit within.
Arriving to the stadium, you could feel something special in the air, a point underscored by the disproportionately large number of roaming thugs pacing with menace. Placed in a 'safe' corner of the stadium's sports pub by my contact ("this lad's English, leave him alone!"), I was, to put it lightly, grateful for this intervention – having been mistaken for undercover plod before (including the last time I'd been here a couple of years previously!), it was handy that this time around the main lads had been informed who I was and told not to give me grief.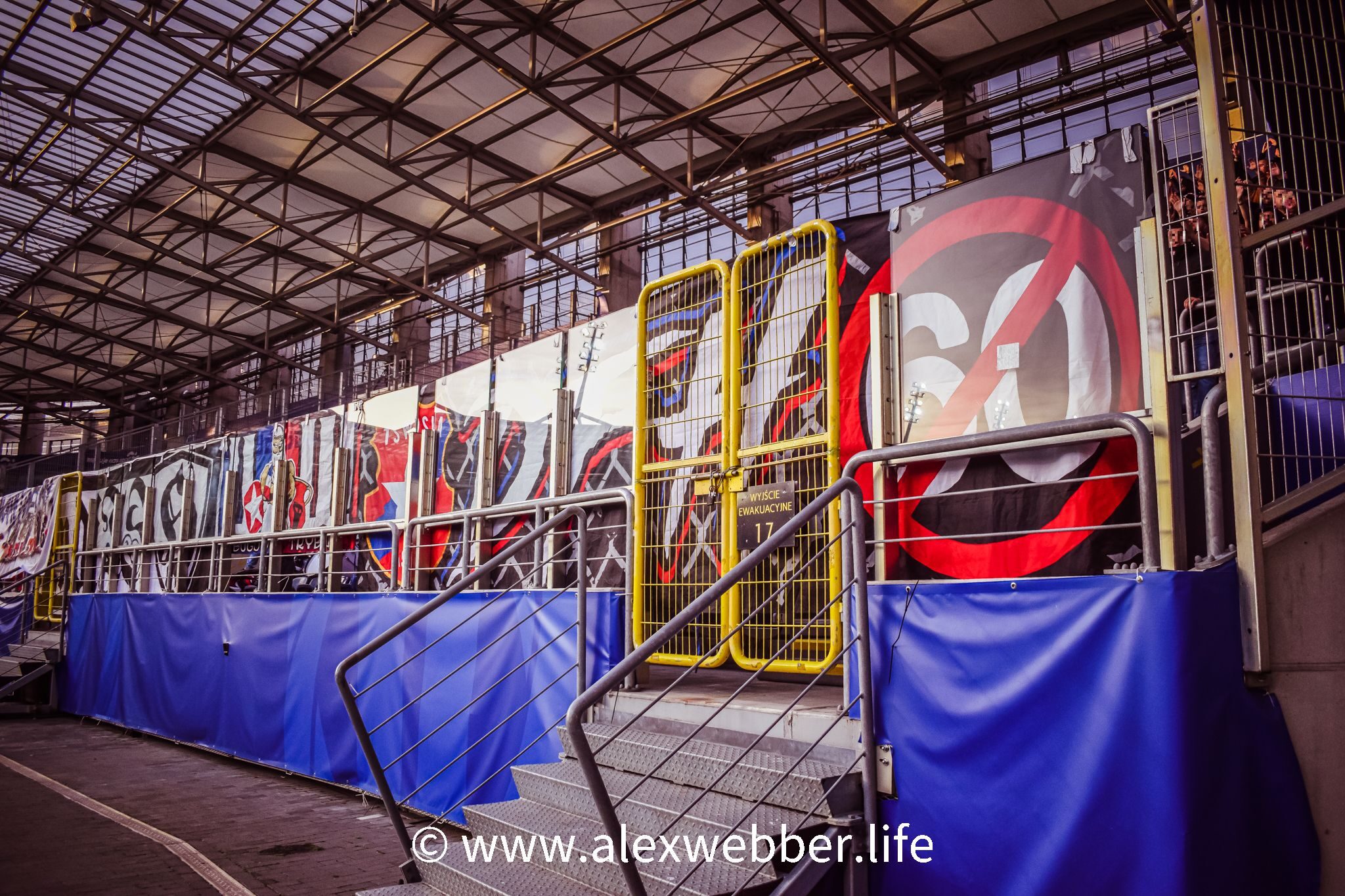 Despite this, my drinking was done furtively. As the only person in the pub not decorated with generous facial scars and black clothing, I stood out quite prominently; guaranteed safety I may have been, but that didn't stop me from sipping in stony silence with my eyes fixed to the floor – to their endless credit though of those around me, I must add that whenever my beer approached anything remotely empty, a meaty fist would gruffly thrust a new bottle upon me.
As for the match, that started with a bang with Motor choosing the first whistle to embark on their opening pyro show of the day.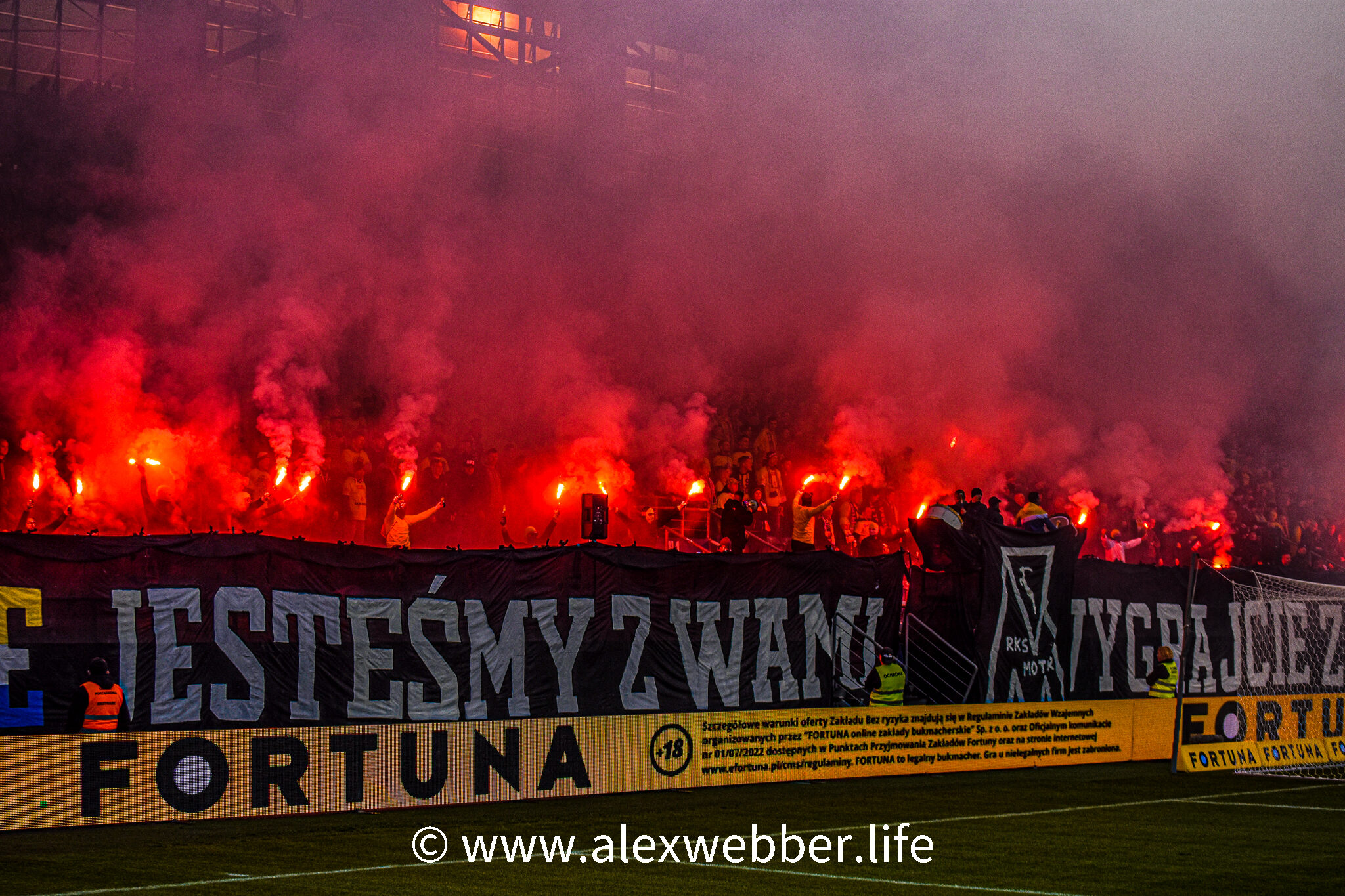 Now, prior to the game, there'd been much talk among the photographers over how much freedom we'd be given to walk around the ground, but as it transpired I was allowed to wander unhindered pretty much everywhere I went.
So it was in the second half I found myself at the top end of an empty block next to the away corner – facing right down the pitch towards Motor's home contingent. Impressive as the first half had been in terms of noise and support, everyone knew that it was the second period that would reap the richest harvest, and this was a prime viewing spot to see the full-frontal.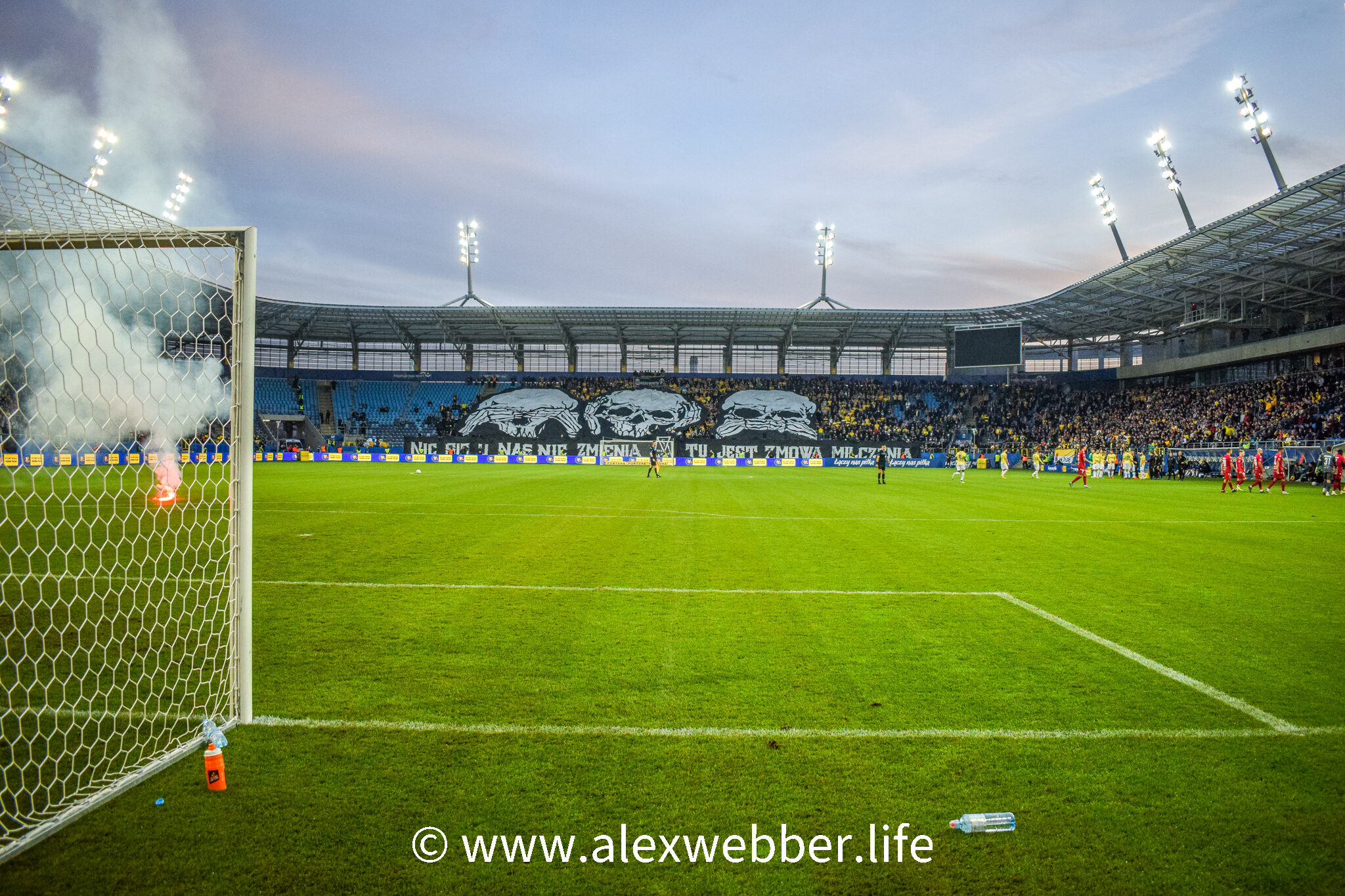 For their star show, Motor had chosen to make a dig at Wisla's recent fan history – namely, the decision of their main lad, Misiek, to turn supergrass, a move that ultimately led to the downfall of their firm, the Wisla Sharks. Featuring three skulls adopting a 'see no evil, hear no evil, speak no evil' pose, Motor's principal banner display was unfurled with an additional flag running underneath announcing (and this is a rough translation) words to the effect of: "as always, our only conspiracy here is one of silence."
Aware that Motor were limbering up for their biggest display of the afternoon, Wisla reacted by launching their own flares and hurling them on the pitch, which while being widely condemned in the press the next day, should also be given a fair degree of credit – it would have been easy for them to target the family stand to their side, that they did not earns points for sportsmanlike conduct.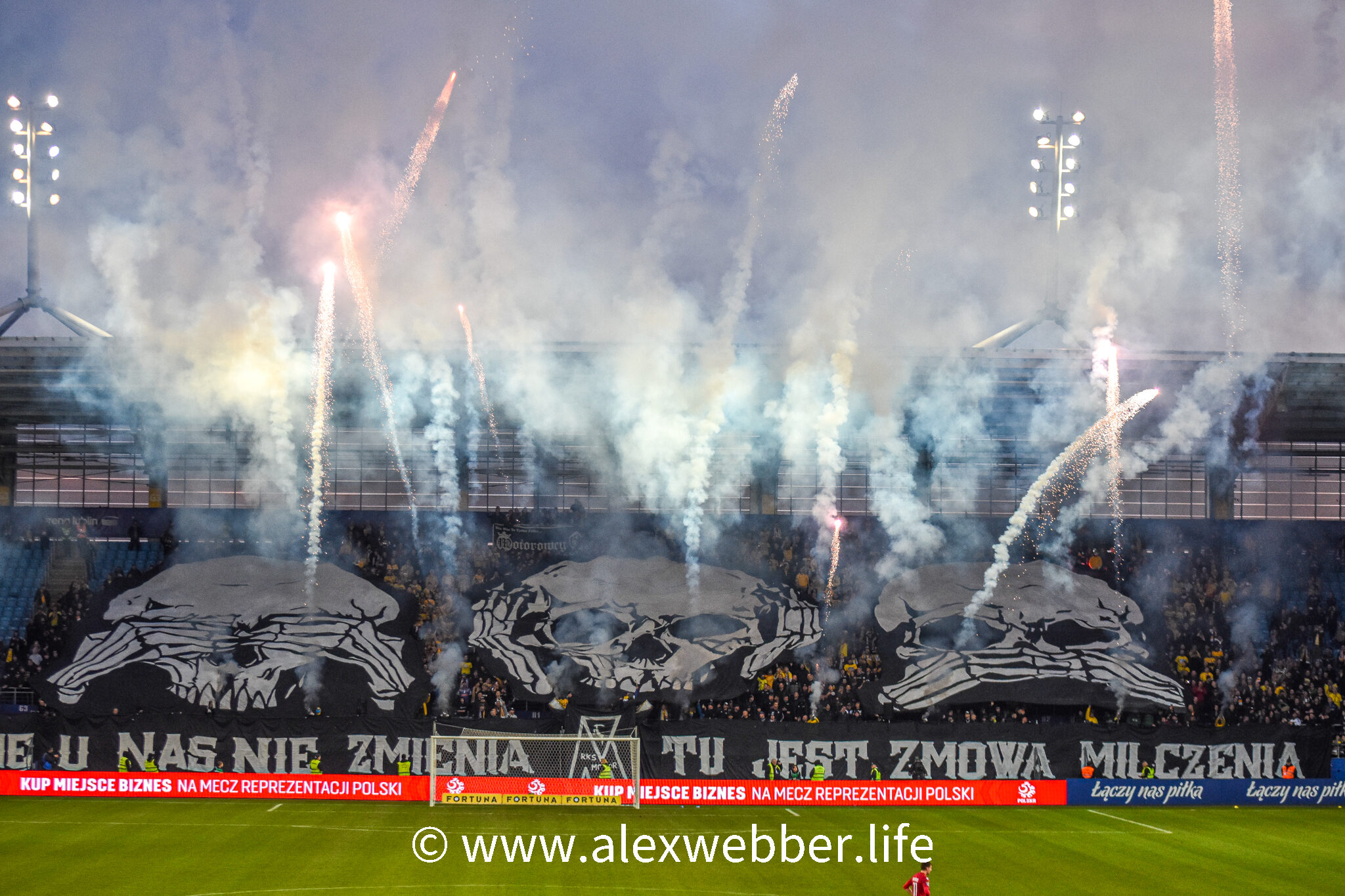 Anyhow, this proved just a mild disruption to the main event, a stunning firework display by Motor followed up by thick plumes of black smoke that left the pitch masked in a soupy, hateful haze.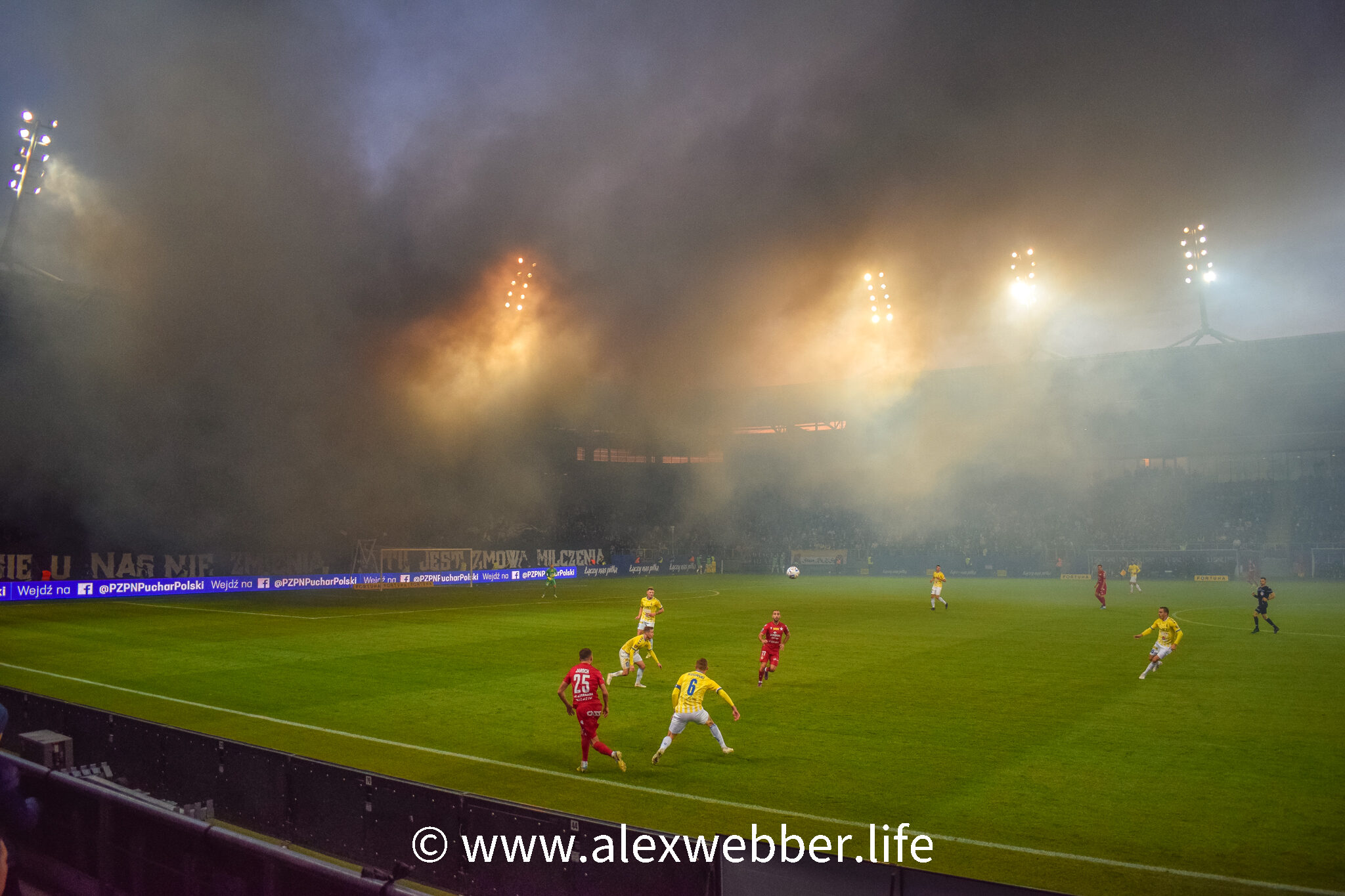 But from hate to joy in the blink of an eye – with the atmosphere now ratcheted up to the max, the stadium exploded into ecstasy with minutes left on the clock after the home side poked home a winner. BOSH!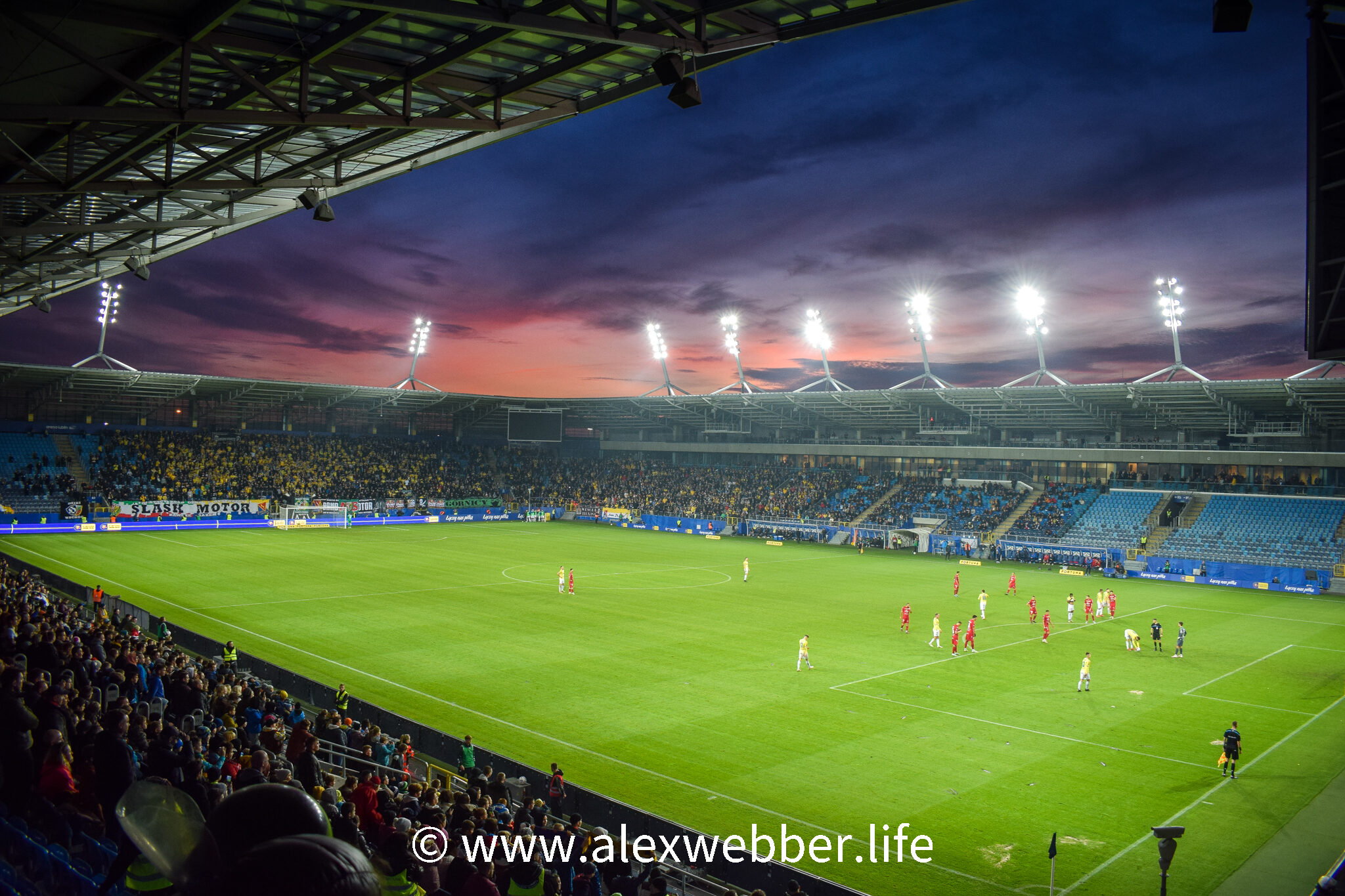 A simply magical day, even the bizarre kick-off time worked in a way – how wonderful was it to see the sun setting and the skies streaked in deep, dark purples as the pyro shows subsided.
Aftrers
With journey time from Warsaw weighing in at less than two-hours, this could easily have been handled as a daytrip, but treating it as such would have wasted Lublin's full potential. It's a great city to go out in, and I made sure I did exactly that following the match – not that I needed to go far.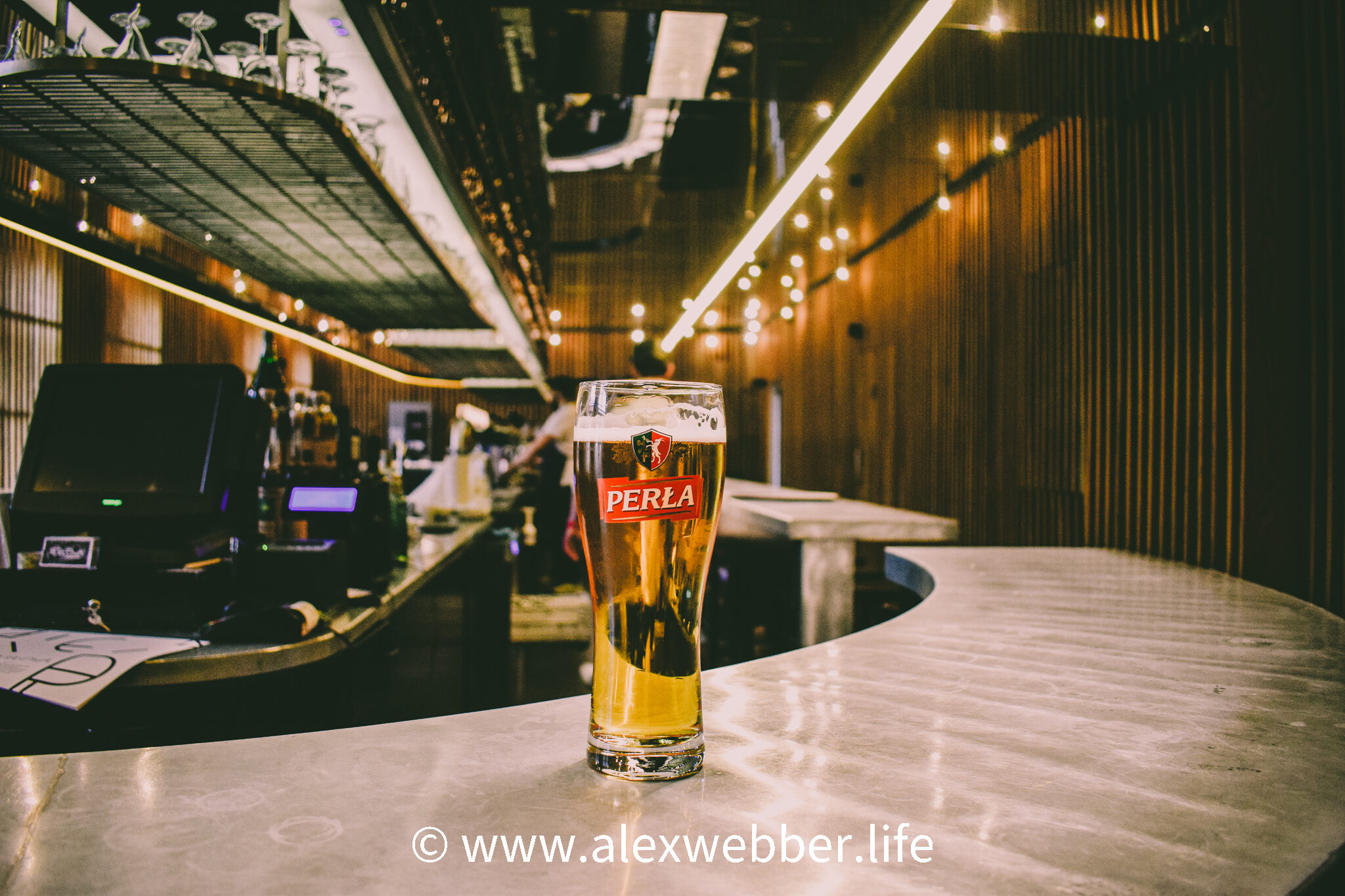 As a man of Napoleonic strategy, I made a tactical choice to stay in Apartamenty Perla, a short-stay apartment complex attached to the namesake Perla brewery and bar – this would serve as my field headquarters for the rest of the day, though I also found time to make it up to the nearby Old Town and the fantastic U Fotografa craft beer pub. Details become blurry after a certain point in time, but I'm convinced of the fact that a good time was had – this was the epitome of a successful football trip.