Date: 11 June 2022 / League: Polish fourth tier
Final Score: 3-2 / Attendance: 5,000 (approx.)
In A Nutshell
An end-of-season six-pointer inside a classic old school stadium delivers everything you could wish for with a mighty big wallop – when even the club priest is on the fences giving it the big 'un, you know you've got a banger!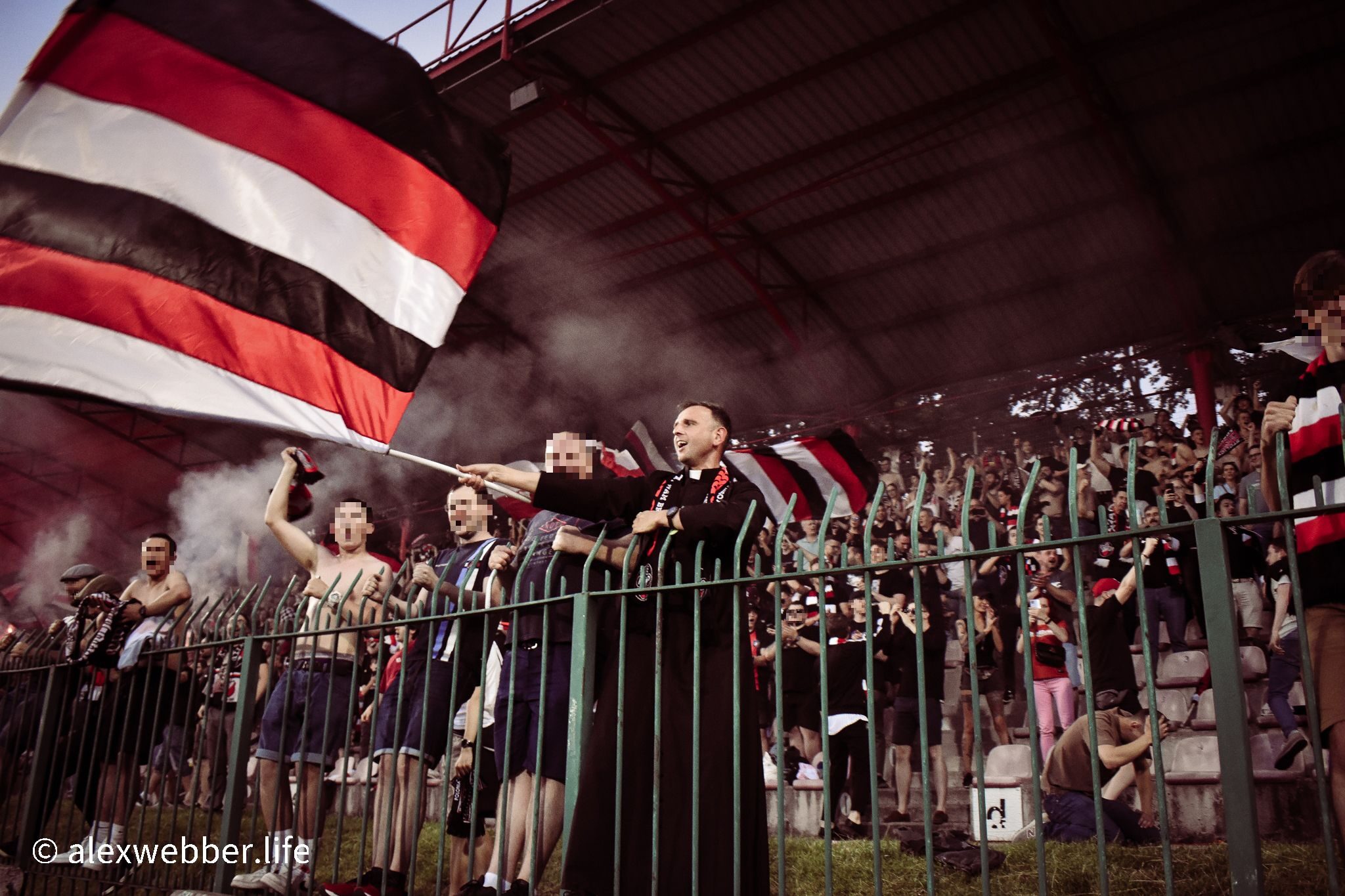 Getting There
Polonia's antique ground sits in the north of Warsaw and within earshot of the Old Town. From the centre, trams and buses run frequently, and you could even walk it if you've got a spare forty minutes. Getting here is just about the easiest task you could wish to set yourself.
Background
Polish league champions at the start of the millennium, Warsaw's oldest club hadn't just backtracked in recent years, but practically imploded. Financially molested by a string of dubious owners, the last decade had seen them plunge down the leagues, seemingly condemned to football purgatory. For a club with such a proud history, it'd proved a bitter pill to swallow.
Playing in front of crowds that rarely surpassed 700, this old lady had sunk to an all-time low – there were times you felt even the majority of their fans had given up. But hold your horses! Taken over by an ambitious French expat in 2020, he was the stabilizing influence that the club had yearned for. True, whilst some of his decisions have caused friction among the club's hardcore, his organized vision essentially saved the club from extinction.
Promotion this season was seen as crucial, but with just one team going up it boiled down to this match played against the league leaders, Legionovia Legionowo. Having led the table all season, they entered the penultimate game with a two-point lead and the knowledge that a draw would be enough to pretty much seal the title and deny the hosts. Adding some extra spice, a couple of nights prior some Polonia fans had broken into Legionowo's ground to leave threats against the players.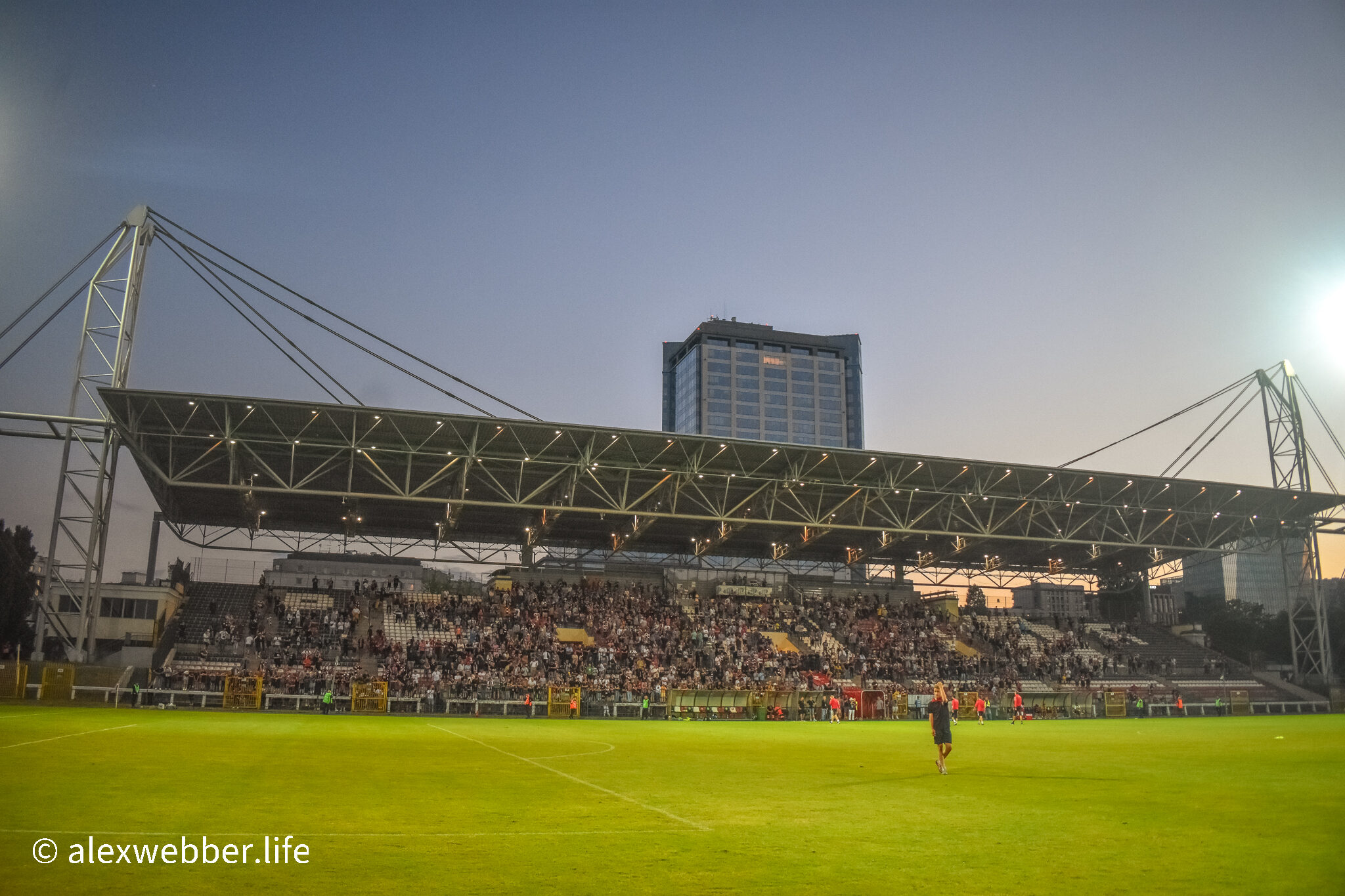 Stadium
Far removed from the generic entertainment arenas that have become increasingly common around Poland, Polonia's ground is a pleasurable blast to the past. Built in 1928, and richly antiquated in its charm, it's a place steeped in history: beyond a tinkling fountain, and by the colonnades the prop up the grandstand, plaques commemorate the lives lost here during the 1944 Warsaw Uprising. Right by here you'll usually find a collapsible table vending club trinkets, as well as a beer and sausage stand and a collection of al fresco benches. In finer weather, it's here that fans gather to chat about the upcoming match over plastic pints of lager.
For me though, this can't compete with the bar inside the ground – named Czarne Koszule after Polonia's nickname (The Black Shirts), find practically every inch coated with player portraits, scarves, jerseys and assorted ephemera. And as an afterthought, there's a fridge stocked with club branded beers and a few bits of craft from Poland's artisan breweries.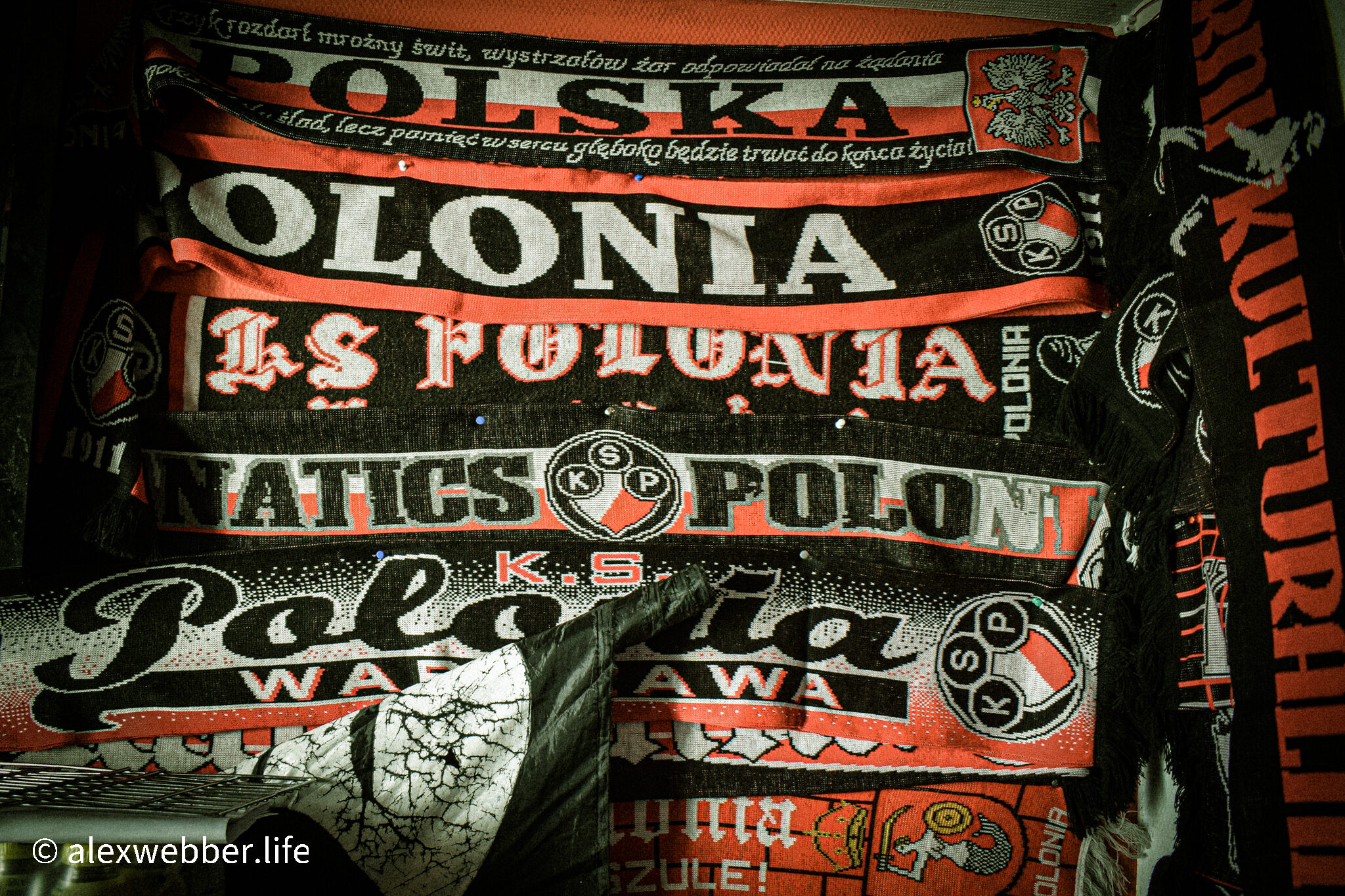 Of course, this stadium is showing its age and you feel that when you wade into the suffocating sweatbox that doubles as the bathroom – but for all that, how can you not love the place. Smeared, stained and drafty, the main stand feels of the kind you'd have once found in Northern England. As for the view, it looks directly onto the Kamienna – seen by older fans as their spiritual home, this stand's capacity was designed to correspond with the year Polonia were founded: 1911. Where the ends are concerned, there's only one to speak of – a shallow away enclosure with weathered seats bolted onto a curved terrace.
Warmly nostalgic, there aren't many grounds in Poland that can boast the same sense of creaking, cobwebbed history – that, though, stands to change. With Polonia now backed by French millions and – seemingly – the local town council, plans are afoot to significantly modernize this heirloom of a ground.
Experience
What a game, what a night – once in a lifetime stuff. Given what was at stake, it was no surprise to see that this was a sell-out with only the away end remaining empty – with no 'organized' fan base to speak of, either Legionovia could not muster a travelling contingent, or they simply weren't given tickets. Either way, this would have no impact on the atmosphere.
Interest was huge from the home support, and for the first time in five-years the Kamienna was opened. All things told, this was to prove Polonia's biggest attendance for around a decade.
You can imagine the anticipation in the air, and the excitement was ramped a little further when a band of Legia supporters turned up outside the gates just minutes after kick-off – a hasty intervention from the police and security prevented the situation escalating beyond a bit of rushing around.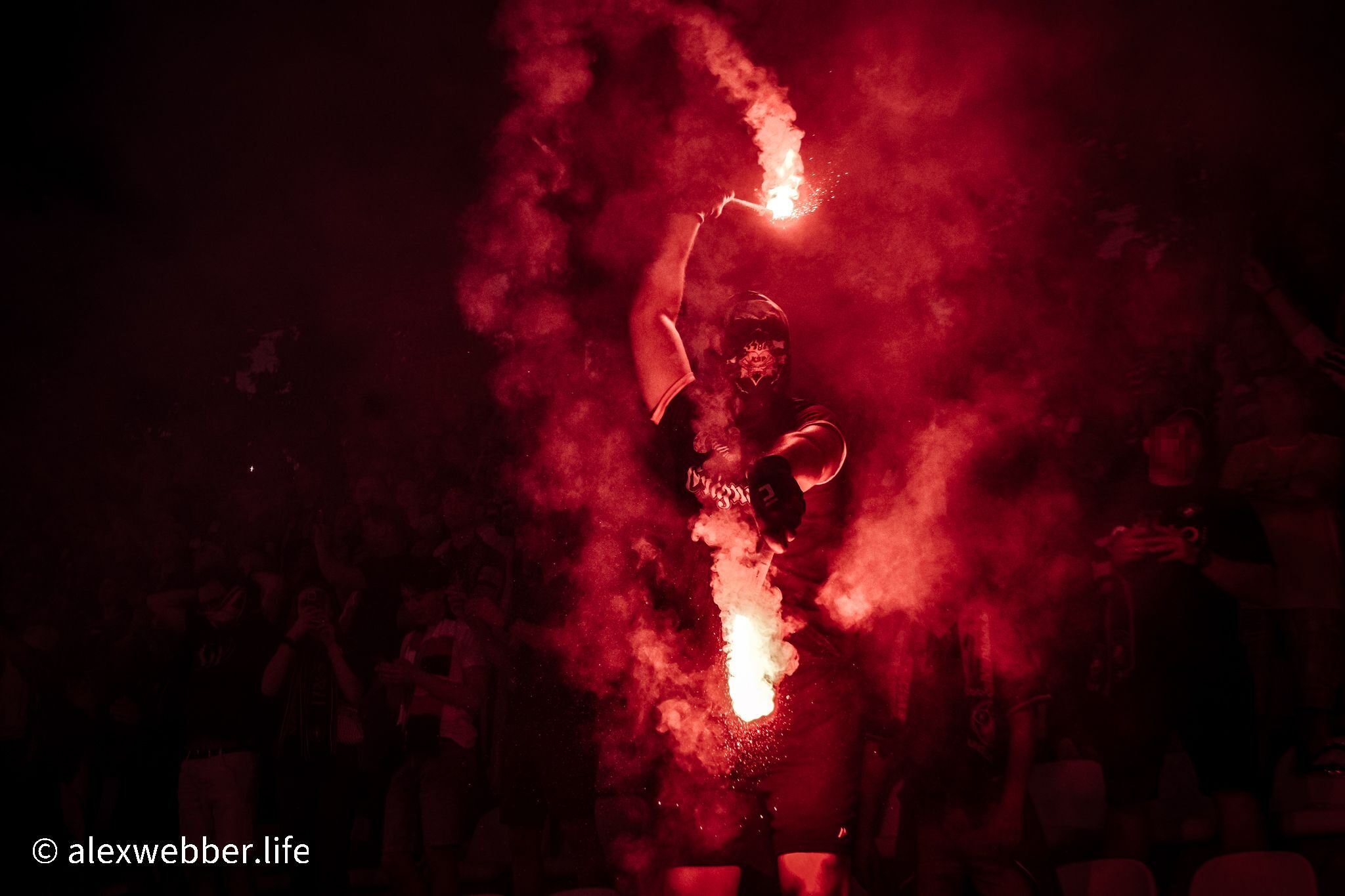 Not that the fire needed stoking – the atmosphere was bubbling along more than nicely. Still, when Legionovia went ahead I could tell this would be one of those heart-breaking days you sometimes endure at football. But not so…
A tremendous pyro show just before half-time was followed by rising emotions in the second. But still, with the clock hitting 55 minutes Polonia trailed. As dusk set in, you could cut the tension with a keyring. Then, an equalizer. Stadium explodes. Minutes later, Polonia take the lead sending the crowd into ecstasy. Behold, another twist: the visitors equalize on 73-minutes. By this stage, the atmosphere is on a different stratosphere. But time is not on Polonia's side. With the clock ticking past the 90th minute mark, it looks like a glorious failure only for… a winner! Bonkers scenes. Absolutely bonkers.
Postscript
At the time, I hadn't really understood the magnitude of the winner – with so much smoke billowing around, and with no away followers to celebrate the goal, I'd totally missed Legionowo's equalizer and had assumed, when Polonia scored the third in the dying moments, that they had simply put a finishing gloss on the score. Such was the confusion and general bedlam, it appears I was not the only one.
Following this extraordinary helter skelter match, I remember sinking back pints afterwards in a state of shellshock – this was the kind of game that takes years off your life and leaves your brain completely rattled. Magic. And to fully understand just what it all meant, one has to consider Polonia's wider situation: having seen their club all but ruined over the past decade, the winner was the unbottling of ten years of hurt. Speaking to people after, there was no doubt – this was the evening that saw the club reborn.
But though the result sent Polonia top for the first time that season, they still had to clinch promotion the week after – this they did, despite falling behind early playing away to the league's most hopeless side.