Date: 1 September 2022 / League: Polish Cup (First Round)
Final Score: 0-1 / Attendance: 9,300
In A Nutshell
Traditionally speaking, September 1st is 'back to school' day in Poland – in Chorzow, however, it was 'back to old school' for the Great Silesian Derby: a loony, loopy night inside one of the country's finest 'heritage' football grounds…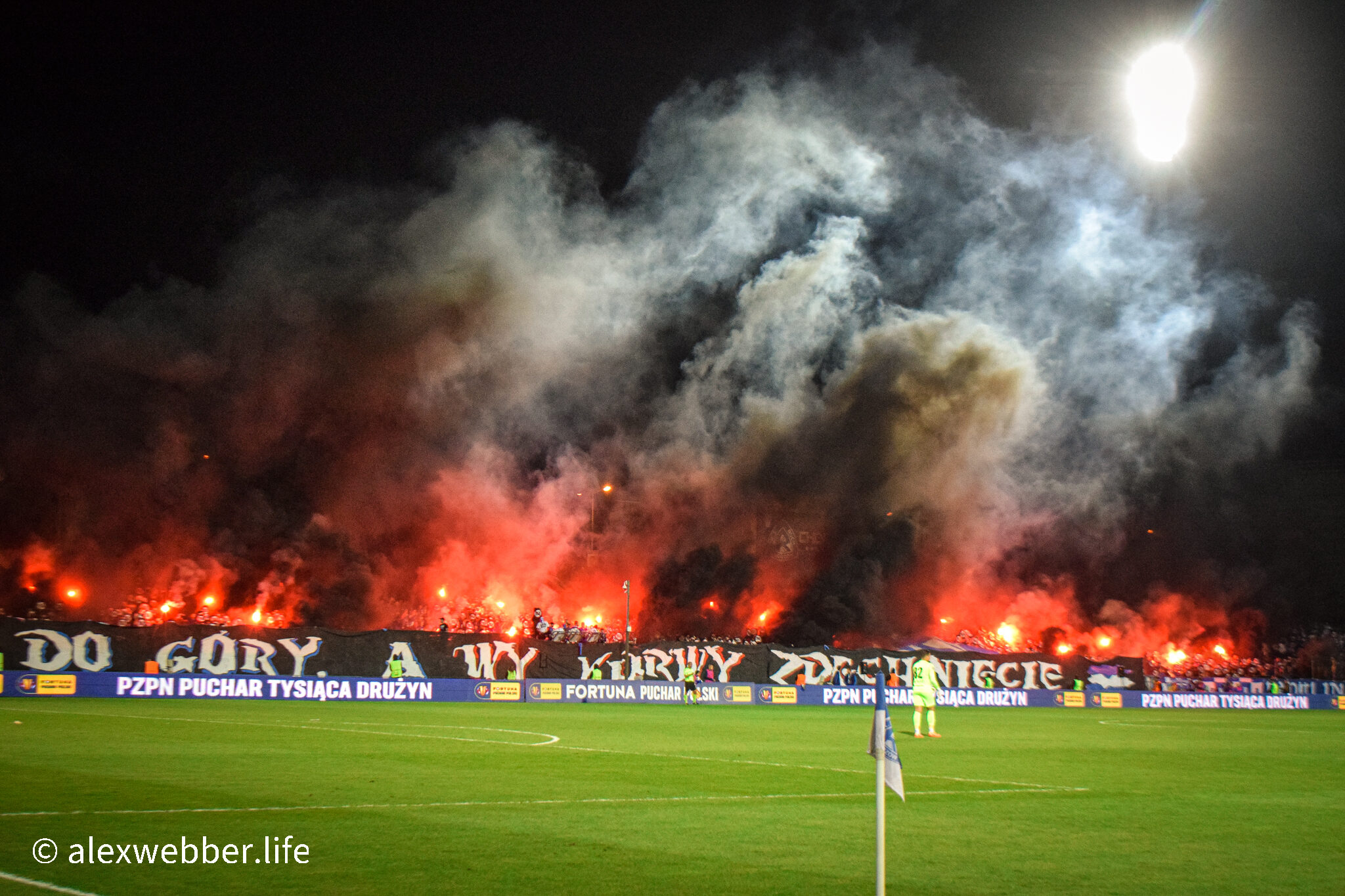 Getting There
I'll repeat what I've said before: get to Katowice first, and the rest falls into place. From there, Chorzow is easily accessible by regional train and Uber – both take about the same time, though Uber (PLN 30) is less hassle. If you're doing the train option, then Chorzow Batory is the station you'll need, and from there it's a few minutes by foot to the ground. Note, it can also be done as a daytrip from both Krakow (75 mins by train) and Warsaw (4 hrs), but doing so misses out on a murky time spent in the bars of Katowice.
Background
These two clubs are giants, no questions asked. Holding 28 league titles between them (14 each, should you wonder), and nine Polish cups (three for Ruch and six for Gornik), their glorious pasts and close proximity (just 15 kilometres separate the pair), make this one of the most heated derbies around – and I'm not just referencing the immediate sphere of Polish football.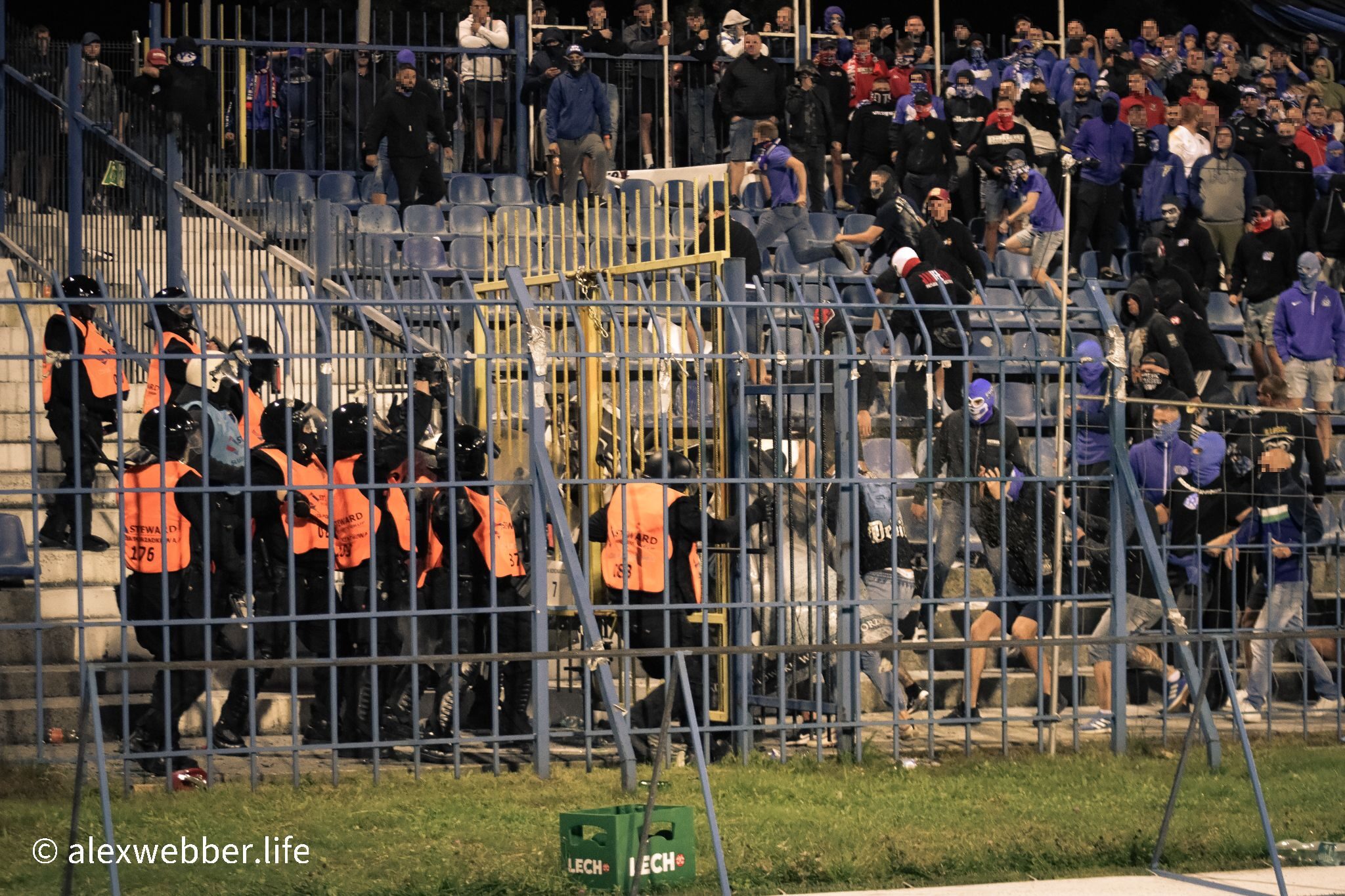 As a region, Silesia has historically proved a cauldron of football violence, and these two teams have often set the pace with antics that have gone far beyond anything we can imagine in England – there have been killings, there have been mutilations. Moreover, both sets have been neck deep in organized crime involving drug trafficking, extortion, kidnapping, murder, and so forth. Each, also, have fallen foul of high profile prosecutions that have resulted in many fans turning 'supergrass' under Section 60 of the criminal code that rewards those who turn to the law.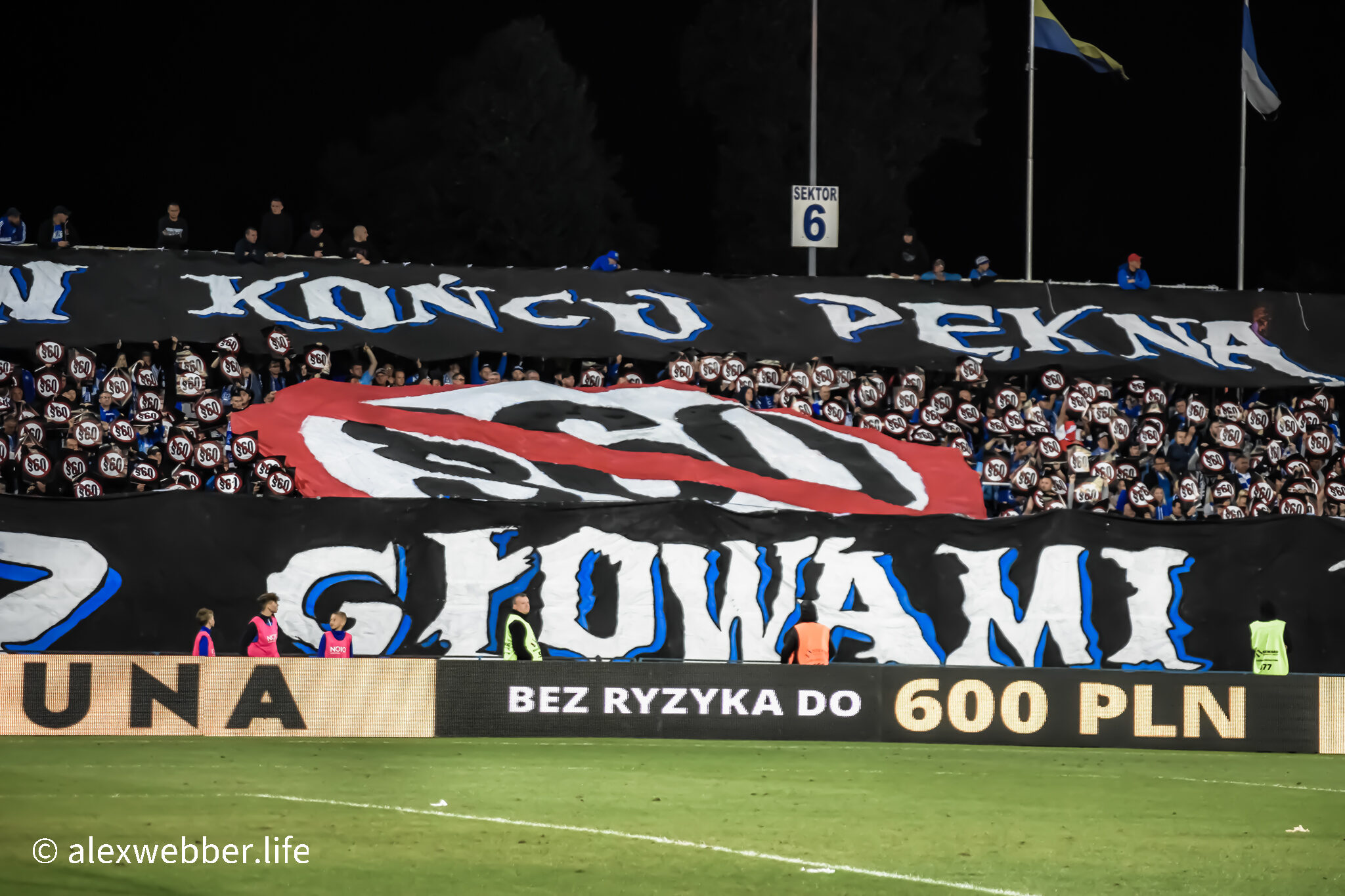 In short, it's a complex, delicate and almost unexplainable situation – and I am not the geezer to help you fathom it. What I will say, is that for all the arrests and 'desertions', both sides have retained a very naughty and very high headcount of nutters.
Moreover, these sides had not played each other for around six years – and it had been even longer since both sets of fans had even been allowed into a ground together. Why? Well perhaps this best demonstrates the enmity between them: when, in 2014, Zabrze were due to appear in the away end of Ruch, the night before police discovered an explosive device left under the fence and rigged so it would detonate during the game on an SMS signal.
Digesting all of this, I hope you can imagine how eagerly anticipated and feared this cup fixture was.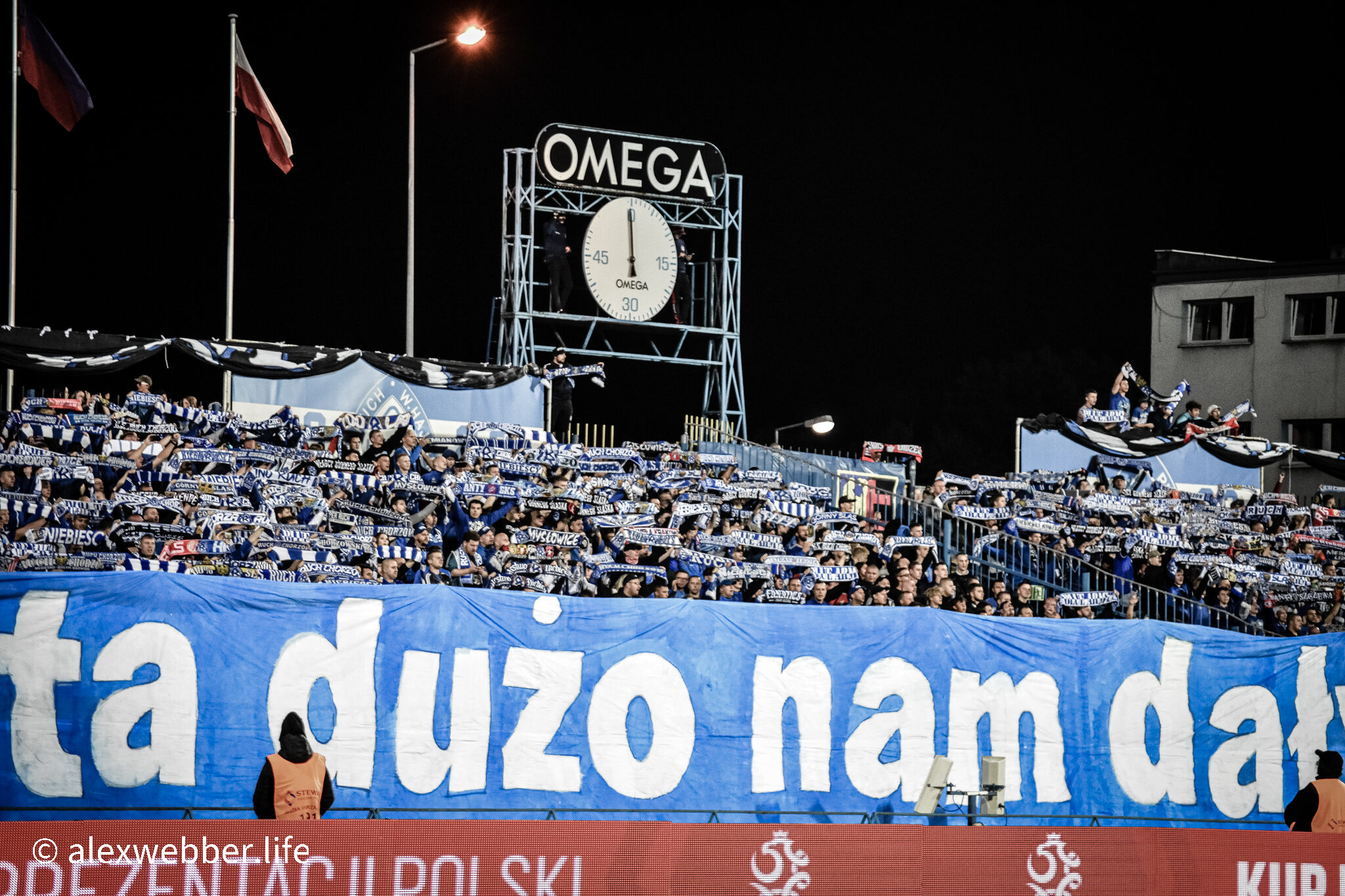 Stadium
I've written about this ground before (CLICK ME!), and nothing has changed – for the authentic Polish experience, Ruch Chorzow has the tradition, the lingering menace and the industrial beauty that I relish about football.
Experience
Some games just feel evil and this was one of those. To describe the match, I'd be on a hiding onto nothing: how can you put such passion and hatred into words? Sure, the vocabulary exists, it just doesn't feel fitting for an experience like this.
Drawing a sell-out crowd (police limitations meant that Gornik were handed only 460 tickets), it was fiery from the off. The pyro was spectacular. One local paper likened it to Dante's Inferno, a poetic comparison largely lost on those present. Intense and nasty, this was more like plugging yourself into some electrical switchboard. BOOOSH. And honestly, even the family enclosure's first half flag show put English grounds to shame.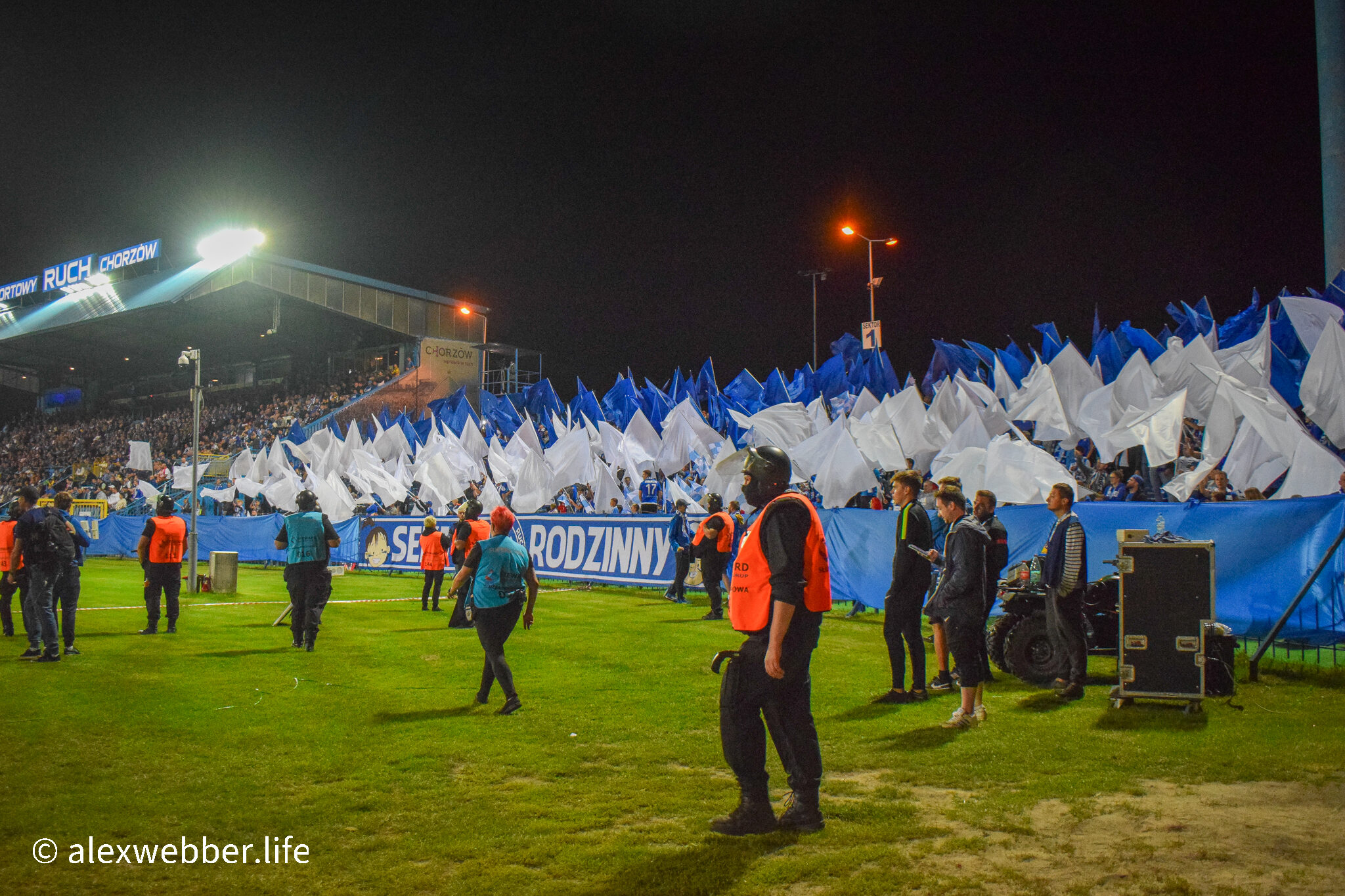 Yet this was a strange one. With Gornik scoring a wonder goal just before half time (an out-the-box volley that I only caught on the highlights later), the atmosphere went eerily silent on the half-time whistle. And in the second half, it did not really get going again, such was the tension and unspoken knowledge of what was to happen.
And what did happen? With around ten minutes left, and Ruch still trailing, along came the sign for their next show of the night: this, a protest against the Section 60 law, as well as an unfurling of a banner shaming those from Zabrze who had turned grass themselves (at least, that's how I interpreted it).
Bugger me, the atmosphere was back on. With all this still going on, the scarves and shirts captured from Zabrze's fans (and their allies, such as GKS Katowice) went up onto the fences before being ceremonially torched in a malevolent show of spite.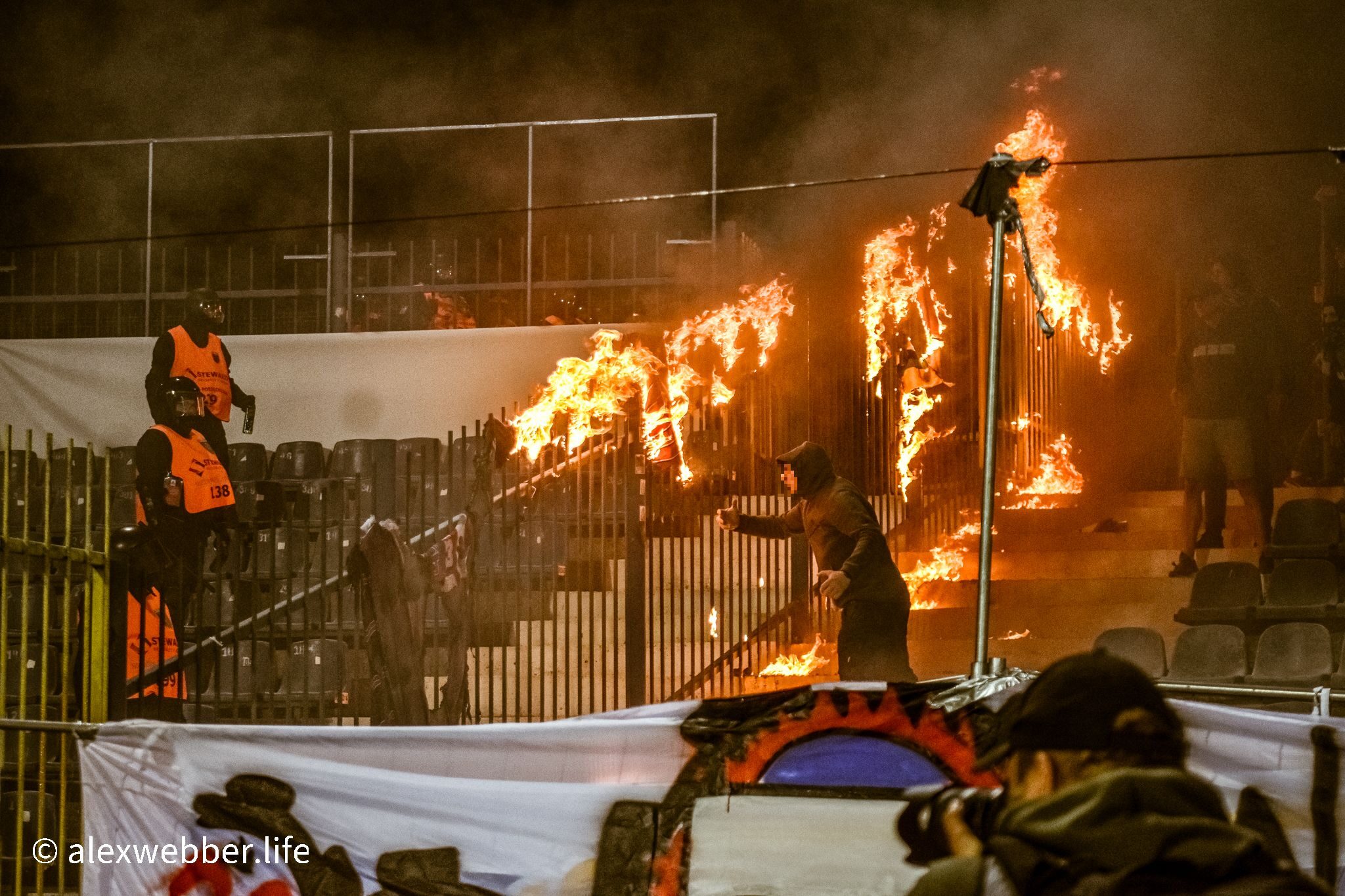 And it's at this point it went really tits up for everyone involved. In their wisdom, the stewards decided to try and extinguish the flames, a move that was seen akin to a declaration of war: cue ten or so minutes of tear gas and debris being mutually exchanged between Ruch and security.
Ingeniously, crates of beer, too, were liberated from the catering section and soon these bottles joined the artillery being fired by Ruch's more excitable followers.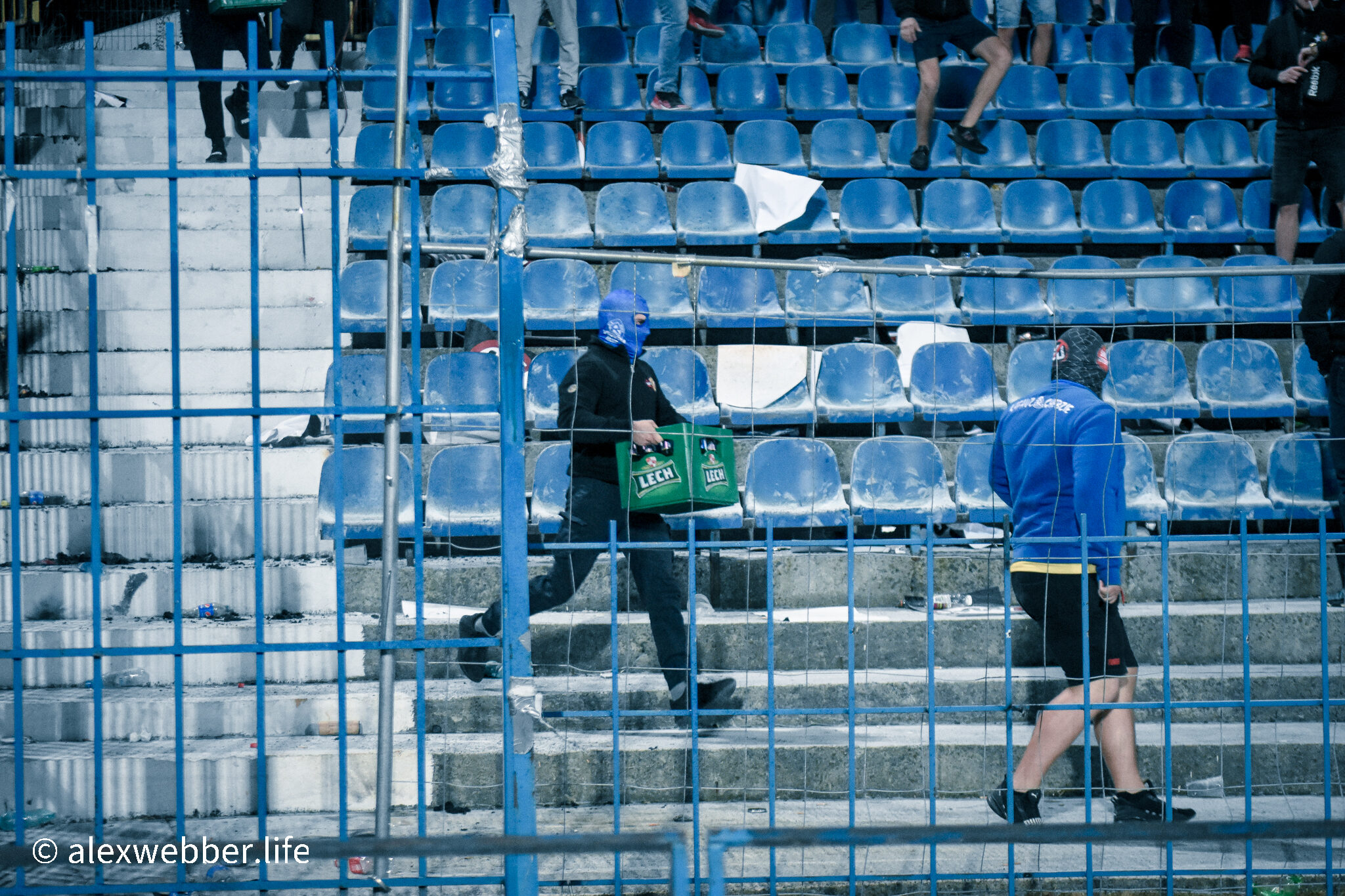 Somehow, their repeated attempts to breach the gates were resisted, but only just. Being in the thick of it, and on crutches, I've rarely faced a bigger challenge when banging out pictures. What a night. Really. Just what a night.