Date: 26 November 2021 / League: Polish third tier
Final Score: 0-0 / Attendance: 7,089
In A Nutshell
An old school night in an old school stadium. Presenting the definitive lower league Polish experience, this match had it all: pyro, flag drops, snow, mud, blood, booze and battles on the terraces.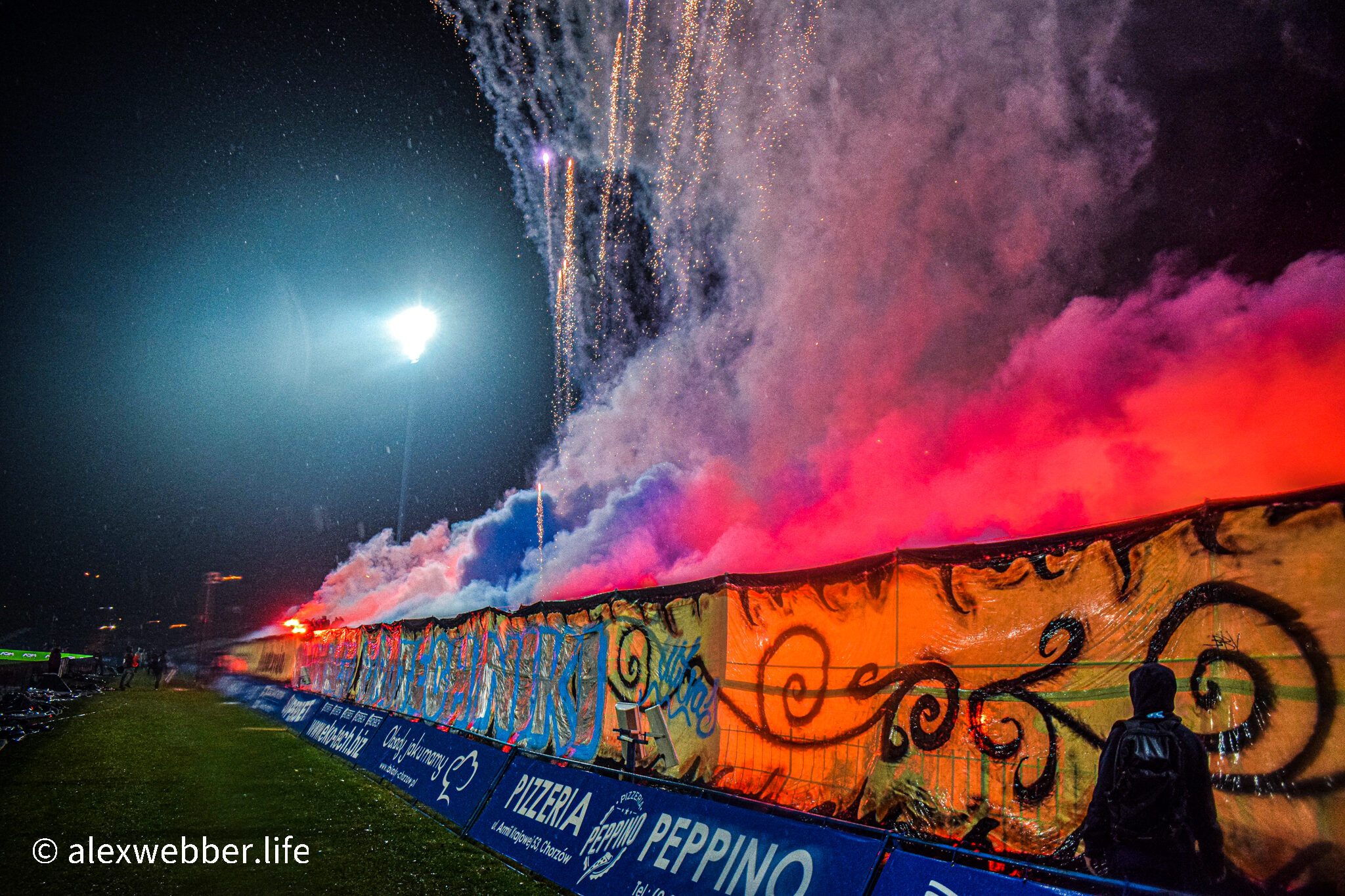 Getting There
Get to Katowice first, and the rest falls into place. From there, Chorzow is easily accessible by regional train and Uber – both take about the same time, though Uber (PLN 30) is less hassle. If you're doing the train option, then Chorzow Batory is the station you'll need, and from there it's a few minutes by foot to the ground. Note, it can also be done as a daytrip from both Krakow (75 mins by train) and Warsaw (4 hrs), but doing so misses out on a fab night in the bars of Katowice.
Background
Crowned Polish champions fourteen times, and last appearing in Europe in 2014, Ruch have one of the weightiest reputations around. After a catastrophic few seasons (three relegations on the bounce), they were in the process of rising back up the ladder and gunning for their second promotion on the spin. Motor, meanwhile, are a team I like to think of as being Poland's Bristol City – an underachieving club of great untapped potential.
I'd been to the reverse of this fixture at the very start of the season (the first time this pair had met for about 30-years) and it had been a hair-razing atmosphere; with both teams flying high, I expected much of the same from this fixture.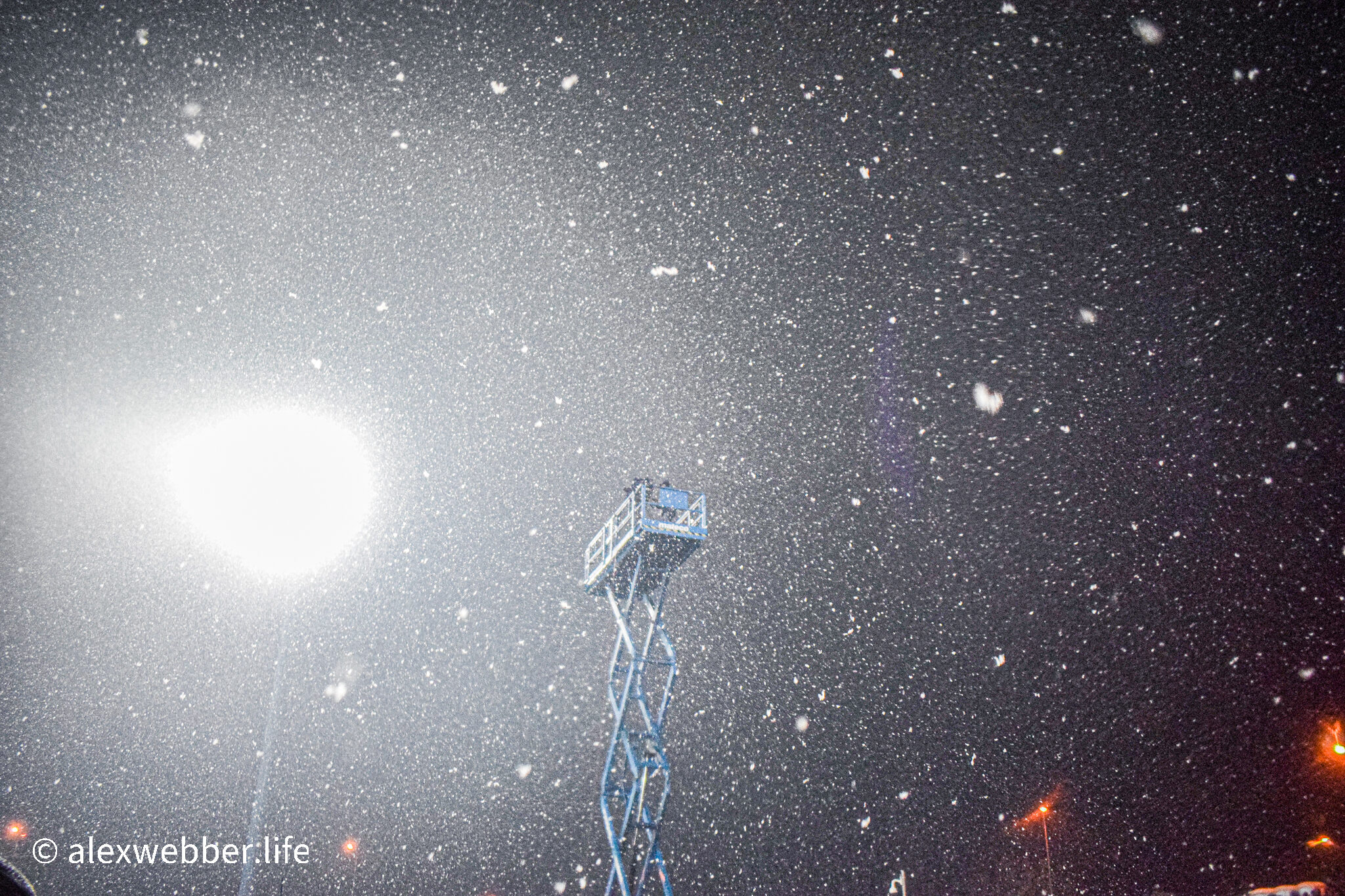 Stadium
The home supporters are desperately campaigning for a new stadium, but I'm glad that so far they've been denied for this stadium is an absolute classic – looking more like a wreck modelled out of rust, it exudes a heavy sense of history and heritage: an no more so courtesy of its vintage main stand.
Of course, I do understand why the fans are demanding a move – degraded beyond hope, pretty much all the facilities are temporary band-aids that have done little to plaster over the faults: leaky, portable toilets, catering facilities housed in tends, and a club shop in a cabin.
But I love this place, and it doesn't half have some delicious little trimmings: some industrial chimney looming in the horizon, flimsy camera scaffolds, and a pre-war clock gifted to the club in the interwar years by Omega – so the story goes, one club employee risked his life during the occupation to hide it from the Nazis.
Experience
I learned a valuable lesson this day – when at a game of this size, never think that half-time is a good moment to vanish for a beer. Having got bladdered in the hours leading up, my judgement was skewed to say the least, and having misread the crowd I sought shelter from the sleet during the break and opted to get another pint in me. Hearing a commotion from afar, I peered out of the muddy catering yard to see Chorzow had broken through no-man's land and were hammering out on the terraces with the fans from Lublin.
I literally flung my beer onto the floor to reach the action, and in my haste ended up falling into some draining hole by the pitch. When, finally, I did make it to the melee, the camera chose to completely misfire. Not my night, though I do include the smashed remnants of the tea hut that found itself at the centre of all the action.
This kerfuffle aside, the game was notable for a wild snowstorm and a quite awesome show of pyro from the home fans – I think they carried out three displays in all, and each felt more devastating than the last. I'm led to believe that the 400 away fans had most of their planned displays confiscated before entering, but they still did their bit to contribute to this red hot night. Everything about this felt like a blast from the past.
Postscript
Months later, these two sides would meet again in the playoff final – a heavily policed affair that saw no repeat of this night's half-time antics. It did though see goals, with Ruch running out 4-0 winners to seal promotion.