Date: 11 March 2023 / League: Polish 3rd division
Final Score: 0-0 / Attendance: 4,195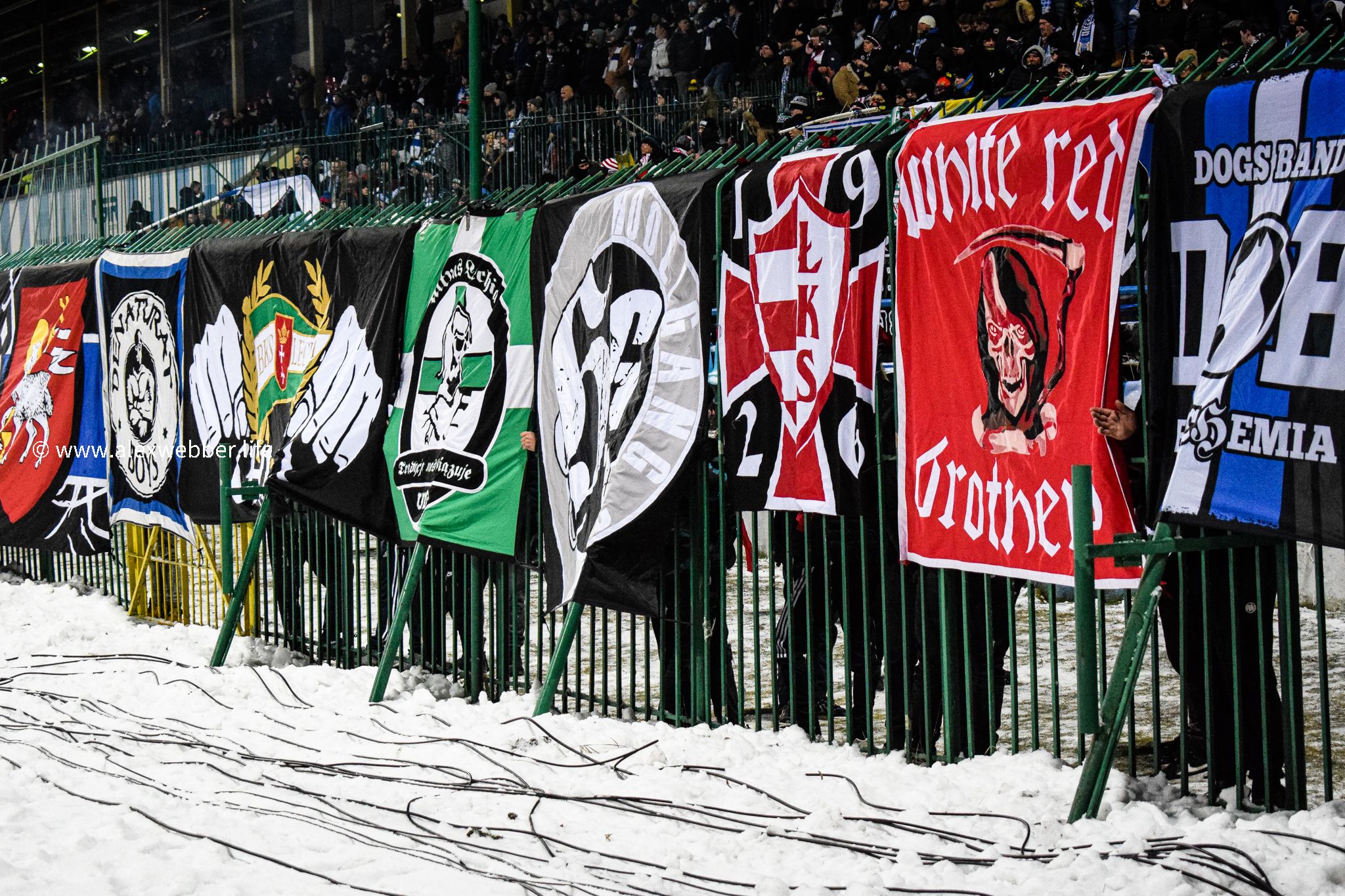 Background
Though set over a 100 kilometres apart, this fixture is considered a derby given the dearth of clubs found between the cities of Olsztyn and Elblag – and not only is it viewed as a derby, it's rated as a big one at that. However, for over a decade these clubs had been kept apart and only resumed their competitive rivalry in 2022 – that time, the hosts, Olimpia, handed the visitors a 4-0 shellacking. With Stomil keen on avenging that thrashing, you'd have thought that would have set the rematch up nicely… but not entirely so.
As per Polish tradition when it comes to such derbies, Olimpia's hools had recorded a 'hype' video urging their followers to 'mobilise'. Quickly going viral around the country for its catchy background tune and amusing content, it nonetheless attracted negative press due to the presence of masked men prancing about with bats and flares. Adding petrol to the fire, the video had been filmed outside Stomil's ground.
For their part, Stomil had journeyed to Elblag in the lead-up, specifically to deface and vandalise the many Olimpia murals found around town. Though stoking the tie nicely, my fear was that the police would intervene at the last moment to close the away end amid the rising fears of a crowd riot. Such bans had, after all, been imposed for far lesser cause this season alone.
Keeping a twitchy eyes on the news, it wasn't till Friday night that I was satisfied that Olimpia would travel. But not so fast! By that time another threat to this match had emerged – the late Polish winter. Although it was positively balmy in Warsaw, Olsztyn, it would seem, had been trapped in a repeat of the Ice Age – according to the club's social media, staff had been working around-the-clock to clear the pitch, but their photos painted a far less rosy picture. No way in a million years would this match go ahead, I found myself thinking.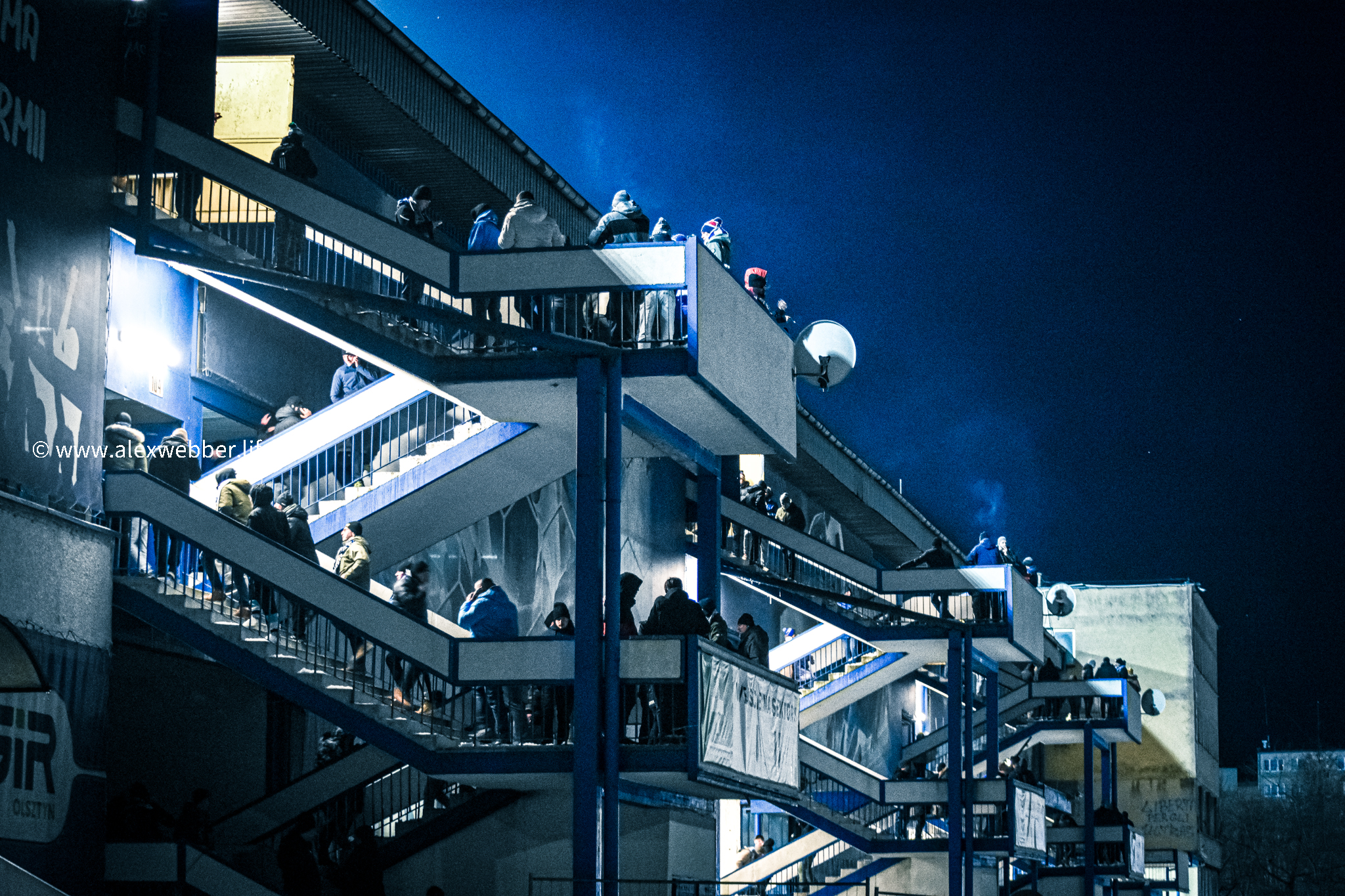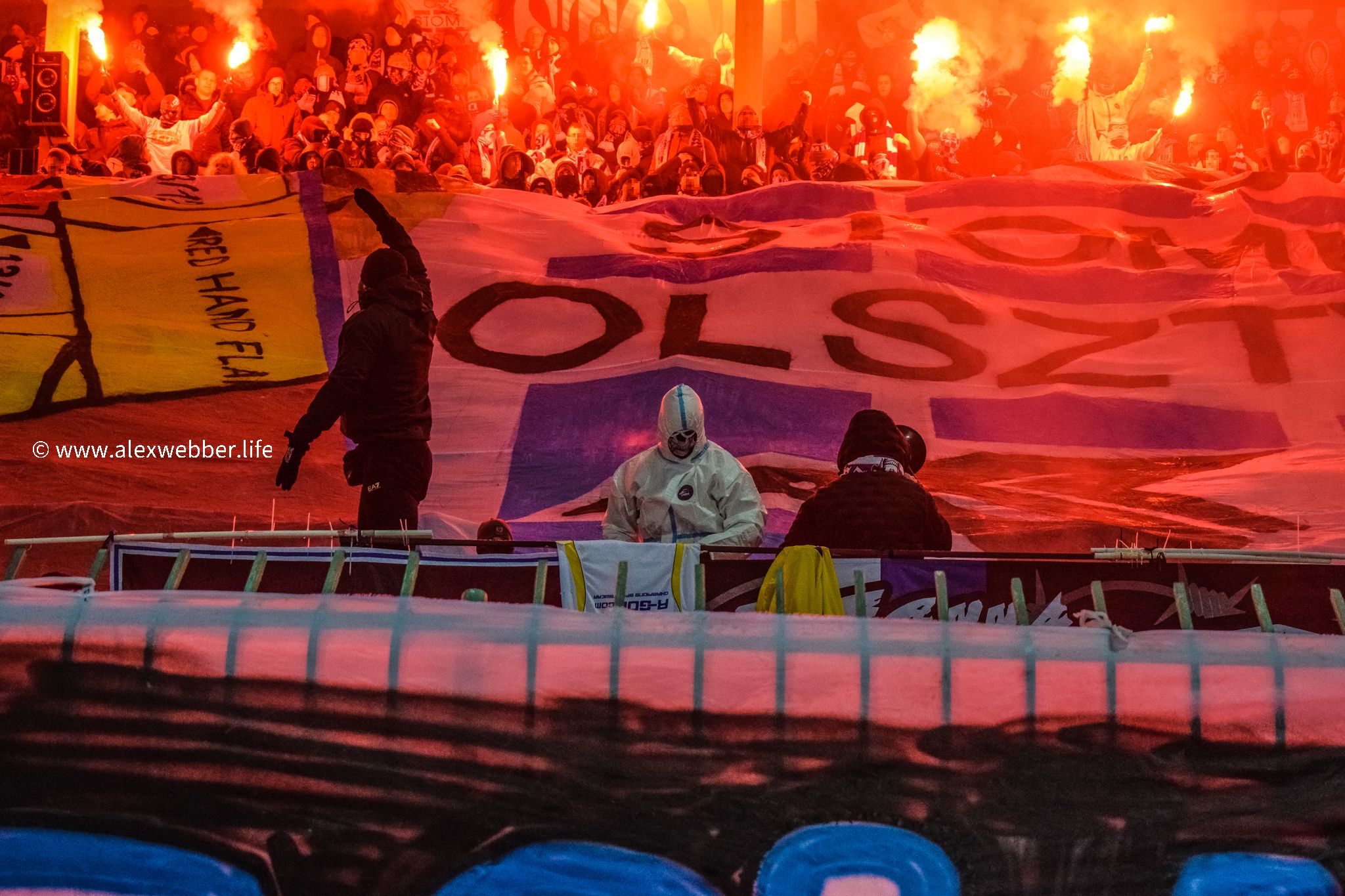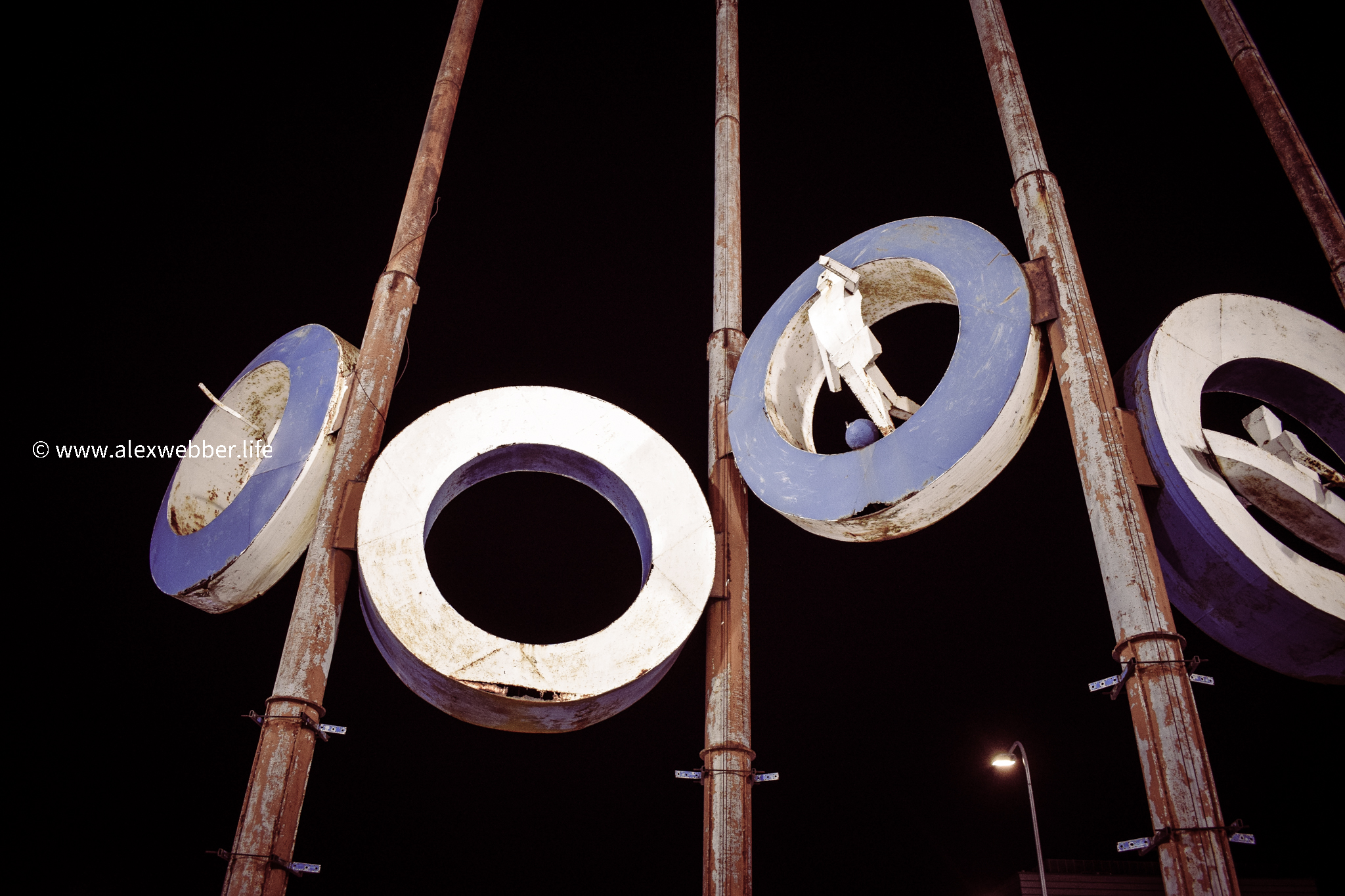 Match Day Lead-Up
No matter the weather, this tie was worth the gamble I figured. Arriving at noon on Saturday, mind you, the prospects looked bleak – outside the station, snowmen the size of skyscrapers loomed up ahead. But, so too did an Indian restaurant. At least, I consoled myself, this trip hadn't been entirely wasted.
With the weather deteriorating steadily through the day, I convinced myself that there was not a chance of seeing a football being kicked – but, with the evening drawing in, it became apparent that the club had adopted a stoically showbiz approach: "the show must go on!"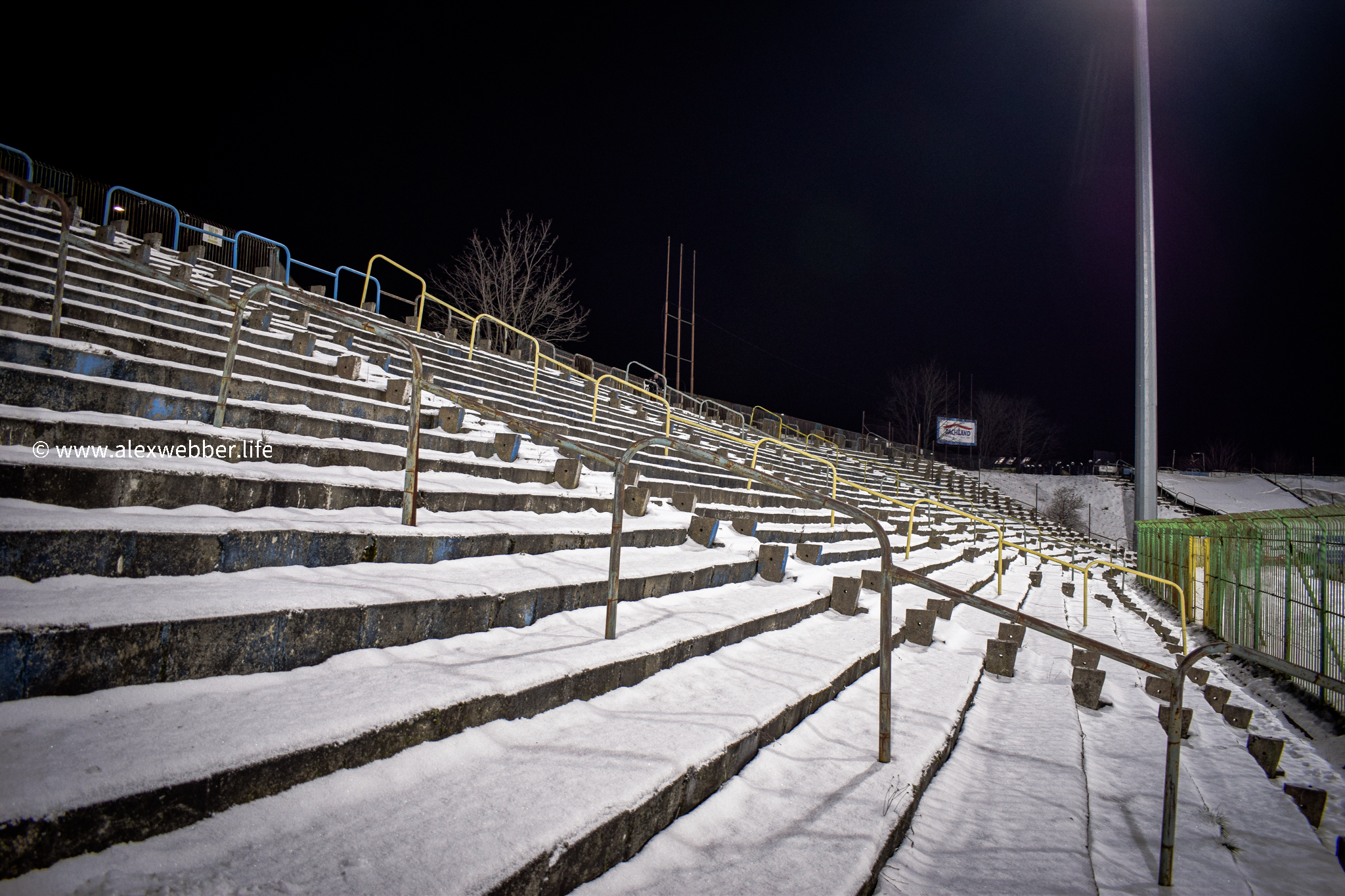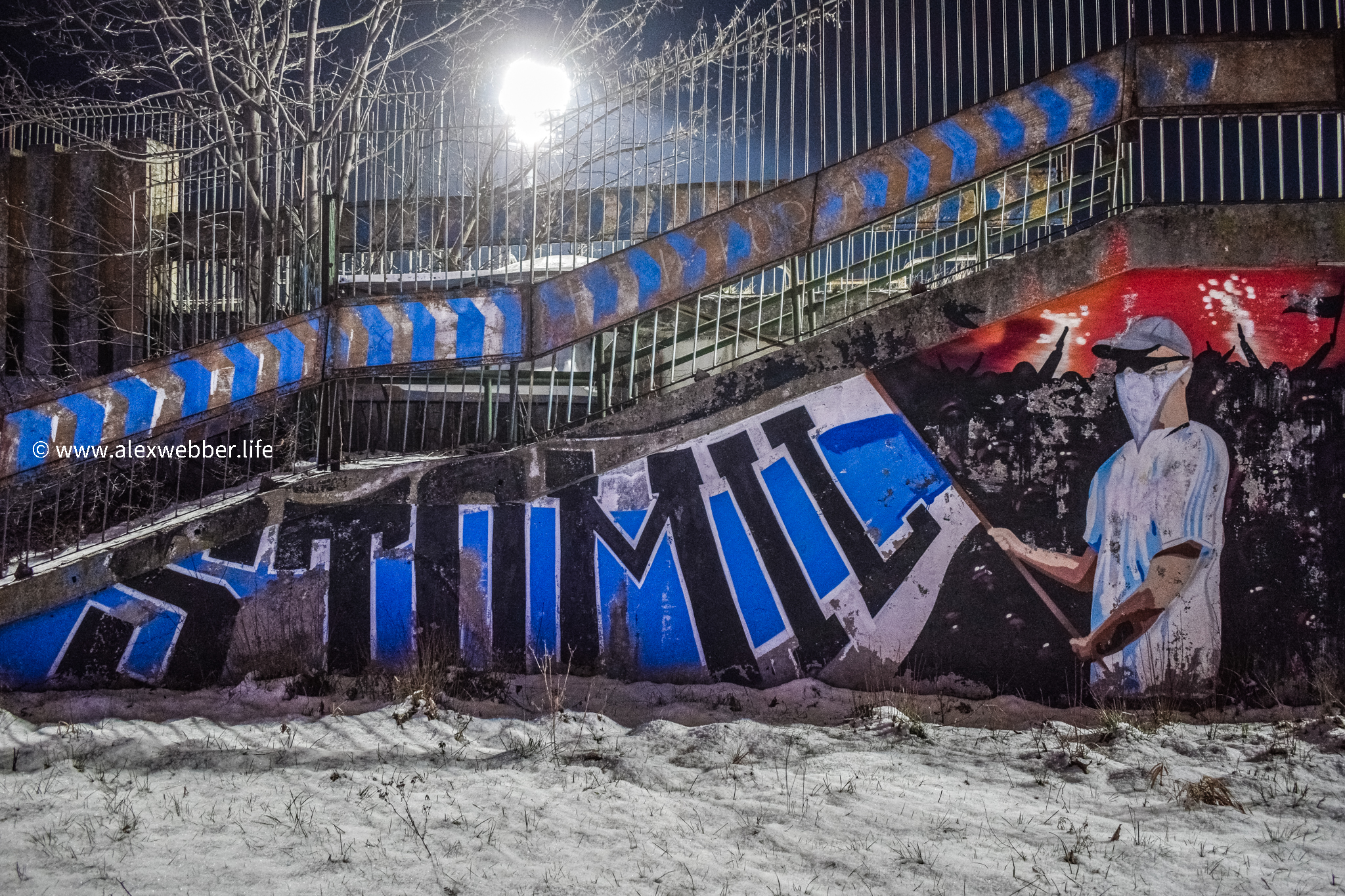 Game
Indeed the show did go on – albeit in the kind of snowy conditions more commonly associated with the peak of Mount Fuji. Outside, followers slid across sheets of ice, stumbling and falling with a crack and a thud. Health and safety? Forget it. Not that this did much to prevent my enjoyment of the ground.
Despite most of it being long since cordoned off from the public, it's a masterpiece of Communist era architecture: a dank bowl trimmed with graffiti and more rust than the hull of the Titanic. Then, crowning it all, a set of Olympic rings that must have once seemed bold and futuristic. Now, though, it was all a far cry from the glory days – looking at it, it was almost impossible to believe that in 1989 it hosted the Polish Cup Final. Or, eight years later, the Polish national team itself.
Still, it's these grounds I love – an old school background for an old school night.
According to my portable telephonic device, the real feel temperature had sunk to -10, but the reality said different: with the atmosphere set to boiling point, this was a match played to ferocious noise that echoed off the piles of snow.
Attracting just over 4,000 – more or less a sell-out given the ground's reduced capacity – this quickly morphed into a minor fan classic: smoke, flares, flags and banners. Things, though, were about to heat a little further.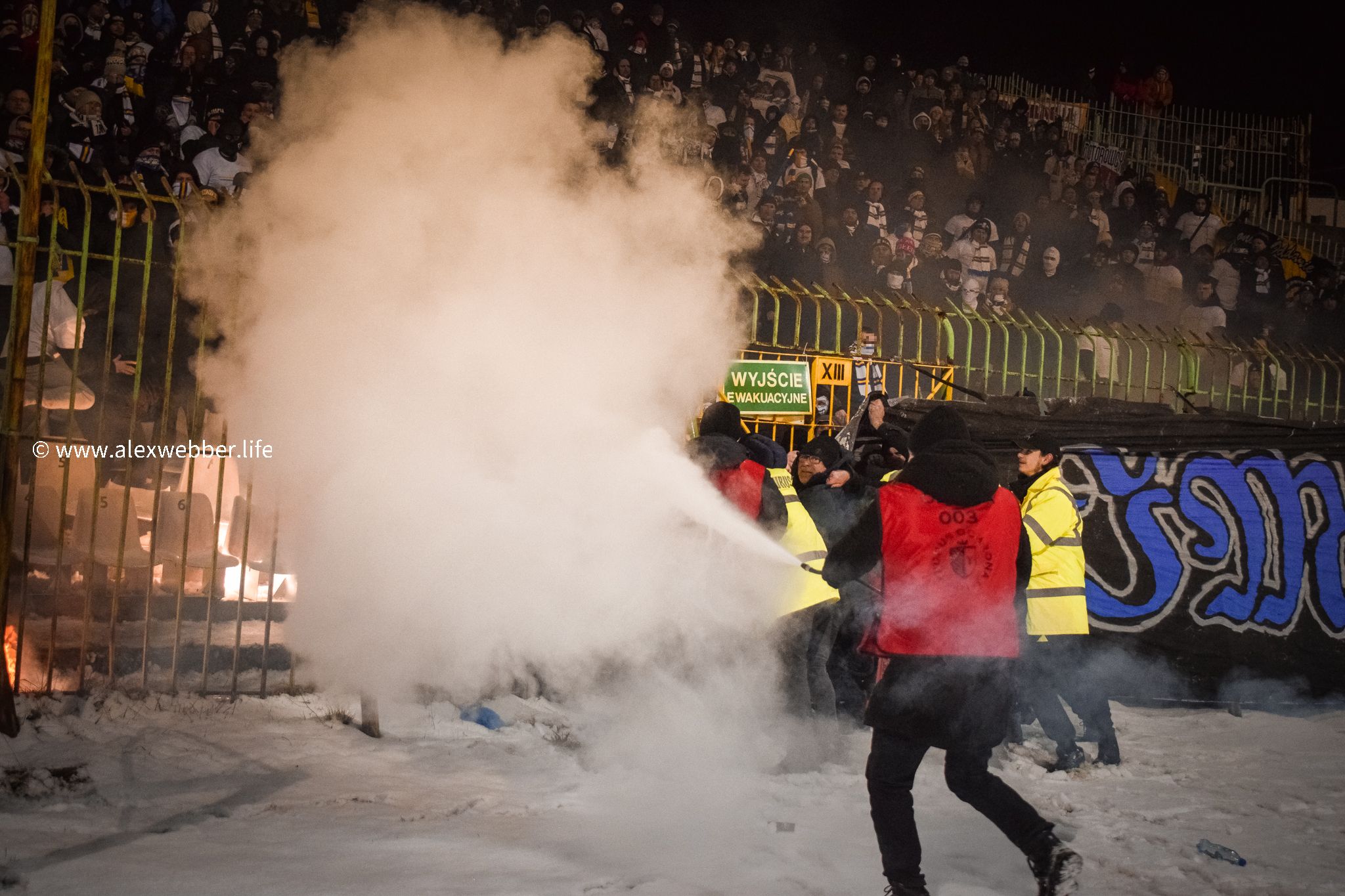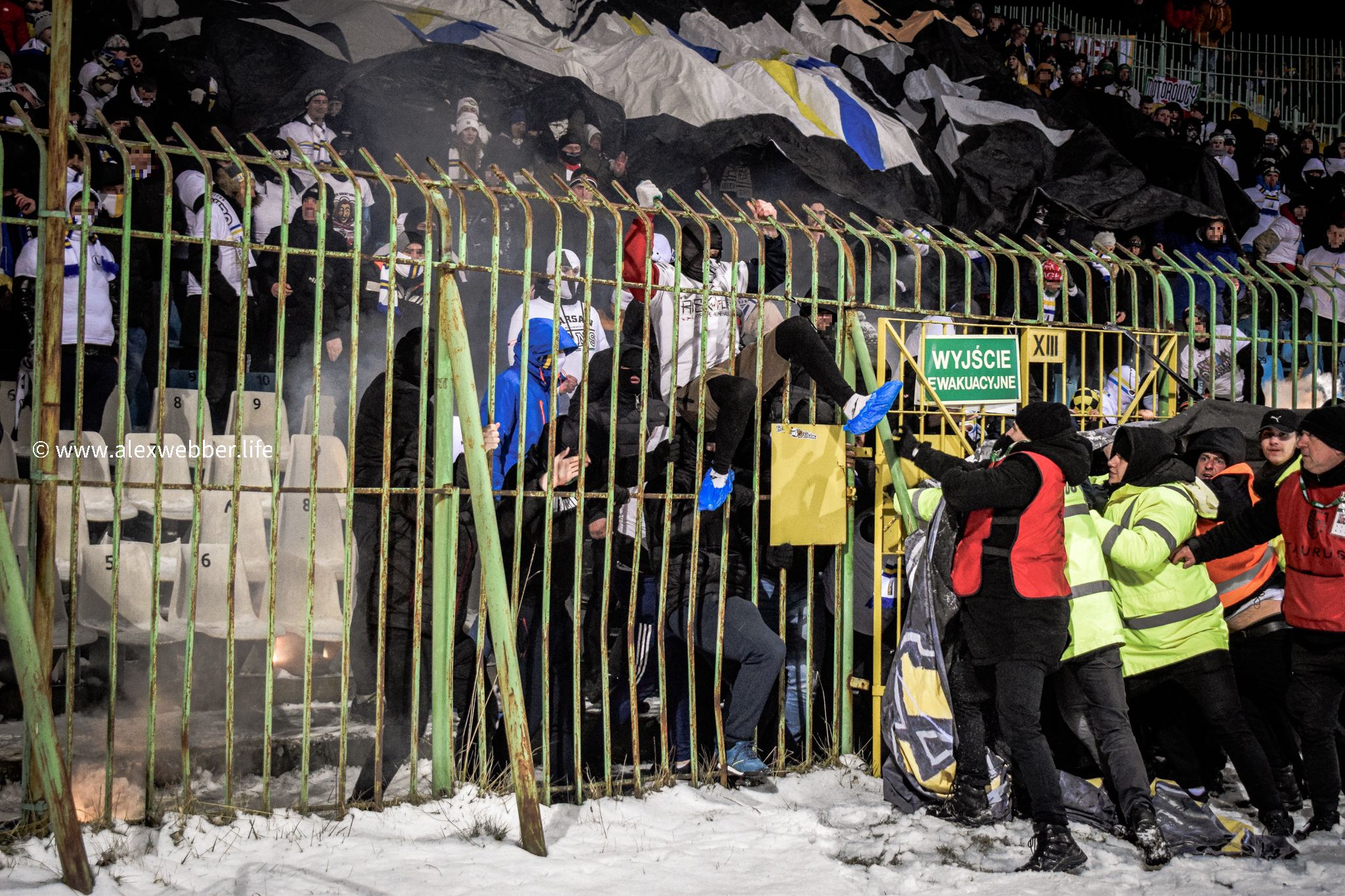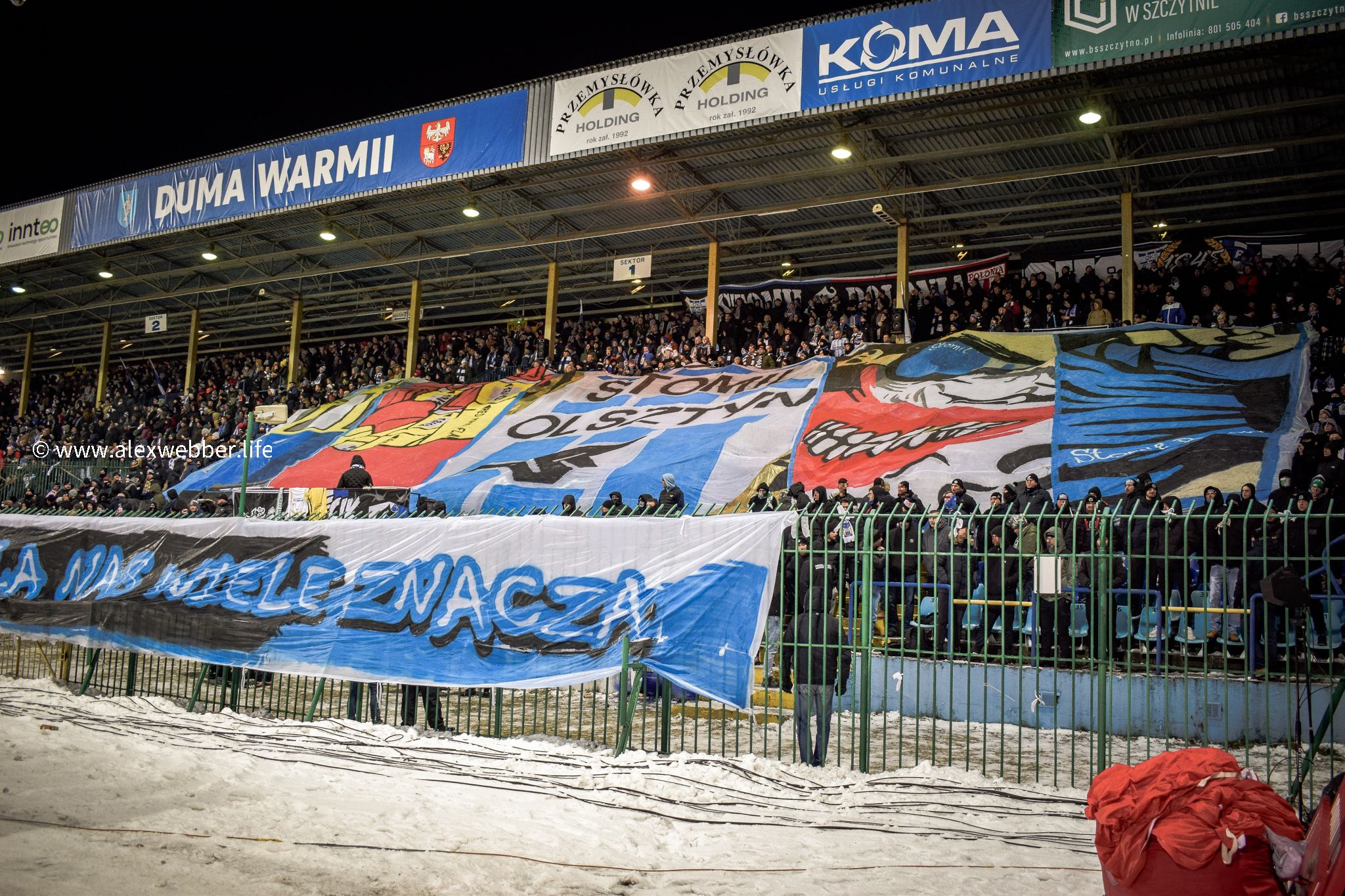 Possibly discouraged by the waiting times for their sausages, Olimpia's rowdy following of 720 used the half-time break to smash through the fencing to wreck the tea tent and rush security head-on – a precursor for what was to follow.
Preparing for their second-half pyro show, the away sector exploded into fury when – idiotically almost – the head of Stomil's security decided to tear down a flag that had been hung on the fencing. Like a red rag to a bull, this summoned forth a frenzied reaction.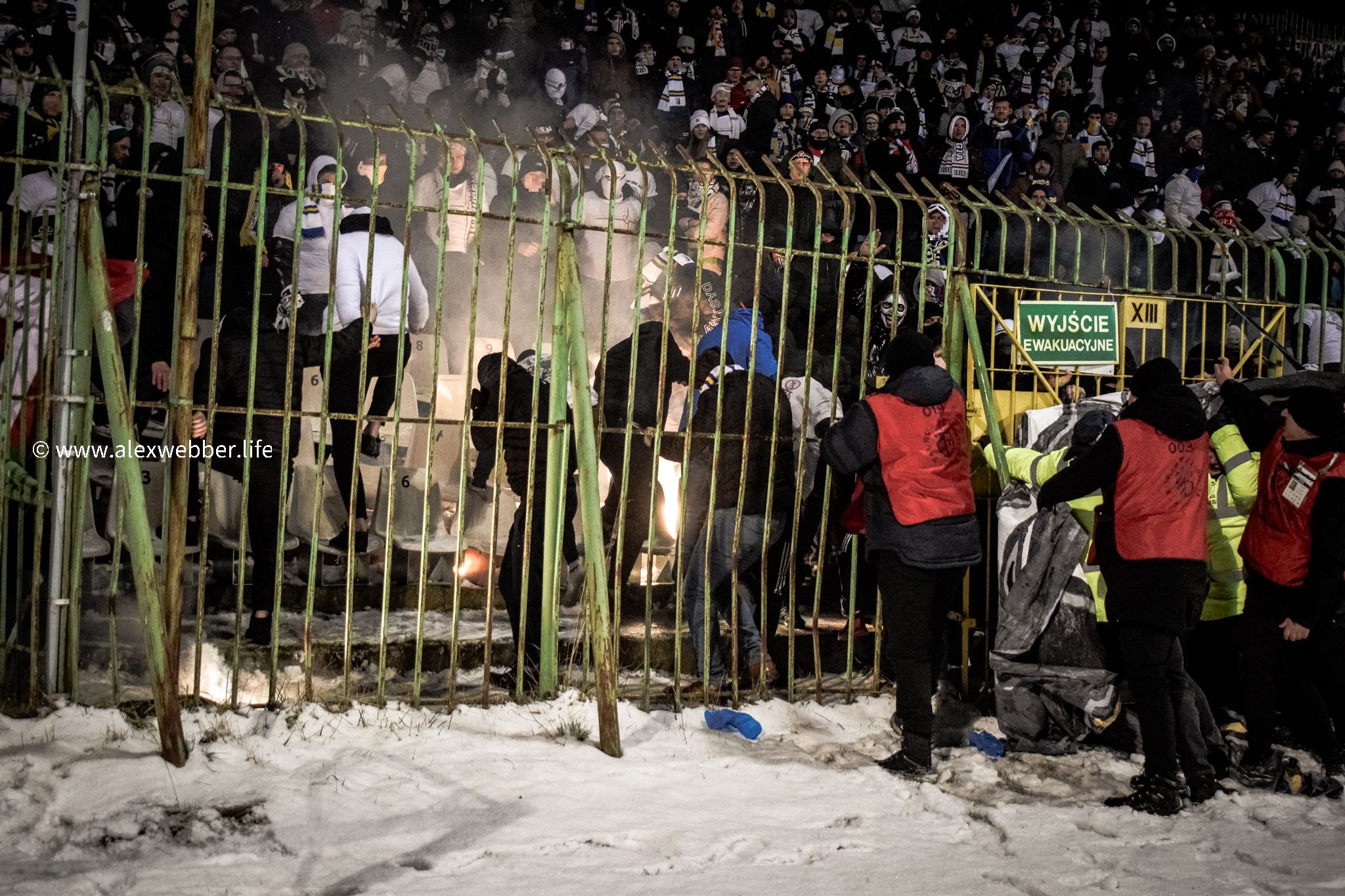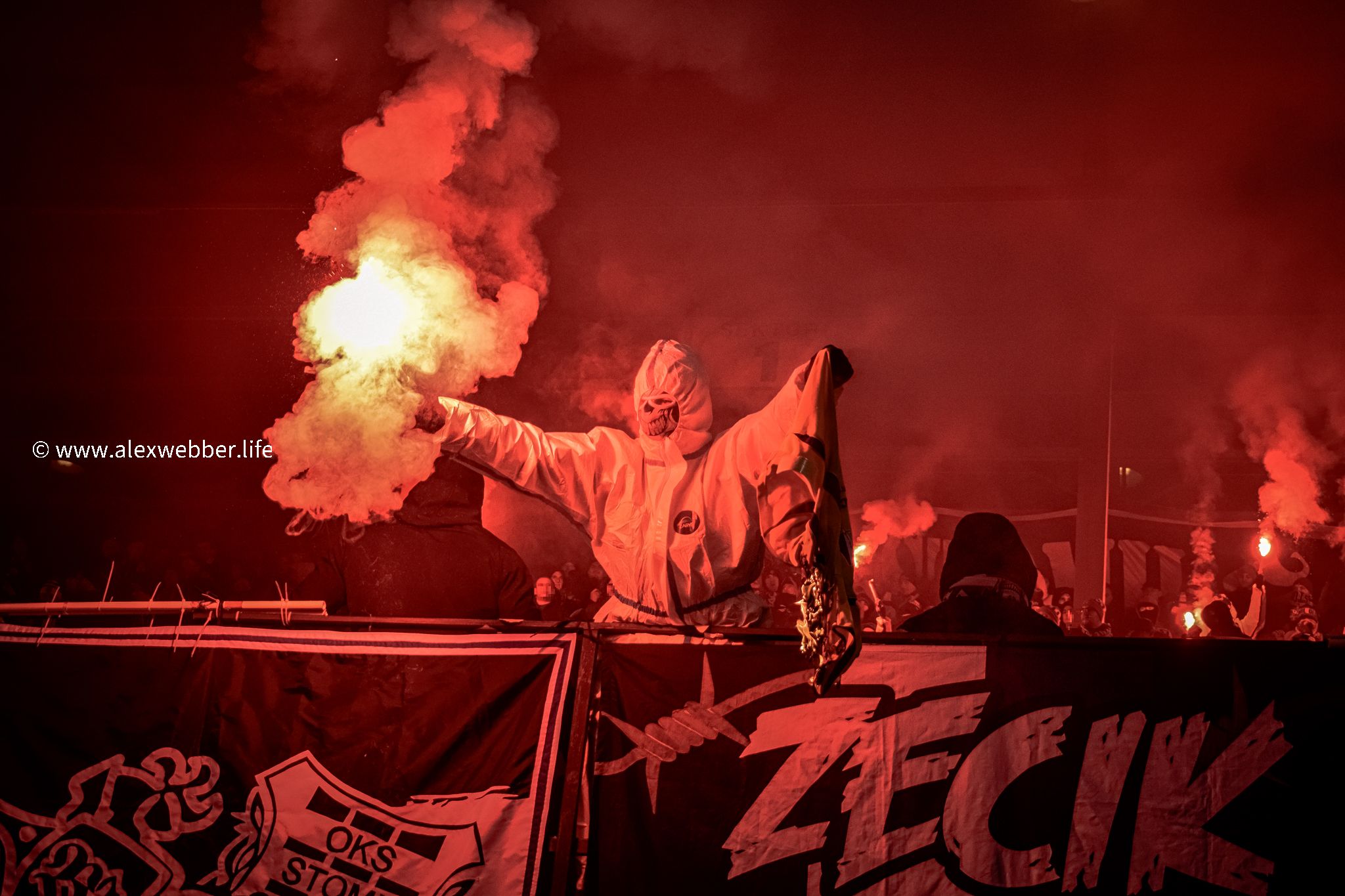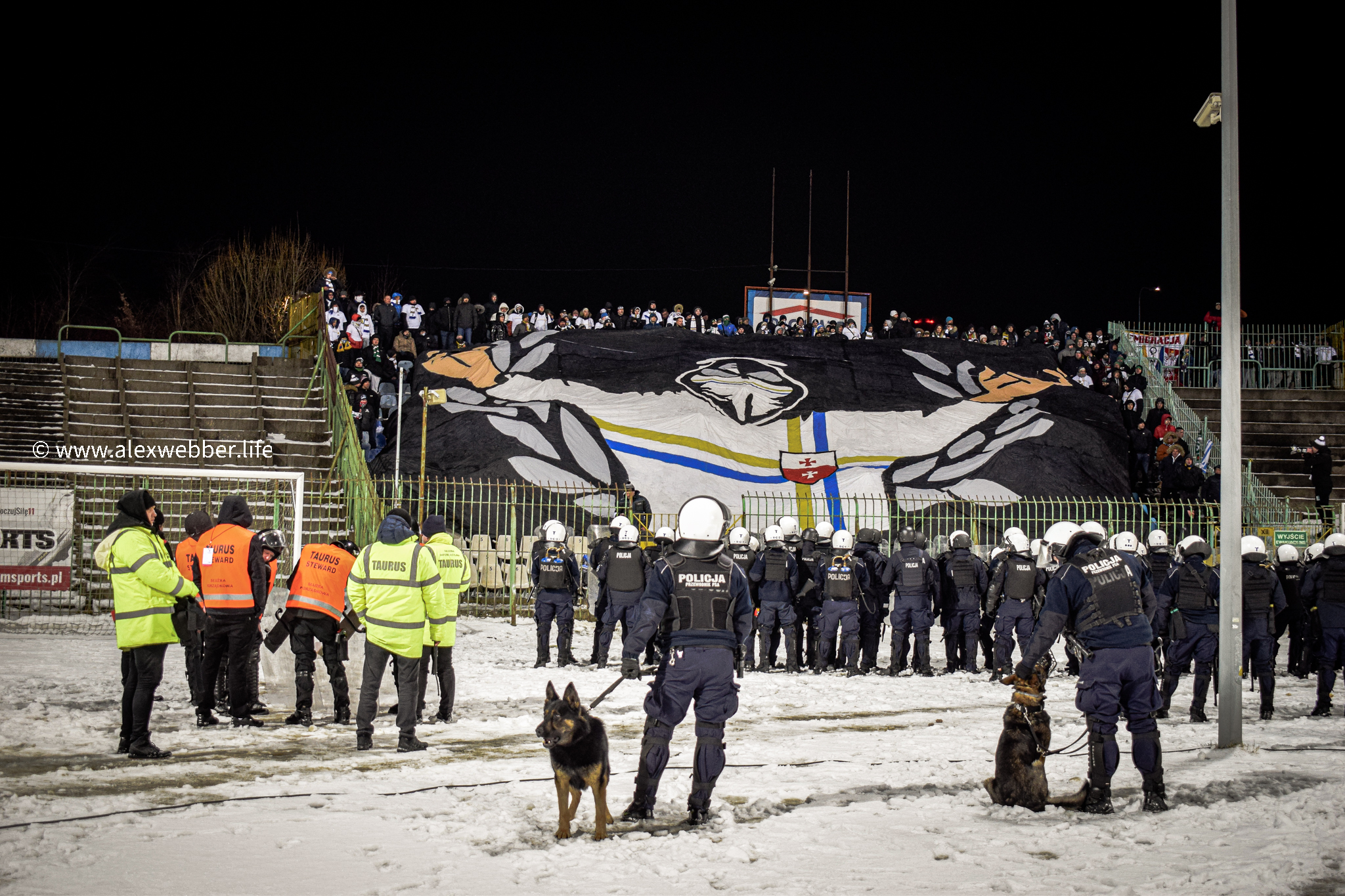 With Olimpia kicking down the pitch-side exit, stewards rushed to make a desperate last stand and keep the horde at bay. As the perimeter fence rocked back and forth, debris showered down: baton strikes, gas and an eruption of violence.
By the time Stomil came to present their own impressive flag drop and pyro show, the pitch had been flooded by police reinforcements. Over the incessant barking of unmuzzled hounds, the skies turned red as the home side unleashed a barrage of flares. And on it went. With peace barely restored on the final whistle, the away fans filtered out leaving parts of the stadium smouldering in their wake.
It had been… frenetic.
And Later…
Getting to the ground hadn't been a problem, getting back a different story. In pitch darkness, I discovered entire streets had been dug up and replaced by a labyrinth of Harris fences. In these I got lost, falling through excavated holes that been covered in layers of snow. Cursing, I eventually found my way out of the maze to get back to the Old Town, a pretty little diamond with no shortage of bars.
Best of these, the Carpenter Irish Pub, a rickety affair with a lively atmosphere – as warming beacons go, it supplied the perfect finale to an eventful day.