Date: 5 November 2022 / League: Polish seventh tier
Final Score: 0-1 / Attendance: 25-30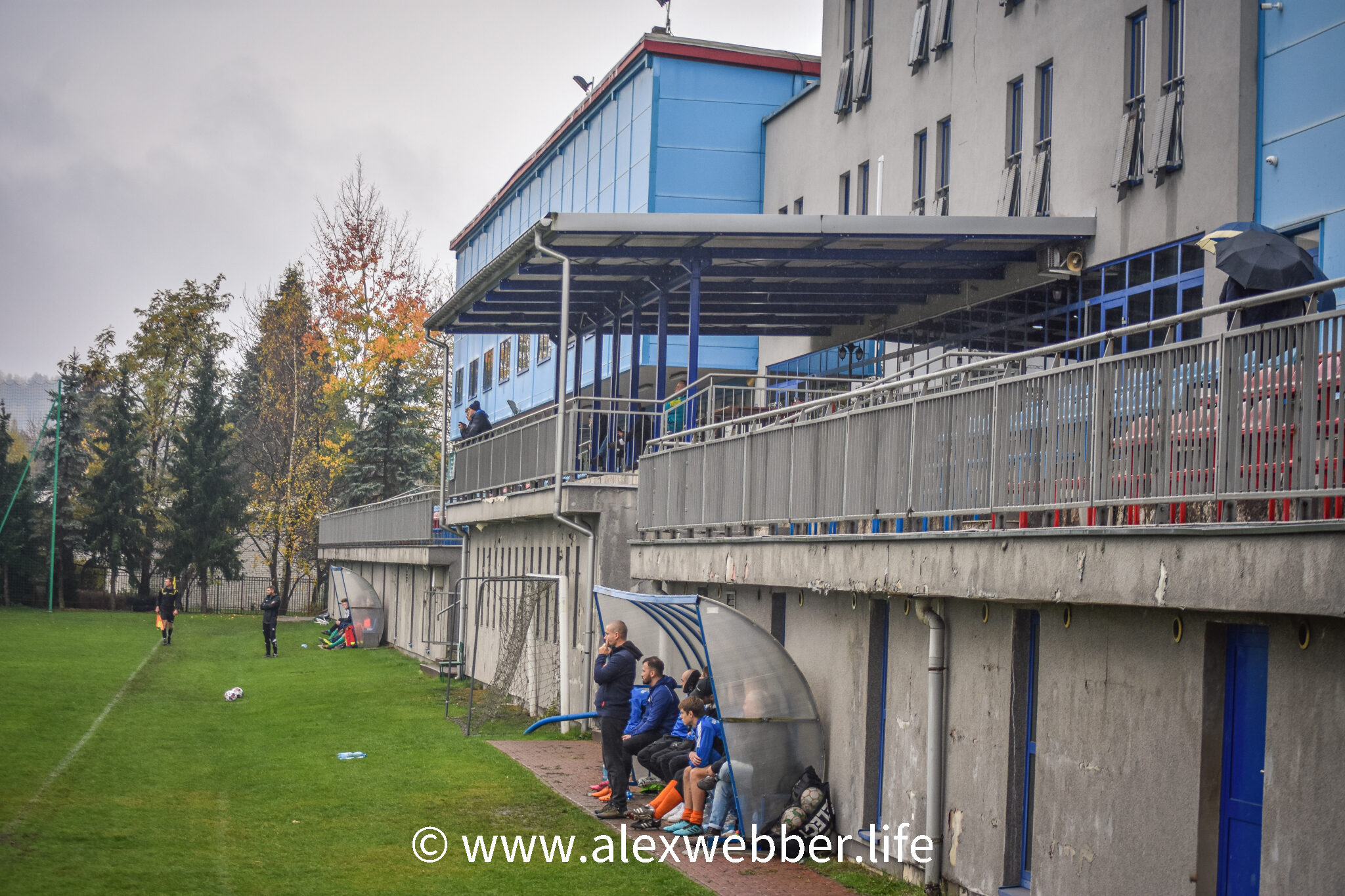 In A Nutshell
Deep to Krakow's western side lurks a stadium whose sullen, blockish aesthetics conceal a heap of little charms…
Background
When it comes to Krakow, there's a temptation to view the city in terms of Wisla and Cracovia – but behold, look a little deeper and one will find a thriving lower league scene for groundhoppers to enjoy.
In this respect, Wieczysta are the best-known of the city's smaller sides and this growing profile can be credited largely to a recent resurgence that has seen them embark on a Brewster's Millions spending spree. But there's also several other teams with golden grounds, and among the rarer treasures are the stadiums of Kabel Krakow and Tramwaj Krakow. Now, after this weekend, I'm adding Bronowianka to that list.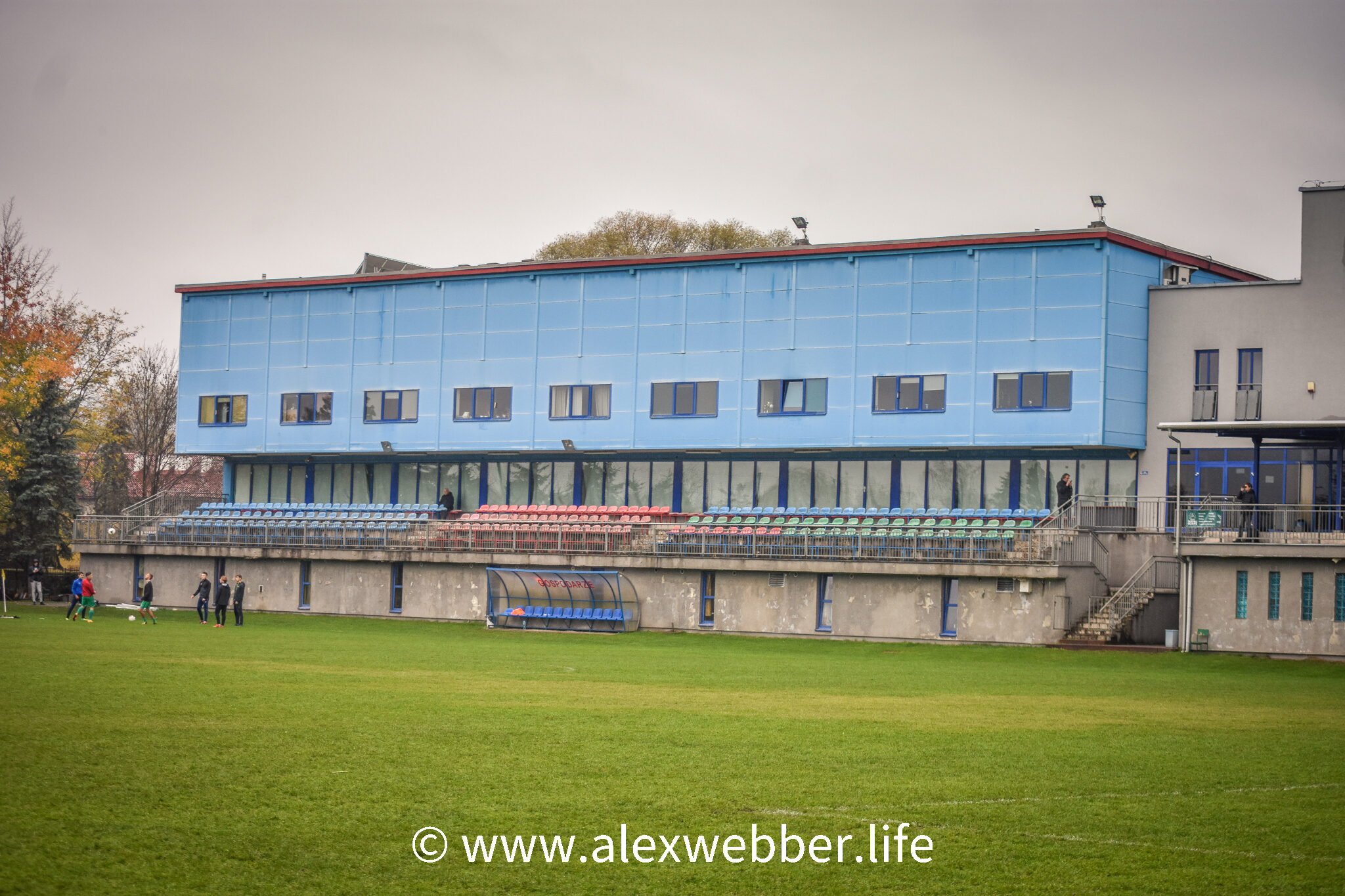 Established in 1935, the club was – according to their own website – founded by a group of local village folk who donated their own land so a sports field could be built. During the war, organised sport was banned in Krakow by the German authorities, so teams like Wisla played here in front of crowds that occasionally reached 1,500 right until 1942 when the occupants cottoned on.
After WWII, Bronowianka produced a string of top footballers, not least Dariusz Marzec who would later transfer to Wisla and captain the local giants. Currently playing in the seventh tier of Polish football, the club is arguably nowadays more famed for its table tennis section, which I'm assured is one of the most successful in the country.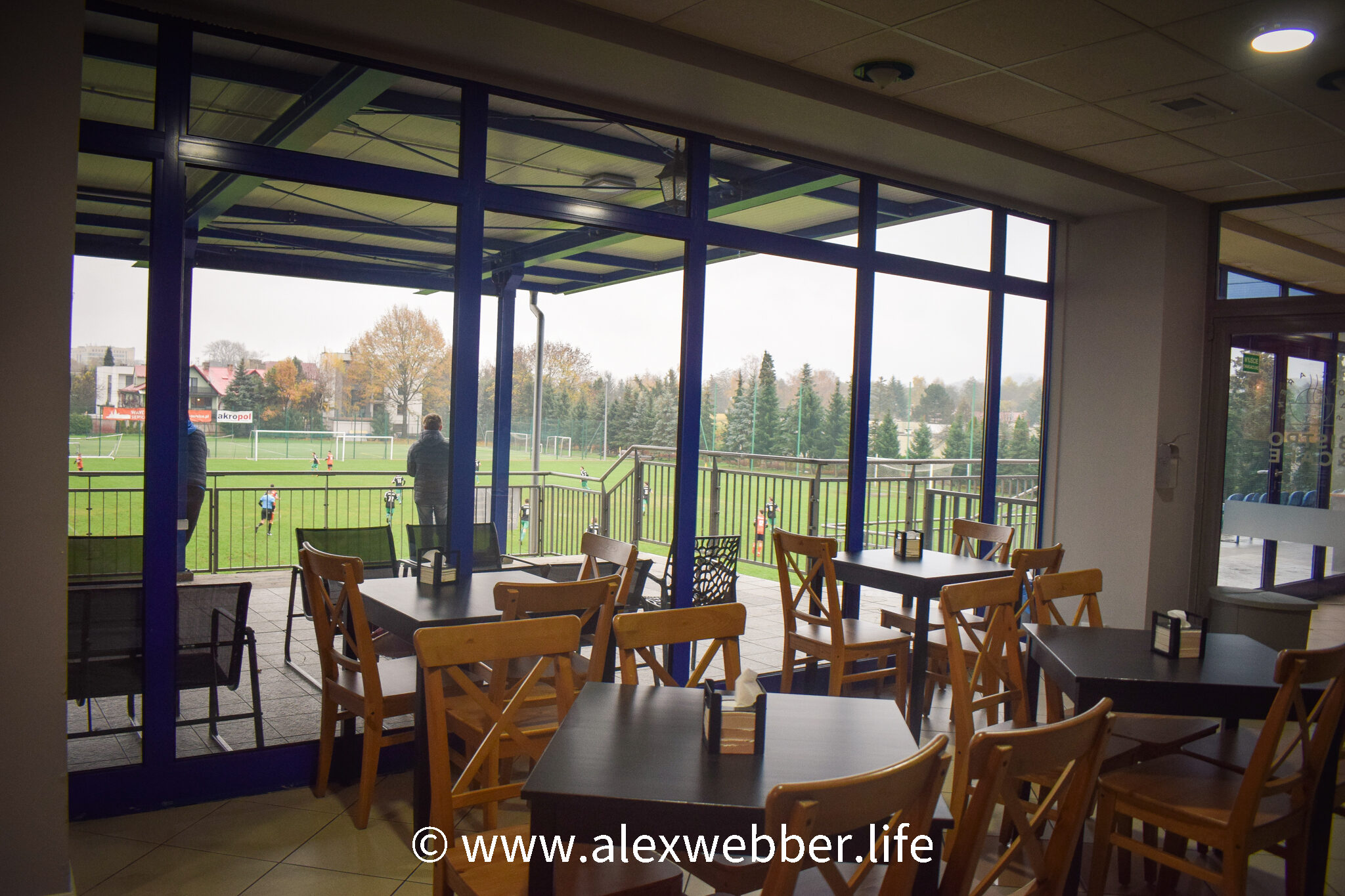 Most curious of all though, Bronowianka hold a strange footnote in local history after unveiling a statue of Neil Armstrong on their pitch in the wake of the 1969 moon landing. Erected in secrecy, the six-metre monument infuriated local communist party figures who saw it as a subversive celebration of the western world.
Dismantled by a crane after only two-days, it was taken to a location that remains unknown to this day; Polish journalists who had publicised the cheeky stunt were censured for insubordination, and so too the Vice President of Bronowianka. Nonetheless, word got back to Nixon who reputedly messaged his gratitude to Poland's bemused commie leadership.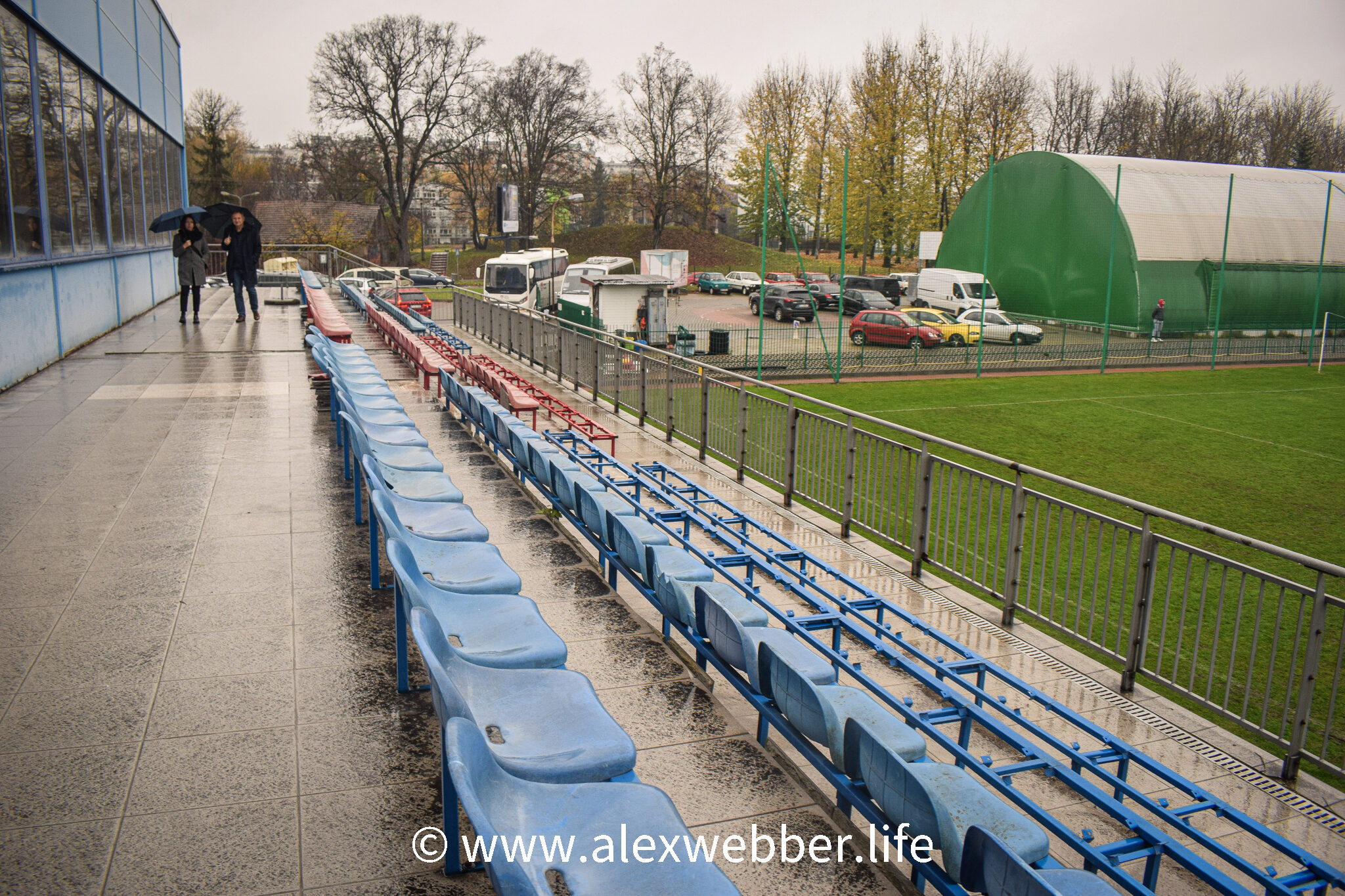 Stadium & Experience
Have no doubt, this was a fleeting trip. With Cracovia playing at 3 (for that, CLICK ME!), and Bronowianka kicking-off their game at 2, I had little under thirty-minutes to spend here – I really wish it had been longer.
Web posts I'd seen about Bronowianka had made it look a little unremarkable, but I soon discovered this stadium to be anything but boring. Though having just one stand to its name, its something of an oddity, lopped as it is onto the back of a leisure centre and hotel complex.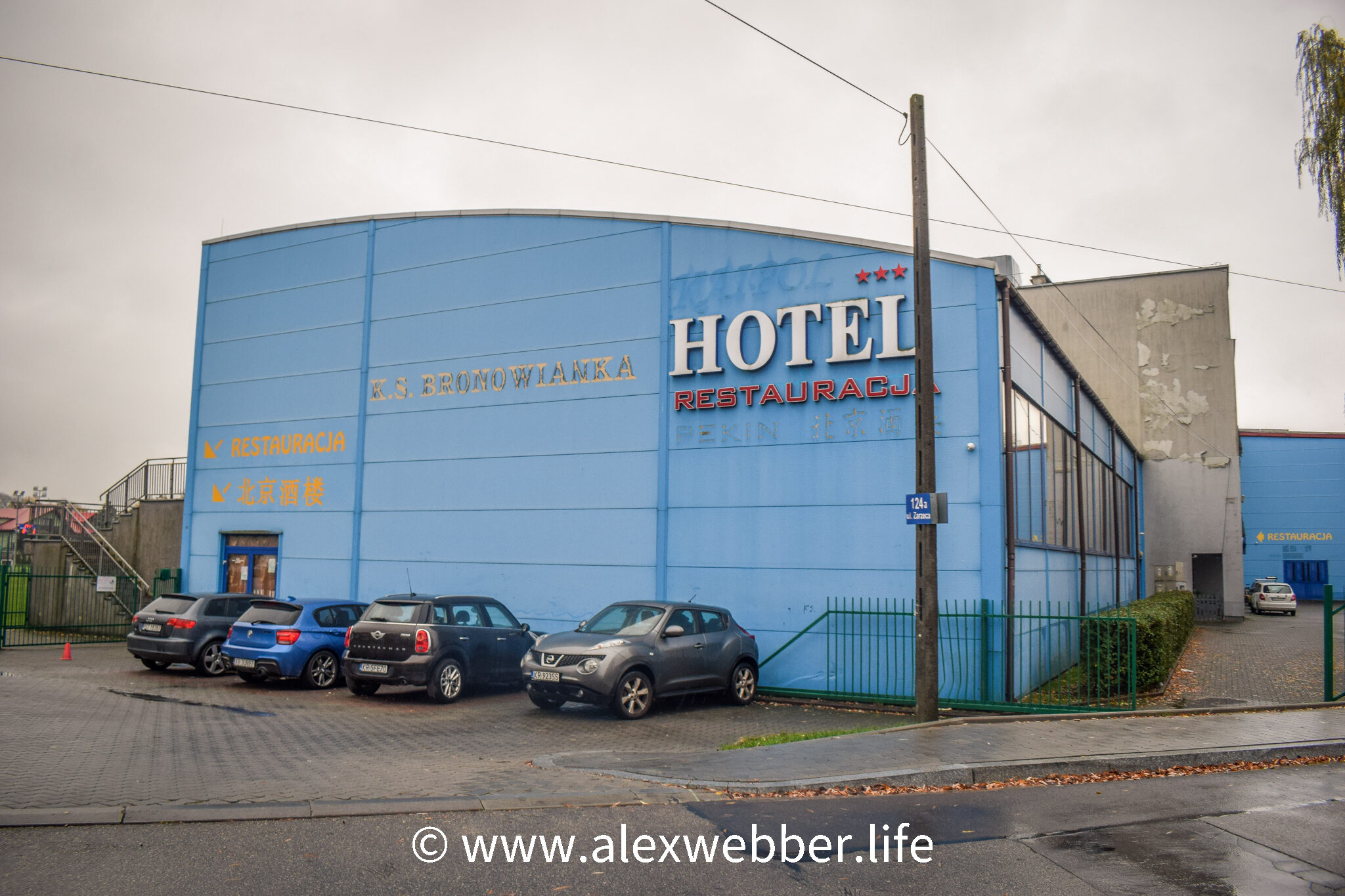 The hotel, it must be said, looks a little faded, and that much is reflected by spotty online reviews that mention "sticky bathroom floors", "creaky beds", "clogged showers", and "shabby atmosphere". But given you're unlikely to be staying here in the first place, you can cross these accusations off as being irrelevant to your visit.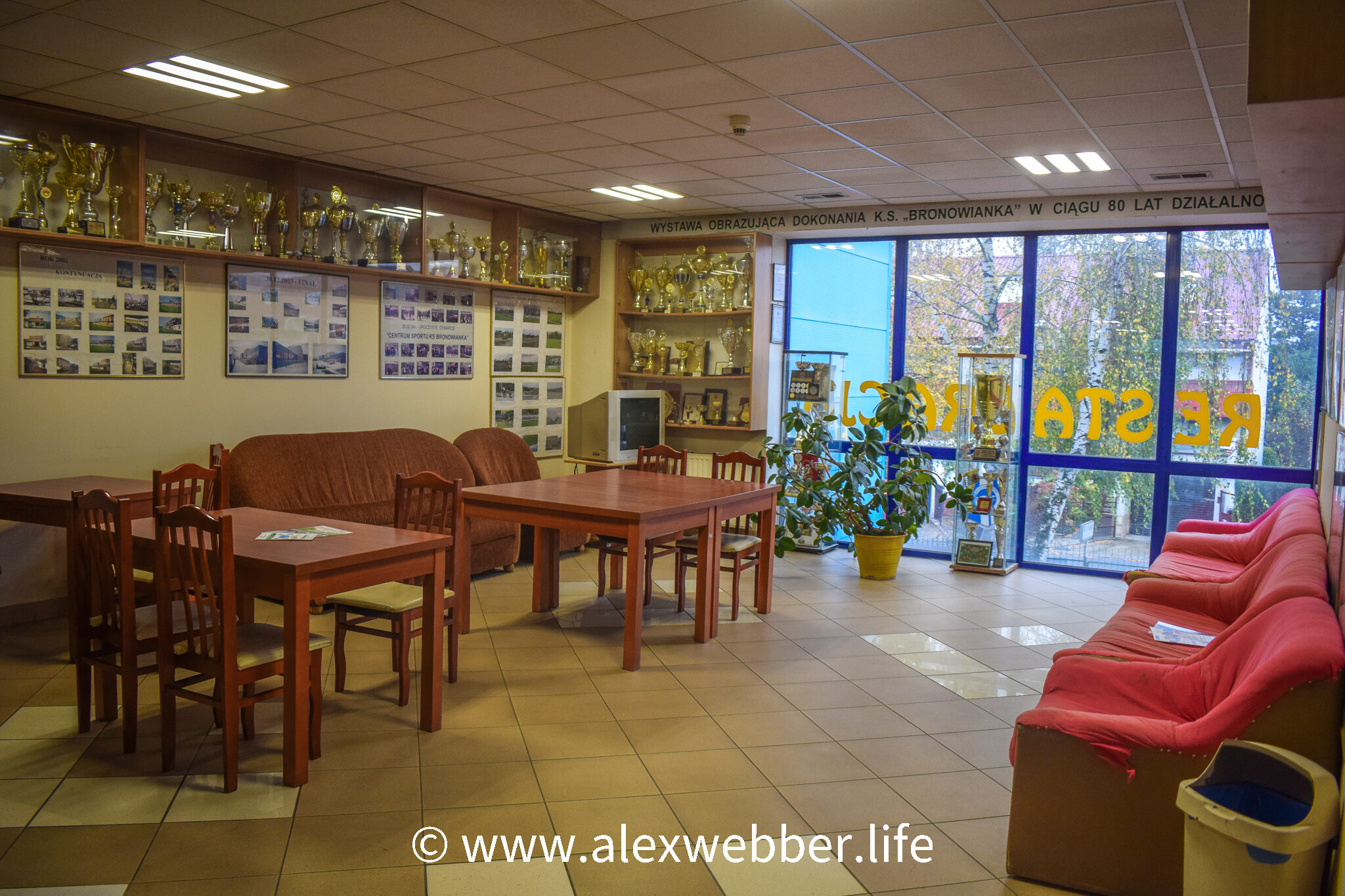 Instead, enter via a lobby that takes you upstairs to a lounge room decorated with a club banner, a chunky TV set the size of a dustbin, and more cups and trophies than you'll see at Real Madrid. This alone is a joy to browse, and even more so given the picture boards showing the step-by-step redevelopment of the ground in the early 2000s, as well as some of the club's finest sporting moments.
The real weirdness though is reserved for the solitary stand. Divided into three segments, this brutish, blockish structure presents banks of seating raised above a concrete wall that fronts right onto the pitch.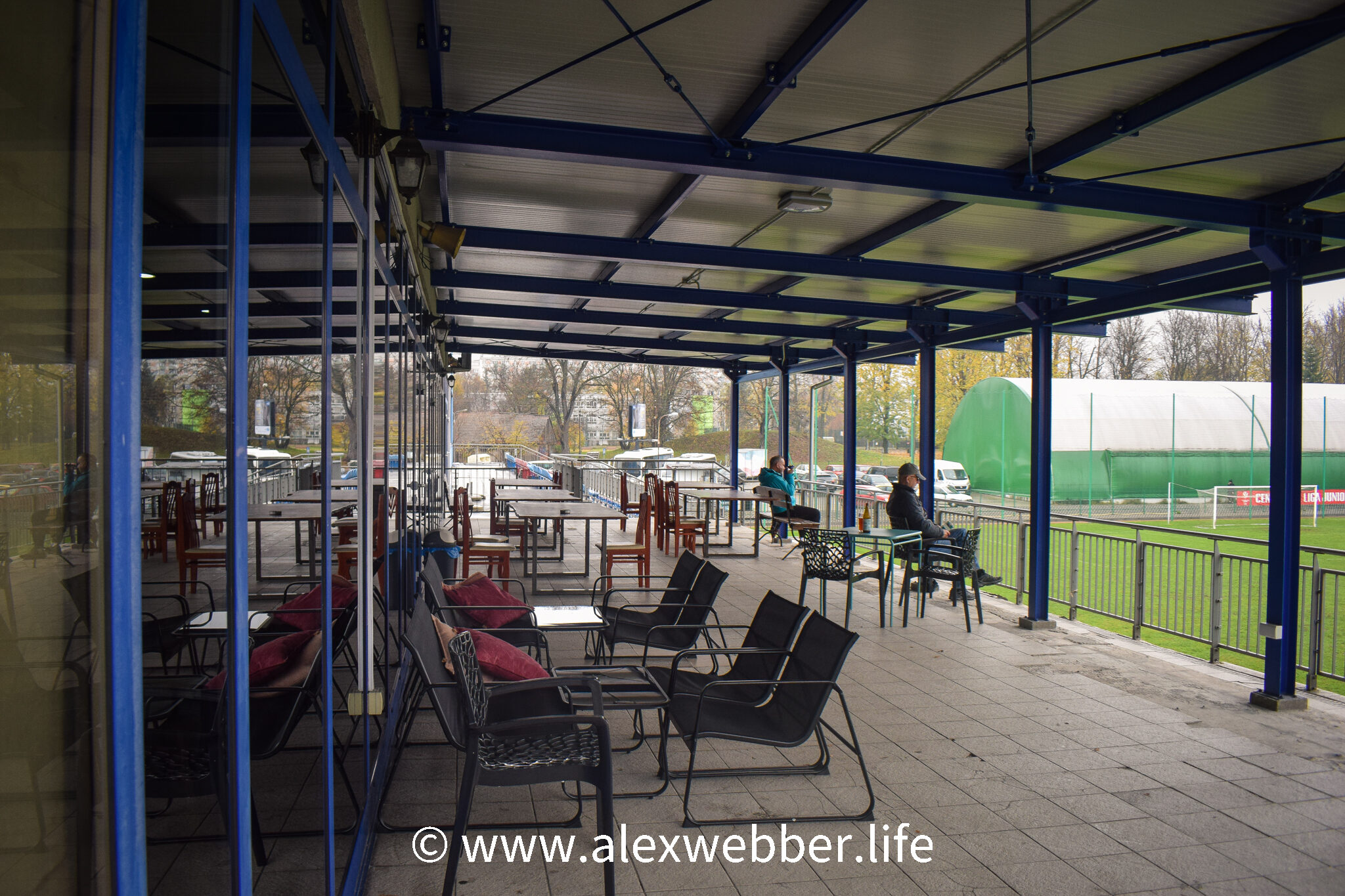 Entirely uncovered on one flank, the chief point of interest is a central balcony-style section attached to a first-floor café. Until recently, this was a tacky-looking Chinese restaurant (a sign for this still clasps to the side of the stand), but now it's a user-friendly bistro with a selection of regional and craft beers to enjoy while keeping one eye on the match. Dare I say, it's one of the best places I've found in which to engage in the twin passions of boozing and football.
True, there are some that might find this stadium a bit drab, but personally I love it's little idiosyncratic details – had I not been in a rush to reach Cracovia, I would have happily spent the rest of the afternoon shielding from the drizzle with a lager in hand and an ashtray to my side. Never have I seen a stand quite like this, and for certain I'll return.