Date: 10 June 2023 / League: Polish sixth tier
Final Score: 2-4 (match abandoned) / Attendance: 950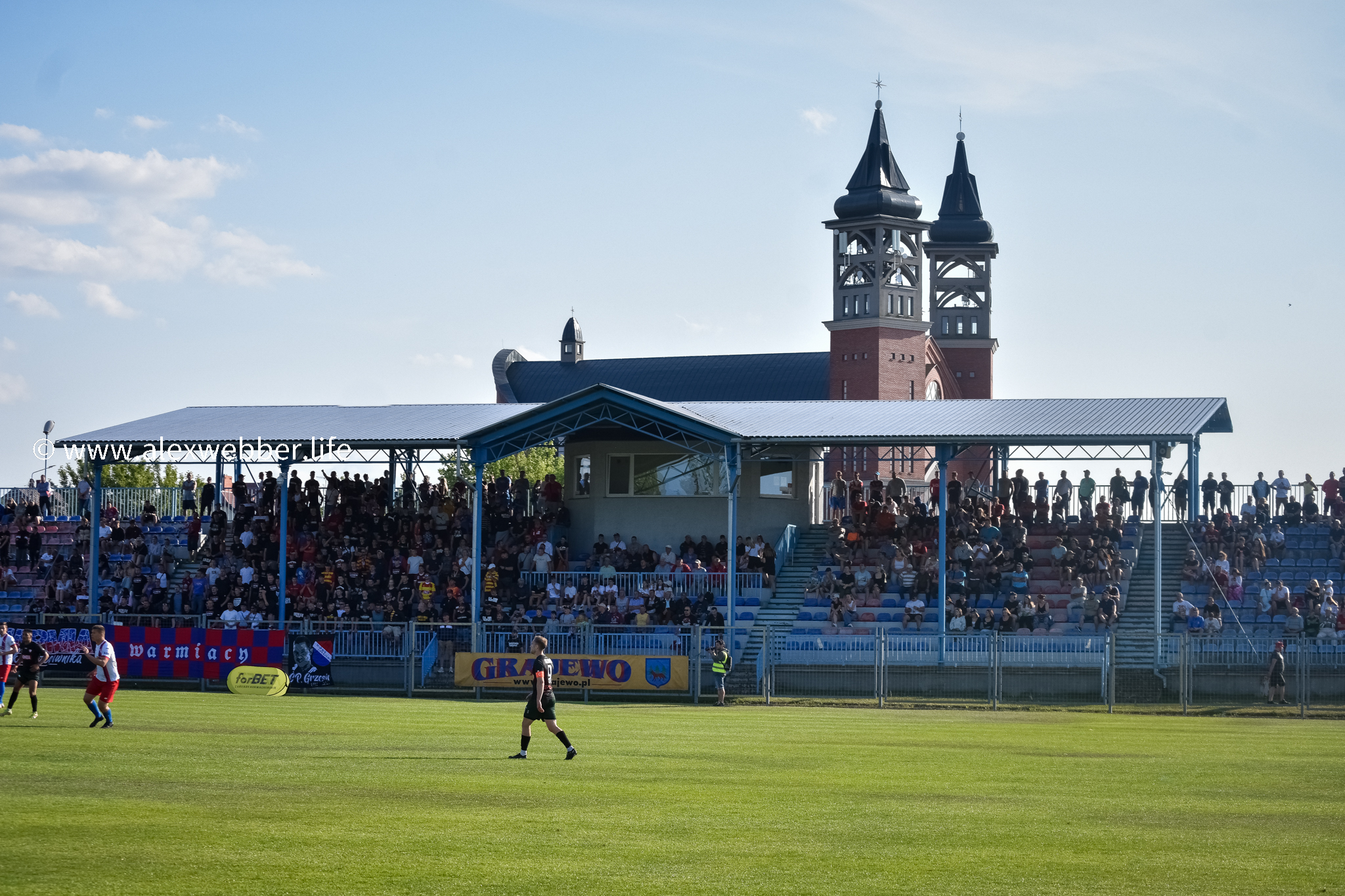 Experience
Zap, pow, wallop! Abandoned on 87 minutes due to crowd trouble, this local derby started slowly only to finish in feisty fashion – basically, a roller-coaster day entailing all of the good, the bad and the ugly that Polish football has to offer.
Strangely, though, I hadn't even intended to be there. I'd been tipped off to this game a couple of days before by another photographer, but by that time I'd already made alternative plans having bought tickets and paid for a hotel in Malbork for a similarly fiery sounding clash.
But not so fast. A little before midnight on Friday, bags packed for my morning train, and I'm chatting on messenger to a mate of mine who, it turns out, was also doing Malbork.
"Should be great," he writes, "see you there on Sunday."
Eh? Sunday?
"Yeah, see you there."
Quick double check, and oh my Holy Lord, EEEEK, he's bang on right. I've buggered up my dates by 24-hours. Yeesh. Which explains how I ended up in Grajewo instead – rearranging my plans at the very last moment, I made the stadium with just 30-minutes to kick-off.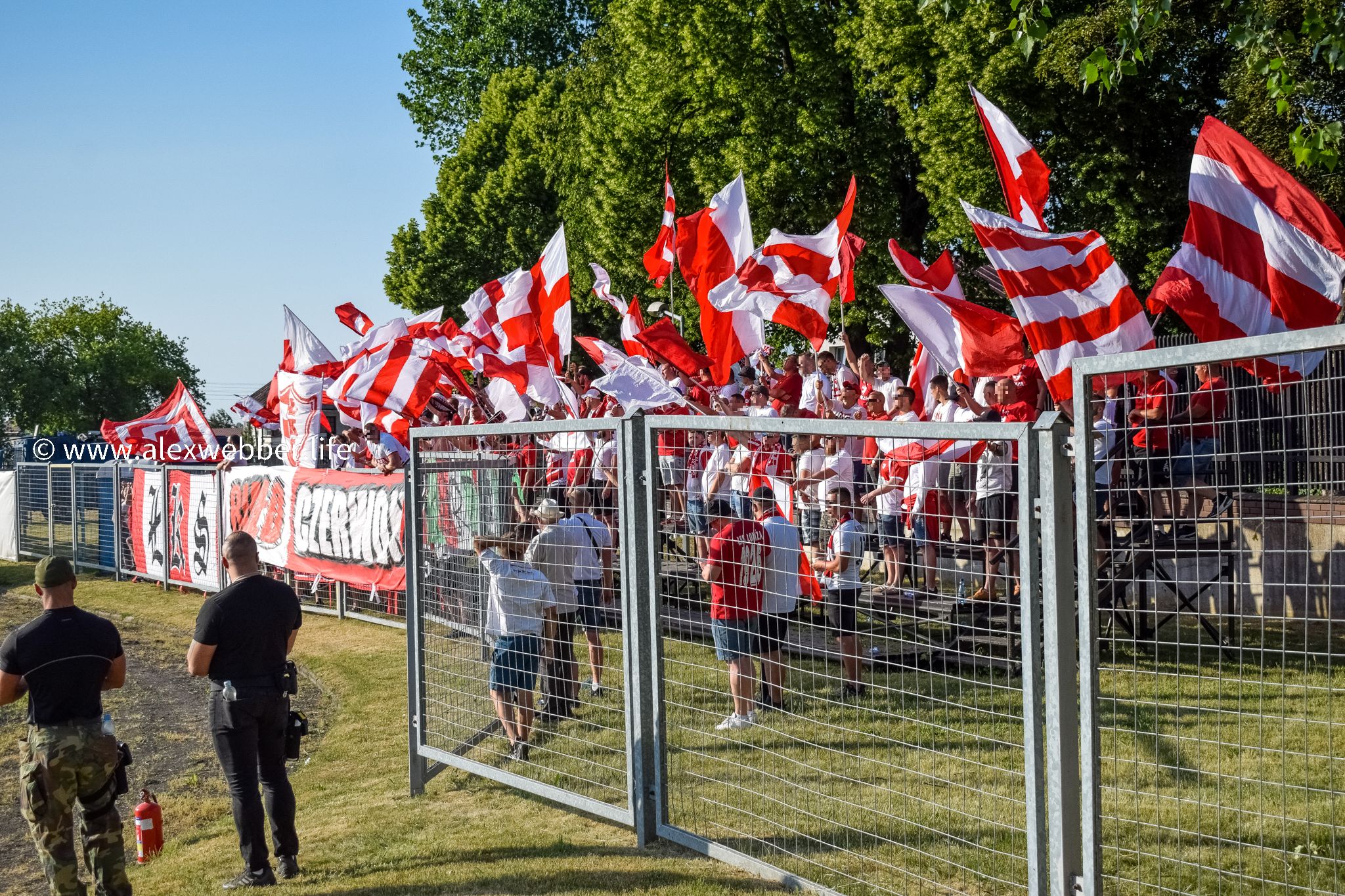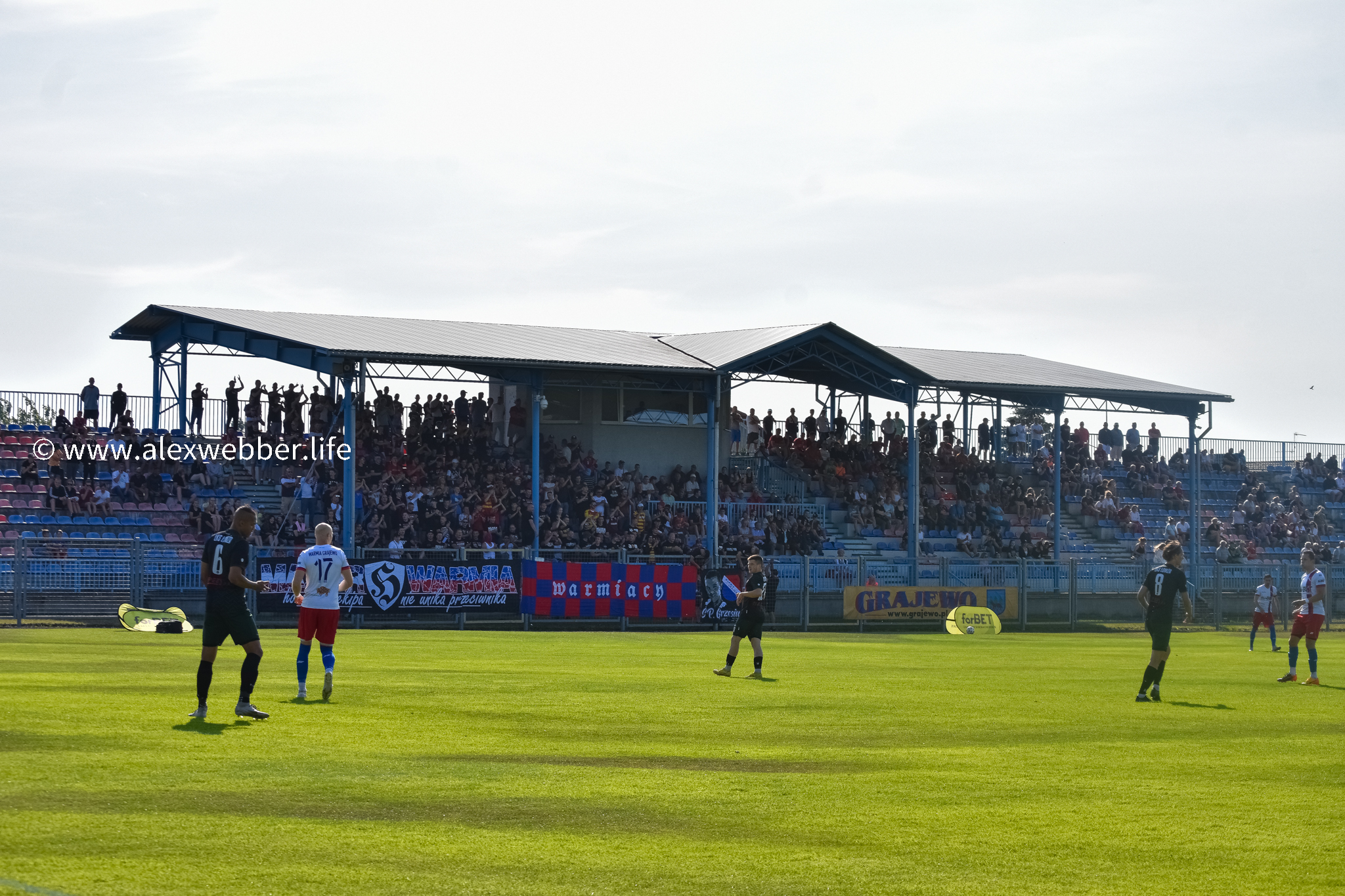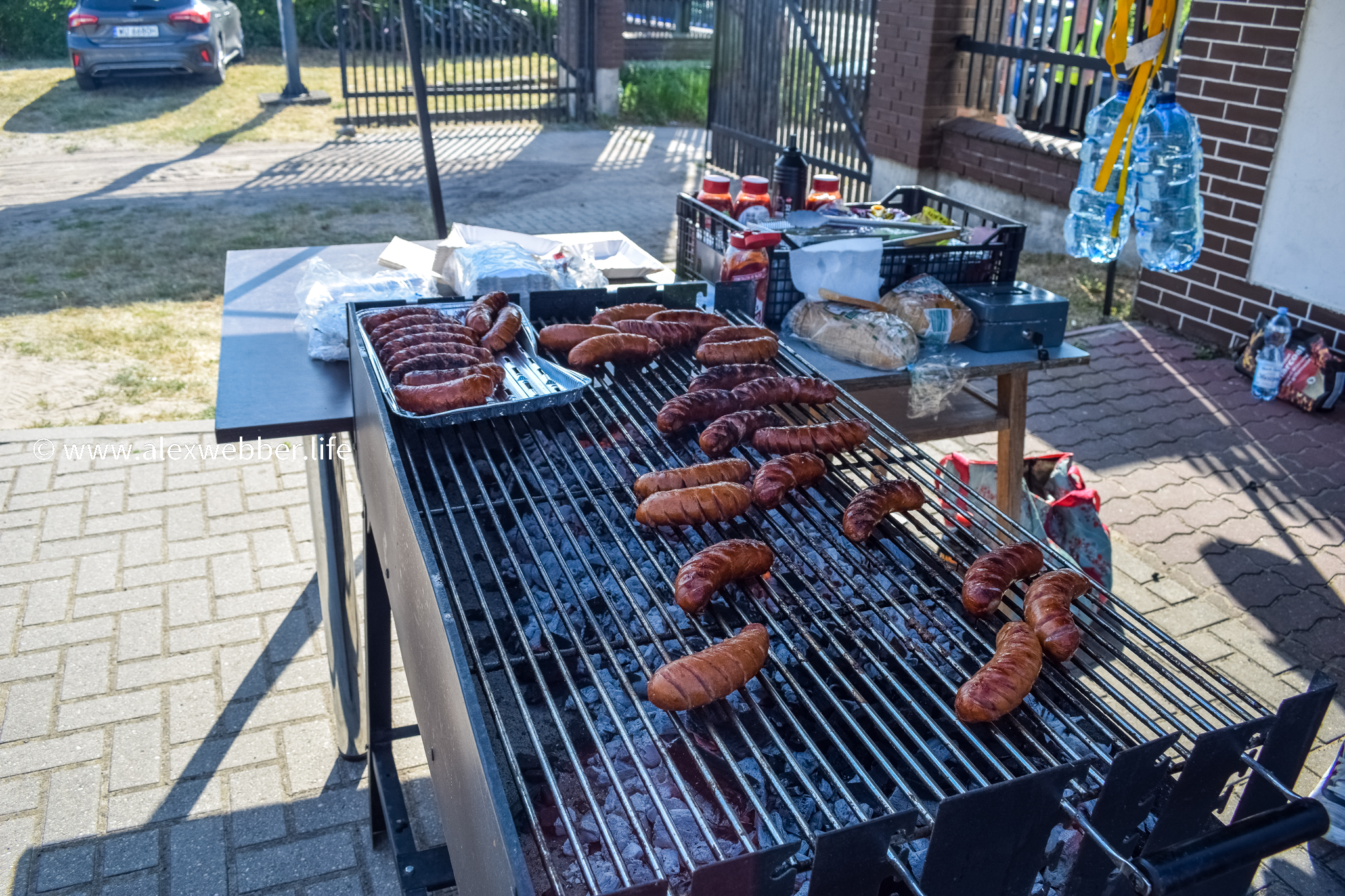 This match had been billed as being big in local circles – not only was it a regional derby, but the visitors, LKS Lomza, stood to win promotion in the event that they would win. Even so, with the sun beating down, there were long stretches when the fans seemed to fall asleep – and I don't blame them. For exaggerated gaps, I myself disappeared to eat sausages and ice cream in the scant shade on offer.
But if it felt a little slow off-the-field, on it both sides went at it as if playing for their lives. Goals came quick and fast, and so too did rash challenges and a flurry of bookings. Still, aside from a display of banners on 60 minutes by the away side, the atmosphere remained a little muted – tension, rather than noise, gripped the stands.
With the game poised at 3-2 to the visitors, they then put it out of reach on 87 minutes with a fourth to clinch it. Opting against an easy life, the players then chose to rub it in by gleefully celebrating in front of the home fans. You could feel the temperature drop.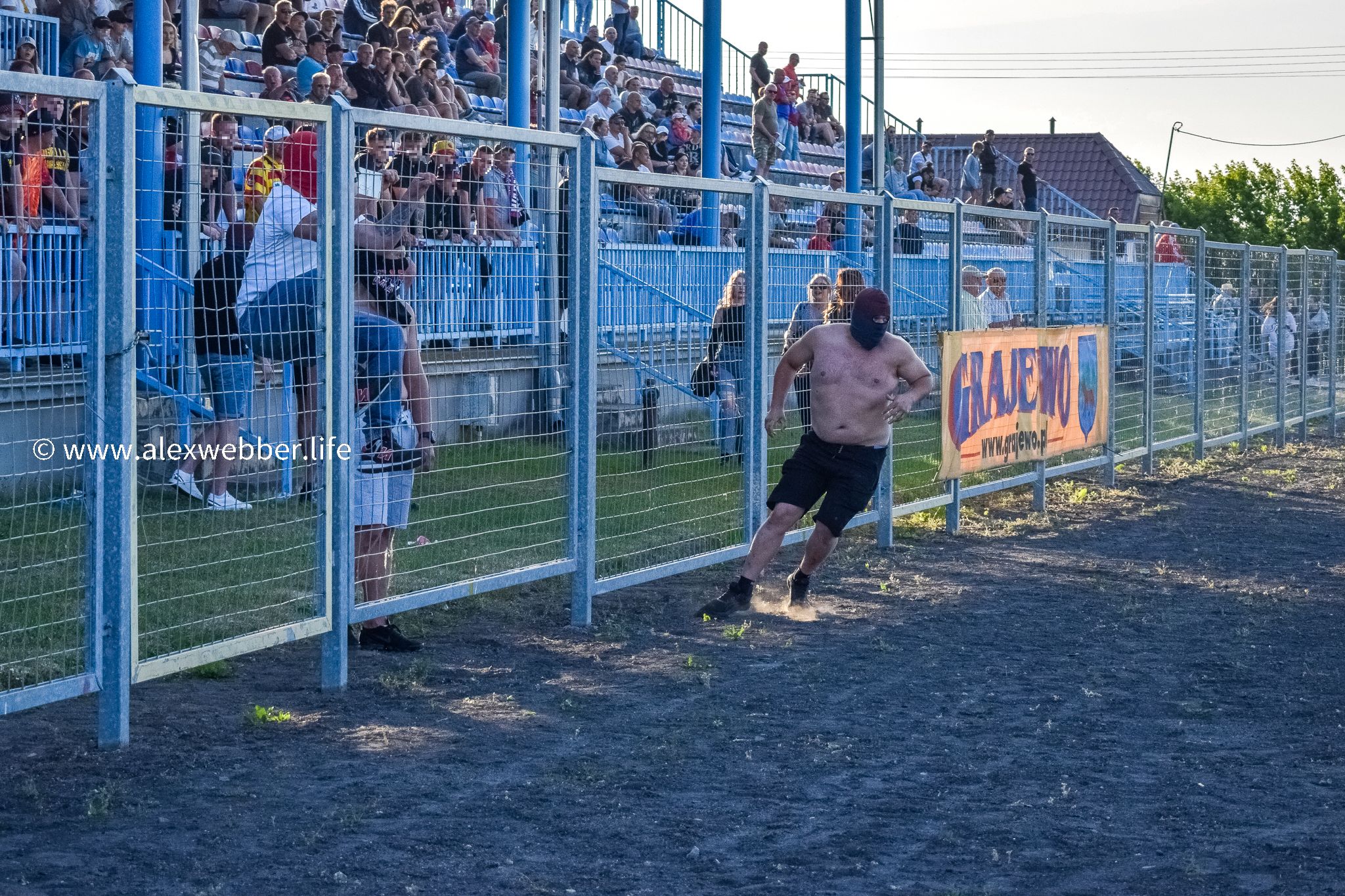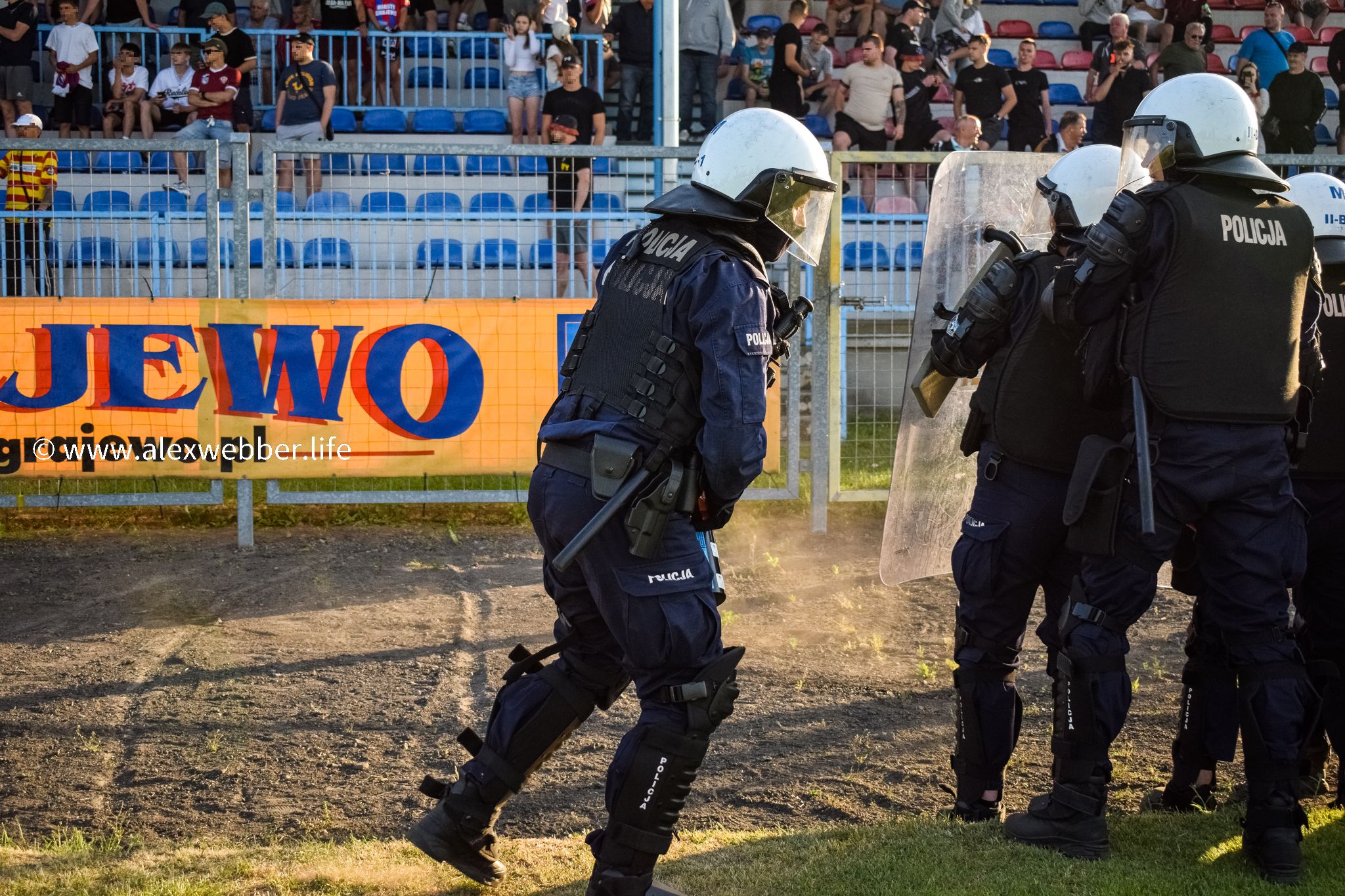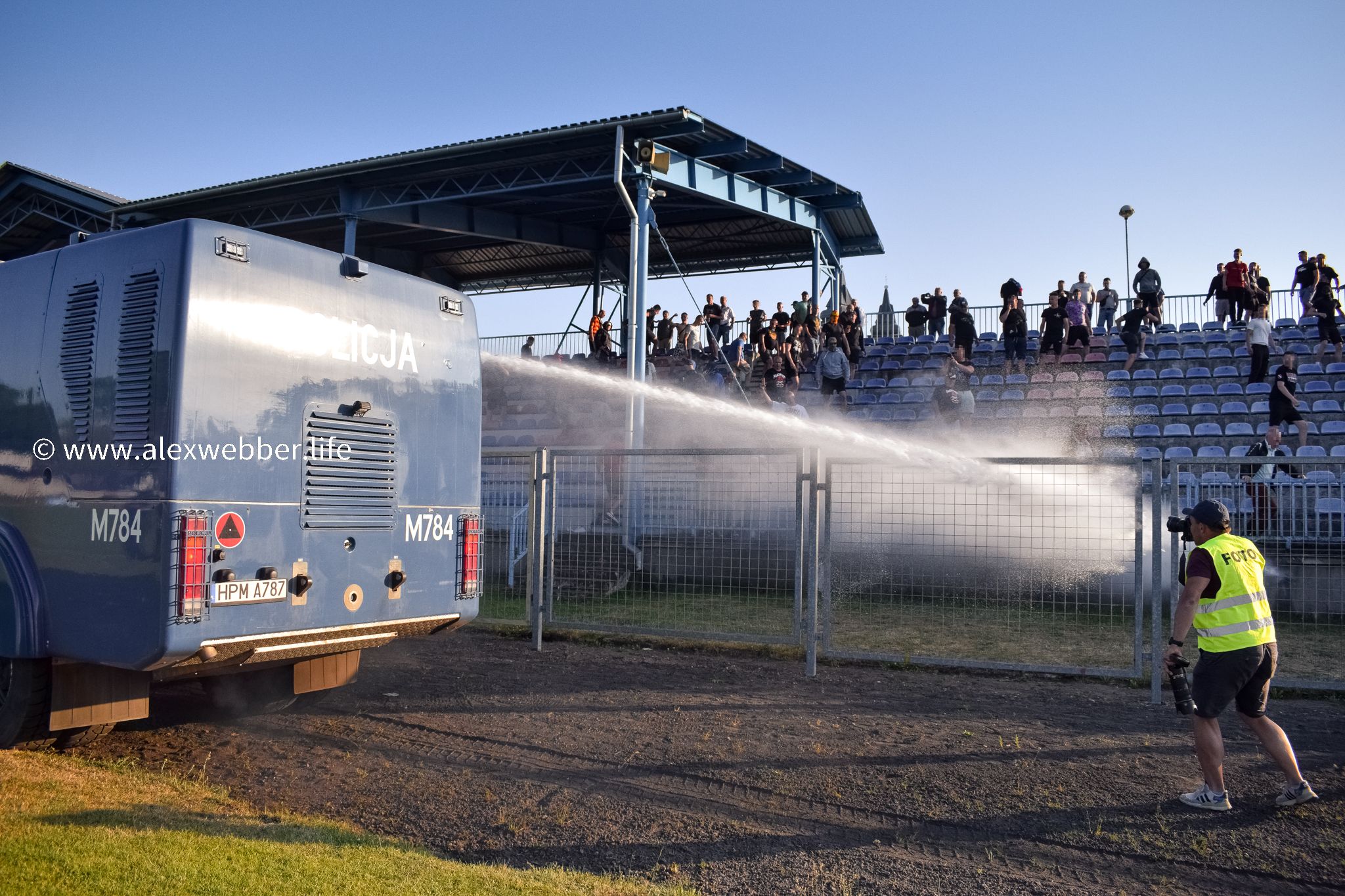 Within seconds of the restart, the thermometer dropped even further thanks to a brawl between the players. That… that proved to be the spark. I had noticed, minutes before, that a small clutch of home fans had begun donning balaclavas, but having seen that so many times before I put that down as nothing more sinister than a shallow bit of posturing. Wrong.
Just as the on-pitch scuffle was settled, a new one erupted – in the stands. As bottles showered onto the turf, stewards moved in to deter the fans scaling the fences. Tear gas was answered by missiles, and as the situation escalated further the riot police moved in – a move that agitated the home fans yet more. Amid the spiralling chaos, a water canon truck was deployed, chugging onto the pitch before firing its weaponry on escaping families.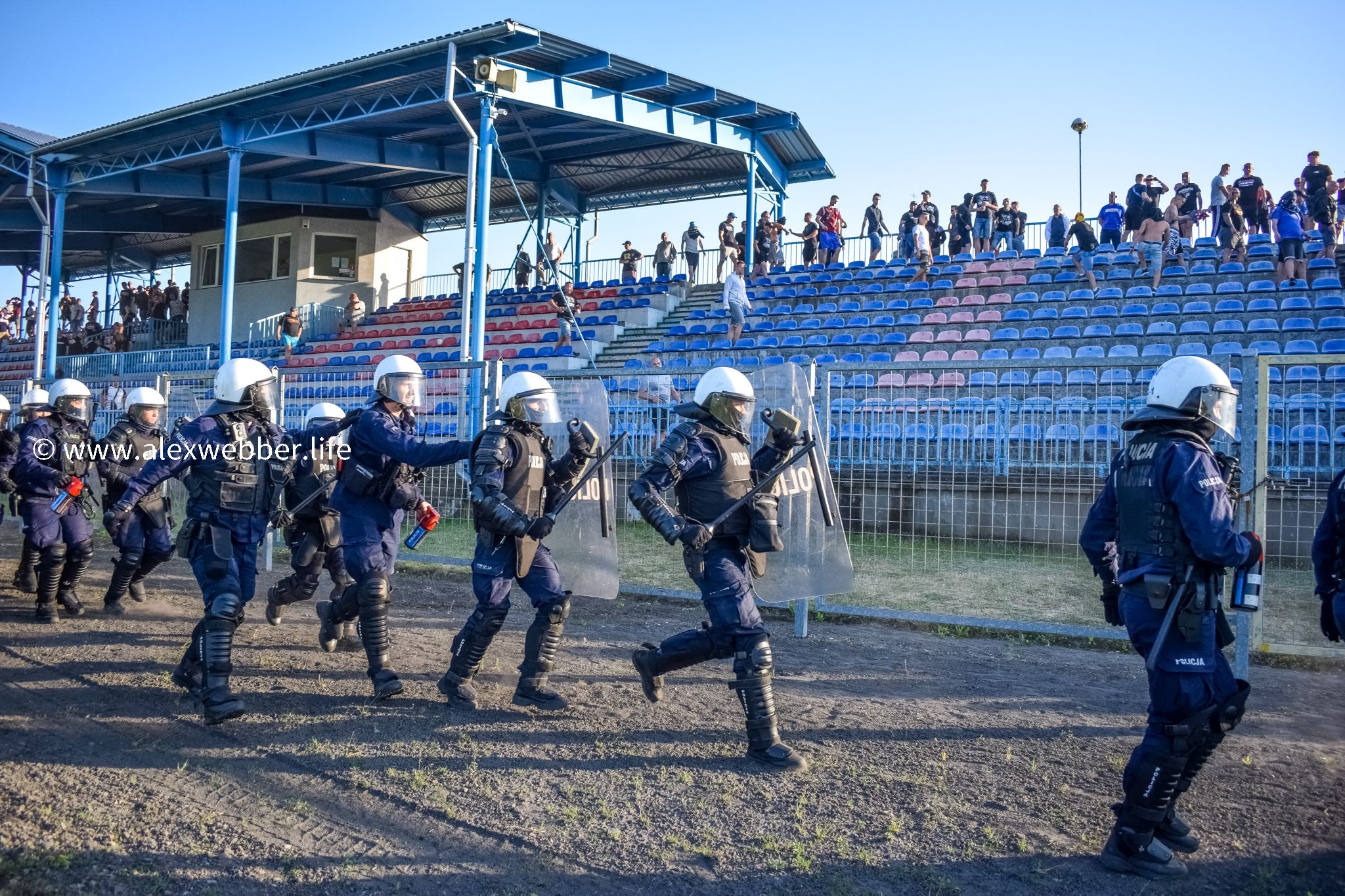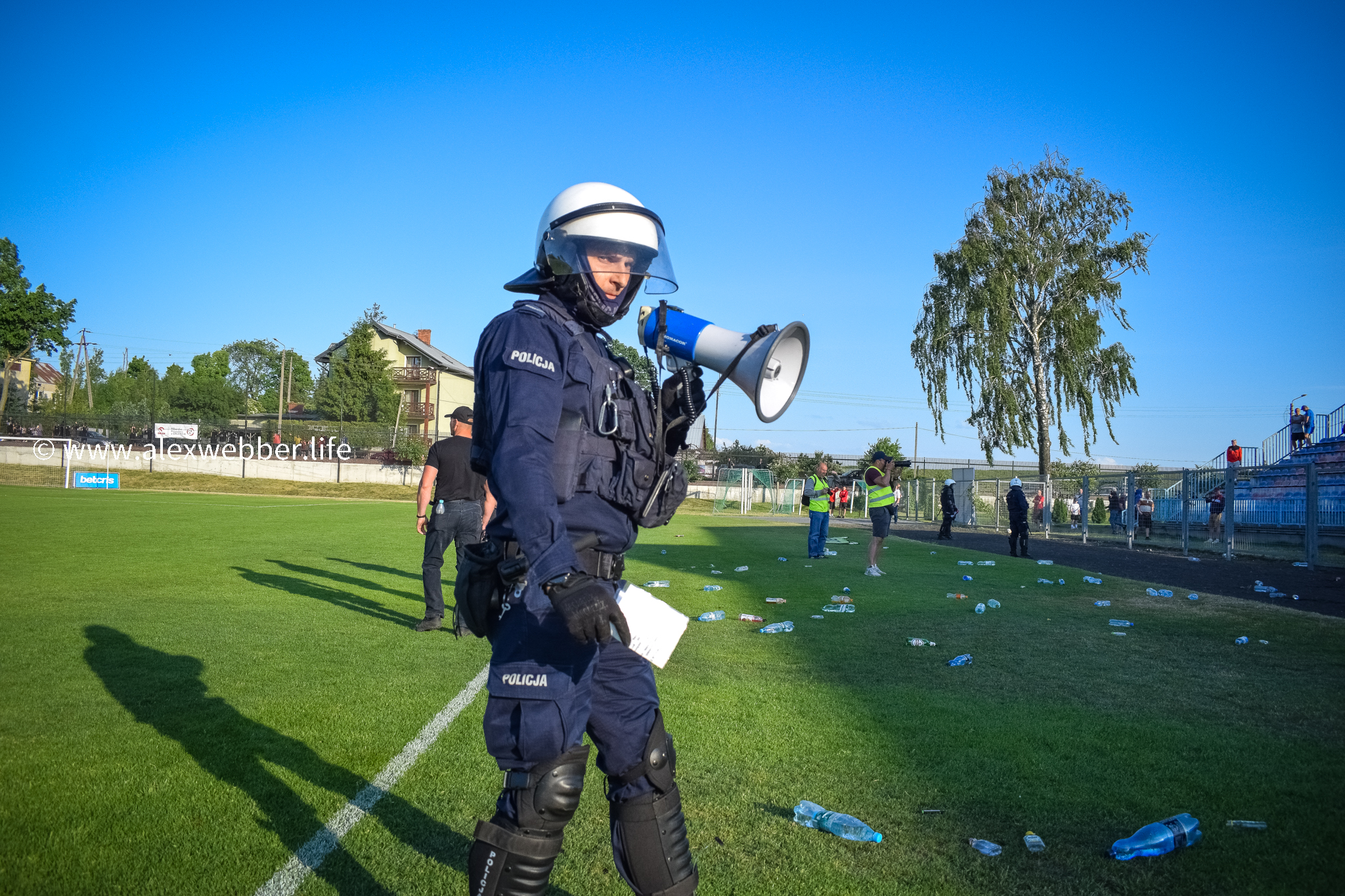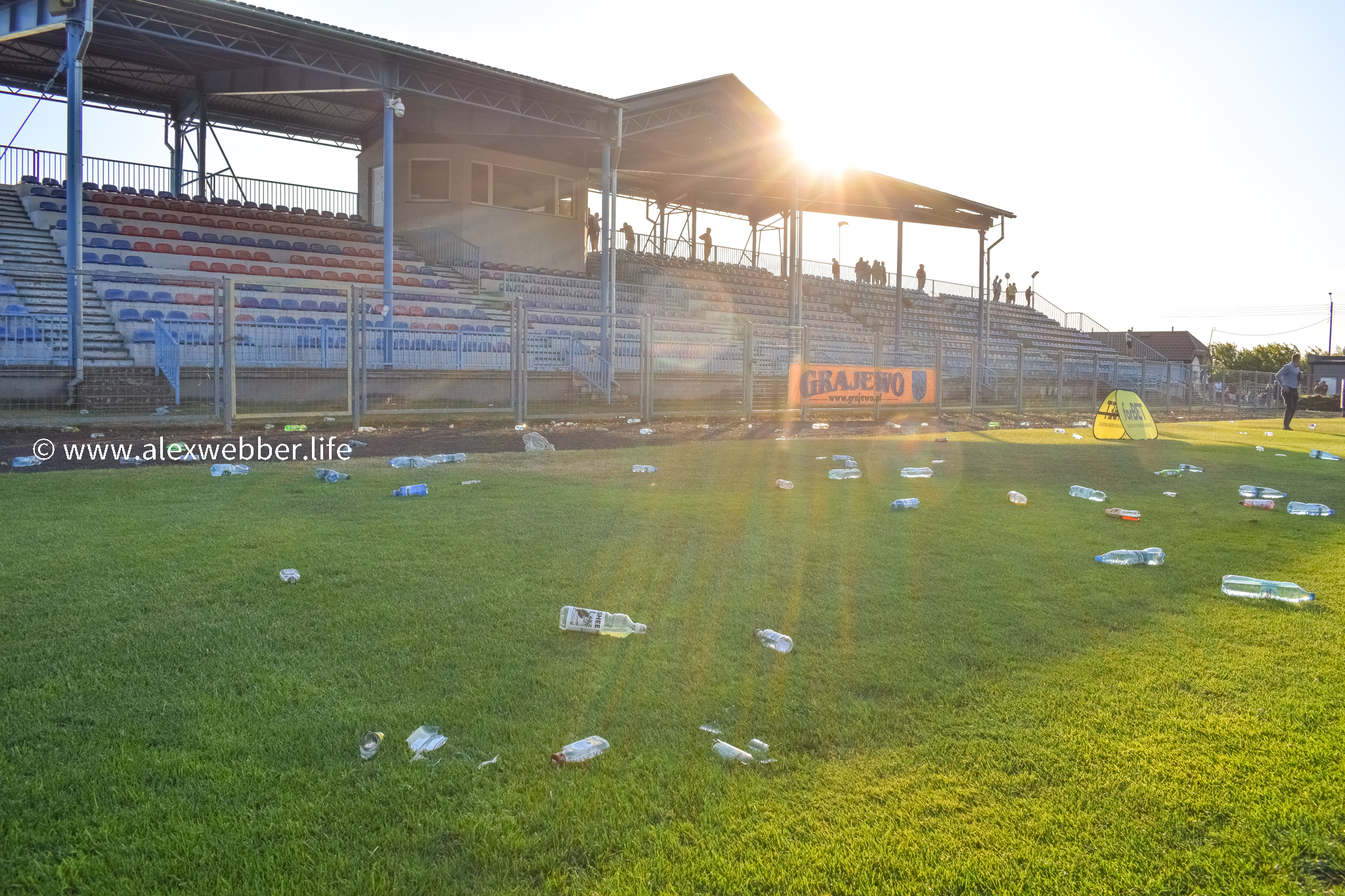 In light of the ensuing mayhem, perhaps the only one thinking clearly was the ref – exasperated by the scenes, he sensibly decided there was no point continuing. Game over.
Yet whilst this inauspicious ending will no doubt define this match, I will remember it for other reasons as well – for example, the best grilled food I've had for years. Moreover, the stadium itself is a bit of a cracker: set on the edge of this small town, features include an intimate away pen, houses overlooking the playing field, and a main stand with a pointy peak behind which rises a striking redbrick church – definitely worth a tick in any groundhoppers notepad.