Date: 21 May 2022 / League: Polish fifth tier
Final Score: 1-1 / Attendance: 800
In A Nutshell
A rusting, classic ground dishes up an intense atmosphere befitting of a fixture not seen on this field for some twenty years…
Getting There
From Krakow, it's absolutely basic – so much so, I'm baffled why there has never been a steady stream of football tourists heading in this direction. Taking around 90-minutes by train, all you need to do after arriving in Debica is pencil in another 15-minutes to reach the ground by foot.
On the downside, Poland's train schedules and football fixture lists have never cooperated to make life easy – over the course of four or five visits, each time I've visited I've had no choice but to arrive several hours before kick-off. With sightseeing pretty non-existent, I advise on setting yourself up for a few beers in a place called the Steakhouse. If you're lucky, they might even have a new order of craft beer (on this trip, I finished their entire stock – two bottles of it).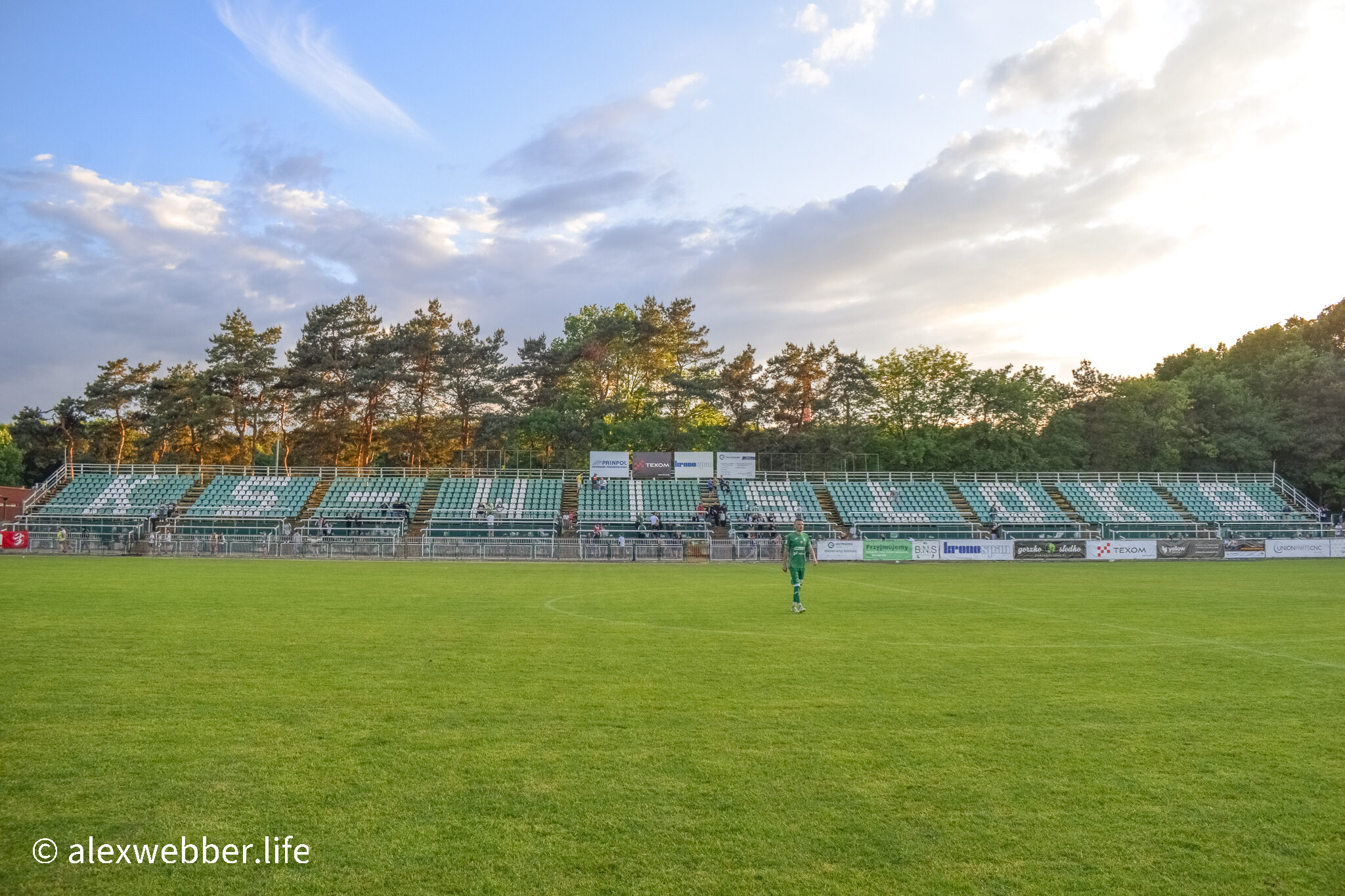 Background
Though set just forty kilometres away from each other, the workings of Poland's lower leagues had conspired to keep these age-old rivals apart for over two decades. Now, for the first time since 2001, they found themselves back in the same division.
Sounds tasty? I thought so as well. But having gone to their first reunion a few months previously, a dull 0-0 in Tarnow, my enthusiasm for this fixture had waned considerably. After all the hype, that match proved to be a thundering disappointment: a classic case of reality falling several rungs below expectations.
Still, missing this game was never an option: Wisloka's ground, and their fans, are representative of all that I love about Polish lower league football. Paired with inside knowledge that Unia would definitely be allowed in (at the reverse, Wisloka only gained entry after half-time), this seemed like a strong choice to make on a weekend otherwise devoid of temptations.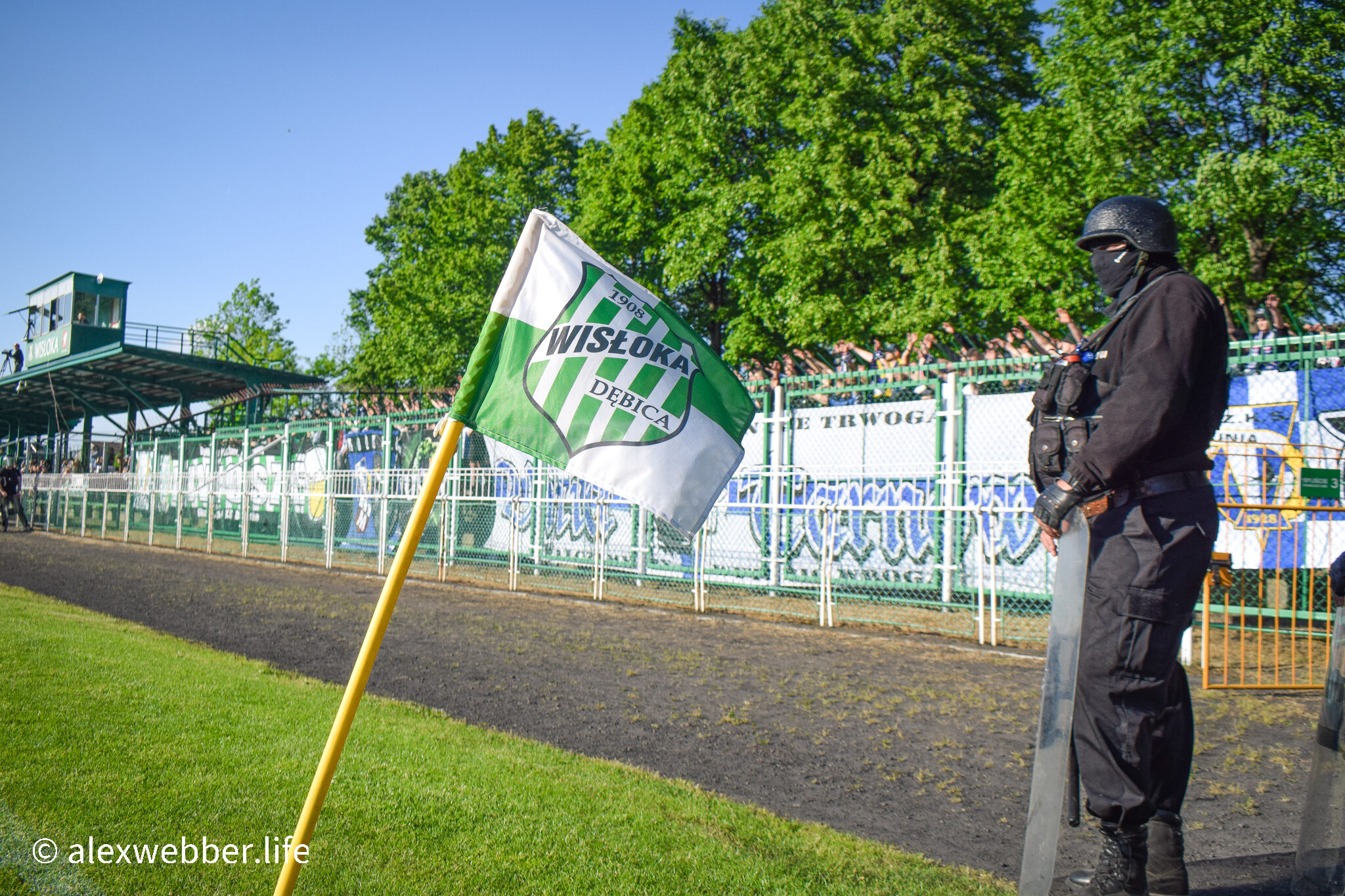 Stadium
Disjointed in the most charming of manners, Wisloka's 3,000-capacity ground is of the kind that I adore. Ringed by a cinder track, there are no ends to speak of, but the two side stands make up for that through both their character and faded sense of beauty.
Best described as a rusting heap of scaffolding, the open stand where 'the hardcore' gather is a gem: in essence, a heap of girders crowned with rows of stained white and green seats. Then, running just below them, a brief strip of XL-sized terrace steps. Shaded by a row of tall trees behind, as decrepit as it looks it emits a sense of history, heritage and home. People are proud to gather here, and so they should be.
The main stand is not shy on plus points, either: first passing a club shop (a trolley and a table decked out with a diverse assortment of romper suits, clocks, stickers and t-shirts), visitors enter a low covered stand that begins with an empty metal cabin set in its furthest corner: formerly a police observation post (the away end was once opposite), today it's been stripped of all fittings and fixtures (if ever there were) and appears as little more than a dark, tin cabin inside which a handful of friends and old timers gather for each game.
Continuing, the main stand is low, chipped, shabby – but its extraordinary. Crowned with a TV gantry, below its been arranged so that the referee and the players have to walk through stand to get to the pitch: now I can absolutely bet that's led to some interesting moments over the course of the years. Finally, just where the roof ends, find the final third of this stand given over to an away pen decorated with spikes, bars and awkward concrete steps.
Experience
With no dicking about, this match kicked-off to the kind of atmosphere that has you buckling the belt and strapping in for action. Pretty much straight away, Wisloka launched into a pyro show, and though the choice of white smoke transpired to be disappointingly ineffective given the blank-coloured skies, it was a passionate statement of intent that mapped out the mood for the rest of the game.
Admittedly, there were brief lulls, especially in the second half, but with the game edging towards its conclusion new life was injected courtesy of a ceremonial burning of captured colours. Though moderate in its scale, these torchings are always exhilarating to witness. That said, it was the visitors who had the last laugh – with Wisloka's fans singing their team over the line, Unia snatched a point with just seconds left on the clock.